It's time to create new or re-design your websites to bring it to the next level.
Collection of 200+ Free Joomla templates, support Joomla 3.9.x and Joomla 4 Listing of 300+ Best Free WordPress themes, WooCommerce compatible, Elementor supports!
What is Black Friday and Cyber Monday?
Black Friday is an occasion that takes place following Thanksgiving day and on the fourth Thursday of November. Many shops and stores offer many sales campaigns and open them early. Although its name is not interesting, Black Friday includes a positive meaning. On this day, various shops and stores have sold OFF campaigns. People say it black because shop owners will use black pens to note profits and use red pens to note deficits. If there are more black colors on their note, it means they gain more profit on this Black Friday.
Cyber Monday is also known as Blue Monday which is a marketing term after Thanksgiving in the USA. It is created by businesses in order to encourage more and more people to go shopping online. Cyber Monday is also called a 24-hour online shopping day. Moreover, one more benefit of Cyber Monday is that it helps you to hold on for the best deal. If you missed a great deal on Blackfriday and it makes you deeply regretted, let's try it again on Cyber Monday!
When is Black Friday and Cyber Monday in 2020?
This year, Black Friday will be on 27th November and Cyber Monday will be the first Monday after Black Friday; therefore, it will be on 30th November. This year, both of the two festivals fall before December, so it means that you get more time to look for Christmas Gifts.
Almost all shops and businesses run Black Friday campaigns at midnight on 26th November (the late-night of Thursday). Sometimes, we can see the Blackfriday campaigns on the early days of Thanksgiving week (Monday, Tuesday, and Wednesday). This year, because of the negative effects of the COVID19 pandemic, it is likely that we can get more early deals online.
This year, Black Friday and Cyber Monday are also longer than ever. Many businesses have already kicked off their sale campaigns and offered a month's discounts in November or even last longer up to the beginning of September.
Black Friday and Cyber Monday deals 2021 for getting WordPress Themes and Joomla Templates:
Are you a website designer and looking for the best deal to grab a wonderful design for your online shops, education centers, photography studios and so on? On this Black Friday and Cyber Monday event, we collected a list of great deals for you to purchase WordPress themes and Joomla Templates. Therefore, it means that you can buy all of the products at extremely low prices.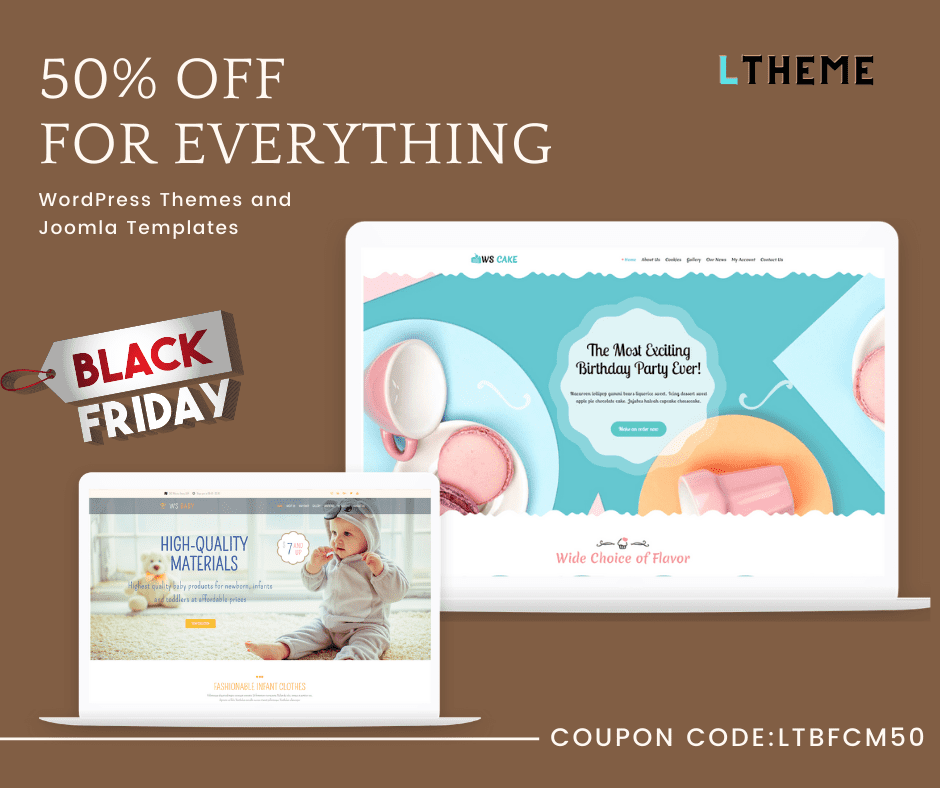 If you are finding modern and professional designs for your website, LTHEME offers you a huge amount of options for you to get. On this Black Friday and Cyber Monday, when using the following coupon code, you can get a discount of 40% for all purchases including PRO license and Membership. LTHEME has more than 7 years for developing Joomla and WordPress, its quality is approved by a thousand happy customers around the world. Hundreds of WordPress Themes and Joomla Templates are available for you to choose from. Hurry up and use the coupon below to get an awesome design with a great deal.
Coupon code: LTBFCM50
Valid: 2nd September 2020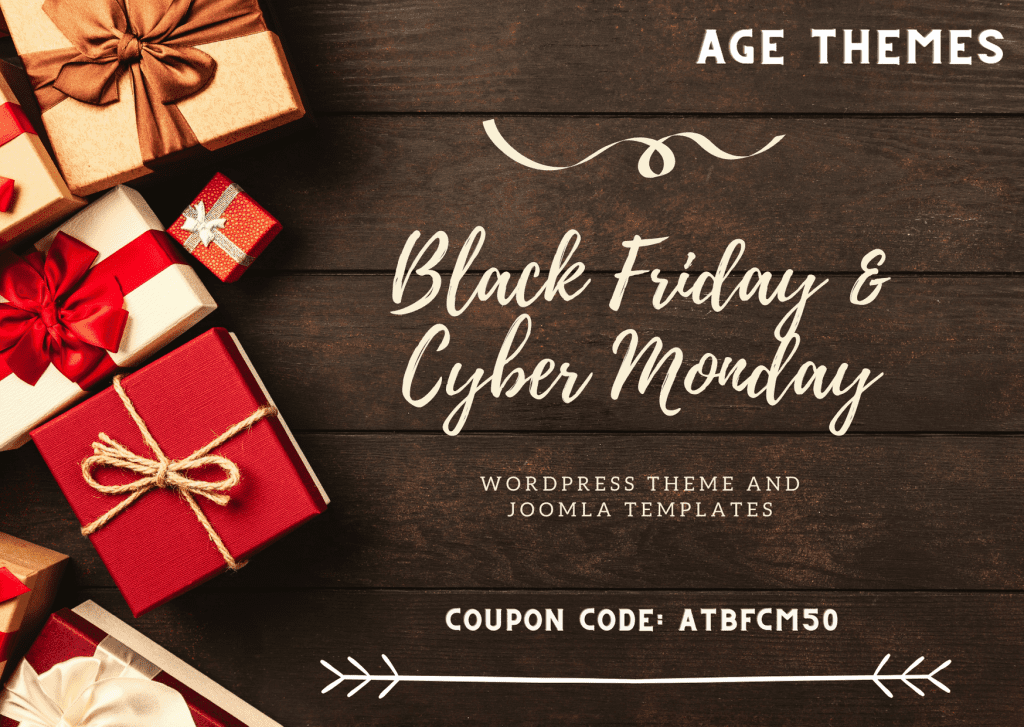 With more than 7 years of Joomla and WordPress theme providers including over 220,000 happy customers, Age Theme is a great template resource that gives you more attractive design for building up your ideal website. By the way of Black Friday, Age Theme gives you a coupon code for saving up to 50% when you purchase all products and it includes a single PRO license and Membership for all plans.
Coupon code: ATBFCM50
Valid: 2nd September 2020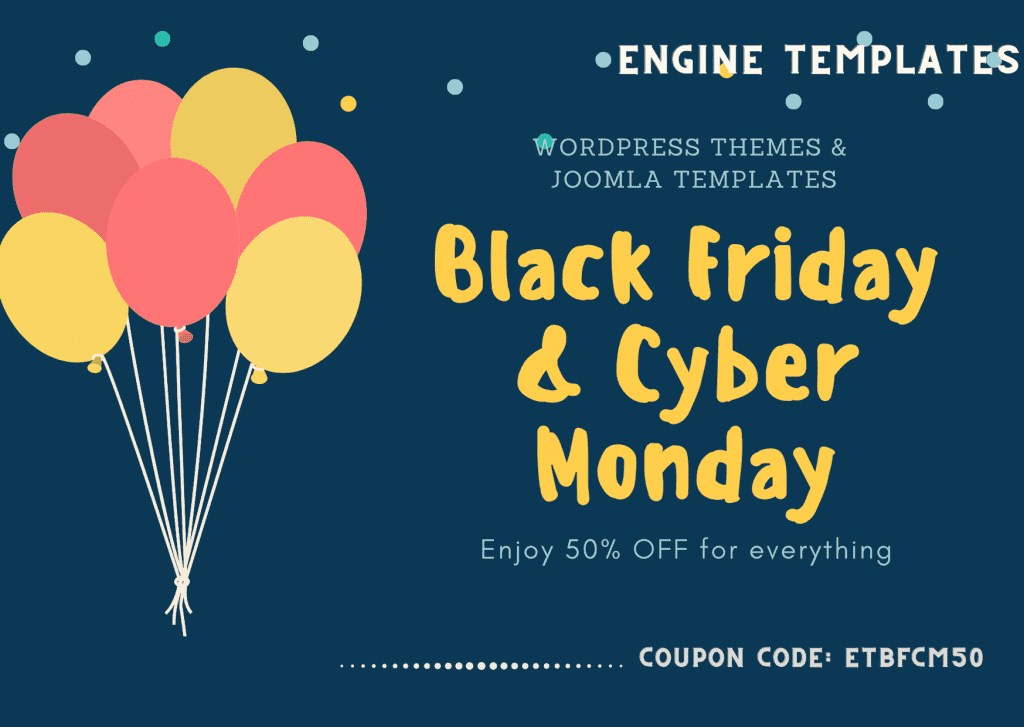 As an international company that offers products related to web design and web development, up to now, Engine Templates have released more than 160 Joomla templates and WordPress Themes. Thanks to it, customers have various options to create a wonderful design on their own. Enginetemplates is always proud that it brings the greatest design and high-quality support for customers. From this, they gain nearly complete satisfaction from them. Taking Blackfriday and Cyber Monday a chance, Enginetemplate gives you a coupon code that allows you to save up to 50% for everything. Don't hesitate to grab it right now!
Coupon code: ETBFCM50
Valid: 2nd September 2020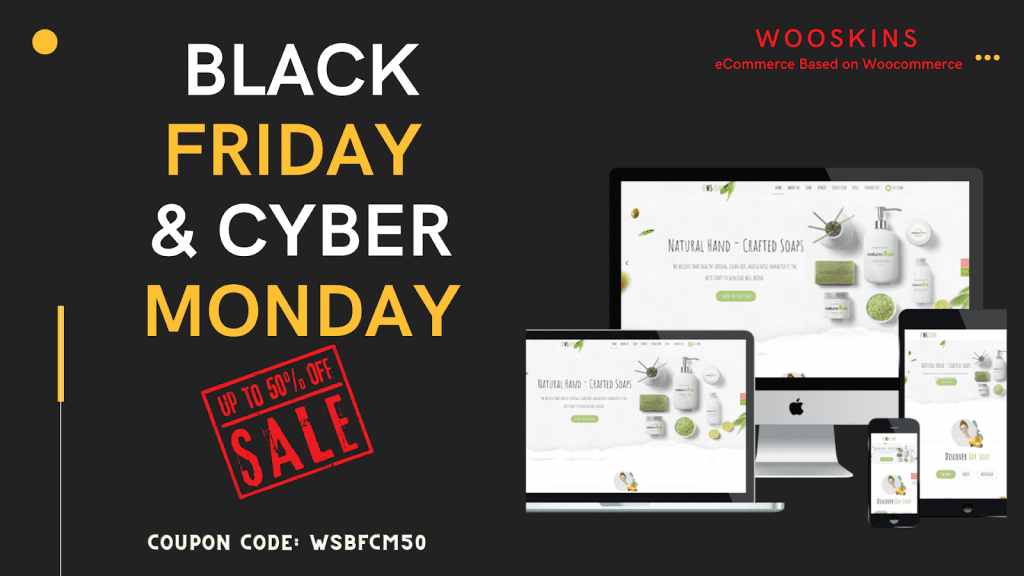 Wooskins is known as the best eCommerce WooCommerce theme resource which is suitable for those who want to design a professional website for online shops. With various ready-designed themes including high-quality features, especially eCommerce solutions, Wooskins will definitely make you satisfied.
On the Black Friday and Cyber Monday of this year, Wooskins brings you coupon codes for saving up to 50% of everything. Let's visit this site and choose the best design for your website! The coupon code below also helps you save a huge amount of money.
Coupon code: WSBFCM50
Valid: 2nd September 2020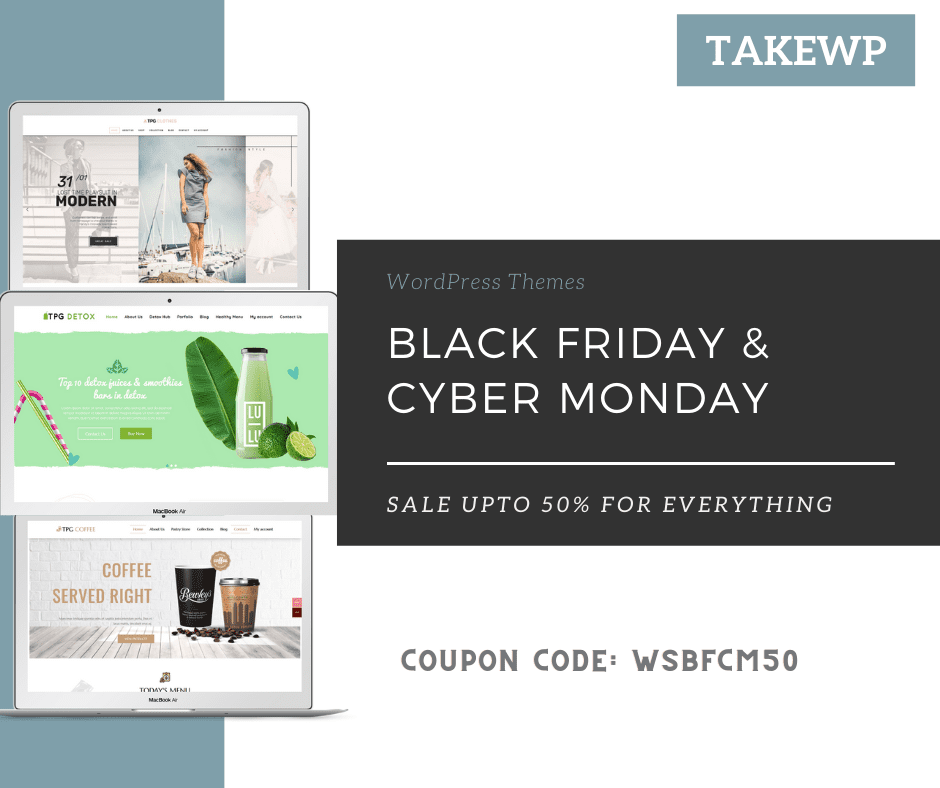 Takewp brings you a wide range of attractive WordPress Themes related to many fields so that you can gain more options to create a perfect website on your own. Each of the WordPress Themes has an elegant design, responsive layout, and high-quality features. Moreover, a safety payment within 14 Days Money Back Guarantee makes sure you feel safe with what you are purchasing. Black Friday and Cyber Monday of this year, let's take it a chance to select the best design with a good deal!
Coupon code: TWBFCM50
Valid: 2nd September 2020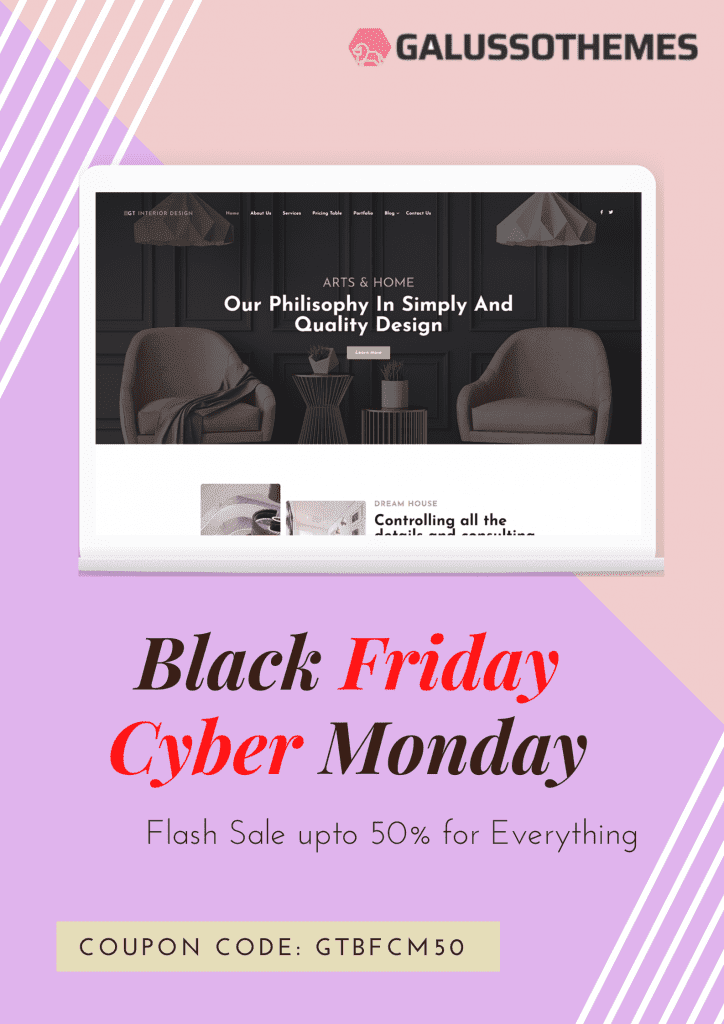 Galusso provides you with many WordPress themes targeted for end-users who do not have much coding knowledge. Almost WordPress Themes released by Galusso are built based on Elementor Page Builder and use WooCommerce to bring the completed website for online shops or business corporations. With the coupon code provided below, let's purchase the most suitable WordPress Theme on your own to promote your business!
Coupon code: GTBFCM50
Valid: 2nd September 2020
Conclusion:
Take it an advantage to grab a coupon code for purchasing a wonderful design for your website! You can save up to 50% for everything including membership packages. Now, let's dig into the biggest and best WordPress and Joomla Black Friday and Cyber Monday deals of 2020!
Are you Web Freelancer or Web Design Company? Join our Club and Access our Resource!
500+ Premium Joomla! and WordPress themes just $8.70/Month, Quickstart (dummy) package included, unlimited domains!