Cart abandonment in WooCommerce ultimately results in lost potential revenue but also may end up costing a business a potential customer. You spend a lot of time and money attracting customers to your e-commerce page, and to lose your customer at the last possible moment will mean that the effort made to get them to your store was wasted.
There are certain tactics that can be used to reduce cart abandonment and ensure that customers are able to purchase their products with ease and confidence.
What are the reasons for cart abandonment In WooCommerce?
Understanding the reasons behind cart abandonment and identifying why a person may proceed all the way to checkout without making a final purchase is vital to reducing instances of this issue. The following are just a few of the most common reasons for cart abandonment in WooCommerce.
Lack of No Guest Checkout
After you have completed your shopping and are heading to the checkout part of the purchasing process, the last thing you want is to be redirected to another page. Very often, WooCommerce websites do not have an option for guest checkout, which means that before a person can complete their final order, they need to create an account.
Most customers want to simply put in their banking details and complete their purchase without having to go through the hassle of creating an account. Therefore always make sure your store offers guest checkout or use plugins like SellKit to allow your customer to sign up with a simple checkbox (and finish the sign up process later on).
Unoptimized Checkout Page
When you add the need for extra and unnecessary information during checkout, you are lengthening the process and ultimately taking up more time of a potential customer's day. Optimizing the checkout page with features such as auto-complete, inline form validation, skip cart and express checkout ensures that the process is as quick and as seamless as possible.
Website Performance Issues
Technical issues signify to a customer that your website does not perform properly, which could lead to their precious banking and personal information being at risk. To ensure that you lower the rate of cart abandonment in WooCommerce, be sure to fix any performance issues on your website.
What Is Omni-Channel Marketing?
Omni-channel marketing refers to a tactic whereby multiple channels are used to communicate with customers. This tactic looks to integrate the user experience by ensuring consistent interactions across multiple channels.
The different channels used are sustained in such a way that the user has similar experiences across the board, ultimately making your own business seem more reliable and consistent. It also helps to reduce clutter in your marketing tools stack, less learning curves and most importantly less expenses.
What Are The Benefits of Using Omni-Channel Marketing In WooCommerce?
The main benefit of using an omni-channel marketing tool is to form a unified customer profile across different channels, enriching it over time and using that customer profile to serve the customer with tailored marketing campaigns across different channels. This is hardly possible with a single-channel marketing tool as it takes a lot of work to connect your marketing tech stack to your CRM.
For example, using an omni-channel marketing tool, you can define a workflow for new leads, which includes redirecting them to a page right after they signed up to your blog, showing a custom homepage with a personalized openings, sending a series of nurturing emails with relevant blog suggestions and finally a popup on the product page offering them a discount if they place their first order.
Another example would be defining a comprehensive workflow for cart abandoners which is explained in the following section.
How to Reduce Cart Abandonment In WooCommerce With An Omni-Channel Marketing Strategy?
In this post we will look at how Growmatik can help you implement an effective omni-channel approach to your cart abandoner recovery attempts in WooCommerce.
Collect customer behavior data across all touchpoints
In order to create an effective omni-channel marketing strategy you will need to collect customer data. This data is used for the segmentation of customers and personalization of campaigns such as pop-ups or email marketing for WooCommerce. This will give you a chance to better understand your target audience and have insight into what drives them to make purchases.
Growmatik segments allow you to group specific types of visitors, leads or customers based on various factors such as personal details, in-site activity, shopping details, email behavior and more. You can filter your WooCommerce customers based on al above metrics in Growmatik's People section.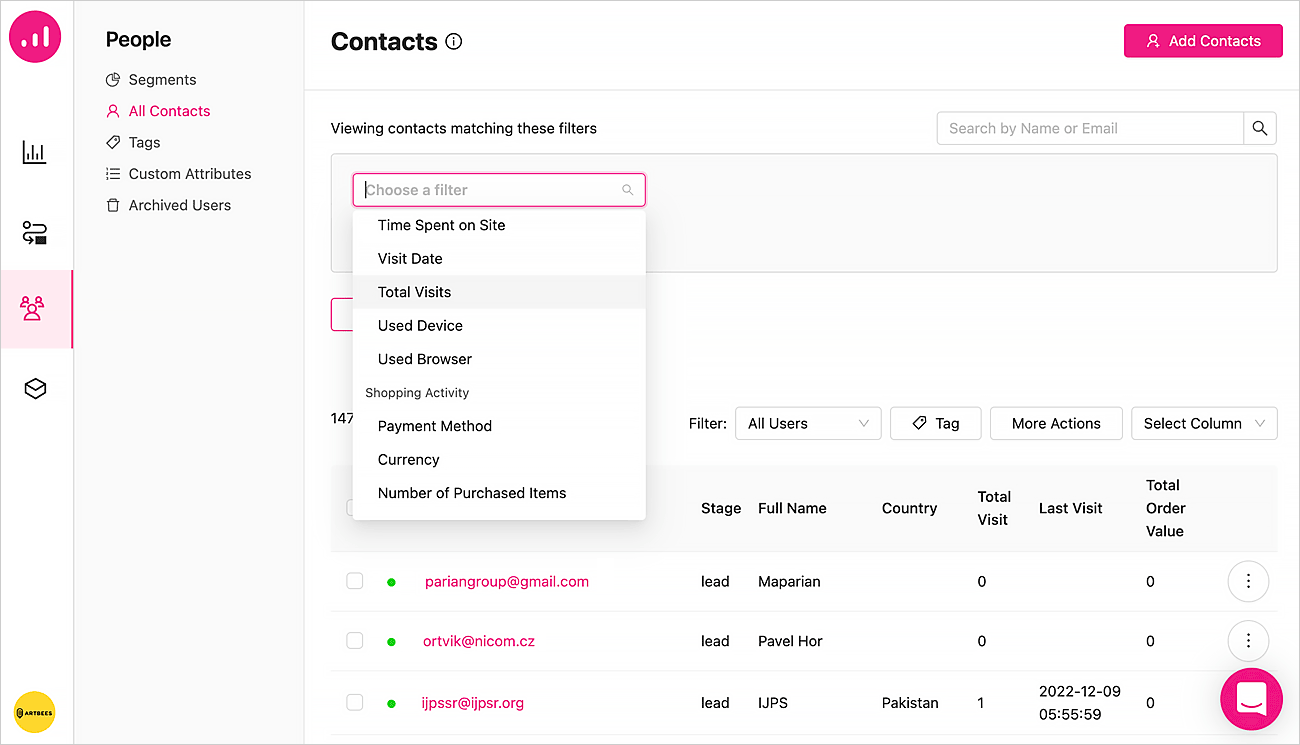 Segment Your Customers and Personalize
Differentiating between different groups of people and segmenting your target audience can help you to better prepare marketing content for certain groups of people. For example; segments of new users, inactive customers, returning visitors and cart abandoners.
You can then use these segments to target audiences for marketing automations like pop-ups, emails, web page personalization and more.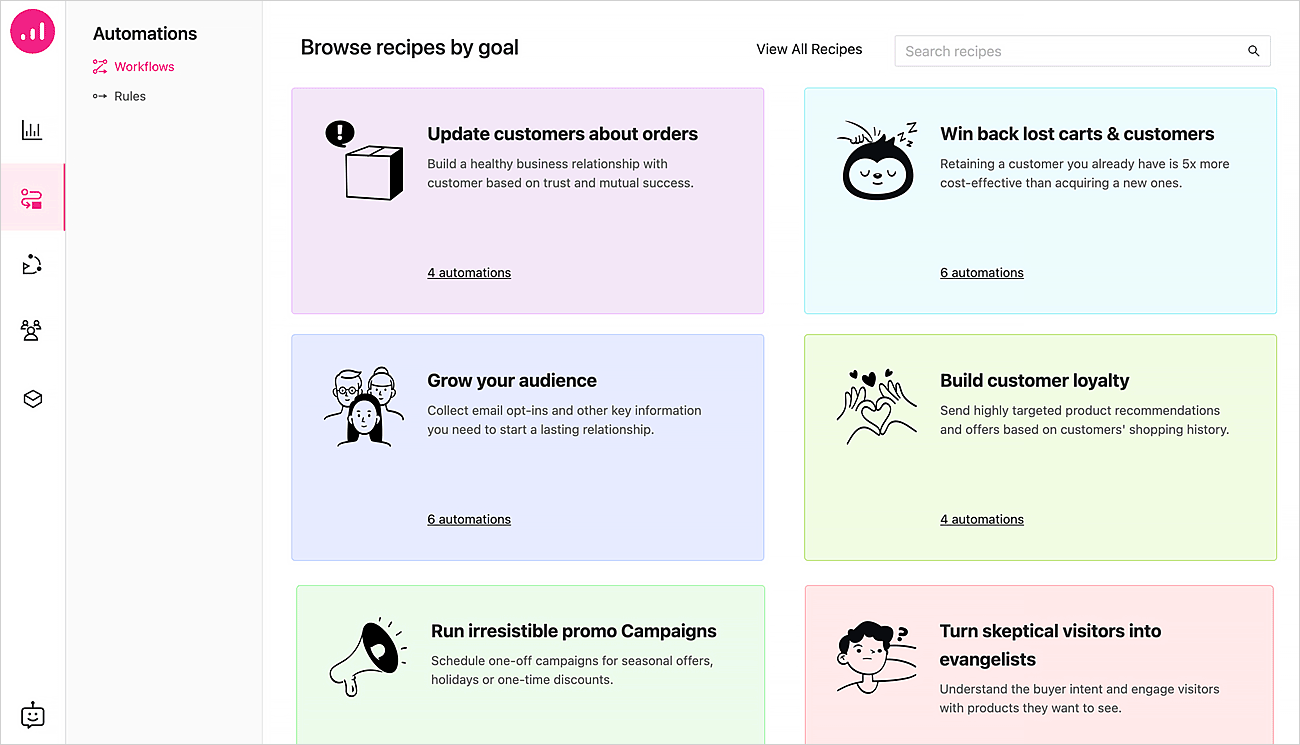 Use the right channel with personalized content
Placing the First name in the beginning of an email is not personalization anymore! A smart marketing campaign uses tailored content to maximize engagement by making the recipient feel seen and heard and hence more likely to take action. And this is one thing that the majority of marketing tools fail to do!
Two samples of personalized content within your campaign are:
Display cart items on follow-up channels such as email, homepage and popups. This will reduce the conversion friction and dramatically increase the conversion rate.
Serving personalized coupons helps to increase user engagement on your website and chances of recovering the abandoned cart.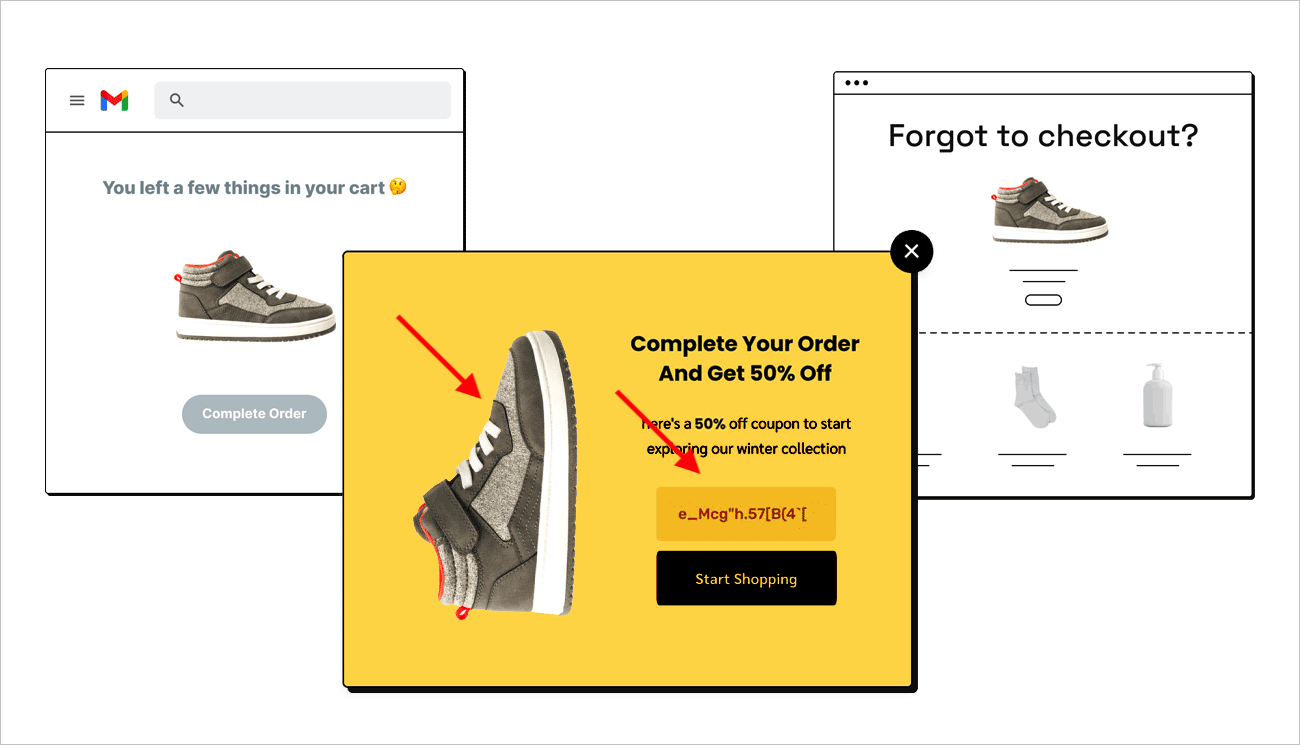 Create omni-channel workflows to increase your reach
Omni-channel marketing automation can help to increase your chances of recovering a lost cart by reaching out to the customer in different channels and at the right time.
An example of omni-channel cart abandoner workflow would be:
Send follow-up emails to every cart that is abandoned after 12 hours and also display a custom homepage showing the abandoned items on top of the page.
Send a second follow-up email, one day later, to those who still haven't finished the purchase along with an exclusive coupon to increase the engagement rate.
Below is how you can create such a workflow with Growmatik:
On the Growmatik sidebar you will find the automation page, go to workflows > +Add new automation > Start from scratch.
Click on choose an event > Abandoned cart (with a duration of 12 hours). Leave the audience as 'everyone'.
Define an action step for Send Email. Choose a cart follow-up template and modify it as you wish.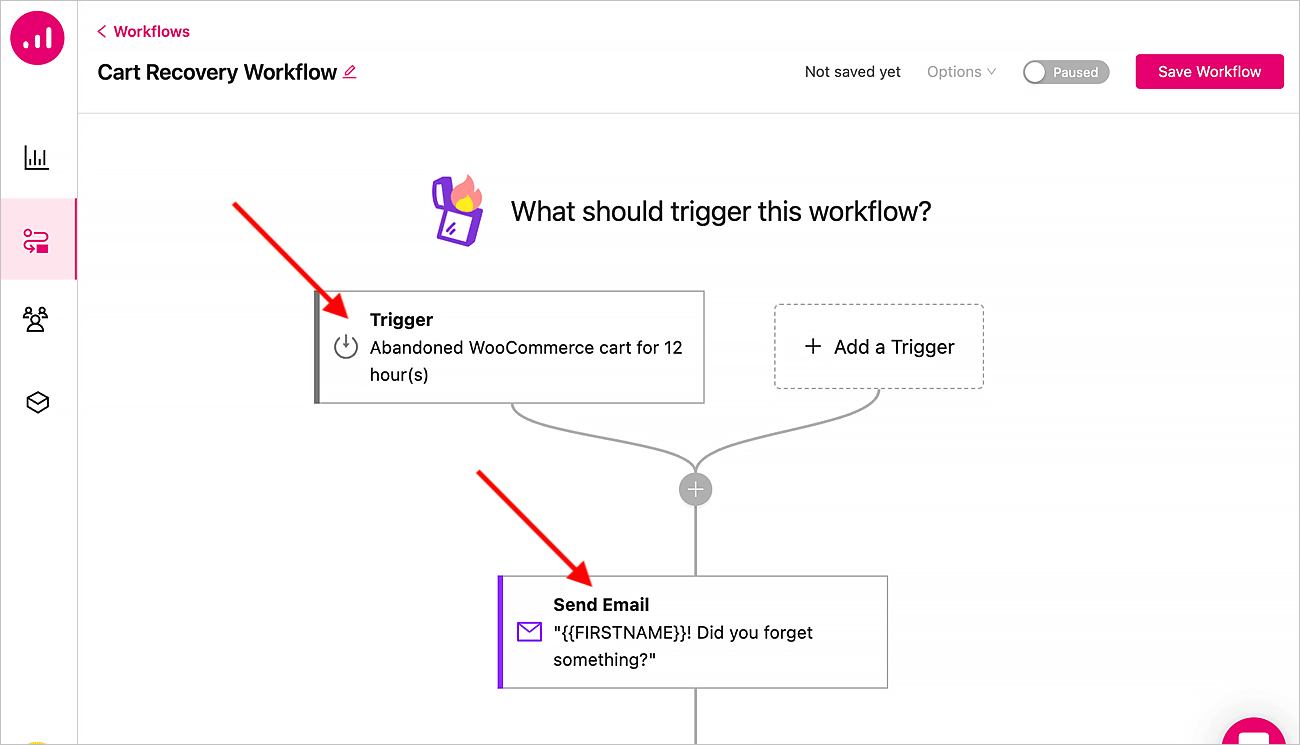 Define a second action 'Personalize Page', choose your homepage and click on 'Personalize Page'. In the upcoming content personalizer environment, click on + button on top of the page where it fits and choose products. In the product setting set 'Products in the cart' as the filter, play with visuals if you like and save the personalization. Back on the workflow dialogue click on Save to save the second action.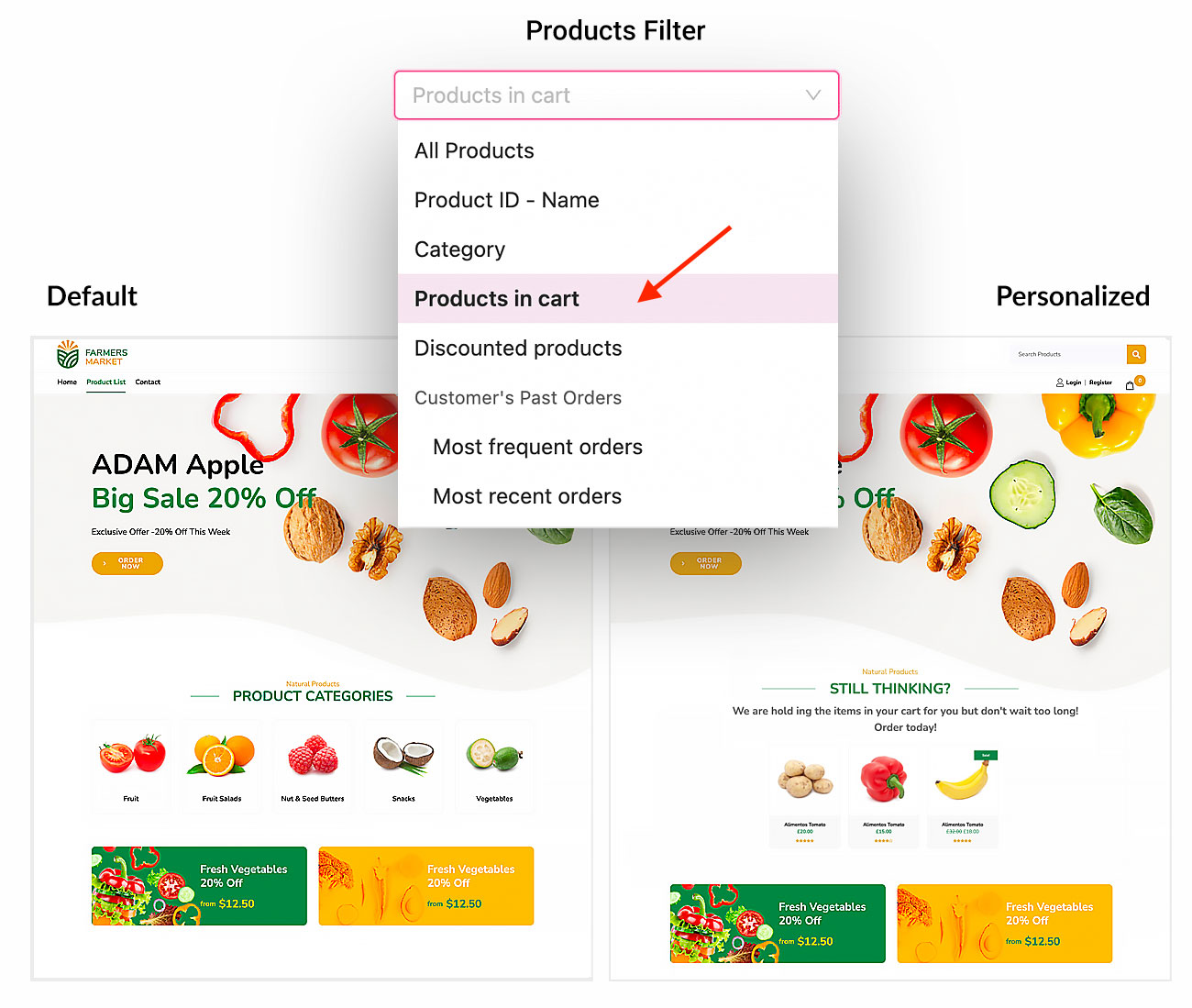 Add a delay step of 24 hours.
Add a decision step with the criteria:
– 'Has an abandoned cart (with a duration of 48 hours)' AND
-'Email send activity' (received this email – choose the first follow-up email from the menu).
Now, if the criteria we defined in the decision step does not apply, it means the cart abandoner has finished their purchase and that's the end of the workflow. If the criteria applies to the recipient it means they have not finished their purchase and that another follow-up email must be sent. So:
Under the yes branch – add an action step for sending an email, but this time with a discount coupon to increase engagement (choose the template 'Abandoned Cart Recovery 2'). You can add as many steps and actions to make your workflow as smart and as flexible as you want.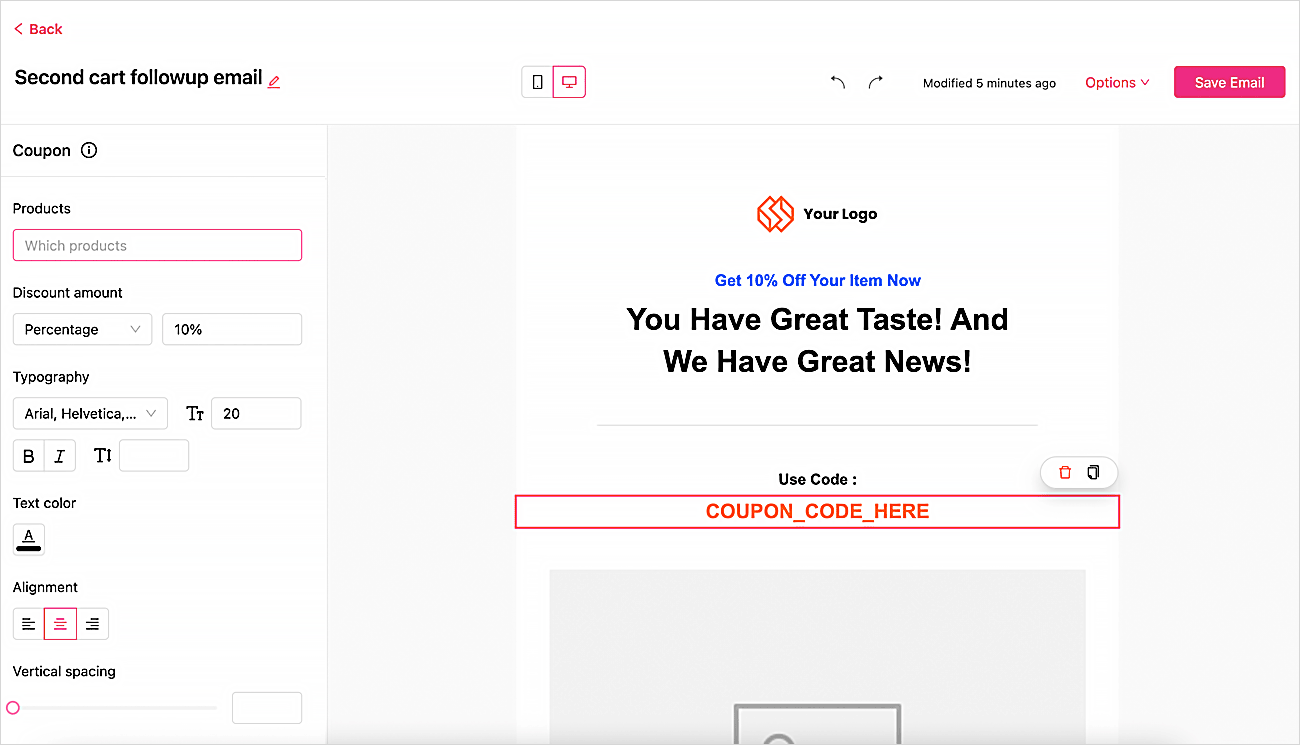 Here is how the final workflow should look like: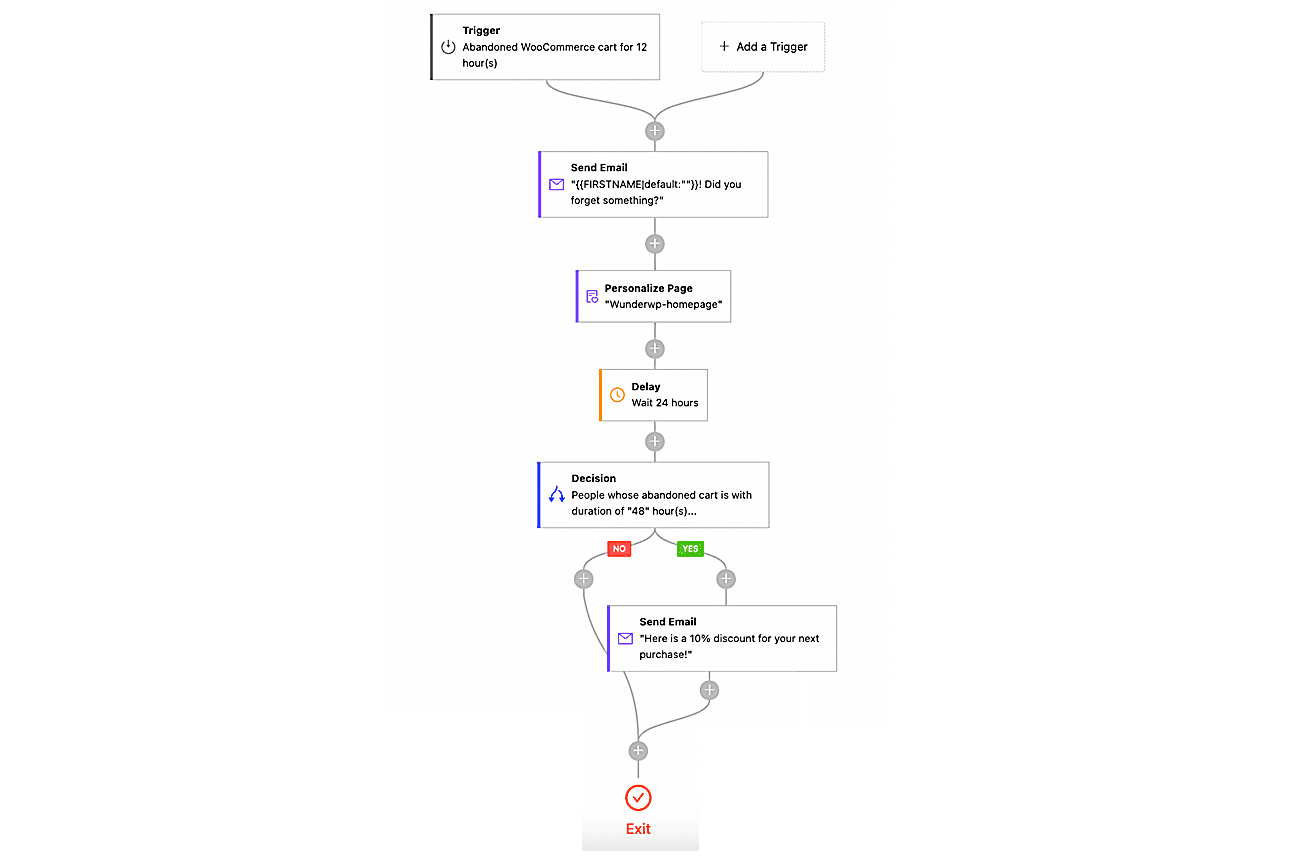 Analyze and Improve Your Strategy
The smart insights services offered by Growmatik can help you track the performance of your automation across all channels by showing tailored KPIs related to each. For example, once you start the above automation, you can see the analytics and performance of automation in the analytics section. You can see the revenue generated by each of your follow-up emails as well as the homepage personalization.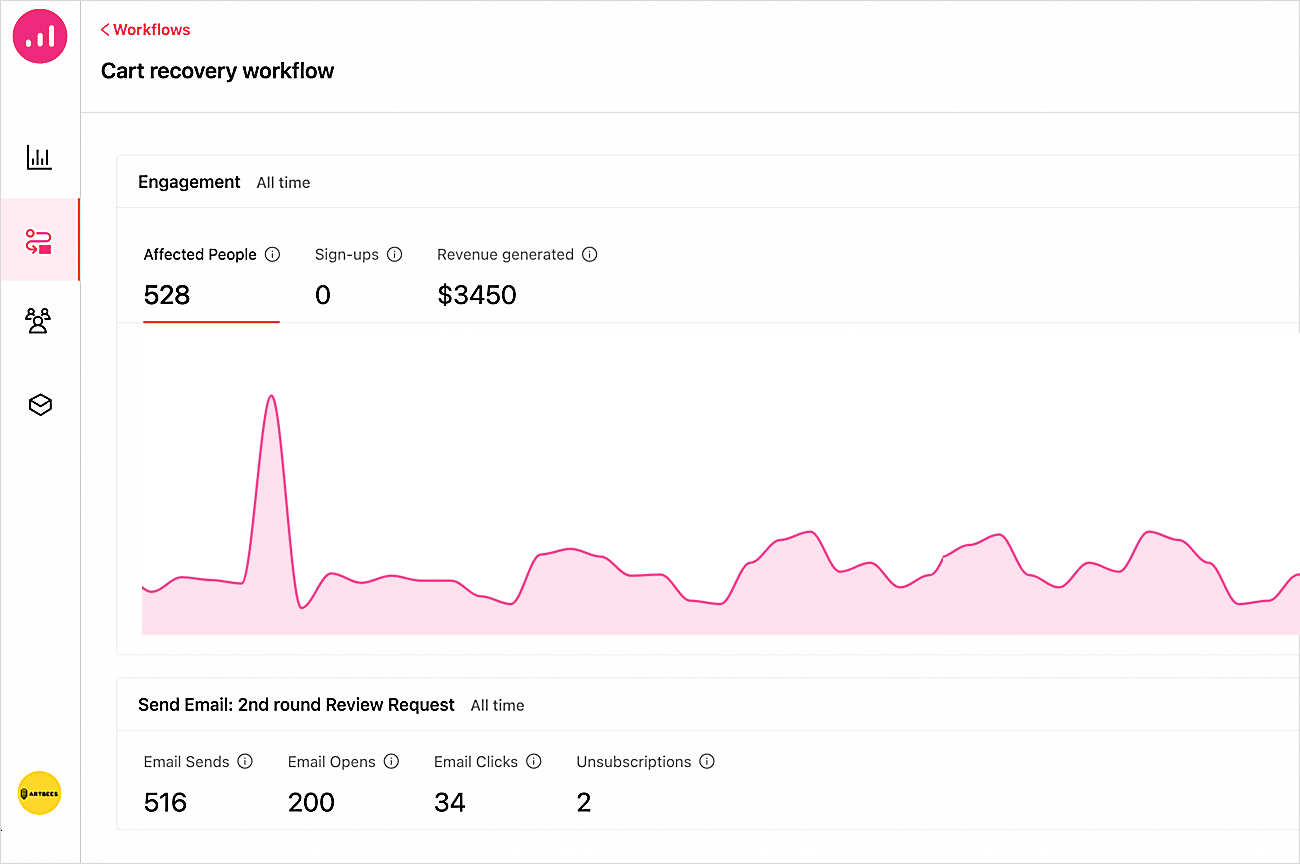 Additionally, using the Analytics page on the sidebar can give you a bird's eye view of your marketing performance and allow you to see the general analytics for website, sales, customers, emails and more with the timeframe of your choice.
Final words
An omnichannel marketing automation tool facilitates a unified customer data pool that is collected from different customer touchpoints. This helps a WooCommerce store owner to better understand the data by meaningfully segmenting it and then using that to target the right person at the right time in the right channels. Using a tool like Growmatik can help you effectively practice an omnichannel marketing automation approach and get better results in your attempts to recover abandoned carts or lost customers in WooCommerce.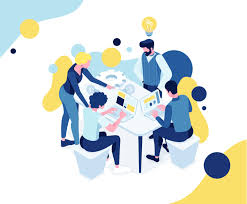 Latest posts by LT Digital Team (Content & Marketing)
(see all)