A while back I discovered the heart in the Joomla logo. It's been there all the time but for some reason I haven't seen it. And now I can't stop seeing it. I can't get it of my mind. The creator of the logo has really captured the essence of Joomla. A heart. Or several hearts if you look closer. That is really smart. The heart can manifest a lot of different attributes for our community. Here are some that I see that I would like to share with you.
We are passionate
We are many within the Joomla Community that speaks from the heart. We are so in love with what we believe Joomla is and will be in the future. Sometimes these passions collide and we get into heated discussions. I believe that this shows true passion. And we should be proud of allowing these open and transparent discussions to take place as long as they do not turn into personal accusations.
Let's instead embrace these different opinions and be seriously curious about the other peoples views and ask why the other person is believing something that you do not agree with. That will broaden our perspective. We are after all a global community with members from all different cultures and not everyone has the same native language. That makes us not understand each other so easily sometimes. The global community is one of our biggest strengths – feed from it. Thank you all that so passionately discuss and share your points of views with each other and the community.
We are compassionate
We, as a community, have a lot of compassion for each other and others around us. We feel it even more when we meet at Joomla events like JUG meetings, Joomla!Days, Joomla!Nights, JAB and JWC. It is just so nice to meet and have facetime in addition to our online communication. We see a lot of community members putting in a lot of energy and time into the project as volunteers. Thank you so much for all your dedication and your effortless work that creates this amazing community and the solutions that get's downloaded more than 1.000.000 times each month. Sometimes we dedicate too much time to Joomla and other parts of our life misses us. If you see anyone in the community who is overcommitted and are struggling with the volunteer/life/work balance. Reach out and show your compassion. The words "thank you for your commitment" and the question on "how can I help you" goes a long way! That is one reason why we need more hands on deck. If you want to contribute to a strong and healthy Joomla you can find out more how to get involved in the project We need you!
We also have a lot of compassion for causes around the world. Like the volunteers that in a few hours started the www.disastersearch.org website (which is now offline) to connect people after the devastating Hurricane Katrina in New Orleans. More than 500.000 people registered on that site in 2005 to connect and find out if there near and close ones were safe. Jonah wrote a comment on this site "I just wanted to commend you on an incredible effort. This site is an incredible example of the life and death applications of social software." Keep in mind this was way long before social media was spread like it is today. This is an awesome example on compassion enabled by Joomla CMS. If you have an example please share it using the hashtag #joomlaheart
Joomla – Think Bigger
There are many other organizations around the world that are also using Joomla to help make the world a better place. In 2012, a team of community members started an initiative called Joomla – Think Bigger. The vision for this initiative is to recognize those type of organizations on joomla.org, and also to enable and support members of our community who want to contribute their time and Joomla skills with those types of organizations.
If you are interested in joining this volunteer team and helping to move this initiative forward, please send an email and share a little about yourself and how you would like to contribute. Also, if you know of an organization that is using Joomla to help make the world a better place, please send an email to the same address and share a little about that organization.
We are brave
The founders who created Open Source Matters, Inc. almost 9 years ago were brave to start a new fork that we now know as Joomla CMS. Joomla has since then evolved to one of the most popular CMSs in the world with a superior code base. The decision to start this journey was not easy but they still did it because they believed in it and were brave. Looking back that was really disruptive and got a lot of attention and support way beyond our own community. So thank you to all the founders who started this journey that we are on. Here is more about that history.
We need to continue to be brave as a community. We need to continue to reinvent and question a lot of ways we do things within our project to grow and thrive the community and the software we create for the future. The web and the way we us it is constantly evolving and we need to evolve with it sometimes to show the direction and the way for others.
From: http://magazine.joomla.org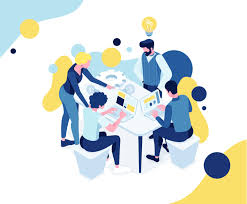 Latest posts by LT Digital Team (Content & Marketing)
(see all)