If you don't know how to undo changes in WordPress with the Post Revisions, let's dive into this article to get more useful information.
What are Post Revisions?
Post Revisions is a built-in feature in WordPress. it plays an essential role in storing revision history for each post or page while you are writing. Once you are working on each draft, the system will automatically save a temporary revision that is also called auto-save mode. Autosaves are enabled for all posts and pages and however, they do not overwrite published content.
In addition, by default WordPress will save a copy of the site content every 60 secs when having any changes to your posts/pages Especially, this mode will help you save your post whenever your power goes out, or you lose your internet connection.
Then, when you go back to edit that post, the system will display a warning telling you that there is a backup of your post and a link to restore the backup. When you review revisions, autosaves are highlighted.
Why should you use Post Revisions?
As we mentioned above, post revisions assist you to store a copy of your content automatically. Additionally, it allows you to switch between various stated of your draft, make changes. Thanks to that, it is easy for you to manage the work of multiple authors.
What's more, you can see who made changes to your article, what changes they made and much more. In short, WordPress Post Revision is really a valuable feature for your website. Therefore, in today's we will give you a step-by-step guide to using this built-in function. Now, just keep reading.
How to Undo Changes with Post Revisions in Classic editor?
If you are still using the Classic editor, in the post/page edit screen, let's take a look at the right panel. You will see that WordPress showcases the number of revisions in the Publish Meta box.
Now, if you click on the "Browse" link, it will take you to the post/page revisions screen.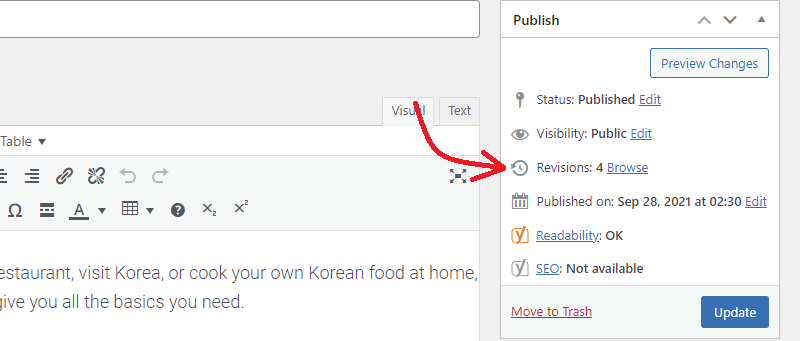 The post revision screen will display you the latest revision of your post with a scroll bar on top. When you slide the button on the scroll bar, it will take you to the previous revision of the post/page.
Besides that, the post revision will highlight the content that was removed in the right column and the added content in the left column. Especially, each change will be marked in green and pink colors.
You will see the author who made these changes, time, and other information displayed on the top.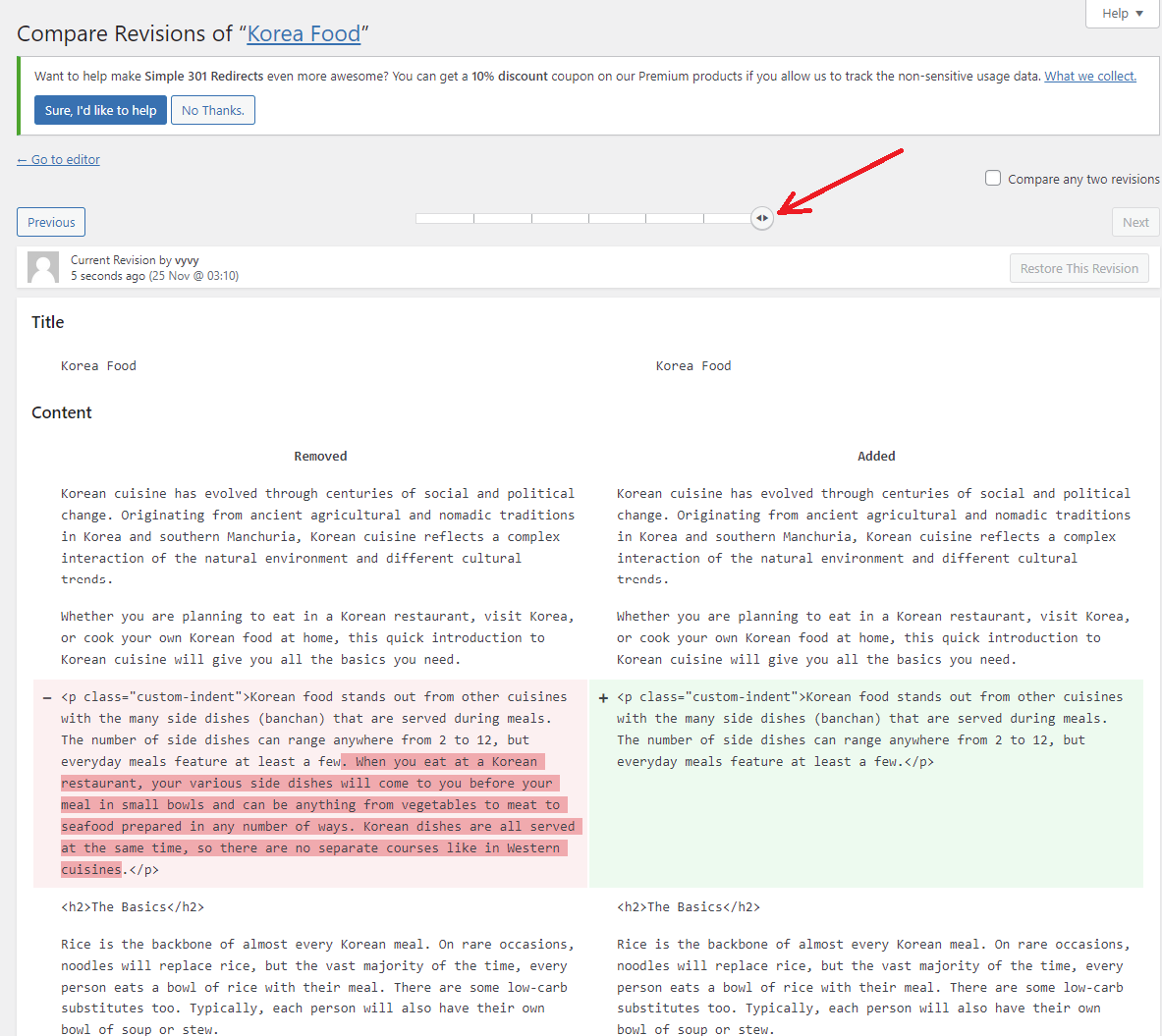 Moreover, you are able to utilize the " Previous" and " Next" buttons to move around revisions.
Have a look at the box on top that displays " Compare any two revisions".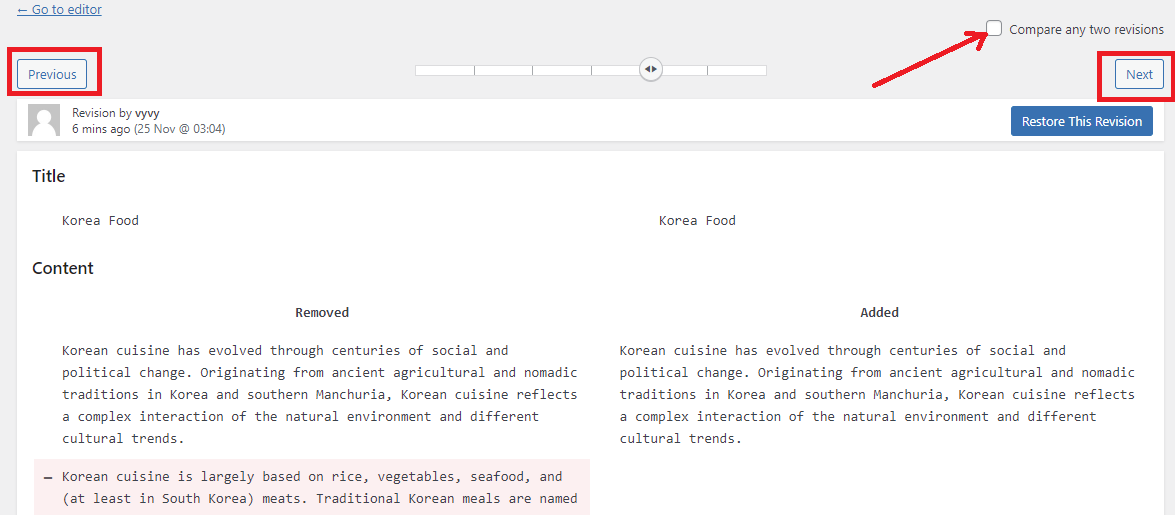 If you check that box, the post revisions will divide the scrollbar button into two ones. Then, you can take each button to a different revision and compare the distinction between two distant revisions.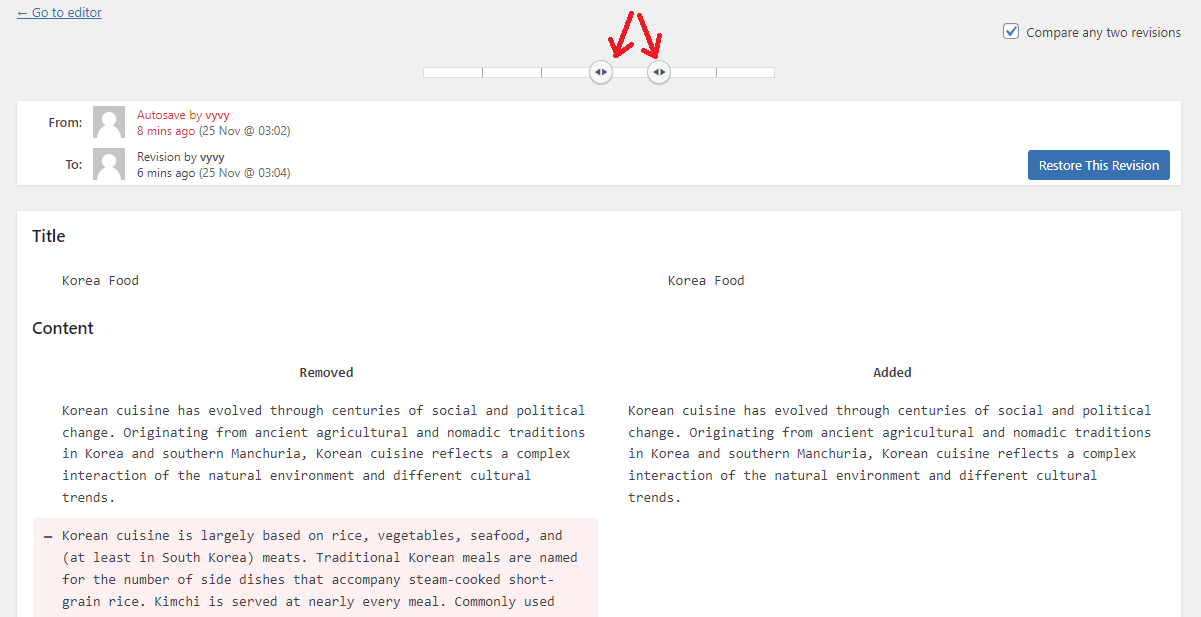 If you want to restore any revision, simply click on the "Revision" or "Restore This Autosave" button. WordPress will immediately restore the selected revision as your current post revision and you are able to save it as a draft.

Furthermore, you can rest assured that if you restore an earlier revision, it will not remove the latest version of your post.
How to use Post Revisions in the WordPress Block Editor( Gutenberg)?
If you are using the new default editor of WordPress, you can easily find the post revisions under the Document panel on the post/page edit screen.
To see the post revisions, let's click on the "Revisions". Apart from this step, the post revisions in Gutenberg also work similarly in the Classic editor.

Should you limit or disable the post revisions feature in WordPress?
You completely have the possibility to limit and delete the post revisions feature. However, we strongly recommend that you should not disable this feature because post revisions are really valuable in a lot of situations.
Many users think that having many revisions can slow down their websites. But this statement is not true. Since WordPress will skip post revisions when you make database calls on the front-end. It only seeks revisions on the post edit screen or once you are browsing revisions.
WordPress enables you to manage the number of revisions you want. In order to limit post revisions, you can add the following code to your WordPress site's wp-config.php file.
For example, we want to limit the number of revisions to 10. You can replace 10 with the number of revisions you want.
define( 'WP_POST_REVISIONS', 10 );
For any reason, if you still want to delete post revisions in WordPress, you can use the WP-Optimize plugin.
First of all, you need to go to Plugins > Add New from your WordPress admin panel. Then, you use the search bar to search for the plugin. After that, simply click on the Install Now button and Active it.

Once the plugin was installed, go to WP-Optimize > Database page and check the box that displays " Clean all post revisions". Then click on the " Run optimization" button to delete all post revisions.

Summary
In a nutshell, that is all information we want to share with you in today's tutorial. Hopefully, this article can help you deal with your problems. If you have any questions, please leave a comment below, we will support you as soon as possible.
Last but not least, you can visit our free WordPress Themes to explore hundred of beautiful designs for your website.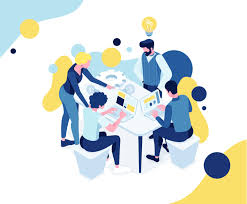 Latest posts by LT Digital Team (Content & Marketing)
(see all)