It's time to create new or re-design your websites to bring it to the next level.
Collection of 200+ Free Joomla templates, support Joomla 3.9.x and Joomla 4 Listing of 300+ Best Free WordPress themes, WooCommerce compatible, Elementor supports!
In case you don't know, CodeGuard is a cool new website backup and monitoring solution.
The main idea of the service is to make your site safe, secure and protected against all kinds of bad things without you – the website admin/owner – even being actively in the picture. CodeGuard does all the work for you, so you don't have to worry about anything.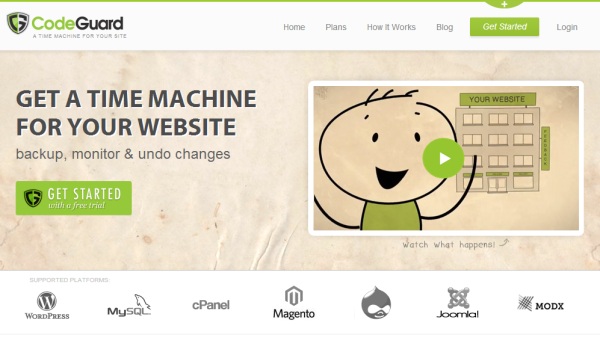 CodeGuard works regardless of the platform your site runs on (whether WordPress, Joomla!, some other CMS or a completely custom solution, CodeGuard can handle it).
That being said, it's not a standard piece of software that you would download, install, etc. CodeGuard works on a SaaS model (Software as a Service), which is just a fancy name for a subscription-based online service. This means that you get billed every month for the operations CodeGuard performs for you.
Let's take a look at what's under the hood.
Features
The list of features CodeGuard has to offer is so big that listing them all here would be an overkill. Instead, I'm just going to talk about what's visible from a standard user's point of view.
CodeGuard takes care of your website on three separate levels: backups, monitoring, and restore (in case needed).
All this features are available for your MySQL databases and can even backup WordPress databases.
Backups
At the time of writing, CodeGuard offers daily backups across all available plans (Personal, Professional, Enterprise).
In the settings, you have the possibility to back up both the filesystem of your website, as well as the database.
Once you perform your first backup, this is what the dashboard is going to look like: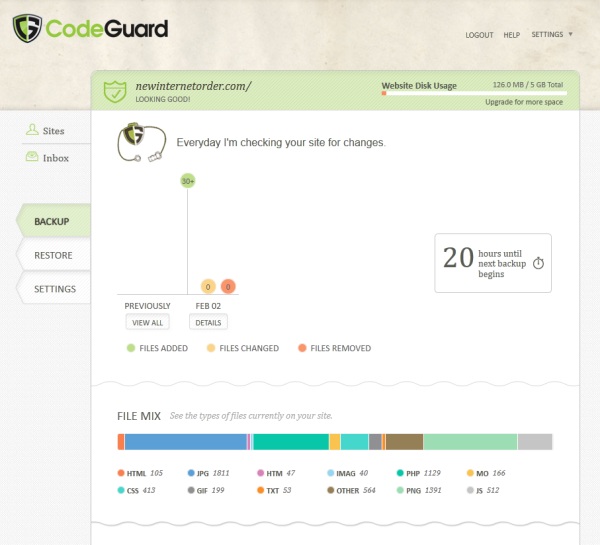 This is the part where monitoring comes into play…
Monitoring
From now on, CodeGuard will monitor your site daily, and back up every new state that your website is in (whenever CodeGuard sees any changes, it backs up them and lets you see what files have been changed, same for the database).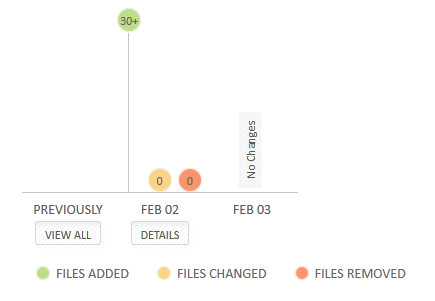 On top of that, you can also set email notifications informing you about the changes. That way you can quickly discover anything suspicious going on (like a hacker attack).
Restore
Unfortunately, sometimes bad things do happen to our sites, and often the best way to fix the situation is to restore the website to its last known working version.
This is where CodeGuard really starts to become an attractive solution, to be honest…
The thing with all sorts of backup services is that they are actually worth nothing unless there's a simple way of restoring your site from a backup. I mean, what's the point of having a backup if you can't do anything with it.
CodeGuard apparently realizes this fact because they offer three methods to restore your site.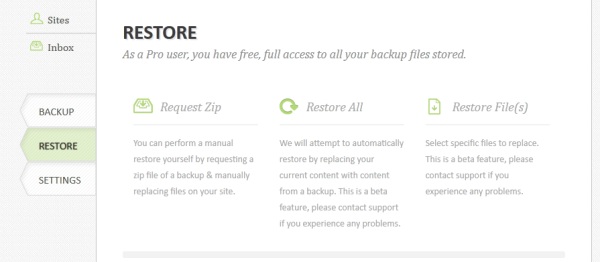 You can either request a ZIP archive of a given version of your website and then restore it manually, you can ask CodeGuard to do the work for you and restore your whole site, or your can ask CodeGuard to just restore individual files.
I've tested the ZIP archives and everything seems to look just fine.
CodeGuard also check your sites against Google safe browsing and notify you if the site has been flagged as infected with malware by Google.
Apart from the short description here, there's actually a ton of other features and customizations that allow you to set up the service in a way that fits your needs hand-in-glove. I encourage you to go to the official website and check them all out.
Who is this for?
So the most important question is this: Is it for you?
In short, if you're a website owner who values security then it is indeed a product for you. Especially if your website is your main business tool.
The issue of website security is something people usually don't pay attention to until they get hit by a hard disk fail, malware, or other online threat. By that time it's usually too late to do anything. CodeGuard ensures that you won't ever experience such a day.
That being said, if you're just running a personal website with no crucial data on it, and you don't want to spend money on a premium solution then you can find a free alternative and handle your backups in a little more manual manner.
The good
There are many great things about this service, but by far the best one is its ease of use.
CodeGuard makes the whole process as user-friendly as it can be. Instead of forcing you to install software, either on your computer or on your website in a form of a plugin, it connects to your hosting account directly and works transparently in the background.
Here's what I mean by user-friendly. Once I completed the signup process (more on which in a minute) I decided that I was going to prepare a cup of tea and then once it brews, I would start testing the service. Bear with me here for a moment, please.
However, once I saw the initial window (image below) I decided that I can fill that out quickly while the tea brewed.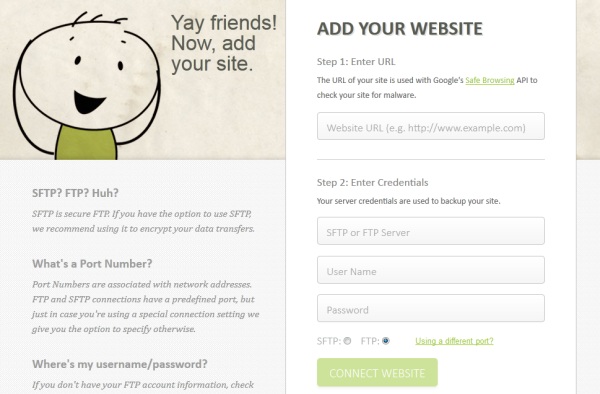 Then I saw the following, so I just quickly selected the checkbox for "all files" (the top one).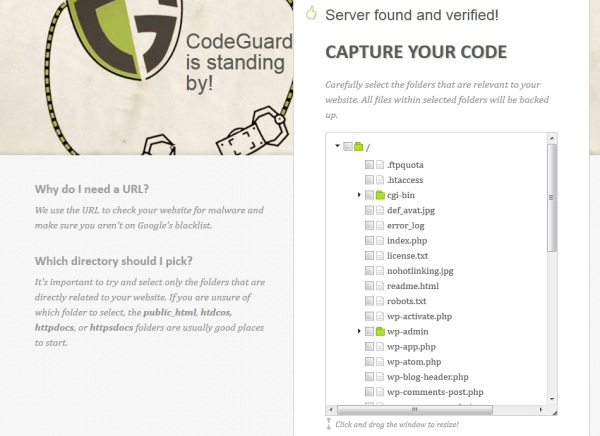 Then I went to the kitchen to get the tea. When I came back, my site was already connected to CodeGuard and the backup process was running. This is how simple this is, you can handle your part of the job while having a tea.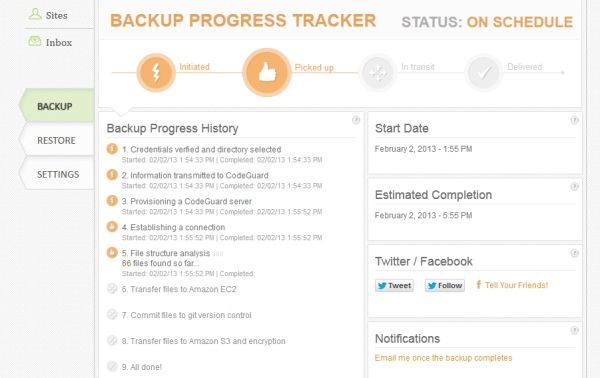 If you want CodeGuard to take care of your database backups as well, you need to set some additional things in place. When trying to backup your database for the first time, CodeGuard will instruct you to whitelist their IP addresses so they can connect to your database directly. They provide you with the exact addresses you need to send to your hosting provider.
If your account runs on cPanel (which is usually the case), you can set this yourself. Simply log in and go to the "Remote MySQL" section, then add the IP addresses one by one.

Of course, you also need to give CodeGuard the standard access parameters like your username, database hostname, etc. (the easiest way to obtain all this is to copy-and-paste it from your wp-config.php file).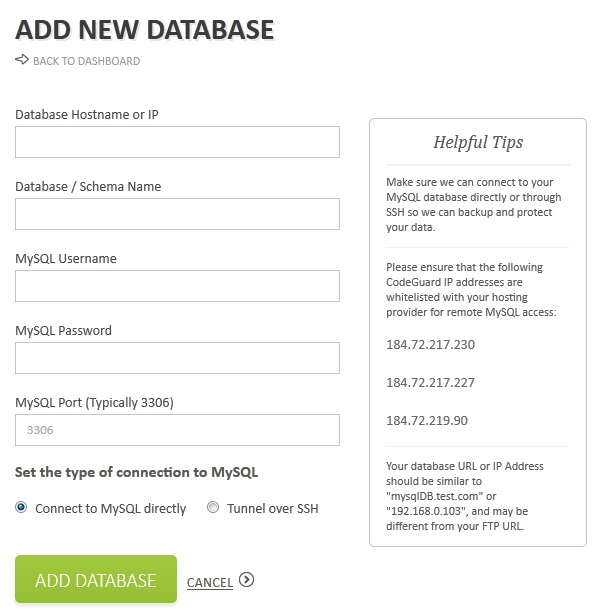 Once you click the big button, CodeGuard will perform the first backup and also include this database backup procedure in the daily schedule.
Now, apart from that, the overall focus on being user-friendly can be seen in other areas of the main website and the way it interacts with the user. Everything is clear and easy to grasp.
The bad
Just thought I should get you ready for this – the bad part is the signup process.
CodeGuard offers a free trial for all plans (which is a great thing, no doubt about it), but the way they deliver it raises an eyebrow, so to speak.
In short, they need your credit card number to set up your free trial. The strange part is the practice itself. If it's free, then why the credit card number is required? Well, you decide, they say that it's in order to (quote) : "ensure transition from trial-period to a real-account is smooth and seamless."
One more thing – there's no info in the dashboard about how much time you have left on your trial, so it's quite easy to lose track of things.
Plans and pricing
There are three plans available: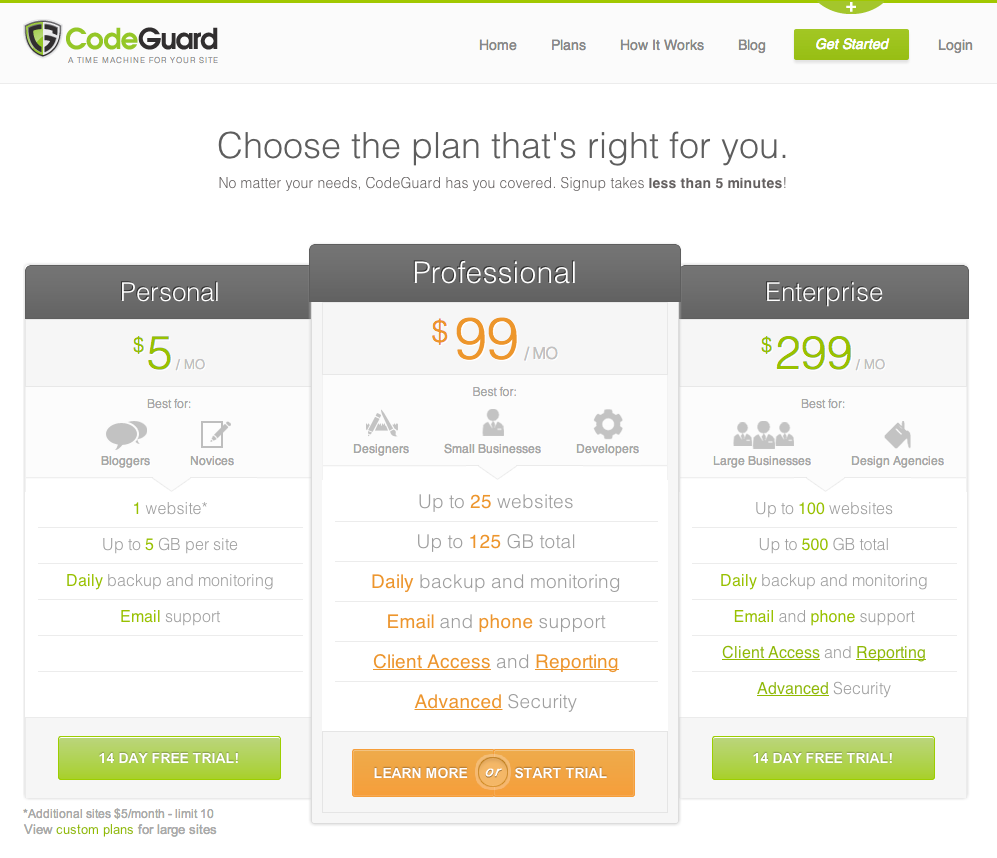 The Personal plan is the most affordable one – just $5 a month. The only downside is that you can connect just one site. However, for an additional $5 you can introduce another site, all the way up to 10 sites. This actually makes the Personal plan quite scalable.
The Professional plan ($99 per month) introduces a number of additional features that can be handy (mainly) for developers and designers, or teams of people working collaboratively on a number of sites. Probably too much for most bloggers, though.
The Enterprise plan ($299 per month) is their most advanced solution, capable of monitoring up to 100 websites with 500GB of storage in total. Although the plan is a true workhorse, I don't see it as the most popular one to choose, mainly due to the big price tag.
Customer support
CodeGuard follows the modern standard of customer support – they provide a dedicated ticketing system. The only flaw is that it requires a separate registration because it runs on an external platform.
Apart from the ticketing system, there's also a support center featuring answers to the most common questions and issues, a dedicated phone number, and email support.
(I did a small test, and my support ticket got answered within about 15 minutes. Nice.)
The bottom line
In my opinion, CodeGuard is a keeper. Apart from the signup process, I see no bad sides to this service. And since the Personal plan is only $5 a month, it's not actually expensive either. It's like a coffee-a-month price…
One more thing that's great about the nature of CodeGuard is that it's nothing like other, popular subscription-based tools. Mainly because it's a set-it-and-forget-it solution.
This means that once you set everything up, you don't need to manage the tool actively. Everything happens in the background with no supervision required on your part. Whenever anything suspicious is going on, CodeGuard will let you know via email.
Have you tried CodeGuard yourself? Feel free to comment and let me know what you think about it. Is your overall impression just as positive as mine?
Are you Web Freelancer or Web Design Company? Join our Club and Access our Resource!
500+ Premium Joomla! and WordPress themes just $8.70/Month, Quickstart (dummy) package included, unlimited domains!