It's time to create new or re-design your websites to bring it to the next level.
Check out Top 110+ Best Free Joomla! templates Listing of 300+ Best Free WordPress themes
Spam remains a big problem for all the WordPress users. Comment spam affects other blogging platforms such discussion forums, and wikianswers. Sadly, it is almost impossible to completely stop the span software from attacking your WordPress site. Spammers can still submit spam to your wordpress if you disable the comments.
These comments will not be displayed on your website but, they will take their space in your database. This will increase the overall size of your database causing the website to slow down. So in today's article, I would like to share some tips and tricks for reducing the spam on your WordPress site. Moreover, I would share some plugins with you for preventing the spam.
Tips and Tricks to Reduce Spam
1. Hold the Comments for Moderation
I personally prefer and do moderate all the first comments made by the readers. If it was send by a bot, it will not be accepted & will be held for the moderation. But, if someone manually comments to provide their links, you can either blacklist them or mark them as spam.
Simply check the box named 'Comment author must have a previously approved comment'. If you trust a reader and you find their comments relevant, you approve it. Then next time same reader makes a comment, it will be approved automatically. It'll save your time in having to deal with approving or disapproving the comments.
2. Hold the Comments that have links
Majority of the spam comments have links in them. The best way to take full advantage of it is to send all the comments with links to the moderation queue. You can simply do it by changing the settings in the 'Comment Moderation' section.
By default, the WordPress will send comments to moderation queue if it has more than 2 links. However, you can reduce it to 1 because most of the spam comments contain only 1 link.
3. Use Comment Blacklist
This is a very useful feature in the WordPress that majority of the people don't know about, or they don't use it. It allows you to easily blacklist the IP address of spammers who are time after time attacking your website. You can blacklist the comment makers by their URL, email address, name or content. This is a very useful way for discouraging all those people that are submitting the spam manually. I recommend this to everyone!
4. Close Comments on Older Posts and Pages
While most of the spam will occur on the newly released posts, it is common for the spammers to target the older posts. The reason is that those posts have already generated good traffic as well as a good search engine ranking. Some popular articles or posts can be years old, so you may not notice that they have been attacked by the spammers.
WordPress allows you to automatically disable the comments on posts and pages that are being published with a defined time period in the form of days. I would suggest that you set it to 100 days to keep a balance in keeping the comments enabled on the new posts and stop the spam in the older posts or pages.
5. Use a Comment tool
Disqus and Livefyre are two very popular commenting tools that will require people to log in a separate account such as Disqus account, Facebook account etc. in order to submit comment on the blog posts. Using such tools can be very helpful in reducing spam comments because the spammers will not invest their time in logging to an entirely new account for commenting.
Some Useful Anti-Spam Plugins
There are plenty of plugins on the web that help you in fighting against the spam. However, you don't want them all because most of them will slow down your blog or site. Some might give you an error while some may not work. But some of them are tested and trusted anti-spam plugins that only need a simple install from your side and they take care of the rest. So, here are some of the anti-spam plugins that you'll need.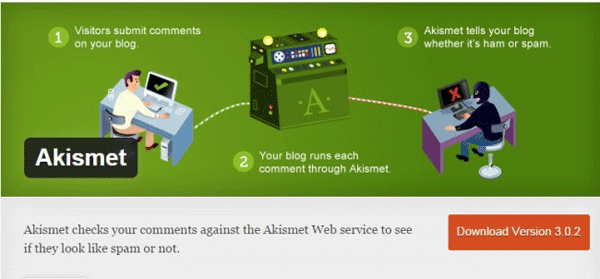 This plugin will check your comments against the Akismet web service to see if they look like spam or not. Also, it will allow you to review the spam that it catches under blog's 'Comments' admin screen. Some of the features include:
URLs are shown in the comment body to reveal hidden links.
Moderators can see the number of approved comments.
Saves your disk space and speeding up your site.
The plugin is freely available to download.
This plugin will ask a question that comment makers must answer correctly before the comment is accepted. It will cut down the spambots, and also will be helpful with troll-control. Authors can write a new quiz question and answer for each post, or can have no question at all. Some of the features are:
Enter multiple correct answers, separated by commas.
Answers are checked by a caseless comparison.
Logged in users don't have to answer the questions.
This plugin is freely available to download.
This plugin adds a client side generated checkbox to your comments form and asks the users to confirm that they are not a spammer. It is easy for the users to click a box than entering a CAPTCHA. Some of the features are:
Set maximum amount of comment a user can have in moderation.
It adds dynamically named fields to the comment form.
Stops 99% of all automated spam bots.
The plugin is freely available to download.
Comment spam is an ongoing battle that majority of the website owners have to face on daily basis. But, if you configure your discussion settings as I told you above, you will surely reduce a lot of spam on your wordpress site.
I hope you found the article useful. If you want to share anything with us, feel free to comment in the below section.
From: http://www.webdesignai.com
Are you Web Freelancer or Web Design Company? Join our Club and Access our Resource!
Access 500+ PRO Premium Joomla! and WordPress themes with $19,200 just $149, Quickstart Package included!