It's time to create new or re-design your websites to bring it to the next level.
Check out Top 110+ Best Free Joomla! templates Listing of 300+ Best Free WordPress themes
The collection of best WordPress Elementor Addons
Take a look and choose the best WordPress Elementor Addons to enhance your WordPress site!
It is true that nowadays Elementor is one of the most powerful page builders that you can find. However, in order to reach more potentials of this page builder, you need the help of several add-ons. Today, in this collection, we helped you to list the top best WordPress Elementor Addons to build your site. Let's start now!

This WordPress Elementor Addons provides you more than 57 creative elements that help you to improve your experience when you build an elementary page. Moreover, thanks to using this plugin, you are able to make your site and post design become better and easier.
Provided features:
Elements control option
29+ free widget and counting
100+ ready block
Lightweight and instant loading
Elements control option
Completely customizable
Highlights:
Beautiful pages
Outstanding plugin
Really useful add-ons

This plugin provided you a large number of customization options that you can use to build magnificent sites without needing any coding knowledge. The customization options it has are more than any others and totally free of charge that will help you to expand  Elementor Page Builder capacities.
Provided features:
Options panel
Free Support
22+ Elementor add-on widgets
Cross Browser Compatible
Tested By Browserstack
Highlights:
Great and usable
A lot of good features
Smooth and nice

This WordPress Elementor Addons allows you to insert new add-ons and widgets to your sites in an easy and fast way. Furthermore, it also provides minimal support for many themes.
Provided features:
Elementor Posts By Category
Minimal support
Elementor Native Widgets
Contains 6(+2) widgets
Elementor Widget Recent Posts
Highlights:
Very practical
Work perfectly
Great add-ons

This plugin is easy to use and highly functional with a lot of powerful features for you to build a professional website. It also enables you to exchange your theme from a free theme into premium one in a fast way. In order to use this plugin, you need to activate Elementor and then the add-ons will be available for you.
Provided features:
Post Carousel extension
Bar charts addon
Odometers/Counters
Testimonials slider
Pricing Plans
Blog Posts Grid
Portfolio Grid addon
And more
Highlights:
Lots of options
Excellent Quality
Great support

This is a powerful Elementor Page Builder that allows you to insert new widgets to your page builder. Moreover, thanks to using "AnyWhere Elementor Pro", you are able to generate a global post list with Elementor.
Provided features:
Animated Text
Text Separator
Shape Separator
Dual Button
Comparison of Table
Google Map
Progress Bar
And more
Highlights:
Straightforward interface
Good customer support
Fantastic tool

This WordPress Elementor Addons allows you to insert widgets as well as elements to your Page Builder easily. It also consists of a number of features so that you can build a professional site.
Provided features:
Image Accordion
Pricing Table
Product Grid WooCommerce
Testimonials
Contact Form 7
Advance Tab
Filterable Gallery
And more
Highlights:
Gorgeous widgets
A lot of potential
Useful Elementor elements

Image Hover Effects Addon for Elementor enables you to insert more than 40 image hover effects which consist of descriptions and title easily. Moreover, this plugin also allows you to display your description and title using a large number of entry animations.
Provided features:
40+ Image Hover Effects
Center the text horizontally
Easy to customize options
Circle and Square border
Control the spaces between elements
Highlights:
Great support
Easy to use
Great Stuff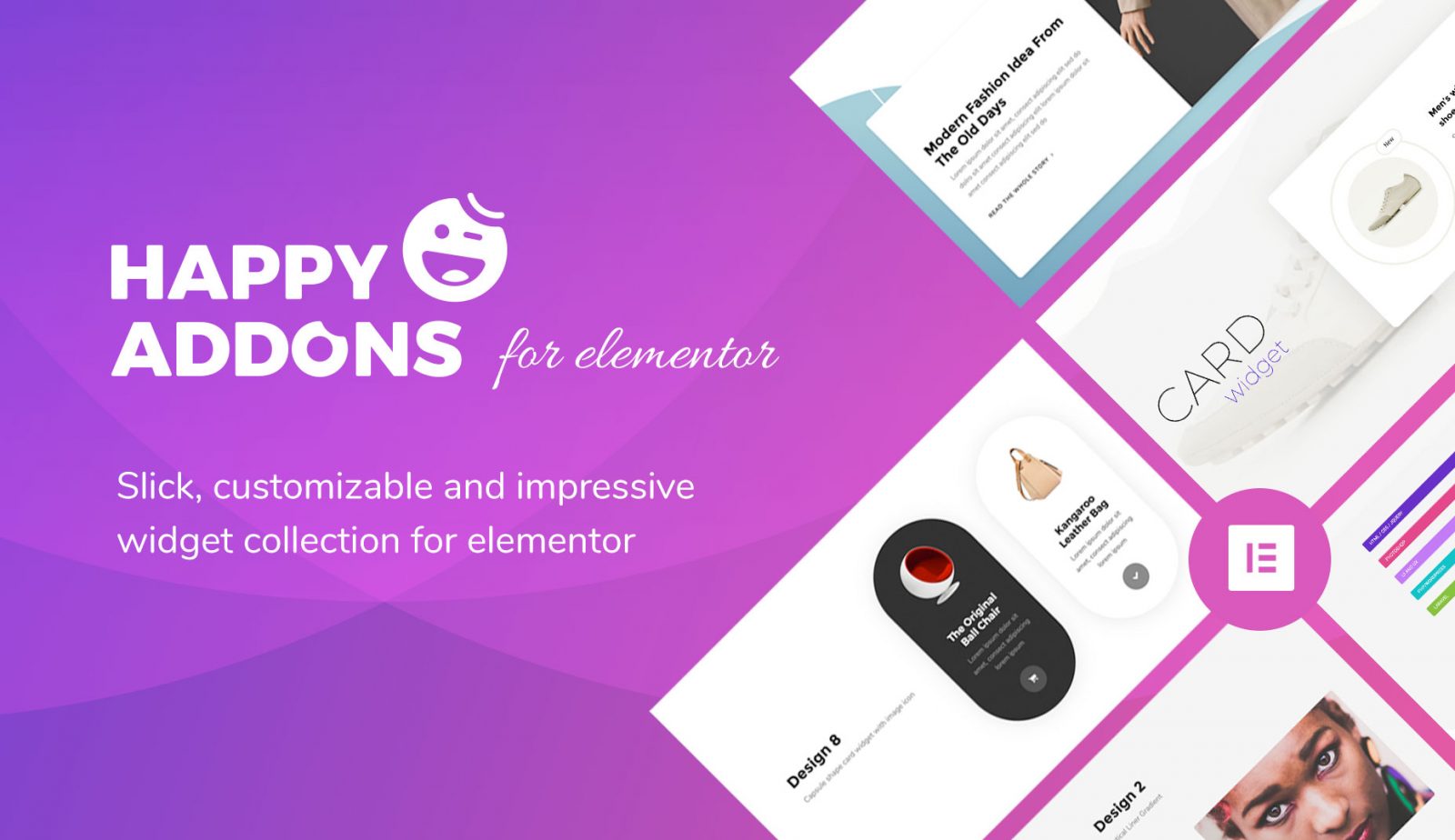 Elementor is one of the best page builder solutions for WordPress. We know that website building is just a matter of few minutes with WordPress, the struggle was designing and customizing the web pages. Elemento comes to the rescue. But the fact is- when it's something about perfection and building a brand; still, there are some issues. That is why weDevs brings a rich collection of unique widgets and features to help the community out.
As one of the top WordPress plugin development companies, weDevs always tries to solve real-life problems and build products that really work! Dokan, WPERP, WPUF, weForms and WordPress project Manager are some of their most popular products. Happy Addons is a new addition to their family.
It's been a few weeks only that Happy Addons hit the market, but already it has 50+ widgets and lots of happy features. 
What's new in Happy Addons?
A lot actually. But the main thing is- Happy Addons focuses on creating unique design spending less time and minimal effort. That's the power of this great solution. With offering almost all the core features of Elementor, it brings some widgets and features that you couldn't find anywhere else within the WordPress ecosystem.
In this post, we are going to shortly describe some widgets and features that you can get only with Happy Addons. Let's have a look.
Unique Widgets and Features of Happy Addons
Unlikely other third-party addons plugins, It brings some remarkable features which are totally new.
Floating Effect (

to create an animation of any widgets

)
Background Overlay (

to add background image or color

)
500+ Line icons

(extra with 1500+ Elementor core icons)
Unlimited Section Nesting

(Elementor offers only a single section)
Cross-Domain Copy Paste

(to copy any design from any domain)
Preset

(400+ design templates)
Live section copy-paste from Happy Addons live demo site
Page sync (

sync staging site's design to live site with a single click

)
That is not the limit. More will be available soon. Give a check and grab your favorite plan with amazing discounts!
In conclusion:
If you have any questions, don't hesitate to leave a comment below. And if you find it useful, don't forget to share with your friends!
Moreover, you can refer to Free WordPress Theme to build your WordPress sites!
Are you Web Freelancer or Web Design Company? Join our Club and Access our Resource!
Access 500+ PRO Premium Joomla! and WordPress themes with $19,200 just $149, Quickstart Package included!