Elementor Booking Plugin is viewed as the best solution to enable you to effectively and easily make booking forms for your site. Thanks to it, it's easy and effective for you to showcase the booking forms that help your clients book the tables/tickets online. Therefore, in today's article, we offer the top best Elementor Booking Plugin.
The importance of using Elementor Booking Plugin
Need a way to create and manage a booking service for your site? So you ought not to miss this article! Today, we have hand-picked 11 helpful Elementor booking plugins that you can use to make booking forms make calendars with booking detail, list booking slots and that's just the beginning. One of them additionally permits you to enliven delightfully booking forms to attract the attention of your customers. In this way, don't stop for a second to read this article to get an amazing Elementor booking plugin!
Recommended WordPress themes that work well with Elementor booking plugins
Top Excellent Elementor Booking Plugin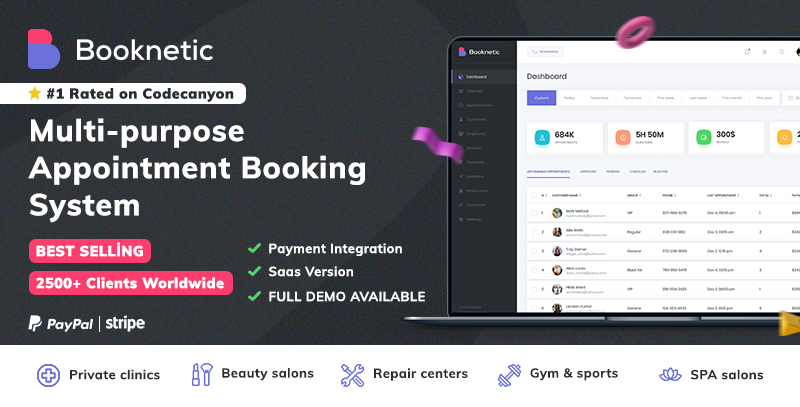 Booknetic is one of the best WordPress appointment scheduling plugin that enables customization and automation of online reservations. Because of its functionality, it is appropriate for a wide range of enterprises, including hotels, salons, dentists, legal offices, individual consultants, dance, fitness, and more importantly, it is a WordPress fitness plugin. Baluu is another excellent booking system – with Baluu you can create a fully functioning bookings website without the need for any third party software, or you can embed it into any WordPress site using an iFrame.
Installing and customizing Booknetic in WordPress will only take a few minutes. Because of its straightforward design and thorough documentation, everyone can fully grasp and utilize all of the capabilities. This booking system may be tailored to fit unique needs.
No more worrying about adding a client to your CRM system, because the booking plugin will automatically systemize and secure all customer data. The more feedback you receive from your frequent guests, the more likely you are to utilize the online booking system to make reservations.
For a one-time fee, Booknetic offers two variations of its booking plugin:
Standard, $79, SAAS version $489. Don't forget to Try Demo!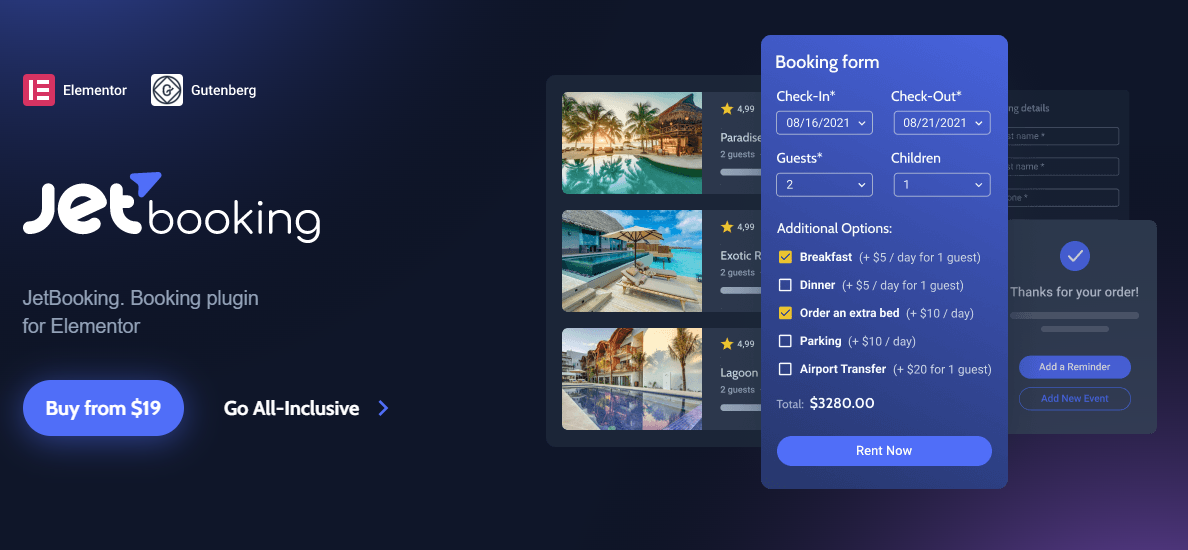 JetBooking is a powerful WordPress plugin that allows you to create and manage booking systems on your website. With JetBooking, you can easily create and customize booking forms, set up pricing and availability calendars, accept payments, and more. The plugin is highly customizable and integrates seamlessly with the Elementor page builder, making it easy to design and implement a booking system that meets your specific needs.
Features:
Manage all your bookings and reservations from a single dashboard
Provide customizable Booking Forms
Set up availability calendars to show your customers when your services are available
Set up email notifications to keep your customers informed about their booking status, etc
Integrates with popular payment gateways such as PayPal and Stripe, making it easy to accept payments online
Highlights:
Various options
Effective

Hotel Booking & Elementor Integration is a perfect combine of a Hotel Booking plugin and Elementor. Thanks to the smooth integration, you can use shortcode or widgets from Elementor list to build and manage a property rental website, and booking system – of course. This Elementor Booking Plugin requires Elementor and Motopress Hotel Booking Lite plugin to work perfectly.
Features:
Display bookings calendar
Guest can reserve multiple accommodations
Set booking rules
Set seasonal pricing
Custom accommodation details
Online search availability form
And more
Highlights:
Cool plugin
Multilanguage support

MotoPress Appointment Booking Lite is a free appointment plugin WordPress offers if you're engaged in a beauty salon, fitness studio, tutoring center, or other service businesses. It empowers you with a mobile-friendly booking widget to enable an appointment booking system. The plugin comes integrated with Elementor, Gutenberg, and Divi page builders.
Features:
Unlimited number of services with any duration
Any number of staff members
Flexible personal schedules (with buffer times, breaks, holidays, and days off)
Online and offline locations
Allow group scheduling
Options to add multiple services during one submission
Highlights:
Manage bookings from the dashboard
Automated email notifications
Translated into English, Italian, French, German and Spanish

Master Addons for Elementor has a widget named MA Business Hours, which helps you to create business booking table. MA Business Hours comes with 5 different designed preset, so you are free to choose the layout you want and custom its content. So, now, let's check out the features of this Elementor Booking Plugin.
Features:
Solid BG color style style
Content BG image style
"Book now" button
Hour preservation style
Full background image style
And more
Highlights:

If you are seeking an Elementor plugin supporting you to create a booking and appointment calendar for your website, don't miss Happy Addons for Elementor. Thanks to this Elementor Booking Plugin, you can use the Elementor Calendly widget to embed and customize the booking and meetings calendar in a perfect way.
Features:
Schedule booking & meetings without the back-and-forth emails
Embed any Calendars within any element website
Edit the booking & appointment calendar
Highlights:

With the help of Appointment Hour Booking, you can create booking form with start time defined by end user and the duration/schedule defined by customer. This plugin is specially useful for booking personal training, medical services, classroom and more.
Features:
Configure the data of calendar and schedule
Restriction of default, maximum and minimimum dates
Automatically caculate start date
Price and duration for each service
Custom email notification for admin and users
Support for Elementor blocks
And more
Highlights:
Printable appointments list
Calendar available in 53 languages

Appointment Booking Calendar allows you to create set of defined online bookings which your customer will choose an appointment from. Thus, you can use this plugin for create booking for courses, consultations, events, appointments and so on. Appointment Booking Calendar supports for Elementor block, so you can build booking slots with Elementor Page Builder.
Features:
Users can book an available time slot
Define the appointment booking capacity of each slot
Integrated with PayPal
Notification email for completed booking
Multi-page calendar
Multiple time-slot selection
Exports the appointments to iCal format
And more
Highlights:
Modern administration interface
Available in many different languages

With the help of Online Booking Calendar Scheduled247, you can create a simple booking system with a calendar that allows your customers to book an apointment from. Before you operate this plugin, go to Scheduled247.com to register for a FREE account first to get the calendar ID
Features:
Insert calendar by calendar ID
Create booking button on calendar using shortcode
Automaically schedule calendar
Embed inside Elementor by adding shortcode on Text widget
And more
Highlights:
Useful
Great support
Responsive layout

WP Time Slots Booking Form is a useful plugin that helps you to create booking form with a calendar. Your customers will choose the times into the calendar as per their requirement and book. After customer book, administrator will receive an email notification about complete booking.
Features:
The available time slots for each weekday or specific dates
The number of different time slots selected in a single booking
Min and maximum available dates
Holiday / closed dates
Price for each time slot and different number of selected slots
Number of months to display
Booking lists
And more
Highlights:
Modern appearance
Mobile-friendly
Good support

CBX Restaurant Booking is a cool plugin that enables you to build booking forms for booking tables and collect them. You can filter form by branch and feel free to manage booking form with Global setting panel. What's more, this plugin is compatible with Elementor Page Builder so you can visually build booking forms.
Features:
Booking form style
Scheduling as per week days with time slot
Scheduling exeption week days with time slot
Minimum or maximum party size
Custom message after successful form submission
Enable for booking limit
Support for Elementor widgets
And more
Highlights:
Effective
Easy to use
Time-saving

Using Calculated Fields Form, you can easily ceate a form with automatically caculated fields based on the data enter in other fields. This WordPress booking plugin free can be used for caculate quote for hotel booking, class booking, spa booking, etc. If you have already had a booking layout and want a caculating systrm for your booking service, you should try this plugin.
Features:
Creating forms with automatically calculated fields
Quote calculators
Booking cost calculators
Date calculators
Health / fitness calculators
Form builder for adding input fields on the form
Add one or more calculated fields
Predefined forms templates
Supports multiple field types, like drop-down, checkboxes, radiobuttons, dates, numbers
Integrated with Elementor
And more
Highlights:
Good plugin
Wonderful support
Rich looking interface
Trendy WooCommerce themes that you must try, it's FREE!
End
We have recommended the 11 best Elementor booking plugins we could discover. Come to pick the one that meet your need, and remember to share with us your thought, we'd like to know! If you have any inquiries, please remark beneath or get in touch with us. By the way, if you are searching for a stunning Elementor theme, visit our Free Elementor Templates to get one!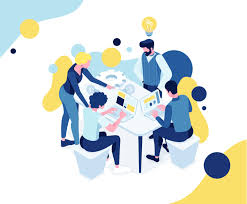 Latest posts by LT Digital Team (Content & Marketing)
(see all)