It's time to create new or re-design your websites to bring it to the next level.
Collection of 200+ Free Joomla templates, support Joomla 3.9.x and Joomla 4 Listing of 300+ Best Free WordPress themes, WooCommerce compatible, Elementor supports!
Even though WordPress is a great platform in itself, capable of running many different projects, I'm sure that it's still not the first choice for people planning a membership site launch…
And it's not hard to see why. I mean, WordPress is a blogging platform, right? And a membership site doesn't have that much in common with a standard blog.
(Just to make sure we're on the same page here. By membership site I mean a site that sells membership programs and then takes care of delivering content and managing user accounts. In other words, it's a site where subscribers get premium packages of content distributed in specific time intervals.)
Even though I'm sure Matt Mullenweg was not thinking about membership sites when he first created WordPress, the platform has evolved quite a bit, and now allows you to do pretty much anything with it. The rule of thumb is this: if a project is online-based, it can be run on WordPress. Membership sites included.
So here's how to actually launch a membership site on WordPress. But just to make things interesting, let's start with the bad and the ugly method.
The bad and the ugly way of creating a membership site
There's a piece of built-in functionality in WordPress that allows you to password protect any given post.
Essentially, this is all you need in order to have yourself a membership site. You just password protect your premium content, and then send the password to your subscribers.

Even though this will work, the only comment your subscribers are going to respond with (considering that they had to pay for access) is "are you kidding me?!"
I don't even want to get into the downsides of this approach, so let me cut the discussion short. If you want to be professional about your membership site and offer your customers with something special then this is not the approach for you. Period.
Moving on to the good way…
I'm sure this won't be a surprise for you, but we're going to launch a membership site by using some cool plugins.
The power of membership site plugins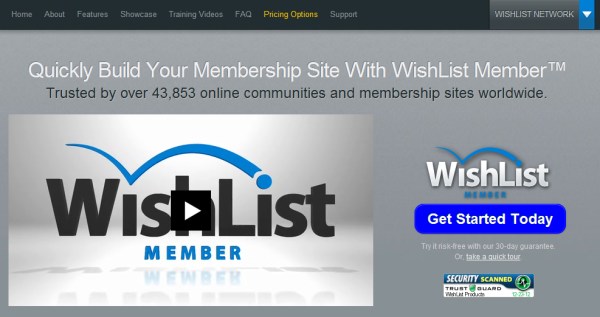 One of the most popular membership site plugins available. However, to call it a plugin is a big understatement. It's actually a complete membership site solution that offers a load of features.
It's not free, though. The single site license is $97, multisite is $297.
Some of the more important features:
Unlimited membership levels. Your users can be assigned to "silver," "gold," or any other package. That also means that you get to charge them accordingly.
Free, trial, or paid memberships.
Each membership level gets its unique content, not visible to other levels.
Shopping cart integration. You can bill your customers through PayPal, ClickBank, and other platforms.
You get a customer management dashboard where you can view each member and change their settings.
Teaser content support. This means that you can make a portion of your content visible to the public and follow it by a subscription link (if someone wants to see the whole thing).
Email newsletters integration. The platform allows you to connect your site with MailChimp, AWeber, and other services.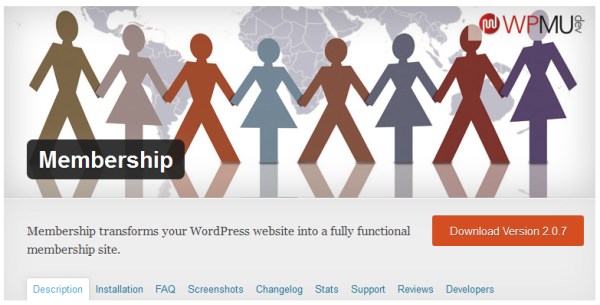 Don't worry, not every sensible membership site solution is a paid one. This plugin is completely free (even though the WPMU team offers a premium version as well).
Quite surprisingly, Membership seems like it has all the functionality you'd need, and surely everything to get you started with your first membership site.
Some of the features:
Different content types support. You can share: text content, tutorials and education, downloads, videos, and more.
BuddyPress groups and forums integration.
PayPal payments integration.
Two membership levels available.
The possibility to create free and paid memberships.
Teaser content support.
If your site requires more than two membership levels, you'll have to get the premium version of the plugin. But this shouldn't be a problem for most startup sites.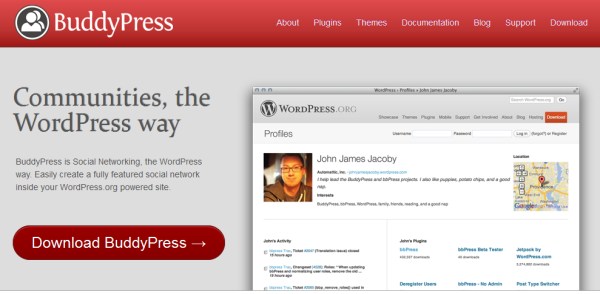 I just had to mention BuddyPress here due to its massive potential and possible applications. In short, BuddyPress is a social networking solution for WordPress (and it's free).
What this basically means is that you can use BuddyPress to launch any kind of site that involves creating a community in one way or the other.
However, when it comes to using BuddyPress for a membership site, you need to get a bit creative when assigning specific user roles and setting premium content areas.
The set of features BuddyPress has to offer is too massive for me to list it here. Instead, I send you over to the official Codex.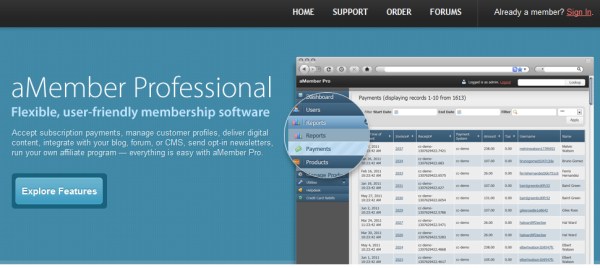 aMember is one of the pricier solutions – it'll set you back $180. However, it does come with a 30-day money-back guarantee and provides quite a lot of interesting features (among many others):
Unlimited membership levels.
Incremental content delivery. You can set specific time intervals when subscribers get new content.
Payments through PayPal, ClickBank, 1ShoppingCart, 2Checkout, and other services.
Customer management dashboard.
Allows you to create coupon codes and award discounts.
Integrated affiliate program. You can manage affiliates, handle recurring billing, refunds, and chargebacks.
Custom email list management platform. You can create email lists, setup auto-responders, and send messages by hand.
The complete list of features is truly impressive. This might just be the most advanced membership site solution for WordPress.
Yet another paid solution, but this time it's on the cheap side – $40 one-time payment (single site license).
Just like the previous plugins on this list, this one works on a similar basis. Here are some of the more important features:
Works with any WordPress theme.
Payments through PayPal, Authorize.net, and Google Checkout.
Allows you to use any currency.
Unlimited membership levels.
Free, trial, and paid memberships available.
Teaser content support.
Shortcodes (for easier development).
In case the above list is not enough for you, here are two more plugins:
So which one to choose?
To be honest, most of these solutions provide a similar set of features, at least when it comes to the most essential stuff, so the only difference from your perspective is the user interface. And whether something is cut out for you or not depends on your personal preference.
However, if I were to point out just one solution, it would have to be the plugin by the WPMU team – Membership.
The main reason is that it's free, and also because it provides all the basic stuff, which is more than enough for probably 90% of new membership sites.
Besides, you can always get one of the premium plugins if you find this one lacking some functionalities.
What's your take on this? Have you ever tried launching a membership site on WordPress?
Are you Web Freelancer or Web Design Company? Join our Club and Access our Resource!
500+ Premium Joomla! and WordPress themes just $8.70/Month, Quickstart (dummy) package included, unlimited domains!