To be honest, there are a ton of Joomla Administration Extensions on the market. So, you may feel confused a little bit. Don't worry about that because we will help you save your time by listing the most outstanding Joomla Administration Extensions for Joomla websites. All you need to do is explore and choose the best one. Now, let's go.
Why should you download Joomla Administration Extension for your site?
As you know, the way that the admin panel looks is as important as how it displays information. However, creating and designing an admin panel is not easy and quite time-consuming. Using an extension may be the best way to help you simplify this process.
In our collection today, we provide you with top best Joomla Administration Extensions with the hope that you can choose the most suitable one for you!
Top Useful Joomla Administration Extensions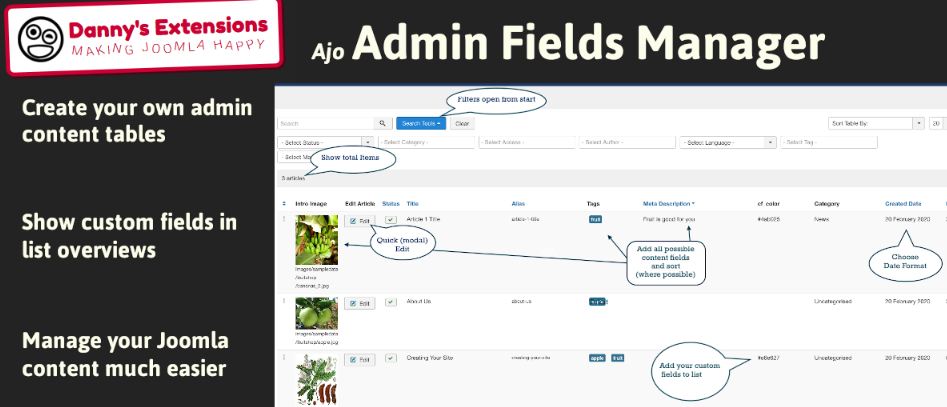 This is another awesome extension we would like to introduce to you. This will help you create your own administrator content lists in an impressive and effective way.
Provided features:
Overview shows your relevant fields
Shows your custom fields in list
Start using filters right away
Show total items
Create unlimited different column sets
Highlights:
Fully responsive
Simple
Work effective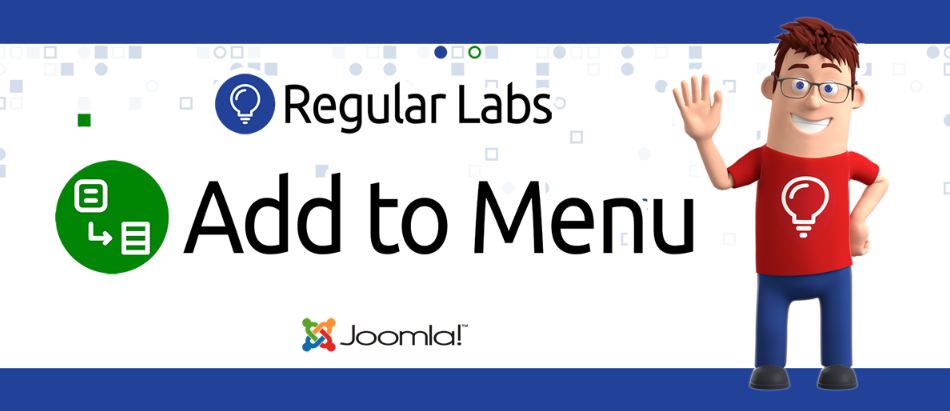 This Joomla Admin panel enables you to insert menu items to your site simply. An extra link will be got in the top right of your Administrator in order to insert a menu item link of the page that you are seeing
Provided features:
Add menu items
Get an extra link
Insert product pages to a product menu
Add a menu item link of the viewing page
Highlights:
Very easy to install
Save a lot of time
First class support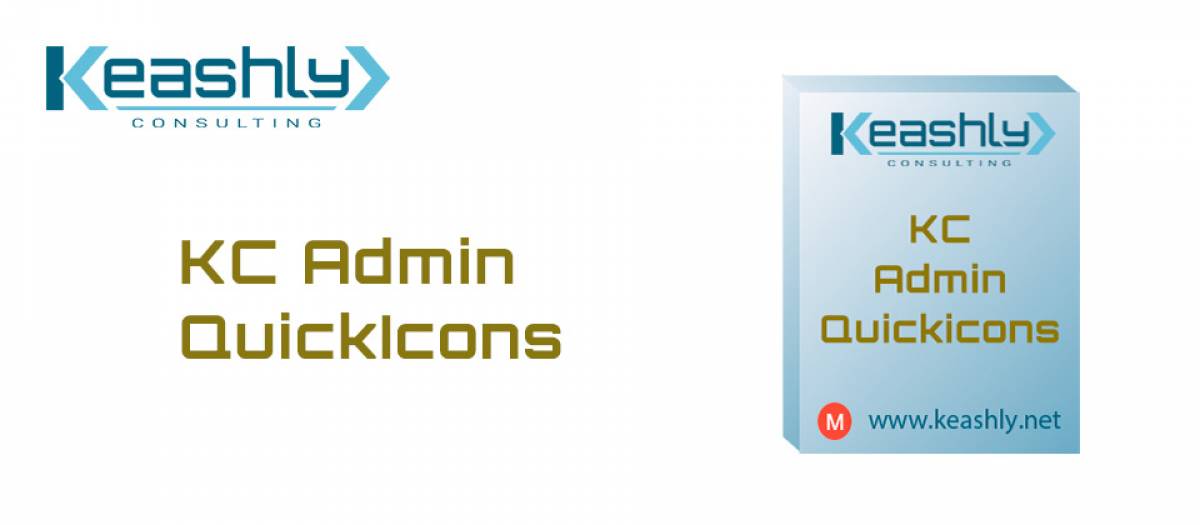 This extension enables admin to insert more than 10 quick icon access links to the Joomla control panel. Moreover, it also allows you to set what access level that the icon will be shown. As a result, you are able to set up several icons for managers and administrator.
Provided features:
New grid layout
Icon support as an option
Initial release upgraded
Fixed strict standard warnings
Open links in a new browser window
Choose CSS file to match module Position
Add your own custom CSS file
And more
Highlights:
Work perfectly
Save a lot of time
Easy to install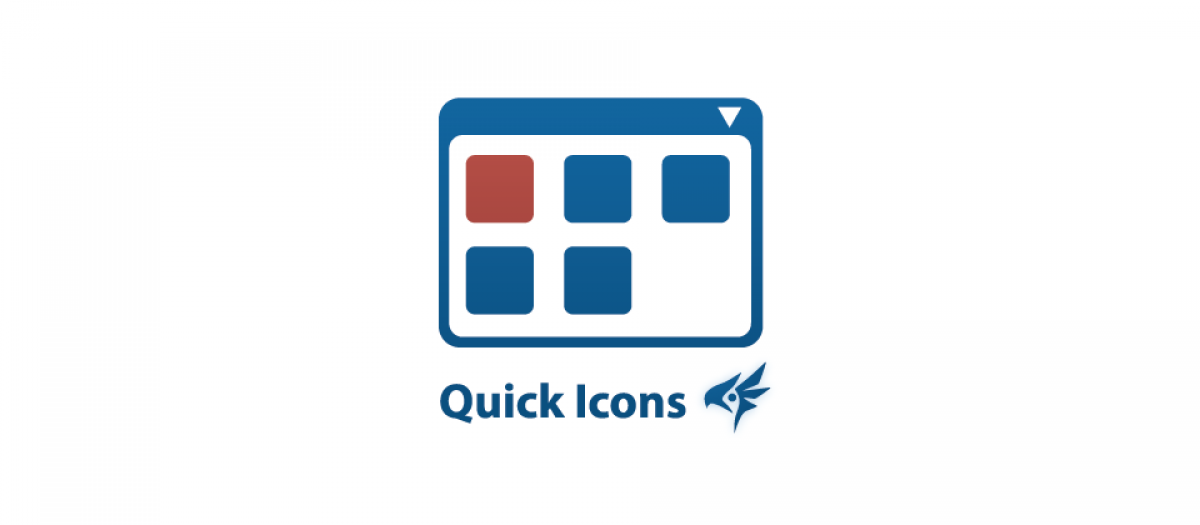 Asikart QuickIcons is a powerful Joomla Administration Extension that enables you to customize your Joomla panel. Every you need to do is uploading images and setting icon in Asikart Quickicons component and finally inserting new akquickicons module in administrator module manager.
Provided features:
Fix publish_up bug
Resize module icons
Fix font-awesome icon bu
Fix crash bug
Update Windwalker to 2.0.8
Highlights:
Powerful
Nice extension
Easy to install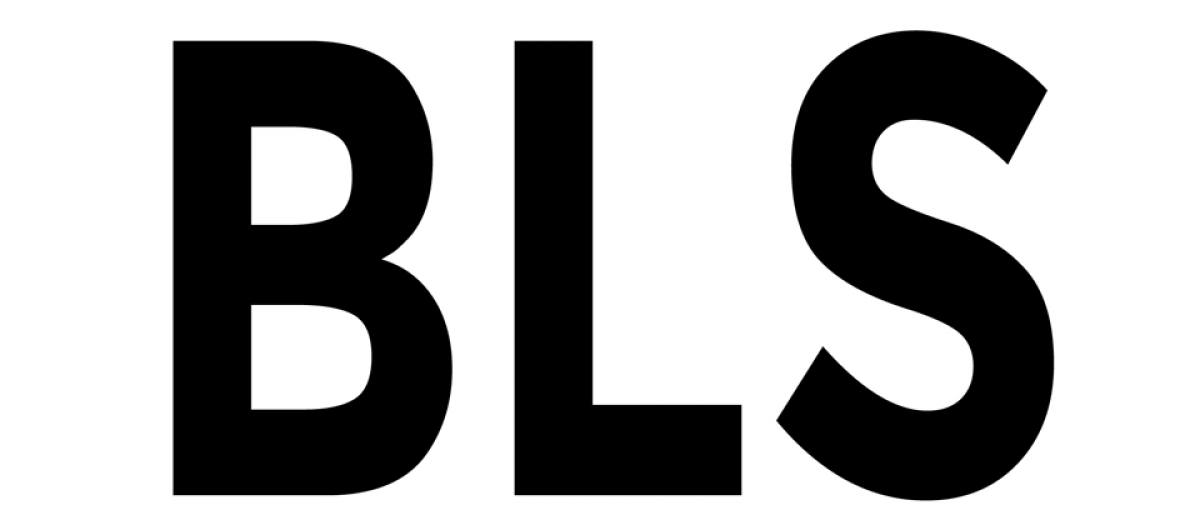 This extension allows you to change the language in the backend quickly that you don't need to leave the opening page. Moreover, this also generates a drop-down list that all languages are provided. After clicking a language that you want to change, it will be switched for you very quickly.
Provided features:
Detect all available languages automatically
Changes the language quickly and directly
Add languages to the selection dropdown list
Changes have an only temporary effect on the session
Languages: English and German
The default values are loaded after a new login
Highlights:
Effective
Great support
Easy to use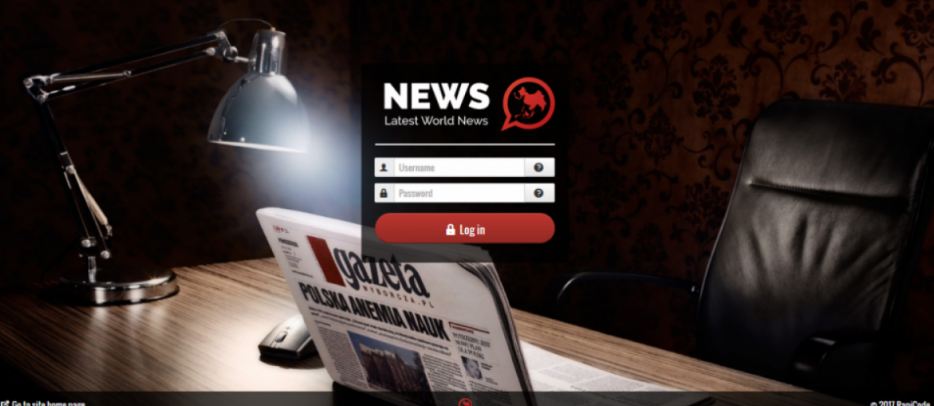 Rapi Admin UI is a powerful plugin to change the appearance of your Joomla Admin. There are many features of Joomla Administration Extension that will make you suprise and interest. Check it out
Provided features:
12 different fonts to change the default admin font
Change the background color of the login page
Add a background image to login page
Add 2 different effects to login background
Enable or disable PreLoad by 12 different SVG images
Highlights:
Nice
Easy to change
Powerful etension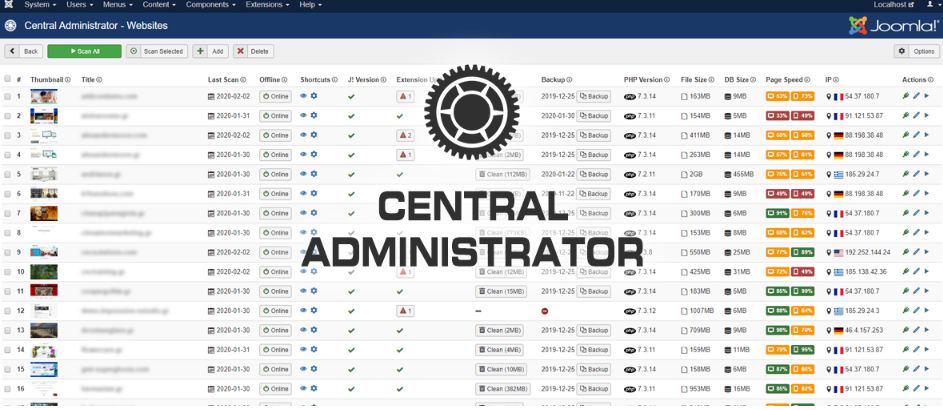 Central Administrator provides an easy, fast and centralized way to monitor, from one place, the status of Joomla websites, in order to keep them working perfectly. The admin can select direct actions for these websites, in order to keep them working updated and securely.
Provided features:
Frontpage thumbnail
Date of last scan
Set website as offline or online
Link to front-end and back-end with automatic login
Version of Joomla
Google Page Speed score in desktop and mobile
Server IP
Country flag of the server
Highlights:
Completely independent
Work effectively
Great support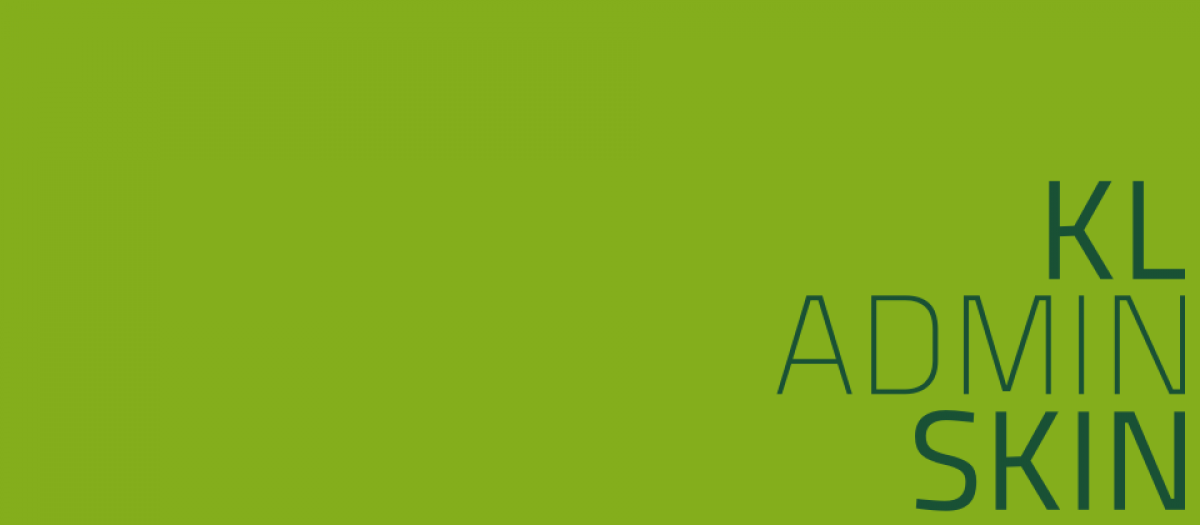 This Joomla Administration Extension allows you to make a style and special administration area quickly without requiring any knowledge of code. Furthermore, you can also remove all Joomla logo and add the logo that you like. Besides, it also enables you to change colors and backgrounds as well as replace default tags to your client by sending messages.
Provided features:
 A New Offline Override Option
Latest KL Admin Skin Versions
24 color adjustment presets
Show login logo
Login box background color
Show footer copyright
Dropdown menu hover color
Highlights:
 Simple settings
Very well documented
Works without any problems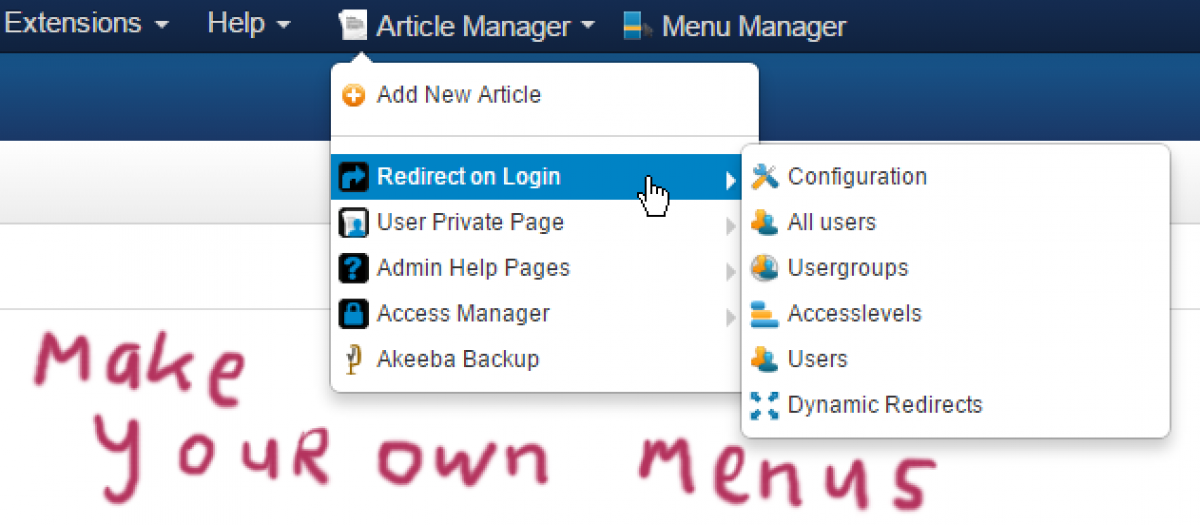 This Joomla Administration Extension allows you to insert menu-items, which is multi-language, to the left, right, above and bottom of your menu as well as replace it. Moreover, you can also generate a menu and show only the menu items that each admin needs.
Provided features:
Copy menu-items from the Joomla menu
Text and line separators can be added
Open menu items in targets: same/modal window
Imports menu-items from Joomla admin menu
Multi-language menu-items
A fully responsive menu on Joomla 3
Highlights:
Very straight forward
Good documentation
Support answered very fast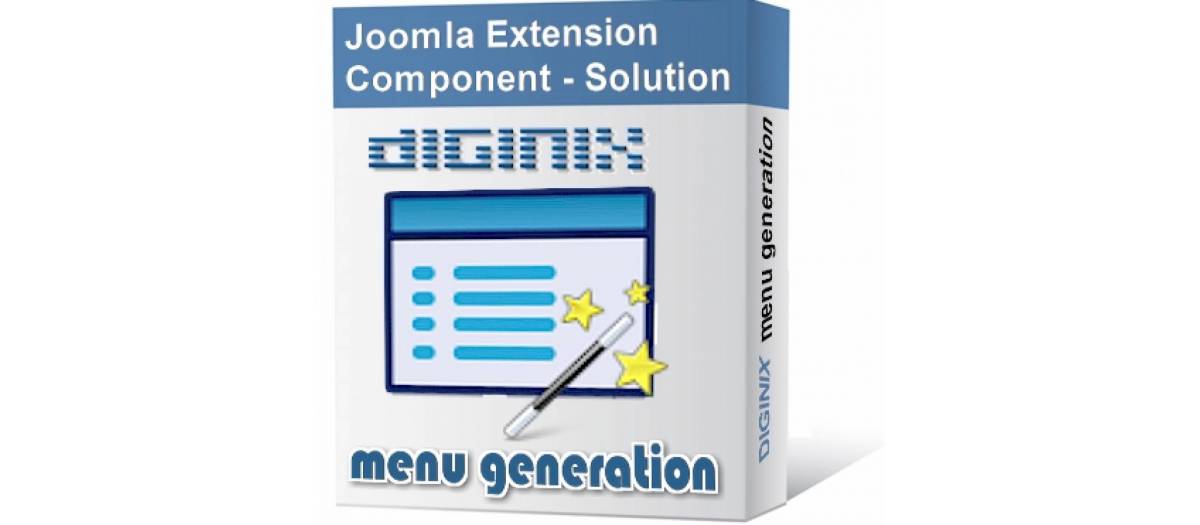 This Joomla Administration Extension allows you to generate menu items for articles very fast. You can also generate menu links for articles in bulk very quickly instead of generating a menu for each article manually.
Provided features:
Select articles in bulk
Filter articles based on keyword
Compatible with Joomla SEF
Choosing the menu to assign articles
Select template to assign corresponding menu items
 Highlights:
Save a lot of time
Responsive support
Straightforward and easy to use
Conclusion
To sum up, it's a wonderful suggestion for you to select and use a Joomla Administration Extension to manage and build up your Joomla site effectively. We will be pleased if you can smoothly get the best extensions after reading the blog today. Please share it with your friends if you think the blog is helpful.
Eventually, there are a lot of responsive and stunning Joomla 4 Templates here, don't forget to have a look whenever you want to give your site a new appearance. Thanks for your visit.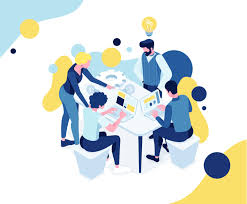 Latest posts by LT Digital Team (Content & Marketing)
(see all)