Here are the 10 best Joomla photo gallery extensions that you should not ignore.
Why is the Joomla Photo Gallery Extension important for your site?
By using this extension, you can make your site become more attractive with beautiful galleries. In addition, this tool allows you to set categories, add image titles, embed links, and much more. Let's refer to the listing below to have the right choice for your site.
Top Nice Joomla Photo Gallery Extensions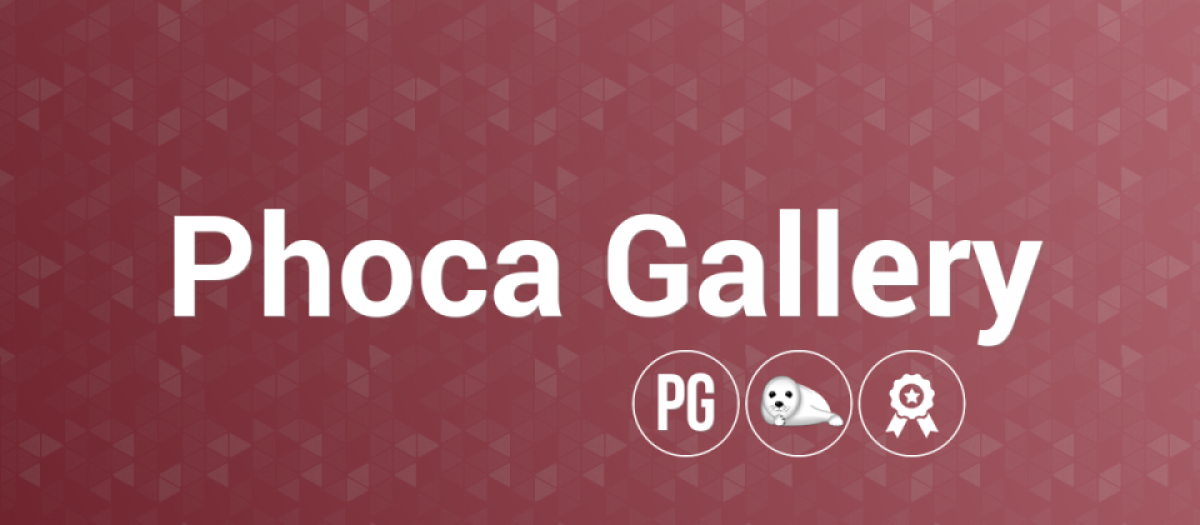 Introducing Phoca Gallery – an efficient Joomla photo gallery extension with slideshow. It has many excellent features that will help you get a perfect photo gallery. The Joomla extension also enable you to stylize your gallery in many different ways. Now, it is compatible with Joomla! 4 version. So, you can use it to create a gallery page in Joomla 4 without any trouble.
Provided features:
Complex image gallery with slideshow
Modern and responsive gallery
15 different detail methods
More than 200 parameters
External images: Picasa, Google+, Google Photos, Imgur
Highlights:
Excellent support
Good extension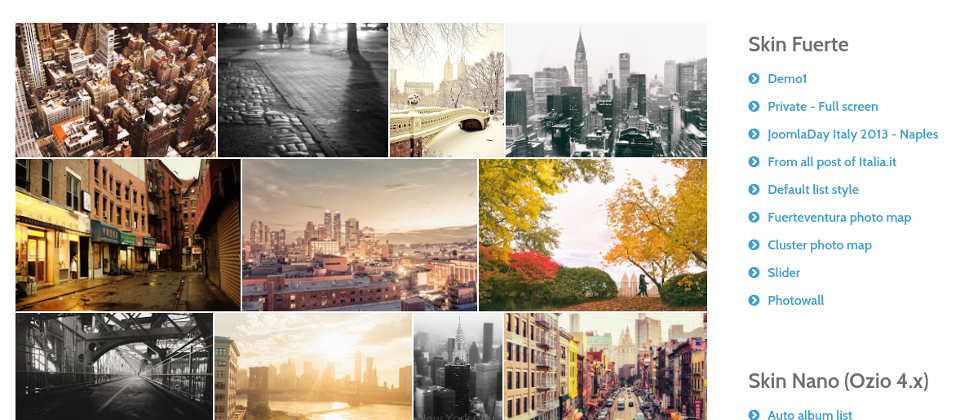 The first Best Free Joomla Photo Gallery Extension we want to recommend you is Ozio Gallery. Ozio Gallery allows you to display your photos from Google+ albums ( both private and public). It comes with many features that help you use it easily such as Unlimited photo uploads, automatically photo resized, category and image title, photo statistic, photo wall thumbnails, and more.
Note: You are only allowed to upload up to 30 photos for an album in the free version.
Provided features:
Album list index view
Load video only from YouTube in the Skin light gallery
Category and image title
Unlimited photo uploads
Automatically photo resized
Links that go directly to a single image
Highlights:
Great extension
Awesome support
Reliable extension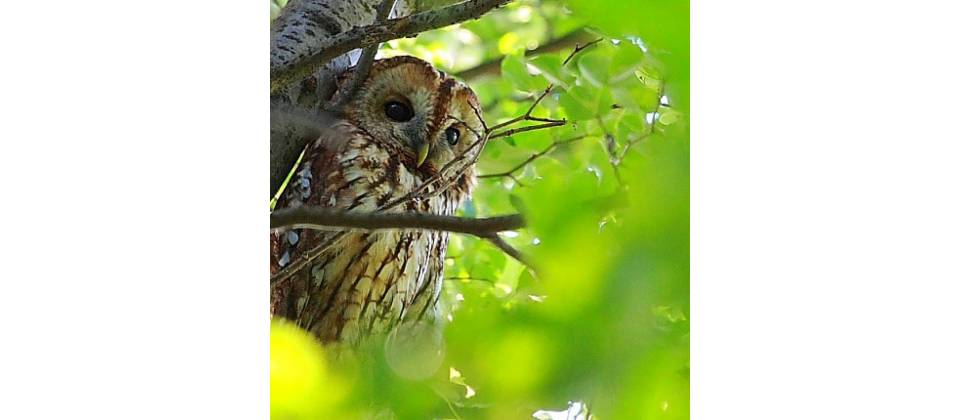 sigplus is a free Joomla photo gallery extension that allows you to add photo and multimedia galleries to your Joomla article with ease. It comes with all features such as: user-selectable image slider/carousel/rotator, multiple galleries per content item and per page, multimedia support (HTML video tag), best-fit thumbnail generation with automatic cropping and centering, large gallery support (100 or more images in a single gallery), and more.
Provided features:
User-selectable image slider/carousel/rotator
Free-flow and grid layout mode; row, column, and grid arrangement
Fully responsive, mobile-enabled
Right-to-left language support
Image caption templates
integrates into Joomla content editor and Joomla search
large gallery support (100 or more images in a single gallery)
100% CSS3 and JavaScript, HTML5-enabled
And more
Highlights:
Excellent solution and support
Beautiful and functional
Work perfectly

And this is Event Gallery – the best Joomla Image gallery extension that you should not ignore. It's very easy to use and fits many needs.
A few main features:
Supports adaptive, responsive layouts
Includes Google Picasa Web albums/Google Photos
Supports FTP uploads for mass data processing
Multiple file upload with modern browsers
And more.
Highlights:
Good product
A lot of possible functions
Perfect extension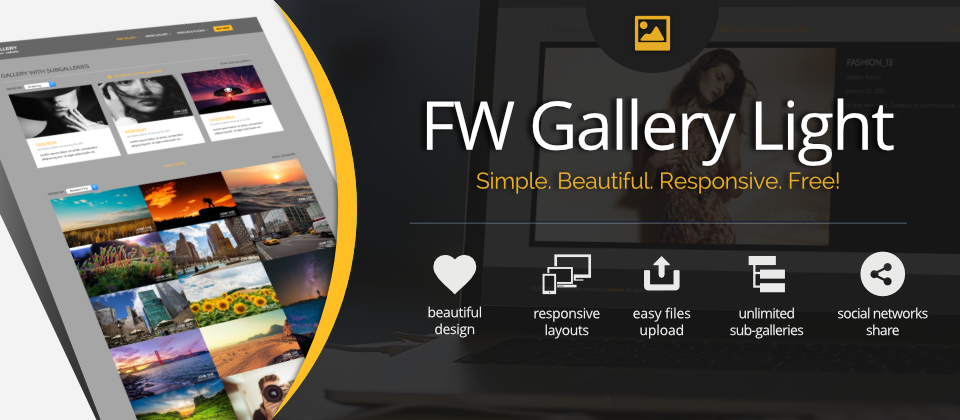 Now let's check FW Gallery! This is a simple yet beautiful Joomla image gallery extension with many excellent features.
Some remarkable features:
Drag & drop upload
Custom watermark for all images
Unlimited multi-level sub-galleries
Auto adjustable images for galleries and gallery depending on a grid
Option to hide galleries/images, names/authors
And more
Highlights:
Very intuitive
Simple
Quick and easy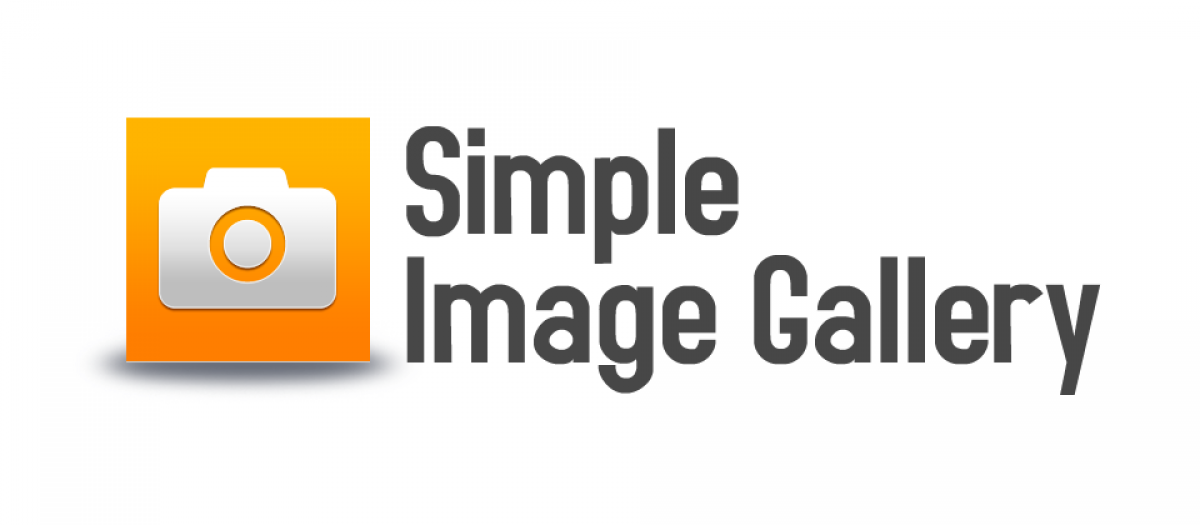 If you like simplicity then Simple Image Gallery is an ideal image gallery extension for your Joomla website. All images are presented in a grid with Polaroid-like background for the thumbnails and lightbox effects for the full-size images. With the Simple Image Gallery, you can have as many galleries inside each article.
Provided features:
Place one or more image galleries anywhere
Set a "root folder" in the plugin's parameters
Use MVC overrides to change how the thumbnail grid looks
Uses the core Joomla updater
Uses Fancybox 3 for the lightbox/modal previews
Allows printing the image gallery grid
 Supports JPEG, PNG, GIF, and WEBP as source images
Highlights:
Simple gallery plugin
Super Extension
Very good documentation And the last Joomla photo gallery extension that we would like to recommend to you is JoomGallery – one of the best photo gallery extensions for your Joomla site, with support for Joomla! 3.x.
Provided features:
3 image sizes: Thumbnails – Detail images – Original images
Fullscreen animated JavaScript boxes
Exif and IPTC image data support in detail view
The search function in the gallery
Image processing using GD, GD2, or ImageMagick
And more.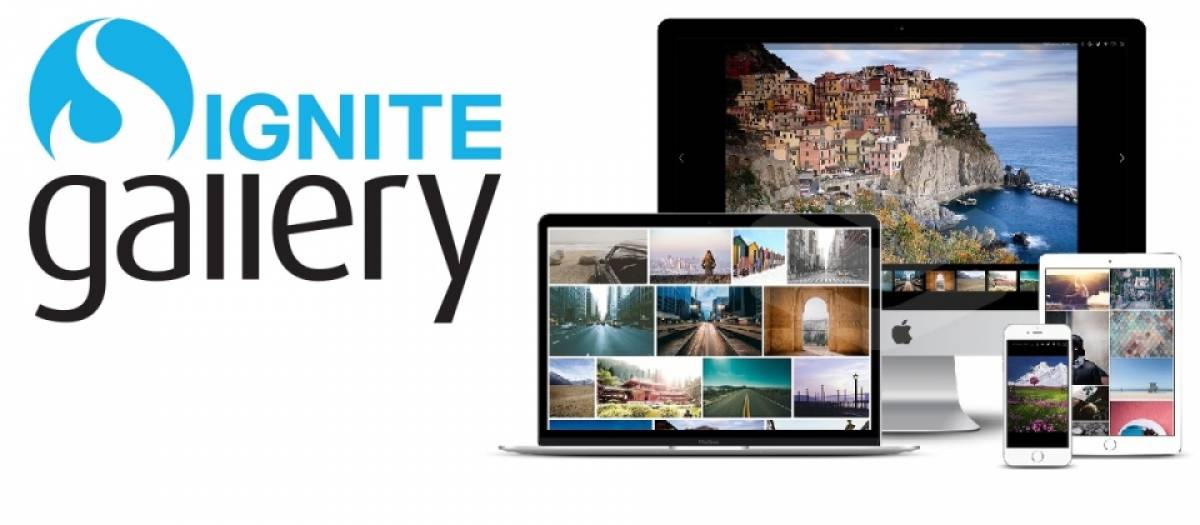 Ignite Gallery is a complete Joomla Gallery Extension with full of features. Using this extension, you are able to embed video from Youtube or your local file into your website. Multiple image uploader is also included and it also allows you to resize the image if you want.
Provided features:
Categories/Subcategories
Mobile friendly with swipe and responsive layouts
Metro grid, Masonry grid, Justified grid layouts
Social sharing buttons
Download the image button
Image zoom button
Embed video from youtube or Vimeo or from a local video file
Frontend gallery creation
Multiple image uploader with resizing before upload
Image tagging, tag filters, and tags cloud
Highlights:
Outstanding Extension
Easy to install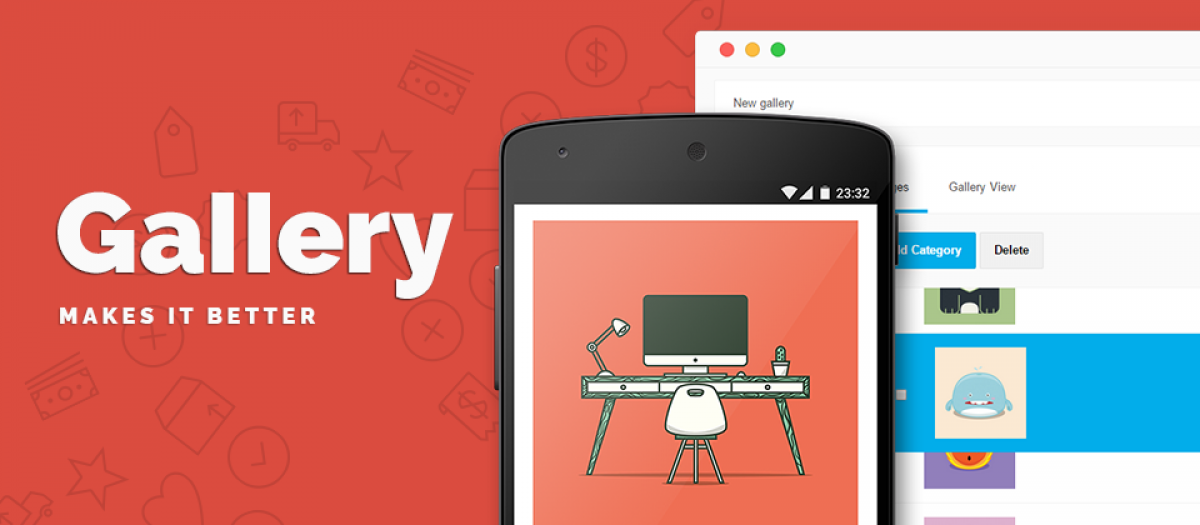 6gallery is a popular Joomla Galley Extension that you can use to generate your beautiful Joomla Gallery including many features such as stunning grid layouts. Here is also an ideal solution for generating portfolios and showcases.
Provided features:
Modern Grid Layouts
Modern Drag & Drop Admin Panel
Frontend Image and Categories Management
Gallery Pagination
Albums and Subcategories
Display Gallery Anywhere in Your Joomla
YouTube, Vimeo, SoundCloud
Highlights:
The most powerful and easiest gallery extension
Perfect and very powerful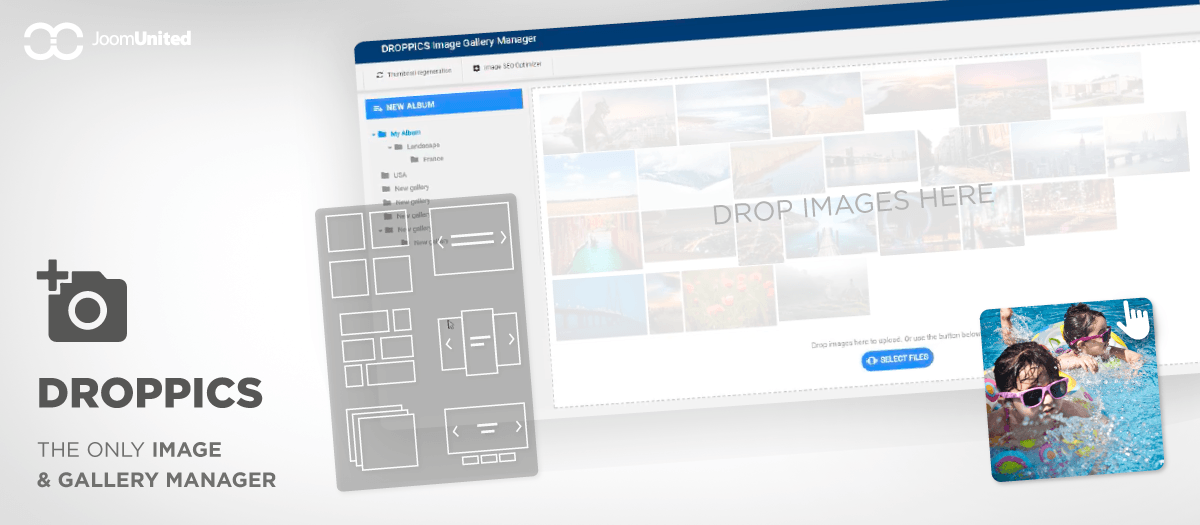 Droppics is a perfect Joomla Gallery Extension that you can use to control your gallery as well as your single image effectively. By using this kind of plugin, you can generate an image gallery very easily just by one click.
Provided features:
Create a video gallery and add video among images
Frontend image and categories management dedicated template
Multiple gallery levels
AJAX navigation through gallery levels
Create a picture gallery with lightbox in 3 clicks
6 amazing images and gallery themes
1 advanced slideshow theme
Drag and drop pictures to reorder pictures in the gallery
The gallery is materialized in your editor
Regenerate pictures from original photo
Highlights:
Best image
Very easy to upload images
Conclusion
If you're looking for the best Free Joomla Photo Gallery extensions, then just get one of the 8 extensions above. They will make your work easier, and make your Joomla website look more professional and impressive. Furthermore, you can use our Joomla 4 templates to build a wonderful Joomla website in no time. 😀
If you have any questions about this post, don't hesitate to leave a comment below. And don't forget to share with your friends if you find it useful! Thanks!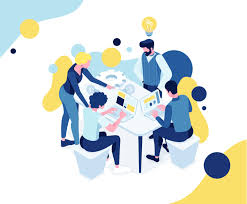 Latest posts by LT Digital Team (Content & Marketing)
(see all)