Are you wondering to pick out the most suitable Events Calendar Plugin for your site? Don't ignore the Events Calendar vs Modern Events Calendar Lite comparison below.
Why should you install Events Calendar Plugins for your website?
As an event website owner, it is obvious that you have to manage a wide range of multiple events simultaneously ranging from prom promotion, and ticket sales to registration, communication, and much more. And in these cases, using Event Calendar Plugins for your website is regarded as the most efficient method and brings you a lot of treasured benefits.
First and foremost, these plugin helps you create and manage attractive events or promotions regularly. And events will be a bridge to assist you to connect with existing clients and prospects. In addition, this method also encourages your customer to purchase more products. As a result, you will have more opportunities to drive revenue effectively.
Secondly, hosting an event daily is a great chance to enhance your reach. Especially, for those who have never connected with you before. Many impressive events absolutely attract the visitors' curiosity at the first sight. Thanks to that, your potential prospects will turn into loyal clients in the future. Especially, this is also a great way to build your brand value.
However, there are unlimited Event Calendar plugins available on the internet currently. Which is the best plugin? To help you answer this question, in today's blog, we will mention the two most dominant free plugins including The Events Calendar Vs Modern Events Calendar Lite.
Both plugins offer tons of powerful features and functionally. But we are sure that you still have not realized the differences between The Events Calendar vs Modern Events Calendar Lite. Therefore, we will compare them in-depth based on 4 factors consisting of Key different features, ease of use and setup, price, pros, and cons. Now let's take look.
The Events Calendar Vs Modern Events Calendar Lite: Background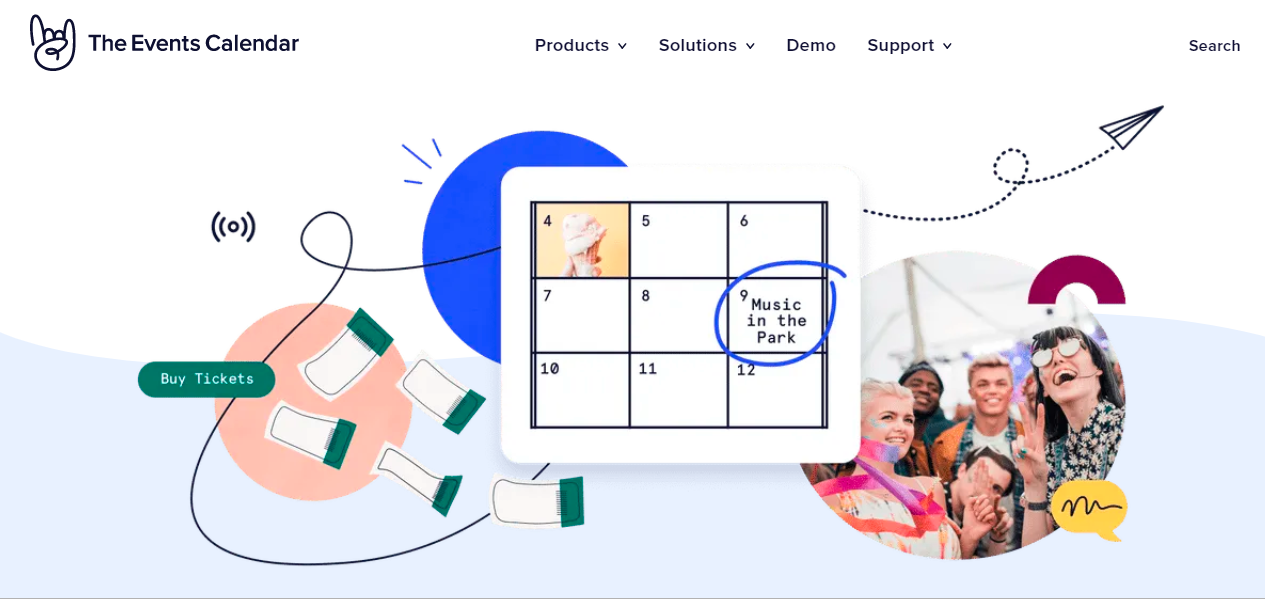 With more than 28 million downloads and 800,000 active installations, the Events Calendar is a great solution for your event website. It provides you with plenty of vital features that help you easily maximum resources, tracks bookings/tickets, generate revenue through ticket sales, collect emails for future marketing, and much more. One of the outstanding features of the Event Calendar is that it has the ability to showcase multiple events at the same time.
Moreover, if you want to take your calendar website to the next level, you can purchase extra addons for ticketing, email marketing, and more. Especially, this plugin is extremely easy to use, it takes you few minutes to install and set up. And after that, you can create unlimited events on your website with ease.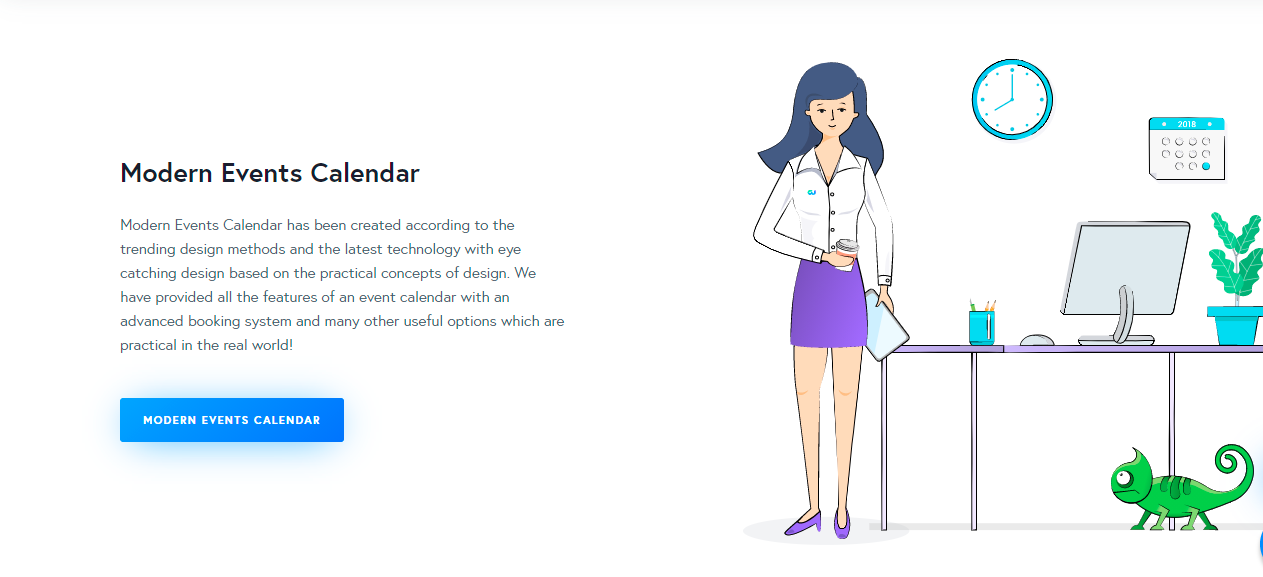 Another serious rival of the Events Calendar is the Modern Events Calendar Lite. This is completely a free version and however, it is packed with loads of excellent features to assist you to manage all kinds of events on your WordPress site. As its name, the main purpose of this plugin is that it allows you to generate an events calendar that looks modern and professional without touching any coding. Furthermore, this plugin combined with Divi's beautiful layouts is really a great combination both in design and functionality.
Key different features
| | | |
| --- | --- | --- |
|  Features |  The Event Calendar |  Modern Events Calendar Lite |
|  Single-day events |  + |  + |
| Multiple day events  |  + |  + |
| All-day events  |  + |  + |
| List View |  + |  + |
| Full Calendar View  |  + |   + |
| Event Locations System  |   + |   + |
| Event Venue & organizer System  |   + |   + |
|  Never end events |   + |   + |
|  RSS feed |   + |   + |
|  Schema Ready |   + |   + |
|  Daily view |  – |  + |
| Slider & carousel view | – | + |
| Multiple organizers | – | + |
| Front-end Event Submission | – | + |
| Reporting dashboard | – | + |
| Shortcodes generator | – | + |
| Local time | – | + |
| Manage Notifications | – | + |
| Social share icons | – | + |
| Custom Color | – | + |
As you can see on the table, both The Event Calendar Vs MEC also offers the most basic features. However, it is obvious that MEC absolutely outweighs The Event Calendar in terms of diverse features.
For example, you will have to upgrade to the Events Calendar Pro version to get experience in some extra features such as Daily view, Event widgets & sidebar, Recurring/Repeating events, Filtering options, and much more. While all these features are completely available for MEC lite. It means you don't have to pay a lot of money to unlock them. This is the outstanding discrepancy between the two free versions.
Through this comparison section, you can clearly realize which tool is more dominant. Nevertheless, we will compare a few more sections to give you the best overview.
Ease of set up and use
The installation process of the two plugins is also similar to other plugins. Go to Plugins on your dashboard, click Add New, and then you can search 2 plugin names at the search bar. This process only takes you a few minutes so you save a lot of time to complete other tasks.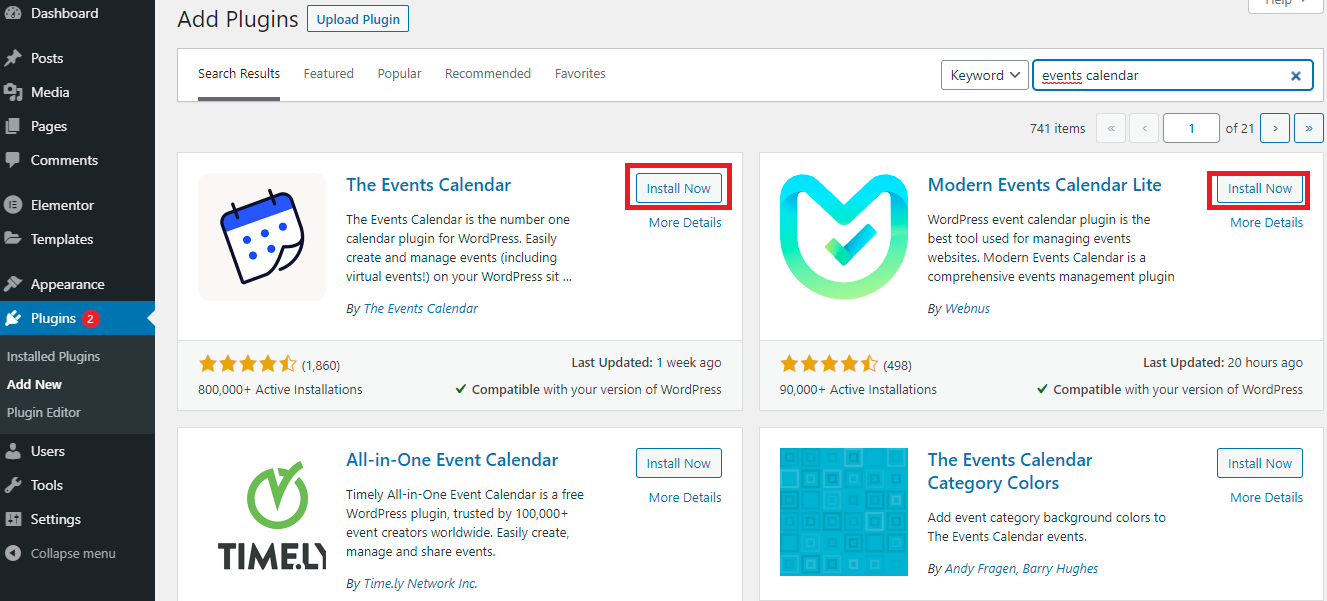 The Events Calendar
After finishing the setup process, you start to create any special events on your website by clicking Add New.
In addition, all events are stored, so you can copy the previous event and make some small adjustments instead of creating a whole new event. Moreover, the tag archive page and event categories allow you to pool similar events into a group so that your website structure becomes more professional.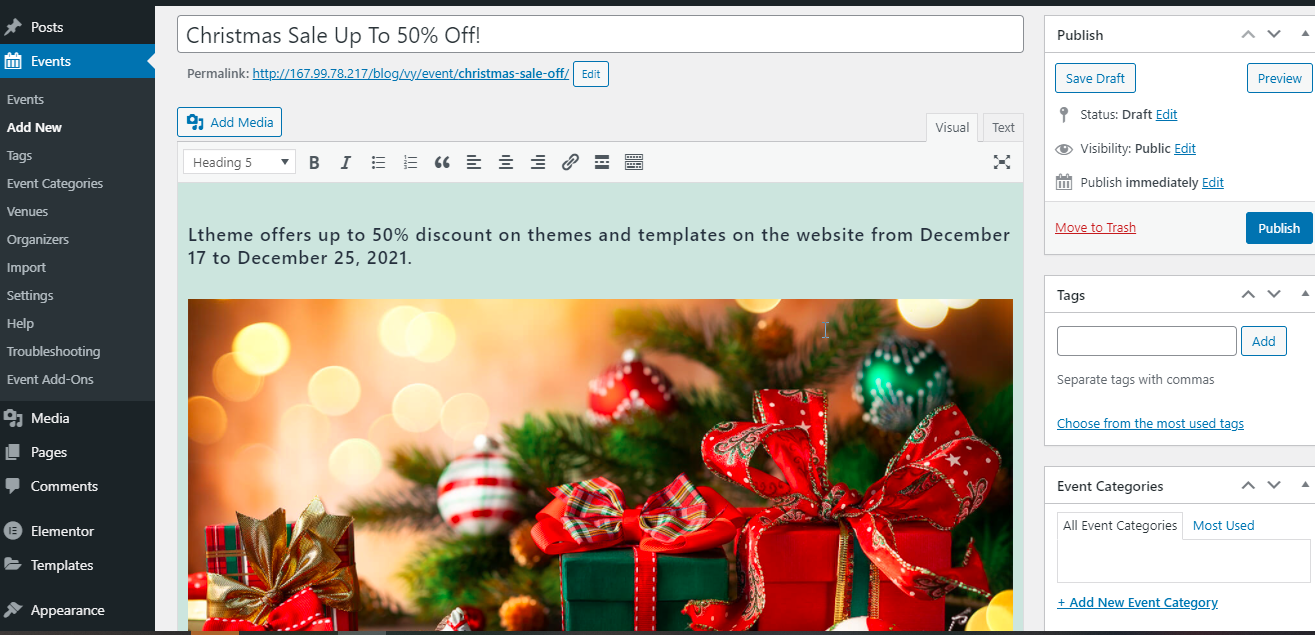 At here, a list of useful options is available. You can set up Time and Date to start and end the event,  add Location, set link, event cost, and organizer.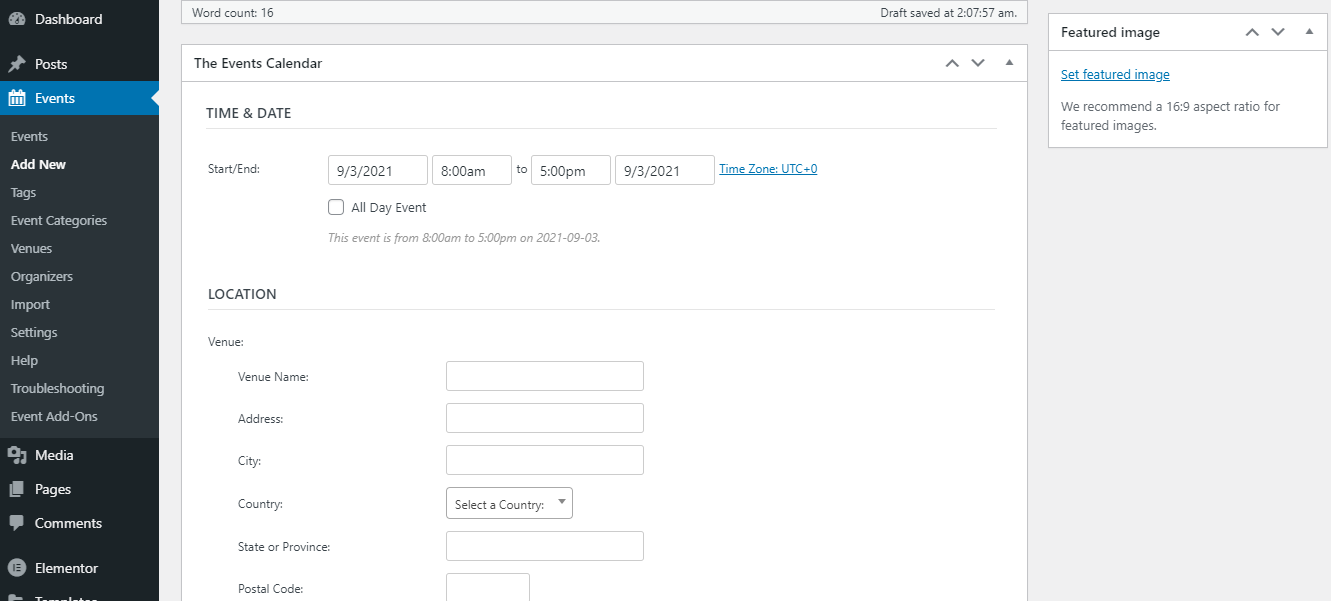 Modern Events Calendar Lite
MEC Lite also allows you to create unlimited events quickly. Especially, in addition to necessary options, MEC Lite provides you with a color scheme. Thanks to that, you can freely choose your favorite color to match your current theme.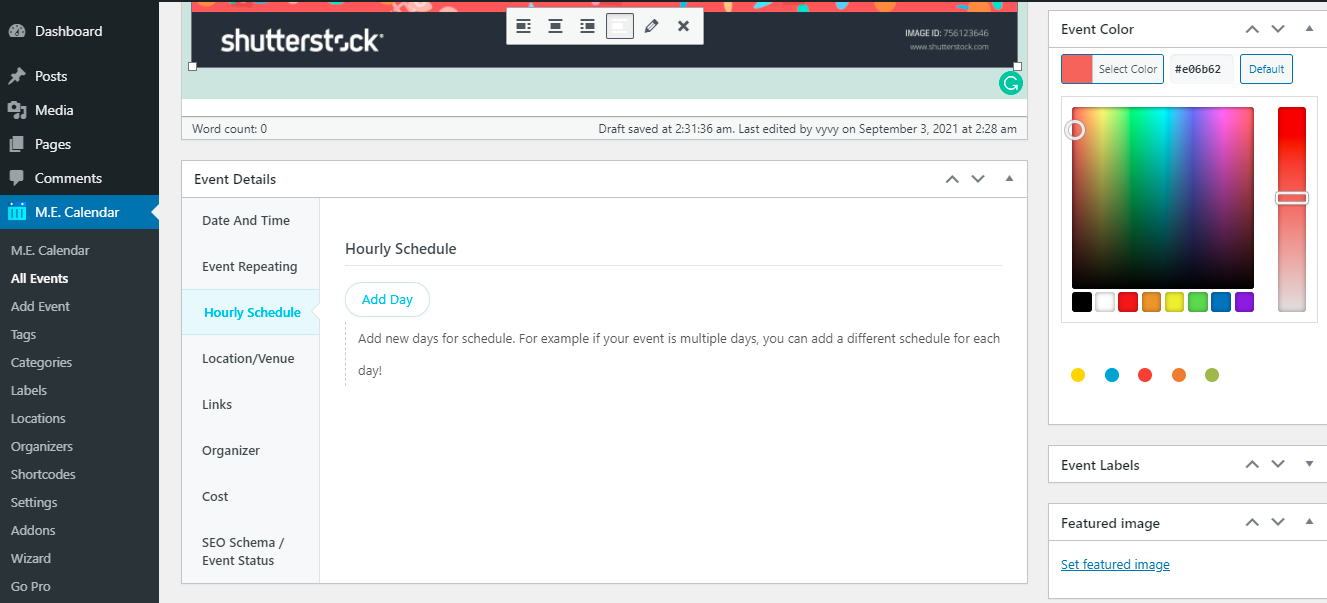 Pricing plans
Since The Events Calendar vs Modern Events Calendar Lite both are free versions, so you don't need to spend any money for use. In case you still want to enhance your website capability, both plugins also give you the pro version with a wide range of advanced features such as Auto Update, Masonry View, Weekly view, Countdown view, Grid & cover view, Slider & Carousel View, and much more.
You can take a look at the following table to refer to the price of the two Pro versions.
| | | |
| --- | --- | --- |
|  Number of sites |  The Events Calendar Pro | Modern Events Calendar Pro |
|  1 site |  $99 | $75 |
|  3sites |  $149 | N/a |
| 5sites | N/a | $255 |
| 10sites | $299 | $355 |
| Multisite |  $349 | N/a |
| Unlimited sites |  $750 | N/a |
Advantages and disadvantages
The Events Calendar
 Advantages
 Disadvantages

Offers many efficient features
Easy to use interface

There are many design limitations
Don't offer any free add-on
Don't integrate with Paypal
Modern Events Calendar Lite
 Advantages
 Disadvantages

Free version has a wide array of features
Pro version has even more advanced features
Integrate with a lot of third-party tools
Easy-to-use interface
Highly configurable

Potential theme compatibility issues
There are too many other competitors
The Events Calendar Vs Modern Events Calendar Lite: The final result
Overall, The Events Calendar vs Modern Events Calendar Lite is valuable for your site in creating and managing multiple events on your WordPress site effectively. However, as we mentioned above, MEC Lite convincingly outrivals the rival in terms of rich features. In our perspective, MEC Lite is the optimal Events Calendar Plugin for your site because it is not only a powerful feature-packed tool but also an economical solution.
But everyone has different demands, we can't conclude exactly which tool is the best for your website. Therefore, you can also try to install The Events Calendar free version first to experience its cool features.
And what is your point of view? Which is the most effective solution for your site? Don't be afraid to share with us your opinion or if you have any queries, please mention them below.
Additionally, you can refer to other useful options, let's take a look at WordPress Events Calendar Plugin. Last but not least, Our Free WordPress Themes provides a wide array of appealing, modern, elegant designs that totally match with 2 mentioned plugins. Don't hesitate to visit and update them for your site.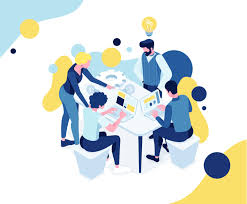 Latest posts by LT Digital Team (Content & Marketing)
(see all)