Step by step how to install quickstart package using Akeeba kickstart?
As you know, most of template provider use Akeeba Backup to backup template with sample data to make simple Quickstart file and Kickstart (restore) file with Akeeba Kickstarter. This blog to show step by step how to install Quickstart package with Akeeba.
With our template, we're mentioning to LT Business as an example template in this case. You can download LT Business template for Joomla! 2.5 at here. This quickstart package includes Joomla! core, LT Business template, sample data. Let start it!
Step 1: Download quickstart package (example: LT Business template)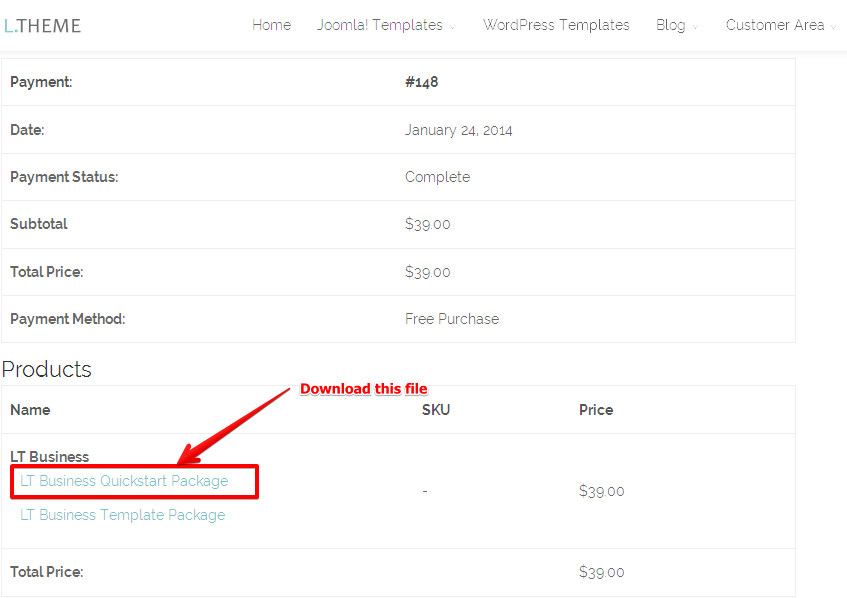 Login to Customer Area, go to section Download and download file 'LT Business Quickstart Package'.
Step 2: Log into your cPanel
Here we are doing a few things:

A pop up will appear, select the radio button for "Document Root For" and then in the drop box select the website you are wanting to upload the quickstart into. (If you only have one website then you have an easier selection here… one!)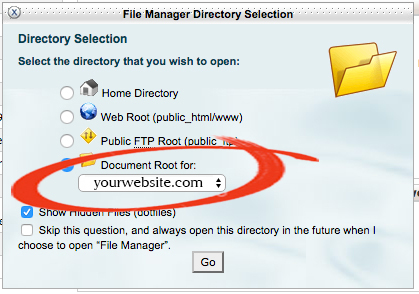 Go to 'Web Applications" and select the Joomla website that you already installed the awesome LTheme template into.

Please installed the template onto for your website  then you wanting to select the Joomla install for that website.
Select the tab called "Files & Tables"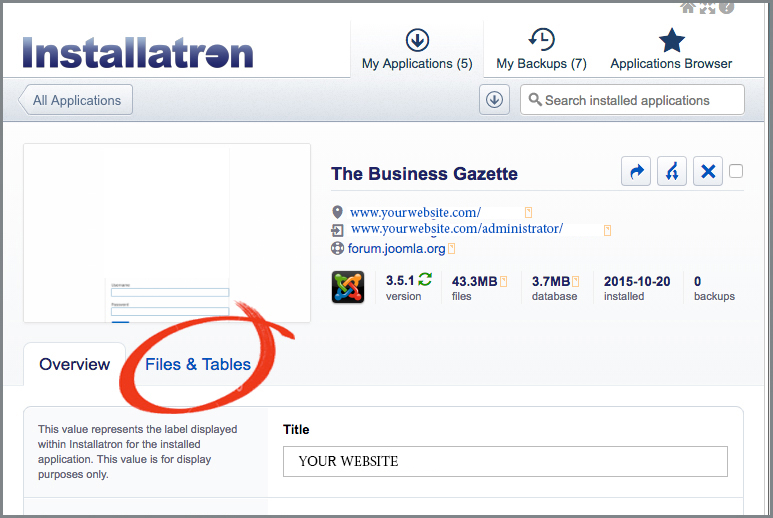 Then this page appears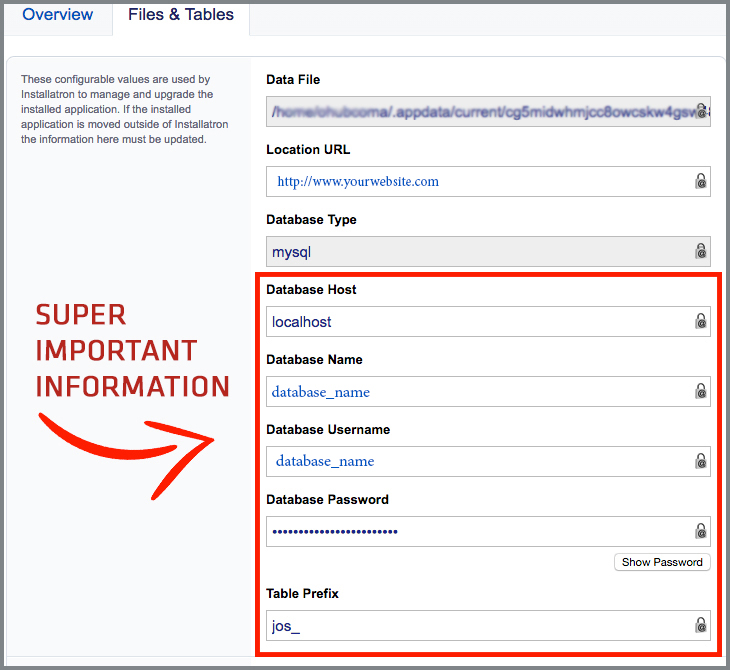 Keep this page open… YOU NEED THIS DATA!
Step 3:   Navigate to the tab where File Manager is waiting
The File Manager is broken into two views, on the left is the menu and on the right is the display screen.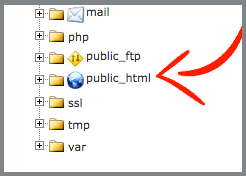 Double click on the file menu titled "public_HTML"
Note: If you have only the one website, then move to step 4.
If you have multiple sites like we have here, then double click on the site you are wanting to upload into, if you recall mine is www.yourwebsite.com, so I will double click on that address in the file menu like so;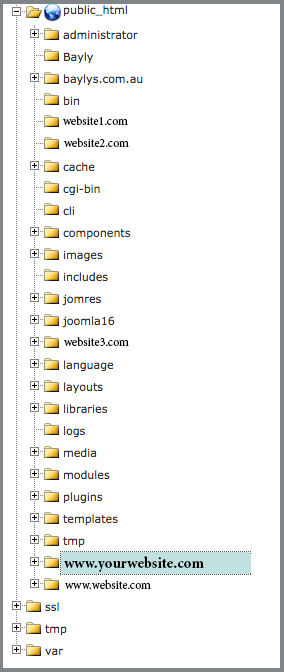 Step 4: Upload Quickstart Package
You will have noticed when you selected your desired folder, on the right a whole new file opened up, this is where you are going to install your quickstart.zip
So, let's do it… Right under the title "File Manager" on the top left of the screen, you will see this menu, click on "Upload"

A new page will open and you will now click on the "Choose File" button, locate the quickstart_package.zip then click "Open"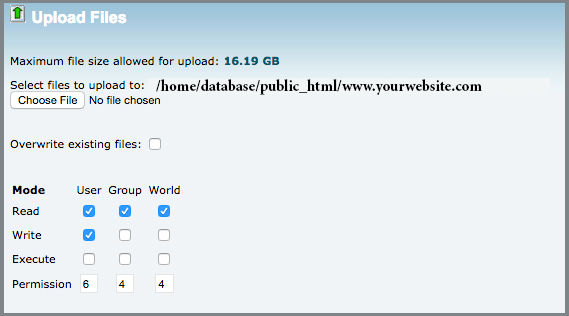 Automatically File Manager will start uploading the package to your hosting site (File Manager).

Once this is done the status bar at the bottom right will show "complete" now you can click the hyperlink in the middle of the screen saying ← Go Back to "/home
You will see on the right hand side window pane the zip file you've uploaded, now here is where you need to start paying attention.
Step 5: Extract File(s)
Click on the package once so that it is highlighted, then up the top, the second last menu item select "Extract"

A pop up will appear and select "Extract File(s)"
WARNING: If you are presented with this popup, then your system failed the upload, delete the zip file and try again from step 4 (Sorry)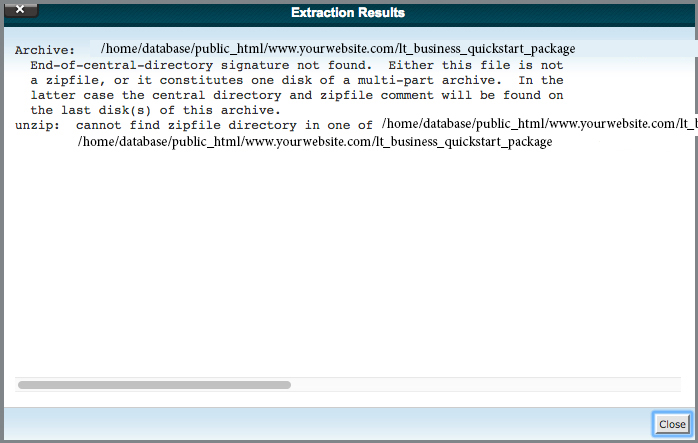 Step 6: Successful upload
If it was a successful upload then you will have this type of result – YAY! Click close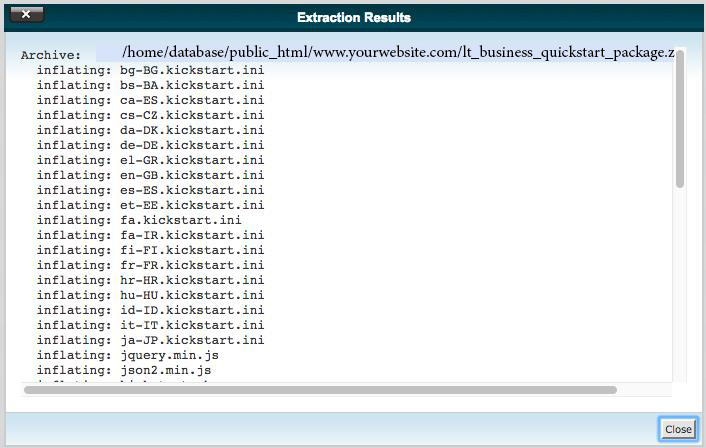 Step 7: Unzip file
After downloaded Quickstart package, you unzip in your hosting and you will see the backup and and Akeeba Kickstart included. We need to run file kickstart.php.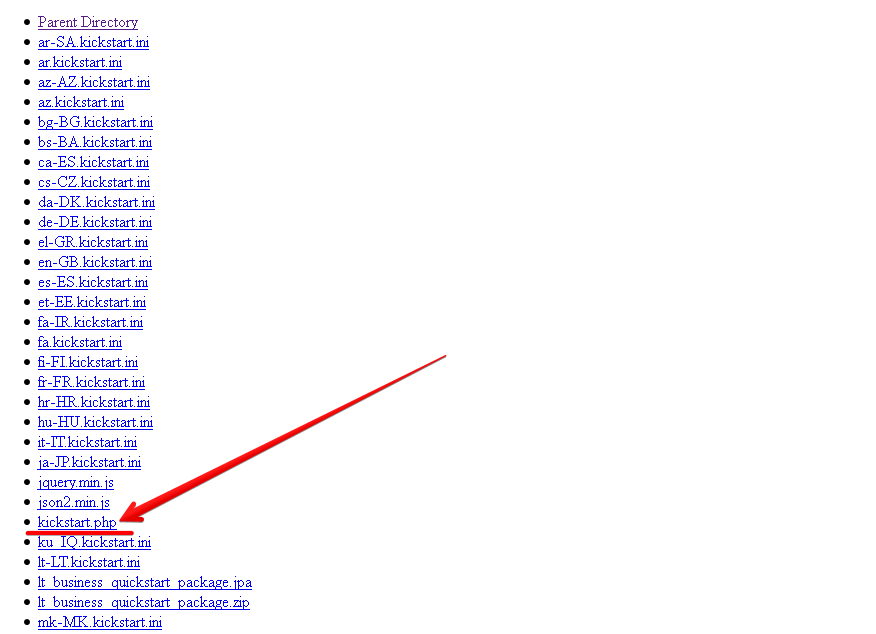 * If you do not see file listing, don't worry about that, just run file 'kickstart.php' by go to http://yourdomain.com/kickstart.php
Step 8: Agree with Akeeba Kickstart policy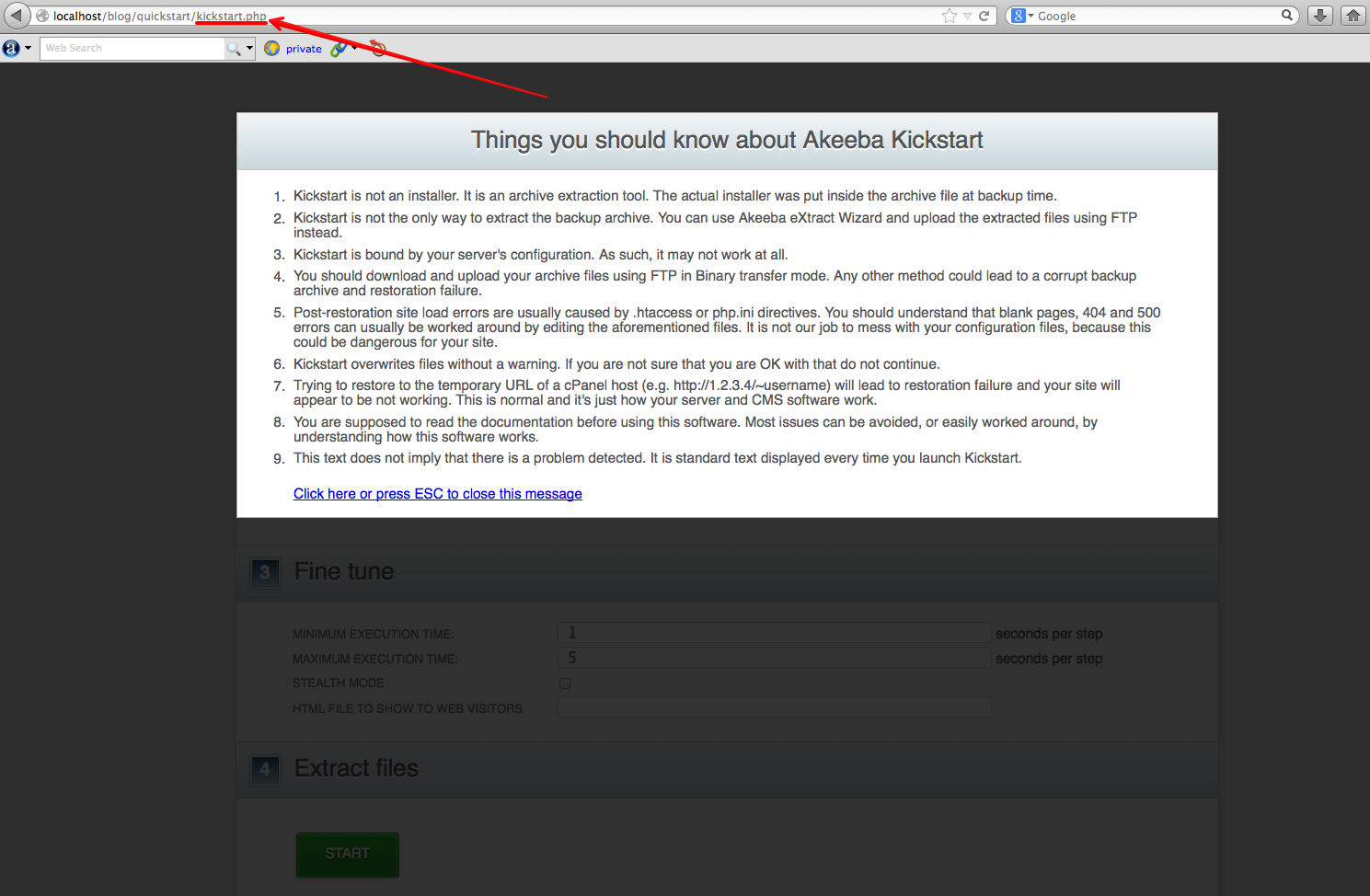 … select .jpa (akeeba backup file) and click 'Start' to extra file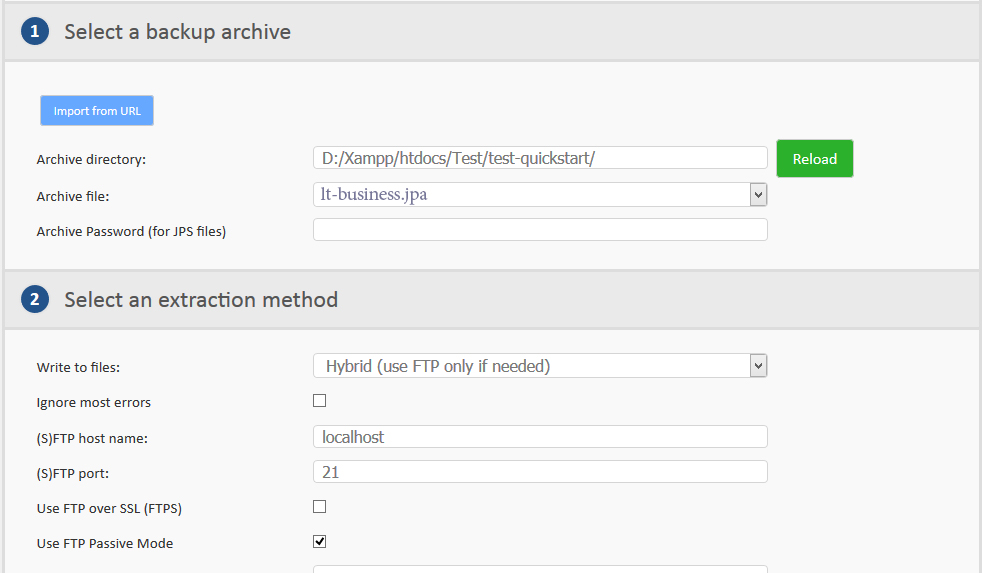 * Default extra method in kickstart tool use 'Hybrid (use FTP only if needed)', but in some case if your hosting do not accept it, just use 'Directly' method instead, you can select it via 'Write to files'.
Step 9: Start to extract file
In this step, we will see the screenshot like below. The Select a backup archive will be selected quickstart package by default. It's backup file and we need to restore it. Another parameters, we should keep it as default, do not change . After everything okay, we click to button 'Start' to start to extract backup file

Step 10: Run the installer is a next step when finish extract backup file in step 4.

Step 11: System pre-check
Now, we moved to install board. This is step to pre-check the hosting configuration before process install. There some params as in Joomla! installation.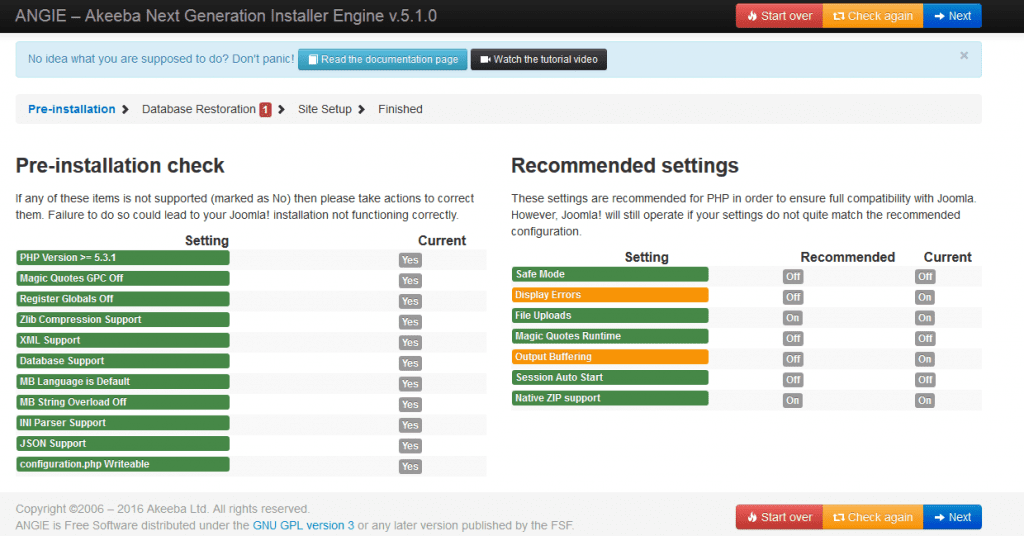 * In some cases, if you have different PHP version, you will get a warning message above, but don't worry, it's fine!
Step 12: Enter the information
This step help you enter the information related to database type, username, database name and password. If everything is okay, so we can move to next style by click button 'Next'.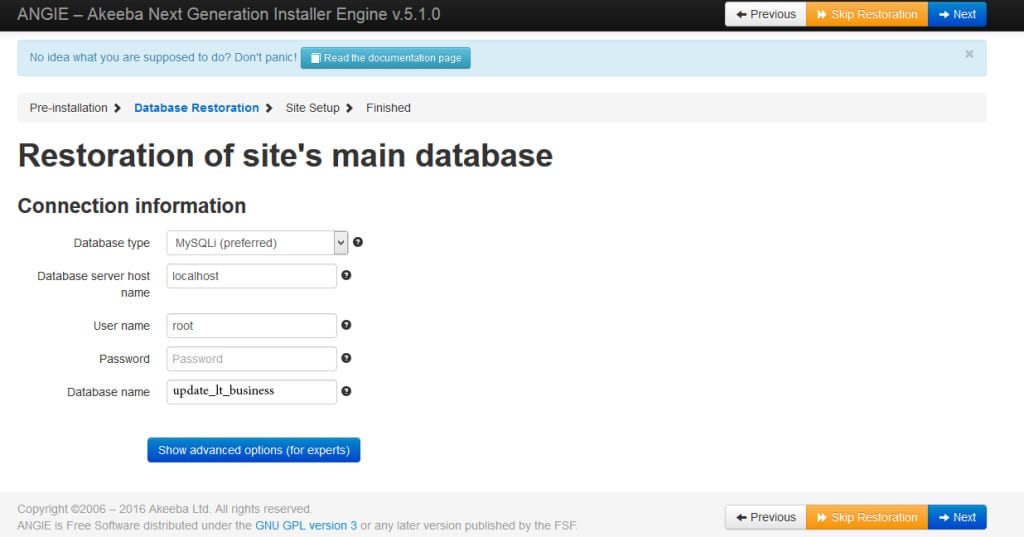 Step 13: Restore database
Yes, after clicked button 'Next' in step 7, it will alert the pop-up box show details of process restore database. As the picture below, if you enter correct database information, it will be restored successful.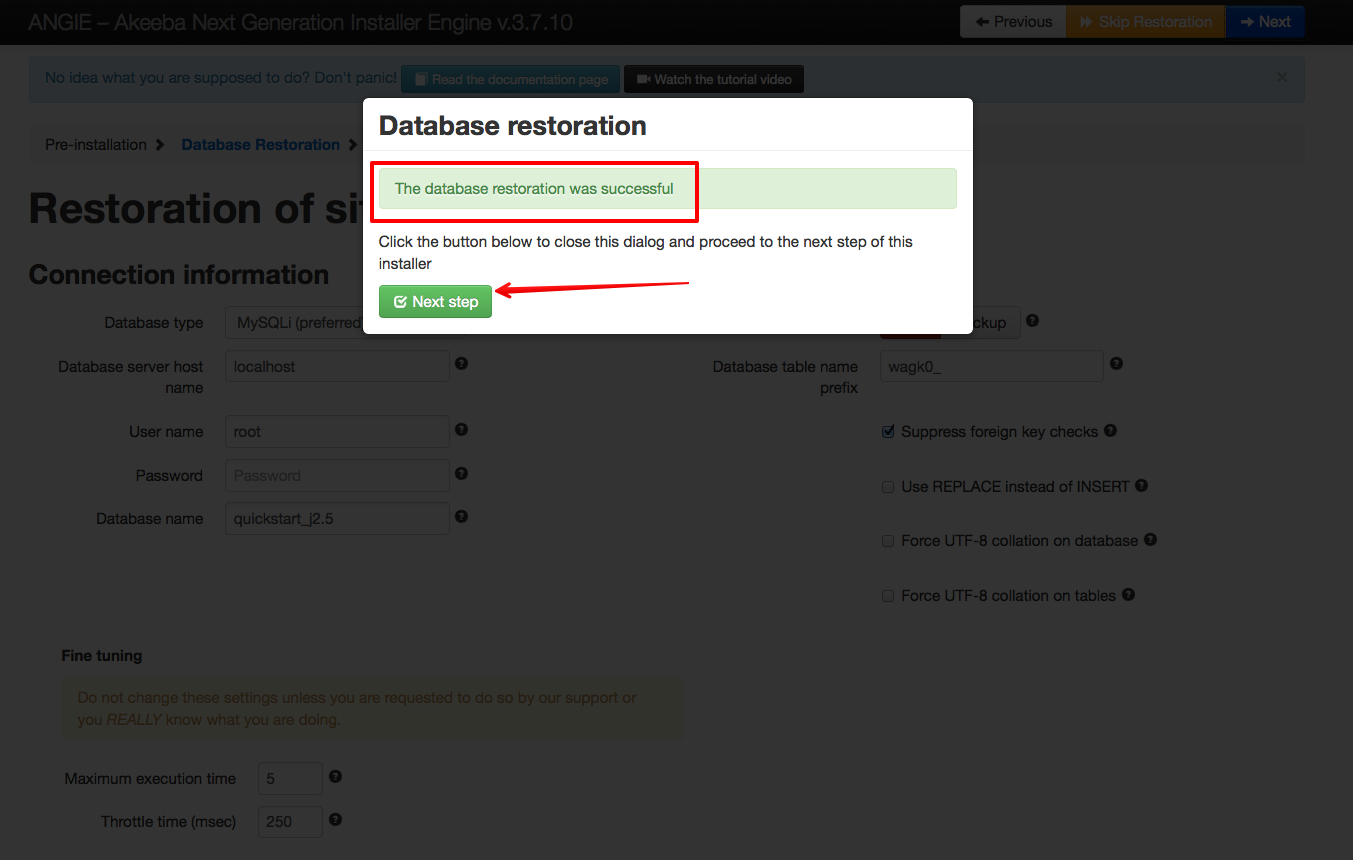 Step 14: Site info
This step requires you enter Site Info and FTP Layer Option (this option should be keep as default, we can change it later). At this step, you can define new username and password for administrator account. I recommend you should enter new password, if not you can use default password that I created in the last time when I genera this quickstart package.
The default administrator account with username named 'admin' and password 'abc123'.

Step 15: Last step to remove installation folder

Yes, this step is last step to process install Quickstart, just click to button 'Clean Up' to clear up Kickstart files which includes in backup by default. It will make your source clearly. Also with file backup '.jpa'.

Step 16: Ready to start!
Just click to button 'View your site's front-end' and 'view your site's back-end'.

Step 17: Yeah, we finished!
After finish last step, we will have the website like our demo site.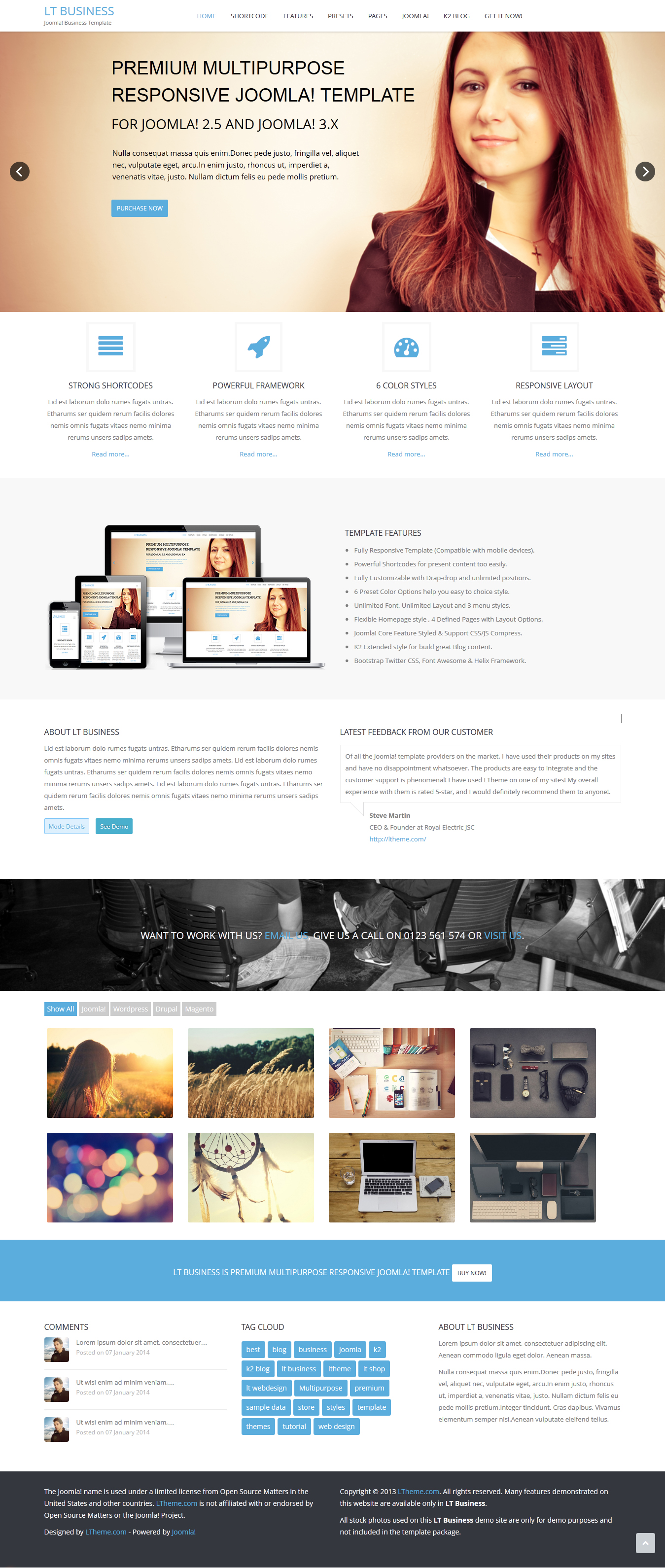 Video instruction:

Conclusion:
Yes, Akeeba Backup and Akeeba Kickstart are very useful software to backup and restore website. It's simple and fast way that I recommend you should use when you want to bring total your site to another place. In this case, it's case to create Quickstart for everyone. Quickstart package is full demo package, it help you easy to change the contain and launch your site faster. Thanks for support from http://akeebabackup.com
***** Trouble shoots *****

If after finish install, if your website return sample data but without CSS like screenshot below

In this case, you just open file 'configuration.php' located at root of your source code and search for
$live_site = "your_domain.xxx";
and leave it blank like as below
public $live_site ="";
Save and it will work.
*** Login to back-end ***
1. Default login:
username: admin
password: abc123
2. If you changed Supper User Settings during install Quickstart paclage (Step 9), you must to use that login info. If you forgot it, you can see this instruction how to restore Joomla! password.
3. If when you login but it doesn't work and doesn't have error message, just open file "configuration.php" (located at root of your source c0de) and search for string "$cookie_domain", then just leave blank for this option. Normally, when you got this problem, it caused by your domain cookie that you put. So, just leave it blank as default setting for this option.