Are you wondering how to add a Link to an Email Address in WordPress? Look no further, this article provides the easiest ways to resolve this matter.
Introduction
Nowadays, most people tend to use contact forms to create a bridge between the website owner and the customers. Because contact form not only makes your site look professional but also protects your site from spam emails. However, in some special situations, many people still want to provide a linked email address to help the users send an email with a single click.
How to link to an email address in WordPress?
In today's tutorial, we are going to share with you how to link to an email link to your post/pages with a step-by-step guide. In addition, you can learn the way to use HTML to add email links to various WordPress positions such as sidebar, menu, or other areas. Now, let's go over the following methods.
Method 1:Creating a link to an email address in the visual editor
Adding a link to an email address is also similar to the process of adding a link in WordPress. However, when creating a link to an address, you need to replace the https:// prefix with mailto: and followed by the email address that you want to link to. For example, we created a link to an email address below:
mailto:[email protected]
In addition, you need to track the following steps.
Highlight the text you want to add a link.
Click on the "Insert link" button on the toolbar.
Now, add your email address like the example above in the insert link popup.
Finally, click on the arrow symbol to save the link.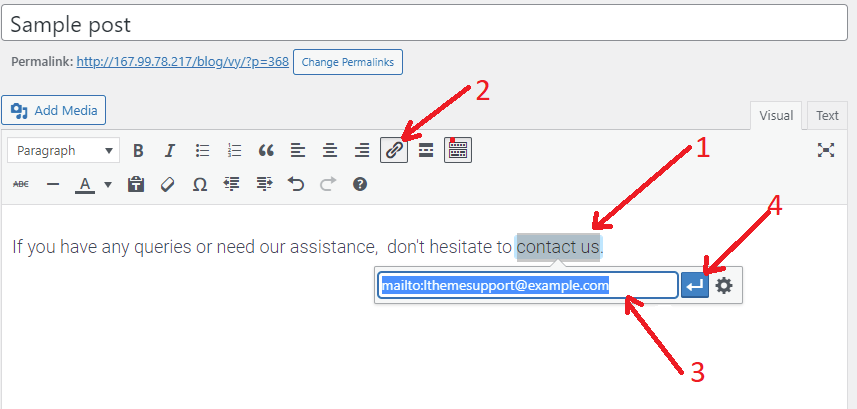 Especially, when you highlight a text and the text is a valid email address. WordPress will detect that the text you want to insert a link is an email address and then it will automatically add the mailto: prefix to the email address. Therefore, you just click on the arrow button to save the changes.

Method 2: Adding an Email Link in WordPress by using HTML
In case you want to insert an email link in a text widget to your sidebar or menu, using HTML is a great way for you.
Firstly, you need to click on the "Text" tab on the editor field. This area will display all of the HTML coding elements that are currently in your post/page and other widgets.

Now, you can add an email link by using the following HTML.
<a href="mailto:[email protected]">Contact Us</a>

Note: Although the methods above are quite easy to do and also allow the customers to communicate with the site owners when needed, it is probably not the most efficient method. In addition, it also causes many disadvantages for your email box including:
Spam: unsolicited email will attack your email system if you don't use any firewall or anti-spam software.
Viruses: the attachments included in the email can be infected with viruses, so it is easy for threats to attack your website.
Less effective: Because most people will be lazy to switch from browser to their email box to send an email. In addition, they also don't want to use their personal email address to send out an email.
You can avoid these drawbacks by creating a contact form on your website instead of adding an email link.
We highly recommend using Ninja Forms. This is one of the most prevalent and excellent contact form plugins in the market currently. You can refer to our step-by-step guide on how to create a contact form in WordPress.
.Wrap up
Hopefully, through this tutorial, you learned how to link to an email address in WordPress. If you have any queries or need our support, feel free to leave a comment in the box below.
By the way, our free WordPress Theme has tons of impressive, professional designs that are completely suitable for various topics. Let's visit and try one for your website.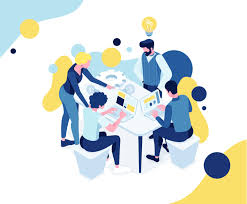 Latest posts by LT Digital Team (Content & Marketing)
(see all)