Have you known which way to create a contact form in WordPress sites yet? If not yet, let's read the tutorial below to get a lot of useful ways right now. However, initially, we provide an overview of a contact form and its benefits.
What is a contact form?
A contact form is a page on your WordPress site. Here, you can allow your users to connect and communicate with you by filling in some important information on a lot of fields such as name, address, comment, and much more. Most company websites also provide an email, address to help you contact when you need assistance or something else. However, it is considered an inconvenient way for businesses while using the contact form will provide an immediate way for users to ask the businesses questions.
Why should you create a contact form on your site?
If you are running a business, creating a contact form in WordPress sites plays a crucial role. It is regarded as the bridge to help your customers to be able to contact you easily whenever they want to buy, ask questions, or another reason. Moreover, using a contact form instead of providing your email address and phone number brings you a wide range of valuable benefits including:
Protect your email box from spam: It can't be sure that this way can prevent your site from spam 100%. However, it will minimize spammers from attacking your mailbox by adding a ReCaptcha function or using other spam protection features.
Keep track of your messages: whenever the contact forms are submitted, you will get an email reminder or notifications. Thanks to that, you will not miss any messages and can reply to messages quickly which makes your customer more satisfied.
Get all the necessary information in one place: Normally, once clients send email questions, they often forget to provide some key information. With contact forms, you can include boxes with various fields for clients to fill in. Thanks to that, you can receive all information that you want.
How to create a contact form on the WordPress site?
Up until now, web developers have been building a lot of powerful tools to help you create a contact form in WordPress without touching any single line of code. If you are a beginner, it is difficult for you when you don't know which tool to start with. In today's blog, we help you create a contact form with the two simplest plugins including using Ninja Forms and Formidable Forms.
Now, let's dive into the step-by-step guide for each solution below.
Solutions
With over 20.000.000 downloads around the world. Ninja Forms is one of the most popular form builder plugins developed by Saturday Drive. In addition to a user-friendly interface, this plugin also offers you a lot of creative features and other helpful functionality. It provides you with two versions including the free version and the Pro version. Now, we will help you generate a contact form with the free version. Let's start.
Step 1: Installing and activating Ninja forms
Just similar to other plugins, the process of installing and activating only takes you less than a minute. Simply go to Plugins> Add New on your Dashboard. Let's type the Ninja form at the search bar. Now quickly Install and activate it.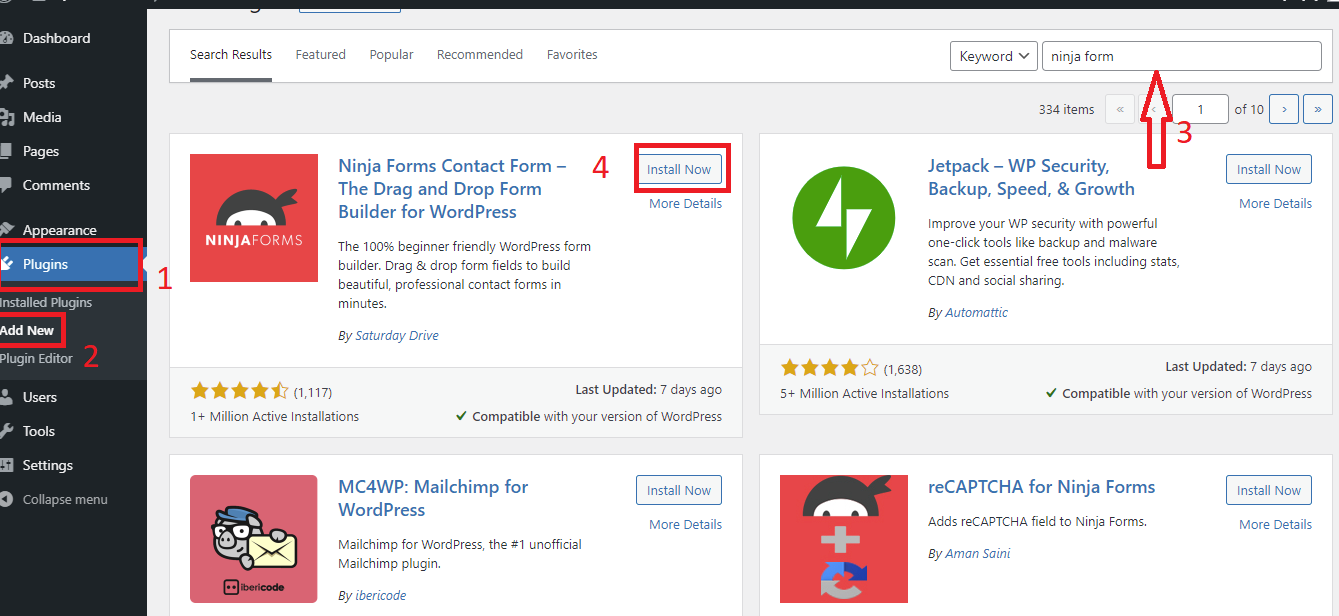 Step 2: Building contact form
Firstly, switch to Ninja Forms > Dashboard > Add New to choose the types of form which you want to create.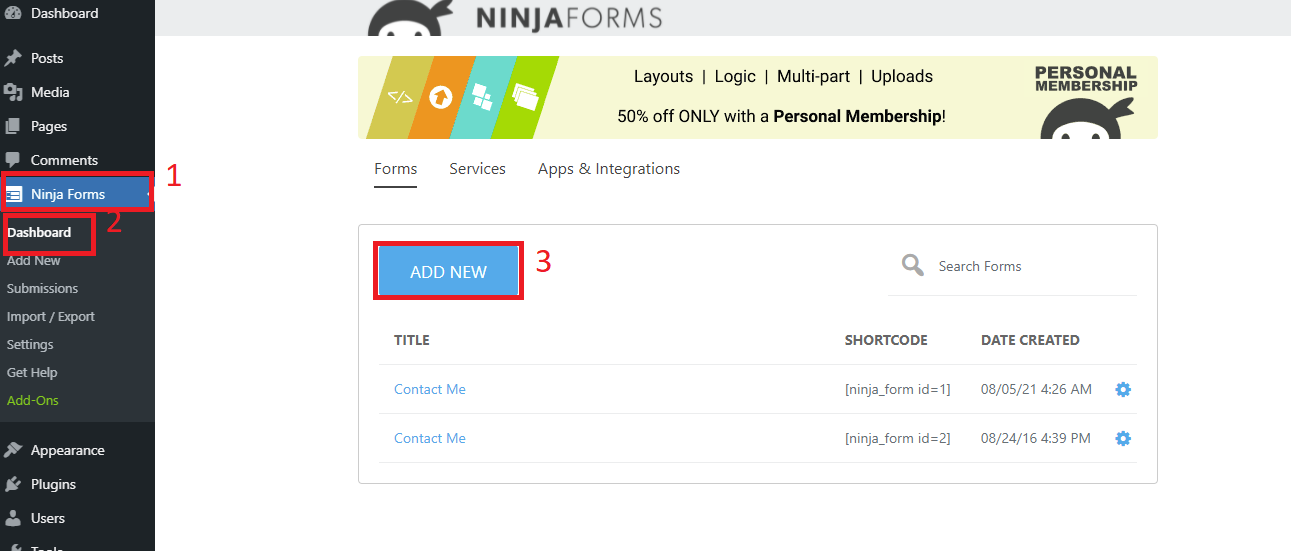 Here, a list of types of forms is displayed, you can start with a blank form or choose from the pre-made forms and modify it to suit your demands.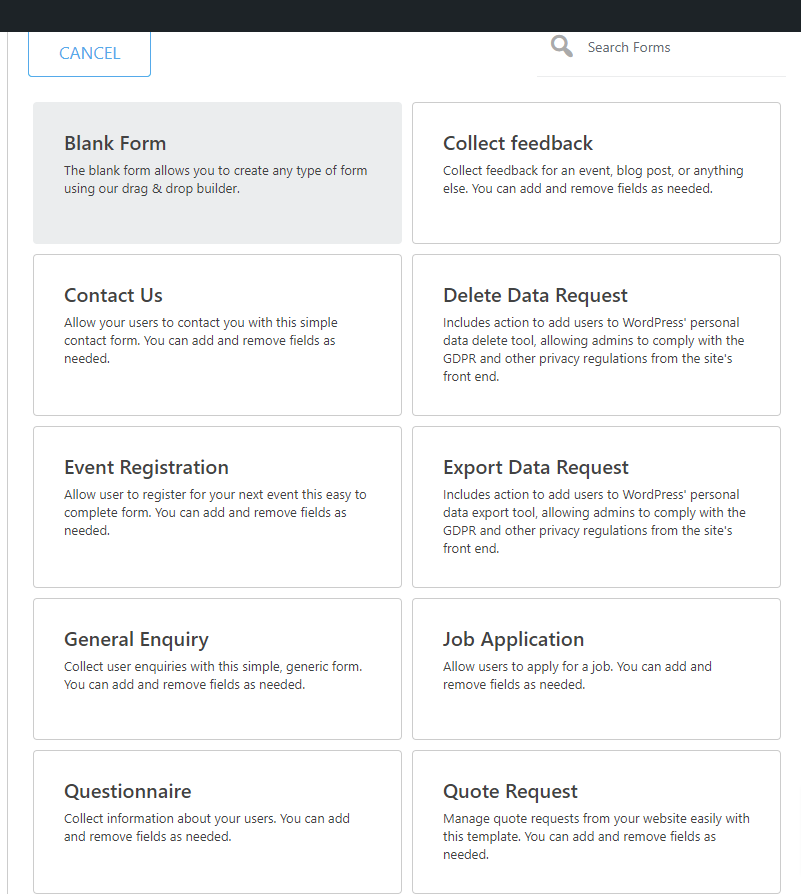 After choosing your favorite form. If this form is suitable for your requirement, you can click on Publish immediately to get the shortcode. On the other hand, click on the "+" symbol to modify it.

A collection of common fields is shown in the screenshot image below. It is easy for you to drag and drop it to another place on the contact form according to your preference.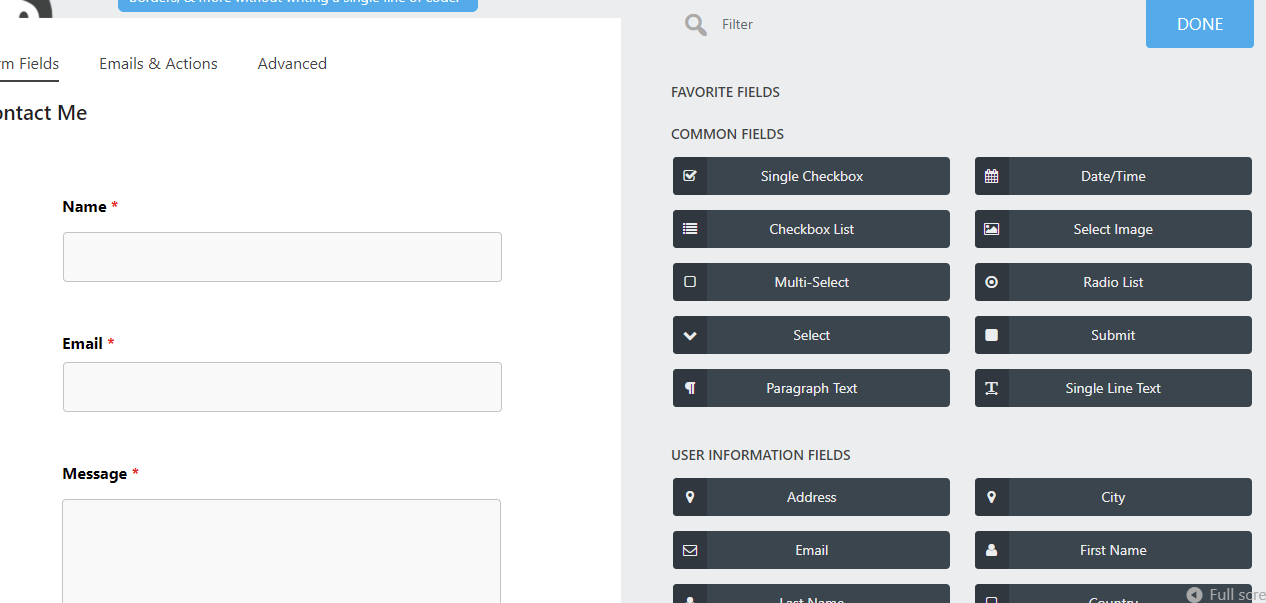 To remove an unnecessary field, you hover over the gear to view the trash icon and then click on it to delete.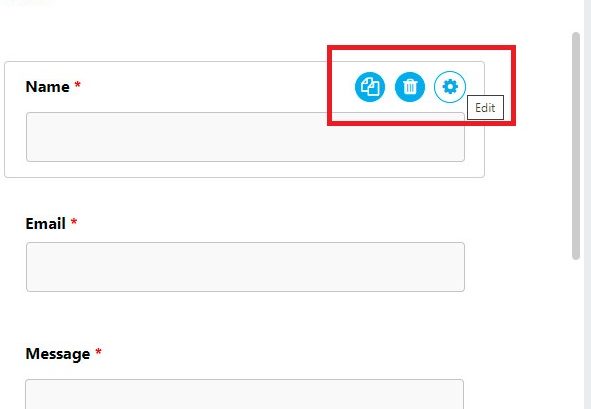 In addition, at the Emails and Actions tab, you can disable email confirmation, email notification, and store submission. In contrast, you can leave this tab if you get all emails and accept actions. For the Advanced tab, click on display settings options, and then it allows you to change the form title.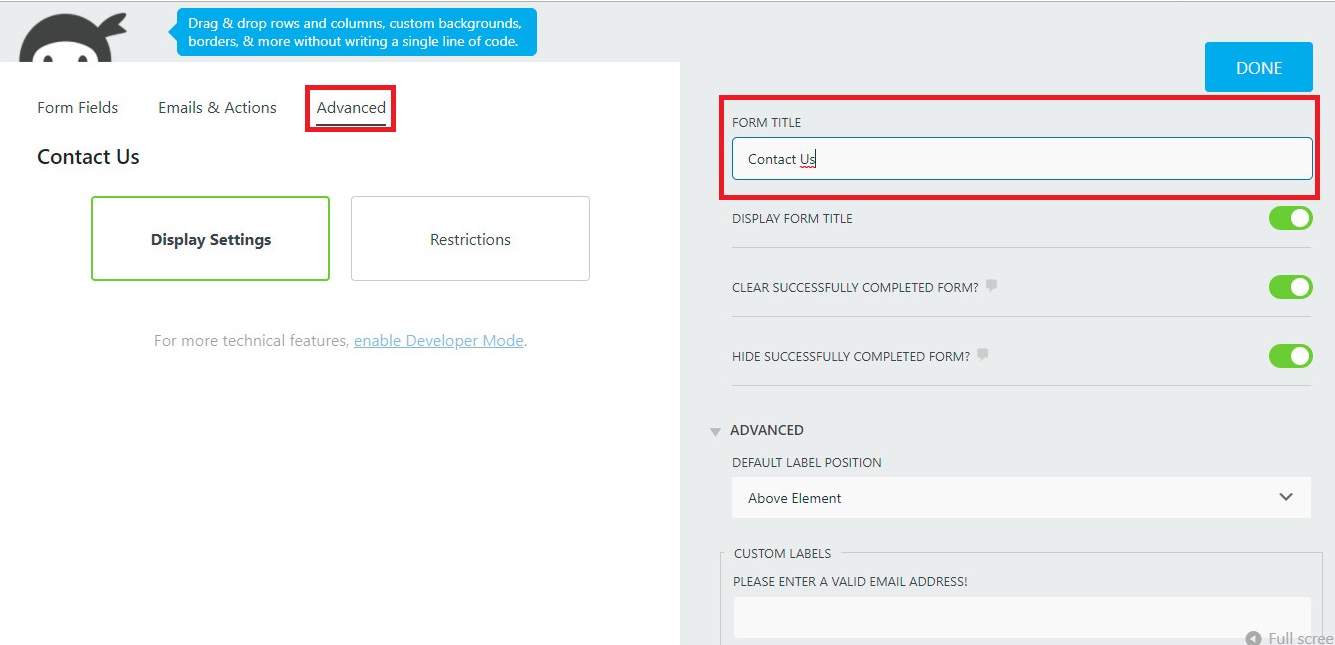 Step 3: Adding your form to a page
 Option 1: using shortcode
After building an attractive contact form, click on the "Done" Button and quickly "Publish" it. And then you can get a shortcode immediately and copy it to add to your page by clicking on the link symbol.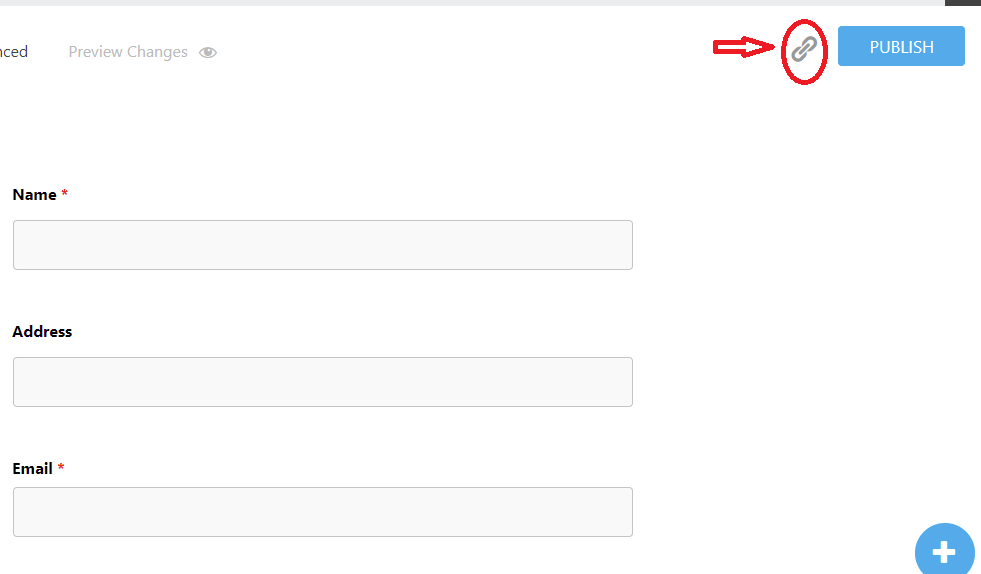 Additionally, there is another way to get a shortcode, you need to close the builder to move to the next step. Now, let's navigate to Ninja Forms> All Forms, you can see that each made form has its own shortcode. You can copy and paste this shortcode to any page on your website.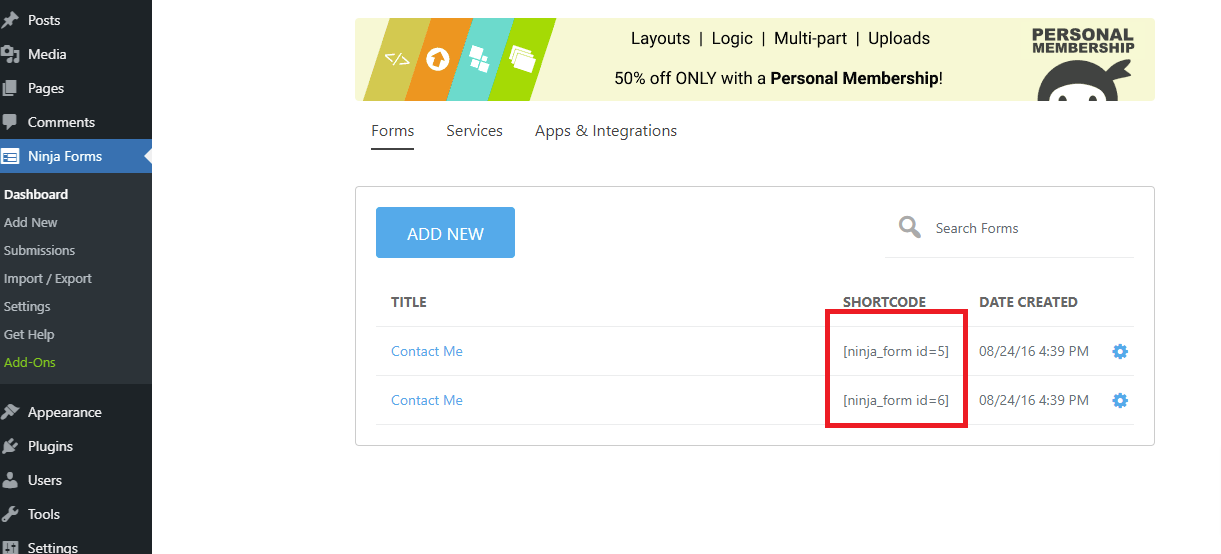 Option 2: using " Append a Ninja Forms" box
Moreover, Ninja Forms also allows you to display a contact form on your page by choosing your made form from the dropdown list on the "Append a Ninja Forms" box in the right sidebar.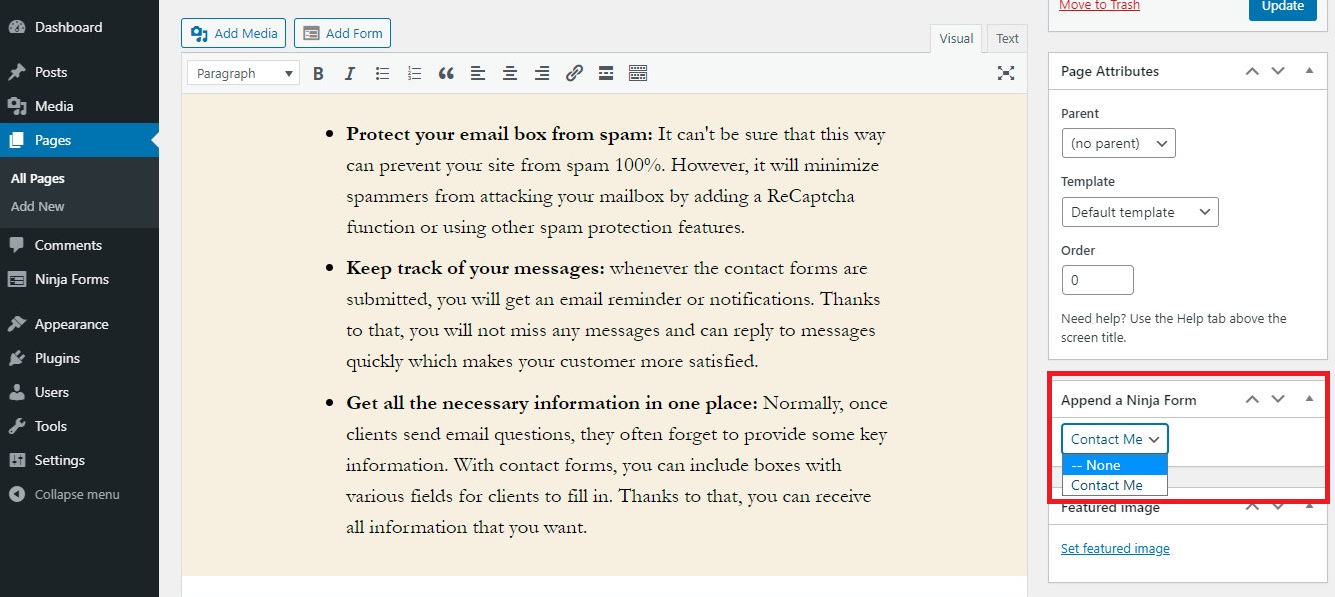 Now let's see the result.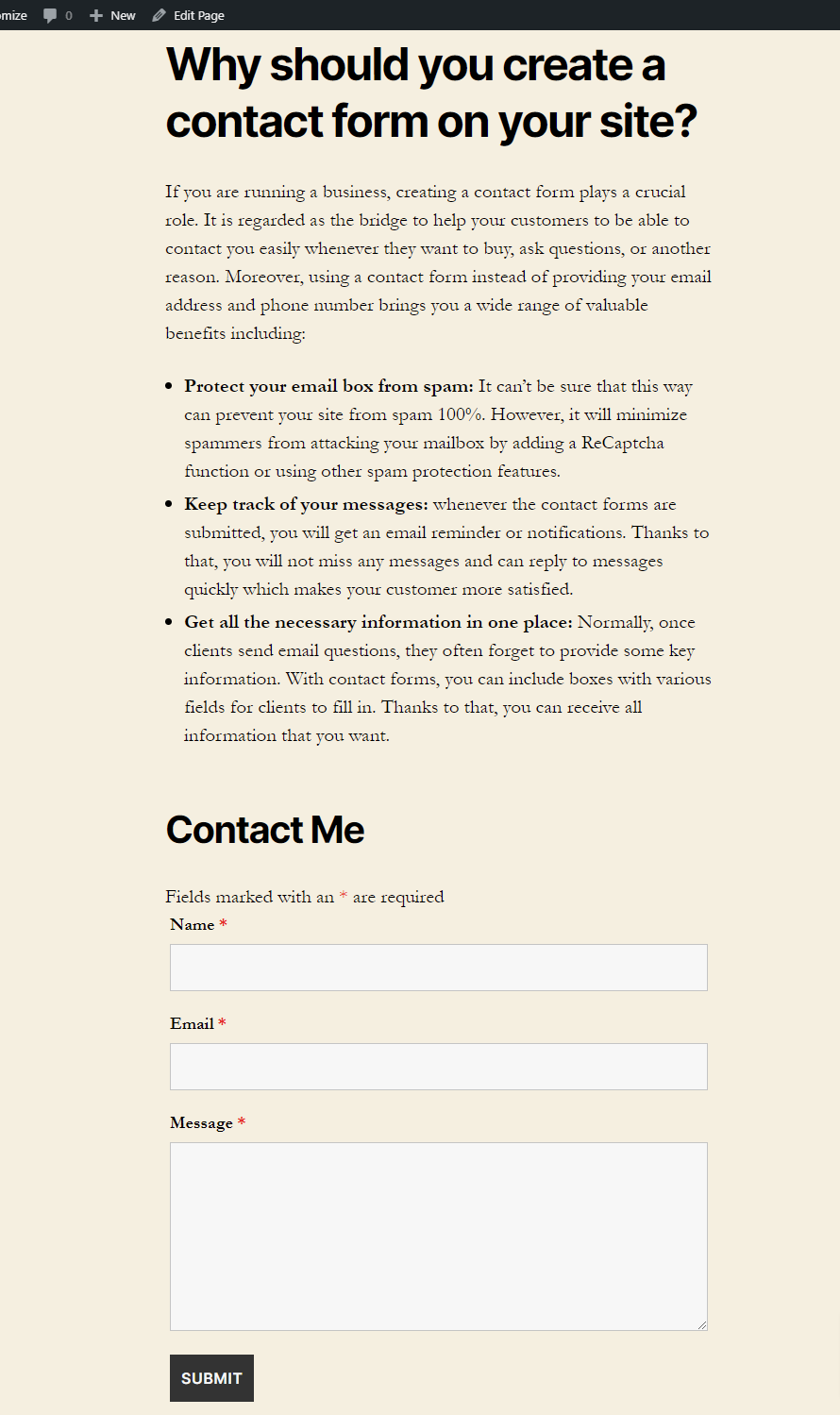 Option 3: Display contact form on the widget
Just switch to Appearance > Widgets. You can view a list of options including the Ninja Forms Widget. You can select it and put the form into the sidebar, content top, or content bottom depending on your purpose. And finally, don't forget to save your settings.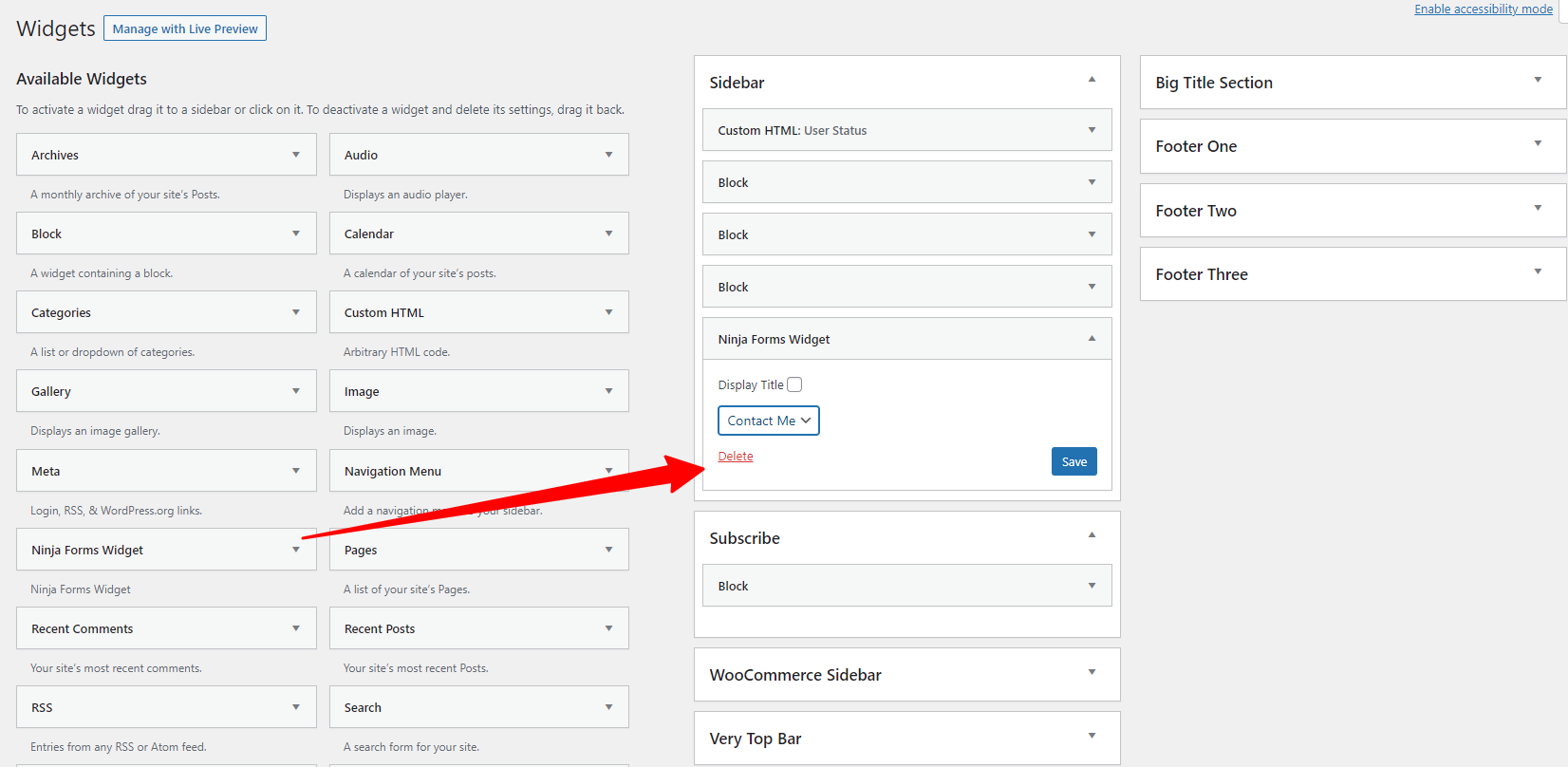 Formidable Forms is a free form builder WordPress plugin that allows you to create all types of forms, quizzes, surveys, timesheets, and much more. It offers you a built-in drag and drop form designer, thanks to that, you can create feature-rich forms with ease. Moreover, it also has a Premium version. However, we also use the free version as an example for today's tutorial
The installation and activation of this plugin are also similar to the Ninja Forms, so we will miss this step to go on to the next steps.
Now let's follow these step-by-step guides below to create a contact form in WordPress with the Formidable Forms plugin.
Step 1: Building a contact form
After you have installed and activated the plugin yet. Go to Formidable> Forms(Lite) on your dashboard, and click on "Add new" to open a list of options.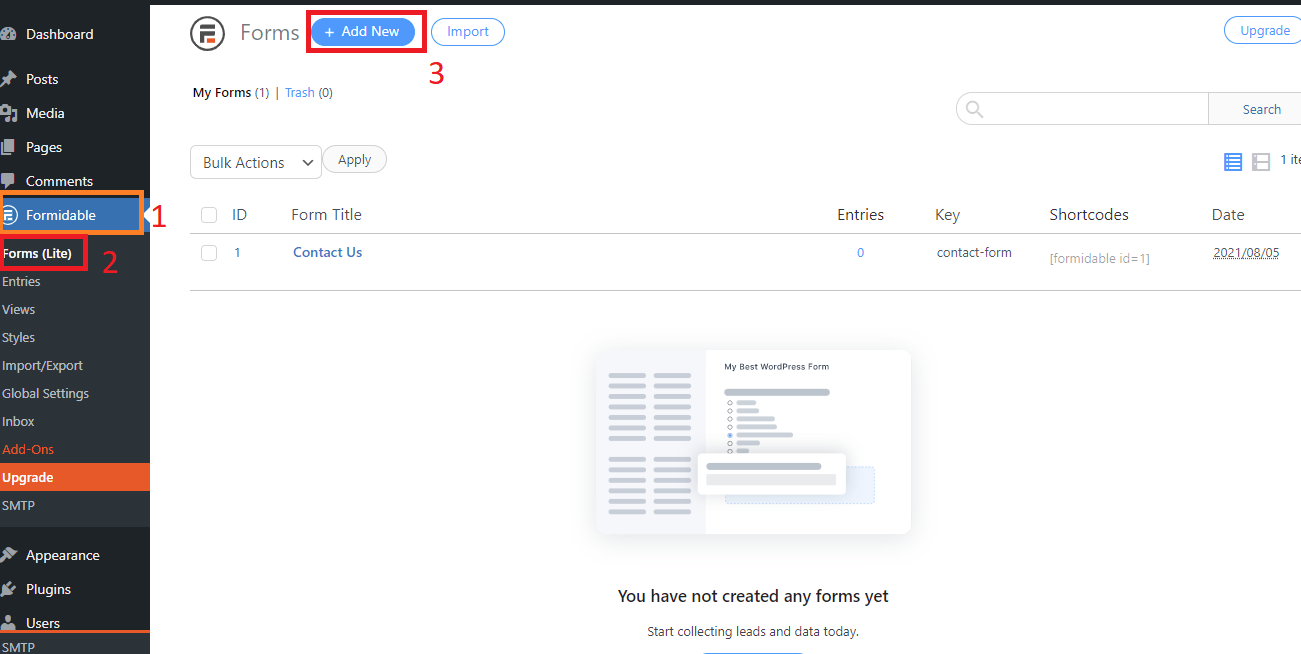 Formidable allows you to create a lot of types of forms. However, the free version of this plugin only enables you to create a form by using the blank form or pre-made templates( you can need to provide an email to get code, then you can get 10 pre-built templates).
In our case, we will click on Blank Form to start.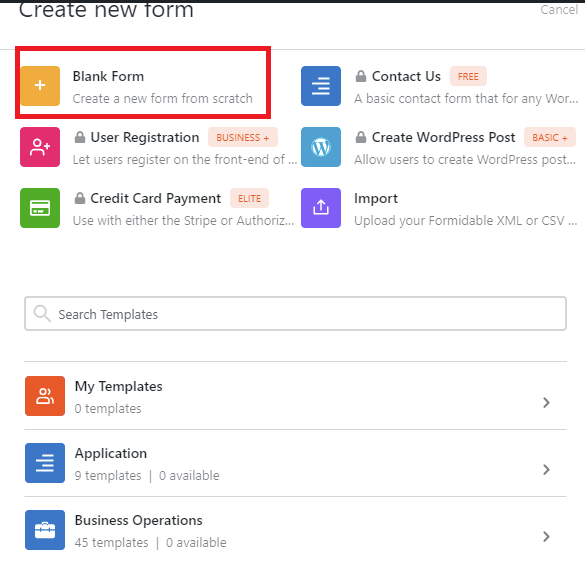 You can fill in the Form name and Form description and click on the "Create" button to move to the next step.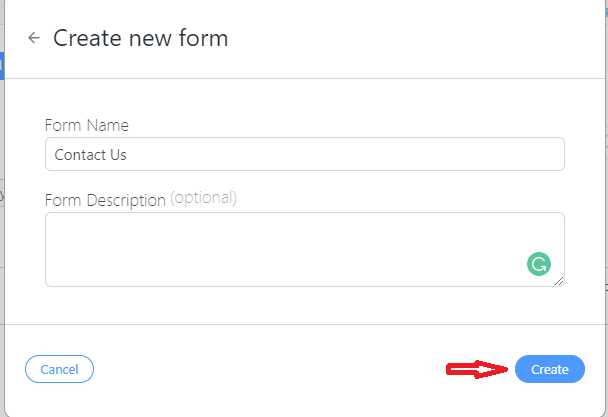 At here, you can see a list of various fields displayed, using the drag and drop feature to add your desired fields. If you want to delete any field, hit your mouse on this field, a trash icon will be displayed.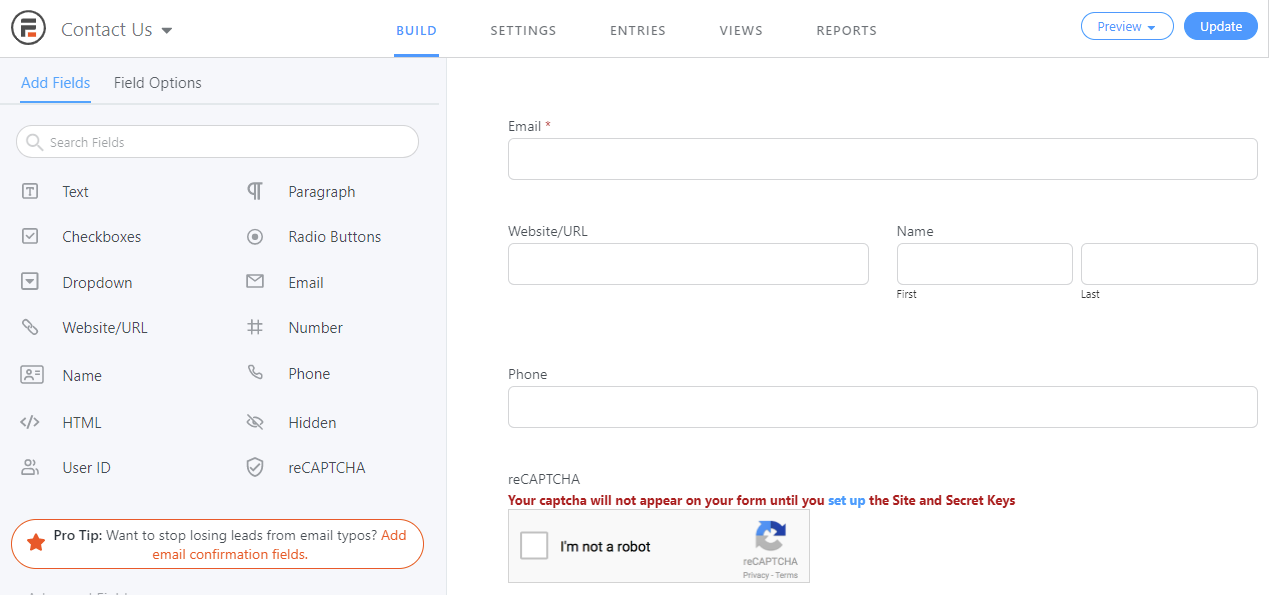 To customize each field, you optionally choose the field that you want to edit with a lot of useful options. Let's tick on the Required option if you want this to be a required field. In contrast, you can leave this option.

Next, switch to Settings Tab, in the General section, you can change the form title, add a message, and much more. The Actions and Notification section allows you to enable/ disable email notifications. If you want to get email notifications and mail confirmations, we recommend leaving the default values.
Click on Update to finish your contact form. Especially, this plugin allows you to preview your result on the Blank page or in the theme by clicking on the preview button as the screenshot image below.

Step 2: Adding a Contact Form to your page
Firstly, you need to close the builder to return to the Formidable page. Now, let's copy the shortcode of your contact form in the shortcodes column.

You can paste this shortcode at any position on your page and don't forget to publish or update your changes.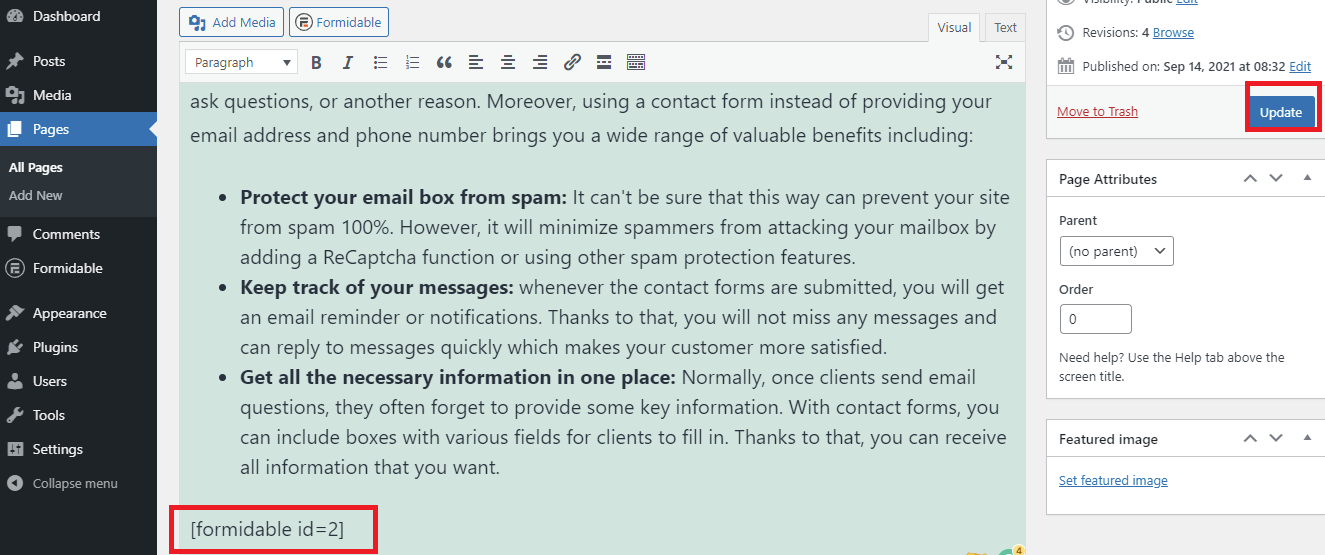 And this is how it looks!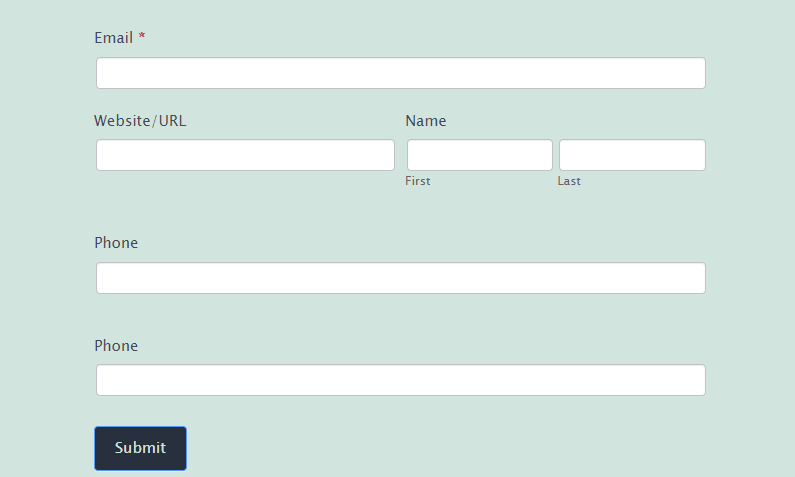 Summary
We have just provided a step-by-step guide that will assist you to create a contact form in WordPress sites with the 2 easy-use plugins. Have you picked up your favorite choice yet? If you are still wondering, let's access the Ninja Forms vs Formidable Forms comparison blog to realize the differences between these plugins.
We expect that this article gave you some useful solutions to display a contact form on your WordPress page without effort. Whether you encounter any problem during the use of these plugins, don't hesitate to mention it in the comment section below. We will give you assistance as soon as possible.
Moreover, there are still other value options that help you create many types of forms on your site, you can visit WordPress Form Builder Plugin to get more.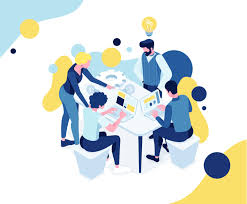 Latest posts by LT Digital Team (Content & Marketing)
(see all)