It is sure that you have ever gotten FAQ results when searching your queries on Google. However, adding FAQ Schema in WordPress properly so that Google can detect the FAQ section on your web page is also a difficult task for many beginners. Therefore, in today's blog, we will give you a detailed tutorial to help you easily add FAQ Schema to your WordPress without trouble by using various free plugins. First of all, let's go over the advantages of adding FAQ Schema in WordPress site.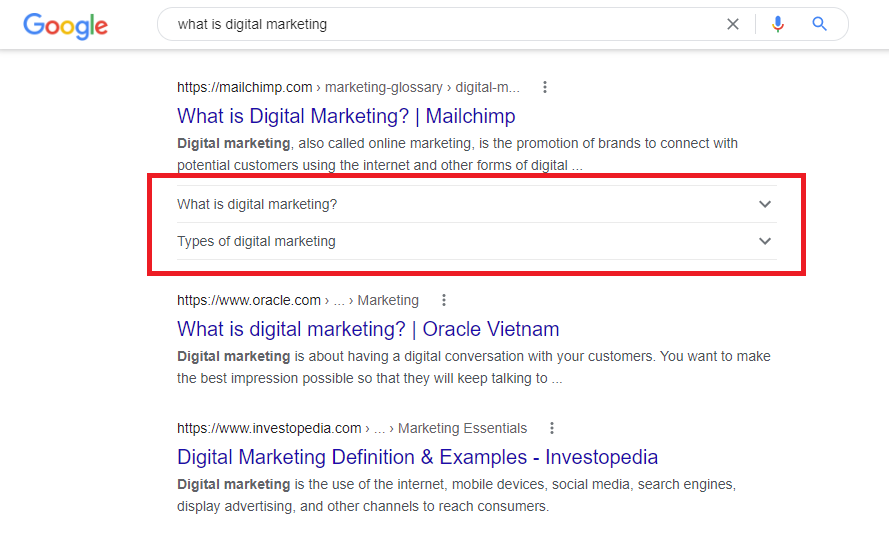 The advantages of using FAQ Schema in WordPress
There is no denying that adding FAQ Schema in WordPress brings your website a lot of useful advantages including:
Improve organic click-through rate: because many readers tend to skip an article and look through the FAQs to find the answer to their queries instead. Moreover, using FAQ Schema also makes it easy for crawlers to find questions and answers within the FAQ sections that you provided. Thanks to that, it will increase your chances to achieve the top displayed in the People Also Ask snippet.
Enhance SEO: FAQ Schema will boost your site ranking by categorizing content for specific FAQs. This will help distinguish it from other types of content in HTML code. In addition, it is easy for bots to identify what your content is about.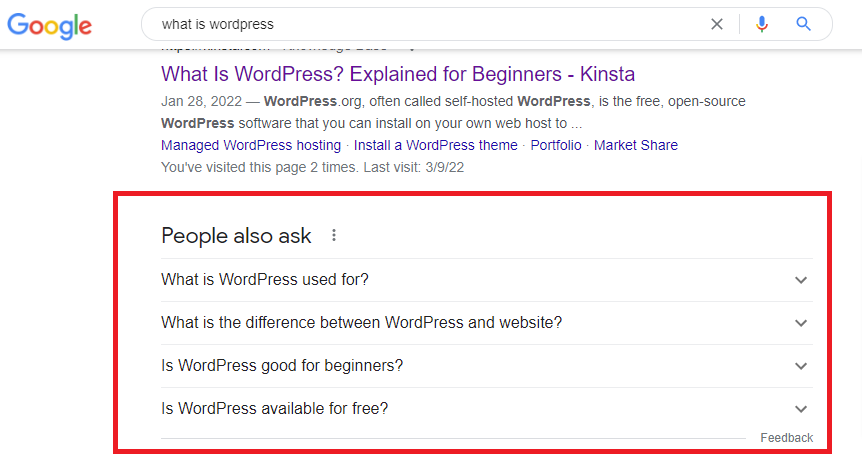 How to Add FAQ Schema In WordPress?
There are numerous tools that can help you easily add FAQ structured data in WordPress. However, we will demonstrate the 2 easiest methods by using free plugins. Now, let's check them out.
Method 1: Adding FAQ Schema in WordPress using Ultimate Addon for Gutenberg
As its name suggests, this plugin is one of the most outstanding WordPress Block plugins specially developed for Gutenberg (Block editor). It comes with a wide range of useful blocks that help expand the functionality for Gutenberg including FAQ block. So, if you are still using the old editor (Classic editor), this method is not available for your site.
Similar to other plugins, first of all, you need to install and activate the Ultimate Addon for Gutenberg plugin. If you want to get more support, you can see our step-by-step tutorial on how to install WordPress for beginners.
Once the plugin was activated, let's open any posts/pages where you want to add FAQ schema.
On the Block editor, simply click on the Add New Block button ("+" symbol) and add the FAQ-Schema block.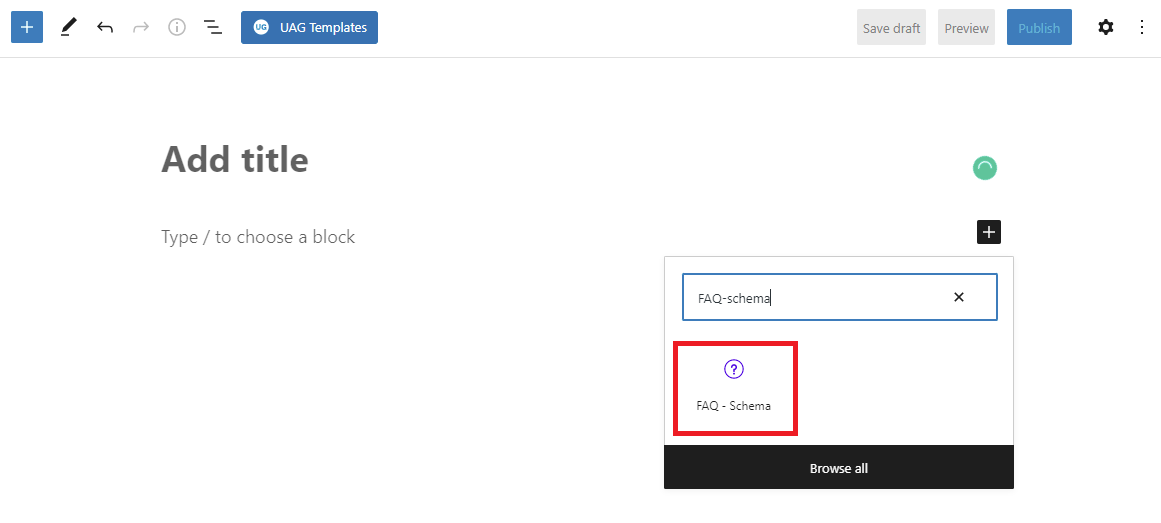 Then, a short form will appear. From there, you can provide as many questions and answers depending on your purposes.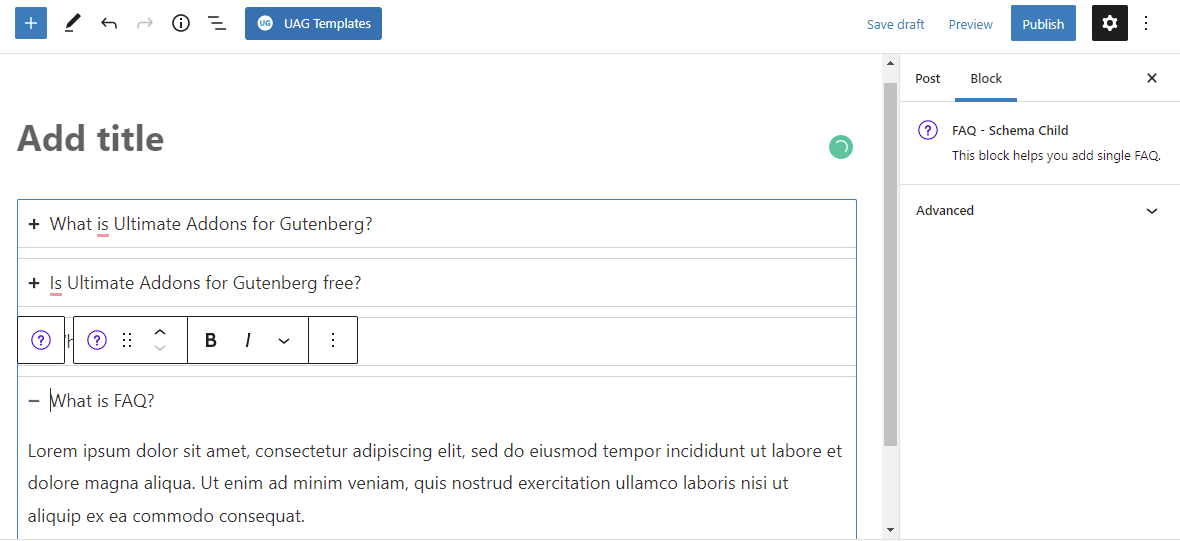 In addition, if you want to add a FAQ-schema child, simply click on the "+" symbol.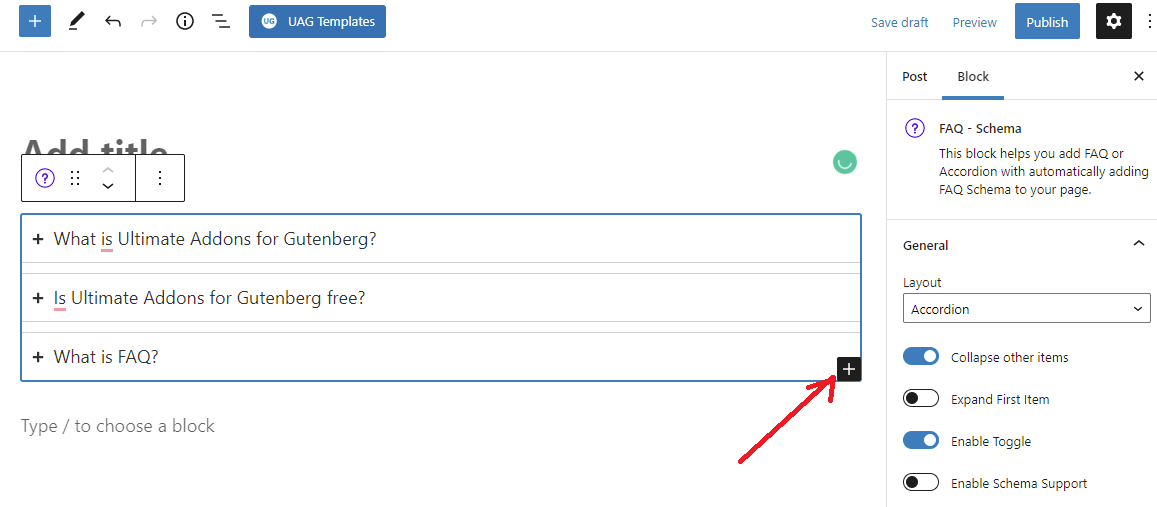 One of the pros of Ultimate Addons for Gutenberg is that this plugin has plenty of options to help you control your FAQ layout and style in the front-end. In order to access these options, initially, you need to use the block navigation to choose the parent block. Then, this will open a list of options in the block sidebar.
You can take advantage of these options to show your FAQ in a grid layout or accordion, design FAQs to match your site design theme by customizing the FAQ section with color, typography, border, and spacing option.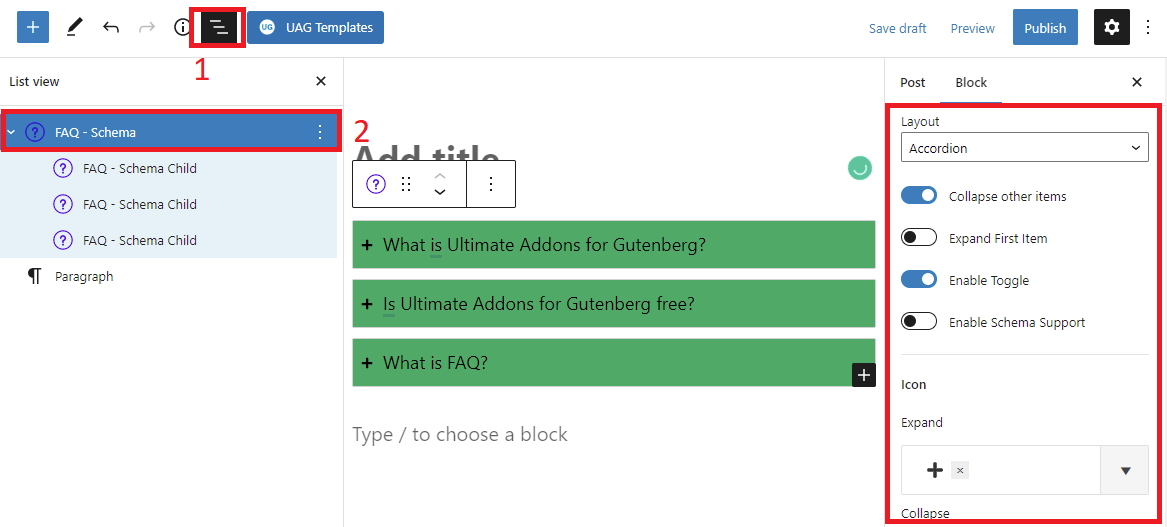 Now, you can save your post and click on the "Preview" button to see your FAQs in a new tab.
Method 2: Add FAQ Schema using Yoast SEO
As you know, Yoast SEO is one of the most remarkable and famous WordPress SEO plugins with over 5 million installations. Luckily, if you are using this plugin, it also includes a FAQ schema block in its free version. This method will be a perfect choice for those who installed the plugin on their websites since they will not need to install additional plugins.
To use it, you only need to click on Add New Block button and add a Yoast FAQ block by using the search bar.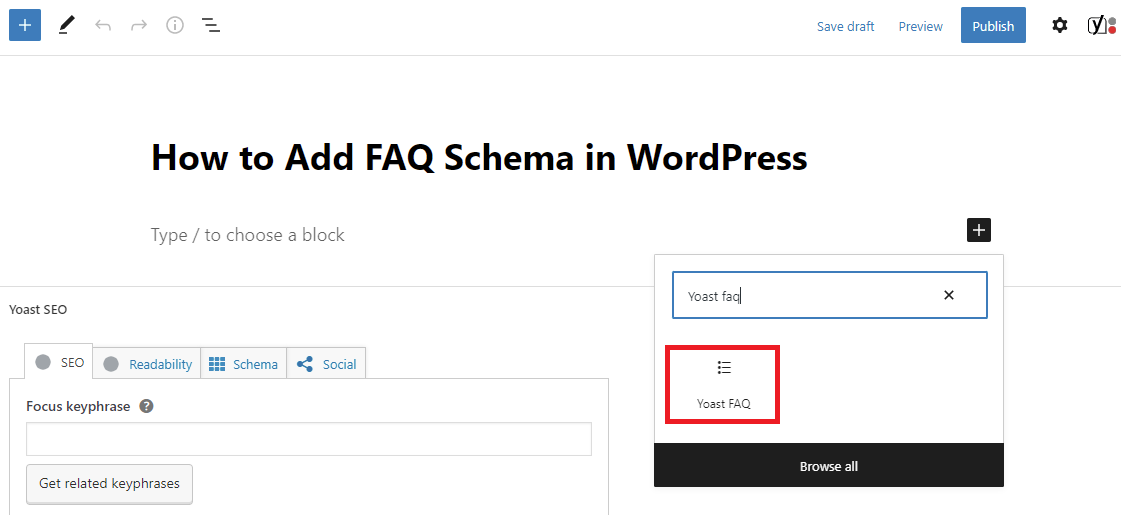 After that, you can start adding questions and answers inside the block. In order to create a successful FAQ Schema page, you should provide related questions instead of random questions so that your page will be clean and focused.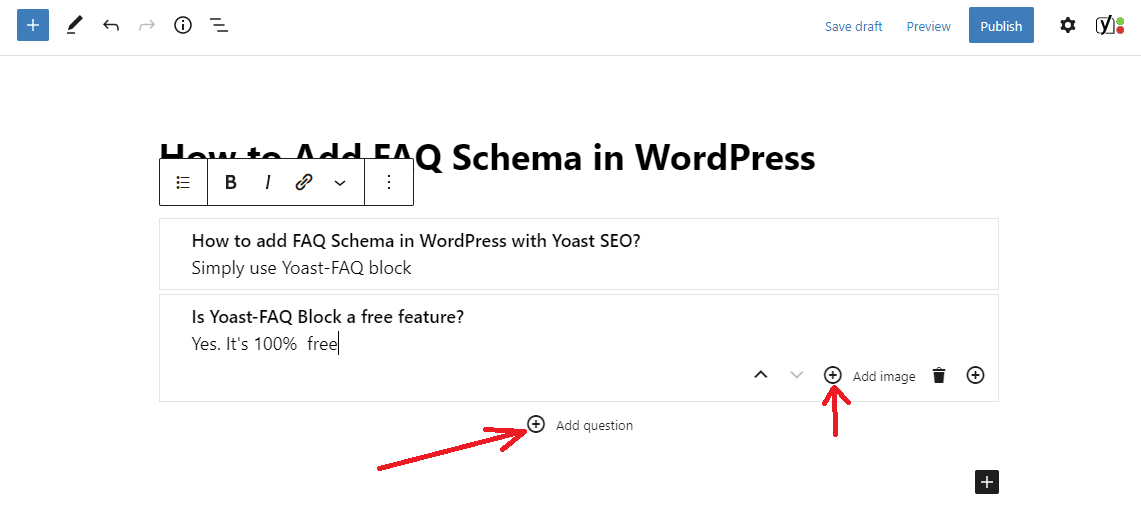 Additionally, you can also add images to your answer. If you want to add more questions, simply click on the "+ add question" button.
One of Yoast FAQ block's drawbacks is that there are no style/layout options, so Yoast SEO will showcase your questions and answers as plain text on the front-end. Although you can add your own custom CSS, it will be not a perfect solution for beginners.
Once you are pleased with your questions and answers, let's save your post/page. Now, you have a well-structured FAQ post/page with valid structured data. You can go to the front-end of your site to see your FAQ schema in action.
How to test your WordPress FAQ Schema
You can not check if your FAQ schema is working properly or not if you only look at this on your post/page. Fortunately, there is a free tool that allows you to test any URL to make sure that you have created a FAQ schema properly.
To check it, you can follow the steps below.
Step 1: Go to the Rich Results Test Tool.
Step 2: Enter the URL of the page/post that you added your FAQ schema and run the test
Then you will see a FAQ listing under the Detected items section.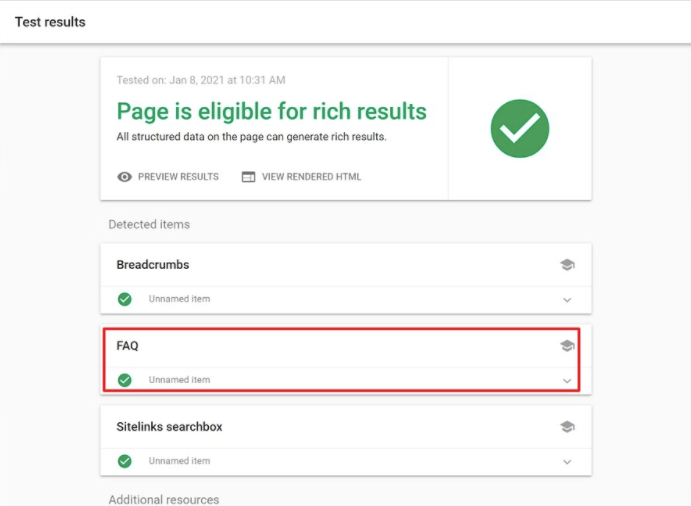 Simply click on it to expand a list of questions and answers that you added to your FAQ section before.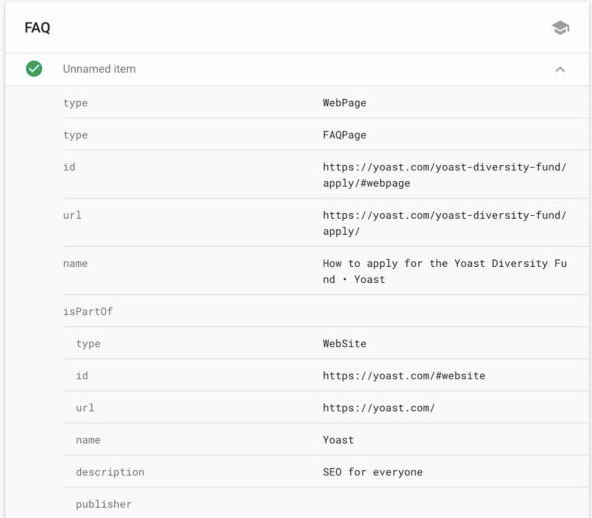 If you can get your FAQs, it means that Google detected your FAQ section. And in the future, Google will give your site FAQ-rich results. If you are in luck, your FAQs will be visible in the People also Ask sections.
In contrast, if they are incorrect, you can go back and check all information that you added to your FAQs properly. In case, the result still goes wrong, you can try to clear your WP cache since your caching plugin might display an outdated version of your content to Google.
Summary
Adding FAQ Scheme in WordPress is really a great idea to improve your site ranking. Hopefully, these provided methods above will be beneficial for your website. If you get into trouble, don't leave a comment in the section below to get our assistance.
Moreover, don't miss a list of amazing free WordPress Themes on our website.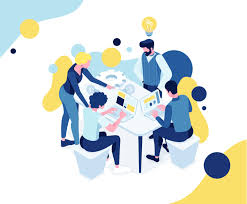 Latest posts by LT Digital Team (Content & Marketing)
(see all)