Do you already know how to add keywords and meta descriptions in WordPress? If not, don't ignore this detailed guide below. First and foremost, we will you some necessary information to understand more about this topic.
What is a keyword and meta description in WordPress?
A keyword is interpreted as a primary term or phrase in SEO that helps you describe the content of a blog post or webpage. It is short or long keywords that people search on Google or other search engines to find something.
A meta description is a meta description tag that plays an important role as a 155-160 character summary describing the content of a web page. This is the answer to the question of what is a meta description that everyone is wondering. Search engines will showcase the meta description in the results while the meta description contains the keywords being queried by the user.
Why should you add keywords and meta descriptions in WordPress?
Keywords and meta descriptions are really the main part to improve your Website ranking. They will help you notify search engines of summary information about the content of your posts or pages.
In addition, adding keywords and meta descriptions bring you a lot of benefits when they show up in Google search results:
Improve the click-through rate since the brief explanation of a web page on the SERPs.
Assist your website to get a better ranking faster thanks to the increased click-through rate over time.
Make your website more user-friendly because of having the appearance of a webpage on the SERPs.
Help the users to quickly pick out the most suitable web page from a wide range of search results.
Enhance the number of leads on your website thanks to the increased number of visitors.
How to add keywords and meta descriptions on WordPress?
Honestly, there is a wide range of useful tools that are available on the internet. They can give you the ability to add keywords and meta descriptions to optimize your content. However, in today's tutorial, we will minimize your problem by using Yoast SEO. Because it is one of the best plugins that help your website get a better ranking on search engines. In addition, it is extremely easy to set up and use. Now, let's start.
With over 5 million active installations, it is admitted that Yoast SEO is one of the most powerful WordPress SEO plugins that can help you rank higher results in search engines. This plugin offers a wide range of creative and useful features such as title and meta description templating, an in-depth Schema.org integration, and much more.
Moreover, it also integrates seamlessly into a range of themes and plugins including Zapier, Algolia, etc. This plugin includes 2 versions: the free version and the Pro version. In today's blog, we will give an example with the free version.
Stage 1: Installing and activating Yoast SEO
If you have already to installed Yoast SEO. Let's go to Plugins> Add New on your dashboard, and then typing the name of the plugin at the search bar. You can see the Yoast SEO plugin as the screenshot image. Quickly install and activate it.

Stage 2: Configuring Yoast SEO
First, click on the SEO section in your WordPress sidebar. This will take you to your Yoast dashboard. Click on Configuration wizard to configure settings.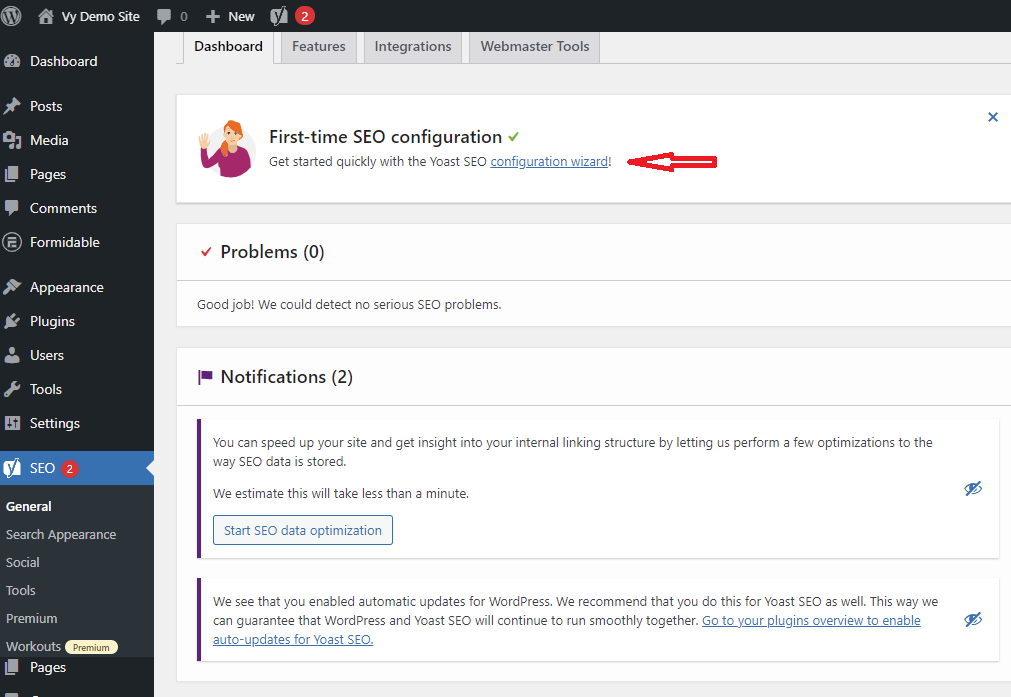 At here, Yoast SEO provides 9 steps to finishing configuration settings. The initial question is the environment. Yoast SEO wants to know what type of your website is.
Whether you select under construction and should not be indexed, Yoast SEO will prevent your site from being indexed by search engines which can generate a lot of issues such as duplicate content.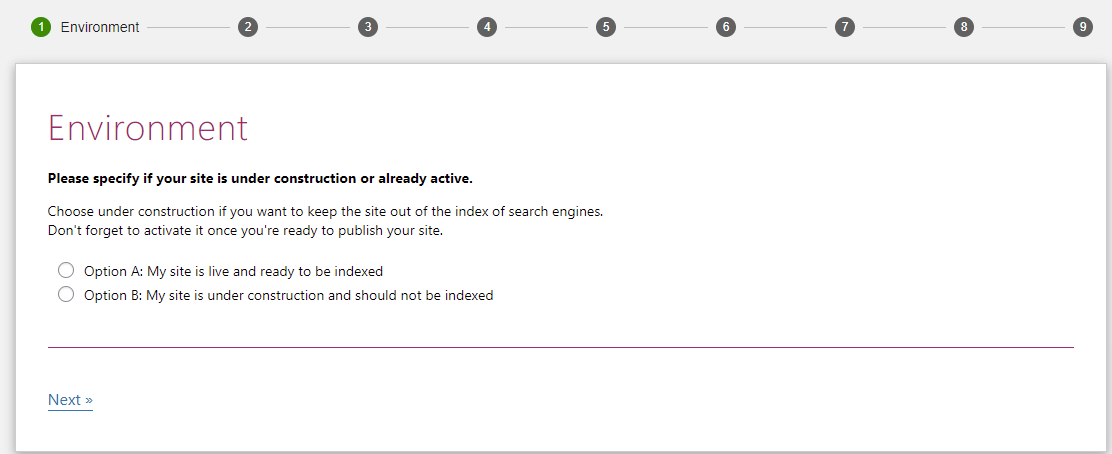 Next step, you need to choose the type for your website, this question depends on your current website. In our case, we are creating a personal blog, so we will select "a blog" option.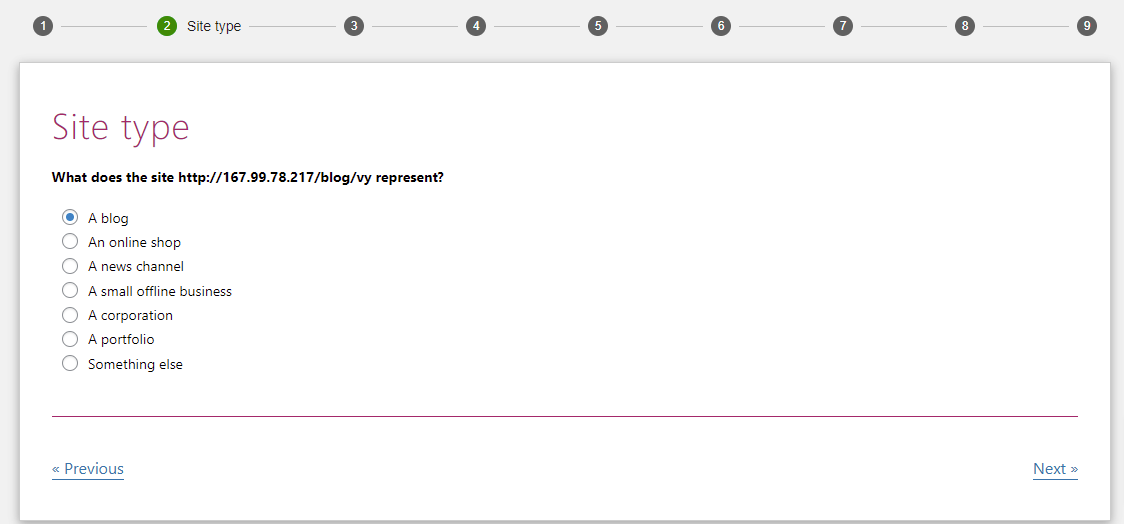 In this section, Yoast asks whether you are a person or an organization. If your site is for a company, so you should choose the organization option. And then you have to fill in a lot of fields below including the name of the organization, the logo image, and Social media URL Links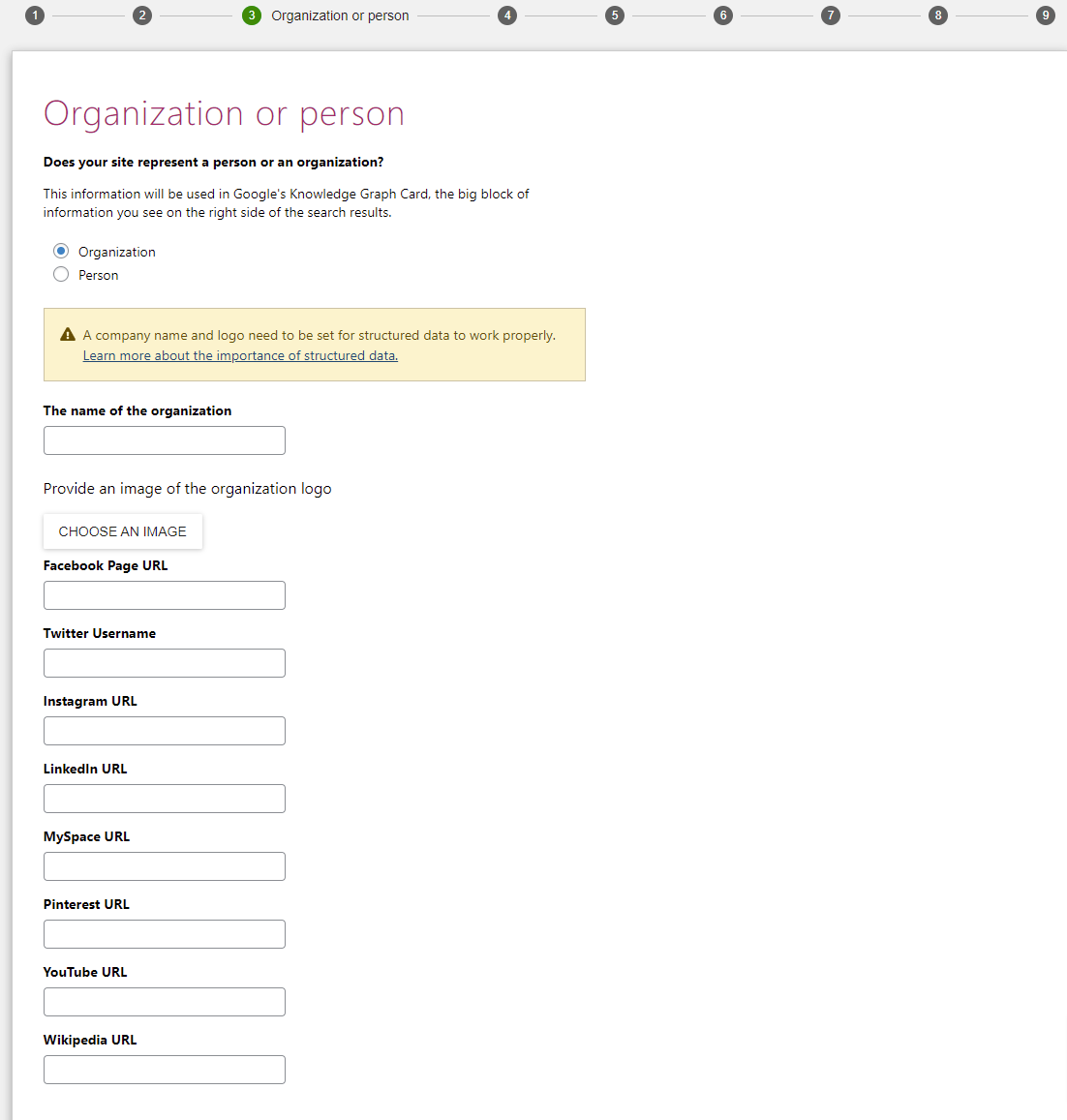 Next, you can choose what type of content that you would like to show to the search engines. what it should show to the search engines or what pages. We recommend skipping this question and keep the default settings.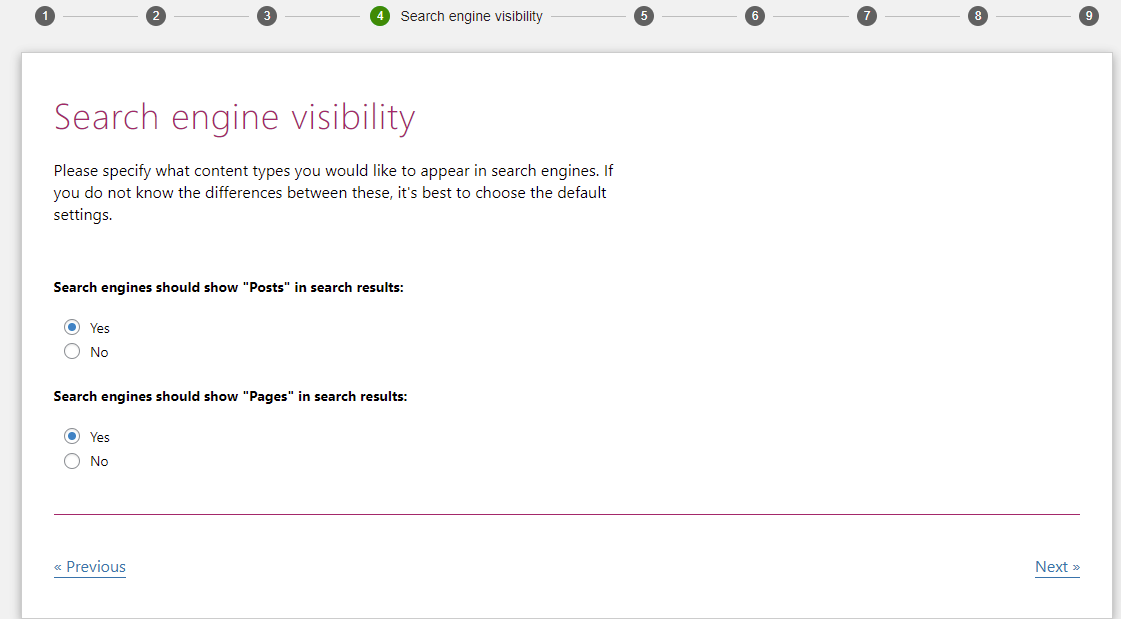 Another question is that whether your site has multiple authors. This question depends on the number of authors on your site. If posts on your website are published by one author or just some authors who are using the same user name, you would choose "No".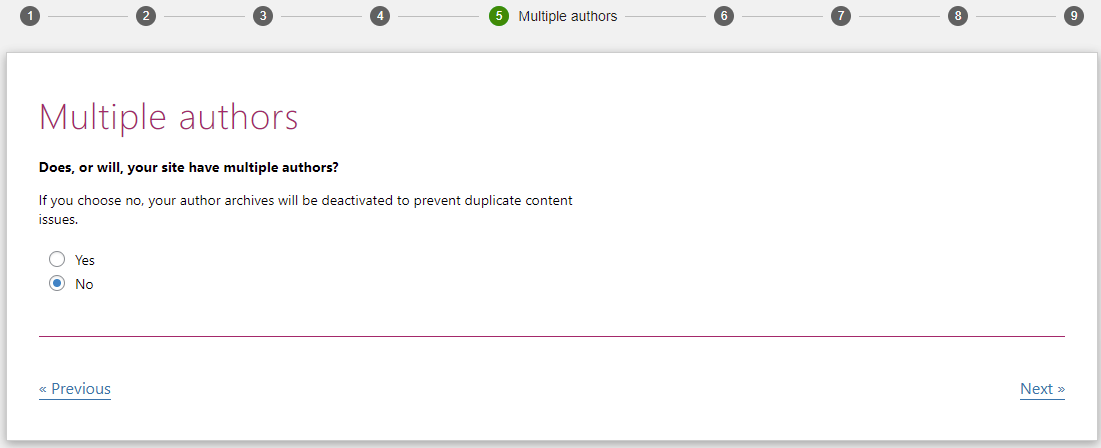 The next step is Title settings. You need to enter your website name. After that, you have to choose any symbol and use it as a title separator. This symbol will appear in the search results after your SEO title.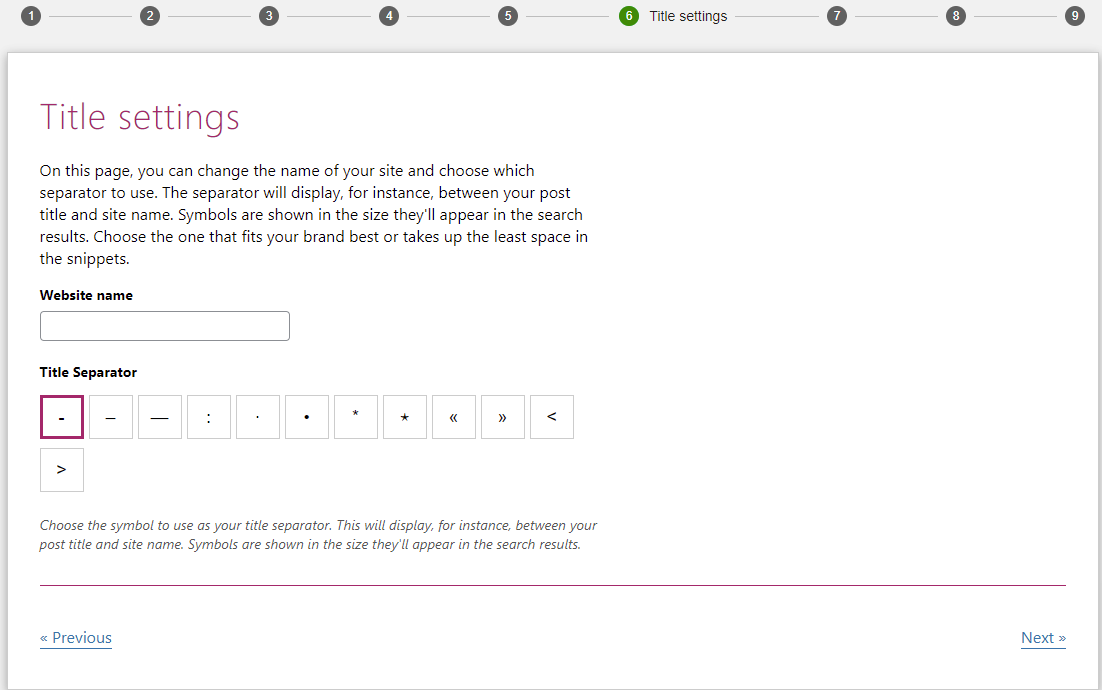 For example, we choose a simple dash, and then this is how it looks.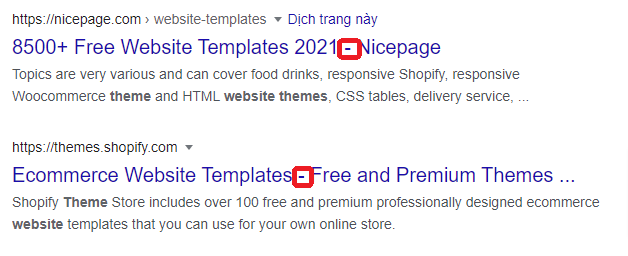 After that, Yoast SEO is asking that whether they could collect some anonymous information about other plugins and themes on your website. If you don't allow this tool to keep track of your data site, you should choose "No" options to protect your site.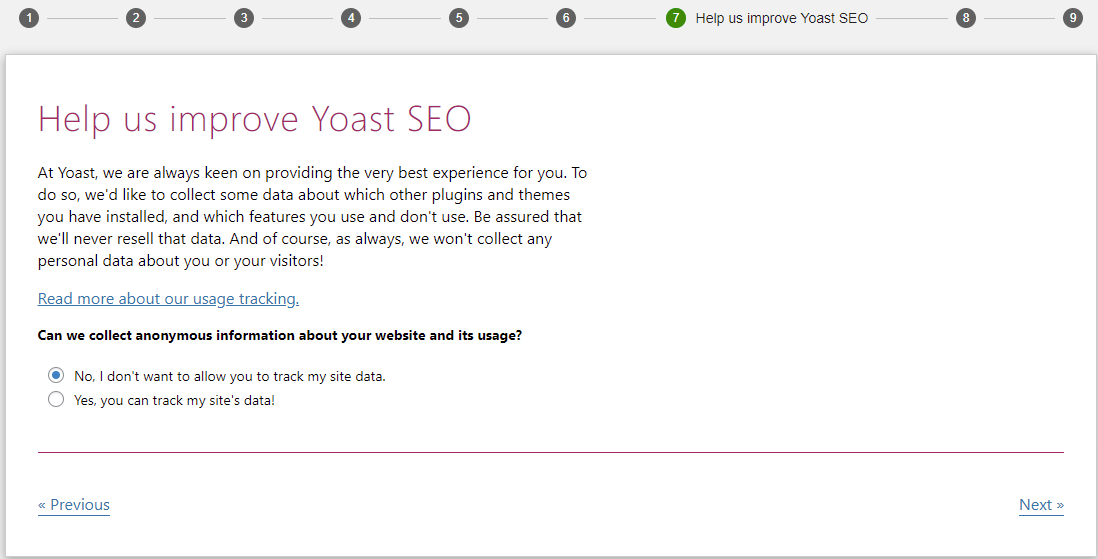 Yoast SEO allows you to sign up for Yoast's newsletter. We recommend signing up if you are a beginner, thanks to that you can continue to learn. However, you can leave this section if you want to learn by yourself.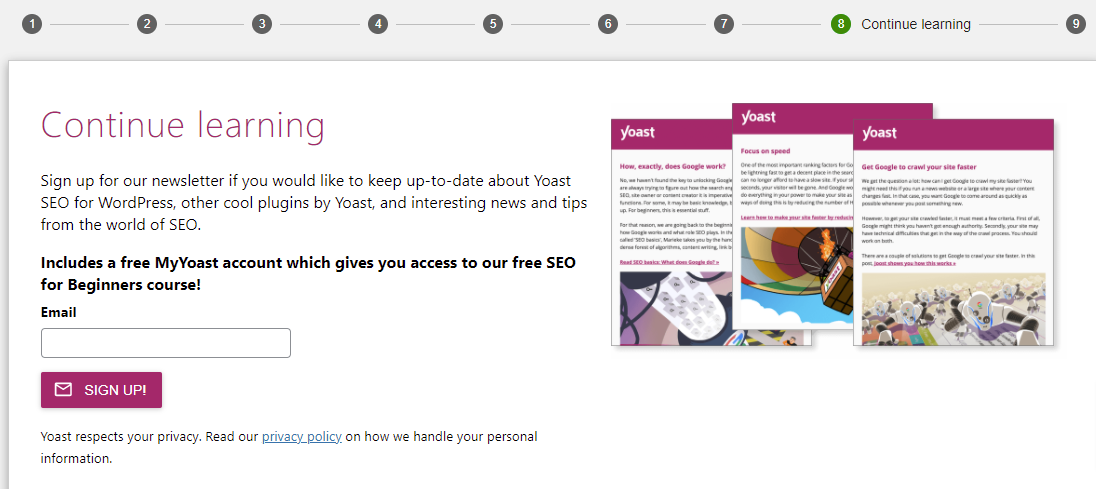 After completing this step, you have just finished the configuration process. Now, let's start adding keywords and meta descriptions in WordPress.
Stage 3:  Add keywords and meta descriptions for your posts/pages
In order to add keywords and Meta descriptions, initially, you need to create a new post in WordPress. After that, you can scroll to the bottom of your post, you will view the Yoast SEO box below.
In this box, you need to fill in 2 areas. In the first position, you have to enter a short keyphrase to help the SEO analysis tool evaluate your content based on the right keyphrase in mind.
In the second position, let's add a meta description with a character count of between 120 and 160. A good meta description is a consider but compelling brief of the content of your post. However, you should avoid listing keywords only instead of including them in the description reasonably. Moreover, you should use some impressive words to inspire readers to click on your post and learn more.
And after that,  your meta description will is displayed below the title and URL in search engine results as in the third area below.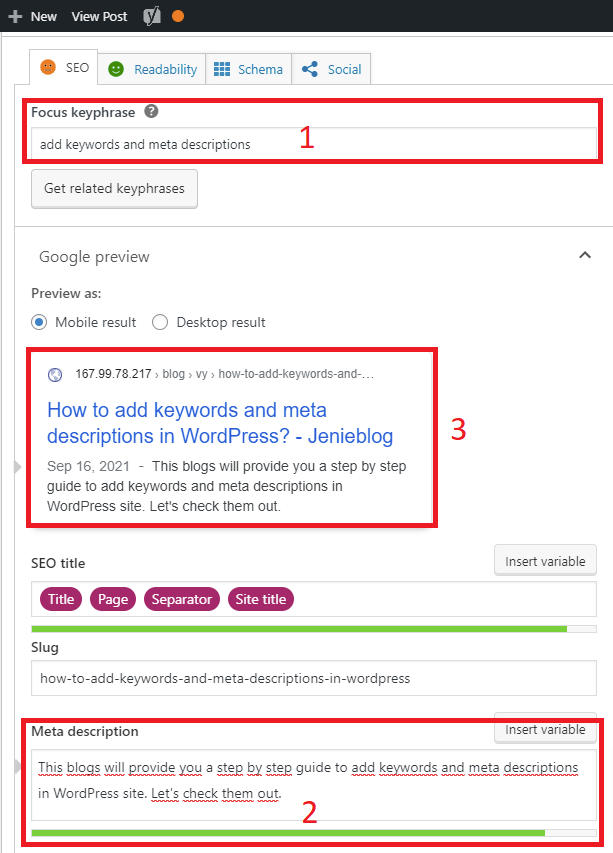 Next, it is time to look at its SEO-friendliness. However, you have to ensure that you have set the focus keyphrase yet. The SEO analysis will help you evaluate how well your content is optimized to rank for that particular keyword phrase.
Scroll down and click on the SEO analysis section below the meta description field. At here, it will show off some mistakes and suggestions with red and orange bullets that you need to fix to optimize for your content.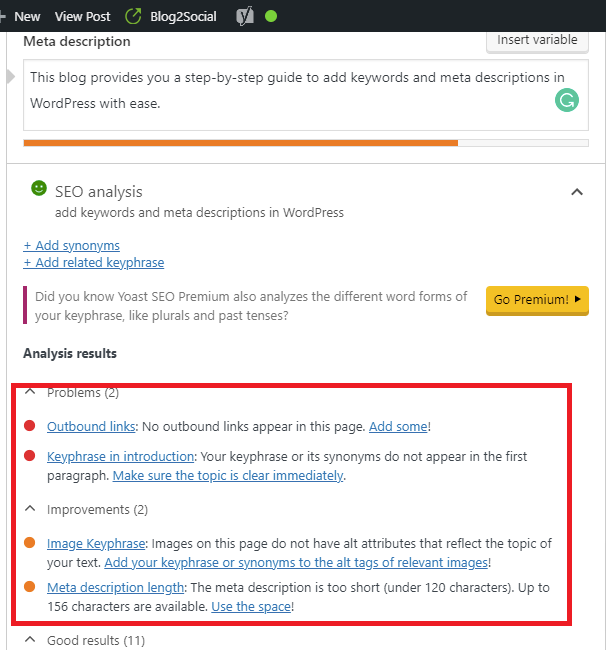 On the other hand, if you have optimized all aspects of your content. This will show good points with green bullets. Nevertheless, all green bullets don't guarantee that your post will have a higher ranking on search engine results. Since it also depends on a lot of other factors. We will mention this factor in the next blogs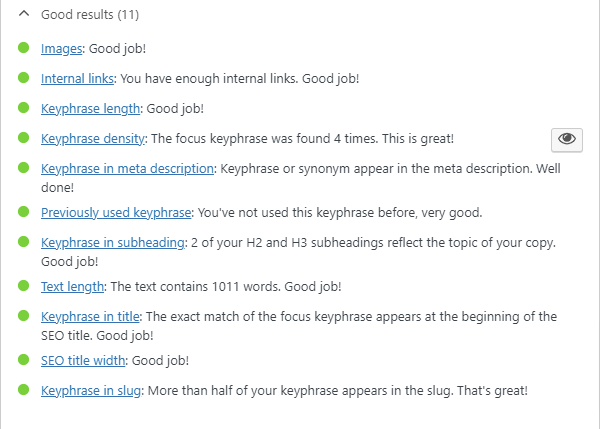 Stage 4: Add keywords and descriptions to your category and tag archive pages
Firstly, you need to go to Posts> Categories/Tags on your dashboard, and then click on the "Edit" link.

Next, scroll down the Yoast SEO box and simply add keywords and meta descriptions as the previous steps. Don't forget to save the changes before moving on.
Summary
We have just provided a step-by-step tutorial to help you add keywords and meta descriptions with ease. Hopefully, this blog is valuable in improving your website ranking on Google search results. If you have any queries or encounter any problems during the use of this plugin, don't be afraid to mention it in the comment section below.
Moreover, you want to refer to other options that also allow you to add keywords and meta descriptions, let's take a look at WordPress SEO Plugin to choose another one. Thanks for reading.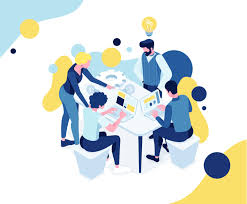 Latest posts by LT Digital Team (Content & Marketing)
(see all)