Do you want to clear your cache in WordPress manually? Look no further, this article gives you the easiest methods to handle this issue. Now, let's start with an explanation of caching.
What is Caching?
First of all, you need to get an insight into what Caching is before diving into how to clear your cache in WordPress. In short, the cache is defined as a temporary storage location on your website. It is also understood as the process of generating static copies of your content and previous data. And it will serve that to your visitors when being requested from a lot of browsers. Thanks to that, it helps your website improve speed.
Why should you clear cache in WordPress?
Although caching brings your website numerous benefits such as enhancing the speed and performance of your website, reducing the load on your hosting server, you still should clear cache in WordPress. Because of the following reason:
When you have any changes or tweaks on your website, but your content is still not updated on the front-end. Because at the present, your cache is saving the previous data, so you need to clear out your WordPress cache to fix this problem. After your WordPress cache is empty, the caching system will automatically save the updated data and then showcase it to your visitors.
How to clear your cache in WordPress?
There are several ways to help you clear the cache in WordPress easily. And using outstanding WordPress Cache Plugins is one of the most effective methods to assist you to handle this issue.
Clear cache in a browser
Clearing your own browser cache is also a useful method that assists you to troubleshoot loading and formatting issues without installing any extra plugins. By using this way, you can delete outdated files and static content such as stylesheets, images, and much more to help your website update the new version of your website.
However, you should note that when you clear cache in a browser which means your browser data is deleted for example bookmarks and setting preferences. Therefore, you need to make sure that your data has been exported before. And then let's import it back when you have finished the process of clearing the cache.
In order to clear cache in your browser, you can follow the steps below.
Open your browser cache in Google Chrome
Click on the three-dot "⋮" symbol at the top right corner of your screen
Select More Tools > Clear browsing data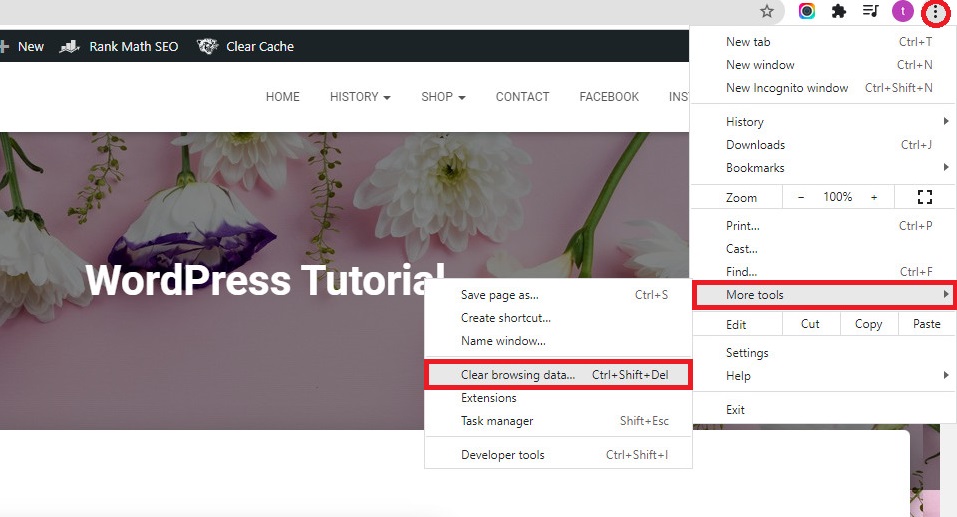 This will open a popup window where you can choose the content you want to clear. In addition, you can set the time range and choose your favorite method. You should leave the Passwords and other sign-in data option to keep your login credentials.
After that, click on the Clear data button to finish the process.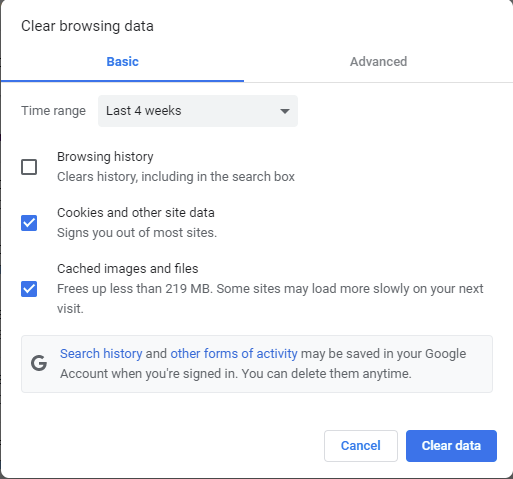 Clear cache in WordPress using WP Super Cache
WP Super Cache is an excellent tool that allows you to create cache files for the posts, categories, and tags of your site by preloading. It offers three cache modes including Expert, Simple, and WP-Cache Caching. Especially, the Expert and Simple ways serve super cached files, so they are perfect solutions for your website. In addition, this plugin can flush cache files with a single click.
To clear your cache in WordPress with WP Super Cache Plugin. You can track the following steps.
Just similar to other plugins, initially, you need to install and activate this plugin. You go to Plugins > Add New on your dashboard, type the name of that plugin on the search bar. After that, quickly click on the Install Now and activate it.

After installing the plugin, let's navigate Settings > WP Super Cache Page.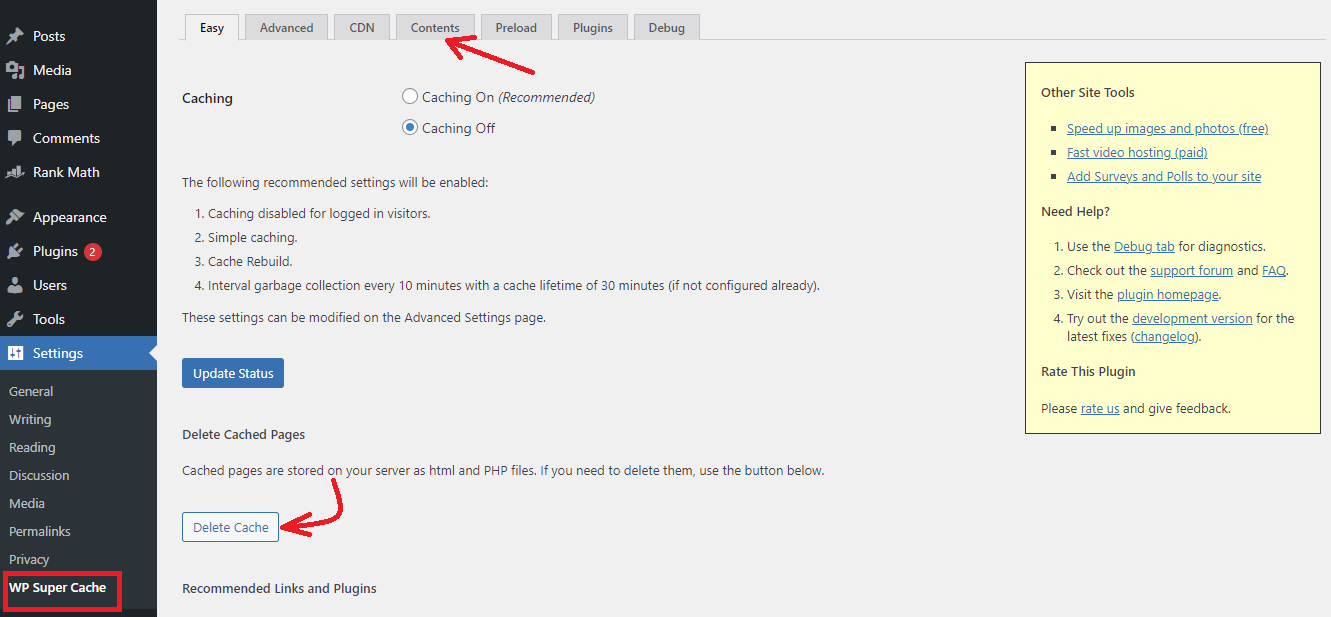 In the WP Super Cache Setting page, let's scroll down the screen, you will see the Detele Cached Pages section that contains the Delete Cache button. Quickly click on this button to clear your cache easily.
Clear cache in WordPress using W3 Total Cache
W3 Total Cache is another remarkable WordPress Cache Plugin. This tool helps you improve the SEO as well as the user experience of your site by reducing page load time. Additionally, users are able to use its WP-CLI support to control the interface to perform different tasks such as cache purging and query string updating.
Below is the process of clearing WordPress Cache by using W3 Total Cache:
After this plugin has been installed, visit the Performance > Dashboard page. And quickly click on the Empty All Caches button that is displayed at the top of the page.
Then, the system will clear your WordPress cache. You will see the message " All caches successfully emptied" after finishing the process.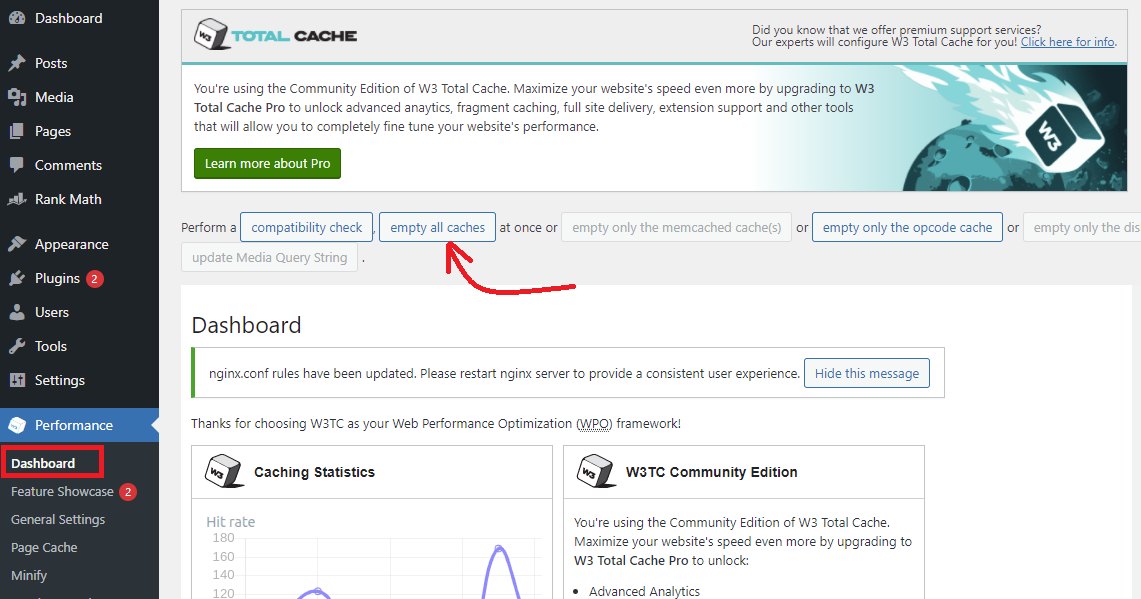 Clear WordPress Cache by using WP Fastest Cache
WP Fastest Cache is also a prevalent WordPress Cache tool. It is famous for its several optimizations and caching features including minifications, cache preloading, and much more. This plugin helps you automatically clear all cache files whenever a new post/page is published/ updated.
The process of deleting Cache in WordPress with the WP Fastest Cache plugin is extremely easy to use. You just go to WP Fastest Cache on your dashboard.
In the WP Fastest Cache options page, there are a lot of tabs displayed at the top of the page. In the first tab, you need to tick the box next to the Cache System setting to enable the caching. This feature will help you regularly clear your cache.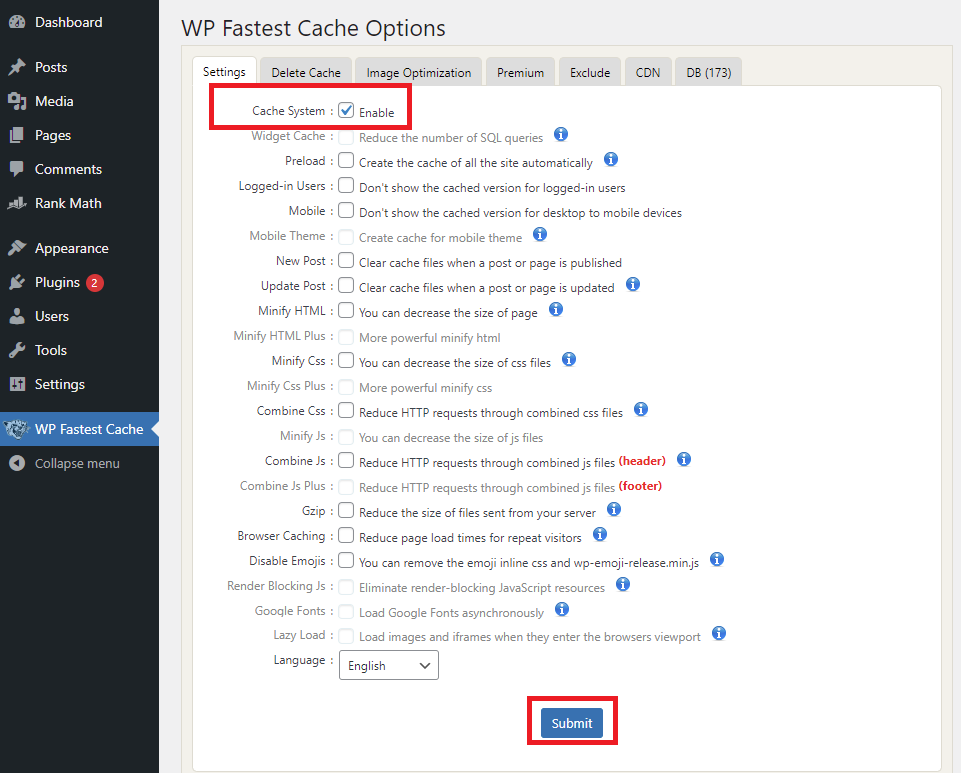 Whether you want all cache files to be deleted when a post or page is published, simply tick the New Post and Update Post settings.
Don't forget to click on the Submit button at the bottom of the page.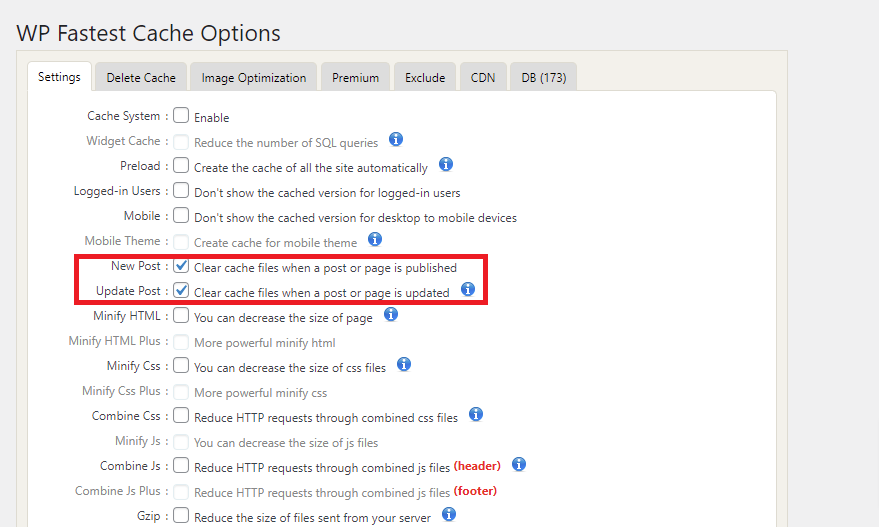 Moreover, this plugin also allows you to manually clear your cache in WordPress. You need to move to the second tab " Delete Cache". Here, there is a Clear All Cache option. Simply click on this button.
Whereas, you should choose the Delete Cache and Minified CSS/JS button if you have just modified CSS or JavaSript files.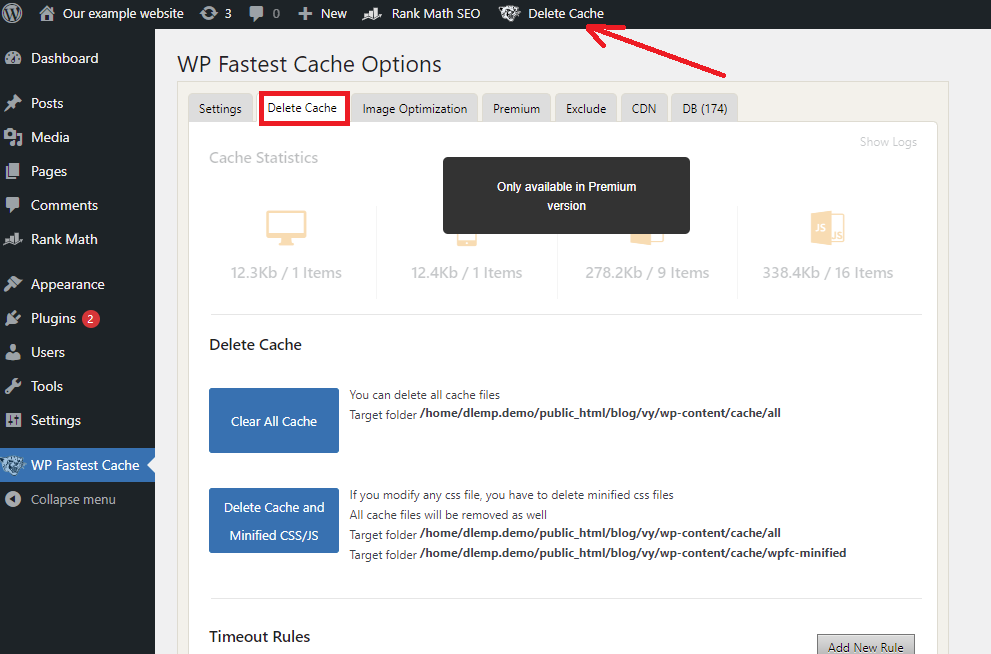 Have look at the bottom of the page, you will see the Timeout Rules setting. Let's click Add New Rule button to open the popup window where you can set the condition of pages or posts you want to cache and how often you want to clear the files.
After that, click on the Save button to add the rule.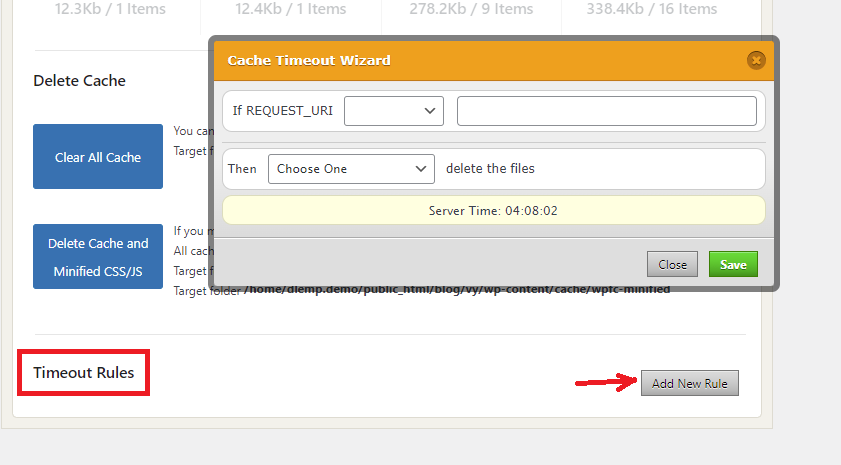 Wind up
In short, we have just provided you with the most effective and simplest methods to help you quickly clear your cache in WordPress manually. We expect that you selected your favorite method and apply it to your website to make your website load faster. If you have any questions, please mention them by leaving a comment in the box below.
Moreover, you can access WordPress Cache Plugins to refer to more useful options for your website. Last but not least, you can spend a little time visiting our Free WordPress Theme to explore a wide range of beautiful, SEO-friendly designs for your site.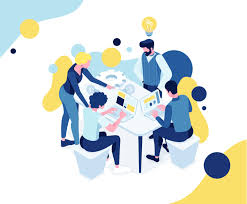 Latest posts by LT Digital Team (Content & Marketing)
(see all)