Introduction
Have you ever wondered how to hide a WordPress site from google? That means that Google does not index nor appear in the search results. If you are looking for a simple but effective solution to that, this tutorial blog today will be for you. Don't worry about anything because this way will not affect the search engine optimization of your overall website.
Why do we need to hide a post or page from Google?
As you know, Google is a search engine that allows you to exclude posts, pages, or content of your site from search results. However, do you know why and when we need to do that?
Actually, there are many situations that hiding a post or page is necessary and important. For example, if you own a website containing a lot of membership information, you need to hide the profile pages of your members to ensure their confidentiality and safety.
Another instance that you should hide some pages is when the posts or content on that page is not relevant to the general public, such as a page about website ownership.
Moreover, in case you are only developing part of the website content and want to share the preview with your audience, it is a good idea to hide the page from Google.
Methods to hide a WordPress page from search engines
In the blogs today, we would like to bring you 3 easiest ways to hide a WordPress page:
Utilizing All in One SEO (AIOSEO) plugin
Using robots.txt.file
Password protect a post or page
Hide a page with All in One SEO (AIOSEO) plugin
All in One SEO is a fairly popular plugin with a large number of users. It is considered as one of the easy-to-use as well as reliable WordPress SEO Plugins.
For beginners, this is a great solution because the steps are not too complicated. You just need to follow the instructions that we will show below.
First of all, you need to install and active the plugin by going to Plugins -> Add New. Then, type the name of the plugin 'All in one SEO' on the search bar to find the plugin. After that, let's press 'install now' and activate it after finishing the installation.

A welcome screen will appear to ensure that your plugin installation and activation are successful. Now, click 'Let's Get Started' to continue. There are some steps for you to fill and check the fundamental information, you can skip the steps to go to the advanced settings.

If you want to hide a post from Google, let's go to Posts and choose the post you need to hide. Then, press 'edit' the post and scroll down the AIOSEO Settings. In the Advanced part, the first line is Robot Setting and the 'Use Default Settings' is turned on. Let's click on the toggle to switch off the setting.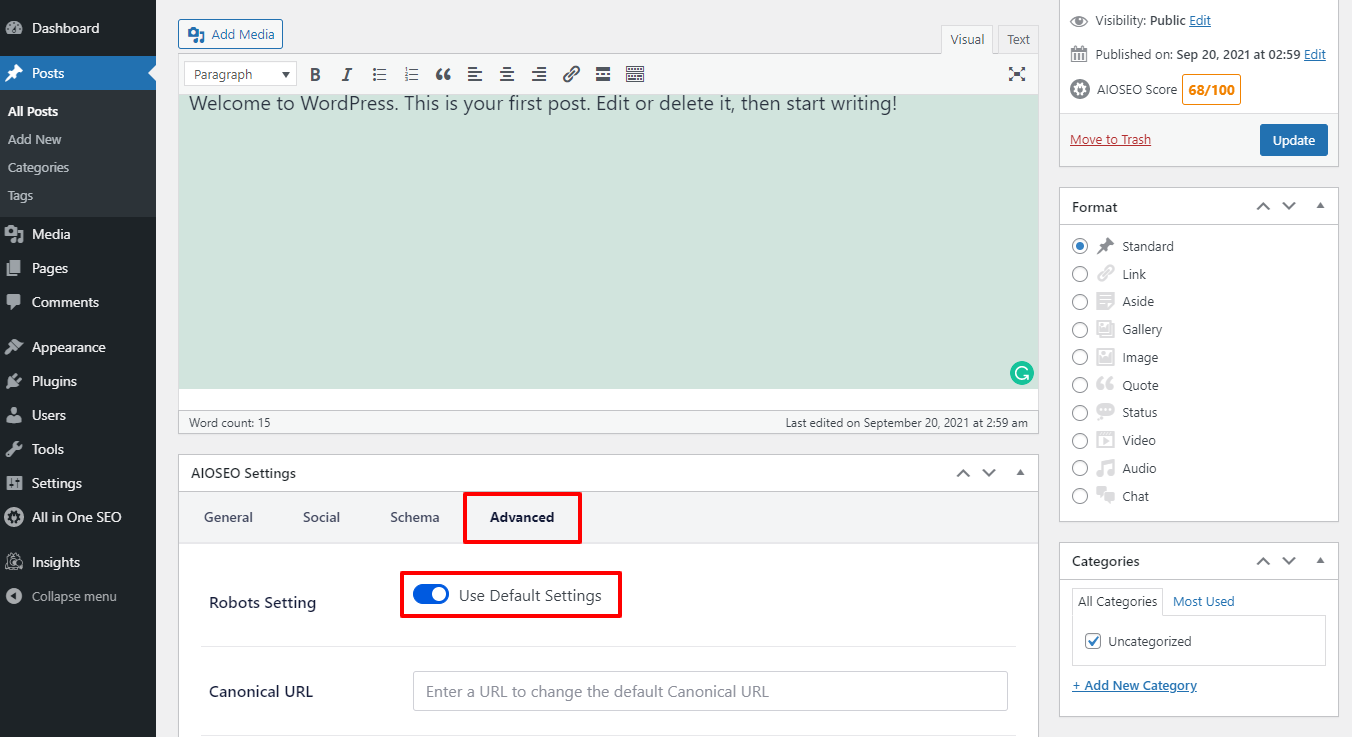 After turning off the Robots setting, the Robots meta with many options will appear for you to select. It's time for you to hide the post from search engines by clicking the box 'No index'. Then, you can publish or save your posts without any trouble.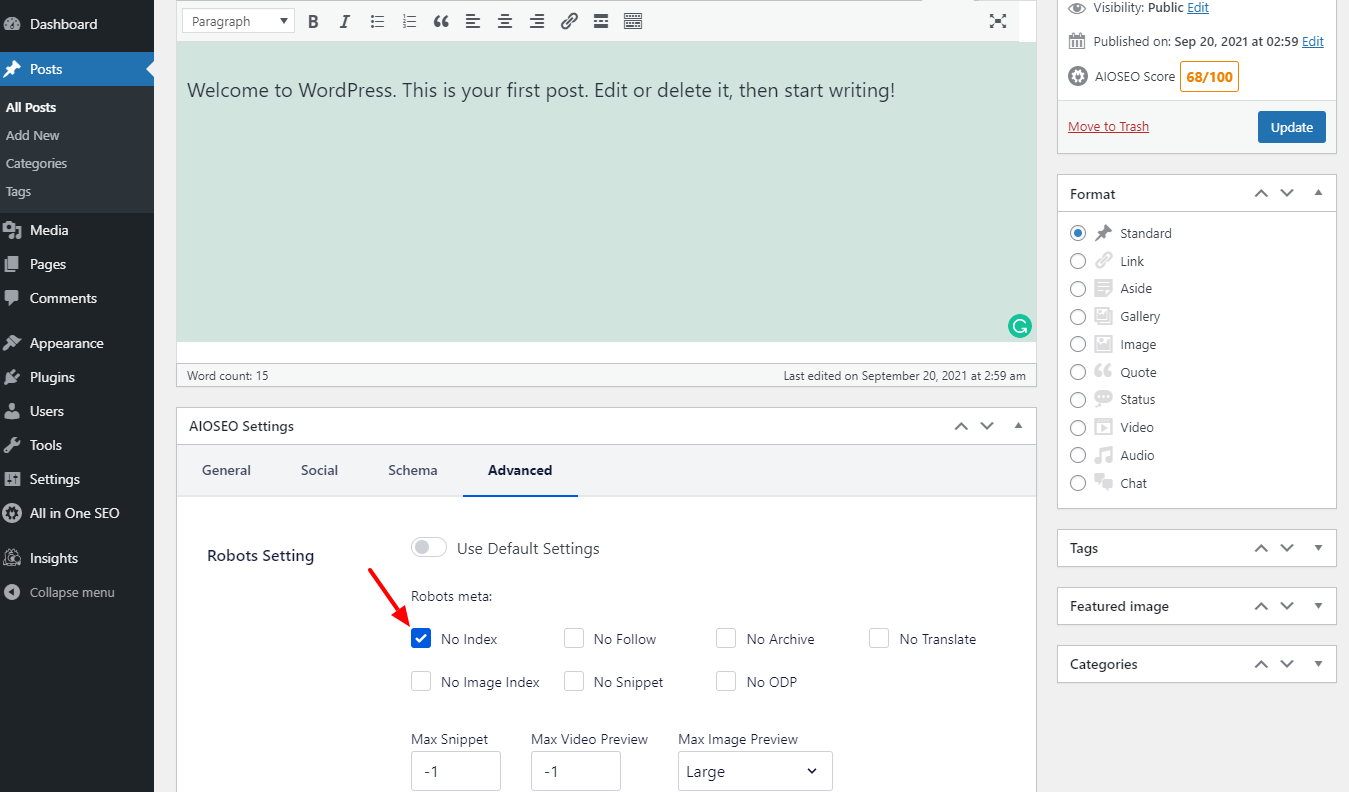 If you hope to hide other sections of content, let's go to All in One SEO -> Search Appearance on the admin dashboard. There are many different tabs and sections for you to change the status of the search results showing.
For instance, in the image below, we choose the tab Taxonomies and turn off the index of the page categories and tags. Don't forget to save changes after altering anything.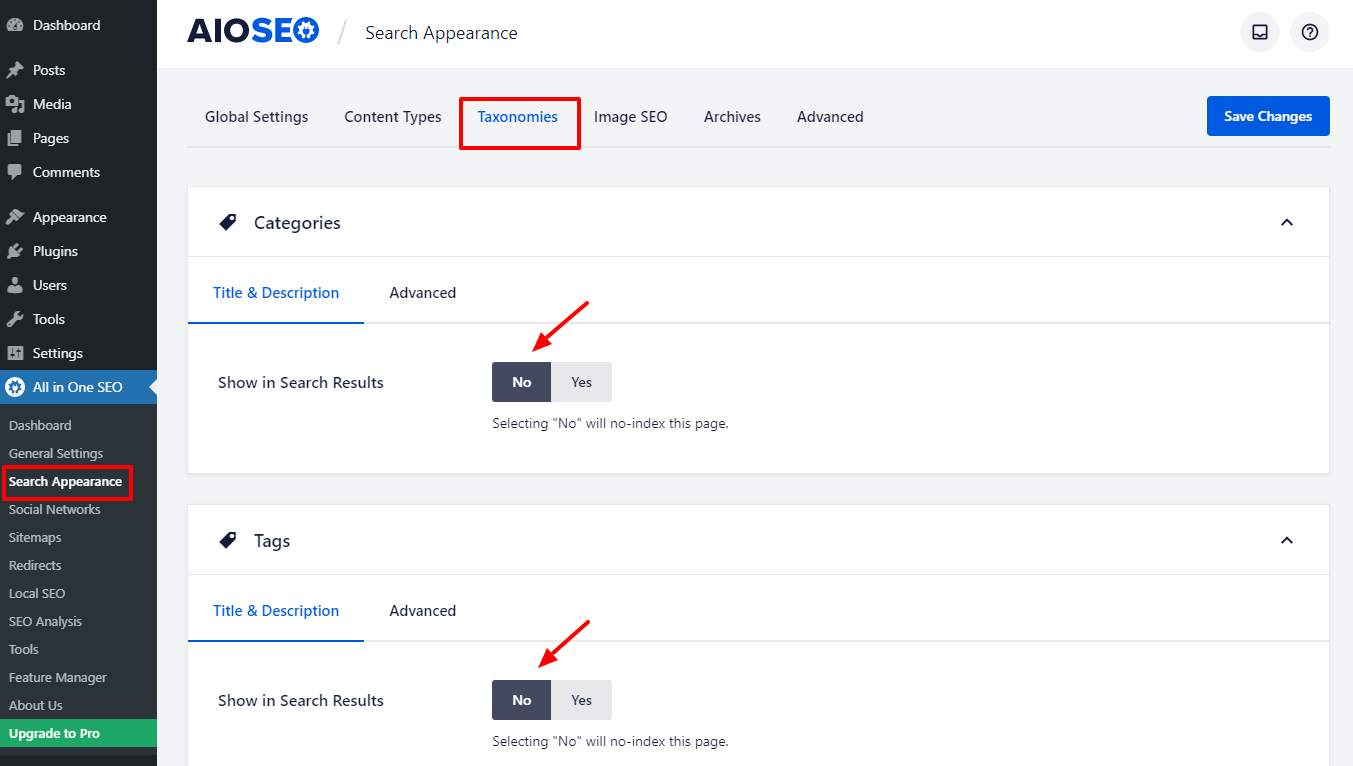 In case you are looking for a way to hide media files from search engines, you need to upgrade the AIOSEO to the pro version.
To sum up, there are many available selections for you to set the no-index status for your posts or pages of your website. This plugin will support you from basic to pro versions. Let's check it out.
Hide a page by using robot.txt File
What is a robot.txt file? In simple terms, it's a configuration file that you can add to the root of your WordPress site. Thus, it allows your website to offer instructions for search engine bots.
By using an FTP client of File Management, you are able to modify the robots.txt file smoothly.
Firstly, you need to add the lines to your robots.txt file:
User-agent: *
Disallow: /your-page/
The first line 'User-agent' will let you target specific bots. The asterisk will be used to make sure that all search engines are included.
The next line 'Disallow: /your-page/ will define the URL which stands after your domain name.
Let us give you an example. Your post will have a URL:
http://abc.com/2021/article-post/
So, you will add to your robots.txt file:
User-agent: *
Disallow: /2021/article-post/
The next step, of course, is to save the changes you've made.
This method looks simple, but there are some disadvantages that you need to pay attention to:
Your robots.txt file needs to be publicly accessible
Although many search engines follow this file's instructions, many other bots may simply ignore it.
Password protect a WordPress post or page
One more method to hide a WordPress page or post from Google is using password protect. Instead of using methods to prevent search engines from indexing the page, you can set up password protect so that only people with the password can access the content.
To do this, you need to go to Posts and select the post you want to set the password protect. After that, in the Publish session, click the 'edit' at Visibility.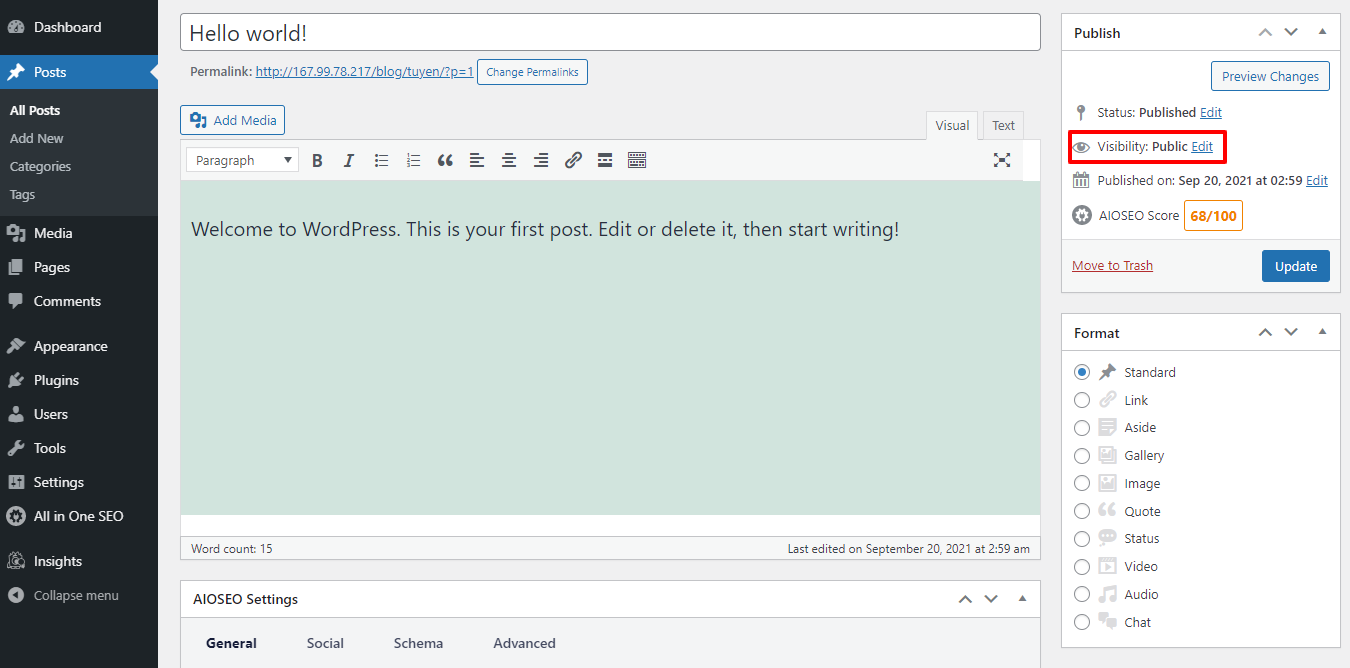 Now, you are able to change the status of the post. Let's choose 'Password protected' and type the password you want in the black space. Then, don't forget to press 'OK' button to save your settings. Finally, you need to update or publish the post.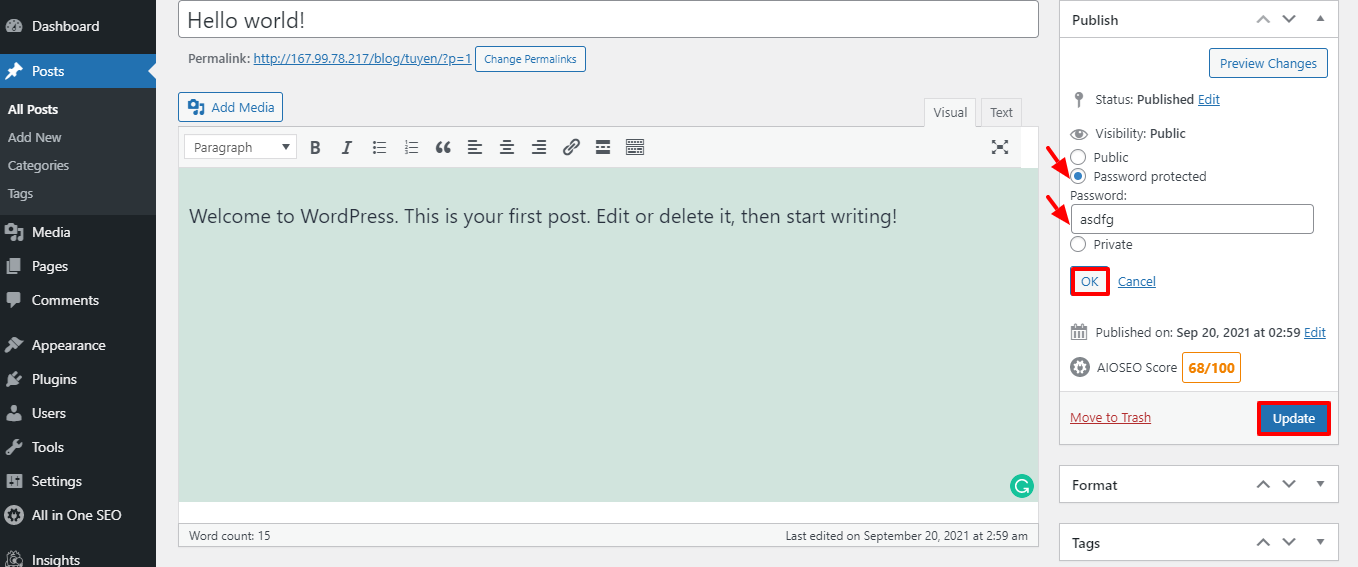 Let us explain to you the 3 options of visibility part.
Public: If you choose the option, your post will appear publicly, which means anyone can see the post.
Password protected: Only visitors with the password can see the post.
Private: This option is ready for users who can log in and have at least an editor role on your website.
Wind-up
All in all, there are many ways for you to hide a WordPress page from Google or other search engines. However, the 3 methods we introduce to you in the blog today are the simplest, easiest, and most effective. If you are beginners, you should follow the method 1 and 3 (using plugin or password protect) because they are not complicated. In case you want to use method 2 (using Robots.txt file, you have to be more careful.
We hope that the blog can be useful for you in hiding a post or page in WordPress. If you have any question, don't hesitate to leave your comment below. Thanks for reading and see you in the next blogs.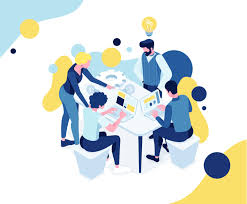 Latest posts by LT Digital Team (Content & Marketing)
(see all)