Introduction
Sometimes, it is necessary for you to get the URLs of images that you uploaded on your WordPress website to use them for various purposes. For example, you can need the URL to upload your image to another place on your website. You can use the URL when you want to cite the source of any image, or you may also need the image URL to share them on social media platforms. For reasons, in today's tutorial, we will guide you on how to get uploaded image URLs in WordPress quickly. Let's start with the following methods.
How to get image URLs after uploading in WordPress?
Method 1:Find WordPress image URLs from your media library
By default, after the image has been uploaded in WordPress, WordPress will automatically generate a unique URL for that image.
In WordPress, the URL of the uploaded image will include your domain name followed by /wp-content/uploads, date of image upload, and the image file name.
For example, when an image named " beautifulbackground.jpg" is uploaded to ltheme.com in November 2021, it will have a URL like this:
"www.ltheme.com/wp-content/uploads/2021/11/beautifulbackground.jpg"
Now, in order to find the URL of uploaded images in your WordPress site. Initially, you need to log in to your WordPress. And then click on the Media menu on your dashboard. After that, this will open a media library where you can store all images as well as other media files after uploading.
It is easy for you to see a search bar at the top right corner of the page. You can use this feature to search for the image that you want to get the URL.

When you click on that image, it will open a popup window with the image attachment details. Have a look at the right column, you will see the image detail that showcases all information including file name, file type, upload date, file size, dimensions, and image metadata such as image alt text, title, caption, description, image uploaded by, etc.
You will also see the image URL at the end. And the "Copy URL to the Clipboard" option is below the link. Let's click on this button to get the link.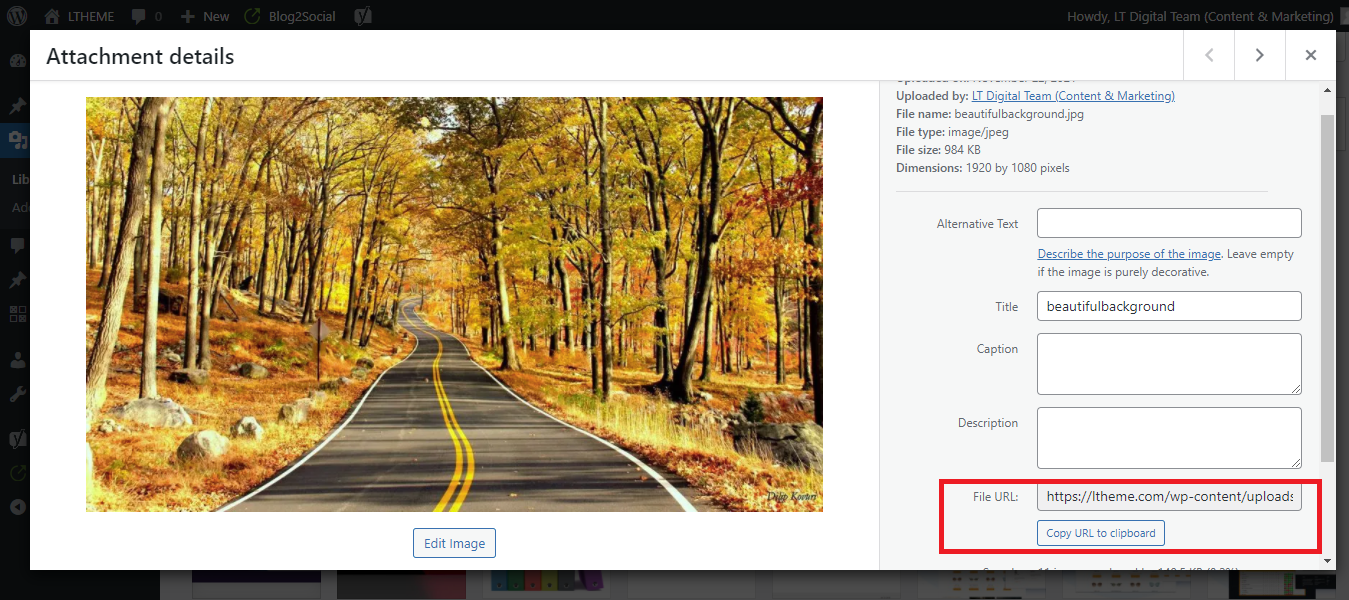 You can copy this link and utilize it for various purposes. In addition, when you open the image URL in your browser, you will get the full size of the uploaded image.
Method 2: Find the URLs of WordPress images from the front end
This way allows you to get the URLs of uploaded images in WordPress after it is published.
You only need to open a published page or post that contains the image you want to get the URL. After that, right-click on the image and choose the "open image in a new tab" option.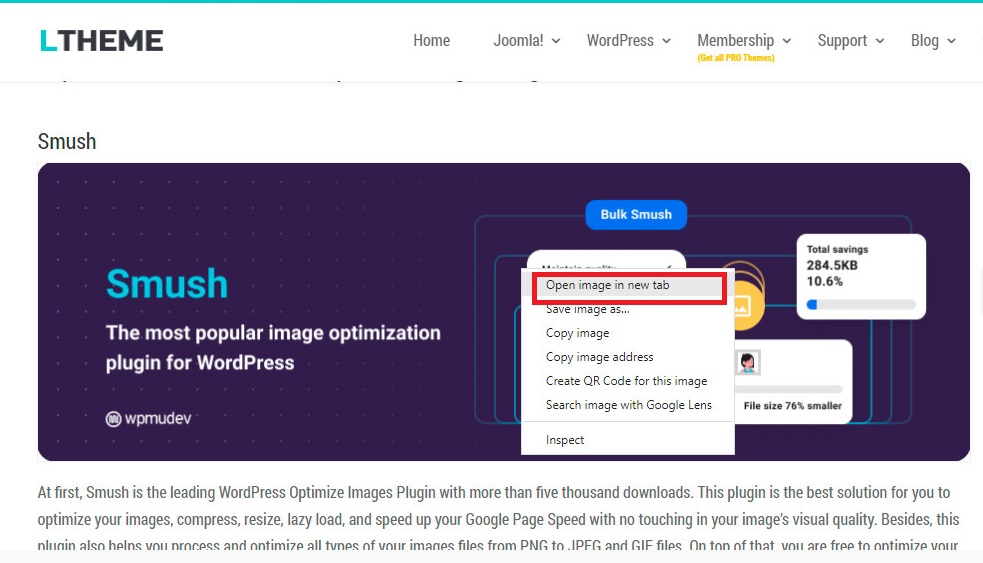 After that, you will see the URL in the address bar in the new tab. You can copy and use it later.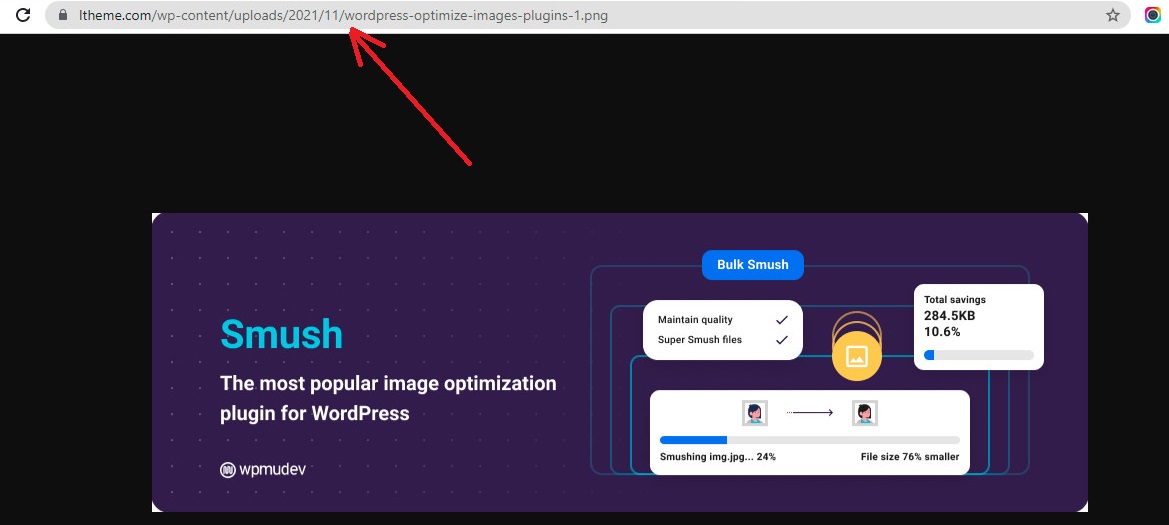 How to get the URLs of GIFs, Video, and PDFs in WordPress
Similarly, you can easily get URLs of GIFs, videos,s, and PDFs in WordPress because they are completely stored in the WordPress media library.
Go to Media > Library from your dashboard and choose a GIF, video, or document that you want to get the URL.
Then, the attachment details popup window will appear. It's time to get the file URL by clicking on the Copy URL to clipboard button.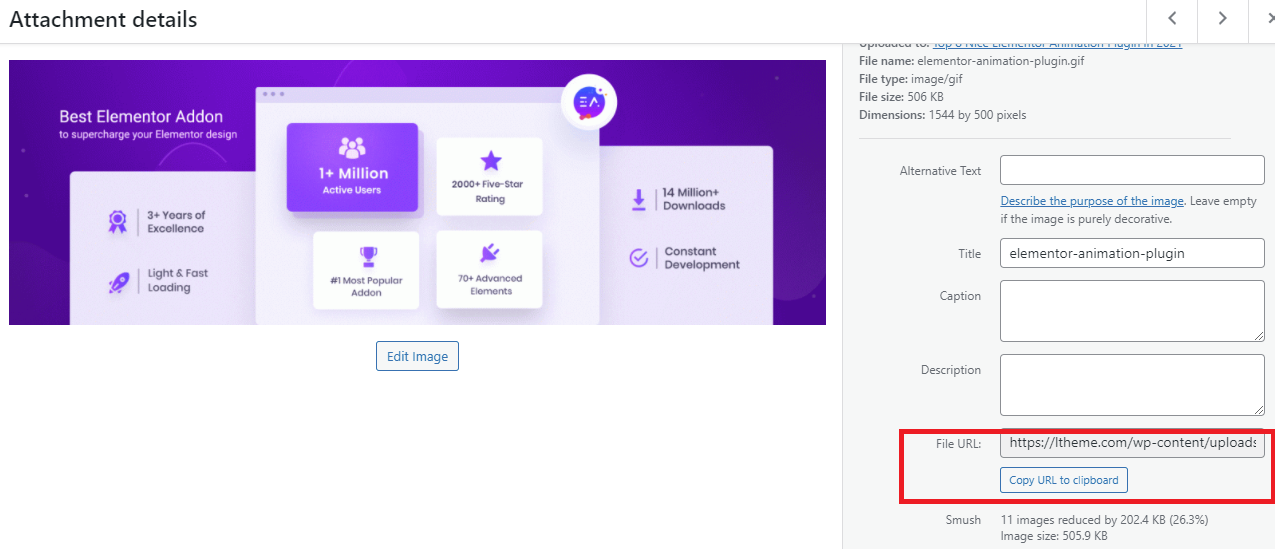 This was so easy, wasn't it?
Conclusion
Hope that this article gave you the easiest methods to get uploaded image URLs in WordPress. If you encounter any problems during the process of using the provided methods above, don't hesitate to mention them by leaving a comment below.
Moreover, our Free WordPress themes where we offer a lot of eye-catching, modern designs for your website. Let's visit and try one for your site.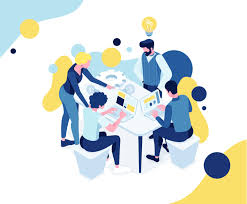 Latest posts by LT Digital Team (Content & Marketing)
(see all)