It's time to create new or re-design your websites to bring it to the next level.
Check out Top 110+ Best Free Joomla! templates Listing of 300+ Best Free WordPress themes
HOW TO INSTALL A WORDPRESS THEME
Hi friends! Today, we will share with you how to install a WordPress Theme in your site. You can download any our free WordPress theme to try installing. We also have Onepage WordPress themes, if you love onepage layout, you can get them for free. Now we will go to the main topic. 😀
In order to install a WordPress theme, you just follow these instructions below! 
The first thing you need to do is to access install theme functionality in your WP admin
Step 1: Login to your admin page -> Go to Appearance -> Themes.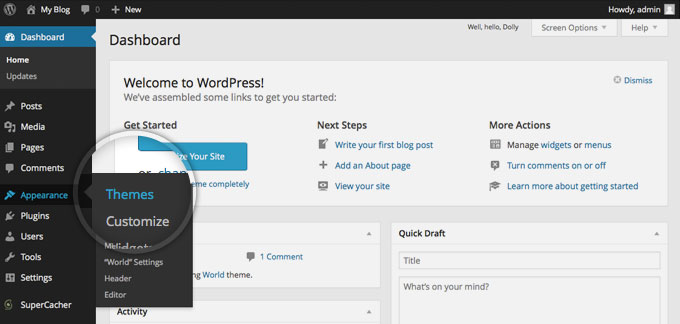 Step 2: It will show all the themes you have installed. To add another one, simply click on the Install Themes tab.

There are two ways to add a new WordPress Theme to your site. That are to use the search field and it will return results from the WordPress.org theme directory and upload a WordPress theme from your local hard drive.
1. Choose and Install a theme from the official WordPress theme directory
If you know the theme's name, you can simply search for it by type its name in the Search box.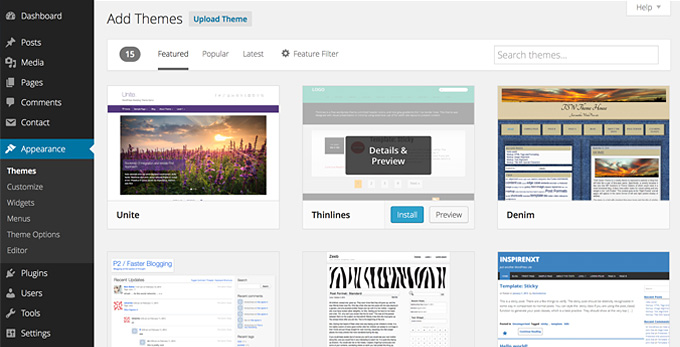 You can use the Feature Filter, for example, you search for a Black and White, One column WordPress theme with custom colors, just check those tags and click the "Apply Filters" button.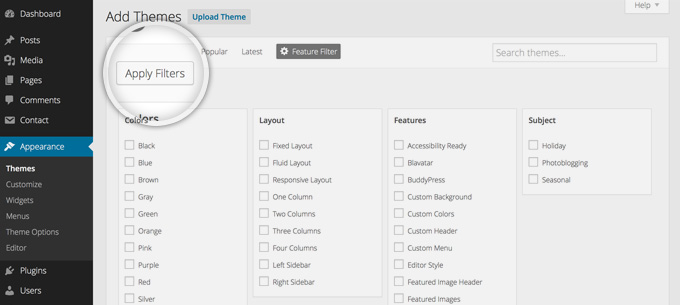 Now, it will show all WordPress themes that meet your search. Each theme has two options. That are to See Demo and to Install it. All you need to do now is to choose a theme you want to use and install it by clicking the blue "Install" button.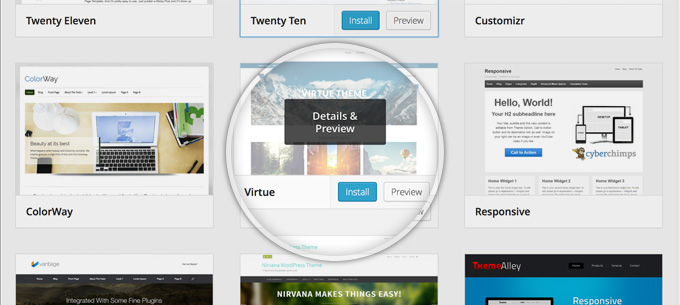 Your WordPress application will download and install the theme for you. Now, you click the Acticate link on the next page you will be redirected to.

You're done, now, let's go to the front page to see your site's new look!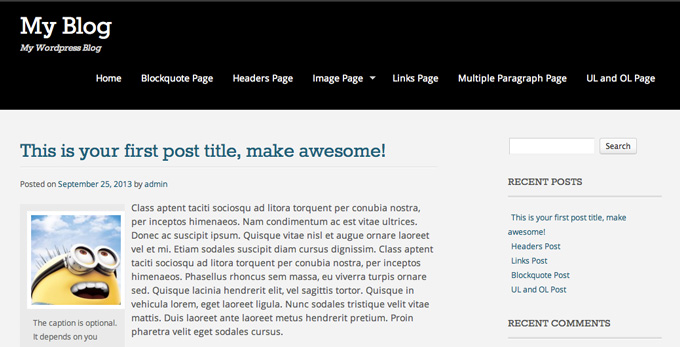 2. Upload a theme from your hard driver
If you already have a WordPress theme in the hard drive, you just upload the theme to your site and install it.
The first thing you need to do is to Click on the Upload link at the top of the page.

Next, you click on the "Choose File" button, select the archive of your WordPress theme from your local computer and click on the "Install Now" button.

Now, WordPress will upload and extract the theme archive for you. you just simply click the Activate link under the message for successful theme installation.

Now, you can go to the front end of your website and see the newly activated theme.
Are you Web Freelancer or Web Design Company? Join our Club and Access our Resource!
Access 500+ PRO Premium Joomla! and WordPress themes with $19,200 just $149, Quickstart Package included!