Introduction
Joomla 4 has been officially out for a while, August 17, 2021 to be exact. This is a major release, and everything has been revamped, redesigned to be more modern, powerful, and functional. Of course, with it come great new and updated features. In addition to launching/adding and updating cool, awesome stuff, Media Manager is one of the first things to be upgraded and incorporated into Joomla 4.
In today's blog post, we're gonna look at the new Media Manager in Joomla 4 to see what's new and how it would be handier than it was in Joomla 3.
Joomla 4 Media Manager Key Features
To access the new Media Manager in Joomla 4, you first need to log in to the backend of your website.
Then from the Home Dashboard, navigate to Content > Media: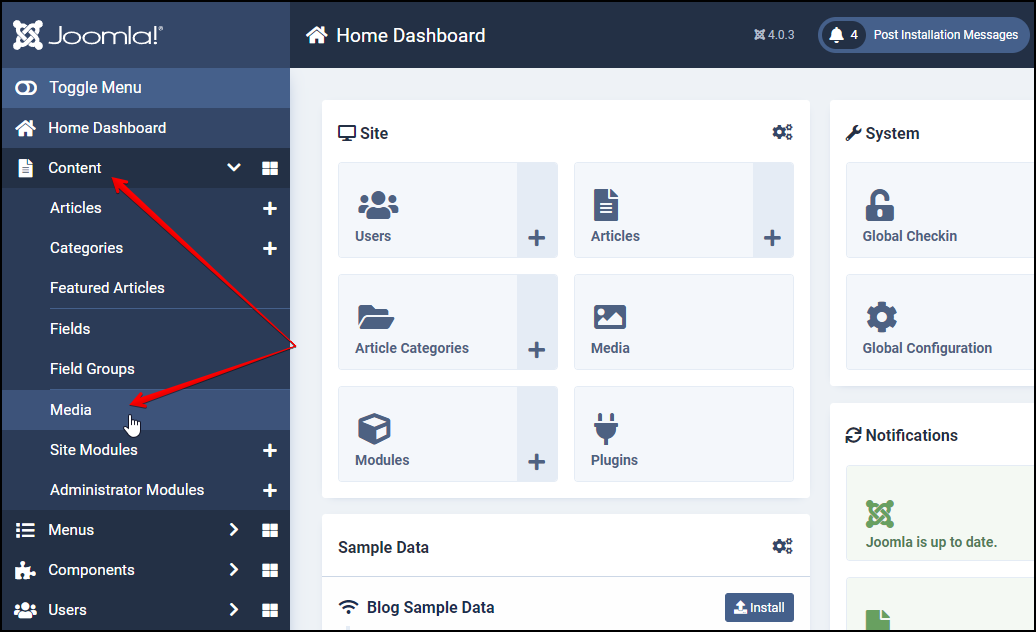 You are in the Media screen. Here you can see an overview of Joomla 4 Media Manager.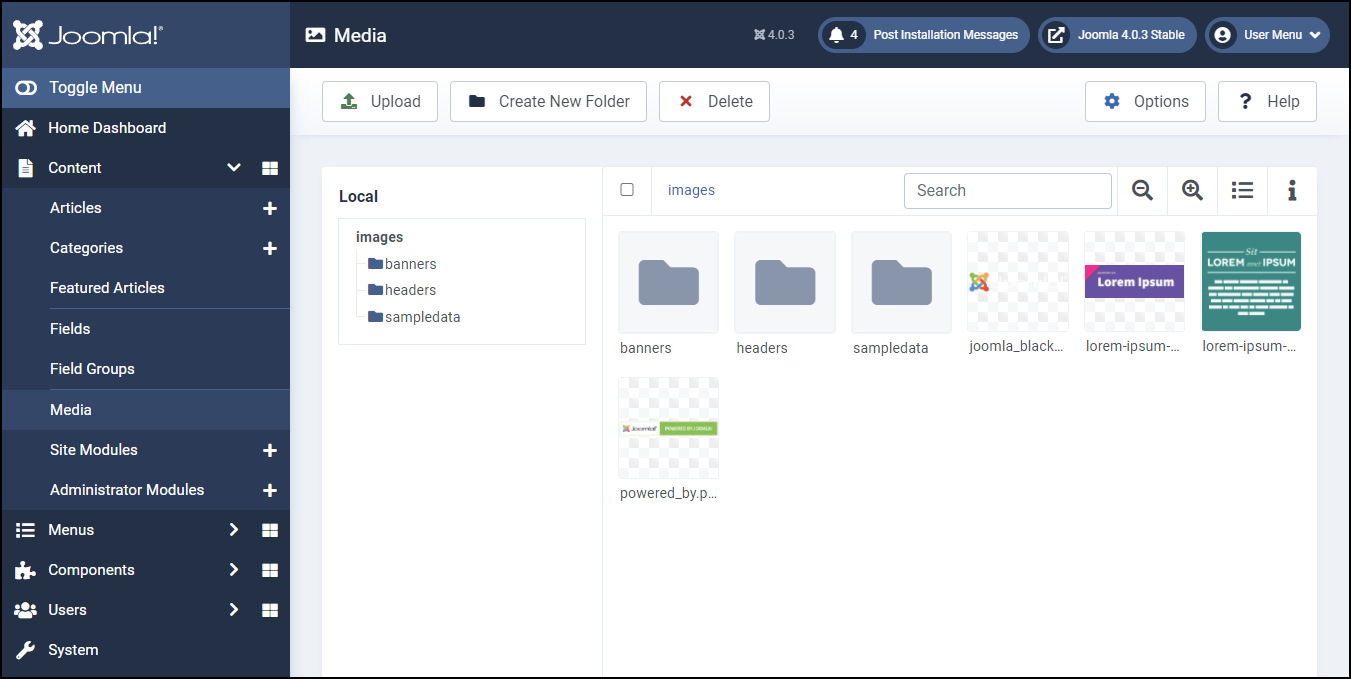 As you can see from the screenshot image, the new media manager comes with a completely new design of user interface. This UI is much more advanced compared to the old one, making it a notable improvement in Joomla 4 CMS. One of the biggest visible changes is the new media manager with more display space, which means you can view your files and folders in a more efficient way. Simply use + and – in the upper right corner to adjust the view.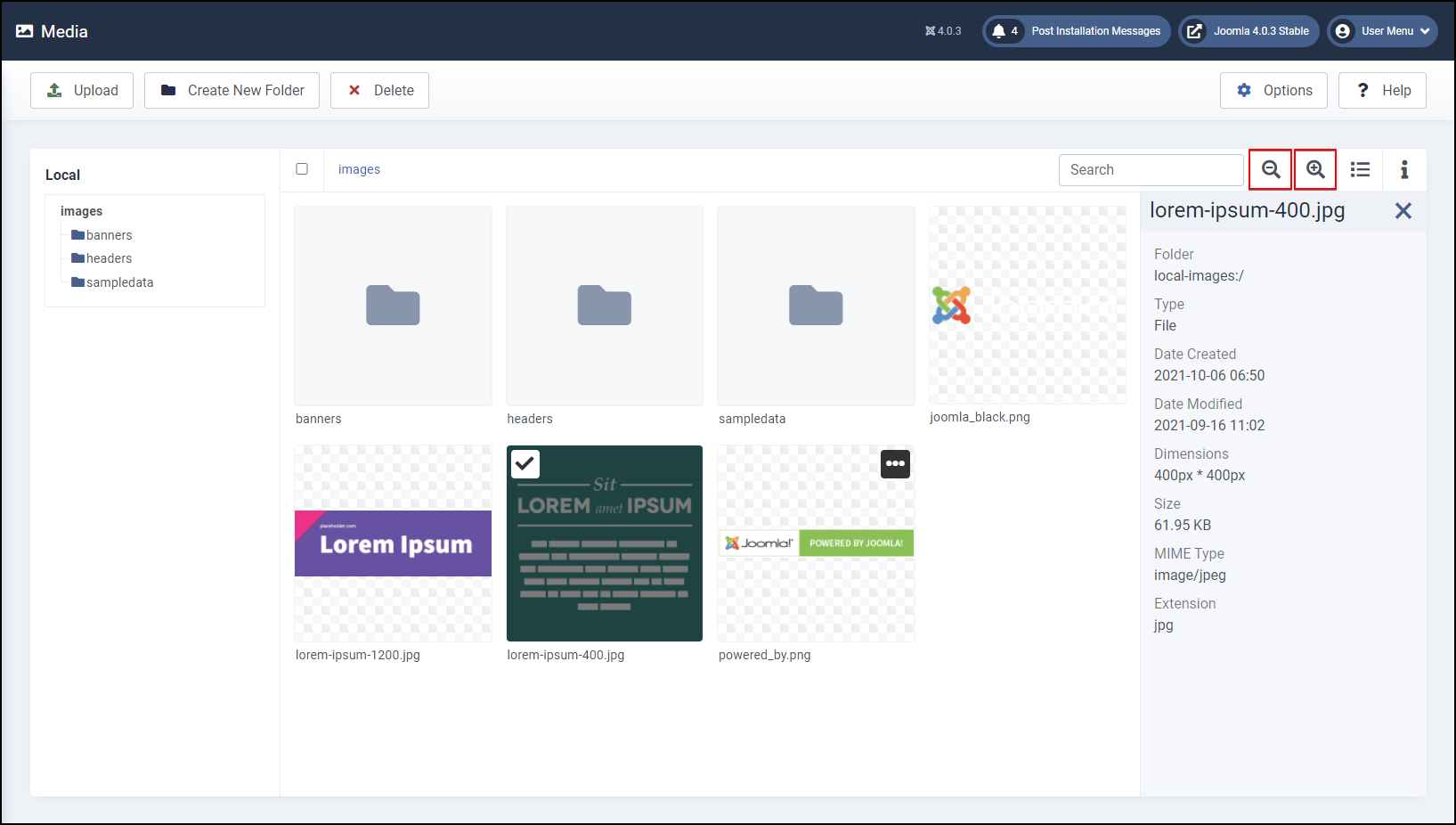 Below are some other important key features of the new Media Manager in Joomla 4:
Multi-File Upload with Drag-and-Drop Support
If before with Joomla 3 you couldn't drag and drop files from your file explorer to the media manager, then now with Joomla 4, this is possible. Not only does it allow you to drag and drop any type of media files for easier uploading, but it also supports drag and drop multiple media files at once to save your time.
In other words, to upload your media files now, simply go to the folder where you want to upload and then drag and drop your files straight onto the Joomla 4 media manager. That's it!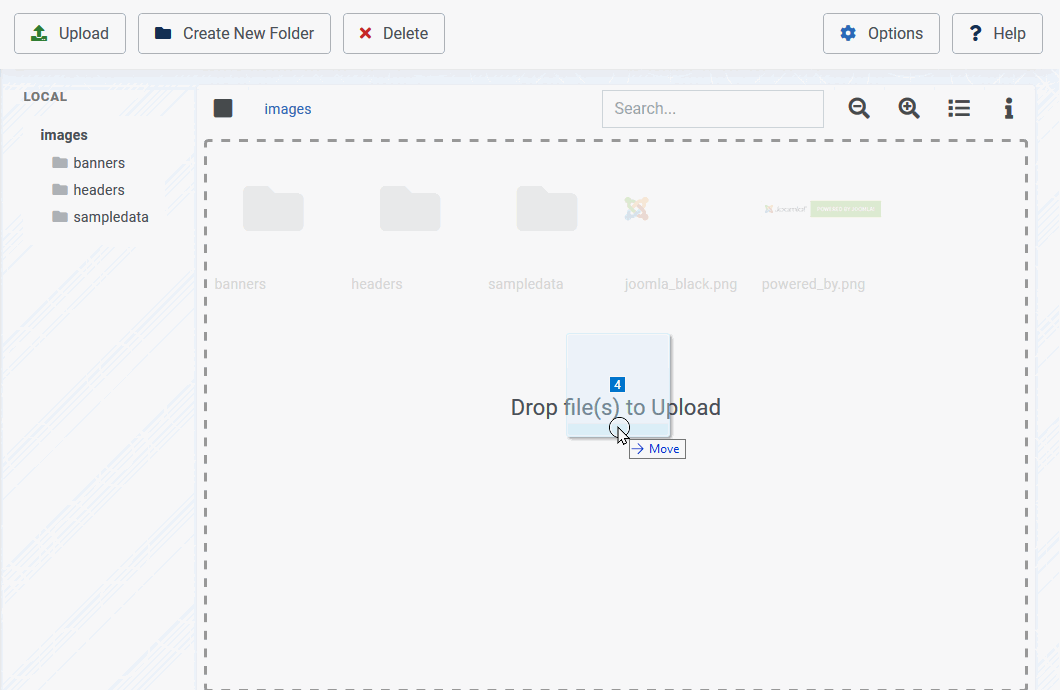 Built-in Image Editing Tools
This is a brand new feature that will help you edit your images directly from the Media Manager in Joomla 4 without having to use any other add-ons.
Click on the ellipsis icon (the three dots icon) in the top right corner of any image…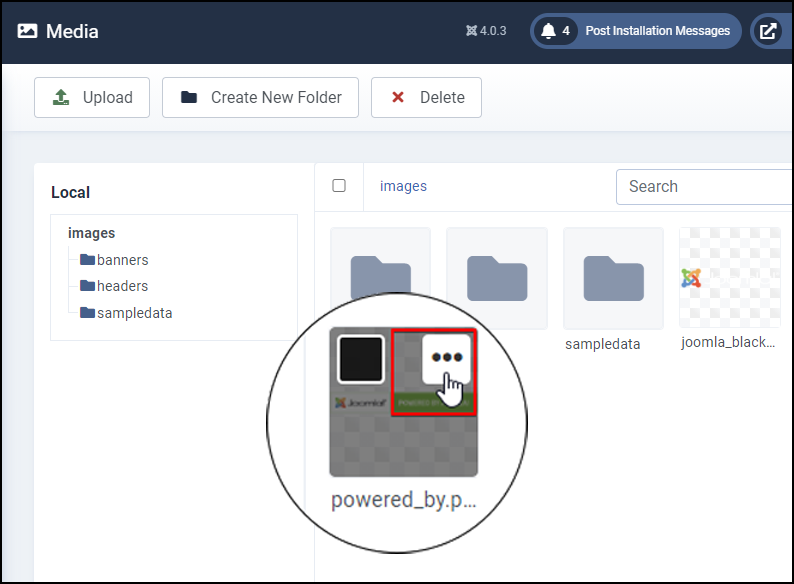 and you will see a list of options including Preview item, Download item, Rename item, Edit item, Get a sharable link, and Delete item.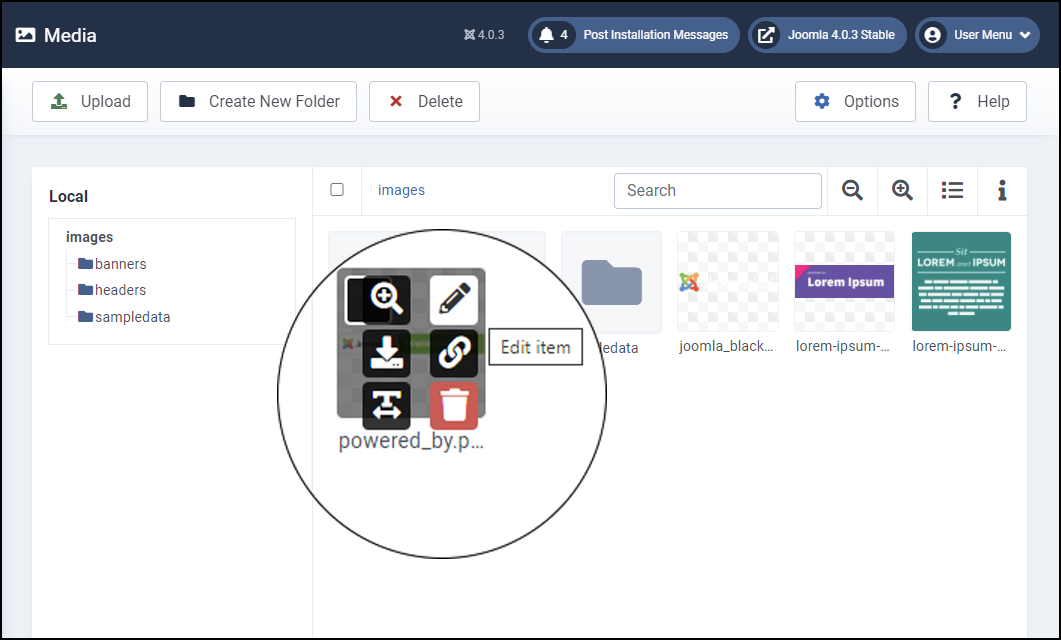 For example, this is what you'll see when clicking on the Preview item option for an image: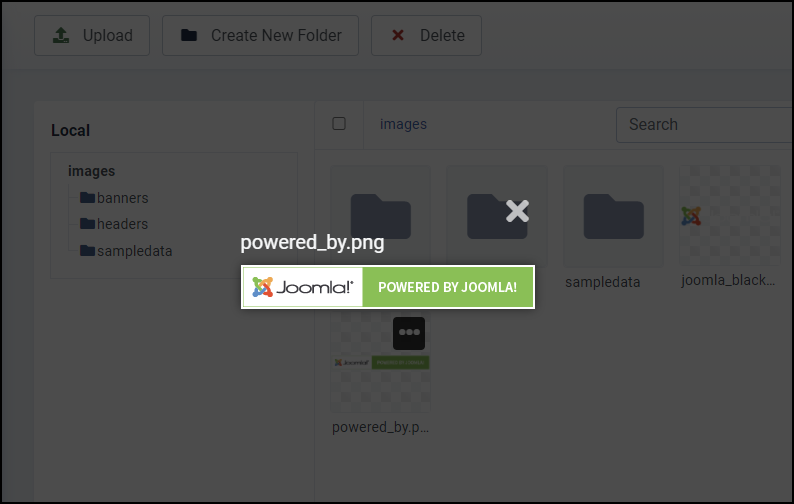 Here is when you tap on the Rename item option. This feature isn't available in the old media manager in Joomla 3.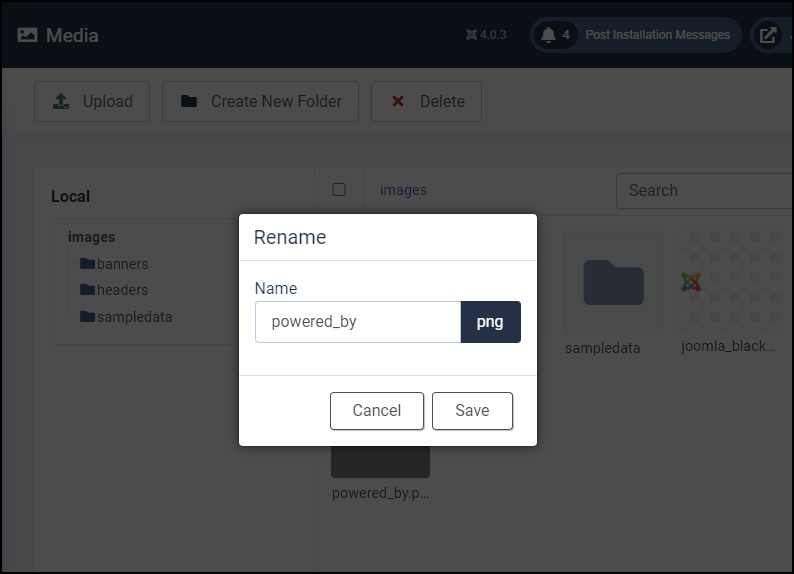 Getting a shareable link of an image is now done with just one or two clicks. This is actually the direct link (or URL) of the image.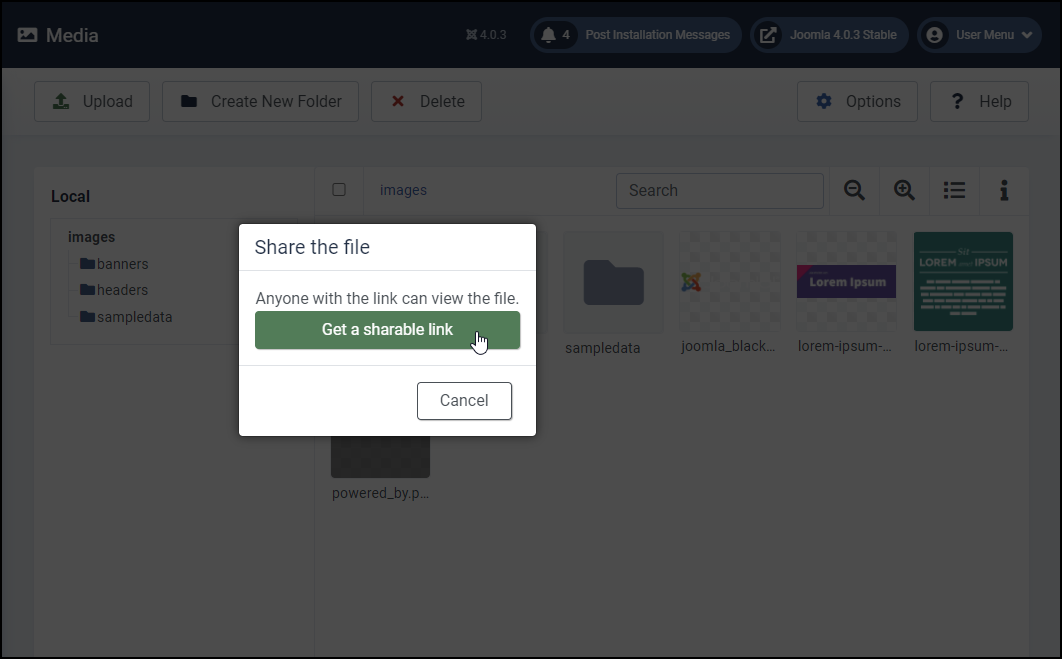 You can also download images or any media files to your local if you want, of course, with a single click: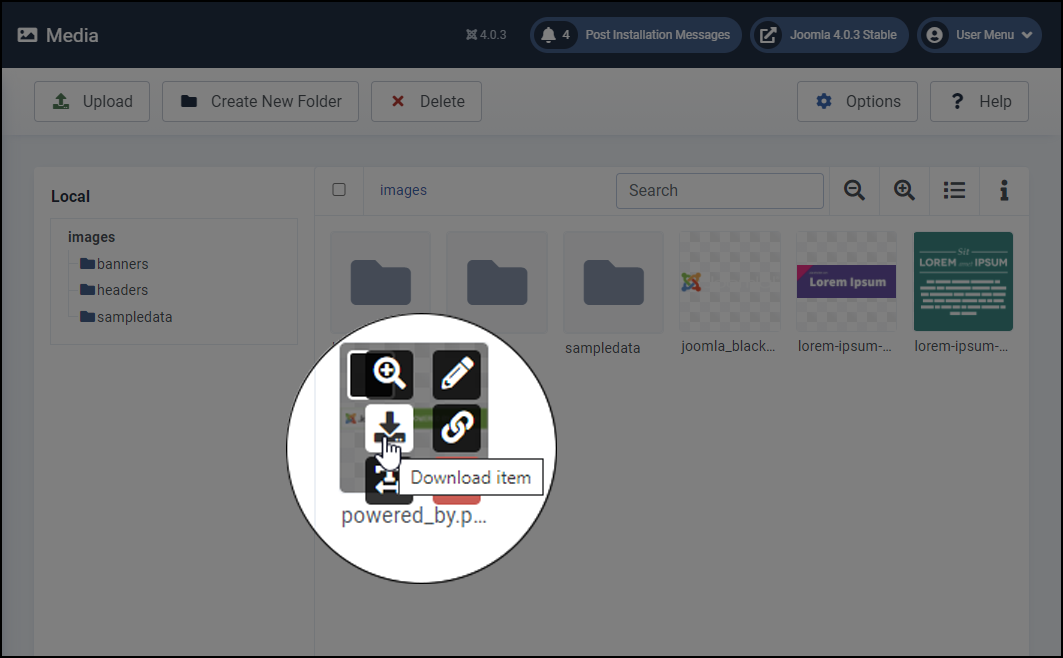 And if you click on the pencil icon, which is Edit item, you can then modify your images using the Joomla core image editing tools.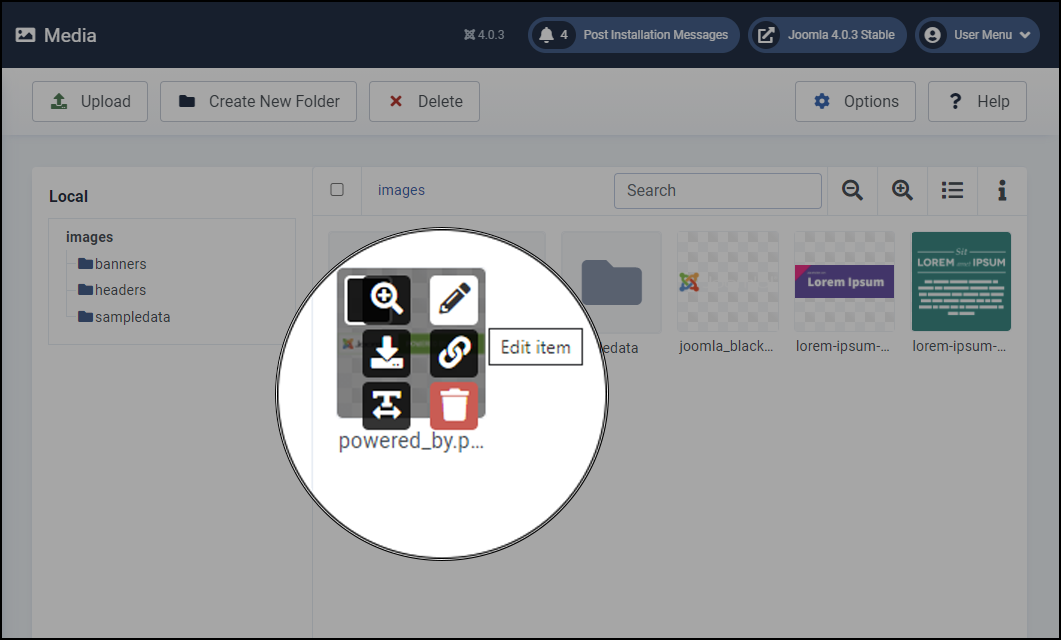 Currently, this allows you to crop, resize, and/or rotate images.
Crop — allows you to crop an image to any dimensions: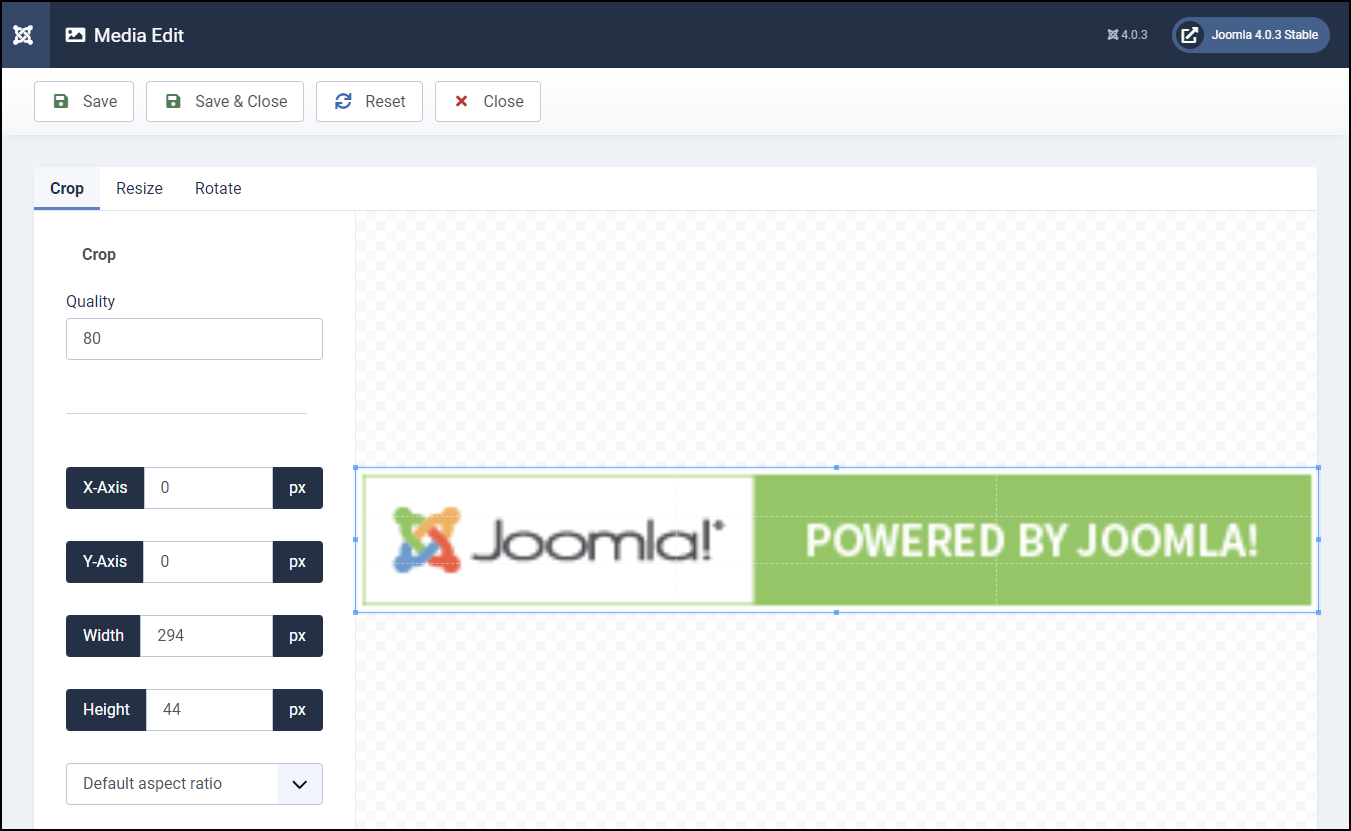 Resize — allows to change the size of an image: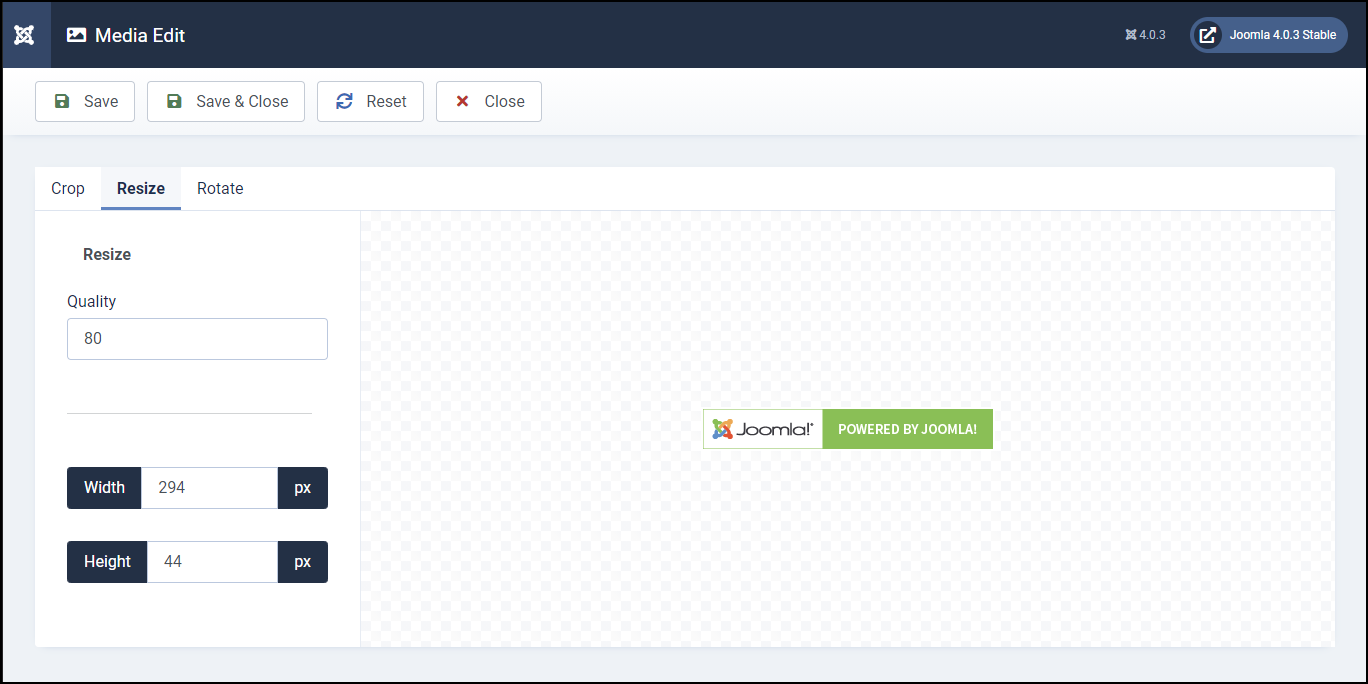 Rotate — changes the image angle: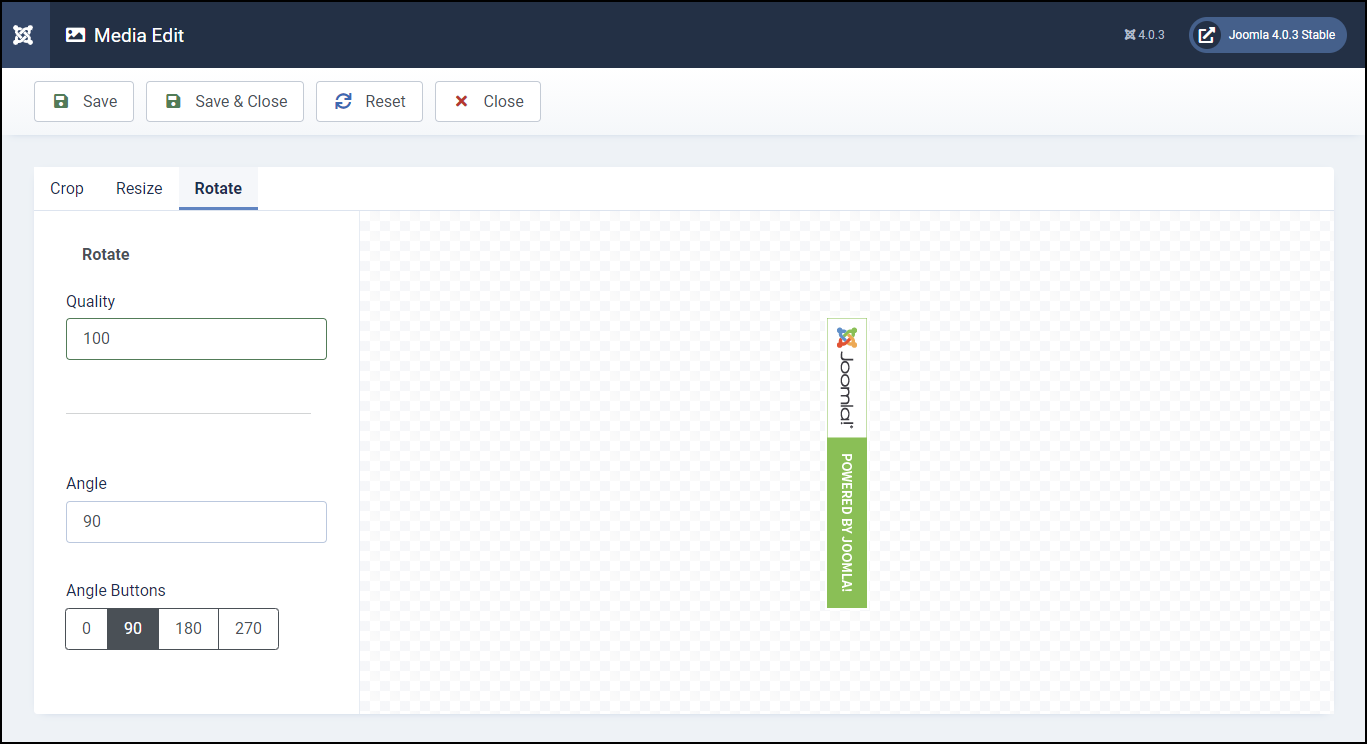 You can also see the illustration below: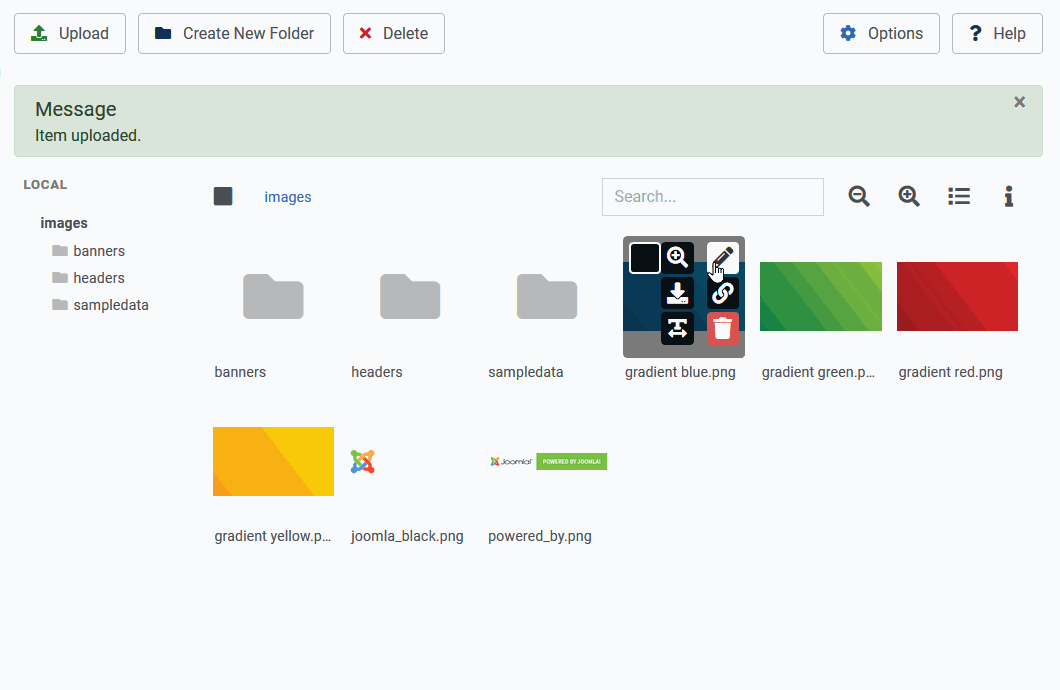 Folder/Image Properties
As part of the new Media Manager, you can now easily see the file or folder information. When turned on, it will show you all sorts of information in a properties sidebar on the right. Simply select a file or folder and then click the "i" icon in the top-right to check its properties such as type, created date, modified date, dimensions, file extension, MIME type,…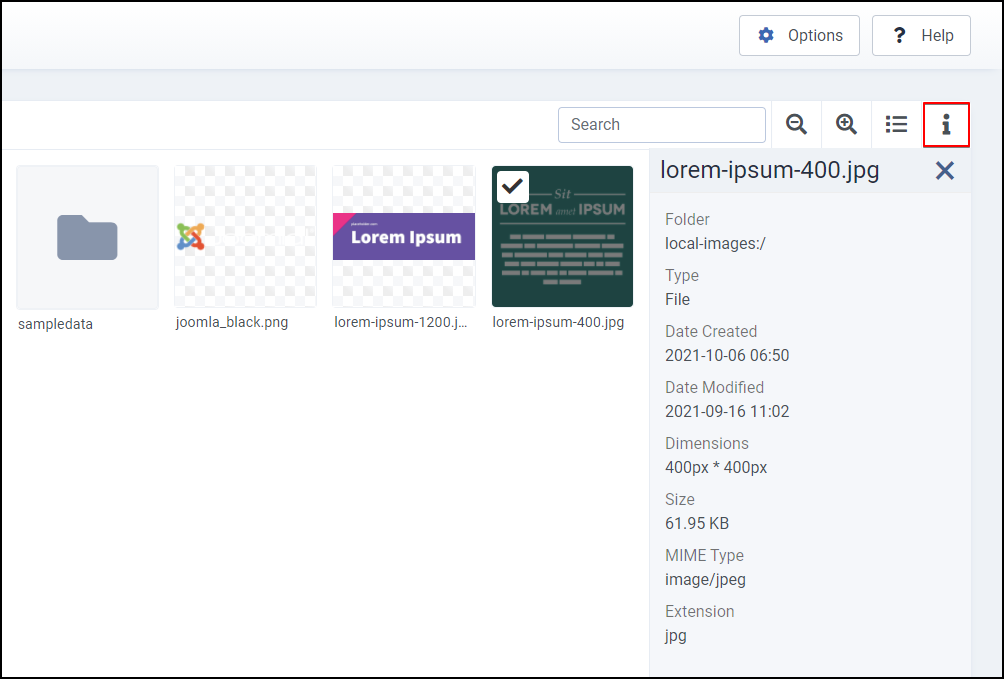 And in addition to the key features that are outlined above, the existing features have also been updated and improved for the new media manager. Such as the ability to switch between a thumbnail view (grid view) and a detail view (list view); the possibility of deleting multiple files/folders at a time even if it's not empty (whereas before you needed to delete the files in a folder first); the global options to configure the global settings and permissions for the Joomla 4 Media Manager, etc.
Conclusion
Those are all about the new Media Manager in Joomla 4. Hope you found something interesting in this article. If you haven't tried it out yet, give it a try and by the way, explore other great new features as well. Besides, take a look at our Joomla 4 templates to get your own responsive, high-performance, and SEO-optimized websites.
Thanks for reading. If you have any questions, feel free to contact us by leaving your comments below. We will get back to you as soon as possible!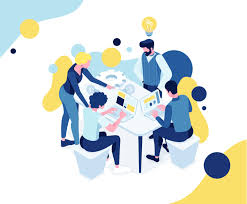 Latest posts by LT Digital Team (Content & Marketing)
(see all)