Introduction
Website developers are always looking for effective and convenient methods to design and build a WordPress website. But sometimes, some people want to refresh their site for different specific reasons. So, how to reset a WordPress site? Is it complicated or difficult? The answer will be in the blog today. Now, let's explore it!
What is WordPress site restarting?
When we talk about restarting or resetting a WordPress site, we are going to restore our website to its default settings, when we haven't done anything on the website. That means this process will help us to remove all the applications and customizations that we have made on our website.
The reasons to reset a WordPress site
There are many different reasons and purposes when you decide to restart a website. Some of the main ones include:
You are learning about WordPress, related applications, and settings. In order to improve your knowledge and mastery of how to develop your own WordPress site, you can refresh everything so that it can be easily practiced in a variety of ways.
You own a WordPress website with your own design. However, you feel dissatisfied with the customizations or want to change the whole design. Instead of deleting each customization and setting, the best solution is to reset your WordPress site to quickly start a new process of building and designing a new website.
Your client already has a WordPress website and they want you to rework the website with a newer and more attractive design and customization. It's time to reset WordPress and start from scratch.
The way how to reset a WordPress site with step-by-step instruction
Before restarting your WordPress website, you should save your current site data with the assistance of WordPress Backup Plugins. That means you can restore all the data you need from the backup after resetting your site.
Using WP Reset to restart the website
The first step you need to do is installing WP Reset plugin to your site. Go to Plugins -> Add New. On the search bar, let's type 'WP Reset', then install and active the first plugin which is created by WebFactory Ltd.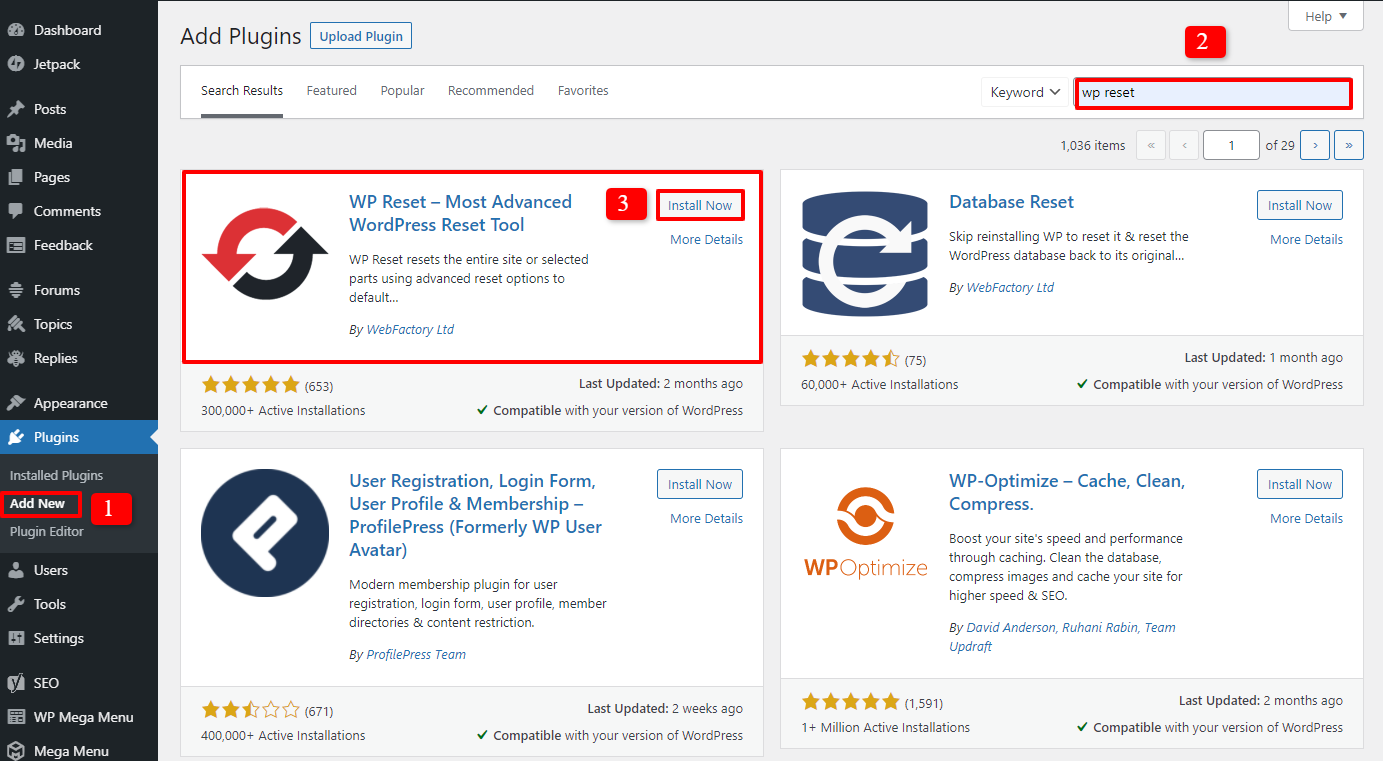 After that, on the admin dashboard, let's choose Tools -> WP Reset. In the third part – Site Reset, you have to fill out the word 'reset' in the blank space before pressing 'Reset Site' button.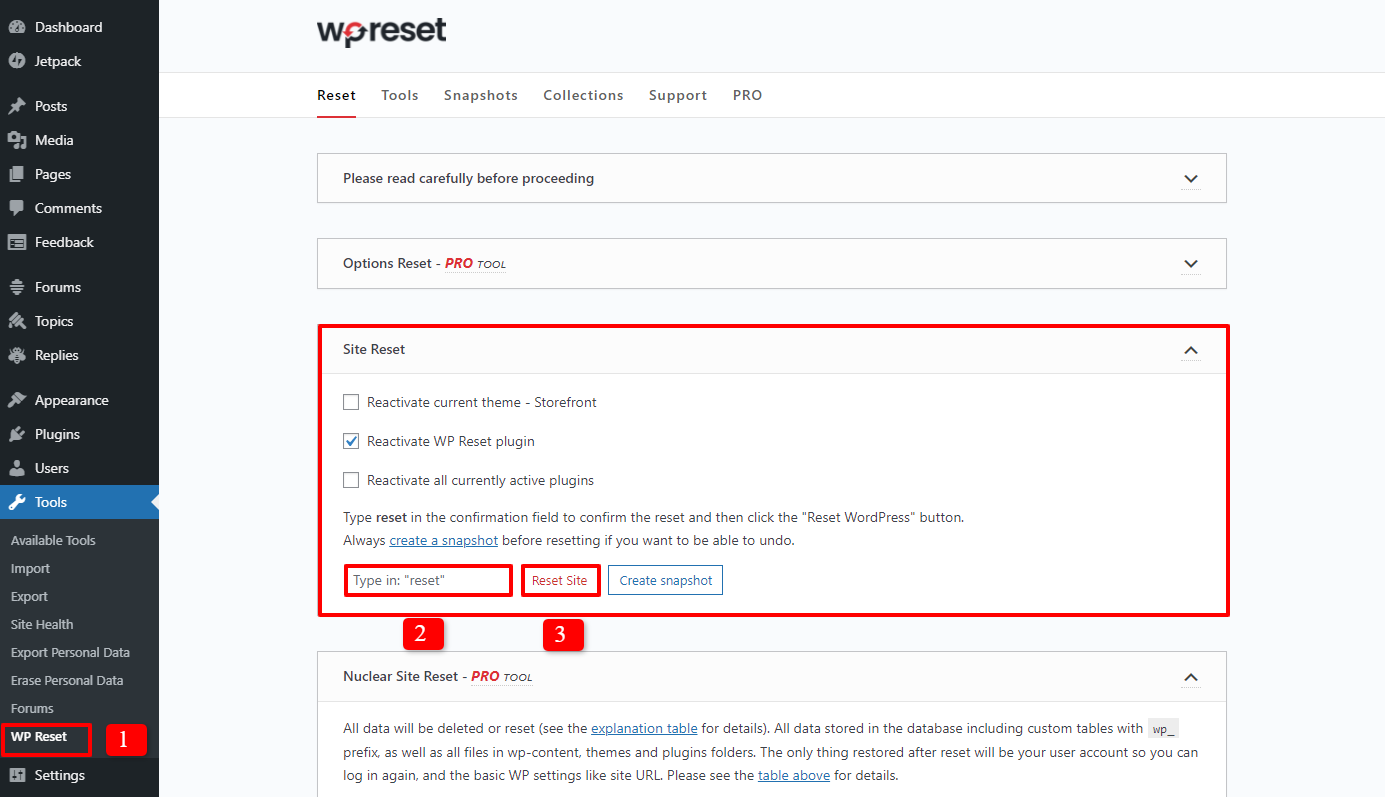 After clicking 'Reset Site' button, a message asking you to make sure that you need to restart your website will appear. So, let's choose 'Reset WordPress' to accept the resetting process.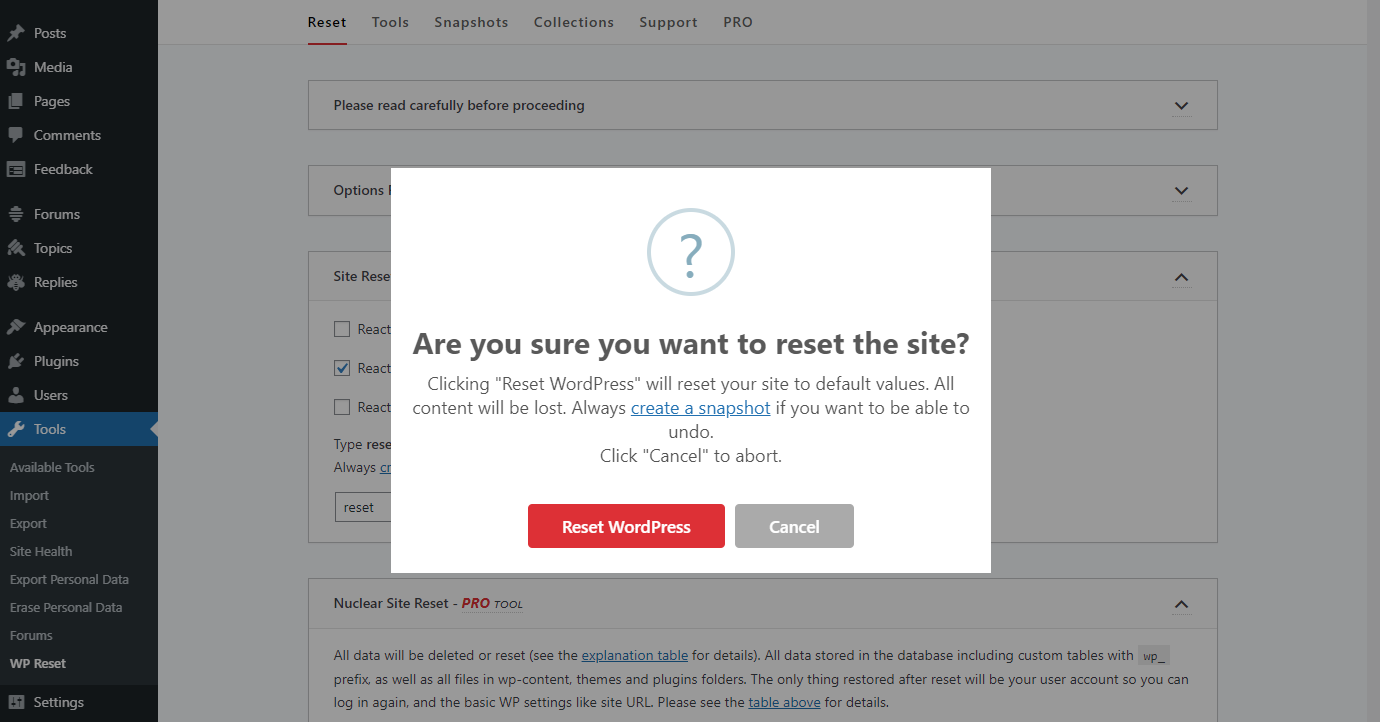 The site restarting process will happen in a few seconds. Then, your website will be in a new state, all your plugins will be deactivated which means your site is restored to its defaults. The dashboard will look like the image below.

Other supporting features of WP Reset for your site resetting
Snapshot: This is a feature that helps you to take a snapshot of your website before restarting it. When you do this, you can review what changes have been made to your site. In order to take a snapshot, let's go to Tools -> WP Reset. Then, select the 'snapshots' session and press the 'create snapshot' button. However, don't forget that a snapshot is not a backup, thus you need to backup all your data before doing the restarting process.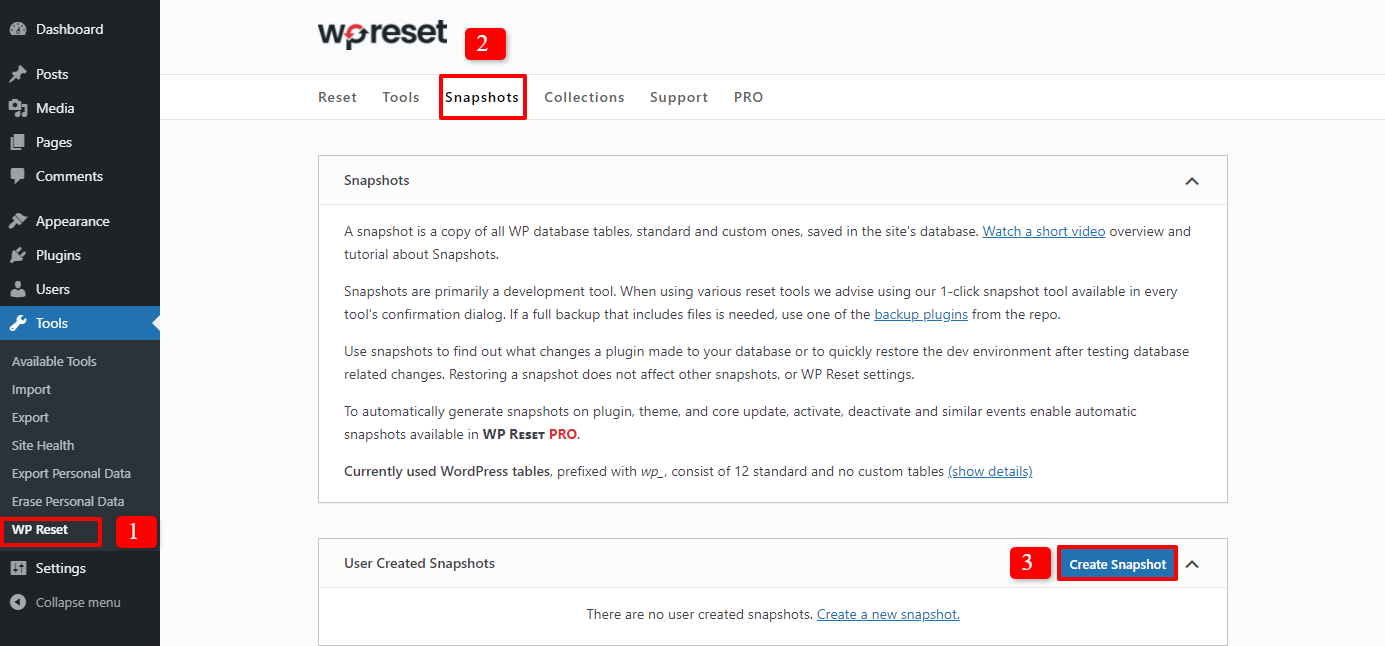 Delete themes or plugins: These functions are in the Tools part. When restarting the website with WP Reset, it doesn't delete the themes and plugins but just disables them. Therefore, if you want to delete these files, you can also use WP Reset with a few simple steps at the tools. Now, on the dashboard, go to Tools -> WP Reset, then choose Tools -> Delete Themes or Delete Plugins. After that, a delete themes choice or a delete plugins option will appear for you to choose 'Delete all themes' or 'Delete Plugin' without any trouble. However, when you decide to remove themes or plugins, you can't be undone. So, let's make sure that you really want to do that.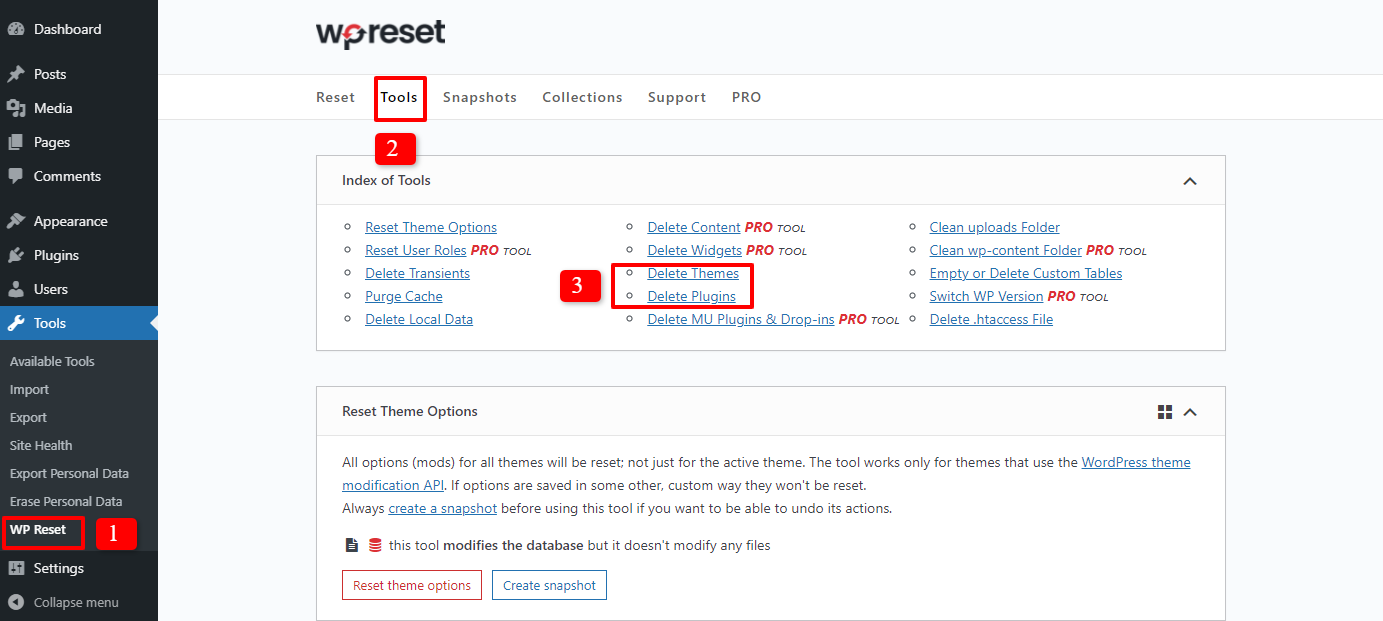 After removing all themes, adding a new theme for your restarted site is necessary. If you are looking for a new attractive, and impressive one for your site, why don't you access the collection of Free WordPress Themes here to have various options?
In case you want to add a new theme, you just need to go to Appearance -> Themes -> Add new. Everything is very simple and easy to do. So, don't worry.
Wrap Up
We have already shared with you all steps to restart a WordPress site in his tutorial blog. Therefore, we hope that you can succeed in resetting your site with our instructions. If you have any difficulty related to this topic, don't hesitate to leave your comment below so that we can help you effectively. What's more? Don't forget to share the blog with your friends if you think the information is useful and easy to understand.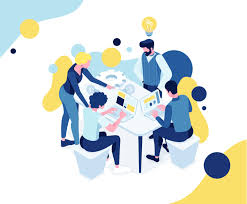 Latest posts by LT Digital Team (Content & Marketing)
(see all)