Introducing SEF URLs
As a Joomla user, have you ever paid attention to links or URLs on your website? And have you ever wondered, what do those links mean to your site visitors, and do they really matter? Well, whatever your answer, the truth is yes – those links do play an important role. A well-structured URL not only makes it human-readable but also shows the level of professionalism of a website. If you've always been interested in beautifying your URLs as well as optimizing for search engines, our today's article will partially resolve your issues.
In this tutorial, I will introduce you to an important term in Joomla CMS, which is Search Engine Friendly URLs, aka SEF URLs in Joomla 4. By enabling this feature, you're going to improve your SEO rankings. And at the same time make the URLs more attractive and meaningful.
All Joomla 4 templates are fully compatible with SEF, if you're going to use Joomla! 4 for your next project, don't miss our template collection. Alright, now, let's get going with SEF URLs!
Enabling SEF URLs in Joomla 4
There are various ways to display content or show brief information about something on the internet. In the browser world, the address bar is one of the places holding such a succinct description of a web page or an article you're following. It displays and processes web addresses called links or URLs. However, URLs are much more than just a container for components of a website. They indicate the location of each page and are the entry point for search engines and site visitors.
While SEO (Search Engine Optimization) is the process of improving the volume and quality of traffic to a website, a site that has been optimized for SEO is said to be Search Engine Friendly, or SEF.
What are SEF URLs?
It is a fact that even today, there are still so many websites that use default system links, aka system URLs. The same is true for Joomla webmasters. If they obey only standard development documentation then their web address component would probably look similar to this:
http://www.example.com/index.php?option=com_content&view=article&id=12:sample-article&catid=12&Itemid=126
These URLs are simply a jumble of characters and numbers that are essentially hard to read and almost impossible to memorize. They take away the opportunity for webmasters to insert valuable keywords and are therefore extremely bad for a website's SEO score.
But what about this one?
http://www.example.com/index.php/sample-content/sample-article
Well, the new URL is generated from the SEF URLs feature. You can see how clean and efficient it is!
So to put it roughly, "Search Engine Friendly (SEF) URLs" is one of the SEO settings in Joomla. It helps replace those jumble of characters and numbers generated by the default system URLs with more meaningful components. These components are actually the alias of the menu items that you are using on your website. Not only does it make sense to both humans and search engines, but it also describes the path to a particular page they point to.
Why are SEF URLs Important for SEO Rankings?
Of course, they are!
Even the names show us the close relationship between the two concepts: Search Engine Friendly URLs & Search Engine Optimization.
If a website has a system of search engine-friendly URLs, it will certainly be appreciated. URLs are one of the first things search engines will look into when visiting your site. Then, a URL that contains clear and well-structured elements will help explain to search bots what it is about and which specific page it points to.
Very importantly, SEF URLs will also help avoid creating duplicate results in the Search Engine Results Page (SERP), which will seriously affect user experience. For instance:
Let's say your website address is:
http://www.example.com/index.php
And you have an image archive at:
http://www.example.com/index.php?page=photos
Even though they display two separate content, search engines will perceive the two links above as the same page. And thus will generate duplicate meta content, titles, etc.
Unequivocally speaking, visitors don't like that. And so do the search engines. Overall, it's bad for SEO.
But if you enable the use of SEF URLs for your website, things will become a lot different. Search engines will index your pages more accurately, and site visitors will also remember links to each part of your site much better.
So, in short, set your URLs to be SEF if you want to rank higher in SERP. That's it!
How to Enable SEF URLs in Joomla 4?
In order to enable SEF URLs in Joomla 4, you must first log in to the admin panel in the backend of your website.
Then from the Home Dashboard, go to System > Global Configuration: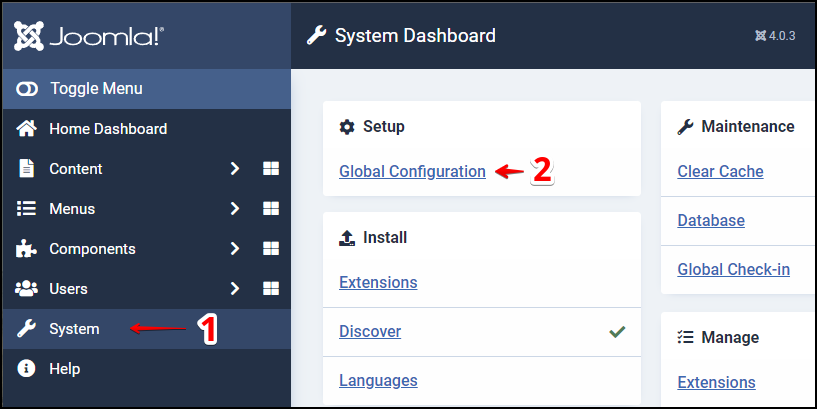 Here you'll see several tabs at the top: Site, System, Server, Logging, Text Filters, and Permissions. Just make sure you're on the very first tab, which is Site.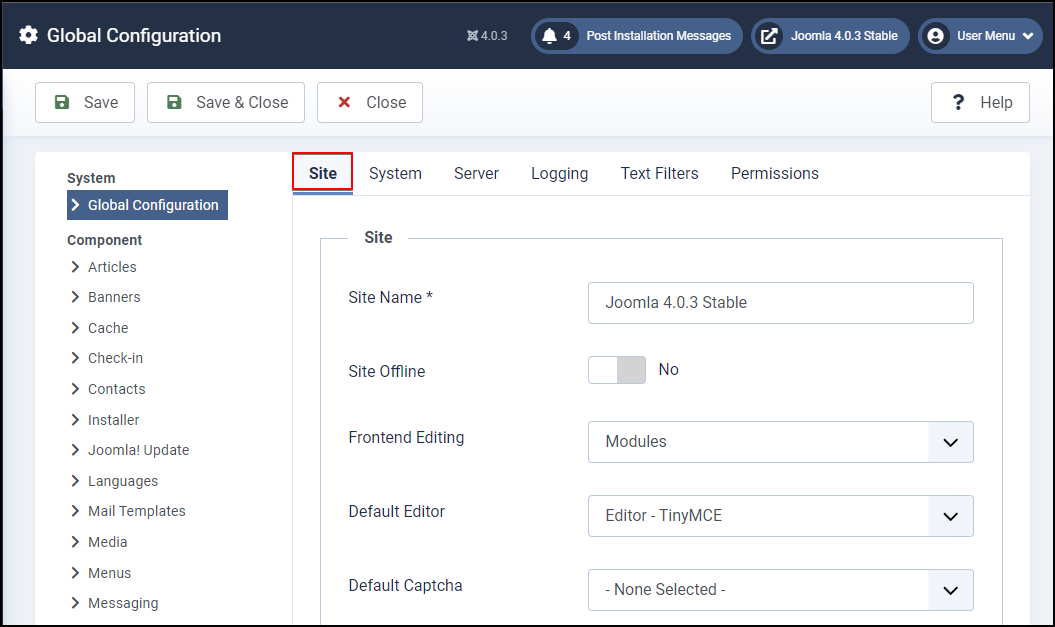 Scroll down until you see this – SEO settings.
At the time of this article, we're using Joomla 4.0.3 Stable.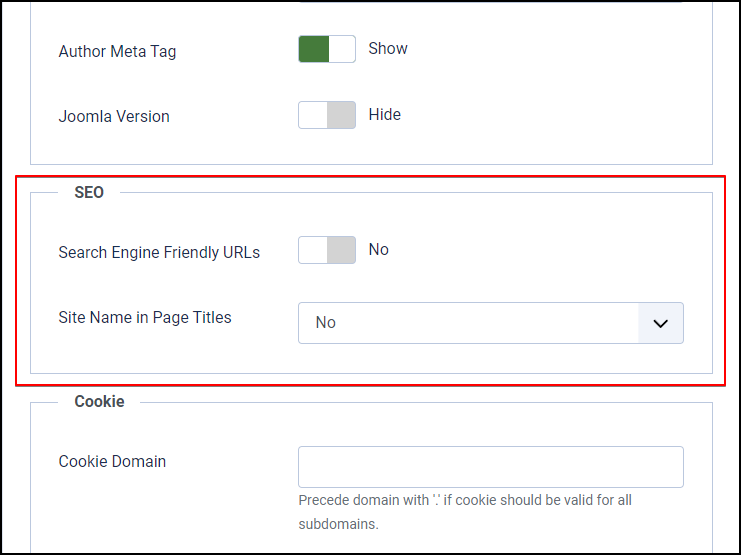 Now, switch the first option to Yes to enable Search Engine Friendly URLs.
And with this setting enabled, you have a few more SEO settings to configure. I will explain in the next tutorial.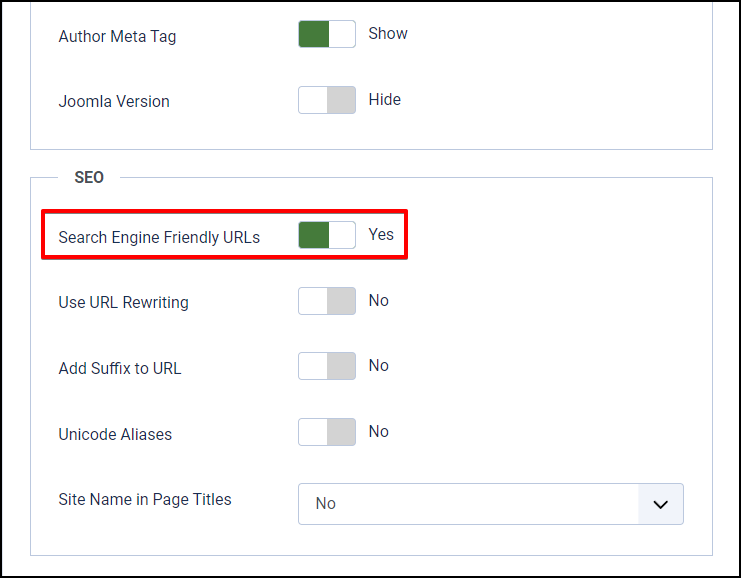 Finally, click the Save & Close button at the top to apply the changes.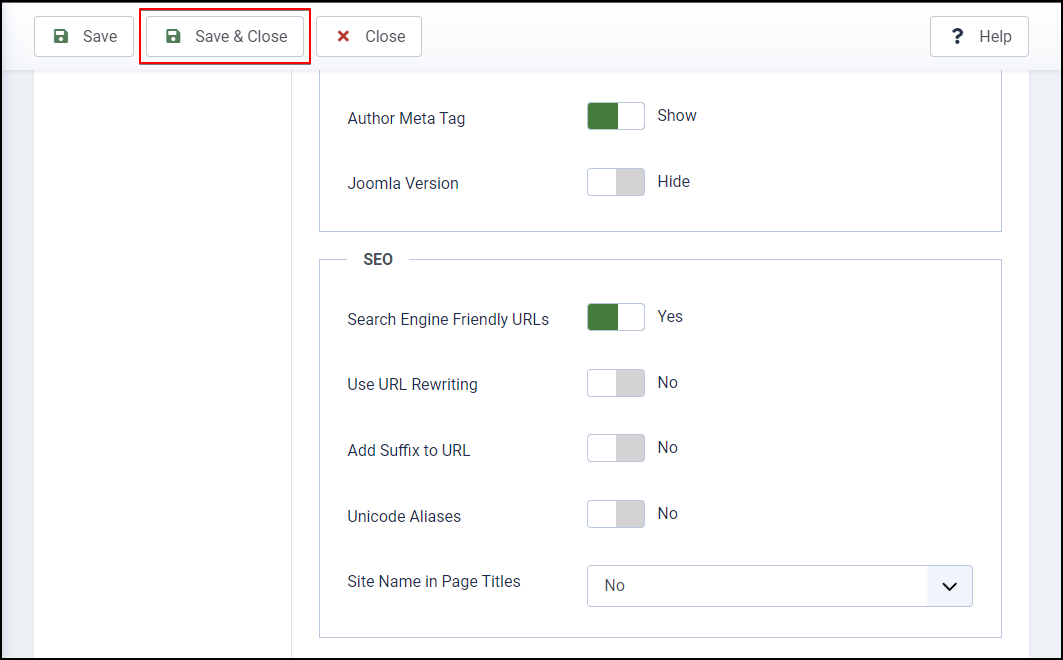 Now that you have SEF URLs enabled/turned on for your Joomla 4 website. You will see it applied everywhere to optimize your site URLs.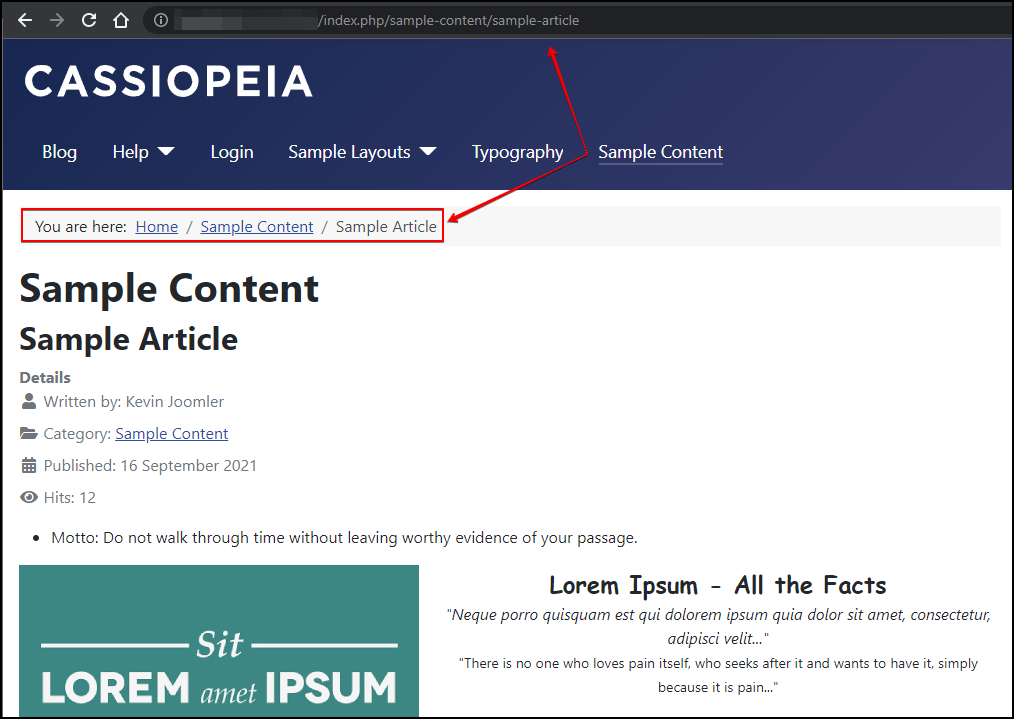 That's it! You now know how to enable Search Engine Friendly URLs or SEF URLs in Joomla 4. In the next tutorial, I will show you how to remove index.php from URLs in Joomla 4 for even better SEO. So stay tuned for the detailed how-to!
Wrap-Up
SEF URLs can be a huge improvement to the SEO ranking of your website. However, to get the best possible rankings in SERP through SEO, you need to combine many different techniques. There are various factors that could influence SEO, and making sure your valuable keywords are present in the right places on all pages is essential to taking advantage of SEF URLs. Hope you enjoyed this article. Share your thoughts in the Comments section should you have any questions!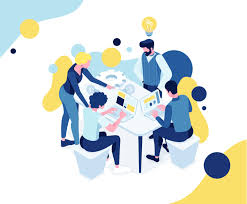 Latest posts by LT Digital Team (Content & Marketing)
(see all)