There's no denying the importance of WordPress security. After all, a security breach might cause substantial harm to your website. However, with hackers deploying bots to attack websites quickly and effectively, it may feel as though the chances are stacked against you. Fortunately, CAPTCHA is a simple, low-effort technique to improve the security of your website. In this tutorial, we're going to discuss about CAPTCHAs and show you how to setup CAPTCHA for WordPress Login.
What is CAPTCHA?
A CAPTCHA is a computer program that determines if a user is human or not. It accomplishes this by offering a test that would be relatively simple for a human user to pass but extremely difficult and nearly impossible for automated programs to complete.
Users were required to enter the text they saw in an image in the early days of the CAPTCHA. This image was warped and shown random letters, words, or numbers.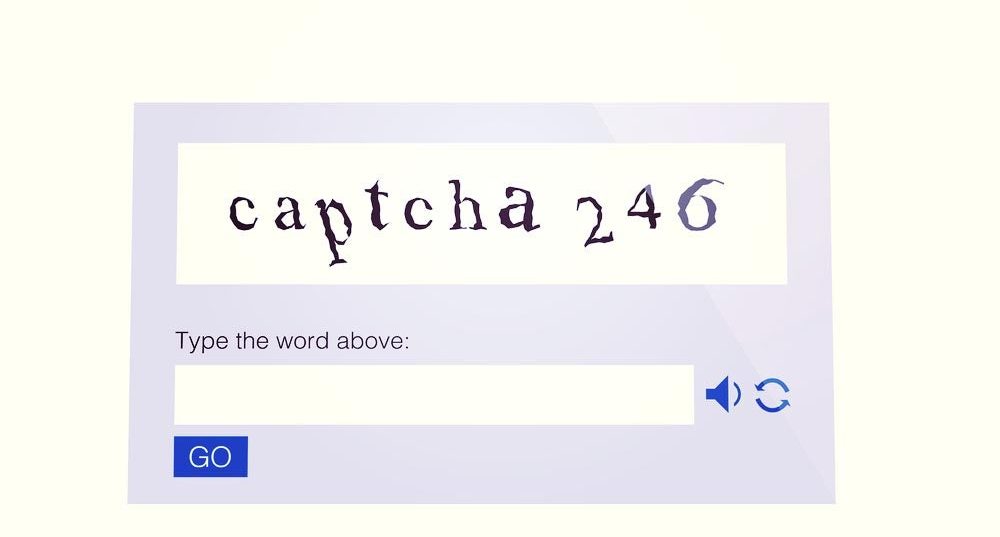 Later, reCAPTCHA, a newer technology, was introduced. It presented random words as a challenge and used user input to assist with the digitization of books.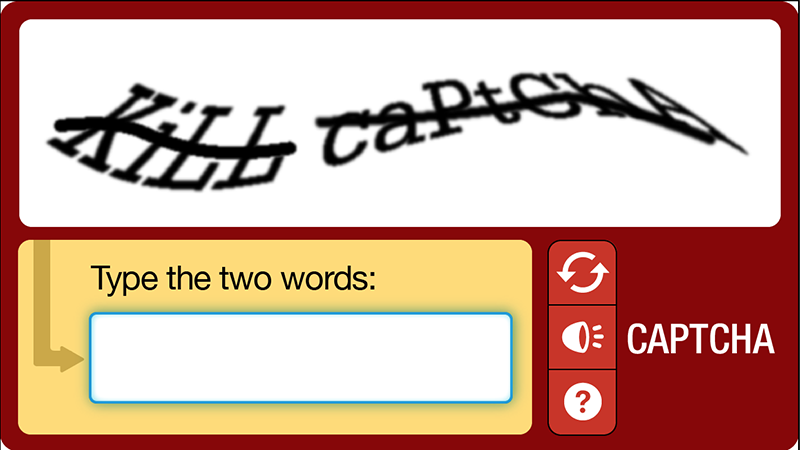 Google purchased this technology in 2009. Since then, it has aided in the digitization of thousands of books as well as the whole New York Times archive.
These new CAPTCHAs, on the other hand, were still irritating and harmed the user experience on websites.
To address this, Google launched "No CAPTCHA reCAPTCHA," which detects spambots using AI and user interactions.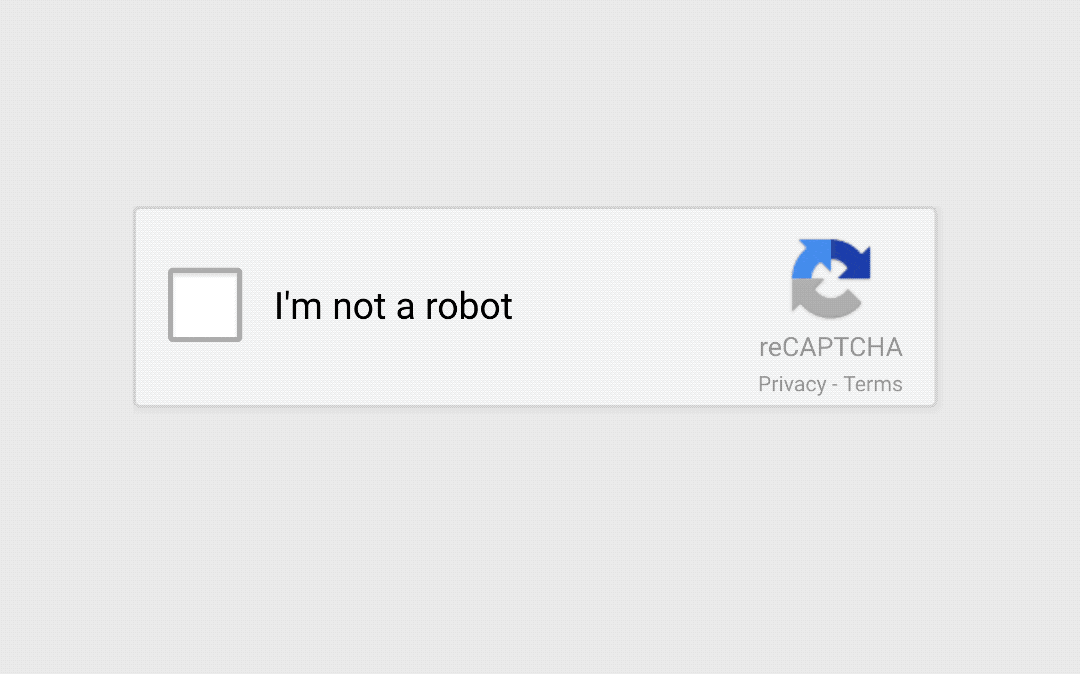 It displays a simpler checkbox for human users to select. It would show a more difficult CAPTCHA, such as identifying objects in images, for other suspicious traffic.
Why Should You Use CAPTCHA for WordPress Login?
Spammers, would-be hackers, and brute force attacks love to target WordPress login sites. Because WordPress is the most widely used website builder on the planet, it's a common target for malicious attacks.
Furthermore, if you want to improve the security and design of your WordPress site, the Top Amazing WordPress Login Plugin is an excellent choice.
Using a WordPress plugin is the simplest way to protect your WordPress site. It will prevent unauthorized access to your website by blocking harmful traffic.
Adding a secondary layer of password protection to the WordPress login pages is another option. The issue with this strategy is that you'll have to disclose that second password with each user, which isn't practical for large multi-author blogs or membership sites.
CAPTCHA is a more user-friendly alternative to previous solutions. It detects authentic visitors and presents CAPTCHA challenges to questionable individuals using Google's AI technology.
How to Setup CAPTCHA for WordPress Login
A plugin is the simplest way to add a CAPTCHA to your WordPress site. However, there are a few crucial aspects to consider before choosing your plugin.
First and foremost, you must consider the type of CAPTCHA provided by your plugin. Using Google reCAPTCHA instead of requiring users to click on images or decode distorted text is far more user-friendly.
You should also make sure that your plugin can add CAPTCHAs to several sections of your site, not only the login page. We highly recommend reCaptcha by BestWebSoft that is the best plugin for your site.

Let's take a look at how to set up this plugin.
Step 1: Install and Activate a WordPress CAPTCHA Plugin
To use this plugin, you can follow these steps:
Select Plugins from the dashboard menu and click Add new.
Locate and install the tool's files.
Return to the website control panel after activating it.

After you've activated the plugin, you'll need to make some changes in your WordPress dashboard. Below is a step-by-step tutorial on how to use or configure the ReCAPTCHA plugin.
Step 2: Create Your Google reCAPTCHA and Add It to Your Site
To begin, select the reCAPTCHA option from the left-hand side panel. Then choose Settings.
You will now be directed to the ReCaptcha settings page. Settings, Misc, Custom Codes, and License Key are the four tabs you'll see. Now you must make some adjustments. Select Settings from the drop-down menu.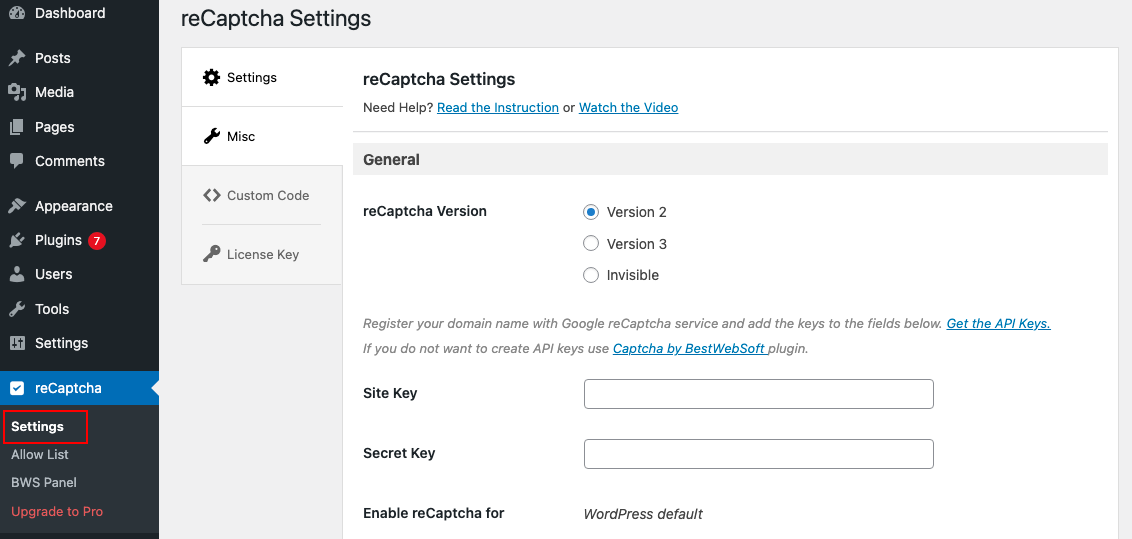 There are many sections in the settings tab like the General ReCaptcha domain. You must now choose the ReCaptcha version. Choose one of the versions 1, 2, or invisible based on your preferences.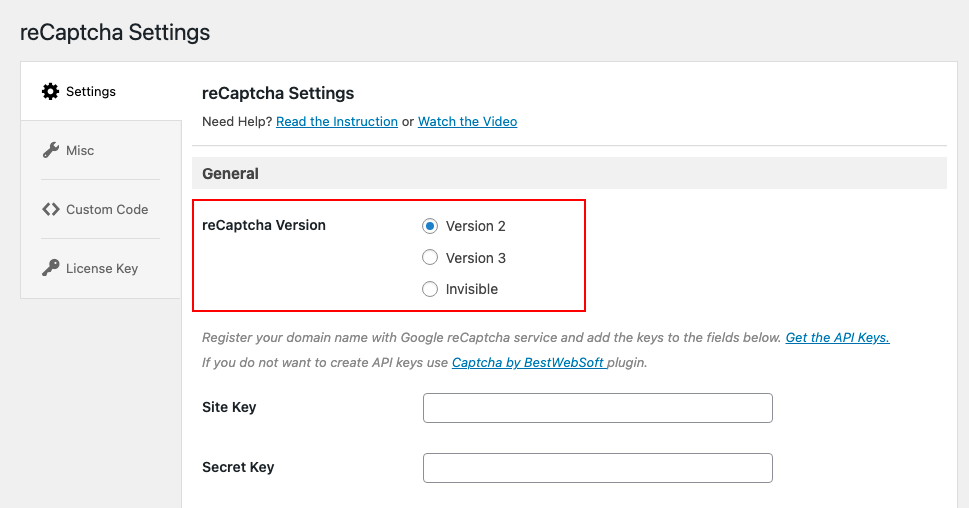 After that, you need to enter the Site Key and Secret Key. You must first register your site on the Google reCAPTCHA website in order to obtain these keys.
First, you need to click on Get the API Keys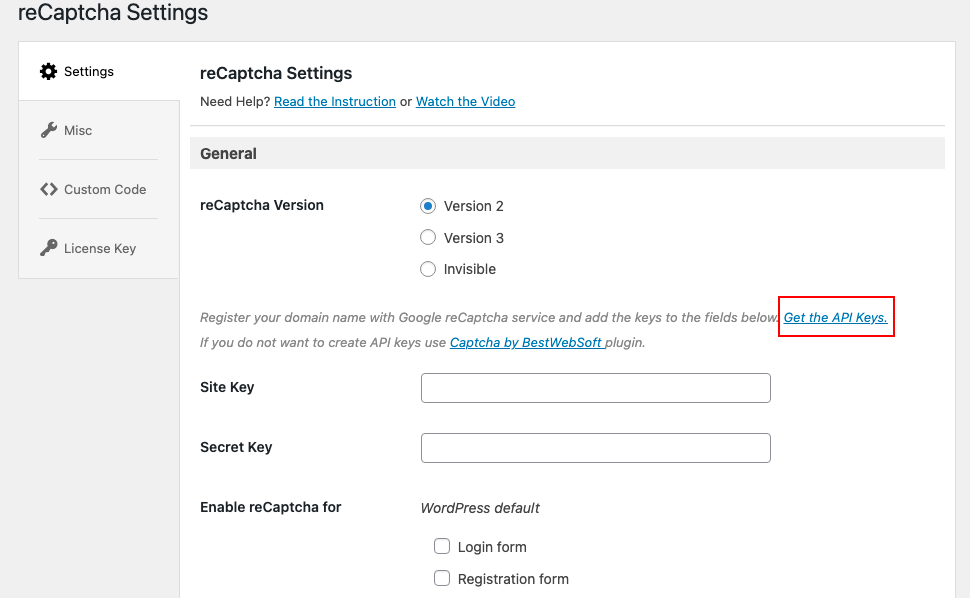 Then, Google will then prompt you to sign in to your account. After that, you'll be taken to the Register a new site page.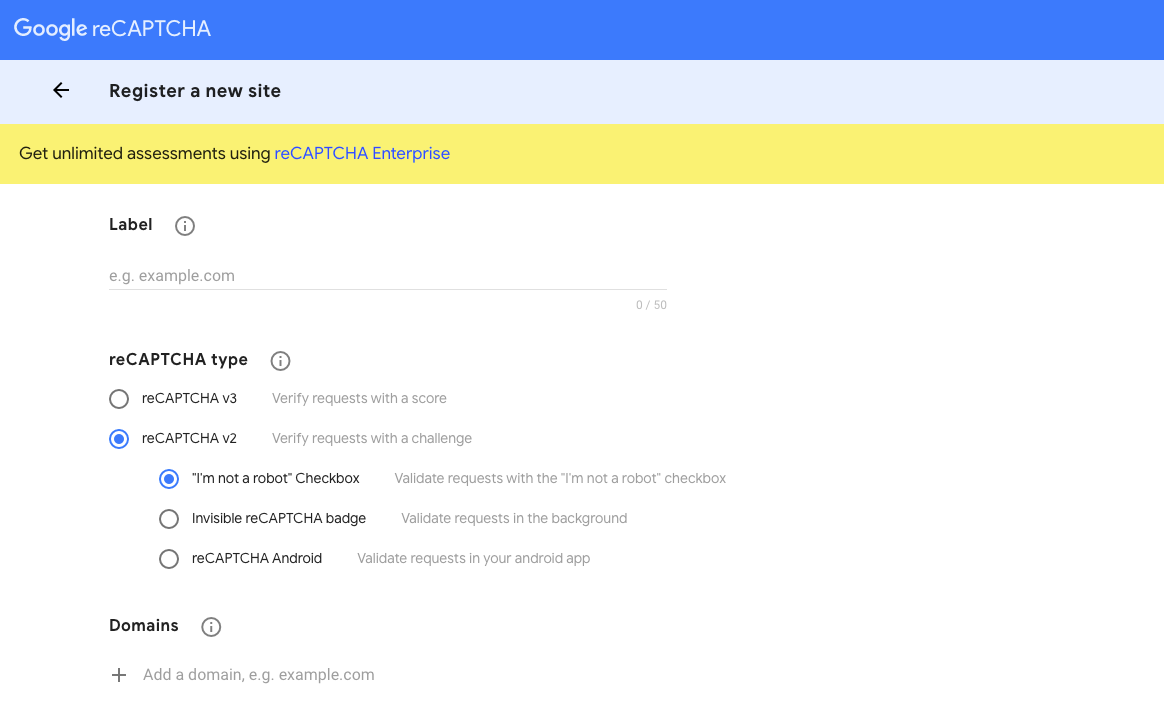 When you've finished filling out all of the fields, click the Submit button. You'll be given a Site Key and a Secret Key on the next screen: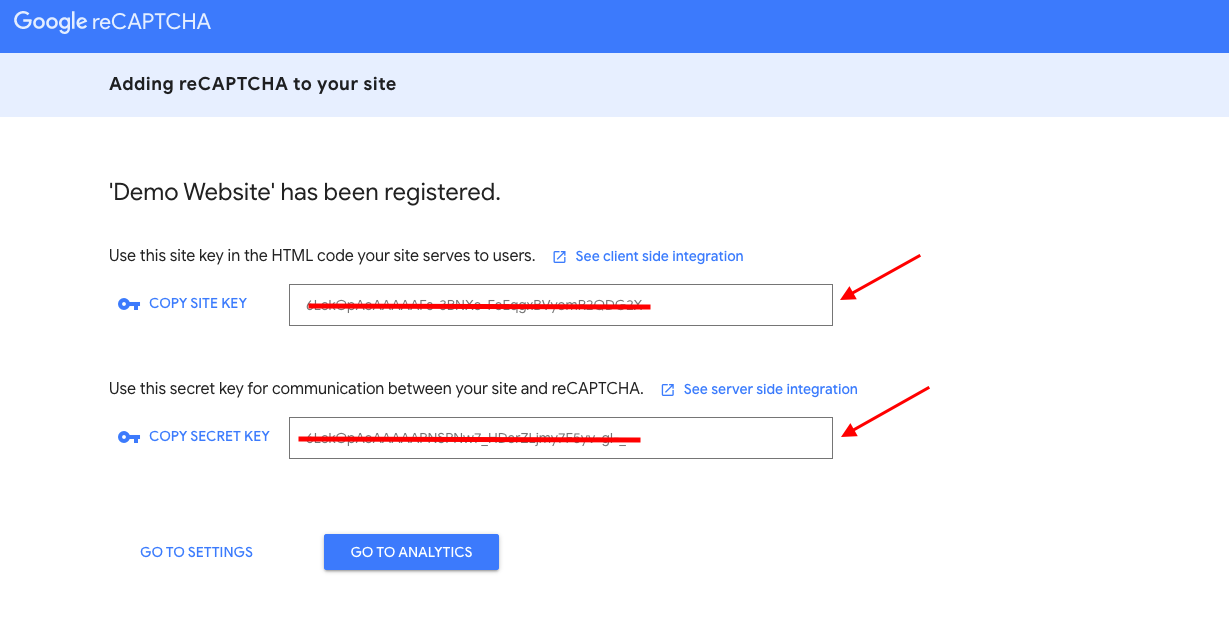 Return to your WordPress dashboard and in the General section, paste your site key and secret key into the appropriate areas.
Depending on which plugin you use, this process may differ slightly. You should be able to easily locate the settings in your dashboard sidebar and paste your keys into the appropriate fields: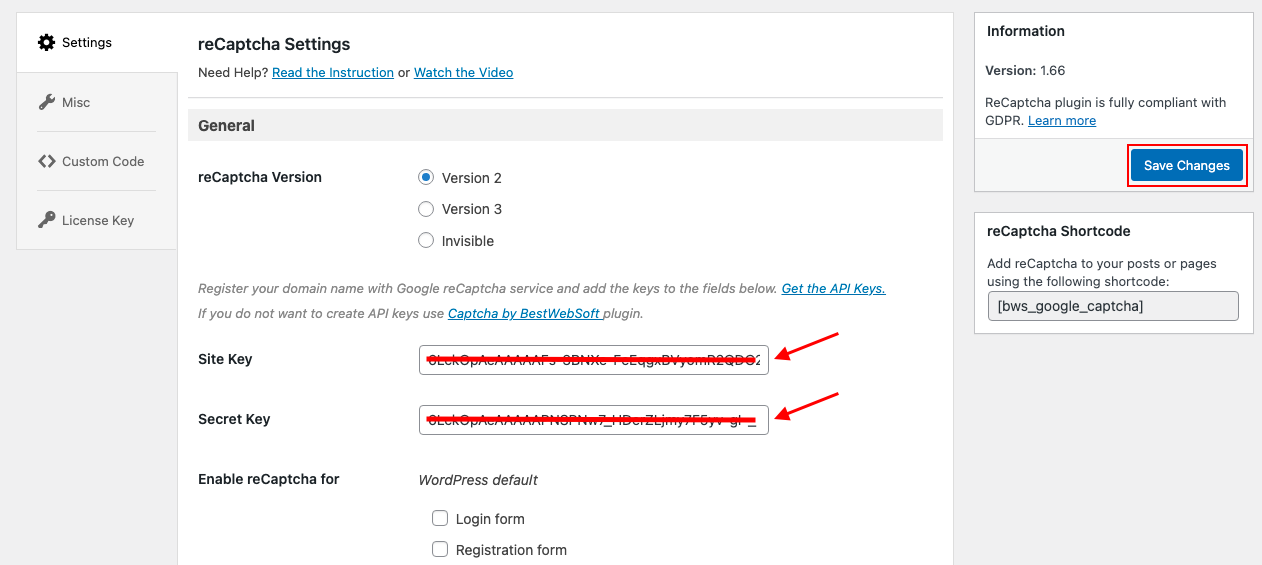 Step 3: Adding reCAPTCHA to Your Login Page
Make sure the Login form option is choosen if you want to use reCAPTCHA on the login page.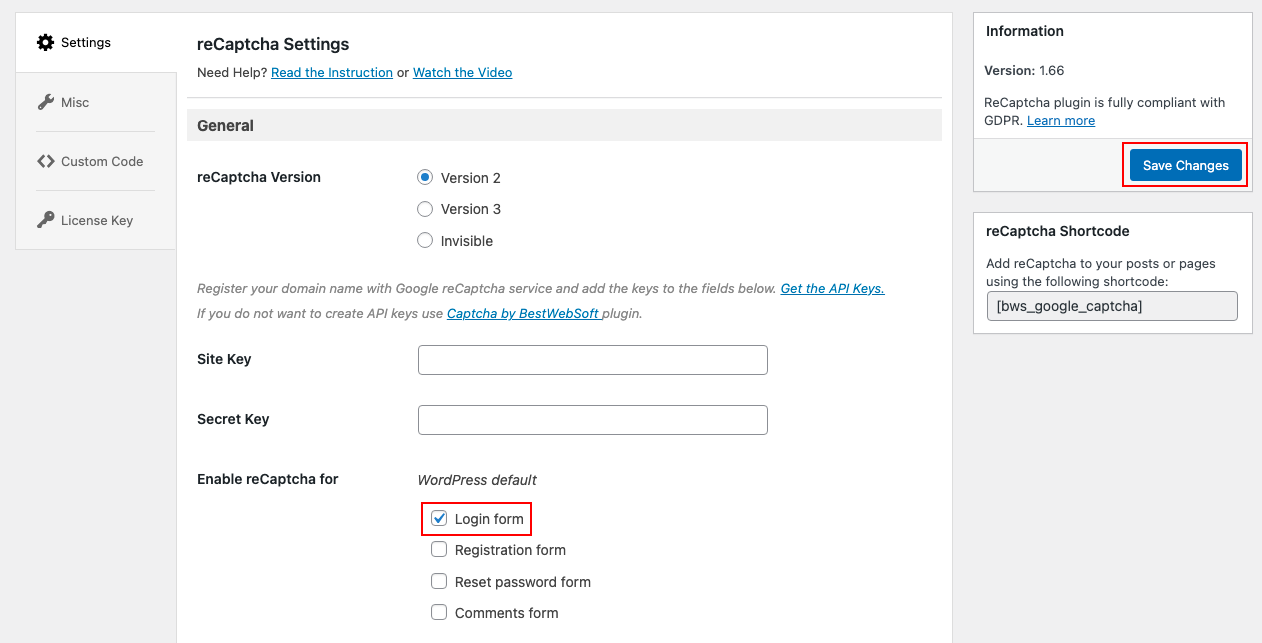 To save all your changes, click the Save Changes button.
Now, your WordPress login page is now reCAPTCHA-protected.
Conclusion
Recaptcha by BestWebSoft is a popular security plugin for WordPress sites. The plugin can be found in the WordPress plugin directory. We hope you found this post useful in learning how to Setup CAPTCHA for WordPress Login.
Furthermore, it is an excellent opportunity for you to take use of our Free WordPress Themes to explore a large choice of attractive, spectacular, and SEO-friendly themes for your website.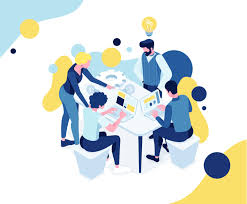 Latest posts by LT Digital Team (Content & Marketing)
(see all)