You are wondering how to find your WordPress Login URL. Luckily, you have come to the right place. In today's article, we will share with you some remarkable methods to handle this problem quickly. Now let's check them out.
Why do you need the WordPress login URL?
In WordPress, if you want to access your admin area, you need the Login URL for your WordPress website. The login page plays an important role as a door to your website. You only need to provide the exact username and password, then you can access your WordPress dashboard where you can manage your WordPress site, create new posts/pages, customize your site, and much more.
So, how to find your WordPress login screen?
How to find your WordPress login screen?
Indeed, it is easy to find your login screen in WordPress. You just need to add "/login/" or "/admin/" to the end of your website's URL.
For example:
www.example.com/admin/
www.example.com/login/
Remember to replace "example" with your website's URL, then you will see a login screen that is similar to the following screenshot.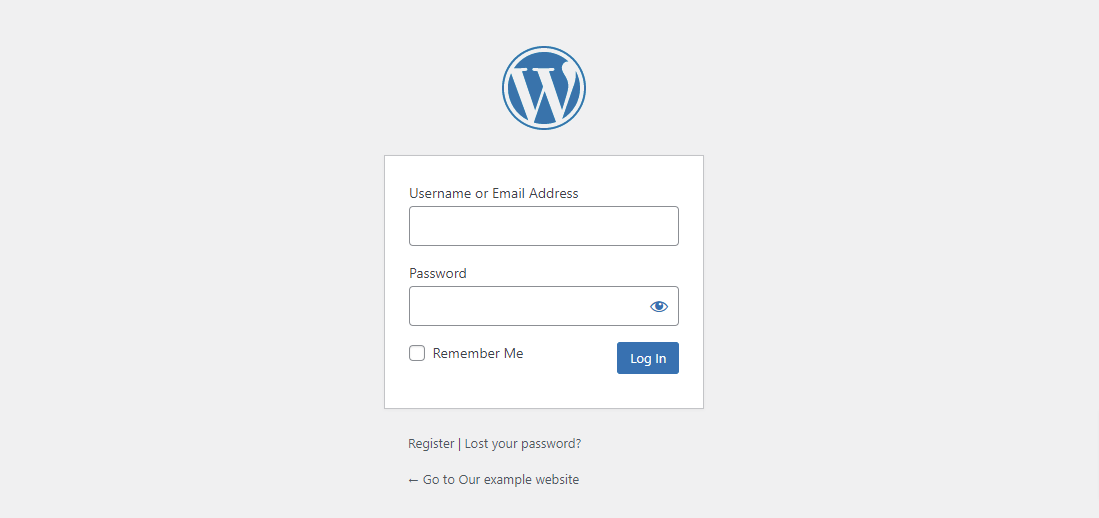 For any reason, if your WordPress login URL is not working, you can add "wp-login.php" at the end of your URL.
www.example.com/wp-login.php
In addition, for some websites, you can access your WordPress login page by using the following methods:
www.example.com/wordpress/login/
www.example.com/wordpress/wp-login.php
If your website installed WordPress on a sub-domain, you can access your WordPress admin login like this:
subdomain.example.com/login/
subdomain.example.com/wp-login.php
Alternatively, you are also able to access your WordPress admin area directly by using one of the following URLs:
www.example.com/admin/
www.example.com/wp-admin/
These URLs check whether you were logged in before and if your login session is still active. If this is true, immediately this will lead you to your WordPress dashboard.
In contrast, if your session has expired, you will be returned to the login page.
How to remember your WordPress Login Page?
It is sure that you find it hard to remember all your WordPress login links. So it is necessary to bookmark the login page to your browser's bookmark bar. To do that, you need to visit your website's login page in your web browser you like and then follow the steps below.
Here are examples in some prevalent web browsers:
Google Chrome
Let's go to the page you want to add a bookmark
Press Ctrl+ D( if you are using Mac, you need to use the command button)
Change the name according to your preference and choose the folder location from the drop-down menu
Then, click the "Done" button to finish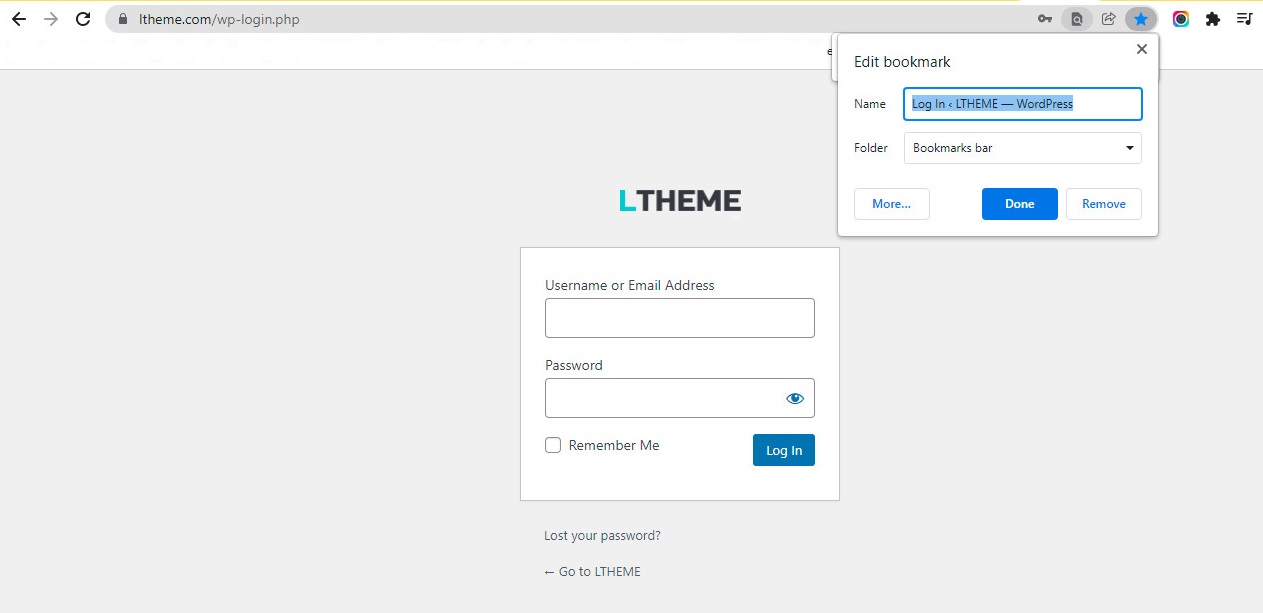 Firefox
Similarly, go to the page you want to bookmark
Press Ctrl + D (Use the command button instead of the control button if on a Mac)
 Change the name and choose the folder location
Finally, click on the "Save" button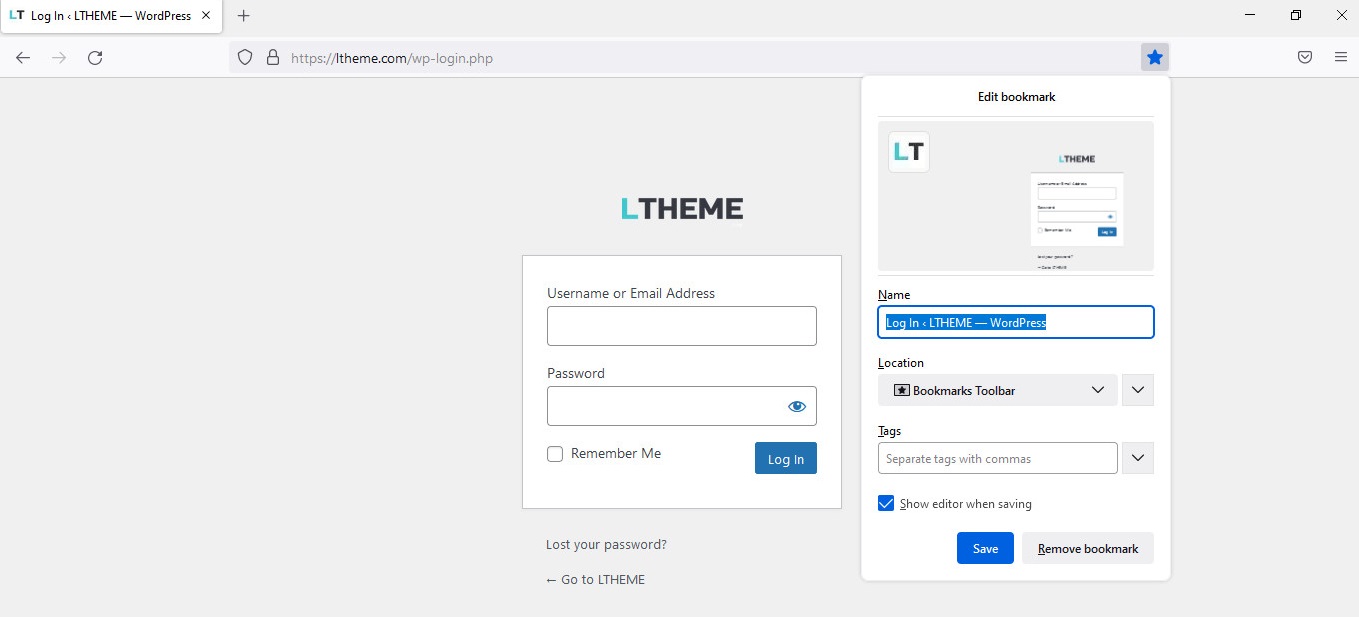 Moreover, in WordPress, there are also several methods to add your WordPress login URLs to various positions on your website such as the footer, sidebar, or even in the menu.
The first method is adding your WordPress login page to your navigation menus.
First of all, you need to log in to your WordPress admin area and navigate to Appearance > Menus. Then click on the Custom links tab to expand it. From here, you need to provide your WordPress login link and text. Once you are done, let's click on the "Add to Menu" button to add this link to your menu.
Don't forget to click on the "Save menu" button.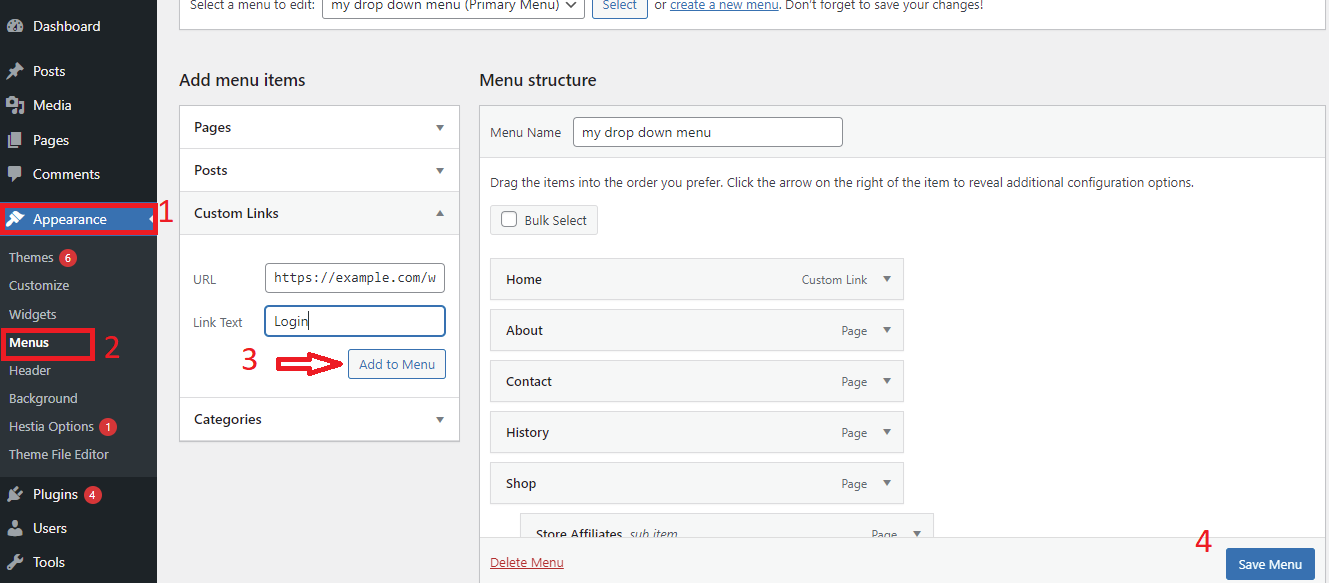 Alternatively, you can also use the Meta widget to add the login pages, links to your site's RSS feed. To do that, initially, you need to go to Appearance > Widgets and add the meta widget to any visual position on your website such as a sidebar.
You can provide a title and then click on the "Save" button.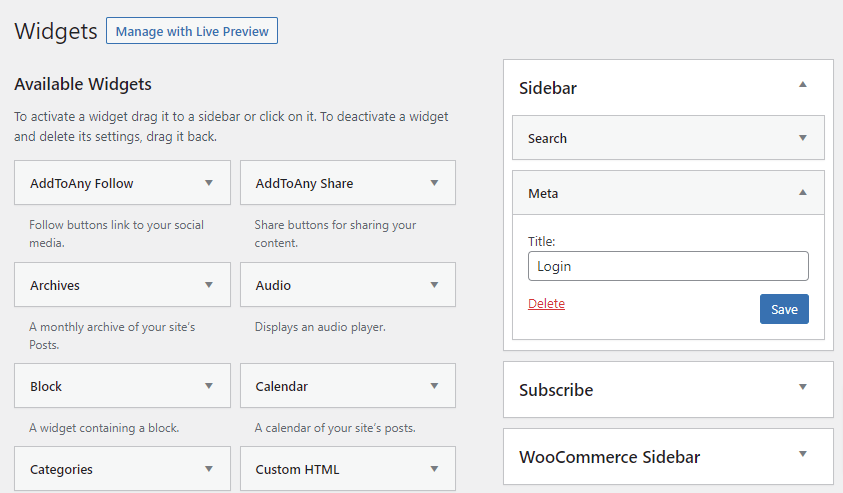 .
Bypass Login Page in WordPress by using Remember Me
There is still a great way to help you easily log into WordPress with the "Remember Me" option. On your login page, you will see a checkbox labeled "Remember Me".
Once you check this box in advance of logging in, it will enable you to access the admin dashboard directly without logging in for 14 days on subsequent visits.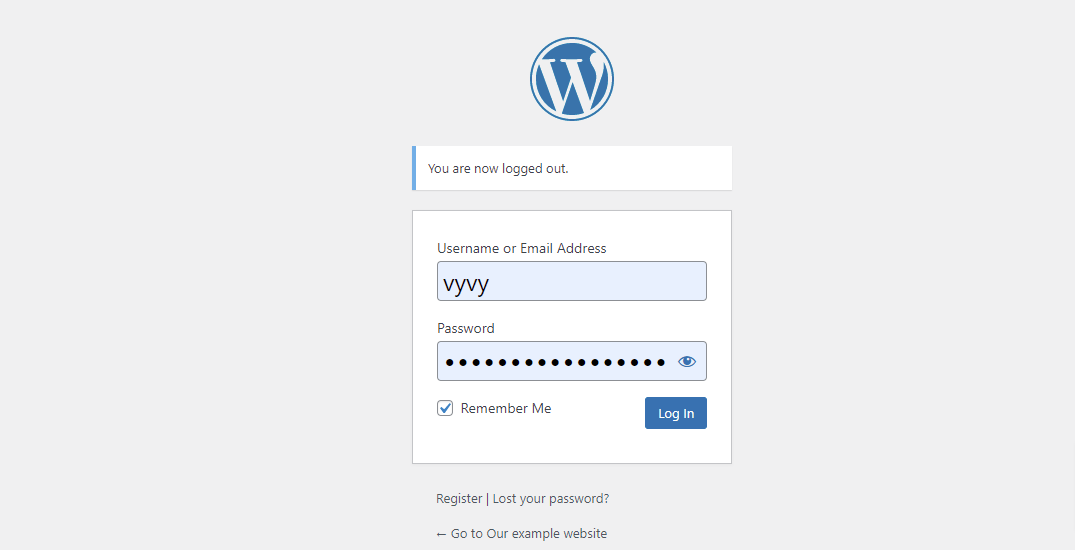 How to Customize the WordPress Login page?
By default, the login page in WordPress looks simple and basic. It only displays the user name field and password field and the WordPress logo. If you are running websites such as Membership sites or eCommerce sites, you need to change the login page appearance instead of keeping the default login form that looks very unprofessional.
You can visit our step-by-step tutorial on how to customize the WordPress Login Page to make your website more professional, show familiar branding to increase trust, protect forms from brute-force attacks with Captcha, and much more.
Summary
We have just demonstrated some detailed methods to help you easily find your WordPress login URL. We expect that this blog is really useful for your website. If you have any questions or need our assistance, please leave a comment below.
Moreover, you can visit our free WordPress Themes to explore many stunning, professional designs that make your website look better.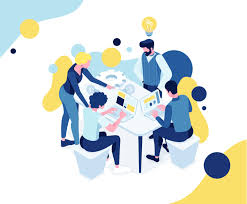 Latest posts by LT Digital Team (Content & Marketing)
(see all)