Here is the tutorial blog about how to use WordPress Reusable Blocks with step-by-step instructions.
As you know, WordPress Gutenberg Block is the new editor of WordPress. When we put the comparison between Gutenberg vs Classic Editor, it's easy for us to realize that the new WordPress editor comes with many outstanding and advanced features. That is the reason why more and more people have a tendency to use the Gutenberg editor instead of the old WordPress editor. So, if you want to find out how to use Gutenberg in general and use WordPress Reusable Blocks in particular, the blog today is for you. Let's go now!
Introduction
What are WordPress Reusable Blocks?
Simply put, WordPress Reusable Blocks are a collection of numerous editor blocks that you created and saved in the library so that you can reuse them later.
A reusable block may be simple or complicated. For example, if you want to reuse an image many times, it's a simple reusable block. Conversely, the WordPress reusable block becomes complex if it is a collection of many elements that you use again and again for an advanced design of your site.
Why do you need to use WordPress Reusable Blocks?
By using WordPress Reusable Blocks for your site, you can get many benefits, including:
Save time since you don't need to repeat the process of copying the content to a text editor and then pasting it to your new post/page.
Be convenient as you just need to design only one unique page. After that, simply duplicate it on other pages of your site or on other WordPress websites.
Be simple for you to add the content at the beginning of the end of the blogs, articles, or pages, such as social media buttons, author bio, and much more.
Be able to add the ads or affiliate banners on all posts/pages without doing it manually.
Be effective and smooth for you to edit the reusable blocks related to surveys, quizzes, or forms.
So, don't hesitate to explore how to use WordPress Reusable Blocks step-by-step with the following guide.
How to use WordPress Reusable Blocks?
Create a WordPress reusable block
First of all, you just need to create a new post/page or edit an available post/page of your WordPress site. After that, click on the Add block icon, then choose the type of block you want to generate a WordPress reusable block.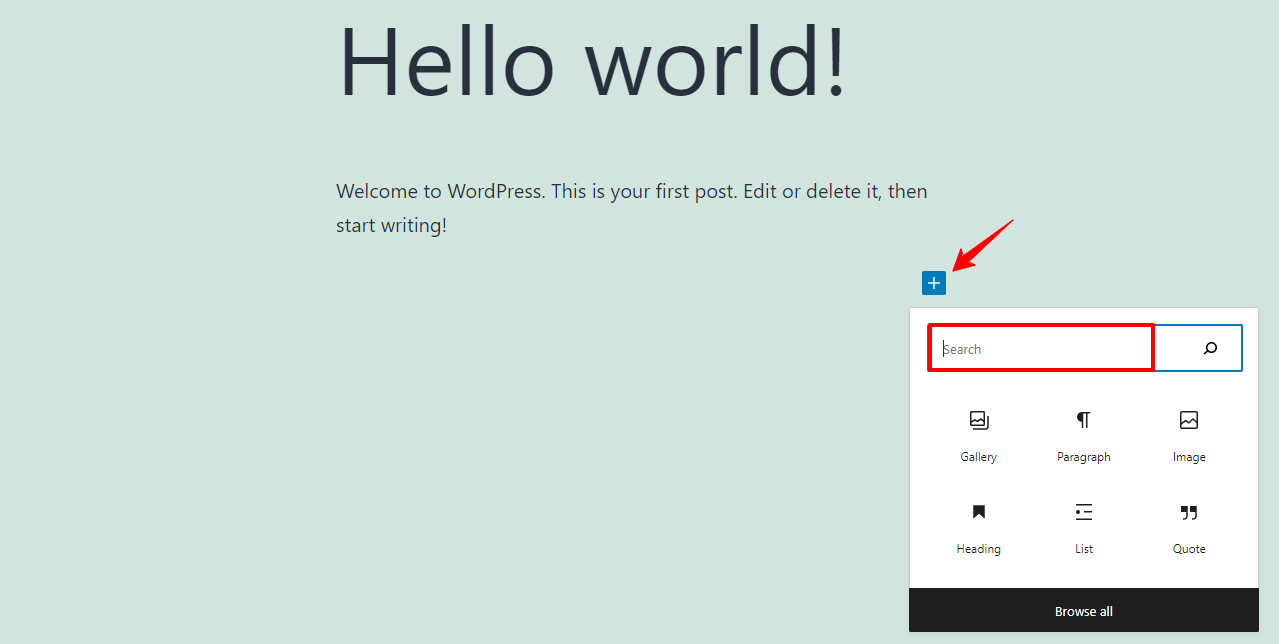 In our example, we will select the button block type, then we make some customizations with the color and text of the button.

Next, simply press the block -> Select the three dots button. There will be a dropdown menu that contains Add to Reusable Blocks. So, don't hesitate to click on the Add to Reusable Blocks option.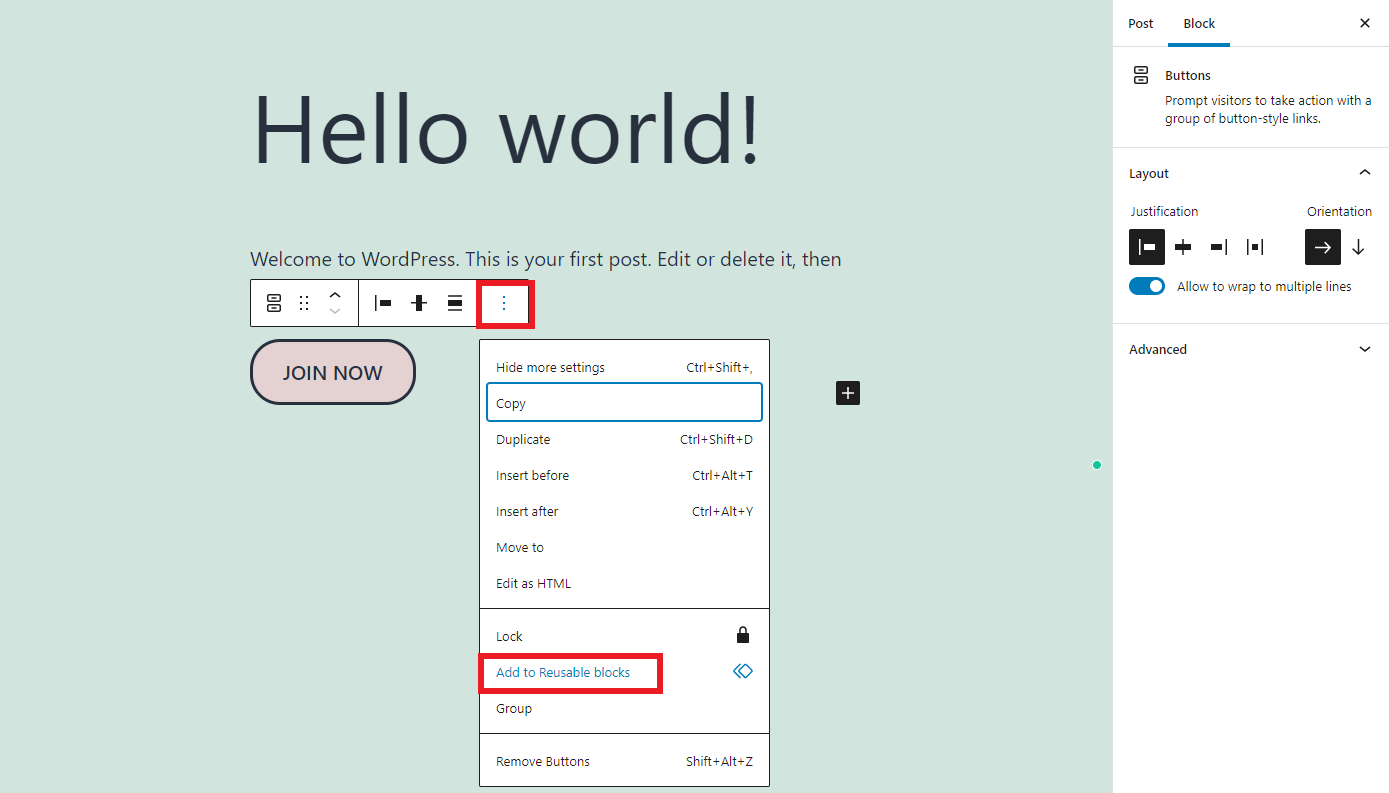 Now, there will be a popup for you to fill out the name of the WordPress reusable block, then don't forget to save it.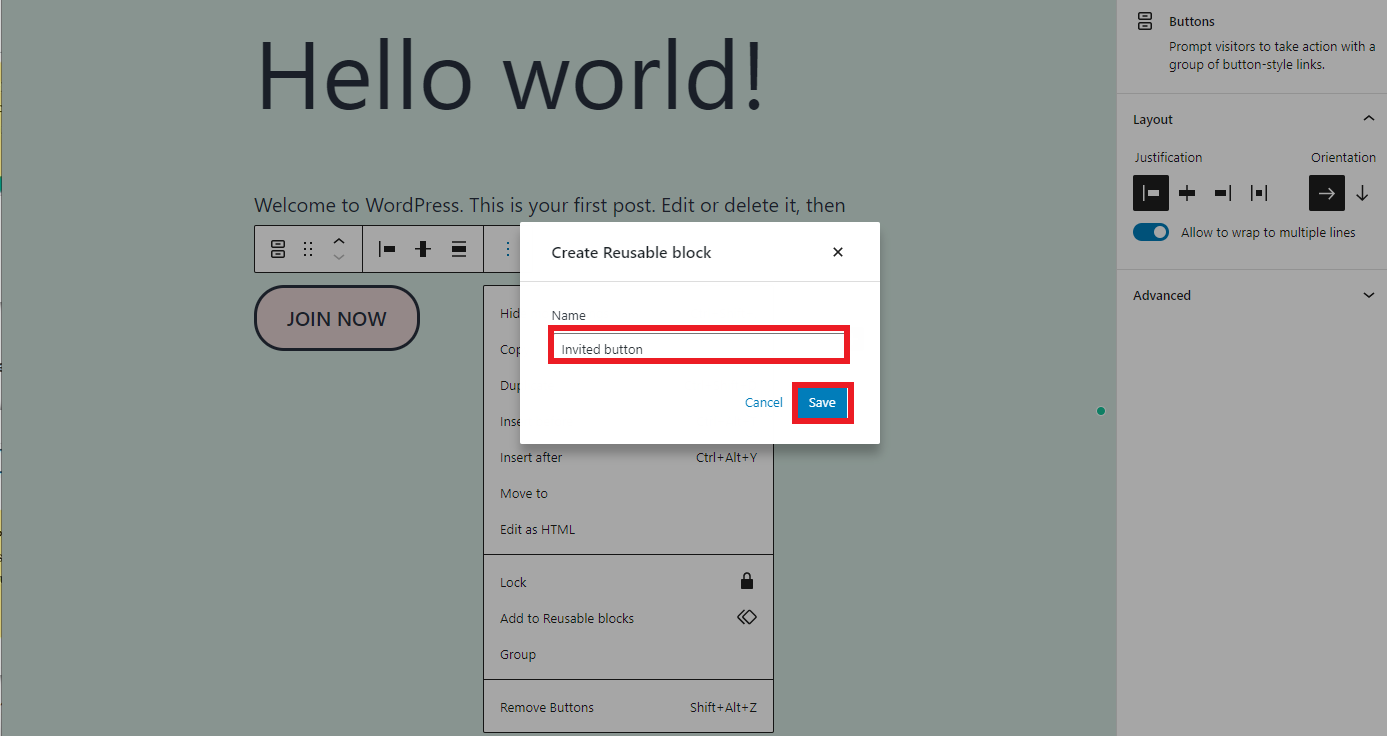 In case you hope to save multiple blocks together, it's a good idea for you to select all the blocks you want to save by clicking on one block, then holding down the shift key when you click on other blocks. After that, simply press the three dots button -> Add To Reusable Blocks -> Enter block group name -> Save.
Now, you can add or use WordPress Reusable Blocks to other posts or pages on your site.
Add the WordPress reusable block to new posts/pages
Adding a WordPress Reusable Block is quite simple. You just need to open the posts or pages you want to use WordPress reusable blocks, then click on the Add Block button -> find the Reusable option.
If you remember the name of the WordPress reusable block, you can find it by entering its name. Besides, you can also utilize /[name-of-reusable-block] to quickly insert the blocks.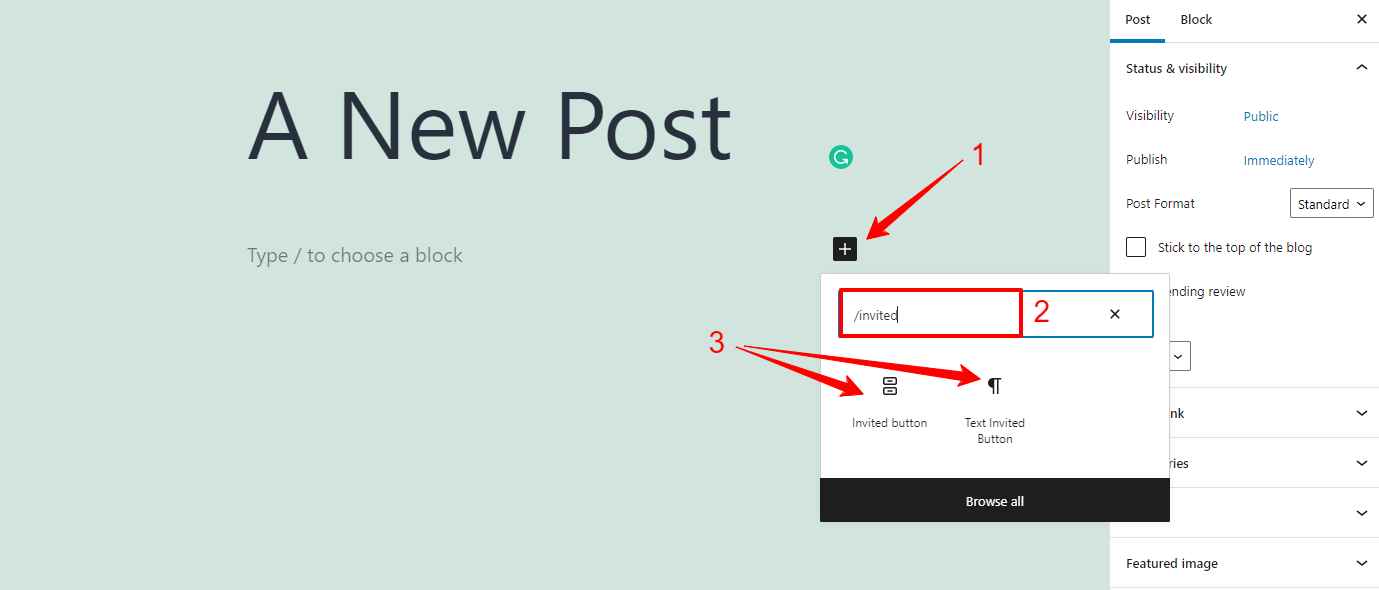 Edit content of a WordPress reusable block in a specific post
With a WordPress reusable block, you are not able to edit it directly after adding it. In order to edit the content of the reusable block in a specific post, you just need to change the reusable block into the regular block. It won't affect other cases of the reusable block.
Let's convert it by pressing the three dots button -> Convert to Regular Block.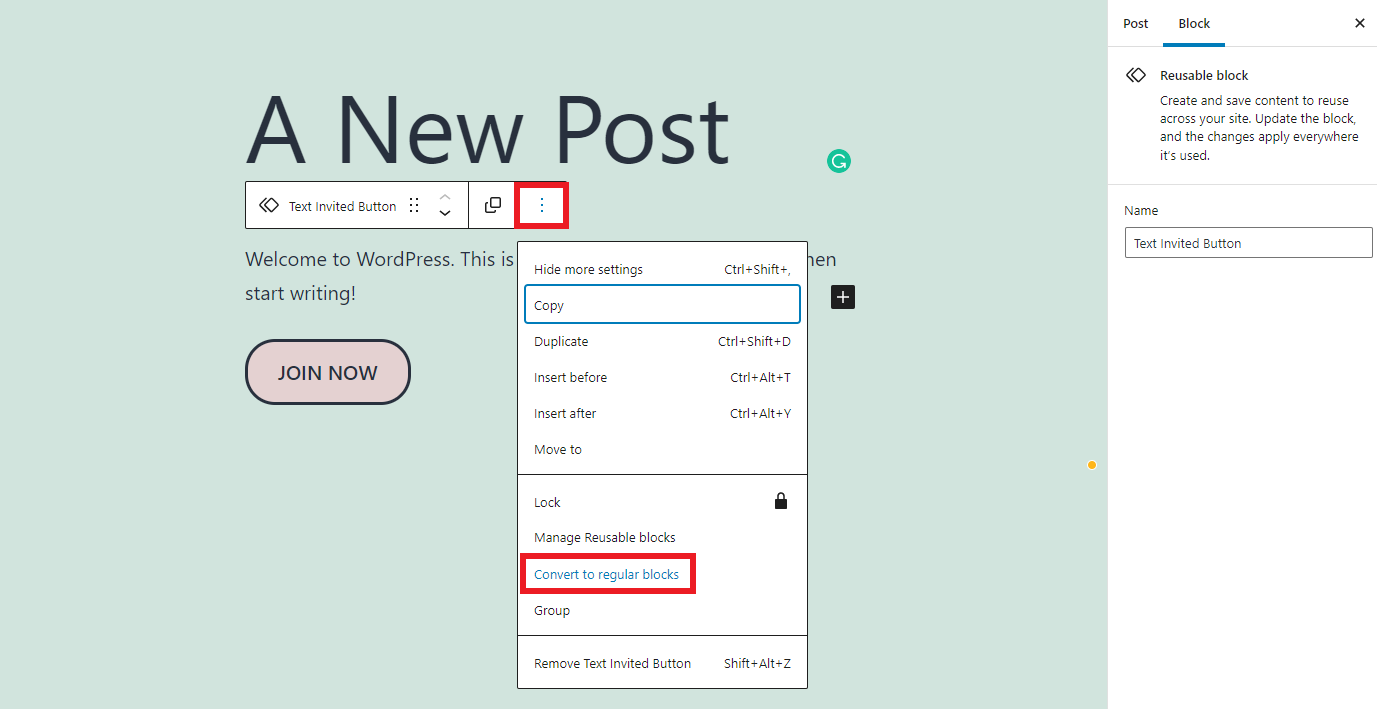 Now, you can freely make any adjustments to the regular blocks without any trouble.
Export or import WordPress reusable block
A benefit when you use WordPress reusable blocks is that you can not only use it for one website but also export it to use for other websites. This will help you save time in building and managing various websites effectively.
Now, it's time for you to find the "+" icon on the left side of the screen. After that, simply access Reusable -> Manage Reusable Blocks.

In order to export the WordPress reusable blocks, you need to choose the Export as JSON option, they will be saved as a JSON file to your computer.

Finally, let's open another WordPress dashboard -> access the Blocks page with the same steps above. After that, simply click on the Import from JSON -> choose the JSON file from your computer and then upload it to your WordPress site. Everything is done.
Wrap Up
All things considered, we ensure that you can freely and easily use WordPress Reusable Blocks after exploring the blog today. Don't hesitate to try this way to save time in building or designing a WordPress website. If you have any questions, don't hesitate to leave your comment below.
Last but not least, we are offering numerous mobile-friendly and eye-catching free WordPress Themes with various topics, so let's visit our site and check out the collection now!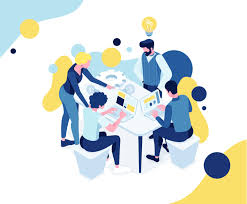 Latest posts by LT Digital Team (Content & Marketing)
(see all)