Why is the Security Plugin necessary for WordPress sites?
According to recent research showing that there are about 18.4 million websites over the world being infected with viruses and malicious code. This issue is an important reason causing some consequential damage to your business for example hackers can steal your personal data or the data of your customers and users and then they sell all vital information for negative purposes. Hence, installing a Security Plugin for your WordPress site is really necessary. However, there are numerous tools in the market nowadays, it is difficult for you to choose the best choice. Therefore, in today's article, we pick up the two prominent plugins that are Wordfence and iThemes Security to compare them in detail. The battle of comparison between Worfence Vs iThemes Security is the right orientation to choose the best one for your site.
Before going over the conclusion, we will compare iThemes Security Pro and Wordfence Pro based on 4 aspects including overview, features, price, advantages, and disadvantages. Let's read and consider.
Wordfence Vs iThemes Security: Overview
What is the Wordfence?
Wordfence is a famous WordPress Security Plugin that is developed by Defiant Inc. This plugin has protected more than 2 million websites from malware, brute force attacks, and hacking attempts. It has a simple, user-friendly, interface. Hence, it takes you a few minutes to set up. In addition, Wordfence comes with a powerful server-side scanning feature that is one of the most useful features for your website. This plugin offers you a secure web application firewall that works at the endpoints. As a result, this tool secures server security with better protection than other plugins. Especially, it gives you a central dashboard, thanks to that, you can easily utilize it to configure the whole settings without any coding requirement.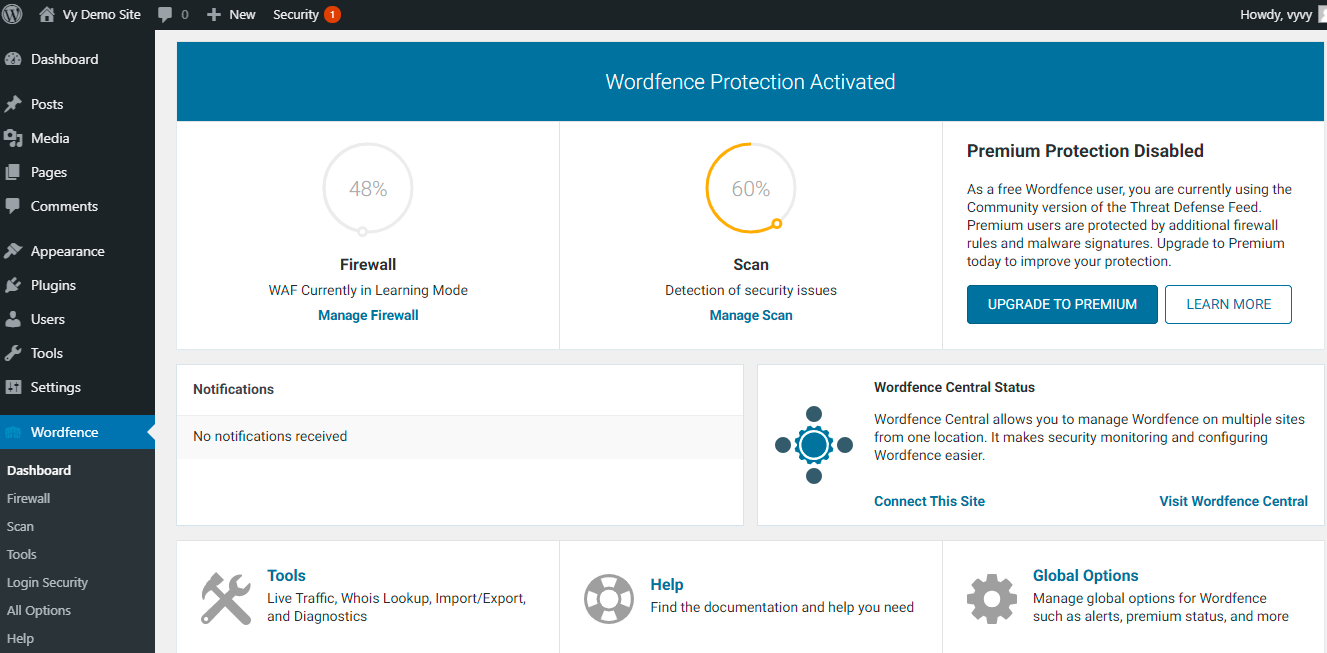 What is iThemes Security?
iThemes Security is one of the most outstanding products developed iThemes Media LLC. It is specially designed to deal with common issues that occur on WordPress sites such as vulnerabilities, weak passwords, and other negative threats.
This plugin provides you with over 30ways to handle vulnerabilities, fix holes, to secure and protect your WordPress site. It is also a simple design, so if you are a fresher, you don't waste much time learning how to install and use it. In addition, it enables you to synchronize with different websites thanks to this premium iThemes Sync Plugin. It means that you have the ability to control and manage multiple sites from a single dashboard at the same time.
In general, this is also a simple, lightweight, and powerful security plugin that is suitable for different websites. You can completely use it to prevent your WordPress site against undesired threats.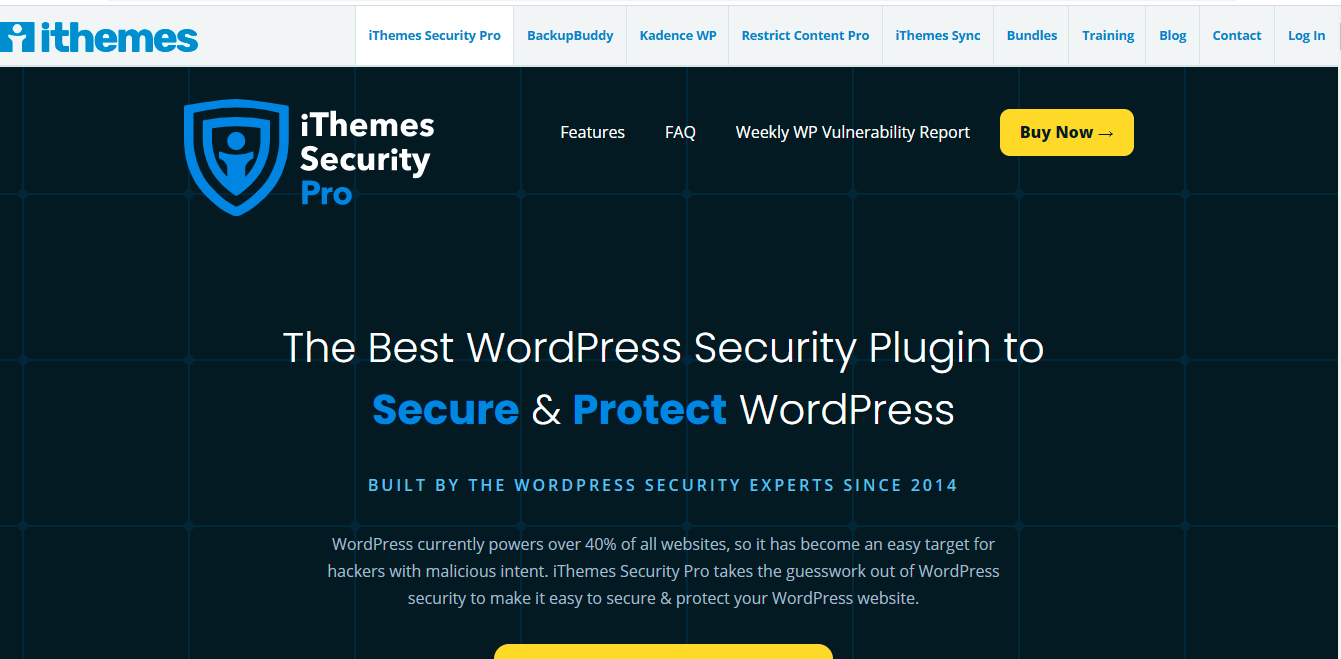 Main Features
Now, we will provide an overview of the features of both two plugins before going deeper with the comparison of the main features.
Features of Wordfence
Two-factor authentication, thanks to that you can protect your site from brute force attacks.
Monitoring site visitors and stop hack attempts. With the support of this powerful feature, you can know the IP address of the user, the time of login/logout
Automatically blocking feature can help you block any suspicious IP addresses or any users who try to log in so many times but fail
Threat defense feed is also one of the outstanding features. This feature helps you to update all important information from unlimited users over the world regularly.
Protecting your site at the endpoint. This is a unique feature of Wordfence in comparison with other cloud firewalls because this function ensures that the majority of user information will not be leaked out.
Lead password protection allows you to utilize proven passwords for admin logins
This plugin will immediately send you a notification whenever your site is attacked.
This plugin allows you to manage control multiple sites and anything from a single location thanks to the Wordfence Central platform.
The security scanner will help you detect holes, code injections, backdoors, malware,…by scanning all plugins, files, themes.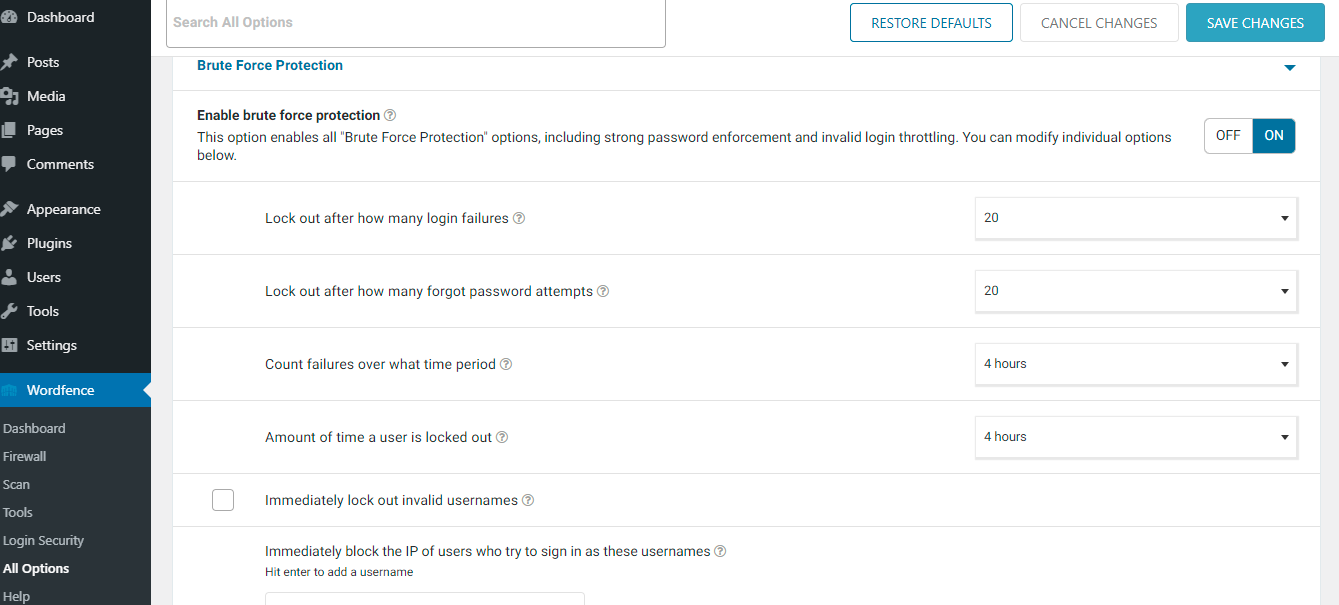 Features of iThemes Security
To stop brute force attacks. This feature enables you to limit user login attempts. In case, the users have many failed login attempts or with 404 errors, this plugin will automatically lock out these cases.
404 Detections. This function helps you detect all suspicious IP addresses, and then these accounts will be locked out.
File change detection. This plugin will monitor and send you a notification when having any changes on your sites.
Two-factor authentication features help you enhance the security of user accounts by requiring a username and password to be logged in.
The Away mode disables users to access the WordPress Dashboard on a schedule unstill this mode has been activated.
It enables you to change your login area's default URL or hide the login section. Thanks to this feature, you can prevent unauthorized visitors from trying to enter this section.
The database backups feature will help you create backups of your site's database.
With the support of Passwordless login features, you can confirm user identities without requiring login passwords.
The ability to keep track of all activities of user accounts on your site.
This plugin uses Google Recaptcha in cases such as login, submitting comments,…to protect your site from bots.
The notification center feature helps you to manage and configure email notifications related to various settings modules.
The plugin uses SSL to ensure that communications between browsers and the server are secure.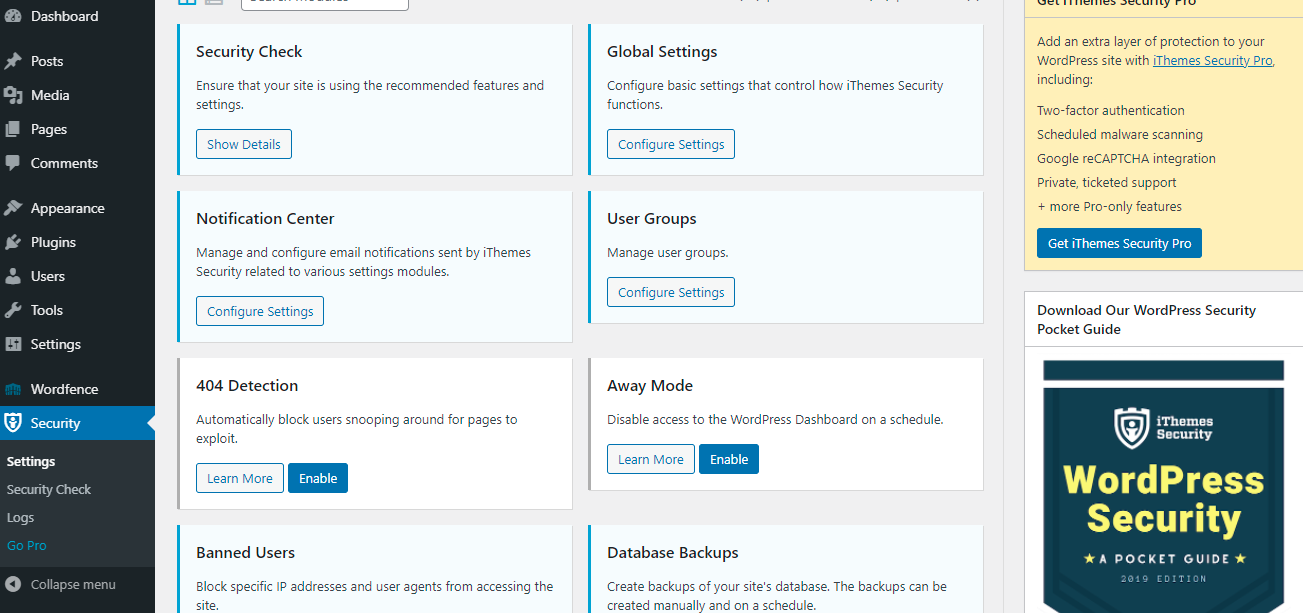 Below, we will compare some outstanding features of the plugins to find out the difference.
Database backups feature:
Database backups feature is considered one of the important features that help you keep a daily automatic backup of your site. iThemes Security provides you with this feature along with website security. Thanks to that, you can create backups of your site's database daily, weekly, or event monthly. In addition, you will get the entire database file in a zip format via email.
In contrast, Wordfence Plugin has no backup feature. Hence, you need to use an extra plugin to backup your entire sites, files, databases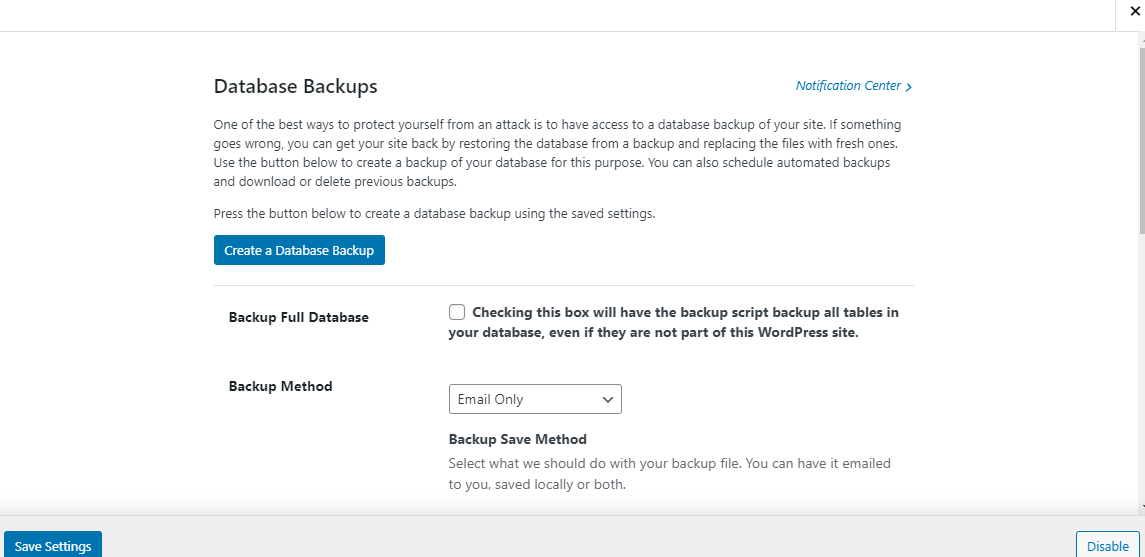 Malware scanning and removing feature:
The Wordfence comes with malware scanning and removing feature. With the pro version, this plugin also helps you automatically scan malicious code, vulnerabilities, holes on your site and then immediately remove them after detecting them.
However, iThemes Security Pro only offers a malware scanning feature. You will receive a notification about suspicious threats on your site via email, from that you will make the right actions timely.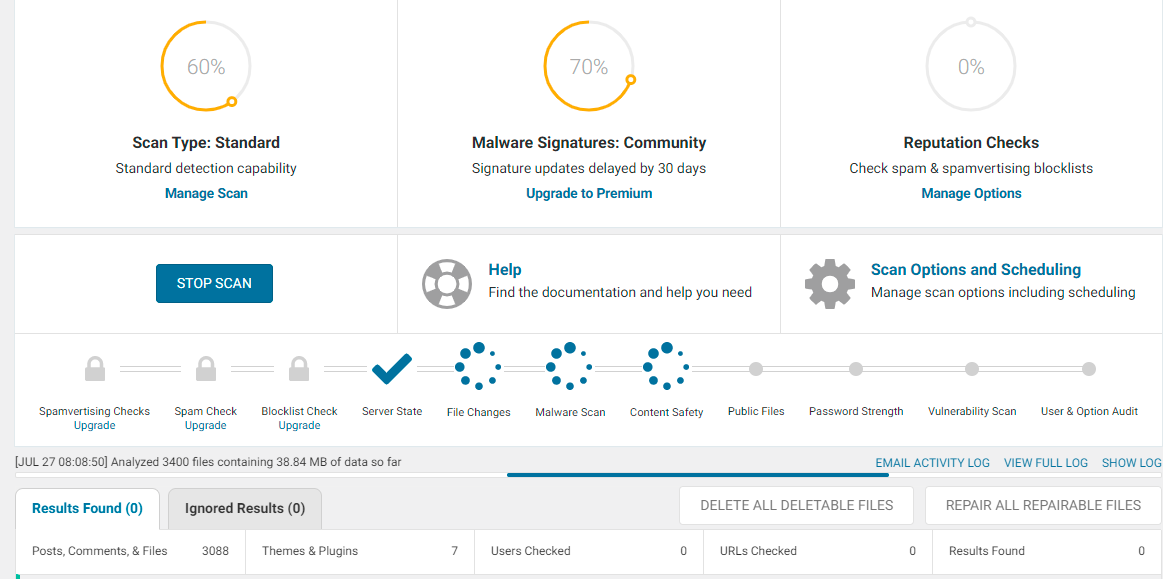 Threat protection and alert features:
Firstly, both plugins offer some excellent features such as two-factor authentication, alert modification, malware scanners, and file change detector. However, Wordfence has many good features to protect your content and website. On the other hand, iThemes Security does a good job of preventing unwanted threats with a lot of powerful features such as magic links, hide backend, 404 detection, trusted devices, and more function than Wordfence.
Overall, in this section, each plugin also provides a lot of excellent features, and nevertheless, iThemes still takes the upper hand in protecting your WordPress site from being hacked or any brute force attacks.
Pricing Plan
Generally, both Wordfence and iThemes Security have the free version, so you can completely try this version to see how they operate before upgrading to the pro version. However, the paid version of Wordfence is different from the premium version of iThemes Security. Therefore, we will discuss this section in detail.
Wordfence
| | | |
| --- | --- | --- |
| The number of licenses   | Discount %  |  Price per license |
|  1 |  – |  $99.00 |
|  2-4 |  10% |  $89.10 |
|  5-9 |  15% |  $84.15 |
|  10-14 |  20% |  $79.20 |
|  15+ |  25% |  $74.25 |
Wordfence Pricing Plan starts at $99.10 annually for a single website. If you need more than 1 site, then each additional site is paid additionally. However, it is obvious that if you own multiple websites at the same time. With the above Wordfence pricing plans, the more you buy, the more you save. As a result, you can save an amount of money by purchasing plans for several years.
iThemes Security
 Blogger
 Small business
 Gold

 $80

Per year

Secure & protect

1 site

 $127

Per year

Secure & protect

10 sites

 $199

Per year

Secure & protect 

Unlimited sites
As you can see, the blogger plan only begins at $80 per year for a single site. And it is extremely efficient for you when you own up to 10 sites whereas you only pay $127 per year. And all plans also offer unlimited customer supports and free plugin updates.
In this round, iThemes security is a perfect choice at a cheaper price.
Advantages and disadvantages
In this section, we list all advantages and disadvantages of each plugin to help you have an insight as well as make the right decision later.
 Wordfence
        Advantages
            Disadvantages

 The free version is available

Malware scans feature is excellent

Security incident recovery resources are available

Have a useful threat defense feed

Powerful DNS-level web application firewall

Have outstanding login security resources

Two-factor authentication ways

Easily view and track all activities of user accounts

Spam and threat protection happen in real-time

Regularly scan all files on your site

Automatically remove spam comments

Passwordless login is available

The pro version is so expensive

It requires having technical skills and knowledge to use

Taking up more bandwidth when scanning malware for the entire sites

Wordfence's priority support services only apply to Premium Plan users
 iThemes security
        Advantages
            Disadvantages

Free version available

Have robust login security feature

Easy to install and use

Offer many advantages configurations

Two-factor authentication and brute force attack protection

Have Database backups feature

Away mode

Malware scan

Hide login URL

More than 30 ways to protect your site

This plugin is only efficient for defensive efforts, so it is not truly an optimal solution.

It only gives you incomplete website protection against malware and spam.
Wordfence Vs iThemes Security:Conclusion
From our standpoint, iThemes Security outweighs Wordfence on all aspects of the security level, even though it doesn't offer an automatic malware scanner feature. However, iThemes has the ability to protect your site at least 90% better than Wordfence. In addition, iThemes also has a resealable price and more features-enables plugins than Wordfence. Especially, if you are a beginner, you should choose the plugin that has a user-friendly interface and easy installation. iThemes is a great solution for this requirement.
However, if you are running a prominent business site with a lot of complicated data, in case, Wordfence is a perfect choice.
Hopefully, the comparison between Wordfence and iThemes gives you a lot of necessary information to help you have the right decision. In addition, you can consult more WordPress Security Plugin here. Let's check them out.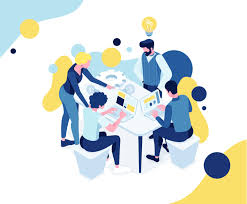 Latest posts by LT Digital Team (Content & Marketing)
(see all)