Which is the most effective WordPress Project Management Plugin for your site? Let's go over the following battle between WP Project Manager vs Upstream to get more useful information. That will assist you to make the right decision later.
Why should you install WordPress Project Management Plugin for your site?
If your aim is to build a successful website, it means that you will have to deal with a wide range of tasks, and projects at the same time. Therefore, it is really complicated for you to track and manage your projects effectively. However, with the support of the WordPress Project Management Plugin, you can make plans, manage tasks efficiently, monitor projects, and much more.
Moreover, all members of your team can get access to project documents, tasks, etc. Thanks to that, the project managers will be easy to monitor the current progress and give support in time. Some of these plugins can assist project managers to make quality control checks to ensure all their products and project meet the initial standards.
With the benefits, we have just mentioned, you can realize why the WP Project management plugin is important. Nevertheless, if you are a beginner, you don't know which plugin is better for your site. Therefore, in today's blog, we picked up the two outstanding tools to help you minimize your problem. They are WP Project Manager vs Upstream
Both plugins offer a wide array of powerful features and other useful functionalities. So, we help you see the differences of these plugins by comparing 4 points in detail including main features, ease of use, price, pros, and cons. Now let's dive into WP Project Manager vs Upstream comparison below.
WP Project Manager Vs Upstream: Background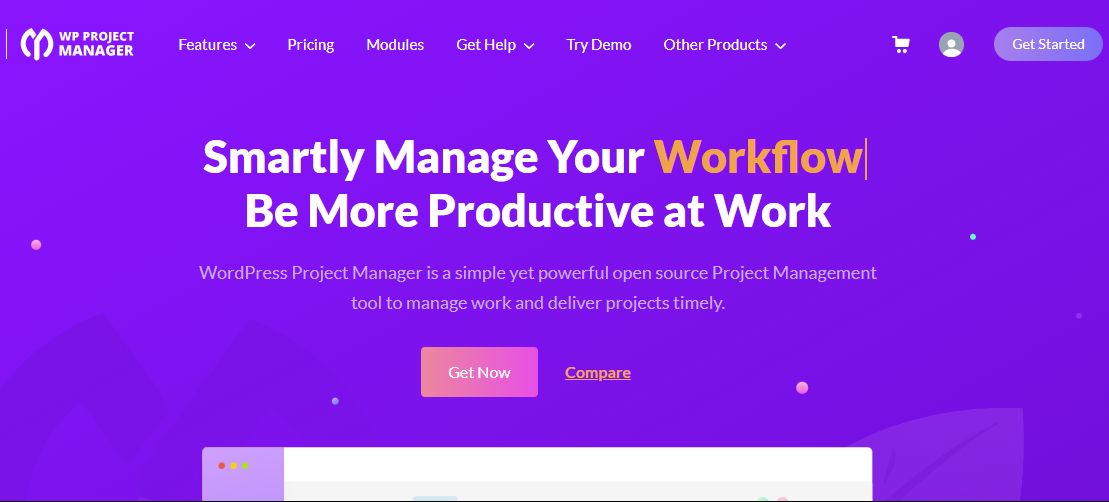 This plugin is considered as the advanced management tool that helps you properly organize and track all tasks and projects. In addition, they offer a wide range of powerful features, so you can have the ability to create, organize, assign projects, and meet all deadlines faster than ever. Moreover, it also comes with a user-friendly interface, so it is easy for you to set up and use.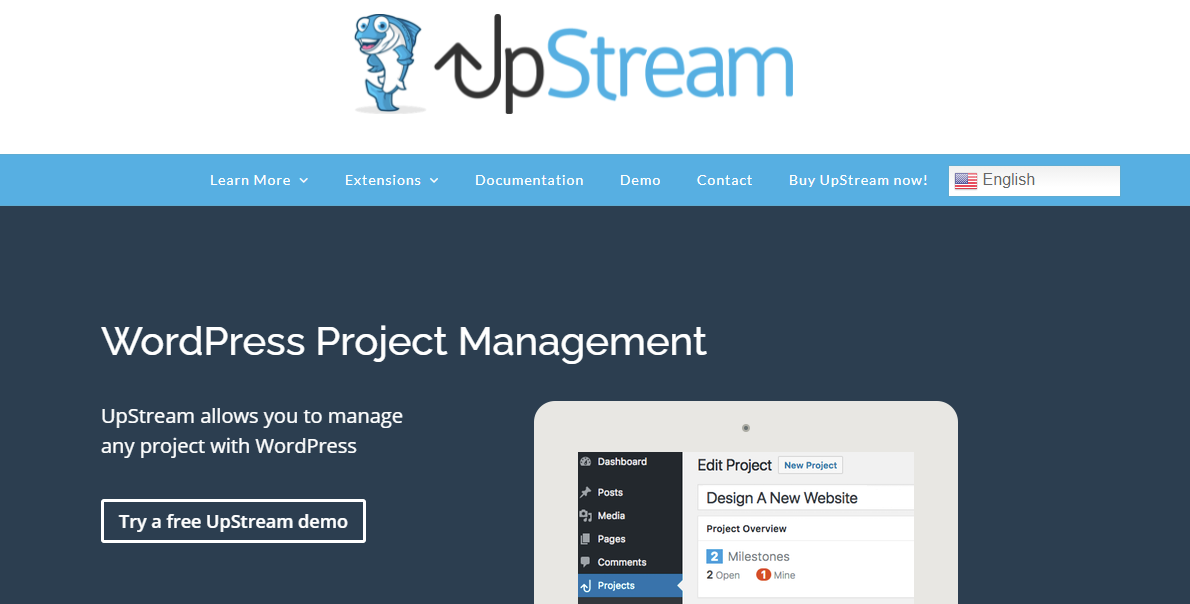 Another serious rival of the WP Project Manager is the WP Project Management plugin developed by Upstream. This plugin gives you the capability to manage any type of project right away from your dashboard. Moreover, by using this plugin., you can keep track of all activities on your website including bugs and tasks assigned to other members of your team. WP Project management comes with a front-end appearance where your customers can view each project's progress on your site.
One of the great things is that it allows you to customize all aspects of your projects, for example, you can edit templates, change the colors, and much more.
Main features
WP Project Manager
This plugin offers a wide range of powerful features including:
Add as many to-do lists as you want with title and description
See the progress bar on the list
Add comments on individual to-do lists and to-do's
Mark to-do as complete/incomplete
Assign messages and to-do lists on milestone
Allow adding attachments, add comments to discuss
Upload and share files on messages and comments
Send Email notification
Pusher integration
Add tasks, assign users, assign a due date
Upstream
WP Project Management also provides a lot of the following features to help you monitor all projects effectively:
Assign tasks & milestones to users, add start & end dates
Track and manage all projects from  start to finish
Notes and progress of the tasks & milestones
Assign the bug to a user, add a status, severity of the bug, a description
Allow the clients to log in to view their projects
The ability to customize front-end templates
Label Projects, Clients, Milestones, Tasks, Files & Bugs
Add your own custom fields
Key features differences
Although both plugins come with plenty of effective features, each plugin has its own unique features. We will analyze some points to help realize the differences.
This is a very necessary feature to help you keep up to date on all your project. Therefore, WP Project Manager provides you this feature for the free version, so it is easy for you to view what is happening in a single project, and all your project. Moreover, inside each project, you can view a calendar giving a color-coded overview of your due date.
However, for the WP Project Management, you have to purchase Calendar Extention or upgrade to the premium version to experience this function.
Assign messages, task lists, and tasks to each milestone
This feature is available in the free version of WP Project Manager which helps you easily create separate milestones for each project. Especially, you can also assign messages, keep them private from people you choose. On the other hand, in WP Project Management, milestones only assist you to successfully plan, follow and manage your project from start to finish. Besides that, you only assign tasks and milestones to the user in a generic way.
Upload files on messages & comments
WP Project Manager allows you to add attachments or files directly on messages or comments. Thanks to that, you can see all project files in one place with flexibility. While WP Project Management doesn't offer such a feature.
With the advanced Permissions feature of Upstream's free version, you have the capability to read, edit, delete, and create permission for each milestone, project, task, file, or bug. Moreover, you can also hide individual fields from certain users in each project, task, milestone,…In contrast, to use this functionality on WP Project Manager, you have to upgrade to the pro version.
Ease of use
WP Project Manager
After completing the installation and activation process, you just go to Project Manager> Project on your dashboard and click on New Project to start a new project. At here, you can fill in project names, set categories, add descriptions, add users. And don't forget to click on Add New Project.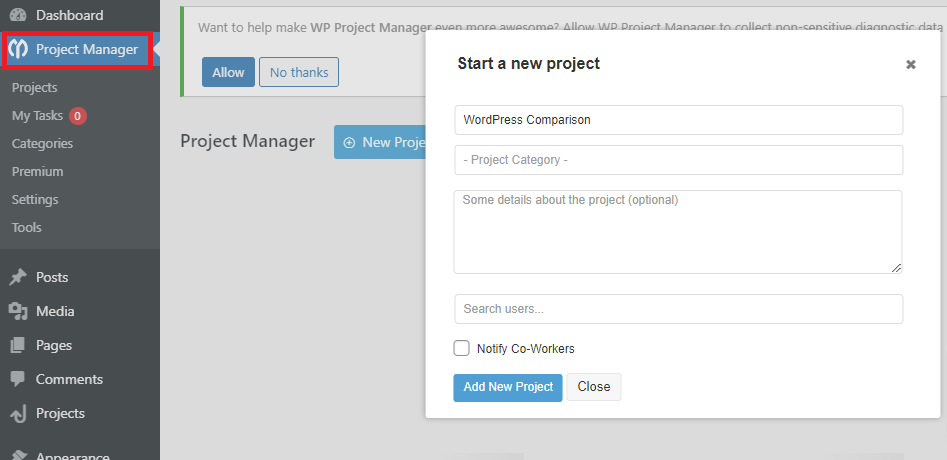 At here, there are 8 tabs that allow you to easily monitor and manage all activities of your projects such as: show the task list created, discuss with your group member, assign tasks for your employees, set up milestones, and manage your files.
In the Overview tab, you can assign users to join your project. In addition, the graph will show you a snapshot of the discussion, task list, task, comments, files, milestones.

To check and manage personal tasks, just switch My Tasks that is used as an individual dashboard for an employee's progress. It allows employees to add tasks and filter by themselves. Besides, they can view their graph progress by clicking on the overview tab.

Upstream
Just like other project management plugins, to create a project on WP Project Management, firstly you have to install & activate it and then configure settings.
After that, simply go to Projects> Projects on your dashboard. Quickly click on "New Project" to start
Fill in the basic details on the right of the screen such as Project Owner, the Client, Project Status, and start and end dates.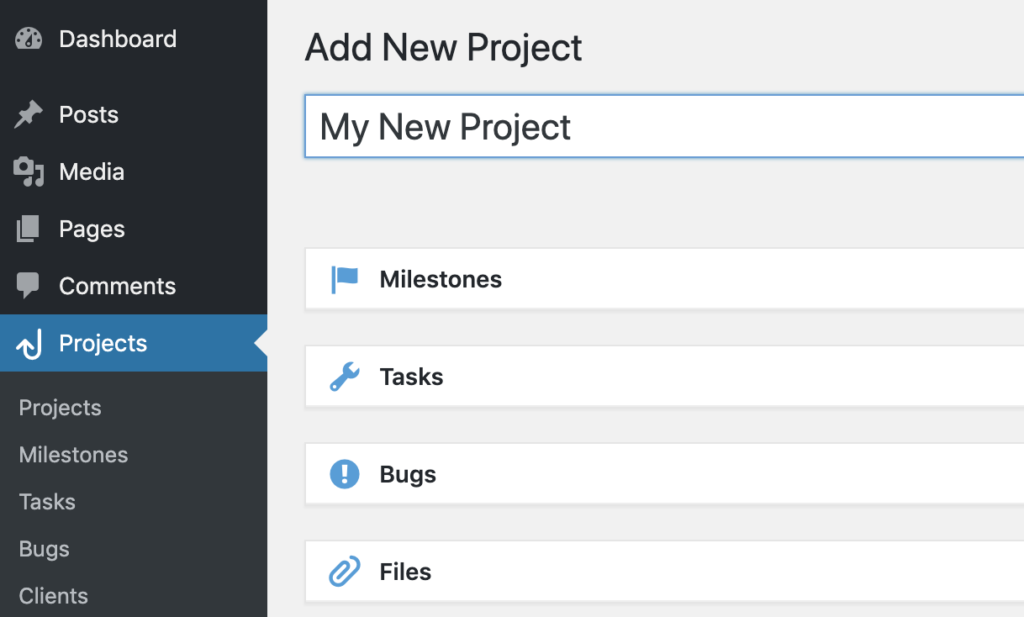 To view an overview of your project, let's click on the Permalink at the top of the page, it will take you to the frond-ent view of the project.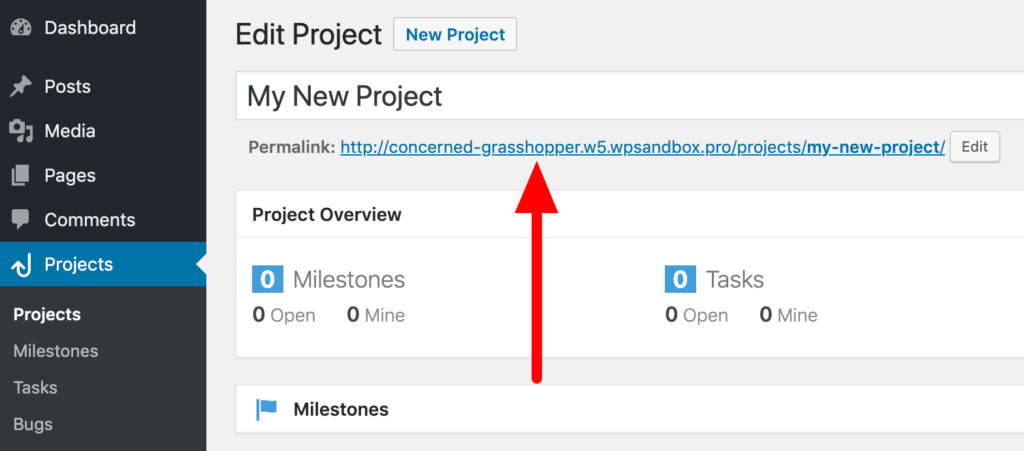 Additionally, it allows you to view a list of all projects that you are currently participated in by click on "all project"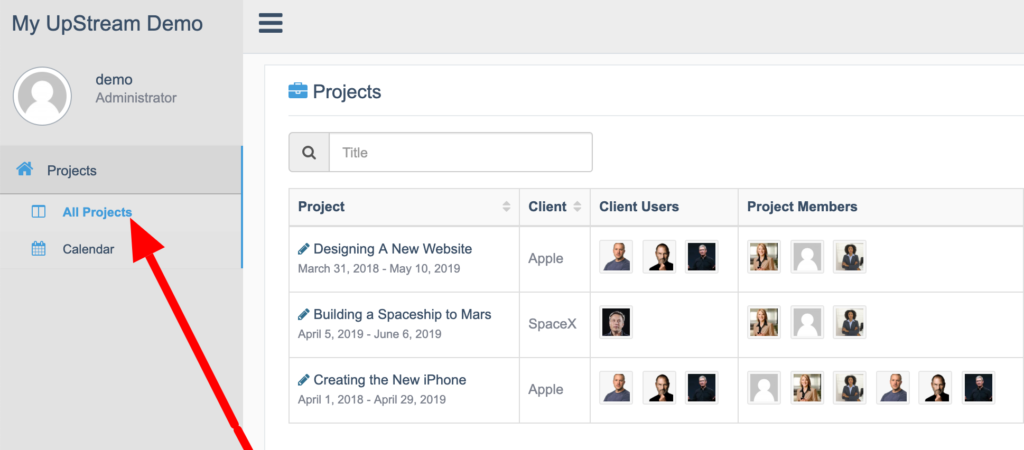 For example, we would like to continue with "Designing a new website Project", just click on it. Let's take a look at this designing a new website on the left-hand side. You can a list of powerful features including timeline, calendar, milestones, and much more. You can click on each feature to explore.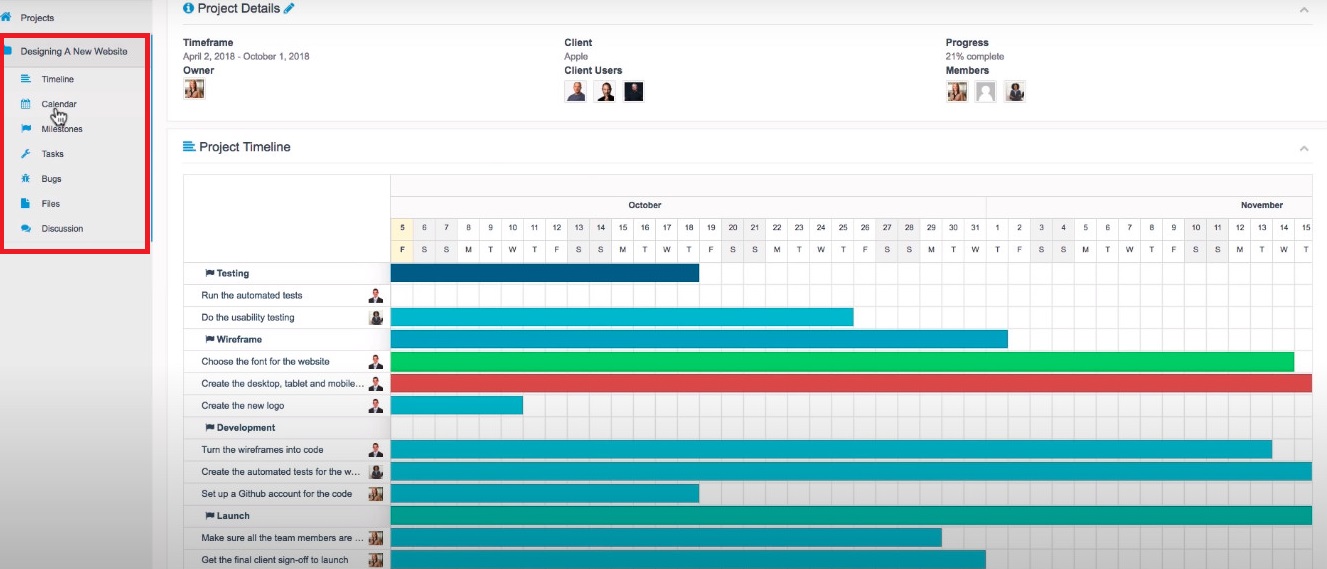 Prices
WP Project Manager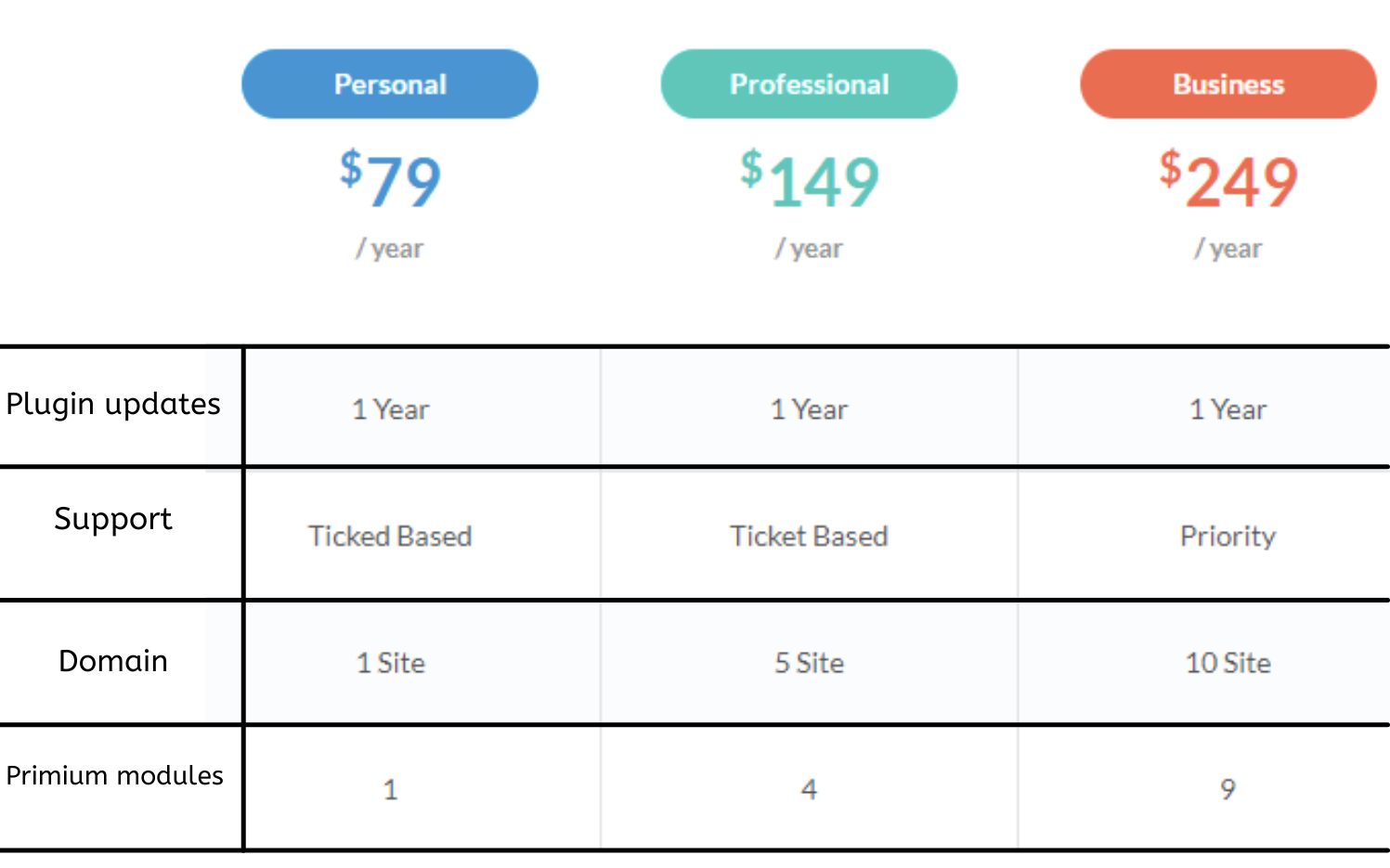 In addition to the free version, WP Project Manager allows you to upgrade to the premium version with 3 flexible packages including Personal, Professional, and Business. The Paid version starts at $79/year and applies to 1 site. If you are having a lot of domains, the Professional and Business plans are more suitable for your site.
In addition, you have more chances to use a wide range of intensive features and functionality. Thanks to that, you can track and manage all your project more effectively.
Upstream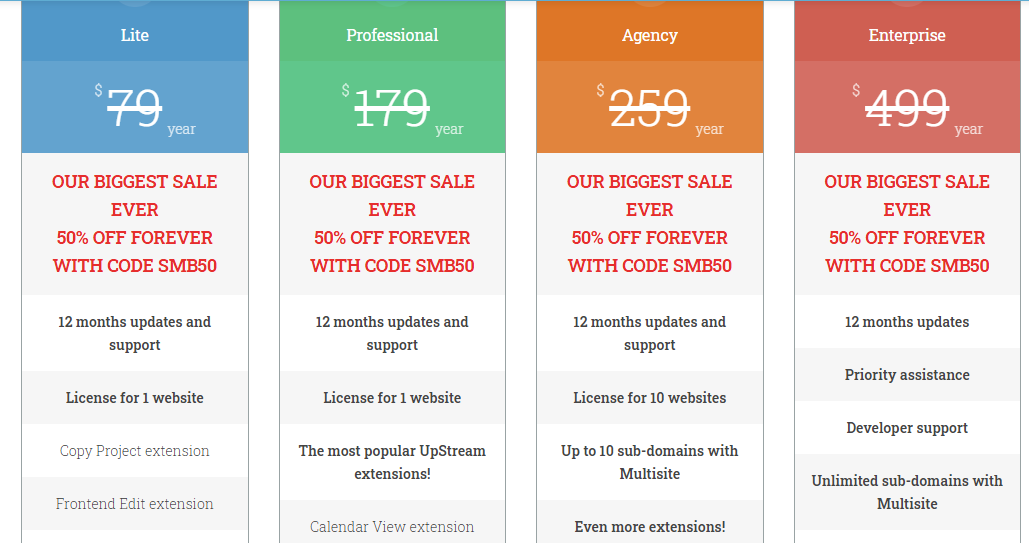 Upstream offers you a free version to experience before upgrading to the Pro version. There are 4 packages for the paid version consisting of Lite, Professional, Agency, Enterprise. Let's take a look at the price of each package on the table above, you can see that the cost for each plan is quite high-priced compared to other project management plugins.
The Pro version starts at $79 for the Lite package and however, it includes some limited features. If you want to enhance the capability of your website, you should upgrade
Pros and cons
WP Project Manager
 Pros
 Cons

Offer overview dashboard
Integrate with Woocommerce(Premium)
Easy to use
A lot of powerful features
Have a progress bar on the lists

 Depend on your own hosting server that can make interruption for the flow of work
Drag and drop functionality is only available for the premium version
Upstream
 Pros
 Cons

Bug tracking
Developer friendly
Allow you to custom user roles & capabilities and permissions
Offer calendar view

More expensive than other plugins
Cannot be integrated into existing themes
A lot of advanced features are only available on the Premium version
WP Project Manager Vs Upstream: The final result
In general, each plugin has its own advantages and disadvantages. However, both WP Project Manager vs WP Project Management is beneficial in monitoring and managing all projects on your website effectively. So which is better? Honestly, it is difficult for us to answer this question exactly because it depends on your purposes and budget.
Nevertheless, whether we can base on the price section to make the right option. It is obvious that WP Project Management offers a quite expensive price for the Pro version. Thus, in order to save your budget, we recommend using WP Project Manager as the most optimal solution for your site. Moreover, one of the significant things is that WP Project Manager offers you a lot of useful features while Upstream only gives these features in their paid license.
And what is your opinion? Which one is more suitable for your website? If you have any queries or need our support, don't hesitate to mention them in the comment box below.
What's more, if you want to refer to other options, let's visit WordPress Project Management Plugin. Last but not least, have you owned a professional and eye-catching website? Luckily, our Free WordPress Themes provides a lot of beautiful designs that will make a new appearance for your website. They are fully compatible with the two plugins mentioned. Don't hesitate to access and get one.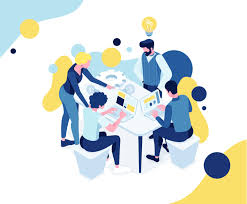 Latest posts by LT Digital Team (Content & Marketing)
(see all)