Are you struggling to choose between WP Travel vs WP Travel Engine? This article gives you the differences to help you make the right choice. Now, let's discover.
Why should you use WordPress Travel Booking Plugins for your site?
Many studies have shown that tourism is one of the fastest-growing industries in the World in recent years. Most people prefer to travel to relax after a lot of exhausting working days, explore plenty of new countries, or enhance their knowledge. With such a rapidly increasing demand, tons of travel companies, travel agencies need to create an online website to meet all the customer's requirements including online reservations, booking flight tickets, generating package tours, offer discount codes, and much more.
It is obvious that you will find it difficult to manage and control multiple tasks for your travel website effectively. However, nowadays, there is a wide range of powerful WordPress Travel Booking Tools that will assist you to handle all these tasks efficiently as well as improve your customers' satisfaction.
In today's blog, we collected the two most significant plugins based on the number of active users and many positive reviews. They are WP Travel and WP Travel Engine. Although both of them come with a lot of powerful features and functionality, we believe that you have not realized the differences between them. Now, let's dive into the following sections to get more useful information, and then you can make the right decision for your site.
WP Travel Vs WP Travel Engine: Background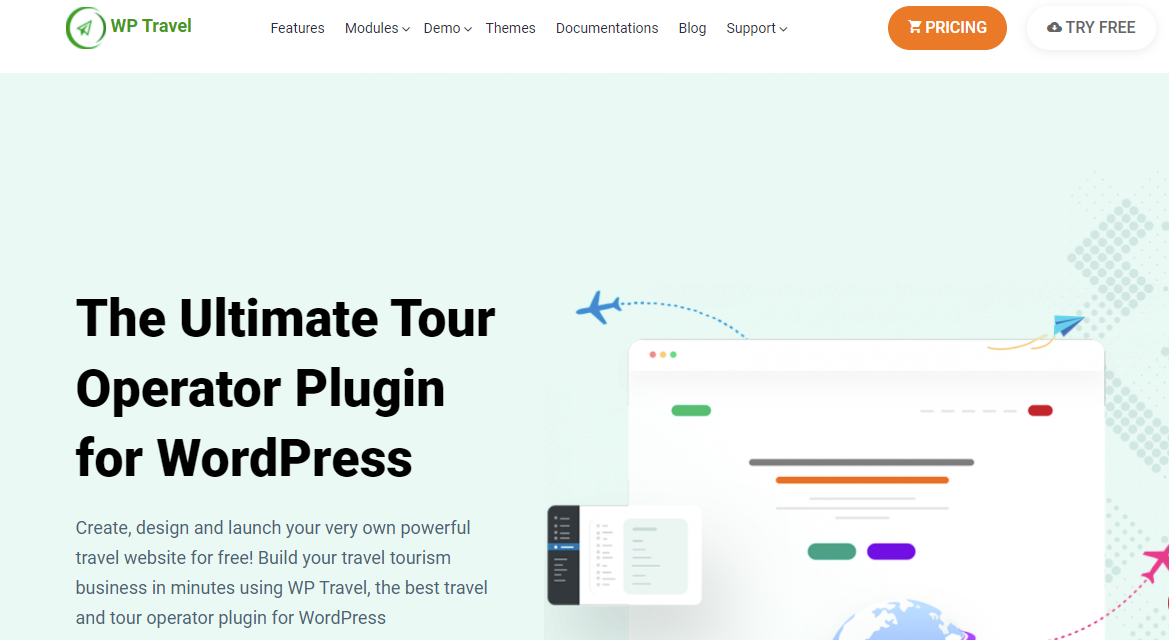 The first significant WP Travel Booking Plugin that we would like to introduce is WP Travel. By using this plugin, you can generate customized itineraries and travel packages quickly. It offers you a wide range of powerful features, thanks to that, you have the opportunity to build your desired travel booking website quickly as well as save a lot of time to complete other tasks.
Moreover, it is fully compatible with a lot of the best Travel Agency WordPress Themes. This plugin offers all things for a successful travel website that you are looking for such as receiving payments, itinerary schedules, and much more.
WP Travel Engine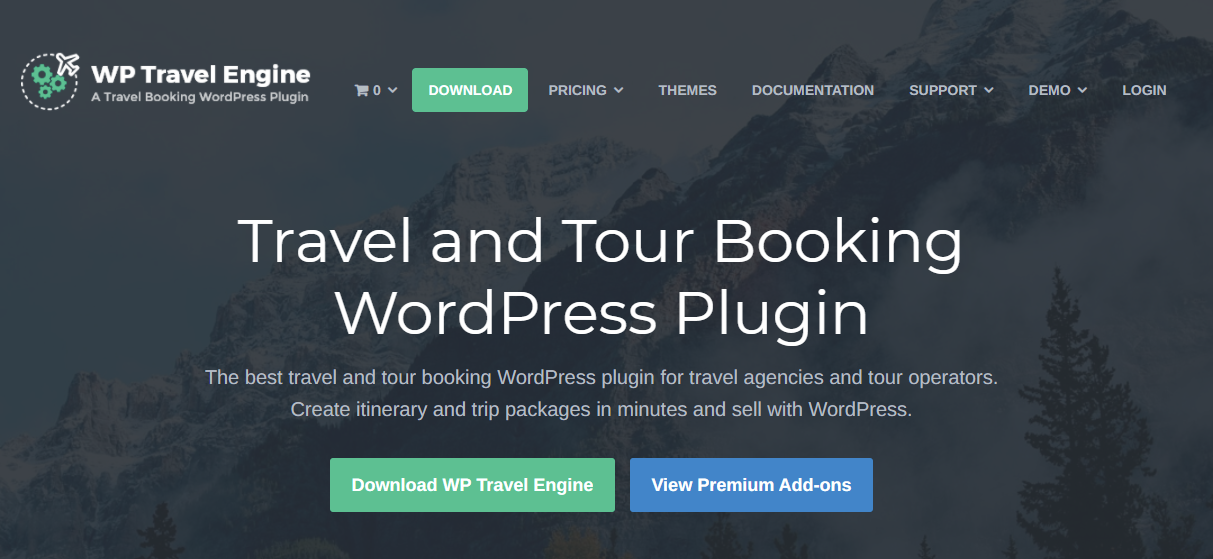 Another serious opponent of WP Travel is WP Travel Engine Plugin. This tool allows you to generate a travel booking website quickly without touch any line of coding. In addition, there are tons of useful and creative features such as user history, partial payment, group discounts, and much more. Moreover, you can build many packages of tours for your tour operators or travel agencies. What's more, it comes with plenty of powerful extensions that are necessary for your travel booking website.
Main features
| | | |
| --- | --- | --- |
|  Features |  WP Travel |  WP Travel Engine |
|  Unlimited tour packages |  ✔️ |  ✔️ |
|  Trip facts |  ✔️ |   ✔️ |
|  Set currency |  ✔️ |  ✔️ |
|  Tour Extras |  ✔️ |  ✔️ |
|  Payment options |  ✔️ |  ✔️ |
|  Coupon code |  ✔️ |  Pro |
|  Rating and reviews |  ✔️ | Pro |
|  Email notification |  ✔️ | ✔️ |
| Payment Processing | ✔️ | ✔️ |
| FAQs and Itinerary Timeline | ✔️ | ✔️ |
|  Full data reporting |  ✔️ |  ❌ |
| Tax option | ✔️ | ❌. |
| Google Map | ✔️ | ❌ |
| Enquiry form | Pro | ✔️ |
| Activities and destination page | ✔️ | ✔️ |
Ease of settings
WP Travel
After installing and activating this plugin, you go to WP Travel > Settings in your dashboard. This will bring you to the settings page. Have a look at the left-hand page, you will see 15 tabs displayed. However, if you use the free version, you only need to configure some main tabs. You can leave other tabs because it is only used for the paid version. It is easy for you to click on each tab and enable sections to suit your demands. Once you have configured settings yet, don't forget to click on the Save changes button at the bottom or top of the page.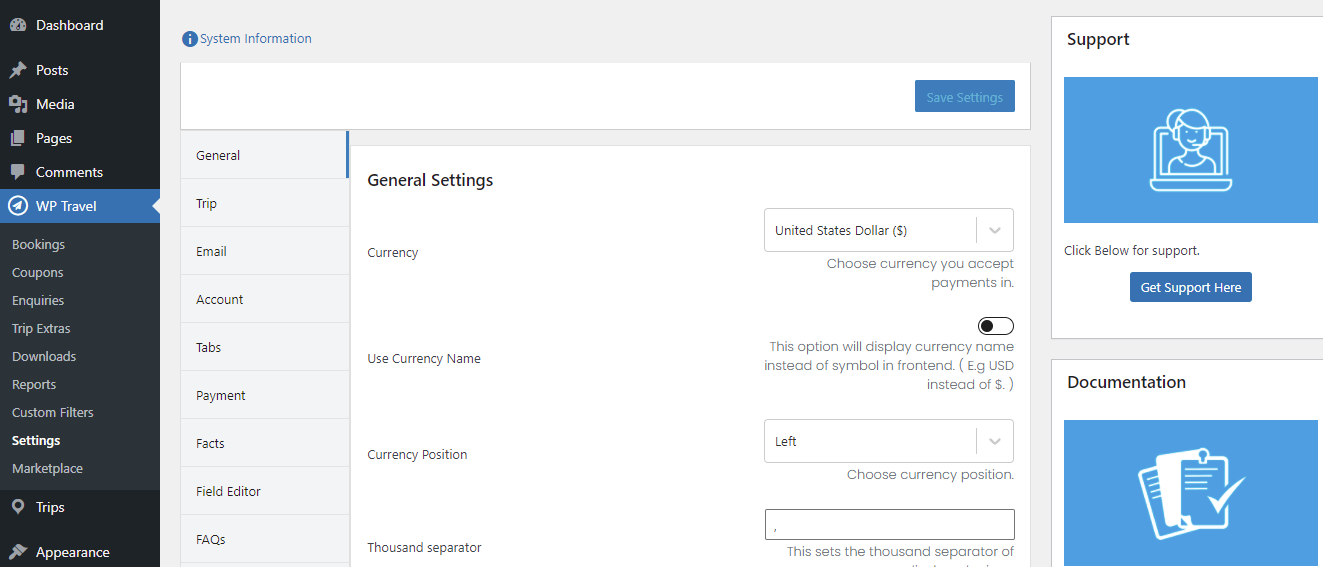 WP Travel Engine
First of all, WP Travel Engine seems to have a more intuitive interface compared to WP Travel. And all buttons are styled clearly. There are 6 main tabs displayed at the top of the page. In each tab, it will have more other sections, you read sections carefully and simply click on the buttons to enable or choosing your option from a lot of available options.

Pricing plan
WP Travel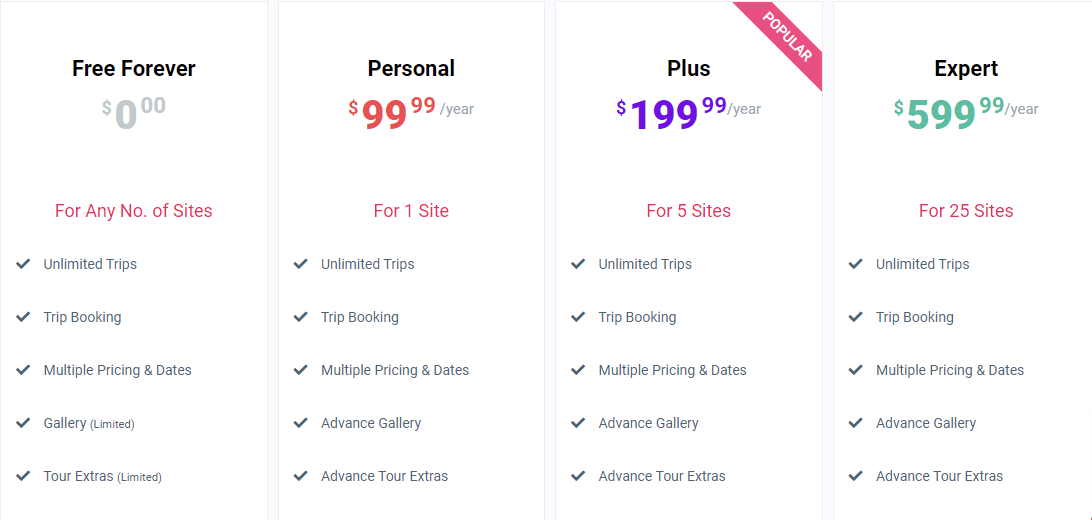 WP Travel provides you with both the free version and the paid version. When you purchase the Pro version, you can experience a lot of advanced add-ons and features. Although the free version also offers limitless options to help you build your travel website, with the support of the pro version, you will get more add-ons to enrich your travel website and allow you to get more conversion and sales.
The Pro version of WP Travel comes with three packages including Personal, Plus, and Expert. The Personal plan starts at $100/year and only applies to 1 site. If you are running more than 5 sites, you should purchase the Expert plan for $600/year.
WP Travel Engine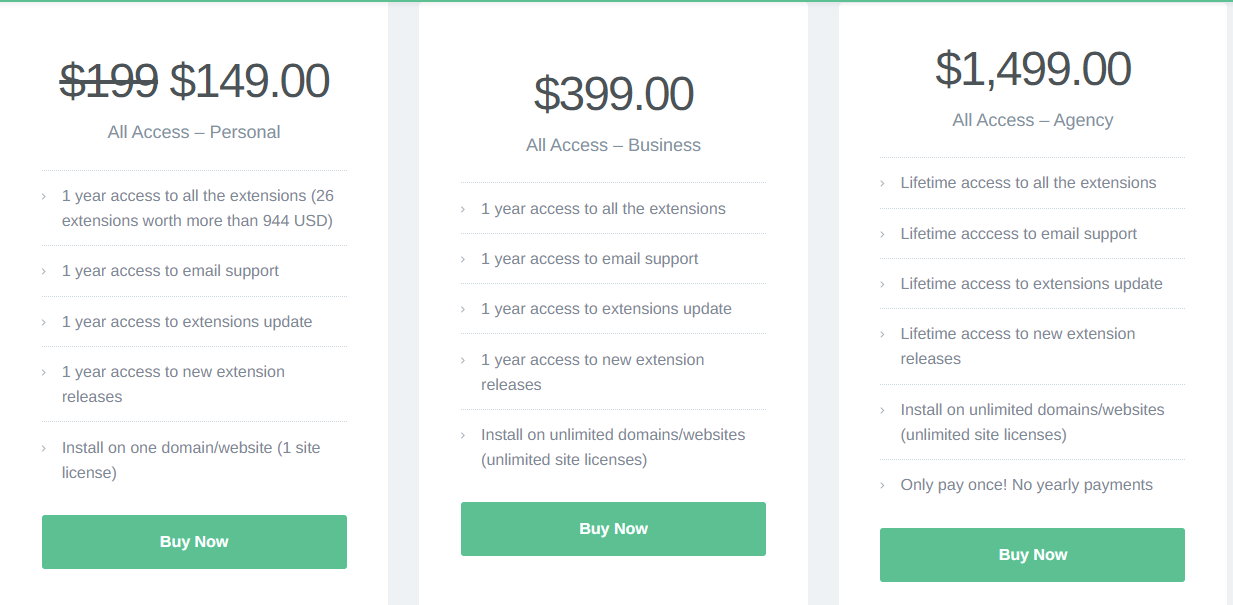 In addition to the free version, WP Travel Engine comes with the Premium version including three plans: Personal, Business, and Agency. The paid version of this plugin starts at $149/year. We have to admit that the price of the WP Travel Engine is more expensive than the WP Travel Pro. For example, you only pay $600/year to use the Expert packages of WP Travel, whereas you need to pay double the amount to purchase the  Agency plan of the WP Travel Engine.
However, if you don't see All packages suitable for your needs, this plugin still allows you to add specific functionalities to your website. It means you can purchase individual extensions to enhance the functionality of your travel website from the extensions catalog.
Pros and Cons
WP Travel
 Pros
 Cons

 A lot of essential features
Reasonable price
Great support
Easy to use

 The free version has some limitations
WP Travel Engine
 Pros
 Cons

Great and quick support
Easy to use and install
A lot of excellent features
Easy to use
Intuitive interface

 More expensive than other plugins
WP Travel vs WP Travel Engine: The final verdict
We have just compared 4 aspects between WP Travel vs WP Travel Engine. Hopefully, through this article, you had your own choice. In our perspective,  we highly recommend using WP Travel as the best solution for your site. Because it not only offers all the essential features that you are looking for but its paid packages also have a reasonable price. Therefore, it is completely suitable for your budget, if you want to upgrade to the pro version to enhance the functionality of your site.
On the other hand, if you are having a rich budget, WP Travel Engine is not a bad choice. Since the free version also has many useful and necessary features for your site. In addition,  the premium version of this plugin also provides a lot of unique features that don't include in other solutions.
And what is your opinion? Which plugins are you going to use? Don't hesitate to share with us your point of view. Or if you have any questions, please leave a comment below.
Moreover, you can access WordPress Travel Booking Plugins to refer to other options. By the way, our Free WordPress Themes has a wide array of appealing, high-quality themes and templates that are fully compatible with the two mentioned plugins. Let's visit and try one for your site.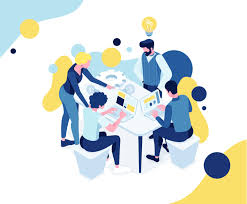 Latest posts by LT Digital Team (Content & Marketing)
(see all)