If you are working on the WordPress platform, it's easy for you to recognize the two such popular plugin suites which are Crocoblock and Ultimate Addons for Elementor. These suites provide a plethora of tools and features to enhance your WordPress website, but which one is the right fit for you? Today, we'll dive into a comprehensive comparison of Crocoblock Vs Ultimate Addons to help you make an informed decision.
Crocoblock Vs Ultimate Addons: General Introduction
Crocoblock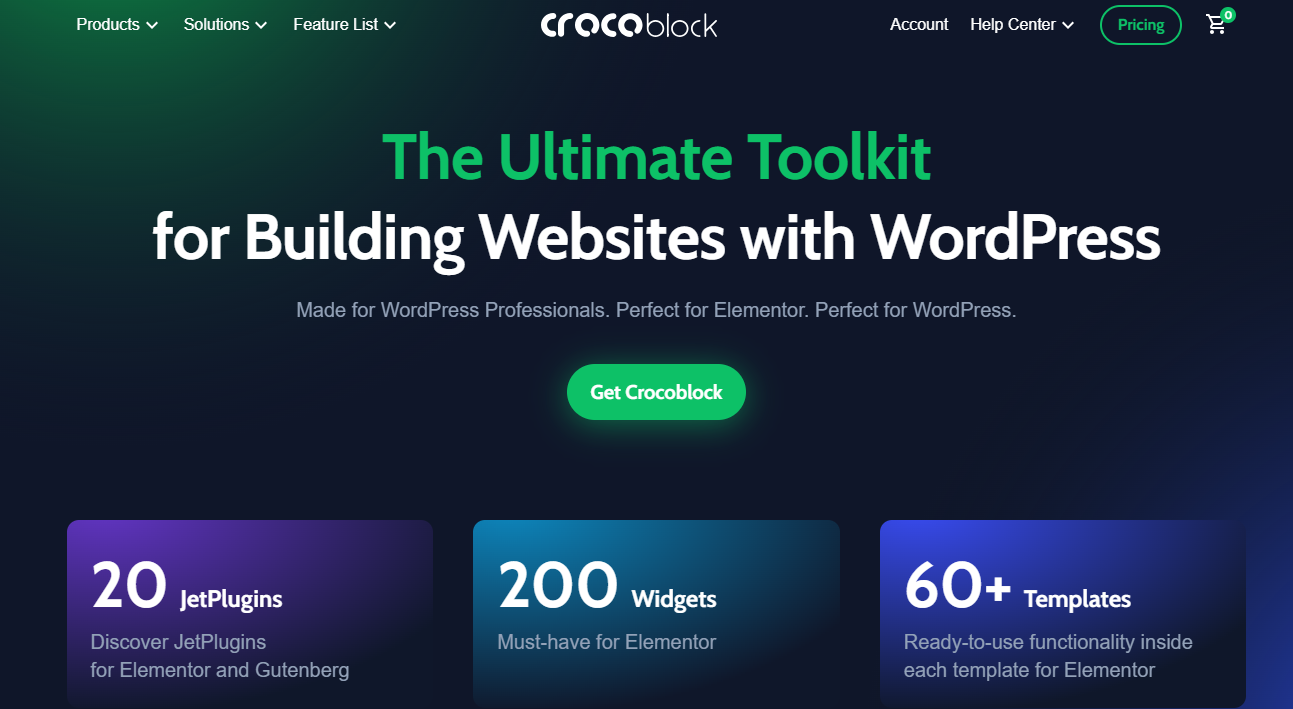 Crocoblock is a comprehensive toolkit designed for WordPress enthusiasts, developers, and agencies. It is built to support the Elementor page builder and Gutenberg editor and aims to provide everything you need to create dynamic and feature-rich websites. As you can see in the image above, Crocoblock provides 20 Elementor plugins and Gutenberg plugins, 200 widgets for Elementor only, and more than 60 pre-made Elementor templates. However, in this blog, we will focus on aspects related to Elementor. For a detailed introduction to Crocoblock, please visit to read the Crocoblock review here.
Recommended themes that work well with Crocoblock plugins
Ultimate Addons For Elementor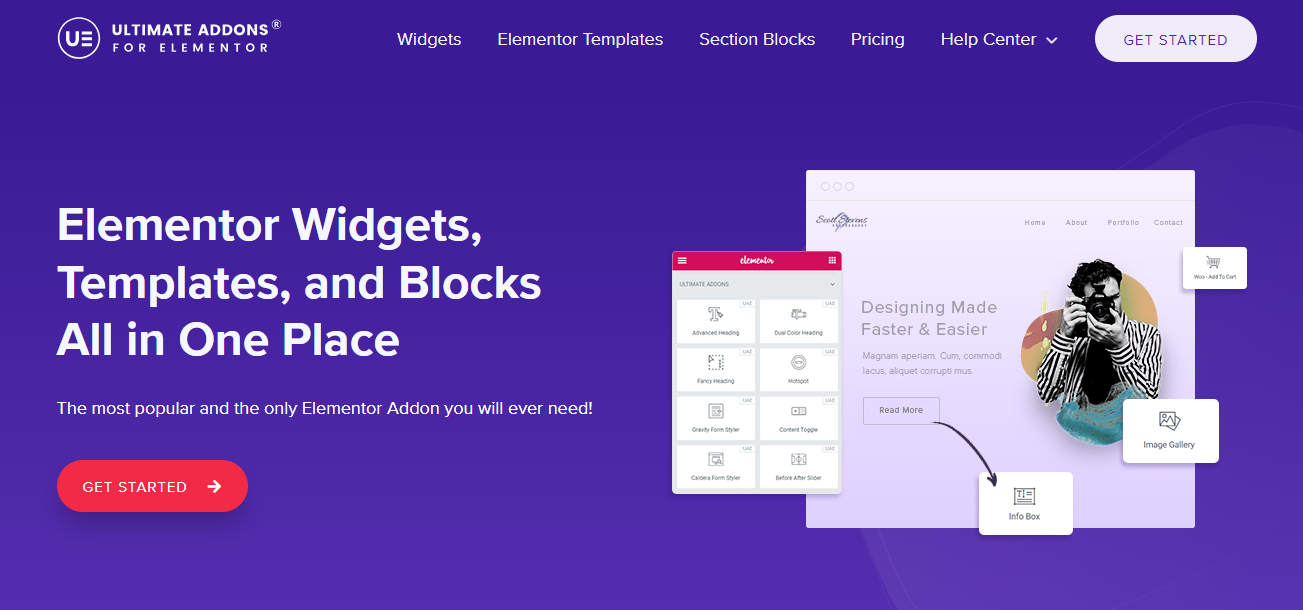 Ultimate Addons for Elementor is known as a plugin that enhances the popular Elementor page builder by providing additional widgets and features. It's known for its user-friendly interface and wide range of creative options. This plugin comes with 40+ Elementor widgets, 200+ section blocks as well as more than 100 ready-to-use website templates. Thanks to this tool, it's easy, flexible, and time-saving for you and other users to add more elements during the design process to make the website look more eye-catching.
Although both Crocoblock Vs Ultimate Addons for Elementor are convenient and useful for those who look for an Elementor toolkit and pre-made templates, there are some differences between them which are highly competitive on the market. Therefore, it's time for us to move on to the next section to discover the differences. And then, you can easily select the most suitable one for your site.
Crocoblock Vs Ultimate Addons: Deep Comparison
In this section, we will cover the similarities and differences between Crocoblock Vs Ultimate Addons in six aspects, including widgets & elements, templates & design, ease of use, integration & compatibility, documentation & support services, and pricing plan. Now, let's get started!
Widgets & Elements

Crocoblock provides more than 20 plugins and 200 widgets that assist you to enhance your Elementor website in multiple ways. In other words, with the help of Crocoblokc, you can smoothly build a dynamic website with various flexible structures. In addition, since its widgets are diverse for you to add to your Elementor and then use them to design your site in your own ways. Especially, Crocoblock also included some WooCommerce widgets, which means it will support you to build an eCommerce store or online shop without any trouble.
What's more? In case you need to build a complicated navigation system, Crocoblock may be suitable for you as it offers you various menu types and allow you to add not only static but also dynamic content to your site.

On the other hand, Ultimate Addons for Elementor focuses on design functionalities more than other aspects. That's why you can get a large number of widgets for site designing that are easy to use for not only experts but also newbies. Besides that, there are some widgets available for you to display products on your eCommerce website in various styles. Ultimate Addons for Elementor also comes with a How-to schema widget that allows you to build up a blog website with SEO-friendly features.
In general, in this round, Crocoblock wins because its functionalities are more diverse than Ultimate Addons for Elementor.
Templates & Design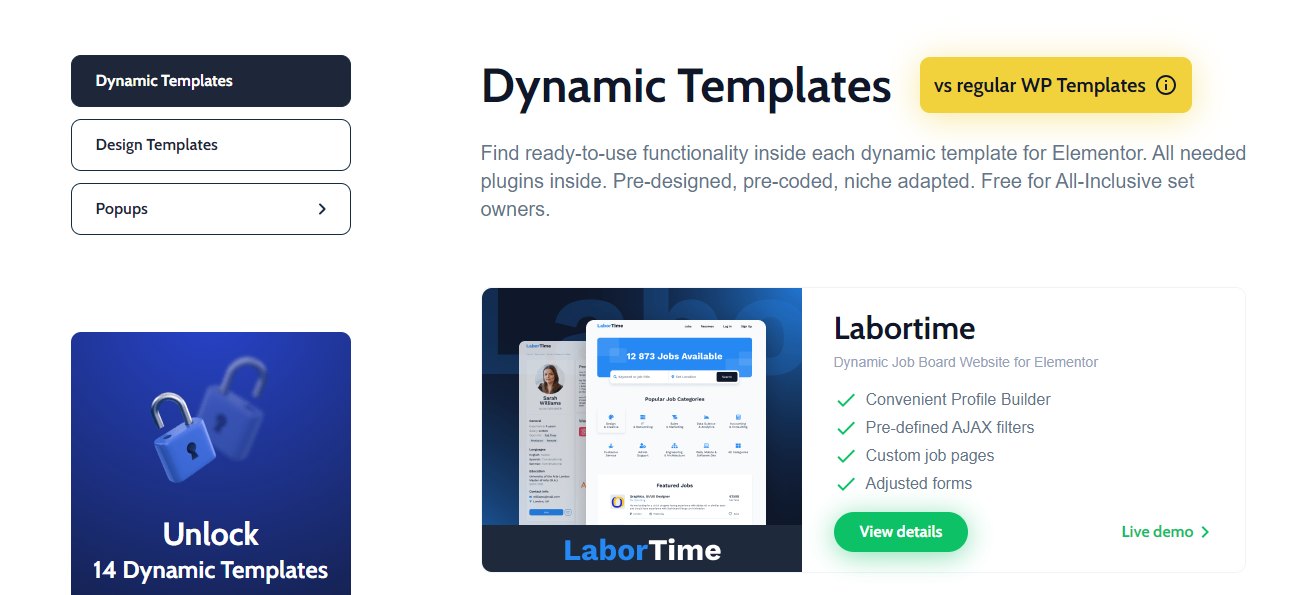 Crocoblock covers two types of templates, they are dynamic templates and design/static templates. With dynamic templates, you are able to choose the best suitable one for your business without worrying about coding or designing. They are pre-designed, pre-coded, and ready to use.
Conversely, if you need to use a static template that allows you to customize top-to-bottom, Crocoblock can meet your requirements with 47 available templates for you to do that and then launch your site without any difficulties. The topics of the templates are quite varied so you can choose to fit your business.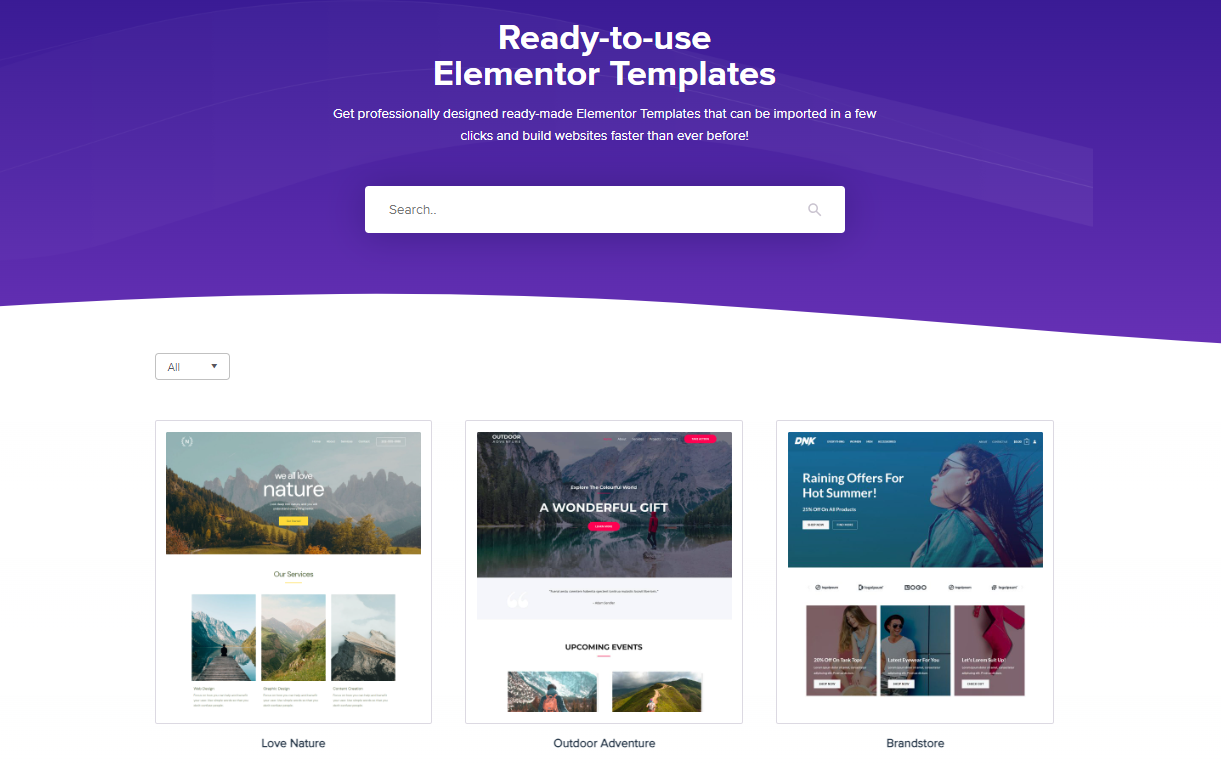 While Crocoblock offers two template options, Ultimate Addons just excels in ready-to-use templates that speed up the design process. There are more than 200 templates that are ready for you to import and then modify via Elementor in your own way.
All in all, although the number of templates from Crocoblock is less than Ultimate Addons, Crocoblock's templates are more flexible and advanced than Ultimate Addon's ones. So, Crocoblock Vs Ultimate Addons draw in this match.
Ease Of Use
In terms of beginner-friendly, Ultimate Addons is more beginner-friendly, with a streamlined interface and widgets designed for ease of use. On the other hand, Crocoblock caters to users with some experience in web development, offering advanced features that require a bit more learning.
When mentioning the learning curve, Ultimate Addons has a gentler learning curve due to its integration with Elementor and user-friendly widgets. On the contrary, Crocoblock might have a steeper learning curve, especially when utilizing its dynamic templates and developer-focused features.
Therefore, the Ultimate Addons will win since it is easier to use than Crocoblock.
Integration & Compatibility
Crocoblock plugins are designed to work well together, ensuring a smooth integration between their various components. They are also generally built with compatibility in mind, meaning they should work with most well-coded themes and plugins. However, due to the custom nature of some Crocoblock components, there might be occasional conflicts with other plugins, especially if they modify similar aspects of WordPress.
Ultimate Addons for WordPress is also designed to be compatible with a wide range of themes and plugins. It aims to extend the capabilities of the default block editor without causing conflicts or compatibility issues. However, like Crocoblock, there's always a possibility of conflicts arising when used alongside other plugins that modify similar aspects of the WordPress editor or website functionality.
In short, in this round, Crocoblock Vs Ultimate is tied.
Documentation & Support Services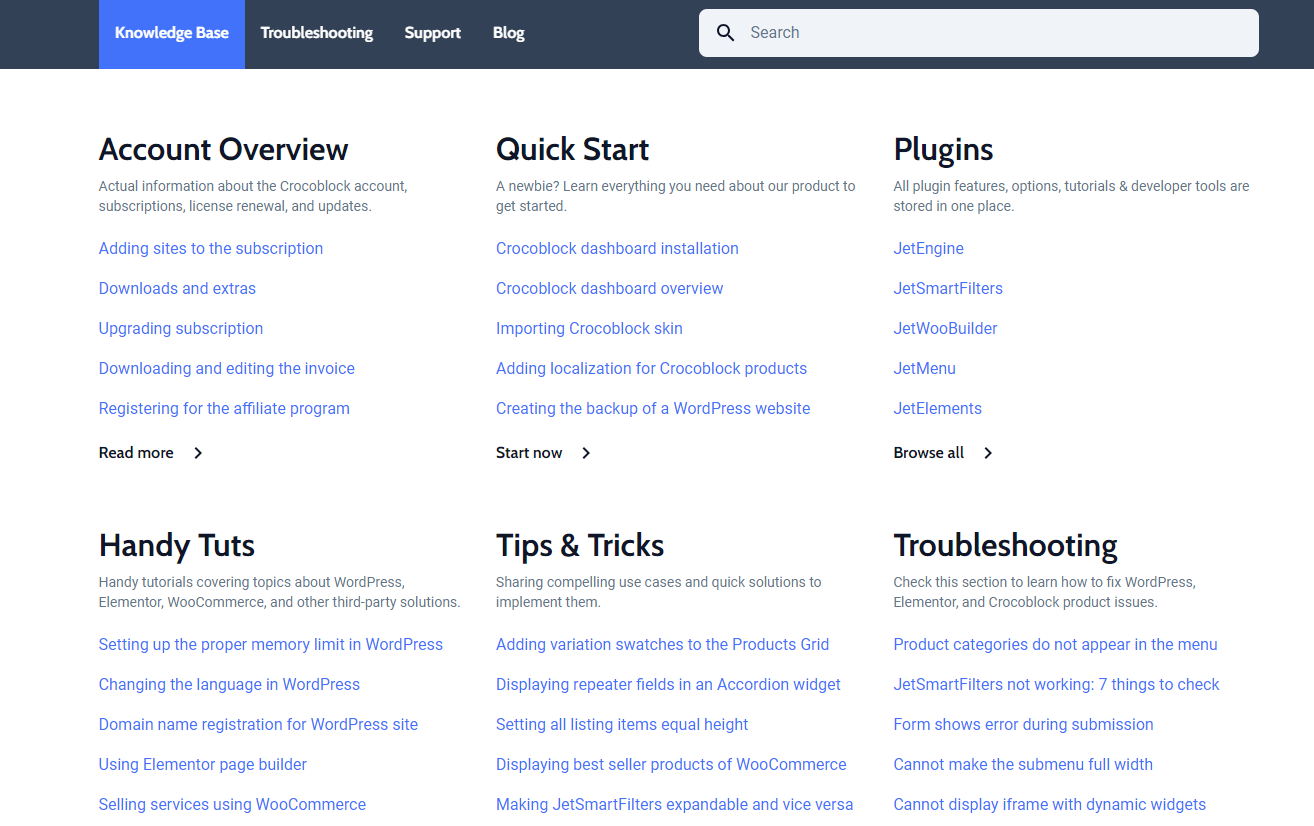 In terms of documentation, it's easy for you to see that Crocoblock provides a vast knowledge base full of detailed and up-to-date information. The documentation includes an account overview, plugin installation and use, tips and tricks, troubleshooting, and more tutorials related to WordPress, Elementor, WooCommerce, and other third-party solutions.
With support service, Crocoblock offers support via chats, zoom calls, or tickets during office hours as per EET. There are some methods for you to get support. It depends on you and your requirements. Everything seems flexible and effective.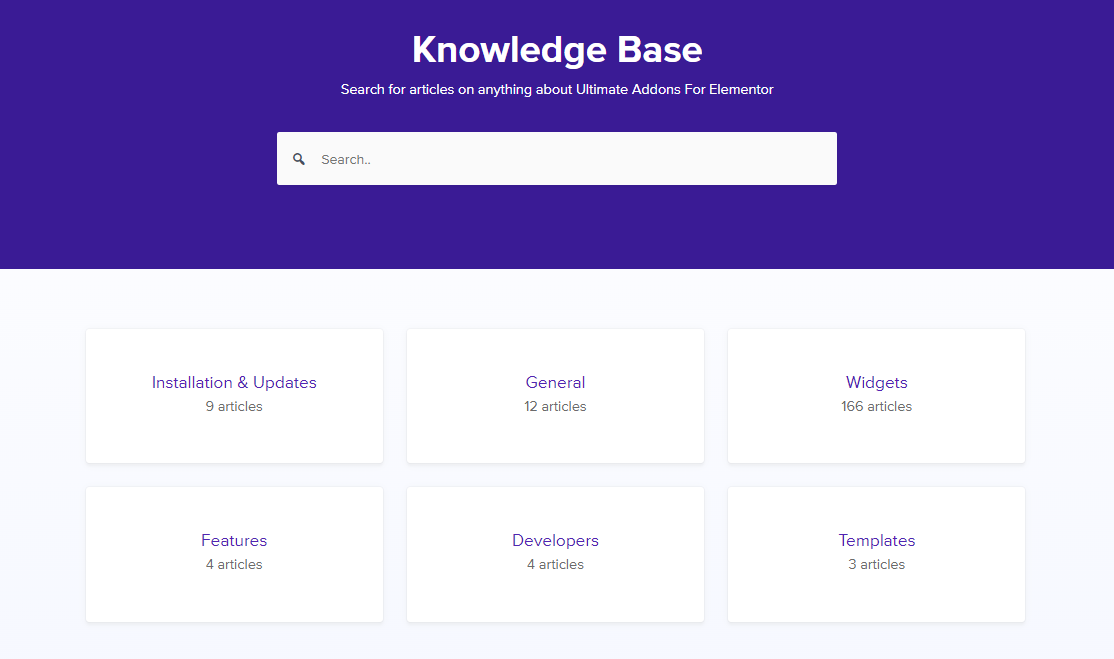 While the knowledge base from Crocoblock is diverse and complete, the knowledge base of Ultimate Addons seems sketchy in both quantity and content. The Ultimate Addons just provides fewer articles related to installations and updates, features, developers, and generals. The only good point of the plugin is that it comes with 160+ articles for widget tutorials. However, the information about troubleshooting or tips & tricks doesn't appear.
If Crocoblock supports via live chat or Zoom call, Ultimate Addons for Elementor publisher just gives their customers a ticketing system to get support service. So, their customers have to wait for responses within 24-48 hours.
Therefore, in this round, it's clear that Crocoblock beats Ultimate Addons on both Documentation and Support services.
Pricing Plan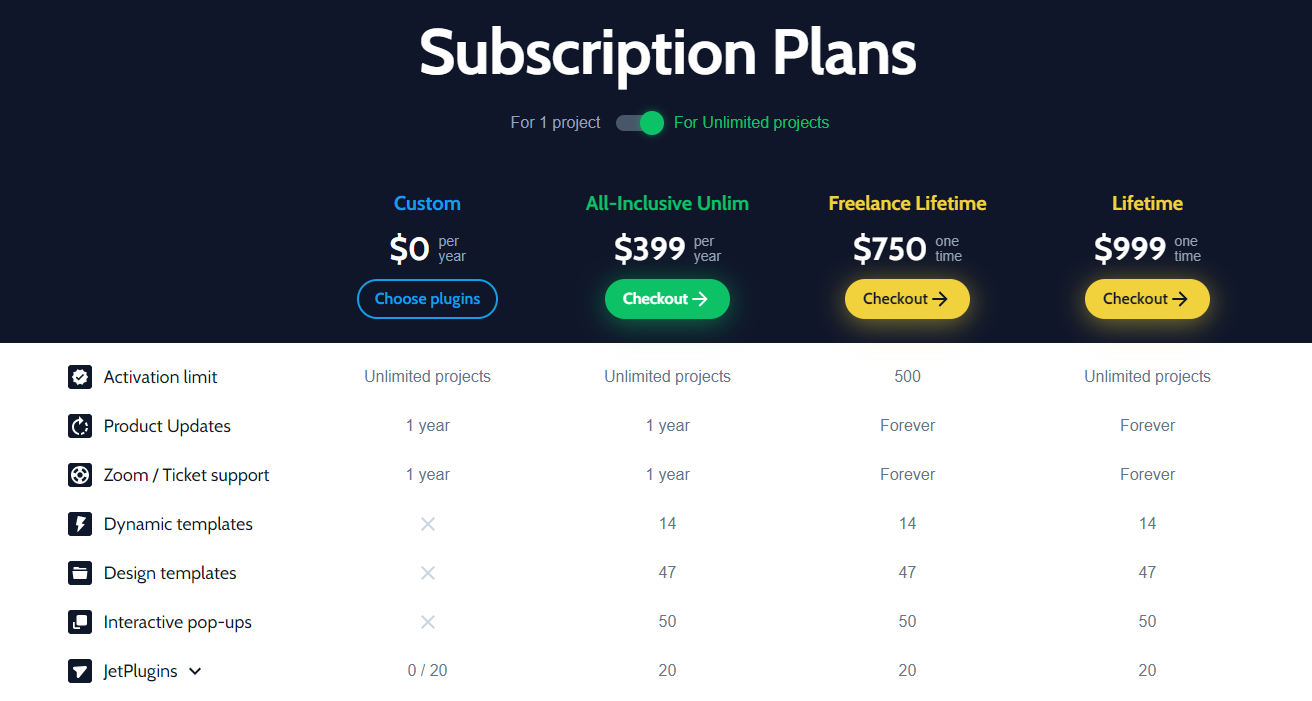 The pricing plan of Crocoblock includes some options for small, medium, and large businesses. With each plugin, Crocoblock gives flexible plans for purchasing each suitable plugin. They cost from $15 to $43 depending on the functionalities.
The all-inclusive plan: This plan will provide with you a complete set of plugins. If you want to use it for one site, it cost $199/year. You need to pay $399/year if you need to use it for unlimited projects.
The lifetime plan: There are two options for you to choose from. Freelance lifetime with $750 for 500 sites and a lifetime plan for unlimited sites with $999.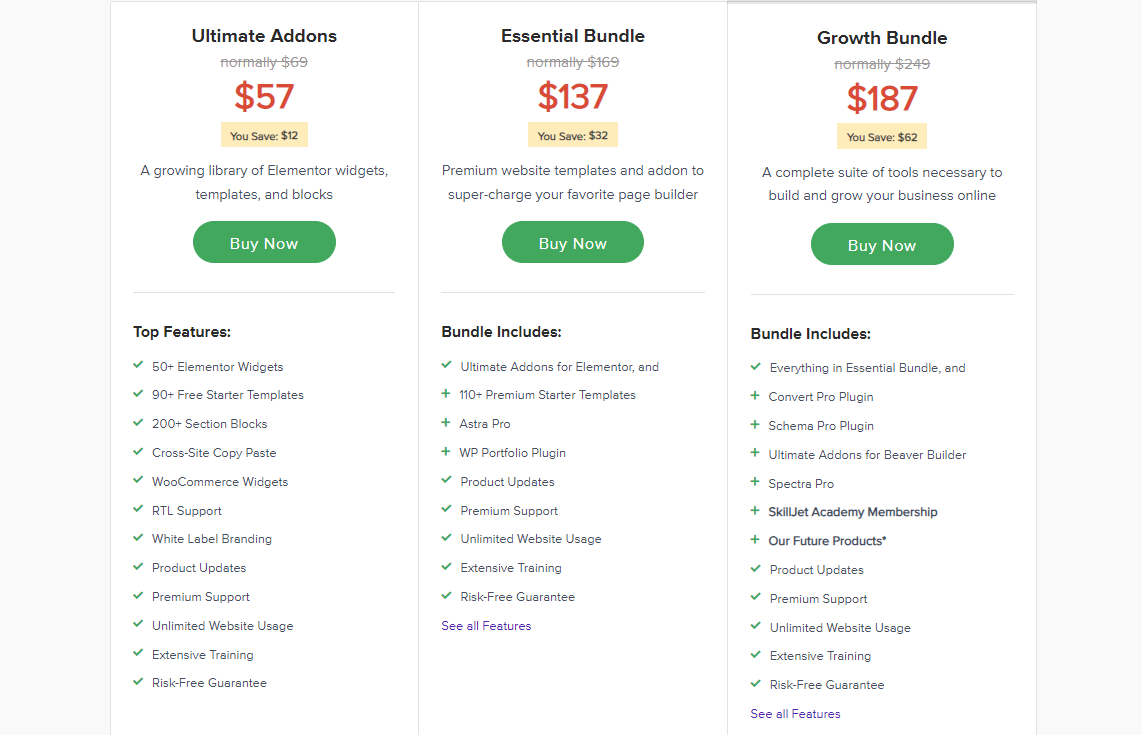 There are three paid options with annual and lifetime versions for different businesses to select.
Ultimate Addons plan ($69 – annual & $249 – lifetime): It provides all premium features as well as some website templates.
Essential Bundle plan ($169 – annual & $849 – lifetime): The option will bring you all premium features, a library of templates, combined with Astra WP theme as well as a WP Portfolio plugin
Growth Bundle plan ($249 – annual & $1249 – lifetime): The option will cover all functions of the Essential Bundle Plan plus more plugins from Brainstorm Force which is the official publisher of Ultimate Addons for Elementor. This plan also gives you the ability to access a growing library of online courses for web-design specialists.
In general, both Crocoblock Vs Ultimate Addons have many pricing options for their clients to choose the most reasonable one.
Trendy WordPress themes that you must try, it's FREE!
Final Verdict
To sum up, despite you have to pay for using Crocoblock or Ultimate Addons for Elementor, it's undeniable that both of them are useful for building and developing websites based on Elementor Page Builder. However, after comparing, we believe that Crocoblock is the winner in the battle of Crocoblock Vs Ultimate Addons. If you are just a start-up or run a small business, Ultimate Addons for Elementor is more suitable for you. On the other hand, if you are running a medium or large business, it's a good suggestion for you to try Crocoblock to enhance your site.
What's more? If you have any questions, feel free to leave your comment below, so we can reply to you shortly. Last but not least, in case you need to change your WordPress site appearance, don't forget to explore the list of free WordPress themes here.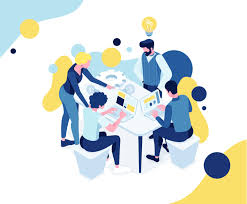 Latest posts by LT Digital Team (Content & Marketing)
(see all)