Introduction
For many websites, displaying an author bio box is essential. It helps the reader to know who the author of the article is. In addition, it also showcases information related to the author, such as name, age, occupation, major, interests, social network links, etc.
In thousands of WordPress themes, there are themes that have a built-in author bio box display feature for you to easily edit and display directly. However, some others do not have this function. Therefore, in the tutorial blog today, we will help you address this problem with extremely effective methods. Let's find out now!
Why do we need to add an author bio box in WordPress posts?
First of all, when they read the author's information, they will feel more confident in the content or information that the author provides.
In addition, for WordPress websites with many authors, this is also a good way for the readers to find out and connect with their favorite authors conveniently.
What's more? If you expect a lot of users to contribute rich, accurate, and engaging content to your site, an author info box would be a great idea to engage them.
Methods to add an author bio box in WordPress
There are many ways for you to use to do that. In this blog today, we will introduce to you 3 ones:
Using a WordPress theme
Utilizing a WordPress plugin
Using WordPress sidebar
Adding author info box with your WordPress theme
If your theme already has an author info box under each post, it becomes easy and simple because you just need to install to display it.
Now, let's go to Users -> All Users, then choose the user you want to edit and showcase their profile by clicking on 'Edit'.

After that, you need to scroll down and at 'Biographical Info', you can fill out the author's information in the blank box.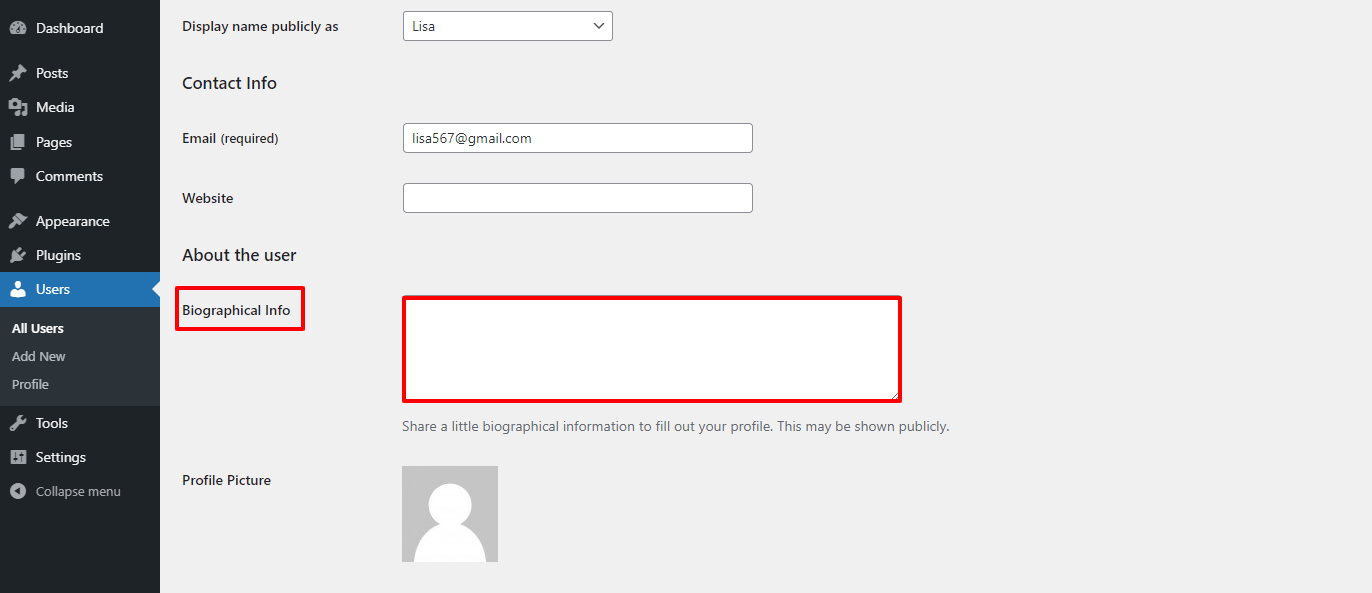 Besides that, you can use this function to add the website link of the author. What's more? It also allows you to insert the gravatar for the author. However, in case your users in general, and your authors in particular, want to showcase their avatar, don't miss the blog on how to add profile picture of author in WordPress.
After finishing all the changes, don't forget to press the 'Update User' button at the end of the setting page.
Showcasing author bio box by using a plugin
If your theme doesn't come with an author info box feature, why don't you choose to install Starbox which is one of the most wonderful WordPress Author Box Plugins?
In order to use this plugin, you need to install and activate it first. Let's go to Plugins -> Add new. Then, search the name of plugin 'Starbox' on the search bar and select the first plugin to install.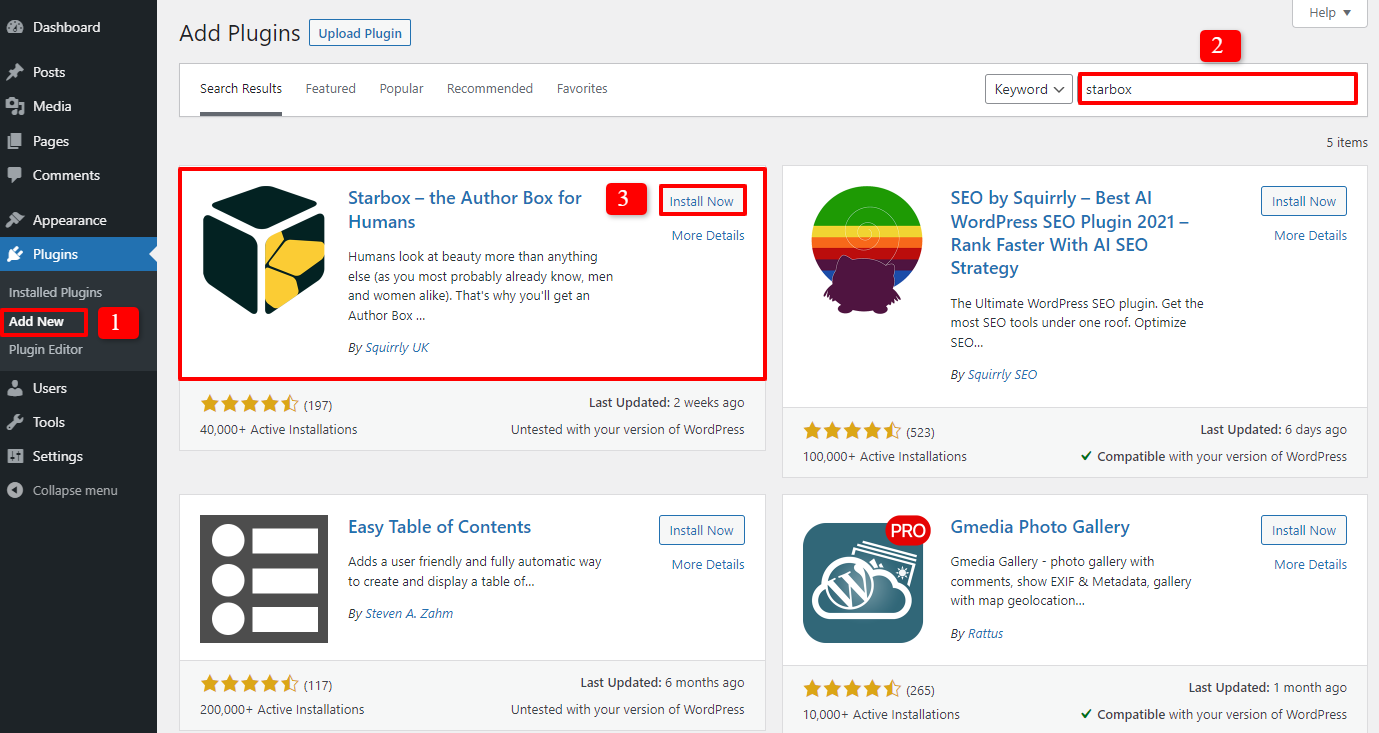 After installing and activating, you need to go to Users -> All Users -> choose the use you want to display the author bio and click Edit.
Now, let's scroll down. In the Job settings part, you can fill out the bio info as well as other related information. You can see the preview of the author box above.
Furthermore, you are freely able to add the social network of the author thanks to social settings.
Don't forget to click on the 'Update user' button to save all your settings after completing everything.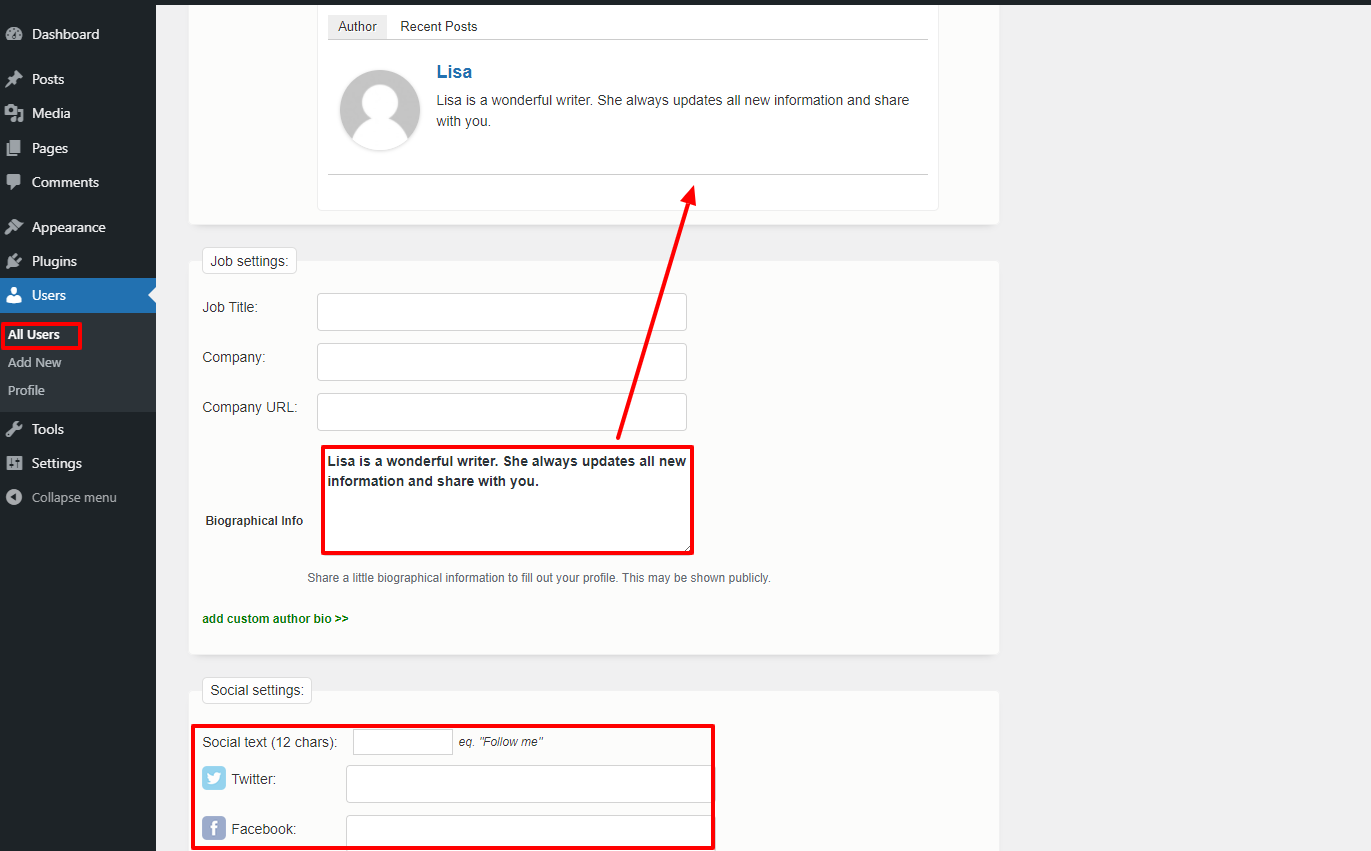 Now, the author box will be showcased on your website's post in a clear and attractive way.
Displaying author box with a sidebar widget
If you hope to present the author bio box in the sidebar instead of the below blogs or articles, it's a great idea for you to utilize Meks Smart Author Widget.
Similar to how to install a new plugin, you need to go to Plugins -> Add New, then find the widget by typing its name on the search bar. After that, choose the first one, install and activate it.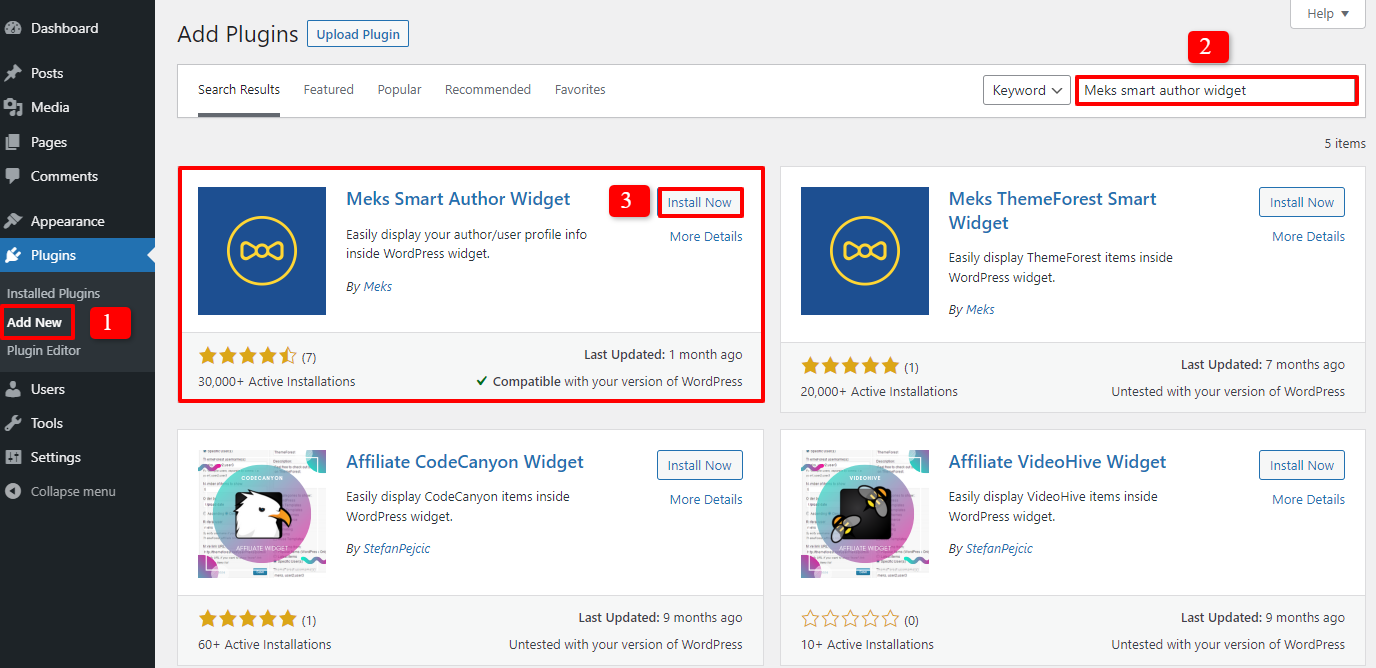 The next step is visiting Appearance -> Widgets page. You are able to choose the most suitable place to use this widget. In order to set it, let's type its name first, then click 'Meks Smart Author' to add it.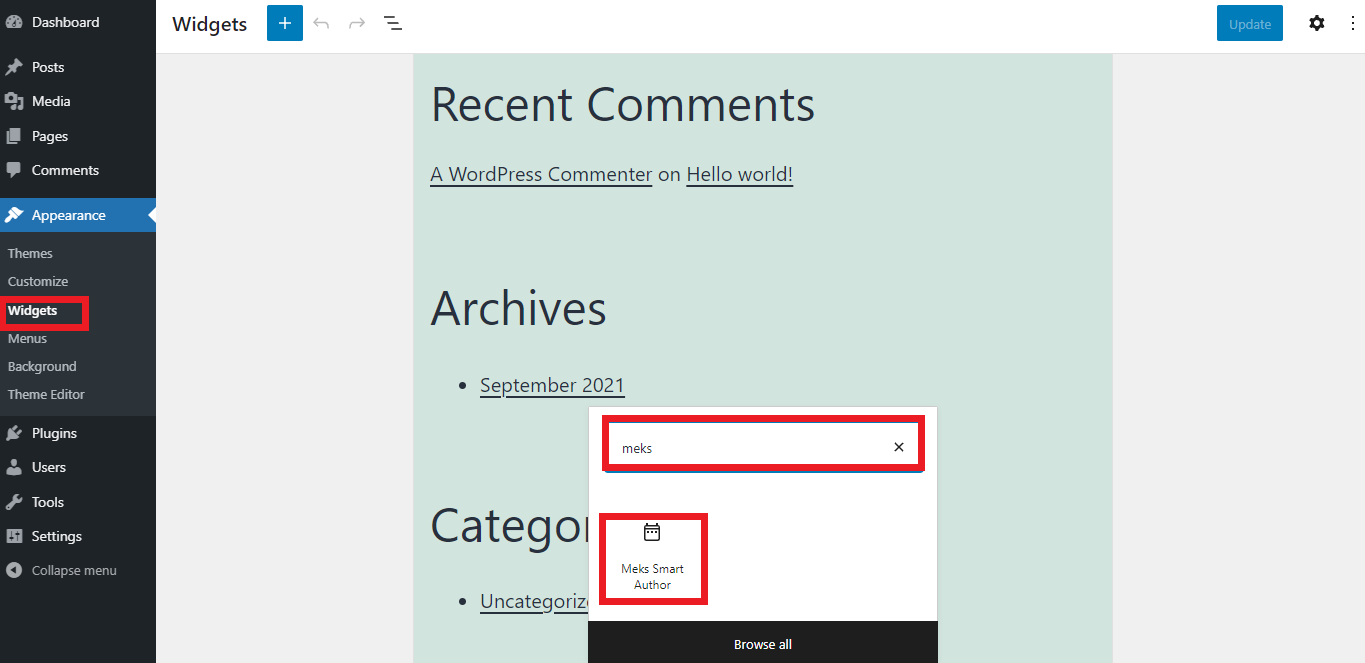 This widget comes with many options for you to customize in your own style. Thus, you can freely change your settings, but don't forget to select 'Automatically detect author'. Finally, let's save your change to ensure that the new settings are updated.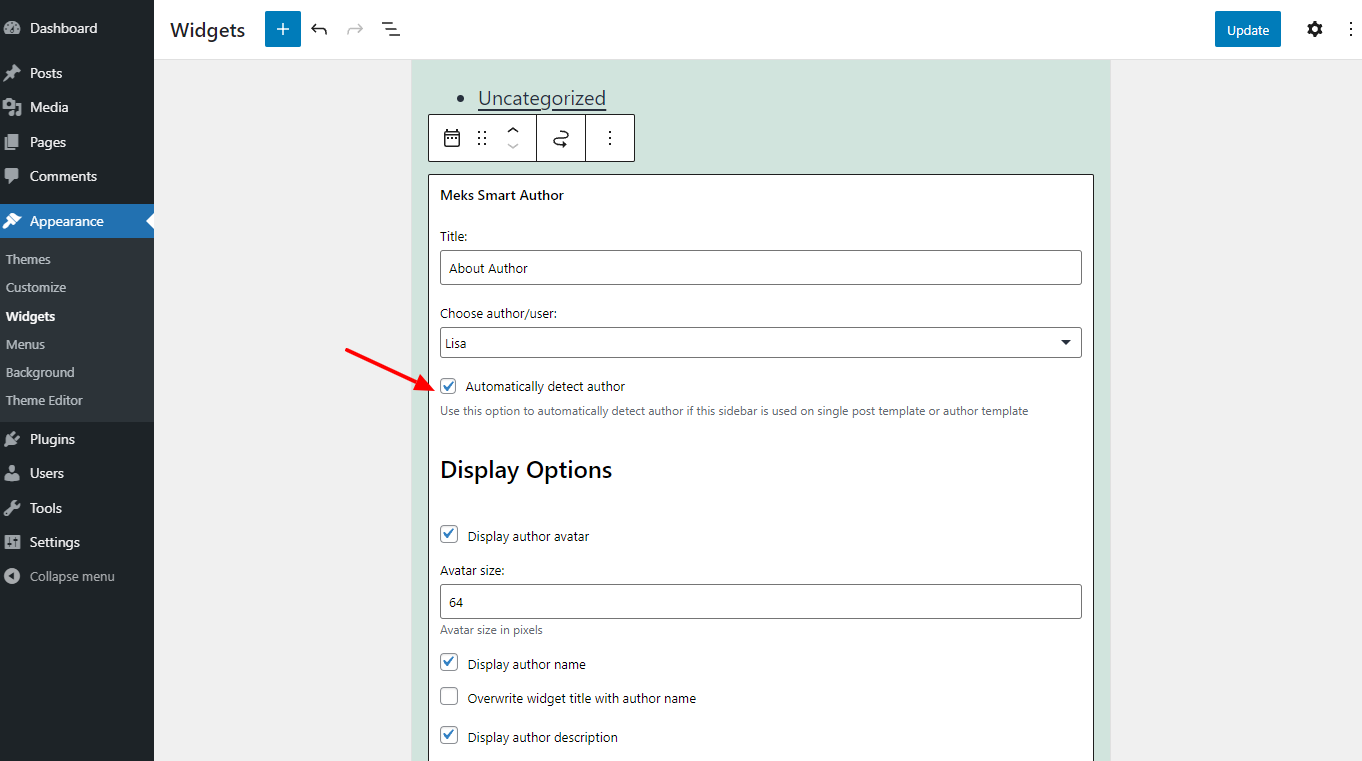 Now, it's time for you to access your site and see the author's bio widget in action without any trouble.
Final thoughts
To sum up, by sharing 3 ways to add an author info box in wordpress, we hope that the blog today will be useful for you. If you have any inquiry about this topic, please let us know via the comments. Moreover, don't hesitate to share the blogs with those who are looking for some great solutions to display an author bio on their websites. Thanks for your reading.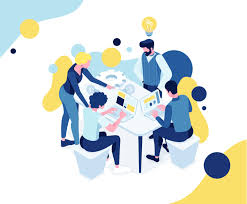 Latest posts by LT Digital Team (Content & Marketing)
(see all)