Do you know how to properly add and use widgets in WordPress? Luckily, this blog provides you with a detailed guide to handle this issue.
What are WordPress widgets?
If you are a beginner and have a lack of coding skills. Widgets are one of the worthwhile tools specially designed to help you customize your site without writing any line of coding. A WordPress widget is a flexible element that allows you to insert any specific function into your website. Moreover, they play an important role in customizing your site design and layout. Additionally, they allow you to add to different positions of your website, for example, sidebars and footer areas.
By default, WordPress comes with numerous widgets including Map widget, a Navigation widget, Recent comment displays, recent posts, Social media widget, search displays, call to action widget, media widget, shopping cart widget, login widget, and much more.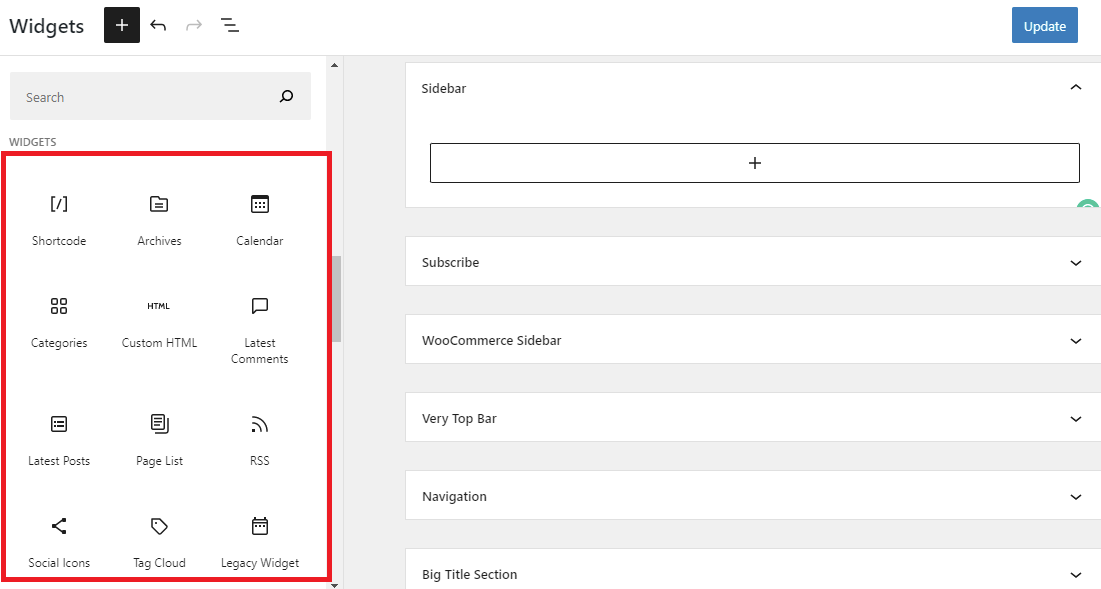 Why do you need to use them in WordPress?
As we have discussed above, a widget is a useful component in WordPress that helps you enhance the functionality of your website. Besides that, most extra features can be added to the sidebar or footer of your website. Since all themes only enable you to put widgets in particular areas. Therefore, you should take advantage of widgets and special areas to add additional features. Thanks to that, you bring a great users experience and improve revenue to your WordPress site.
How to add a widget to WordPress posts/pages?
In fact, it is extremely easy for you to add a widget to your page or post. In addition, there are several ways to help you easily insert a widget to the sidebar or footer areas. In today's tutorial, we guide you on how to add a widget in WordPress without installing any plugins.
Add a widget using WordPress Theme customizer
First of all, navigate to Appearance > Customize.
In the theme customizer screen, you will see a list of options in the left-hand side column of the screen. Let's choose the Widgets option.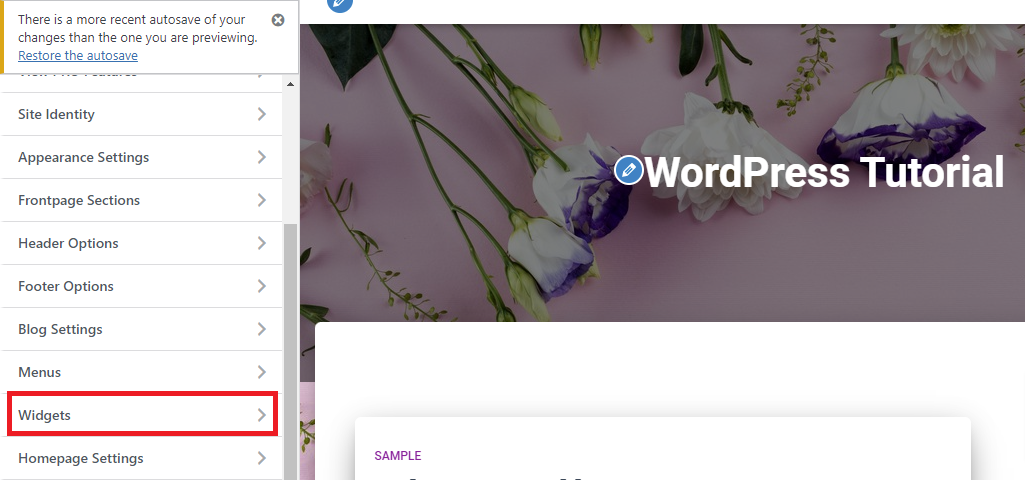 It takes you to a page where you are able to customize your widget areas. Moreover, you can see directly the preview of your site on the right-hand side of the screen.
To add a widget to your sidebar, simply click the "Sidebar " menu option.

Next, you can click on the "+" symbol to add choose a widget block from a list of blocks. Then, it will automatically add to your sidebar.

Similarly, you are able to add as many widgets to meet your purposes. After you are finished making changes to your widget area, don't forget to click on the "Publish" button to save your changes.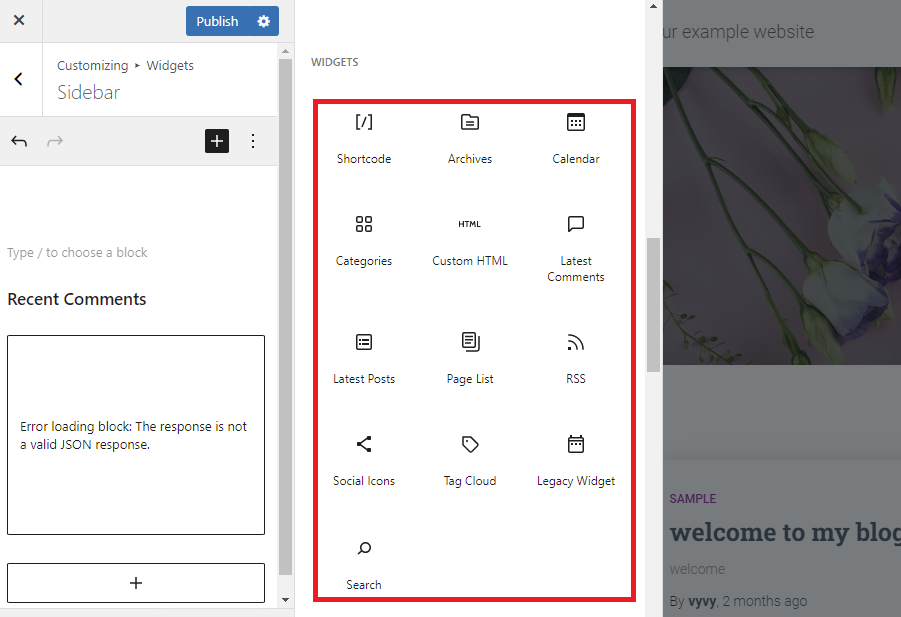 Add a widget using the widgets page
You can also go to the Appearance > Widgets page to add a widget.
Initially, you need to click on the Arrow symbol in the sidebar widget section to expand the widget section. Then, you can click on one of the two "+" symbols to choose necessary widgets from the widget block menu.

In order to add a widget to your sidebar, let's click on a widget you want and it will automatically be inserted into your sidebar.
After finishing, click on the Update button at the top right corner to save your changes.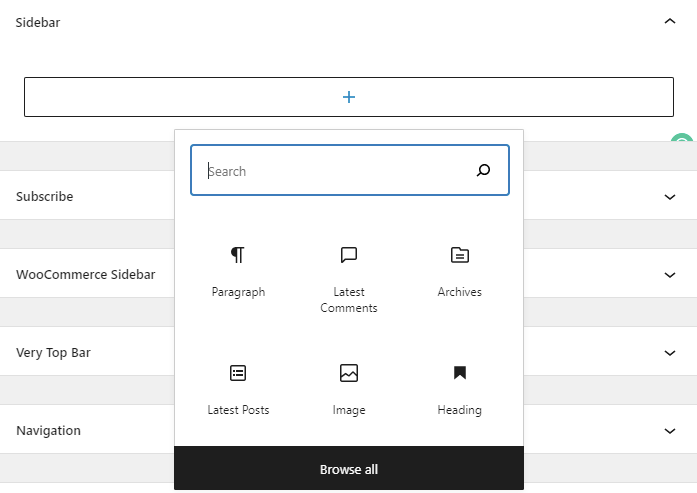 How to remove a Widget in WordPress?
In order to remove a widget in WordPress. Firstly, you need to switch to Appearance > Widgets in your dashboard.
Then, simply click on the widget block that you want to delete. You will see a three dots option button above the widget block. Quickly click on it, this will display a list of drop drown options. To remove the widget, simply click on the Remove Block option. This was so easy, wasn't it?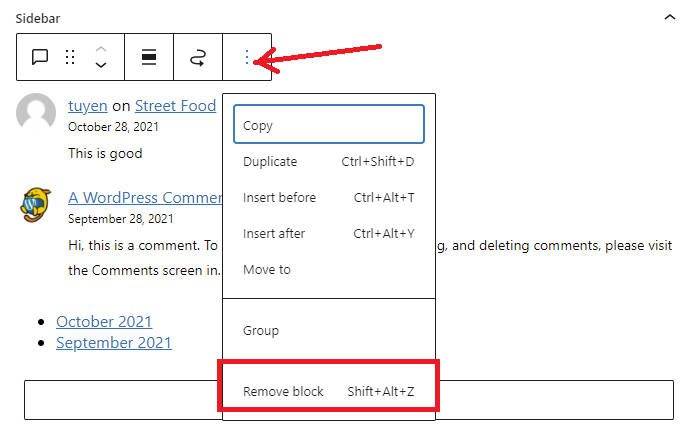 Summary
To sum up, we have demonstrated a step-by-step guide to help you easily add and use widgets in WordPress. If you have any questions, feel free to leave a comment below, we will assist you to handle this problem.
Moreover, you can access top remarkable WordPress widget plugins to add a lot of additional features to the sidebar and footer areas on your website.
Last but not least, you can spend a little time visiting our free WordPress Theme to explore a wide range of beautiful, responsive themes and templates.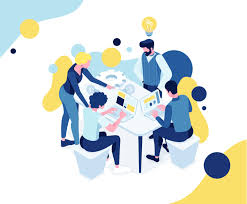 Latest posts by LT Digital Team (Content & Marketing)
(see all)