Introduction
In WordPress, if you don't build a page for blog posts, they will appear on the homepage by default. This will make your site become not clear and well-organized. Especially, if you want to develop your site to run your business smoothly, it's necessary for you to create a WordPress page for Blog Posts. In our blog today, we will support you to do that in a few simple and detailed steps. Let's start now!
How to Create A WordPress Page for Blog Posts
Generating a separate blog page for WordPress
As you know, WordPress lets you set up your site to easily have a custom home page. So, you can freely select any page on your site to become a blog page.
Now, first of all, let's generate two pages that you will use for the homepage and blog page. Click on Pages -> Add New. You needn't add any content for them, simply enter the name for 2 pages like the image below. You can name for a blog page is News or something like that.

After creating two pages for the blog page and homepage, you need to go to Settings -> Reading. In the Your homepage displays section, let's choose A Static page. Then, simply select Home for Homepage part and Blog for Posts page part.
Don't forget to save your changes after finishing the settings.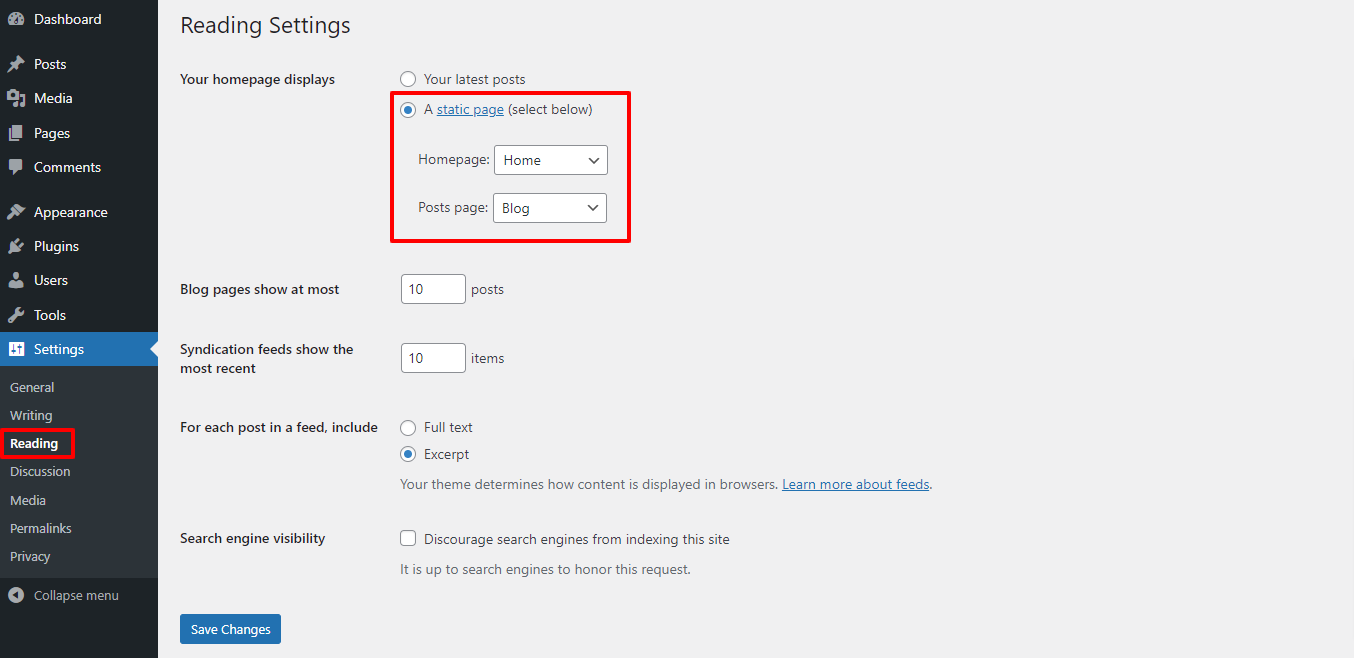 Now, you are able to visit Pages -> All Pages to see the new labels at the Blog and the Home page.

Putting the blog page link to the site's navigation menu
Next, you need to generate a blog page and show it on the main menu of your homepage. So, your site visitors can see and open it easily.
In order to do that, you need to access Appearance -> Menu on the admin dashboard. After that, let's add a navigation menu in WordPress with the detailed guide here.
After creating a navigation menu, let's add the blog page to the menu and save it.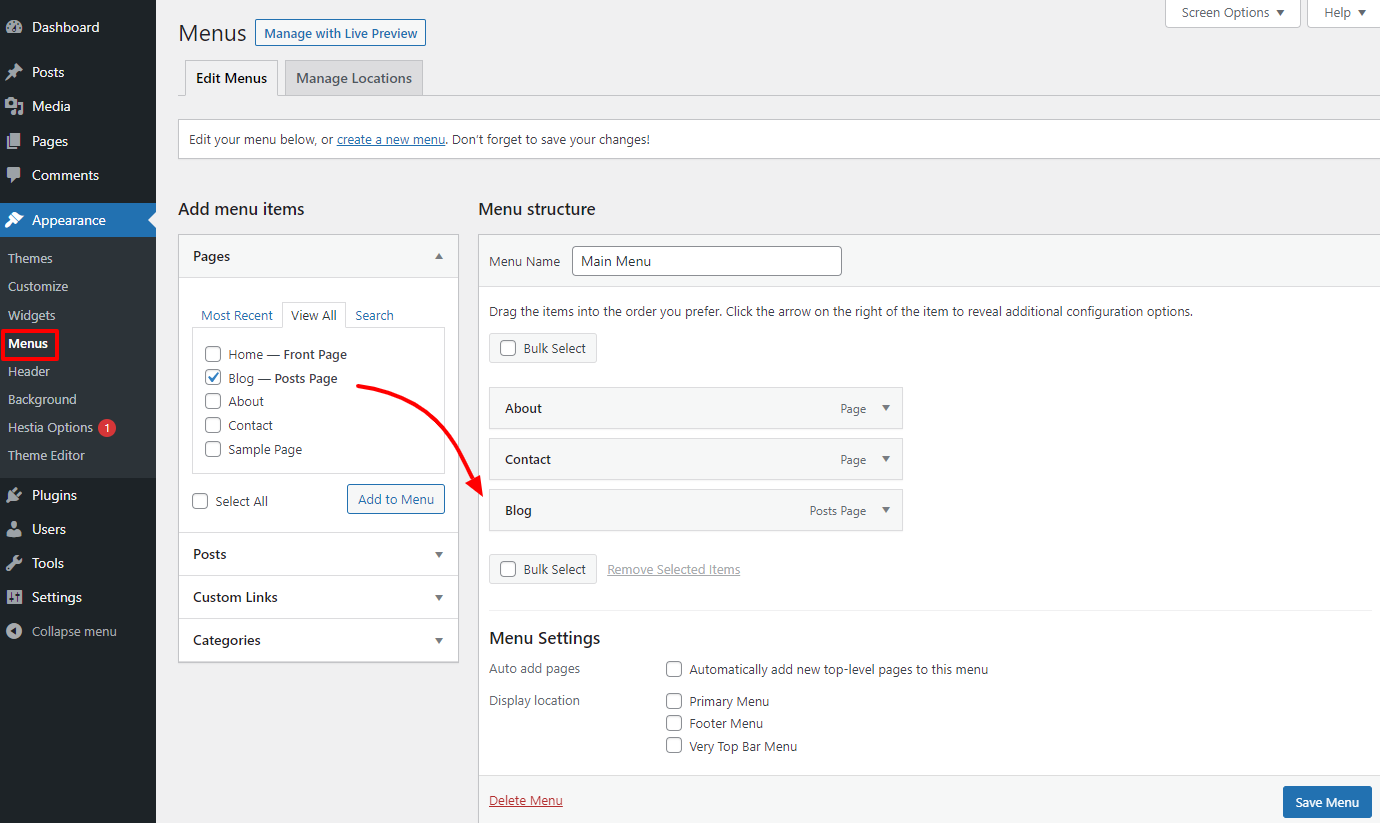 Editing your WordPress homepage
Although many WordPress themes provide a built-in template to showcase a static page as the site's front page, you need to set it up by yourself. Let's go to Appearance -> Customize.
There are many features for you to edit and design in your own style.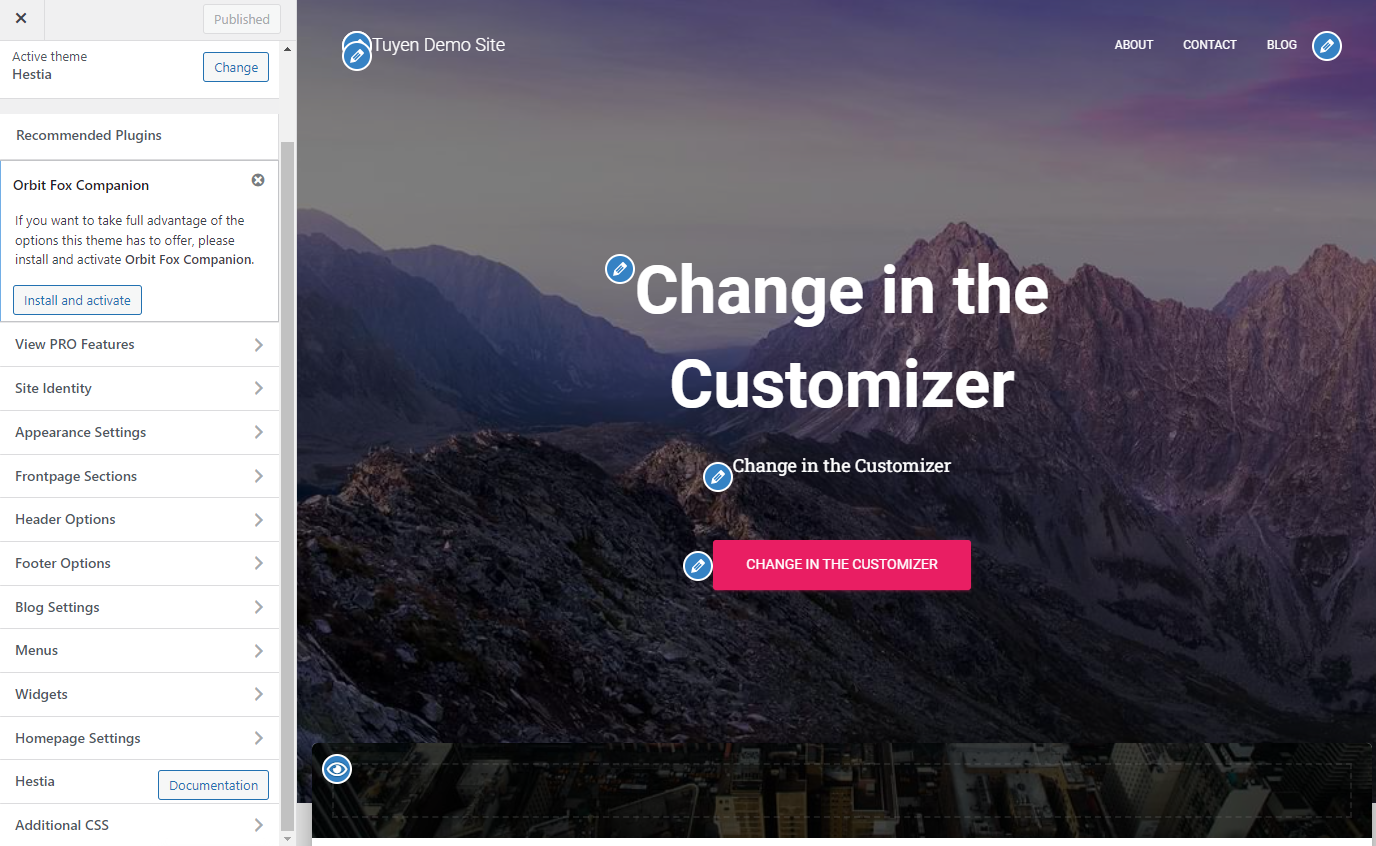 Besides that, you are also able to design your site by using one of the most popular WordPress Page Builder Plugins. Don't worry if you don't know much about coding skills, the plugins will offer you simple drag and drop tools to design your site.
Customizing the blog page
By default, WordPress will find and choose a template in your theme to present the posts on the blog page automatically. However, if your theme doesn't have one or you want to design your blog page, let's install a WordPress Page Builder plugin to do that.
If you have already installed a page builder plugin and know how to use it, it's great. Conversely, If not, you should find out how to use a page builder plugin to develop your site in your own way effectively. For more information about how to use a WordPress Page Builder plugin to design a page or a site, we will instruct you in another blog.
Conclusion
To sum up, we hope that the blog today will support you to create a WordPress page for blog posts smoothly. If you have any question to ask or have any difficulty, let's leave your comment below. We promise we will reply to you as soon as possible. Last but not least, don't forget to visit our site and get many useful and Free WordPress Themes here. Thanks for reading.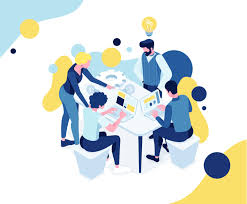 Latest posts by LT Digital Team (Content & Marketing)
(see all)