What is the easiest way to add reaction buttons to WordPress posts or pages? If you are confused since you do not know how to do it, the blog today will bring you an ideal answer. Now, let's start to explore the method to add and display reaction buttons on your WordPress site.
Should you add reaction buttons to WordPress posts/pages?
Normally, many website owners will create a comment box under each post or page to interact with their visitors/ readers. The comment creation process is quite simple with the support of WordPress Comment Plugins. However, have you ever thought that it is not the only way to increase visitor engagement? For visitors who do not have much time to leave their comments, generating the comment box is not a good way.
It's time for you to think about another way to give your visitors a chance to show their emotion or reaction after reading your WordPress posts/pages without commenting. We suggest that you should add reaction buttons to WordPress via a free and useful plugin. Thanks to it, your visitors can freely showcase their reactions or emotions for each of your posts in a time-saving way. This will contribute to motivating the interaction of your visitors and increasing the site traffic more effectively.
Don't hesitate anymore. Let's move on to the next section to explore how to add reaction buttons to WordPress now!
How to add reaction buttons to WordPress
First and foremost, it's necessary for you to install and then activate the WP Reactions Lite plugin. The detailed guide on how to install a plugin for beginners is here.
After successful activation, you will go to WP Reactions -> Global Activation to set up and display the reaction buttons on your site in your own style.
On the right of the screen, let's turn on to enable the reaction button showcasing on your site. Next, simply click on the Customize Now button to edit some aspects.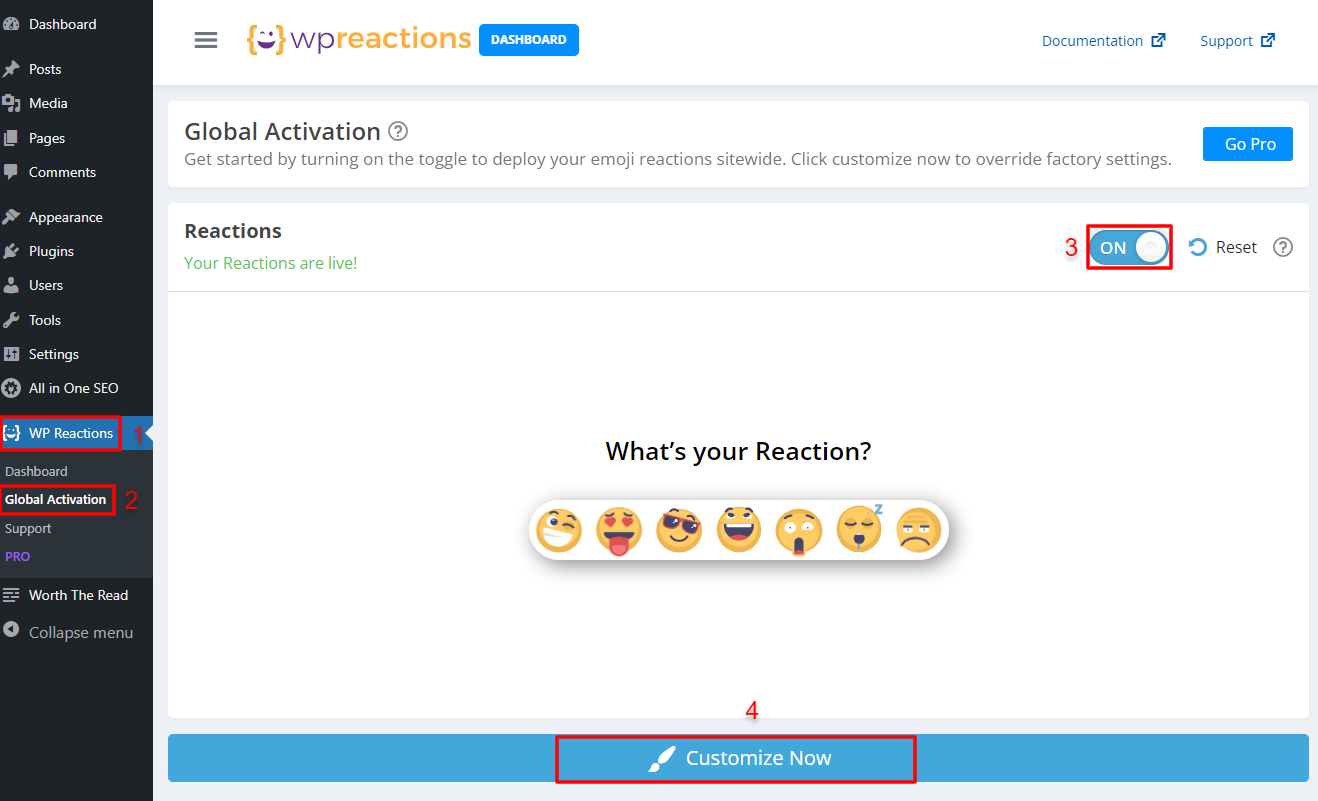 There will be 5 steps for you to customize. In the first section – Emoji Picker, this plugin allows you to select and arrange the emojis you want to present on your website. So, you just need to add or remove the emojis without any trouble.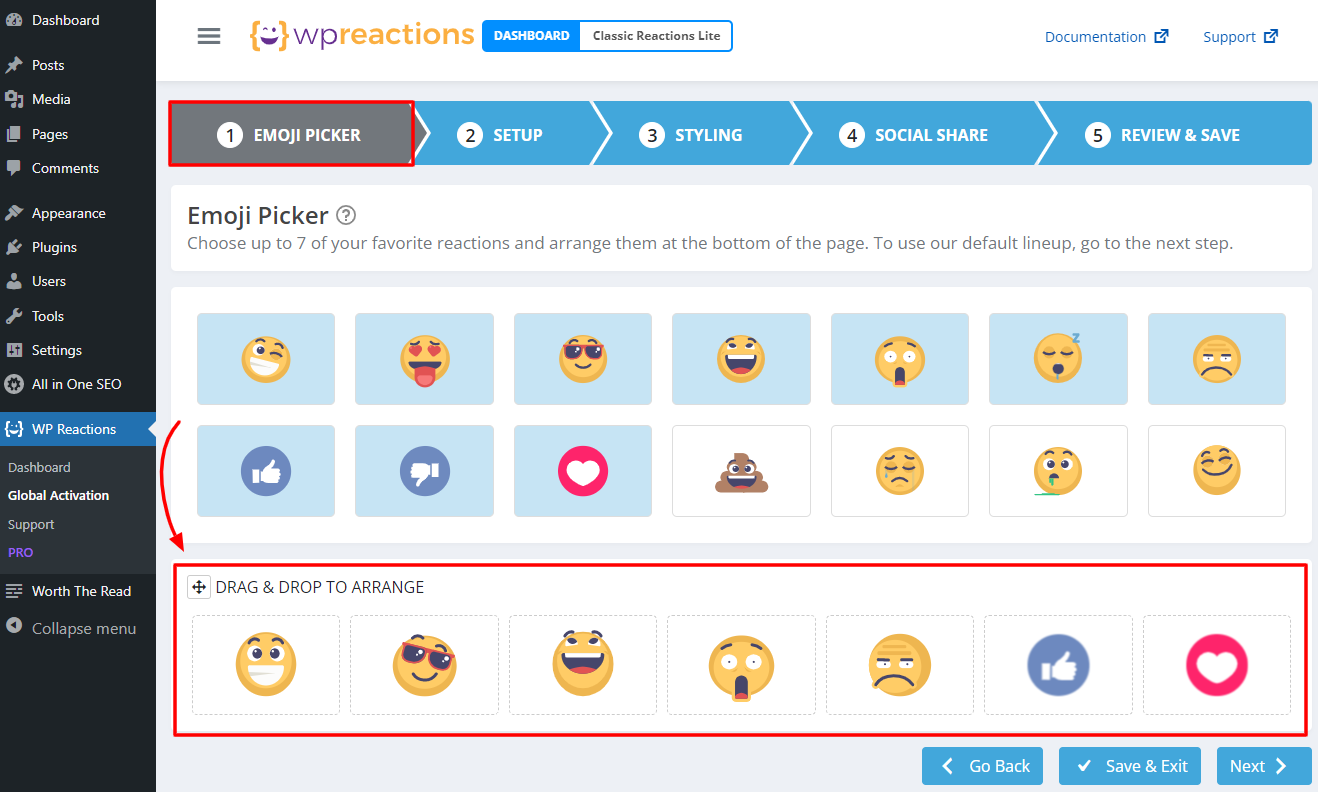 In the Setup section, there are some main options for you to select:
Emoji Animation: Static or Animated
Emoji Sizes: Small, Medium, Large or X-Large
Badges: Badge Color & Number Color
On-Page Placement Options: It enables you to choose where you want to insert and display reaction buttons.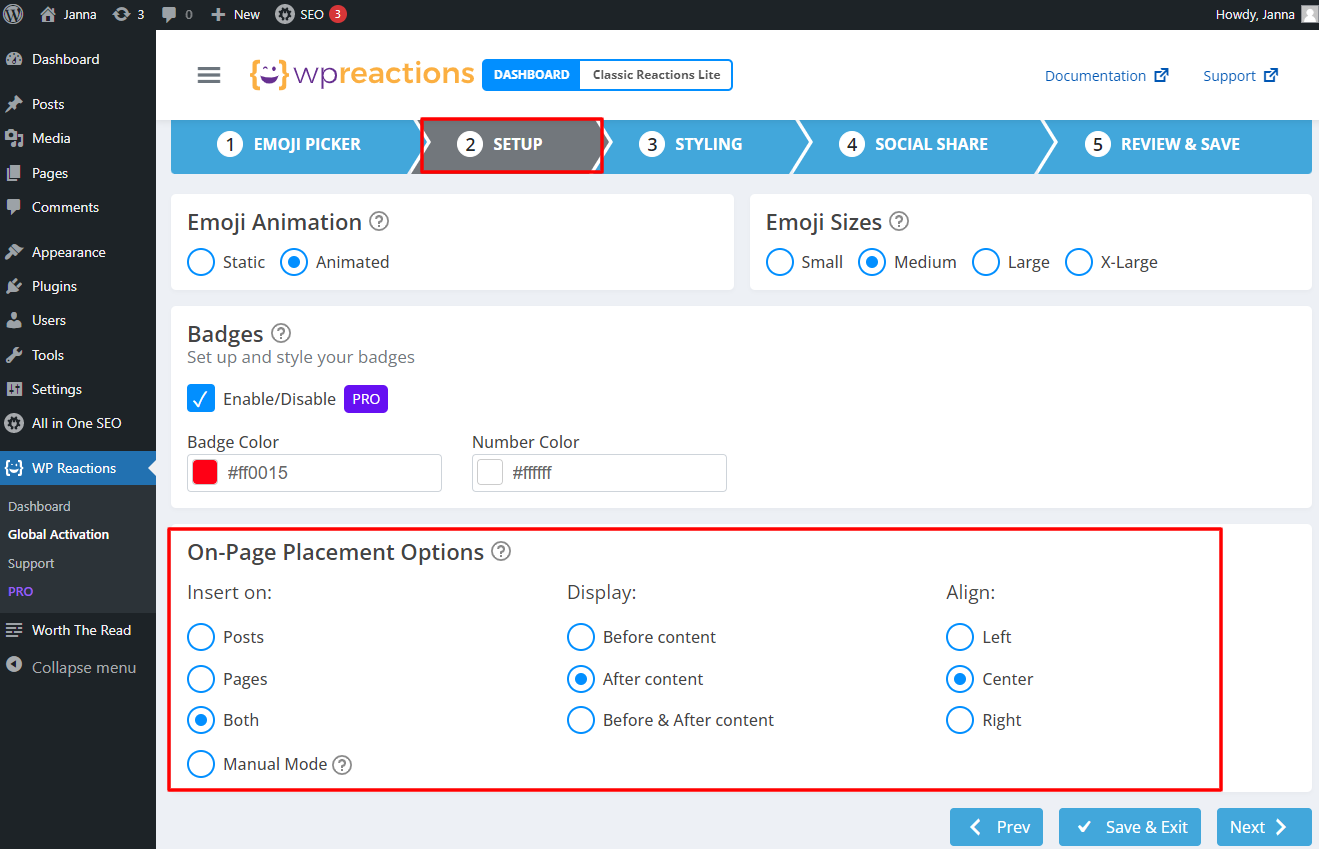 The next part is Styling where you can show or hide CTA, edit font size, font weight, and color, as well as customize the emoji background styling. The fourth section is Social Share. There will be 3 parts for you to choose from and modify, including Button Behavior, Social Share Buttons, and Button Design.
In the last step, you just need to review your setup and then click on the Save & Exit button to store all your settings.
Now, everything is done. So, let's go to the front end of your website, access any post or page, and check the result here. The reaction button will appear stunningly on your WordPress website.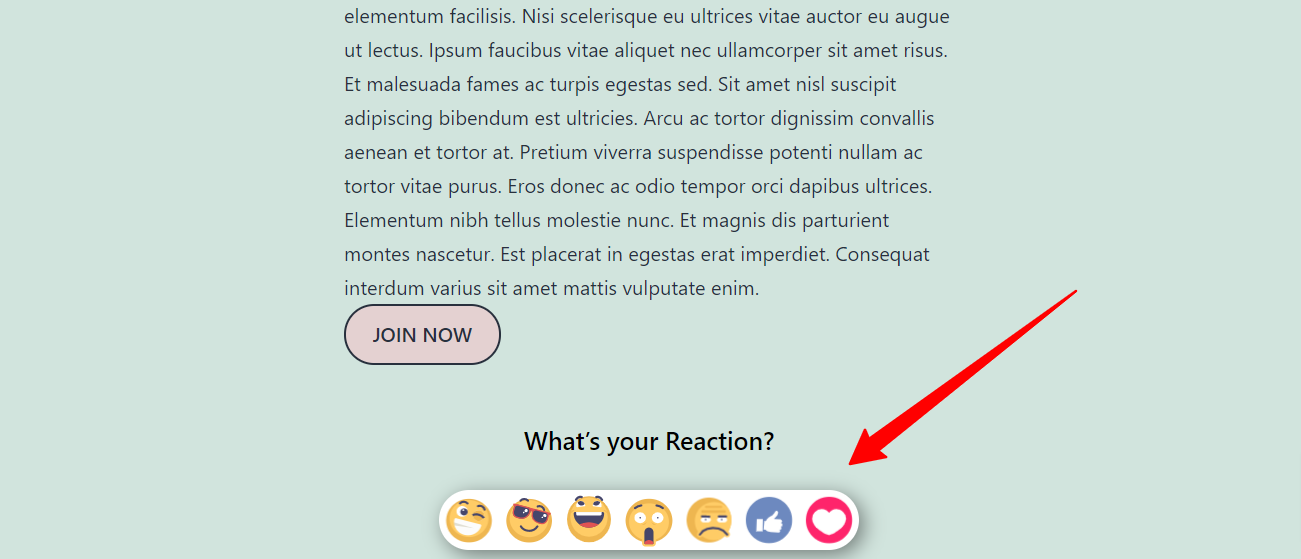 Final words
To sum up, it's undeniable that you can easily and effectively add reaction buttons to WordPress via a free plugin. Therefore, don't hesitate to do that to boost the visitors' engagement now. If you think the blog is useful and easy to understand, don't forget to share it with your friends and other WordPress users.
Last but not least, we are providing more than 200 responsive and free WordPress Themes in various topics, so let's take a look if you need to get a new theme for your website. Thank you.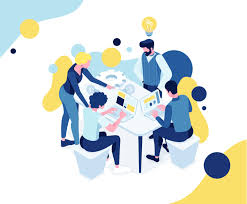 Latest posts by LT Digital Team (Content & Marketing)
(see all)