Are you looking for the best method to add SVG in WordPress? By default, WordPress enables you to upload a wide range of images types including jpg and png. However, it doesn't include the case for SVG, so WordPress doesn't natively support their upload. Don't worry, in this blog, we are going to share with you two simple solutions to tackle this problem. Initially, you need to have knowledge of SVG files.
What are SVG files?
SVG is an XML-based markup language for representing two-dimensional-based vector graphics. The role of SVG in WordPress is that it enables you to zoom in on images but still maintain the quality of images and don't become pixelated.
Unlike other format files, SVG files will save images as vectors which were built by lines, points, curves, colors, and shapes based on accurate formulas. SVG is created in plain XML language and uses tags like HTML. Here is an example to demonstrate the code of the SVG file.
How to add SVG in WordPress?
This is a simple task, so there are several ways to handle this problem. In today's blog, we introduce the easiest methods to help you add SVG in WordPress without effort. Now, we will start with the first method by using a free plugin.
Solution 1: Upload SVG files by using the SVG support plugin
SVG support is a useful plugin that allows you to safely upload SVG files to your media library and use them like any other image. In addition, by using this tool, you have the ability to style elements easily without using CSS.
In order to use this method, first of all, you need to install and activate the SVG Support plugin. For more support, please access our detailed tutorial on how to install a WordPress plugin for beginners.
After you have installed the plugin yet, let's navigate to the Settings > SVG Support page to configure the plugin's settings.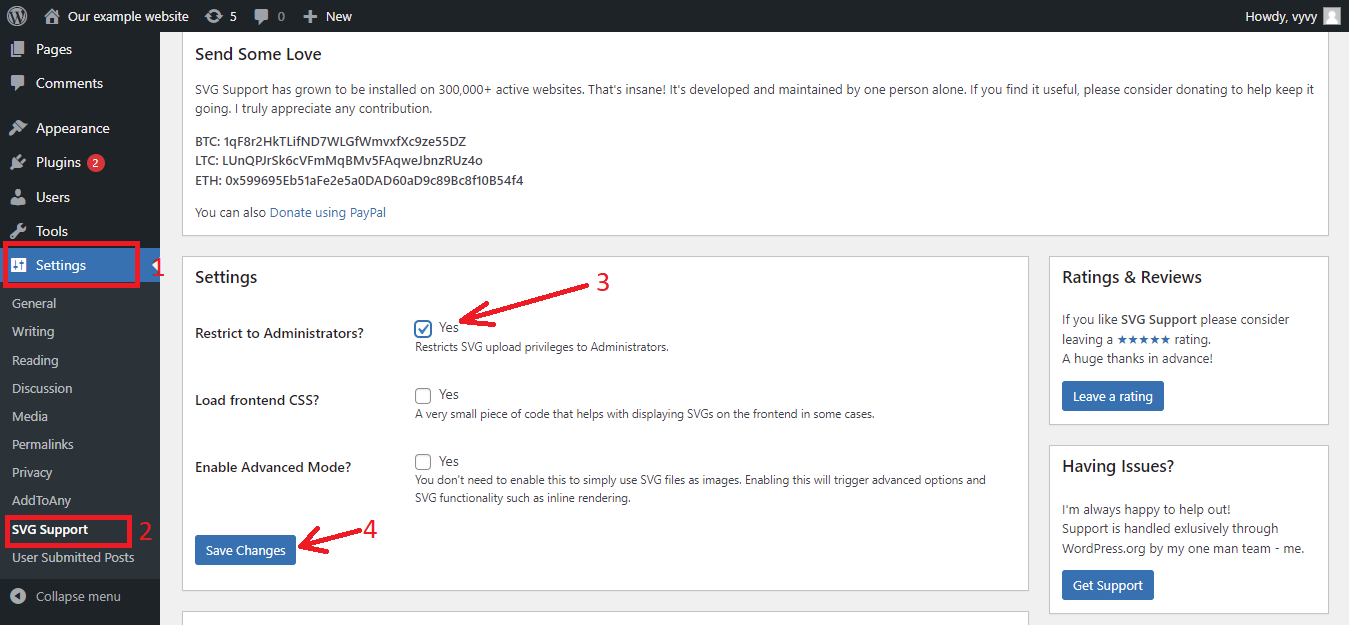 On the SVG support page, scroll down the page to the Settings section. From there, you need to check the box displayed next to "Restrict to Administrators? option. This option will permit only a website administrator to upload SVG files in WordPress.
The third option allows you to enable Advanced mode. You only should place a tick in the box when you want to utilize advanced features such as CSS animations, inline SVG rendering.
Once you are pleased with your selection, remember to click on the "Save Changes" button to store your settings.
Now, you are able to generate a new post or edit an available one on your WordPress site. In the post editor, you can easily upload your SVG. This process is similar to the process of uploading any other image files.
If you are using Block editor(Gutenberg), simply add an "Image" block to the editor and then simply upload the SVG file.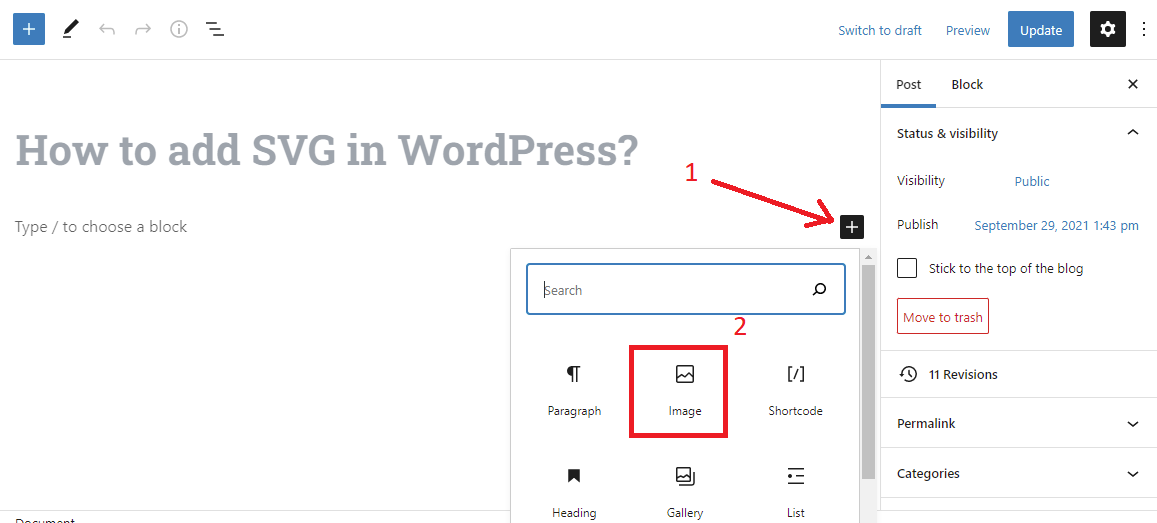 From the right column, you can easily add Alt text for your image as well as adjust the height and width according to your preference.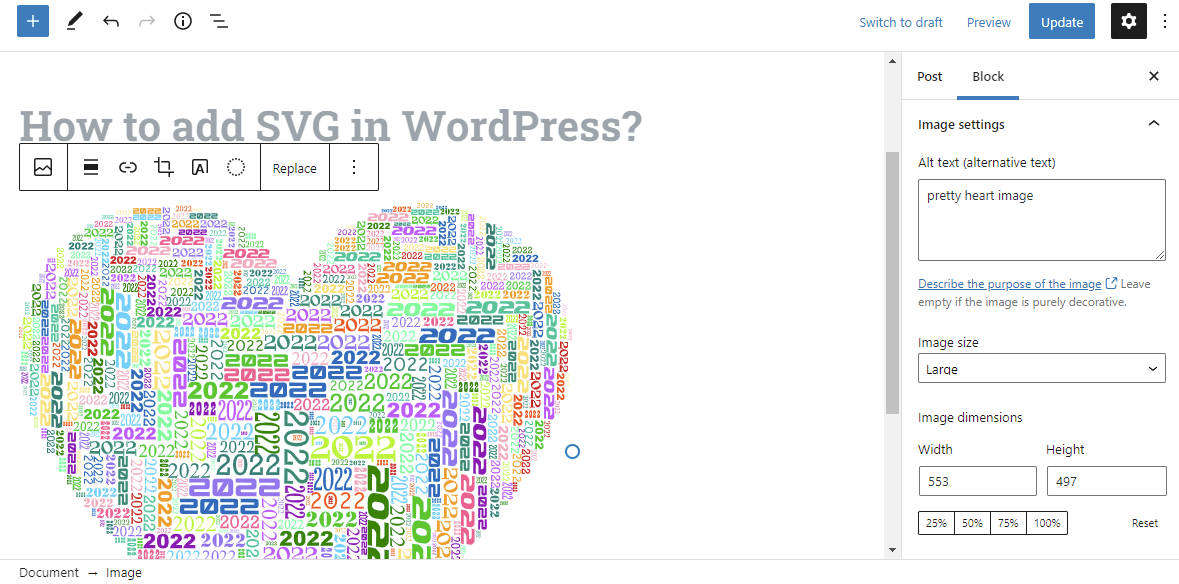 Once you are done, don't forget to click on the Upload or Publish button and then visit your website to see it in action.
Solution 2: Upload SVG files by using the Safe SVG plugin
Safe SVG is another free WordPress tool that gives you the ability to upload SVG files in WordPress. Additionally, this tool also helps you perform the sanitization of SVG files. Thanks to that, you can prevent your website from vulnerabilities.
Similarly, you need to install and activate the Safe SVG plugin before using it. You can see our step-by-step tutorial on how to install a WordPress plugin for beginners.
One of the outstanding advantages is that this plugin doesn't require you to configure any settings when using this tool. Therefore, after activating you can start uploading SVG files immediately.
However, the weakness is that this tool enables all users who can write posts on your website to upload SVG files.
If you want to manage all users who can upload files, it is necessary to upgrade the premium version of the plugin.
The bottom line
We have just given you the two simple methods to help you easily add SVG in WordPress. You can start with any method because both of them are easy and completely effective. If you have any questions, please leave a comment below. We will support you as soon as possible.
Moreover, it's time to visit our Free WordPress themes to explore a wide range of gorgeous, well-structured, SEO-friendly themes and templates for your website.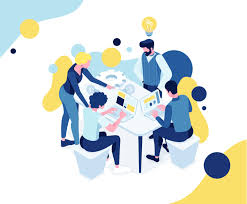 Latest posts by LT Digital Team (Content & Marketing)
(see all)