Currently, Crocoblock is one of the most popular WordPress plugin providers on the market. If you are considering using the Crocoblock plugin for your site, especially for Gutenberg support, don't miss the list of the best Crocoblock Gutenberg Plugins we listed today!
What are Crocoblock Gutenberg Plugins?
Crocoblock is a comprehensive toolkit and subscription service for building websites using WordPress and both Elementor and Gutenberg editor. It's designed to empower users, regardless of their coding expertise, to create sophisticated and feature-rich websites. Crocoblock comes with a suite of plugins, templates, and tools that enhance the capabilities of the Gutenberg editor, enabling users to build dynamic and visually appealing websites without extensive technical knowledge.
Crocoblock offers a range of plugins created to extend the functionality of not only Elementor but also Gutenberg. These plugins can be used individually or in combination to create various types of websites, from simple blogs to complex e-commerce platforms. However, today, we would like to focus on Crocoblock Gutenberg Plugins. So, let's move on to the list of Gutenberg plugins supported for Gutenberg now!
Recommended themes that work well with Crocoblock plugins
Top Crocoblock Gutenberg Plugins

The first Crocoblock Gutenberg Plugin in this list is JetEngine. With the support of this tool, it's convenient and flexible for you to build up and manage content on your site. This plugin comes with features related to structure, listings, tables, charts, relations, query builder, and rest API. The pricing plan for this plugin is $43 per year.
Key features:
Come with 13 Gutenberg dynamic blocks
Generate active website structure without coding: custom post/content type, taxonomy, custom fields, meta box, options page
Develop and expand listing items: image, term, link, fields, data store, tag, meta
Build listing grid layouts, including grid, map, calendar, query loop
Provide table builder and chart builder
Rest API to enhance and manage bid data
Apply custom styles to Gutenberg blocks
Highlights:
Useful
Good support
Various options

Secondly, if you are finding a premium Crocoblock Gutenberg Plugin related to filtering, it's a good idea for you to check out JetSmartFilters. Thanks to this plugin, you are easily able to build complicated filtering structures in a time-saving way. The price for using this plugin is $43 each year.
Key features:
Provide 17 Gutenberg Filtering blocks and 7 additional widgets
Filtering is more User-Oriented which means it will support clients to find the related products in one button click
Adjusted filtering logic and dynamic filtering
Use the Hierarchy Select Principle
Style Manager will help your filters look more stylish
Highlights:
Easy to use
Customizable
Match-all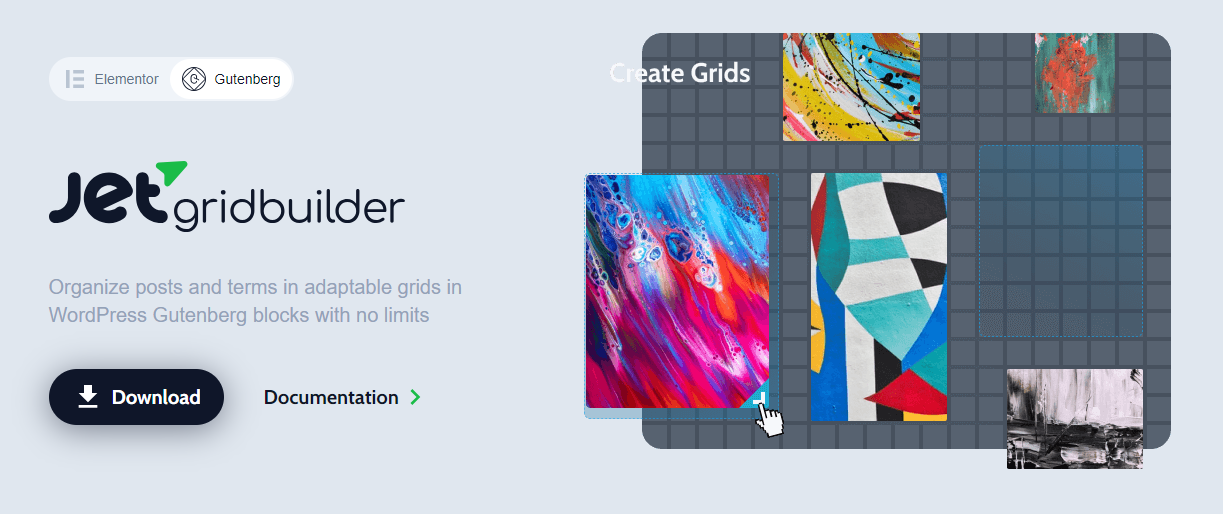 The third Crocoblock Gutenberg Plugin we would like to recommend to you if you want to build and manage the grid section is JetGridBuilder. By using this tool, you are smoothly able to arrange, customize, and control posts as well as terms in dynamic grids via WordPress Gutenberg blocks without any trouble. Especially, this plugin is totally free, so you can try it anytime you want.
Key features:
Generate and design grids for everything: customizable backing grid, unique vertical compact feature, and adaptable thumbnail
Showcase content actively, including CPT, posts, pages, products, and terms
Define the number of columns for the grid
Resize and style each card
Personalized Loading Spinner
Highlights:
Lightweight
Simple to use and manage
Free

Fourthly, if you need to get a free yet effective Crocoblock Gutenberg Plugin to allow you to add styles to Gutenberg blocks, why don't you try JetStyleManager here? In other words, this plugin is the best option for those who want to manage and edit the styles of the website without any coding. Thanks to this tool, your wish is not a dream. Further, it's 100% free which means you can try it whenever you need it.
Key features:
Style controls: color picker options, alignment, dimensions, borders, padding, and margins
Typography settings: text customization including font size, color, letter spacing, or letter style
Highlights:
Free
User-friendly
Multi-parameter

Fifthly, in case you are seeking a Crocoblock Gutenberg Plugin for form building, JetFormBuilder is one of the best tools you shouldn't miss. That is to say, this tool will assist you to effectively create, style, and display any type of form for your WordPress website via Gutenberg editor. The pricing is $39 for one year using.
Key features:
Offer 19 form field blocks
Build & design Gutenberg forms in your own way: multi-column layouts, custom HTML addition, inline field editing
Provide smart features to generate conditional logic forms
Enable form validation and set actions after form submission
Highlights:
Various types of forms
Simple to use
Helpful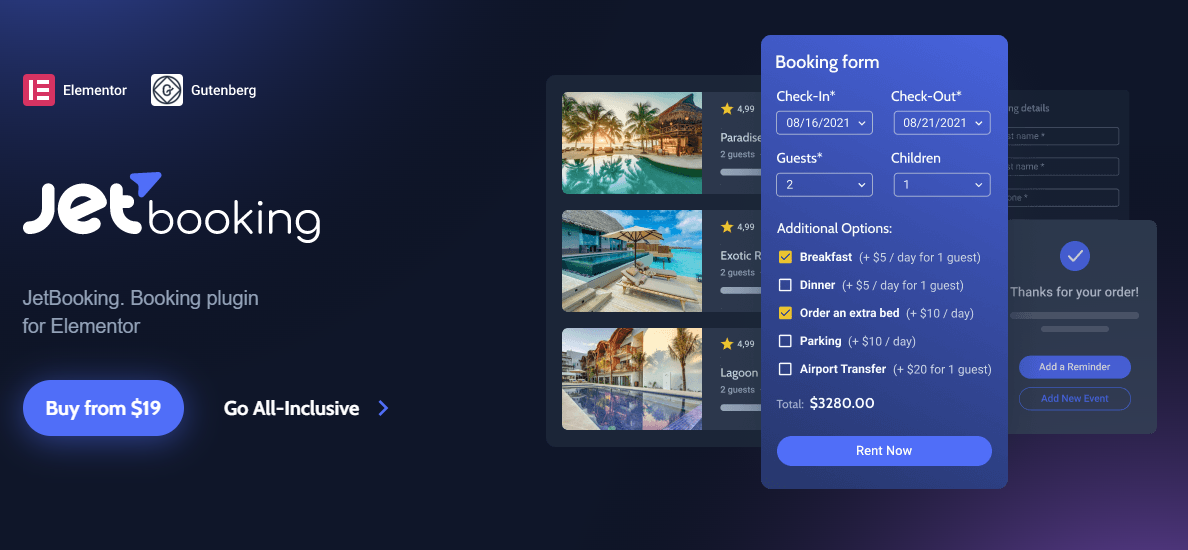 JetBooking is another Crocoblock Gutenberg Plugin for those who need to create and manage booking websites. This plugin is suitable for hotel, restaurant, vehicle rental websites or relevant ones. Thanks to it, you can freely build booking forms, then design the appearances and display them on your site to attract more new customers. The pricing table for JetBooking is $19 for one year using.
Key features:
Offer booking and rental features for travel agency, house/hotel booking, car/bike/equipment/property rental
Add flexible pricing rates for seasonal pricing, weekend pricing, day/night pricing or length or stay
Configure the filters, generate singles pages, listings, catalogs, etc
Build and set up various booking forms
Highlights:
Multiple options
Great documentation
Flexible

JetAppointment is the next Crocoblock Gutenberg Plugin you should try if you want to get a powerful plugin for creating appointment forms for your business. Thanks to this tool, everything is easier and more flexible, from generating an appointment form and designing it to displaying and tracking the client's appointments. $19 is the price for using JetAppointment per year.
Key features:
Offer features for creating appointment sites: spa & beauty, fitness & sports, healthcare, photo services, law consultancy, service stations, etc
Come with features for adjusting and setting up appointments for multiple purposes
Create Workflows for each appointment's lifecycle stage
Provide appointment booking schedule types & forms
Highlights:
Useful
Time-saving
Easy to edit and set up

Another Crocoblock Gutenberg Plugin for creating and showcasing popups on your site is JetPopup. With the assistance of the plugin, you are easily and effectively able to generate a needed layout for the popup and add content to it without any coding requirements. Moreover, it also supports you to configure some information such as time, date, animation effects, and much more. $22 is the pricing plan for utilizing this tool in one year.
Key features:
Offer a lot of popup types: subscribe, discount, countdown, contact us, GDPR, info card, etc
Set up when the popup will appear on your page
Use conditions to display popups on specific pages
Choose the animation effects for the popup
Highlights:
Various options
Fully drag-and-drop features
Simple to set up and control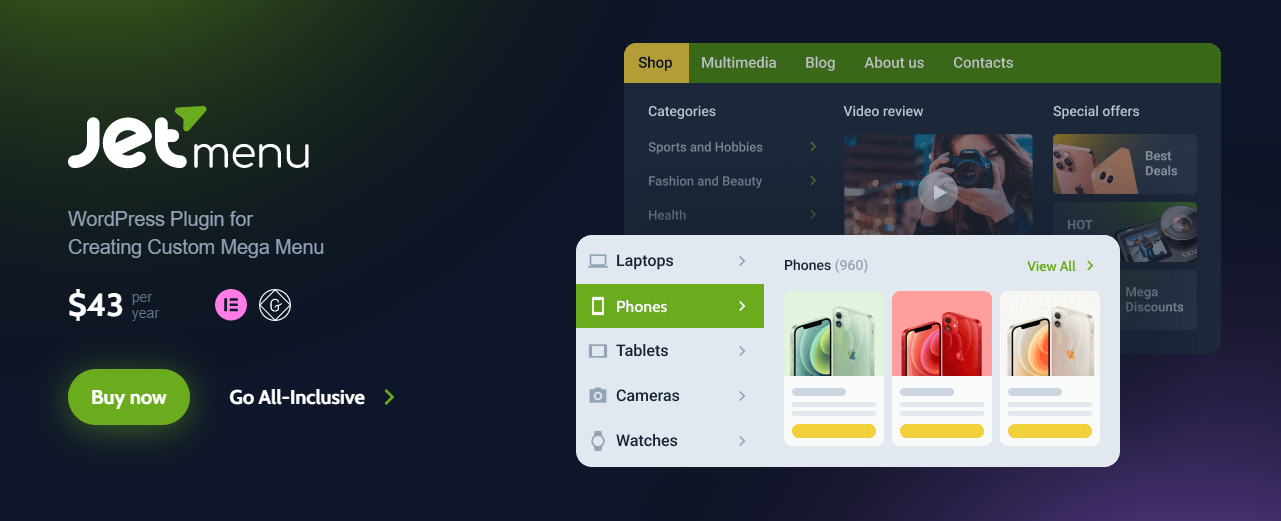 In case you want to get a premium Crocoblock Gutenberg Plugin for building and styling menus for your site, let's take a look at JetMenu here. That is to say, this plugin allows you to create a responsive and eye-catching menu for your site without coding skills. The pricing for utilizing JetMenu is $43 per year.
Key features:
Add multiple contents to your WordPress Custom Menu
Offer 3 menu layouts: Horizontal Menu, Vertical Menu, Hamburger Menu with roll-up men, breakpoints, animation, and menu positioning
Come with essential styling options: icons, badges, typography, spacing
Highlights:
Mobile-friendly
Nice documentation
Easy to customize

The final Crocoblock Gutenberg Plugin in this collection is JetThemeCore. By using it, you can smoothly build and manage your WordPress website structure without any trouble. Besides that, it also enables you to create page templates in your own style. If you want to use this plugin, the pricing is $23 per year.
Key features:
Create and control WordPress website structure via the informative dashboard
Generate WordPress Page Templates for single pages, single post pages, custom post type pages, etc
Assign conditions to different website parts
Highlights:
Compatible
Simple to set up
Good support
Trendy WordPress themes that you must try, it's FREE!
Final words
All in all, we hope that the list of outstanding Crocoblock Gutenberg Plugins in the blog will give you an overview and then you can consider getting the most suitable one to meet your purposes. If you want to share more information about the Crocoblock plugins or receive more feedback about them, don't hesitate to leave your comment below.
Last but not least, don't hesitate to explore a lot of user-friendly and SEO-friendly free WordPress themes here.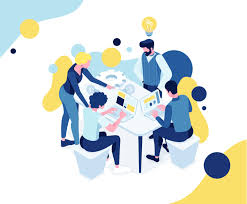 Latest posts by LT Digital Team (Content & Marketing)
(see all)