Are you looking for the easiest ways to embed videos in WordPress? Look no further, this article is the right place for you.
Why should you embed videos in WordPress instead of uploading them directly?
There is no denying that insert a video into your WordPress blog post brings a wide range of valuable benefits. It not only make your website impressive but also increases the visitor's engagement on your website. In addition, most readers seem to prefer to watch rather than read long content in words. One of the significant things is that embedding a video also has a remarkable impact in terms of SEO.
However, you have to note that we should embed videos in WordPress instead of uploading videos directly because of the following reasons:
Firstly, when uploading a video with a huge size to your WordPress Media library will make your website site slow down. As a result, it will have a negative impact on your website performance and affect your SEO.
Secondly, most servers have a maximum file size limit for upload, normally the maximum upload file size is 50MB. However, a high-quality video will range from 1-2 GB in size. You can tackle this problem by contacting your hosting service provider to increase the maximum upload size. That will take up a huge capacity on your cloud hosting server as well as quickly fill up your storage memory on your website.
The uploaded videos are not completely compatible with all web browsers and all devices. For example, they can have a greater performance on a desktop, laptop, but when displaying mobile, they are not fully responsive.
How to embed videos Video in WordPress?
Honestly, there are numerous ways that help you include videos in your WordPress page and post including:
Using the Classic editor
Add videos by using the default blocks editor
And use some third party plugins
In today's blog, we will share with you all three methods with a step-by-step guide. Let's dive into the following solutions.
Solutions
Method 1: using the Classic editor to embed video in WordPress
The first solution is suitable for those who are using the Classic editor- the old editor in WordPress.
This method is extremely easy to do. Just copy the URL of the video from any video hosting platforms such as Youtube, Vimeo, Facebook, and much more. And then paste it directly into the editor.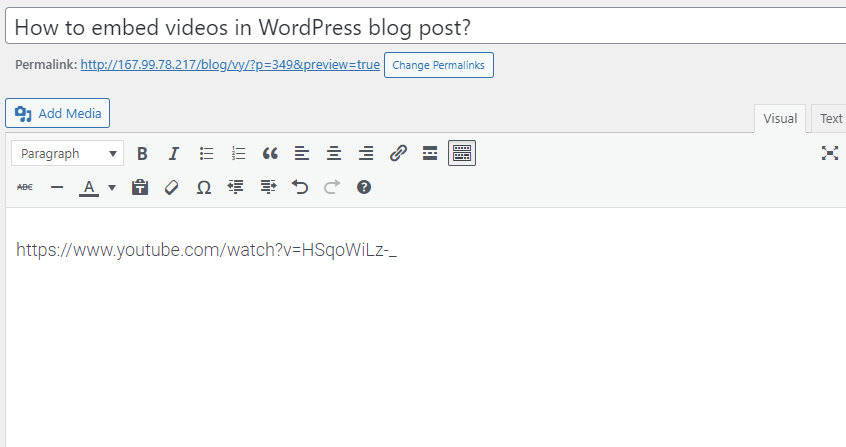 You will see the preview of the video immediately after that. That was so easy, wasn't it? However, you can not just the width or do other options, while you use these options in the new default editor in WordPress.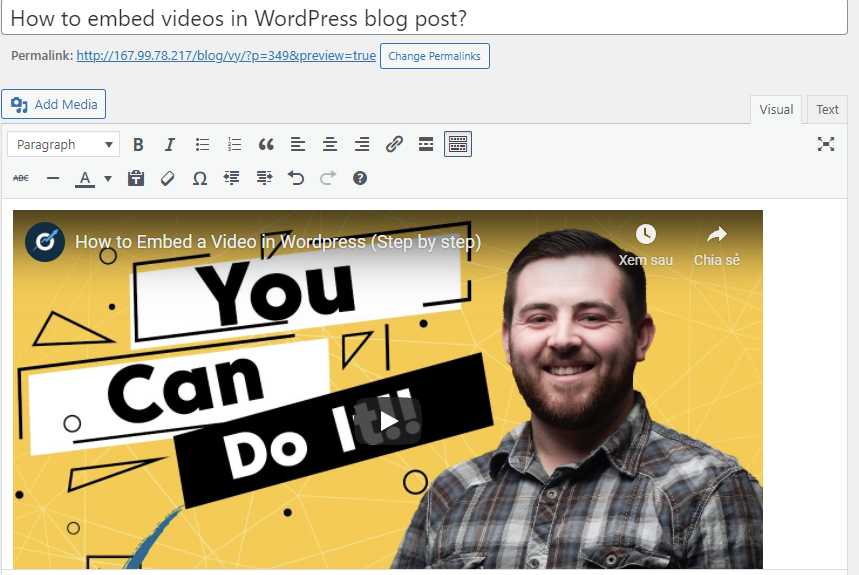 Method 2: Embed videos in the Gutenberg editor
Gutenberg is the new default editor in WordPress. It allows you to create rich content through blocks. Especially, the new editor offers a wide of creative video services that permit you auto-embed video to your content including:
Amazon Kindle
Animoto
Cloudup
DailyMotion
Flickr
TED
TikTok
Tumblr
Twitter
VideoPress
Vimeo
Youtube
and much more.
Option 1: Pasting directly in the page editor
After you have copied the URL yet, let's go to the blog post that you want to embed the video and then simply paste the link at the relevant position in your content. This video will be displayed immediately in the visual editor. If you are happier with the result, you can click on Publish or Update the changes.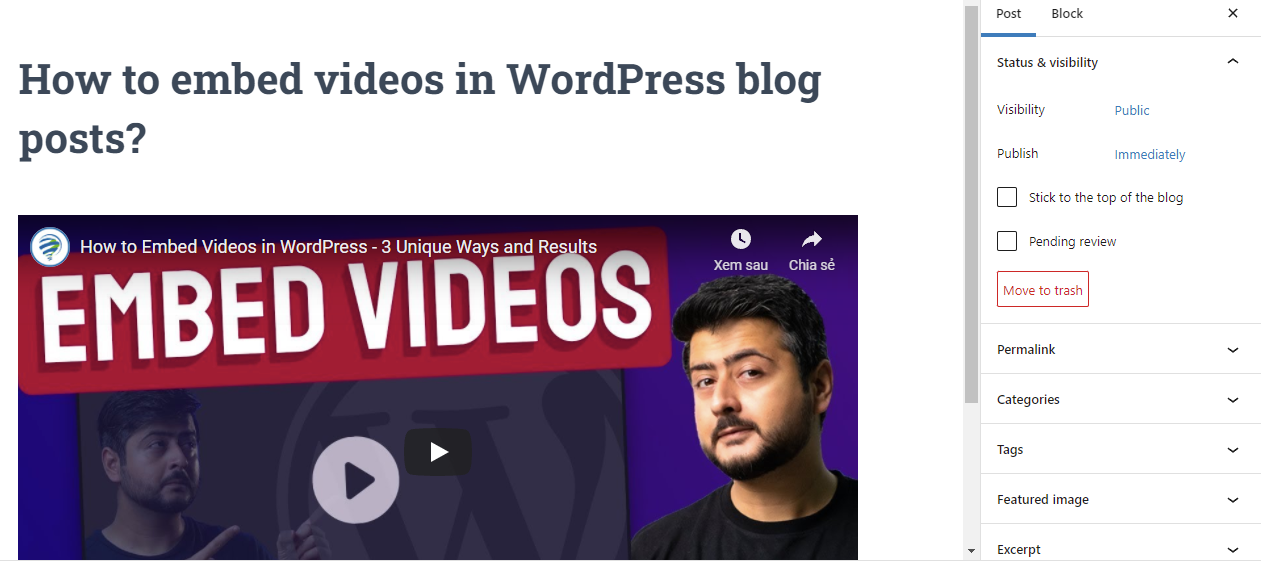 Option 2: Using WordPress blocks
If you have tried the direct past method, but the video is not automatically embedded, you can utilize WordPress blocks.
For example, in our case, we are going to use Youtube block and Video block.
Firstly, you need to click on the "+" symbol to find the Youtube block on the search bar and add it.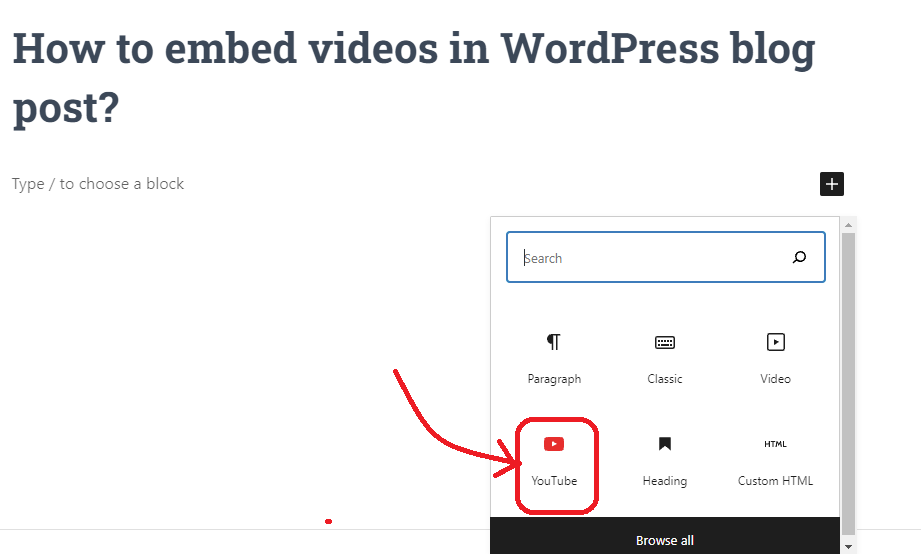 This action will open the Youtube block. At here, it offers you a field to paste the link. Once the link has already been pasted, let's click on the "Embed" button. The video will appear on the visual editor after that.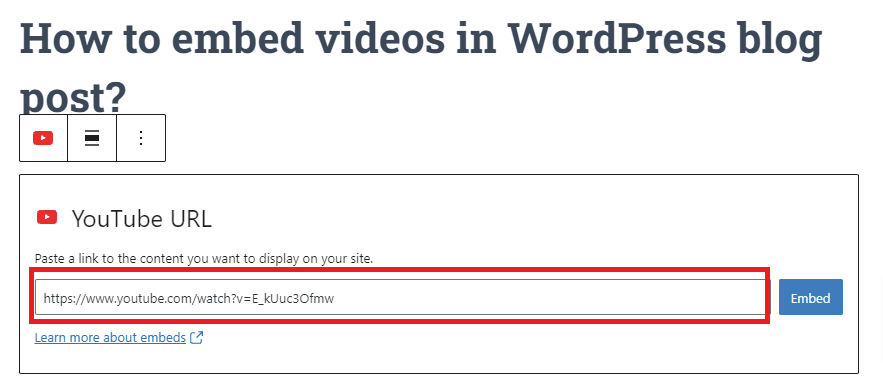 Just like to other blocks, you also need to find and add a Video block first.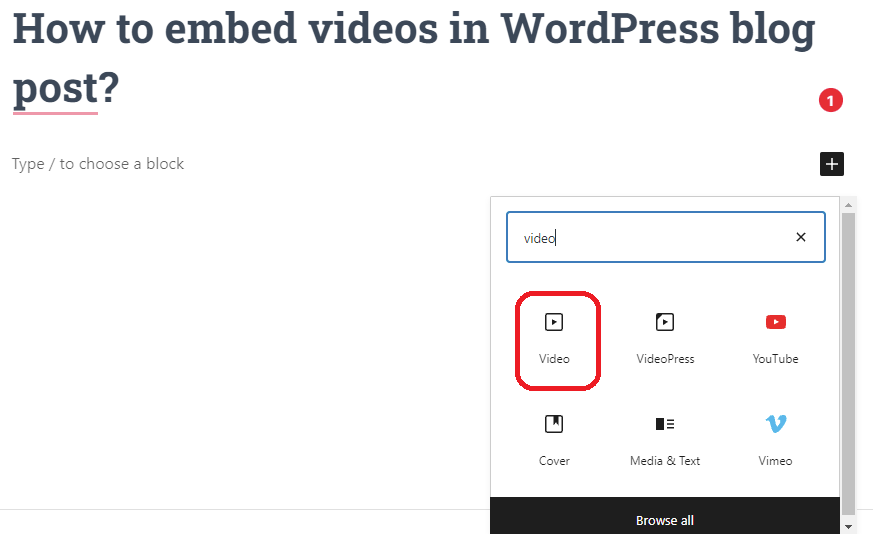 Here, there are 3 options, you need to click on the "Insert from URL" option to paste the URL. Quickly paste the URL of the video and hit the Return symbol to embed the video to the post/page.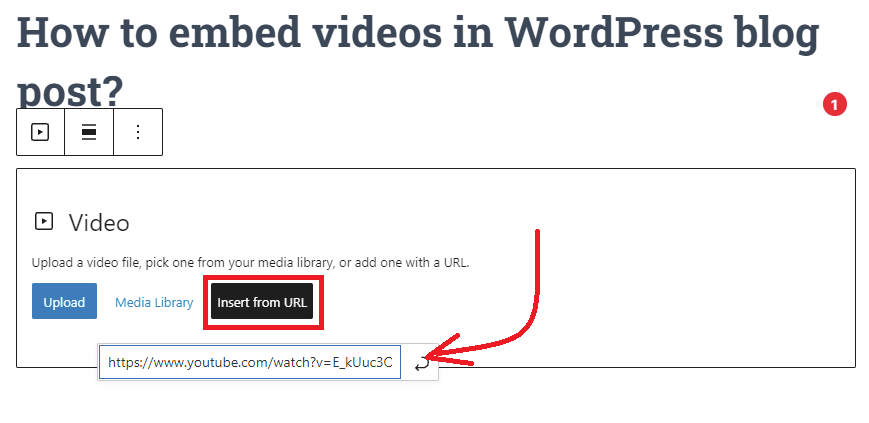 Method 3: Using WordPress Video Plugin
On the internet, there are several excellent WordPress Video Plugins that enable you to embed videos in WordPress automatically, add a video gallery, add autoplay video on page load, and much more. In today's tutorial, we are going to use Video Gallery as an example.
Step 1: You need to install and activate this plugin firstly, simply go to Plugins> Add News, type the plugin's name at the search bar. Quickly click on "Install Now" and activate it.

Step 2: Creating a videos gallery
Navigate to Video gallery > Video Manager on your dashboard, click on the "New Gallery Video" button.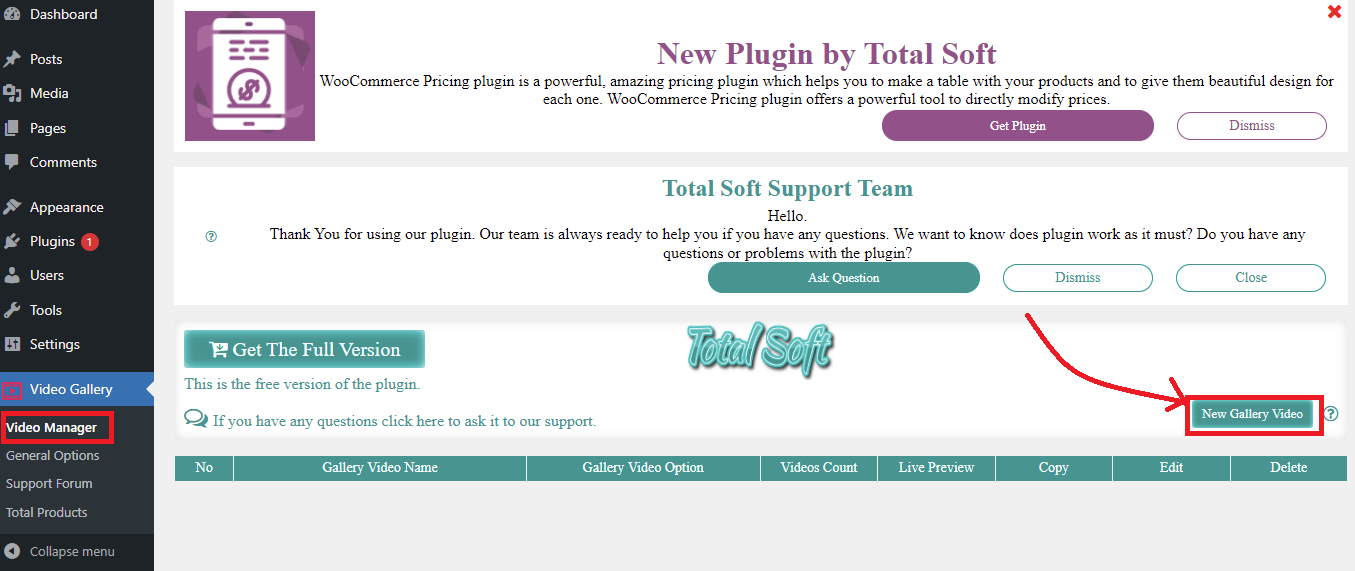 Here, you need to consider three positions including:
This plugin offers you a shortcode, you copy this shortcode and then paste it to a place where you want to display it on your post.
You can set the gallery name in the second position
Click on the "Add Video" button to the popup where you can add videos.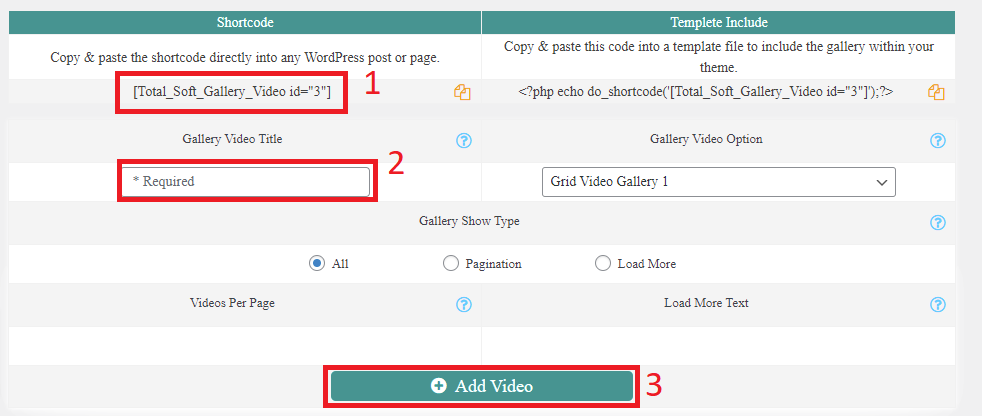 Now, click on Add Video to add video from the URL. In addition, you can also add a video title and a video description as well.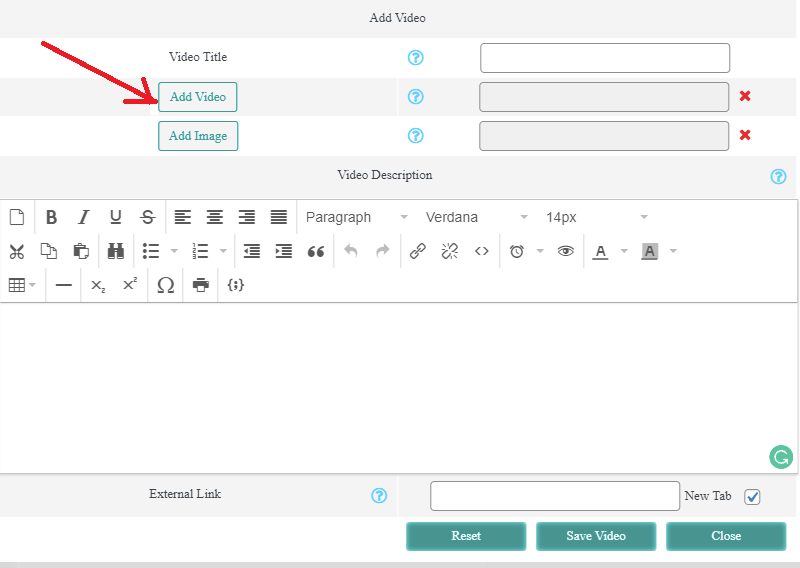 Next, choose the Insert from URL option at the left-hand sidebar. Let's paste the URL that you want to include in your video gallery. Finally, click on "Insert in to post".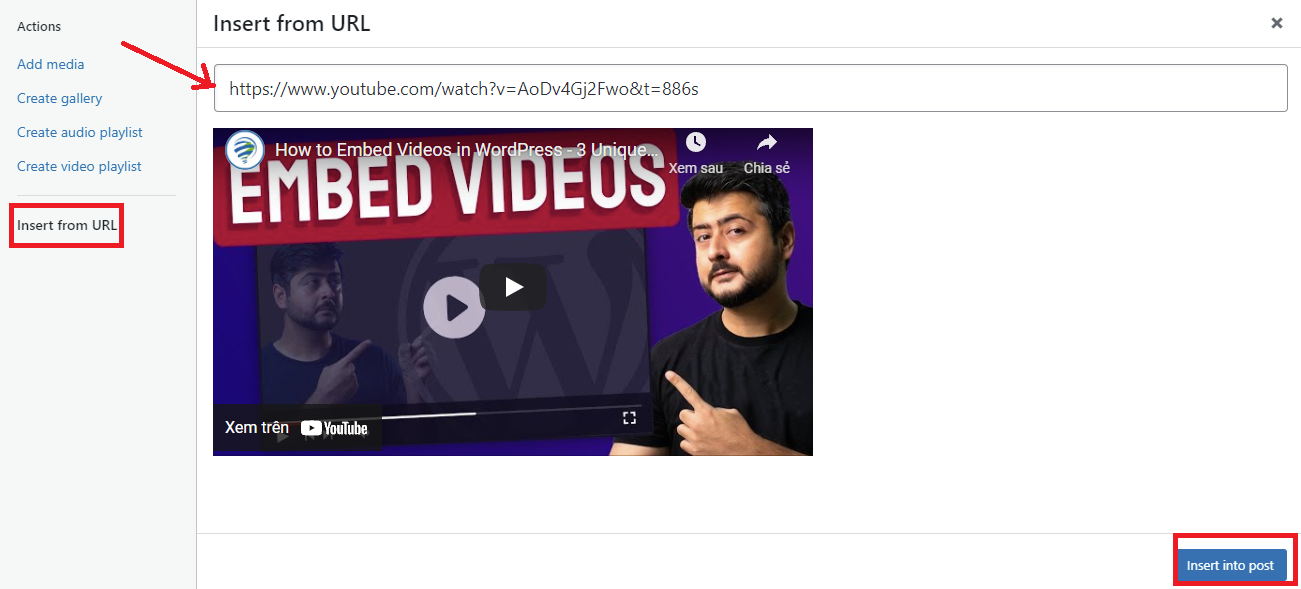 After you have added the URL, filled video title, and description yet, let's click on the "Save Video" button.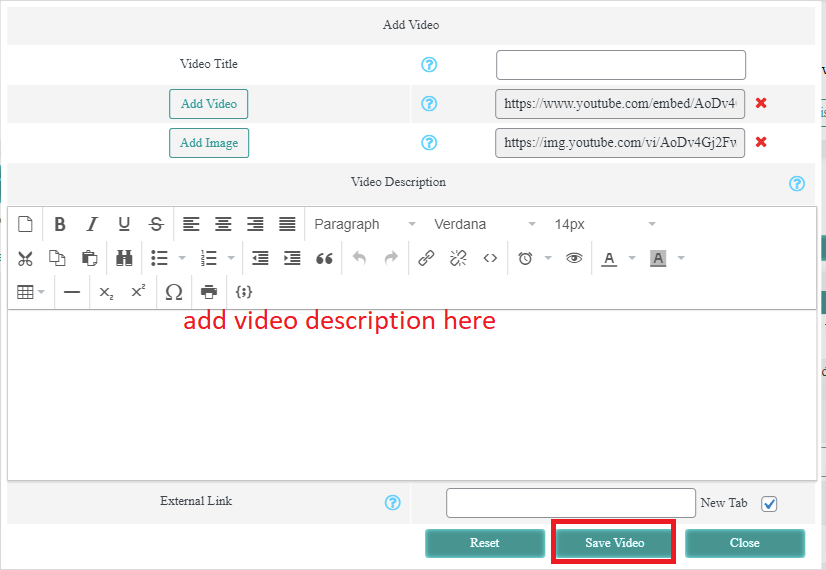 One of the significant things is that this plugin allows you to add unlimited video URLs to create a video gallery. Therefore, you can add as many videos as you want. Finally, click on the " Save " button to complete your video gallery. You can copy the shortcode and paste it into any position on your pages/ posts.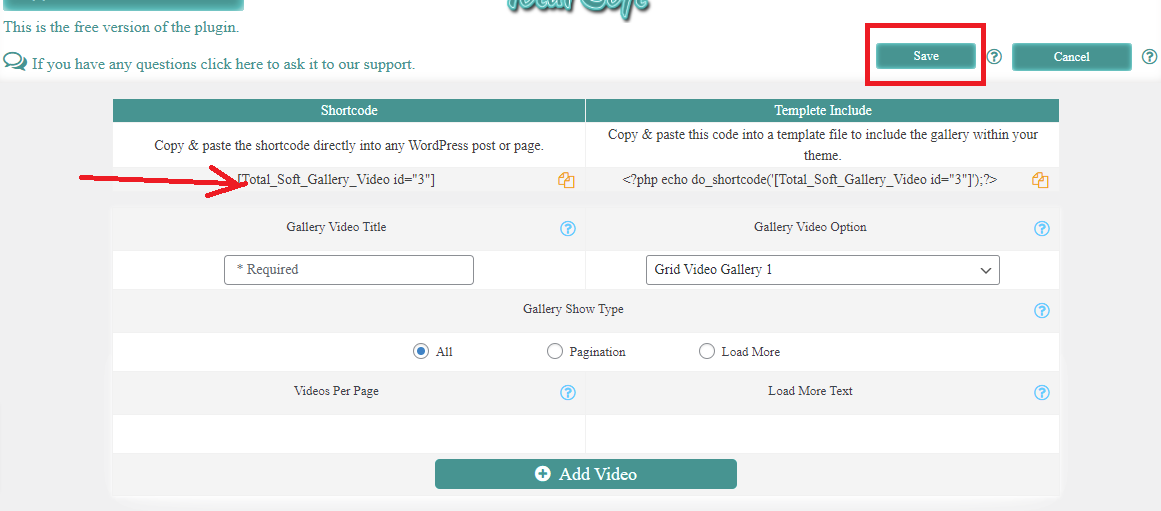 Otherwise, you can also visit your post that you want to add a video gallery. Click on the "TS Video Gallery" option above the edit area. Select the "Insert Gallery" option to add your created video gallery. Finally, click on Update/ Publish to view the result.

And this is how it looks on your website.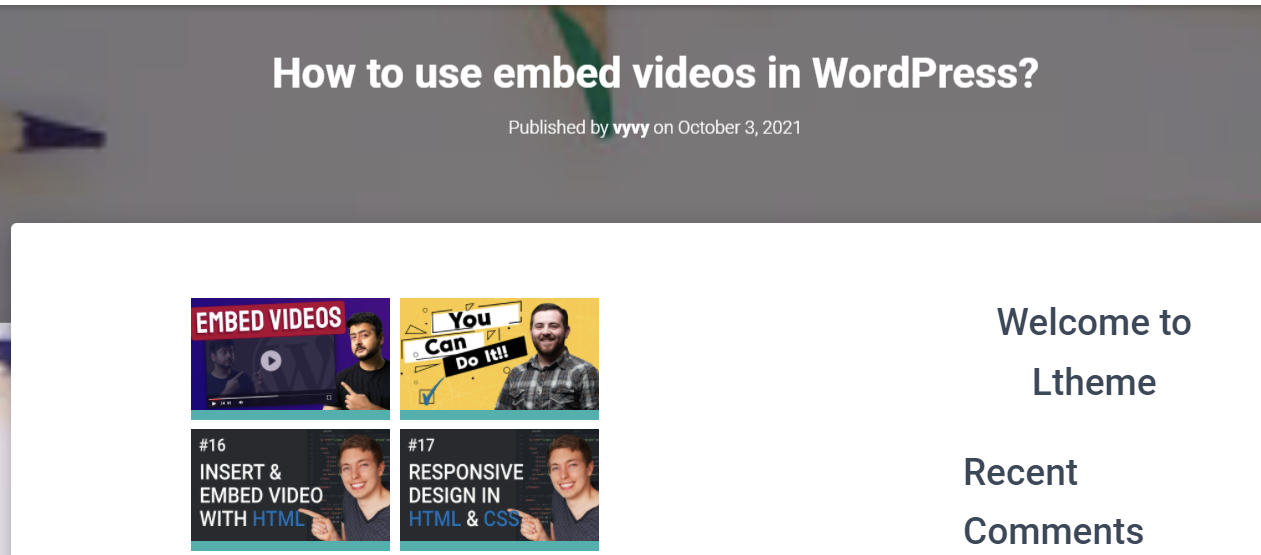 Note: One of the advantages of this plugin is that it allows you to create unlimited video galleries by embedding Youtube videos on the WordPress site. Moreover, there are 16 various layouts for you to choose from. You can also add hover and lightbox effects to make your video gallery more attractive. However, this plugin is only suitable for cases when you want to display a lot of videos with different layouts. On the other hand, if you only want to add a single video, you should paste it directly to your content.
How to embed video in the sidebar or footer
This method allows you to embed video in the sidebar or the footer area. Thanks to that, you can highlight the important video on your page to attract the visitor at the first sight. And there are three ways to insert videos as widgets to any position on your site including using a video widget, a text widget, and a custom HTML widget. In this section, we are going to demonstrate the easiest way by using a video widget.
Let's follow the steps below.
Go to Appearance>Widgets.
Choose the Youtube widget and drag it to your desired location.

 Paste the video URL in the given area.
Click on the "Embed" button to add a video in the sidebar.
And finally, click on the "Update" button.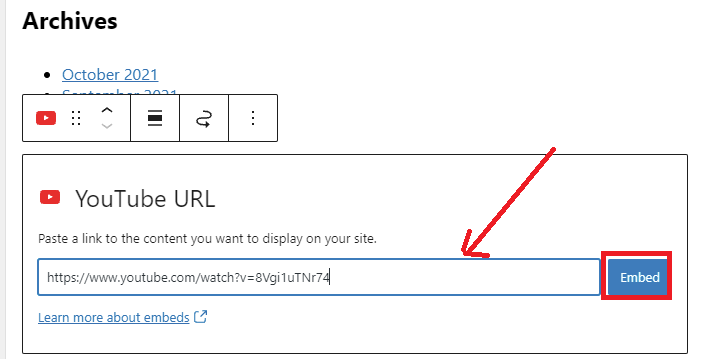 Now, let's go to your website and enjoy the result.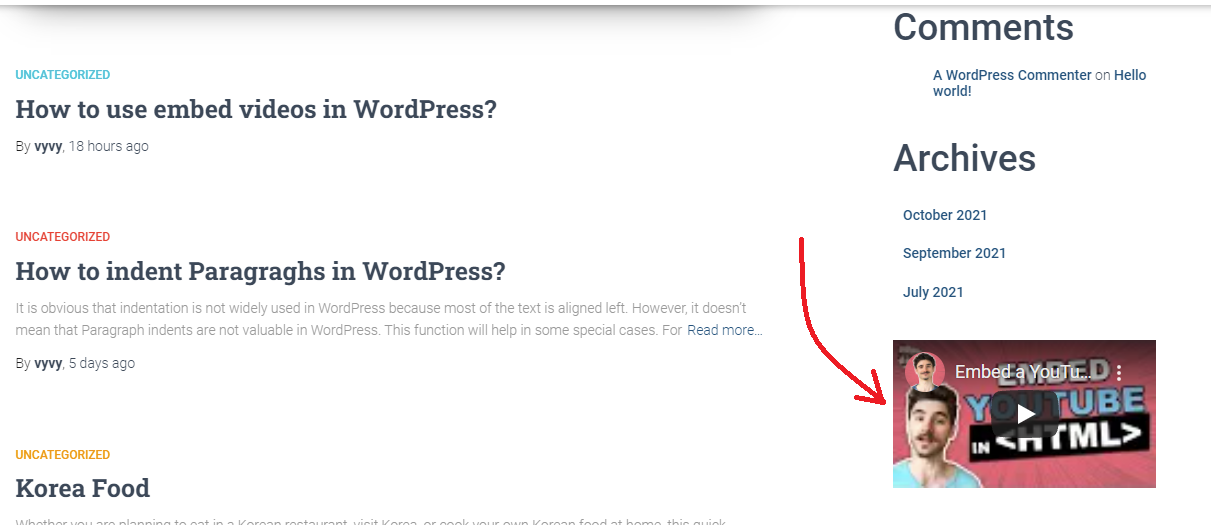 Conclusion
We have just covered the simplest methods to help you embed videos in WordPress. Hopefully, through this tutorial, you are able to add your video to posts, pages, sidebar, or any locations on your site by yourself.
If you have any queries or encounter any difficulties during the use of these methods, don't hesitate to mention them in the comment section below. We will give the support as soon as possible.
Last but not least, our free WordPress Themes has tons of appealing, responsive, and modern themes that are suitable for various fields. With our designs, you can create a beautiful website without effort. Let's visit and get one.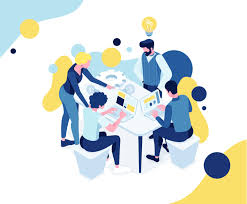 Latest posts by LT Digital Team (Content & Marketing)
(see all)