Every Joomla website has a default temp (temporary) folder located inside its folder structure. This folder contains many files and folders used for various purposes. While it's safe to assume that files stored in this directory will likely be deleted or moved to a more permanent location shortly after being put here. However, it is better to understand what kind types of files does this folder contains, why it's there, and whether it's important to your website. Let's see!
What is the Temp folder in Joomla?
Well, the temp folder is used by the Joomla system during software installation or extension updates. Whenever Joomla performs these operations, the system needs a temporary place to store the files and handle them. Of course, the same goes for Joomla 4 to provide that space to these files. Additionally, when an extension is uploaded in the .zip format, it is stored in the temp directory as well. Then they are extracted into the correct folders. Besides, the temporary files of all other file manipulation tasks are also placed into this temp folder. Therefore, it is very important.
By default, Joomla uses its own temp folder called tmp, and you can find it at the root of your Joomla installation.

Default Temp Folder Path in Joomla 4
Sometimes for various reasons, Joomla! cannot automatically clean up the temp folder. Therefore, you should clean this folder manually on a regular basis, except for index.html and .htaccess (if any).
How to change the default temp folder path
Changing the default temp folder in Joomla 4 is easy. Through the Global Configuration, you can get this done in a couple of minutes.
From the Home Dashboard, navigate to System > Global Configuration: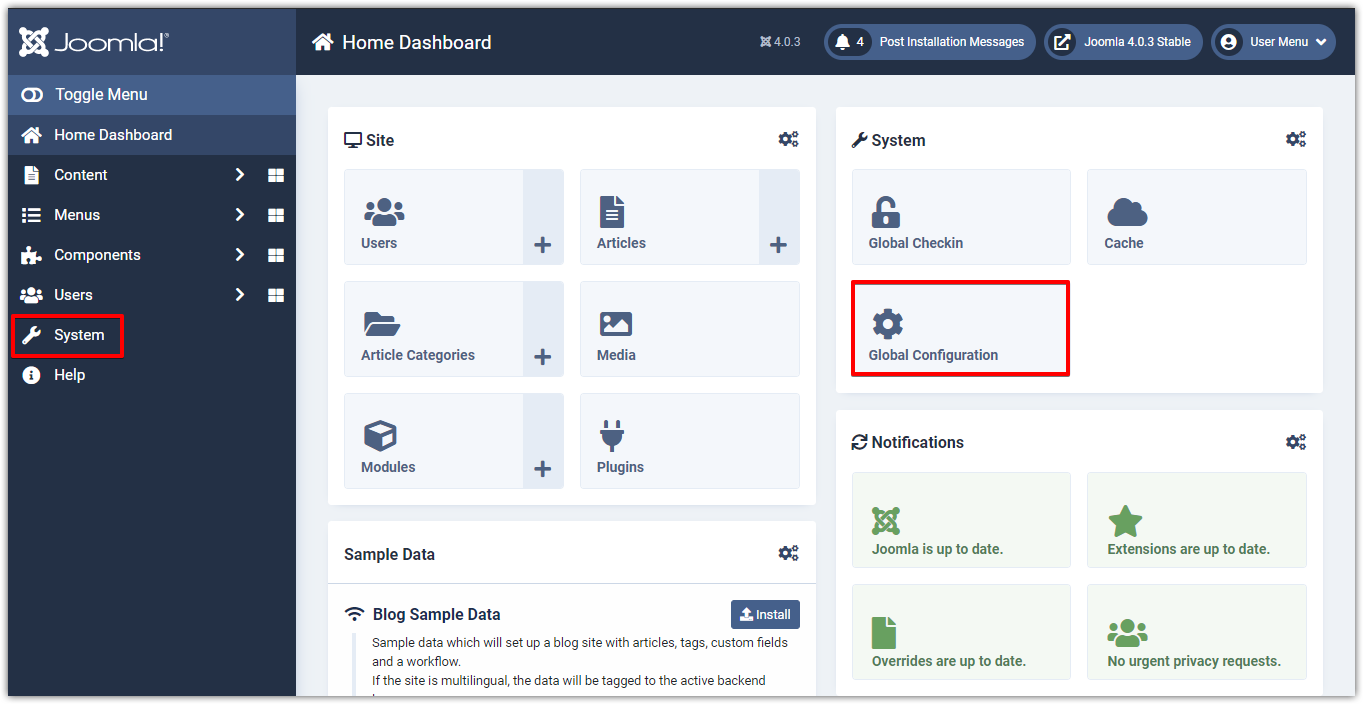 Then on the Server tab, just under the Server section, you'll see an option called Path to Temp Folder right in the very first field.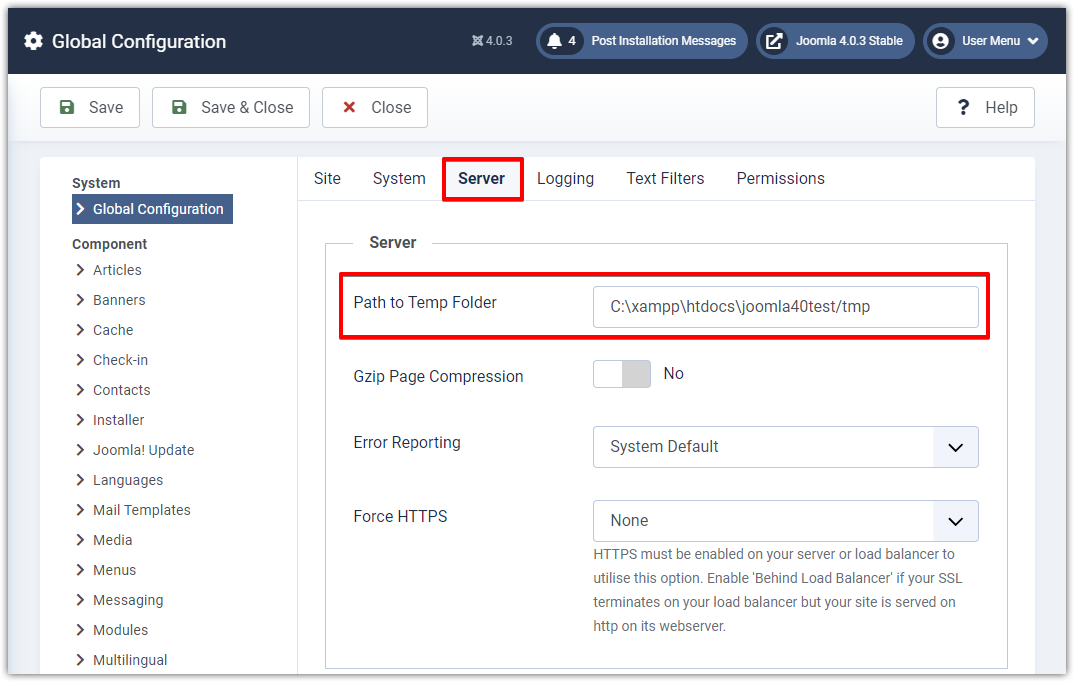 As you can see from the screenshot above, I have the default Joomla tmp folder, at the root of the Joomla installation directory.
To change the default temp folder, enter the full path to your new temp folder. Simply change the last part into whatever folder you'd like. Then click Save & Close and you're done.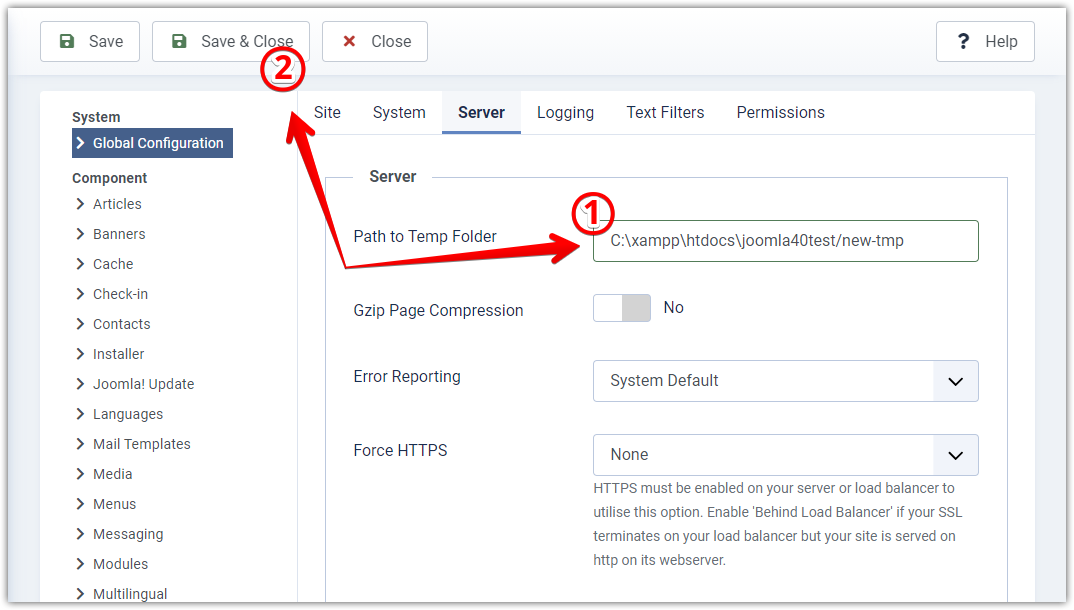 * Note: If you configure the path incorrectly or the permissions you set for the temporary directory are incorrect, you will not be able to install the extensions. When there is any problem with the folder, you may get an error telling that the archive does not exist.
To make sure the path is correct, you need to log in to your server, find the "tmp" folder and copy its full path. In terms of the permissions, make sure that the temp folder is writable. The preferable permissions are 755.
Clean the temp folder
As mentioned above, your temp folder is the directory where Joomla and its extensions place transient files when installing software/updates or performing other kinds of file manipulation operations.
And after such operations, in most cases, the system will delete these files or move them to a safer location for later use. However, depending on many different factors, the installation process might not automatically clean up those temporary files. Or maybe after a failed update, most likely the files are still there. Not only does this cause space issues, but it can also compromise the security of your website. These files may contain sensitive information, insecure code, or even executable PHP files. Therefore, you should check your temporary folder and perform cleanup periodically except index.html and .htaccess. For enhanced security, you can also place the .htaccess file with special rules to prevent unwanted access to this folder.
And that's it! You now know how to change the default temp folder path in Joomla 4. Hope you enjoyed the article, and don't hesitate to leave your comments should you have any questions. In case you're going to work with Joomla! on next project, don't miss our Joomla 4 templates list, that's up-to-date, SEO optimized and high performance.
Thanks for reading, and stay tuned for more how-tos!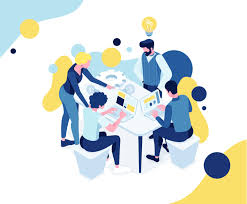 Latest posts by LT Digital Team (Content & Marketing)
(see all)