Why should you install Form Builder Plugin for WordPress sites?
As an owner of the website, you always want to bring the greatest experience to users when they visit your website. In the past, most website owners used to display an email address, street address, phone number as the bridge between the website owner and users. However, such a traditional method seems really disadvantageous to the website owner because it is a good opportunity for spammers who always attack your email accounts by sending spam emails or negative messages. To deal with this problem, today using the Form Builder Plugin is considered an effective way to help you create a lot of types of forms such as contact forms, registration forms, login forms, and much more. In addition, this useful tool also comes with plenty of advanced features that support you in easily communicate with the users of your website. Unfortunately, in the market, there are unlimited Form builder plugins which makes it difficult to choose the right tool for your website. For these reasons, in today's topic, we picked out two of the outstanding plugins to compare: Ninja Forms Vs Formidable Forms.
Both plugins have been trusted and used by a lot of webmasters around the world. Moreover, they completely offer loads of creative features and functionalities to ensure that they bring a great experience to users. Therefore, we will compare Ninja Forms Vs Formidable Forms based on 4 aspects including main features, price, Ecommerce support, ease of use The combat between Ninja Forms vs Formidable Forms will be a valuable instruction to assist you to make the most suitable choice for your site later. Now, what are you looking for? Let's dive into the comparison below.
Ninja Forms Vs Formidable Forms: Overview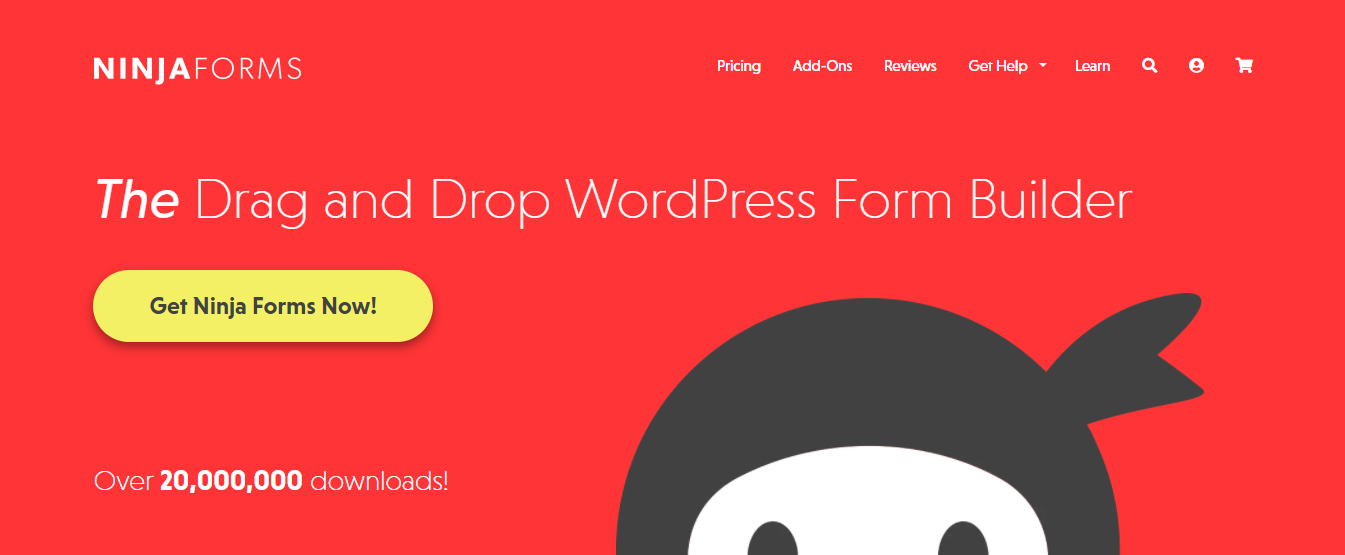 Ninja Form is one of the most effective products that are developed by Saturday Drive. This has gotten over 20.000.000 downloads around the world. The plugin has been designed with a user-friendly interface, so it is extremely easy to use for all users, even you are a beginner. In addition, it comes with loads of powerful features and other useful functionalities. The most remarkable thing about this plugin is that it provides you excellent Customer support, although you use the free version, their support team always responds and helps you handle any question or issue.  Especially, when purchasing the premium add-on, you can add more new functionality and integration with the third-party apps.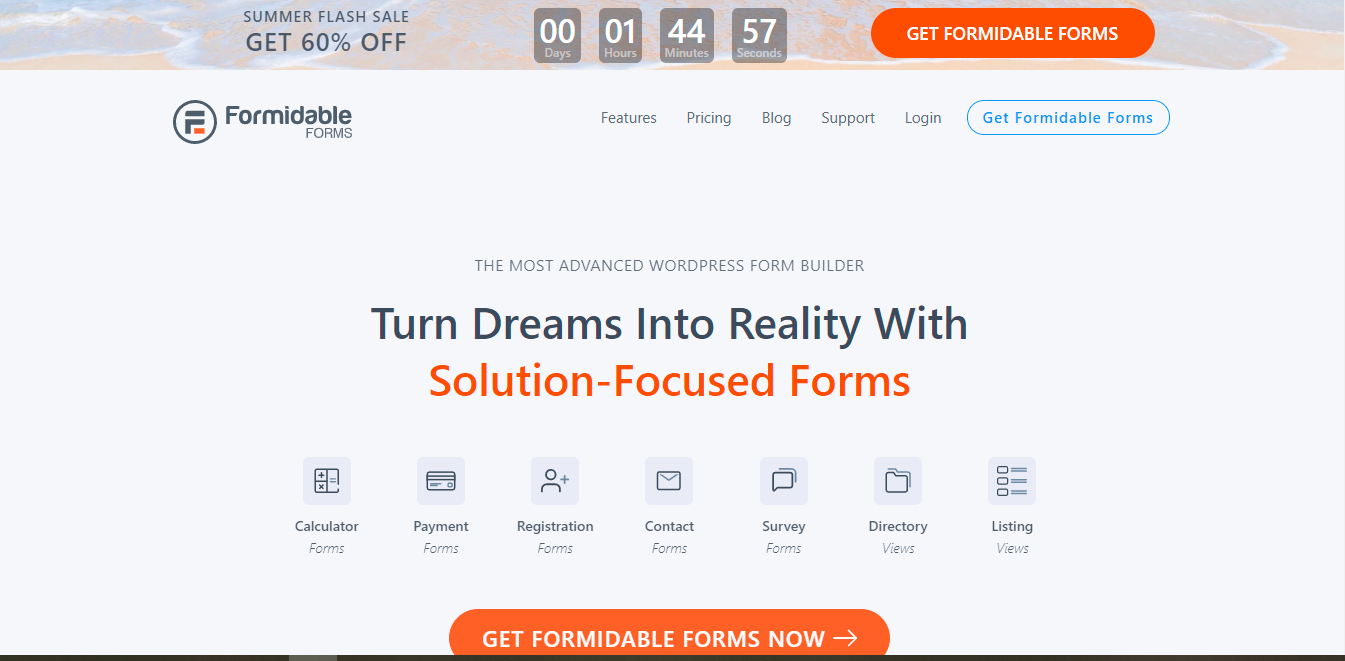 Formidable is another outstanding plugin that we will compare. This plugin is considered the most effective solution to help you create all types of forms such as contact form, survey, quiz, registration form, payment form, and much more. In addition, this plugin has been built with the best practices and modern standards to ensure that it doesn't make your site slow down. One of the significant things is that you completely don't need any coding knowledge to create and manage forms. Because Formidable views enable you to use your form data without any PHP and however, HTML skills are useful. Especially, Formidable is 100% mobile responsive. It means that your WordPress forms will have a great appearance on all types of devices including desktops, laptops, tablets, and even smartphones.
Main features
Ninja Forms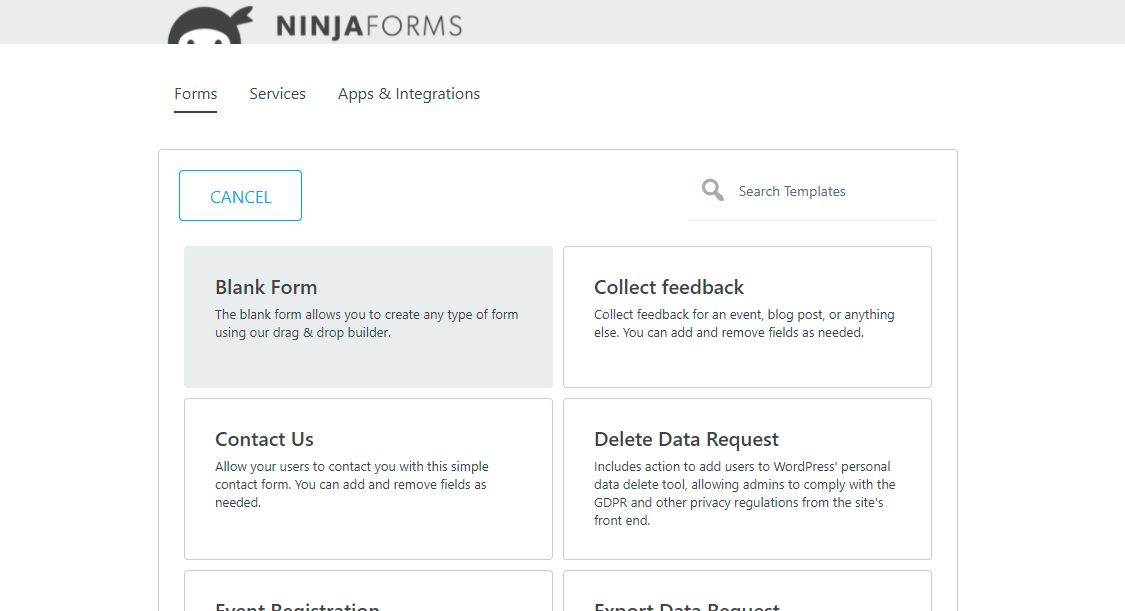 Ninja Forms comes with a bunch of advanced features including:
The ability to create an unlimited number of submissions
Allow you to create forms with required fields, make use of field validation
Offer the most popular email marketing services, payment gateways, CRM, notification services, eCommerce platforms, and project management apps
Upload files to WordPress, Google Drive, Dropbox, or Amazon S3
Drag and drop form builder
Customizable email notifications from any form
Spam protection including Akismet and Google reCaptcha
Enable you to export and import forms
Formidable Forms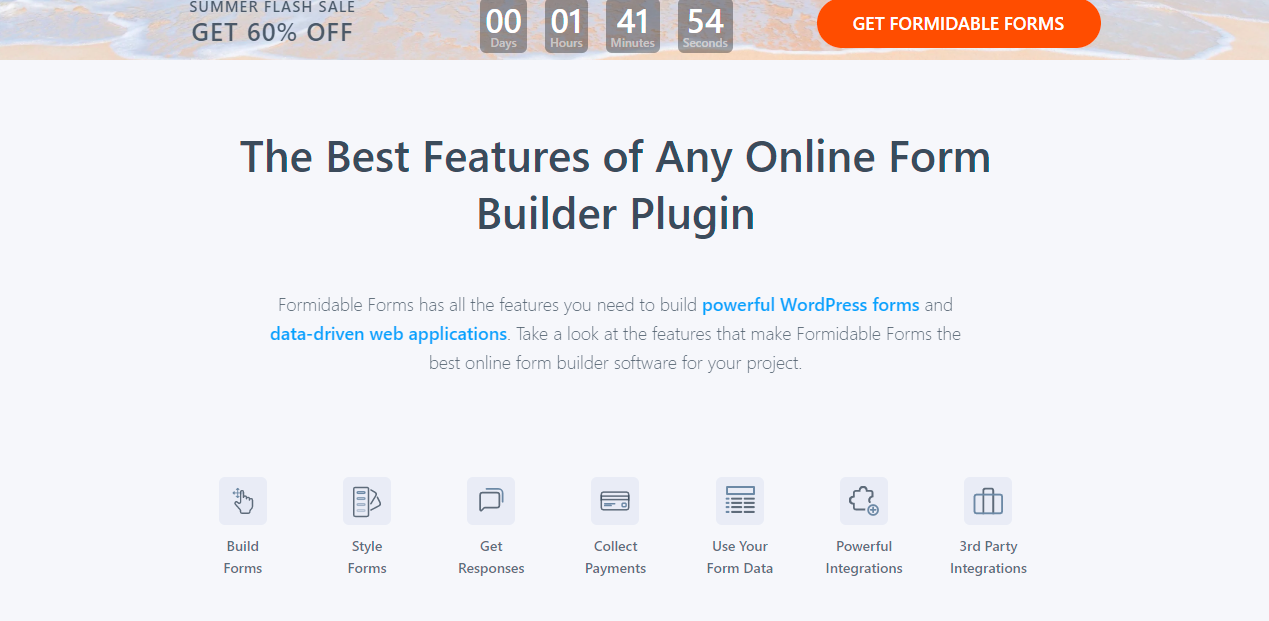 The powerful features of the Formidable plugin including:
Allows you to build any types of forms such as quizzes, online calculator forms, polls& surveys
Display your form data with Formidable views
Send email notifications and autoresponders
Enable you to style your WordPress form as you want
Allows you to view all your quiz and survey entries right from your WordPress dashboard
Configure unlimited email notifications and autoresponders triggered by submissions
Allow you to create a payment form to accept credit card payments
Offers extensive integration with WooCommerce orders
Create an order form, donation form, booking form, or other payment forms with payment fields
It is can't be denied that both plugins come with loads of excellent features that can meet all basic requirements to build multiple forms for your website. So we will compare some unique features of each plugin to help you realize the differences.
It is one of the useful features that help visitors easily conduct some activities such as parametric search or multi-criteria search. Especially, if your website has various kinds of content, this function is really helpful. Therefore, Formidable Forms allows you to create search forms from available forms or you can add custom fields as you want. However, Ninja Form doesn't offer such a feature.
While Formidable Forms Pro enables you to create posts through a form and you don't need to pay additional charges to use this feature. On other hand, you have to buy an extra add-on to generate posts via forms.
Collecting user data will assist you to make the right decision about your campaigns as well as organizational strategies. Hence, Ninja Forms provides you with this feature to support you get better data about the form traffic. In addition, you can also add 12+ analytics fields including UTM values, URL referrer, Geodata, and much more. But this function is not included in Formidable Forms.
Ninja Forms integrates with the Zoho CRM extension. This feature enables you to send customer-submitted data from your WordPress forms to your CRM account. Thanks to that, it is easy for you to create contacts, leads, accounts, potentials, notes, and tasks. This smart extension helps you save much time because it directly connects between your WordPress form and your Zoho account. And the Formidable Form is different from the Ninja Form when it has no utility similar to this feature yet.
Pricing Plan
Ninja Forms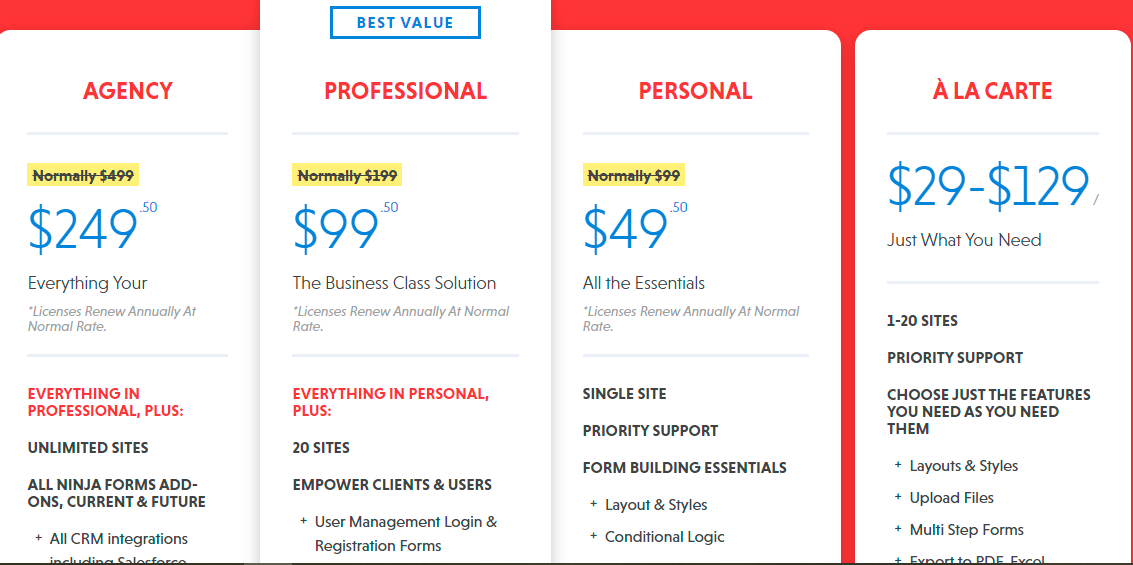 Formidable Forms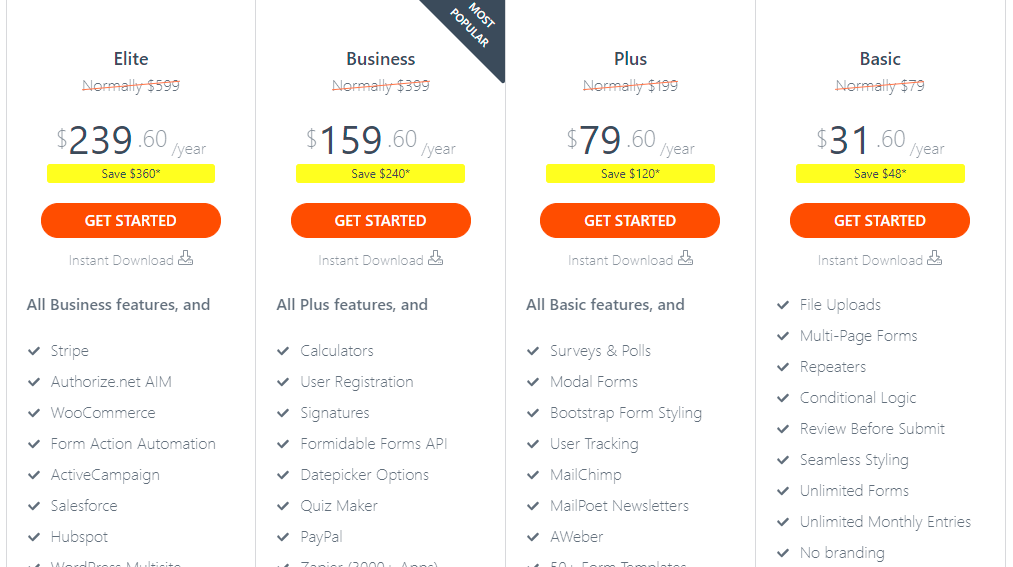 Generally, each plugin also provides many reasonable pricing plans for different purposes. We created the detailed table below to compare the price of each plugin according to the number of the site licenses to help you easily realize which plugin is cheaper.
| | | |
| --- | --- | --- |
| |  Ninja Forms |  Formidable Forms |
|  1 site license |  $99 |  $79 |
|  3 sites license |  N/a |  $199 |
|  7 sites license |  N/a |  $399 |
|  20 sites license |  $199 |  N/a |
|  Unlimited sites |  $499 |  $599 |
|  Updates |  Yearly |  Yearly to lifetime |
|  Support price |  Yearly |  Free for one year & then pay for per month |
As you can see, the basic package of  Ninja Forms starts at $99, meanwhile, you only pay $79 for the basic plan of Formidable forms. Especially, Formidable Form is having a discount promotion, so you only need to pay $31 to own the basic package.
In addition, when you purchase the premium version with an unlimited sites license, the Formidable Form is $100 more expensive than the Ninja Form. However, you will have a chance to get this version of the Formidable forms for only $239.60, if you purchase it during the promotion period. What's more, Formidable Pro also provides you with over 16 add-ons, whereas, the Ninja Form only gives you 3 essential add-ons including conditional logic, layouts, and styles, file upload.
As a result, in this part, the Formidable Forms seems to be cheaper than Ninja Forms in all supported package types.
Ecommerce Support
| | | |
| --- | --- | --- |
| |  Ninja Forms |  Formidable Forms |
|  Authorize.net | No | Yes |
|  Elavon | Yes |  No |
|  iDEAL |  No |  Yes |
|  PayPal | No | Yes |
|  PayPal Express Checkout |  Yes | No |
|  Stripe | Yes |  Yes |
|  Woocommerce add-on |  No | Yes |
The table shows that Formidable Forms provides various payment methods including Paypal, Stripe, Woocommerce add-on. Thanks to that, it is possible for you to create different payment forms.
Whereas, Ninja Forms only support Paypal Express Checkout and Stripe addons. This method allows you to ask customers for payment after they have finished the form yet.
Ease of use
Ninja Forms has a user-friendly, and easy-to-use interface, so it helps you build any type of form quickly even for new users. And Formidable Forms is no exception. This plugin is also simple to use for those who have any coding knowledge.
Nevertheless, Ninja Forms has more add-ons for intensive features such as conditional logic, multi-page forms, file uploads, and form layouts. These operations take you much time to learn and use competently.
Ninja Forms Vs Formidable Forms: Summary
Generally, both plugins offer a lot of useful features as well as necessary functionality to help you easily create any type of form on your site. Although each plugin has also some unwanted limitations, we believe that the advantages of both plugins certainly outweigh their disadvantages. So, which is the most effective solution for your website?
From our standpoint, Formidable Form can win your heart because it is truly a simple and effective tool to control and showcase submitted data. However, if you are finding a useful tool for easy form layouts and a lot of various add-ons, Ninja Form could not be a bad choice for your website. We hope that through the battle Ninja Forms vs Formidable Forms you can get wise to the fact that which one is greater for your site.
And what is your perspective? If you have any questions or queries about the 2 plugins above, please leave a comment below. We will discuss it together.
In addition, if you want to consult more options, you can access WordPress Form Builder Plugin. By the way, our Free WordPress Themes provides hundreds of professional, elegant, modern themes that absolutely work well with the 2 plugins above. Therefore, you can visit and update them for your website.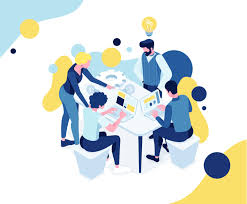 Latest posts by LT Digital Team (Content & Marketing)
(see all)