If you are two minds to choose between Webflow vs Elementor, don't miss this blog. This article will give you a detailed comparison to help you easily choose the best one for your site. Now, let's check them out.
Introduction
In the olden days, if you wanted to create a professional website, it required you to be good at the knowledge of HTML and CSS to code. However, with the significant development of advanced technology, nowadays you don't need to touch any line of code. You are still able to create your own desired website within minutes.
The introduction of cutting-edge website building tools is a perfect solution for those who are no-coding skills. These modern design tools help you simplify the process of designing any website instead of using HTML/CSS to code. And Webflow vs Elementor is regarded as the two most outstanding page builder tools in the market currently. Each tool comes with a bunch of features and functionalities. However, we are sure that you still don't realize the differences between them.
For this reason, we are going to compare Webflow vs Elementor based on some major aspects to make it easy for you to pick up the best one for your website. Now, let's dive into and look for your favorite tool for your website.
Webflow vs Elementor: Background
Webflow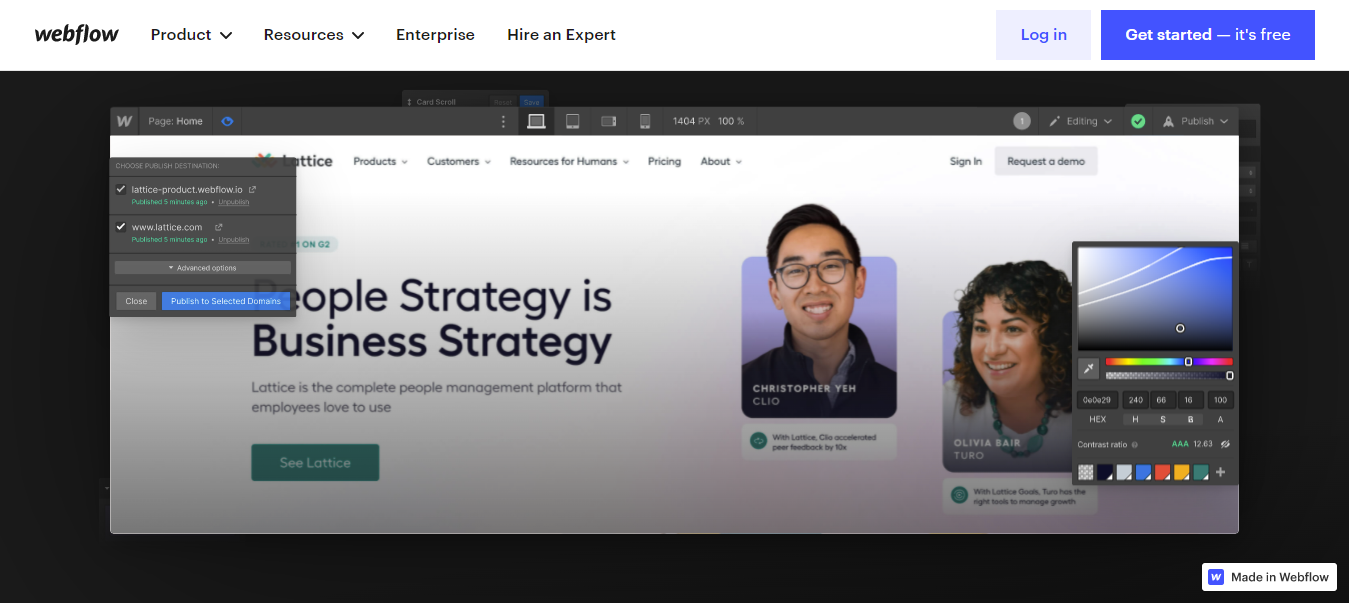 Webflow is one of the most outstanding visual design platforms that enables you to create, collaborate on, and scale any stunning website in a completely visual canvas without spending dev time. Currently, Webflow is used by more than 3.500,000 designers and teams. In addition, it is also a common CMS and hosting provider for building production websites and prototypes.
Webflow provides you with the ability to work with three programming languages including HTML, CSS, Javascript but doesn't need to understand what they are. Plus, Webflow also caters to various useful resources that help you easily create your desired website within minutes.
Elementor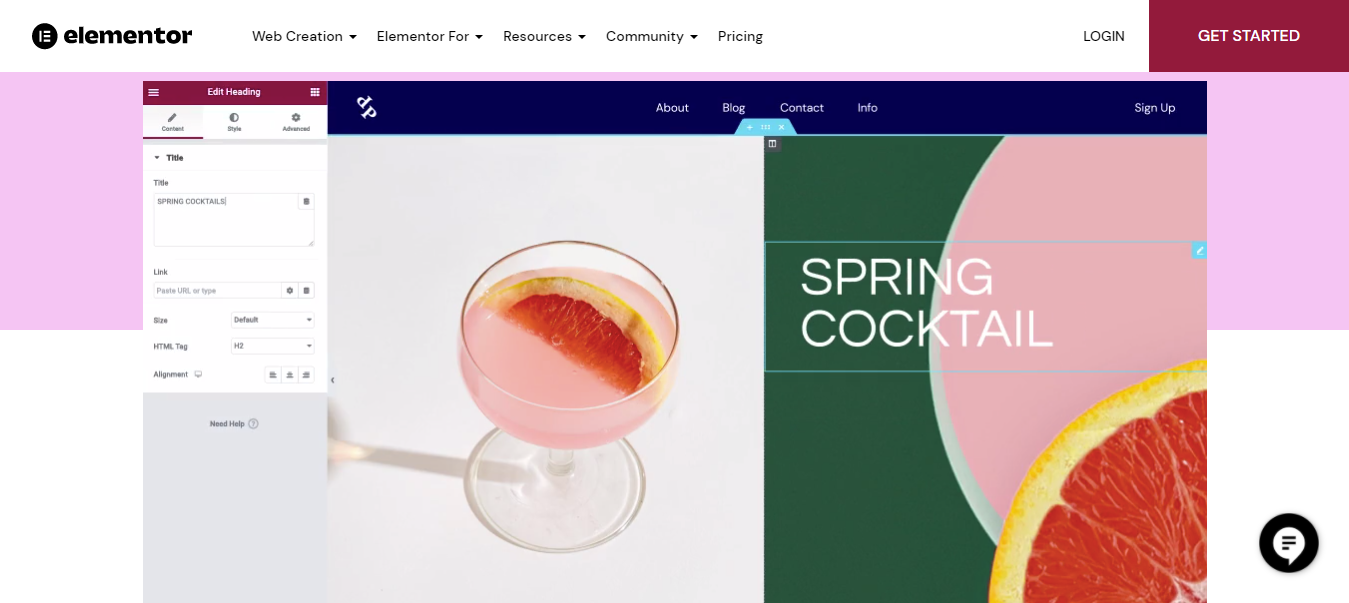 As you know, Elementor is a famous drag and drop page builder plugin for WordPress. It was founded in 2016 by Yoni Luksenberg and Ariel Klikstein. This page builder is specially released for those who have no coding experience. You can take advantage of this wonderful plugin to build any beautiful and professional website by dragging and dropping elements in the front end without effort. In addition, it also comes with a variety of powerful widgets and templates that help you handle various tasks in the process of creating your desired website.
Ease of use
Webflow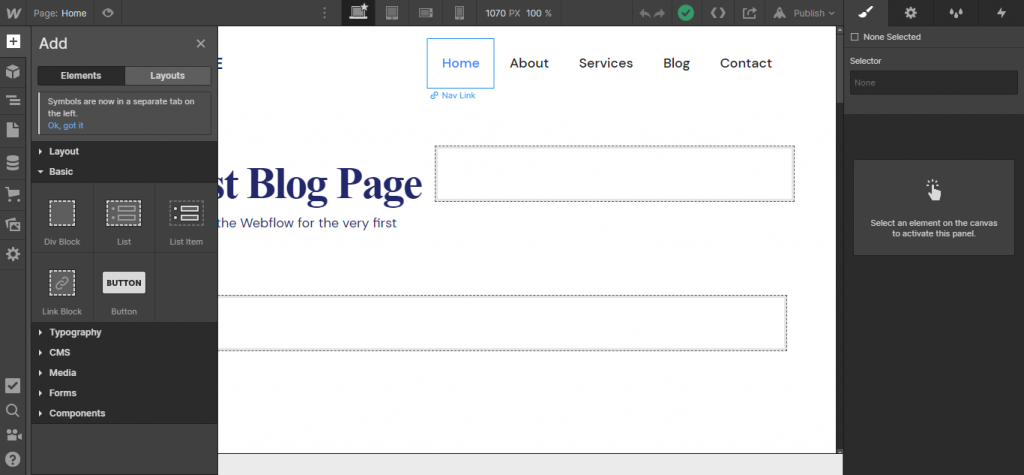 One of the biggest advantages is that you don't need to install Webflow to use. All you need to do is enter your email, your password and then answer a few questions about the type of website you want to design and your technical experience. After that, it will bring you to the user interface of Webflow.
If you get used to using WordPress's interface, it is sure that you will find Webflow's interface very difficult to use. However, it is not too complicated as you saw in the Adobe tool. The Webflow caters to a helpful navigation menu with plenty of options on the left and the design tools on the right. Whenever you click on an element, it will display a custom menu for that particular element.
In fact, Webflow is specially built for WYSIWYG designers and developers, so it takes you a lot of time to learn how to use its rich features and practice professionally. However, there are available video tutorials to handle your issue. Or you can also start creating your own website by using its pre-build Webflow templates if you want to save much time.
In the dashboard area, you can configure website settings, hosting, billing, SEO, backups, integrations with third-party services, and more.
One of the Webflow drawbacks is that it doesn't offer many features that are essential among other CMS platforms such as categories, tags, comments, post types, and much more.
Elementor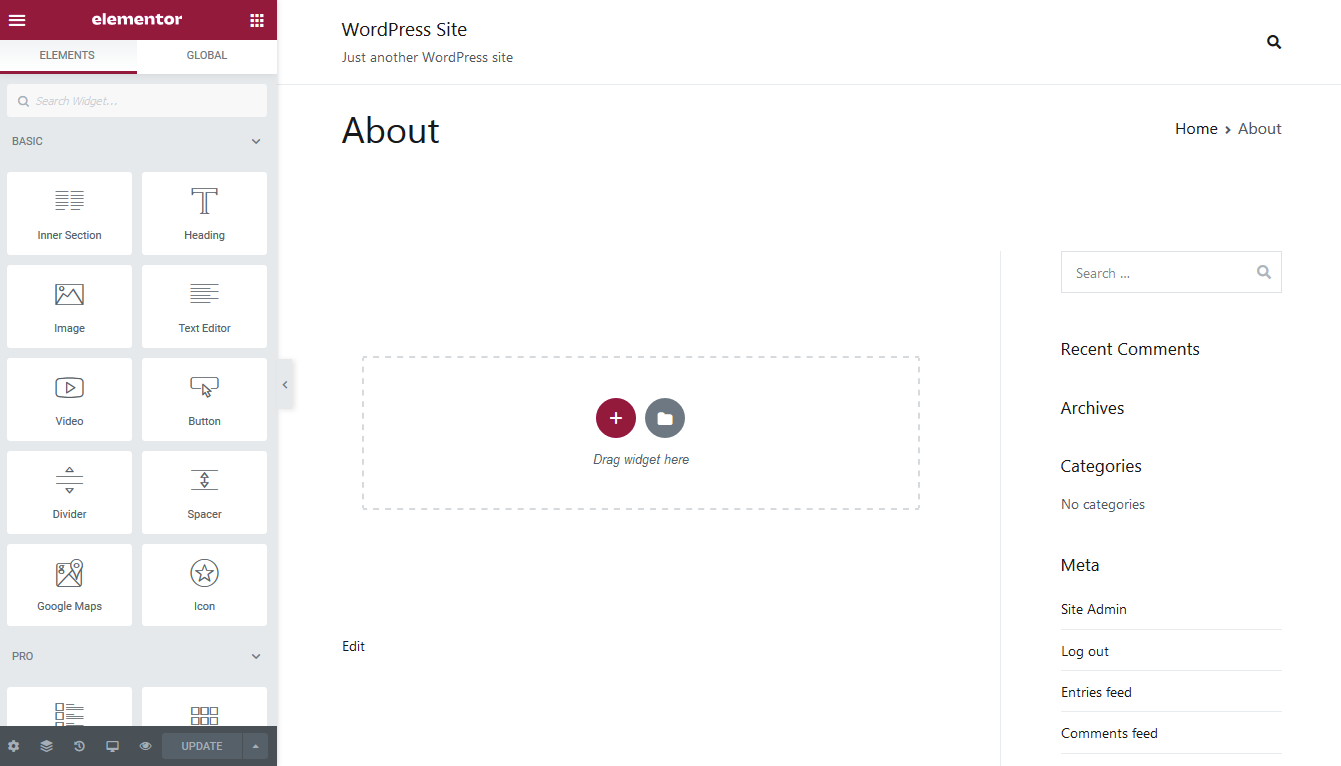 In contrast, Elementor comes with a user-friendly and intuitive interface. It is easy for you to grasp the page structure hierarchy and located the content elements. Thanks to that, you can work with your page easier than ever. Elementor allows you to add a new column to create dynamic content by simply dragging and dropping your predefined blocks and widgets from the sidebar on the left. You can also rearrange any sections with a drag and drop interface.
Nevertheless, the process of installing Elementor is a bit more complicated compared to Webflow. You need to install WordPress first and then install Elementor from the WordPress dashboard.
Design and flexibility
Webflow
By using Webflow, you can easily create a new project without having to code. It allows you to start with one of the following options: a free website design, a blank canvas, or a premium website design. What's more, it lets you import other designs from other sources and other third-party websites Flowbase.
Presently, Webflow provides you with over 500 pre-built templates that include various topics such as blog, photography, art, entertainment, eCommerce, and much more. However, there are only 100 free designs available to download. If you want to get more designs, the prices of advanced designs will range from $49 -$79 for each item.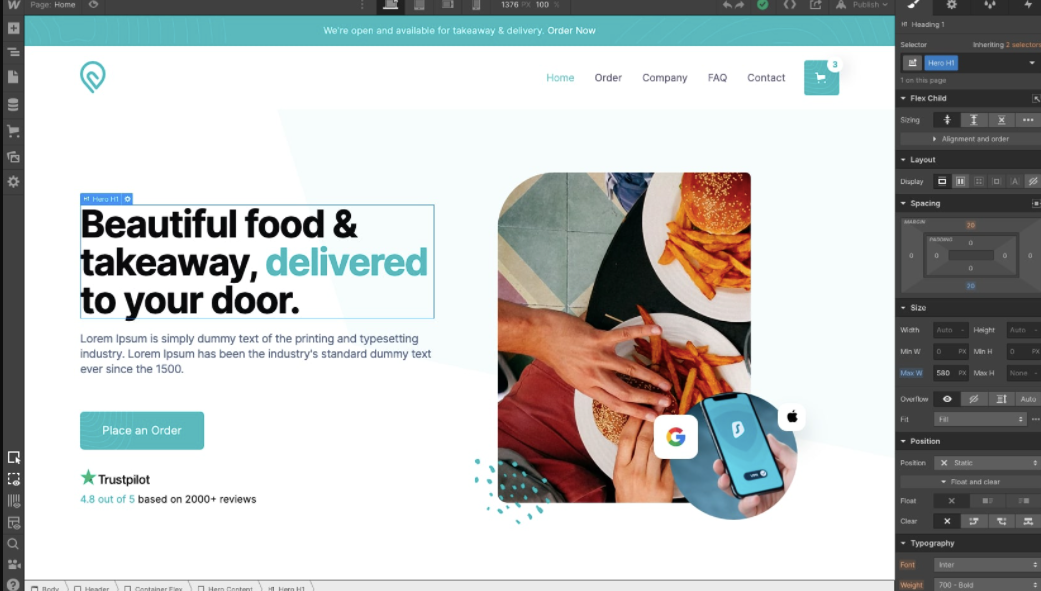 One of Webflow's downsides is that Webflow doesn't let you switch designs because they don't offer an available theme system. As a result, whenever you want to replace your current design with another, creating another website is a single way that you can implement in this situation. This is quite inconvenient if you have a lot of blogs and you want to create different designs for each blog.
Besides, Webflow offers a dozen of default features that allow you to create a professional website. But there is a lot of limited functionality compared to rivals. You are able to integrate it with numerous high-class third-party Ecommerce services such as Zapier, Mailchimp, ShipStation, and Quickbooks. Hence, it is easy for you to create and manage or update your high-quality products on your eCommerce site.
Elementor
Elementor is well-known for its large collection of pre-made blocks and pages. You have access to all designs from the My Templates page. If you are a non-paying customer, Elementor only allows you access to plenty of blocks and over 30-page templates. In contrast, if you purchase the pro packages, you can unblock over 300 pre-built blocks and templates.
The biggest difference between Webflow vs Elementor is that Elementor allows you to switch between designs easily and even install a more free third-party plugin to add additional free templates.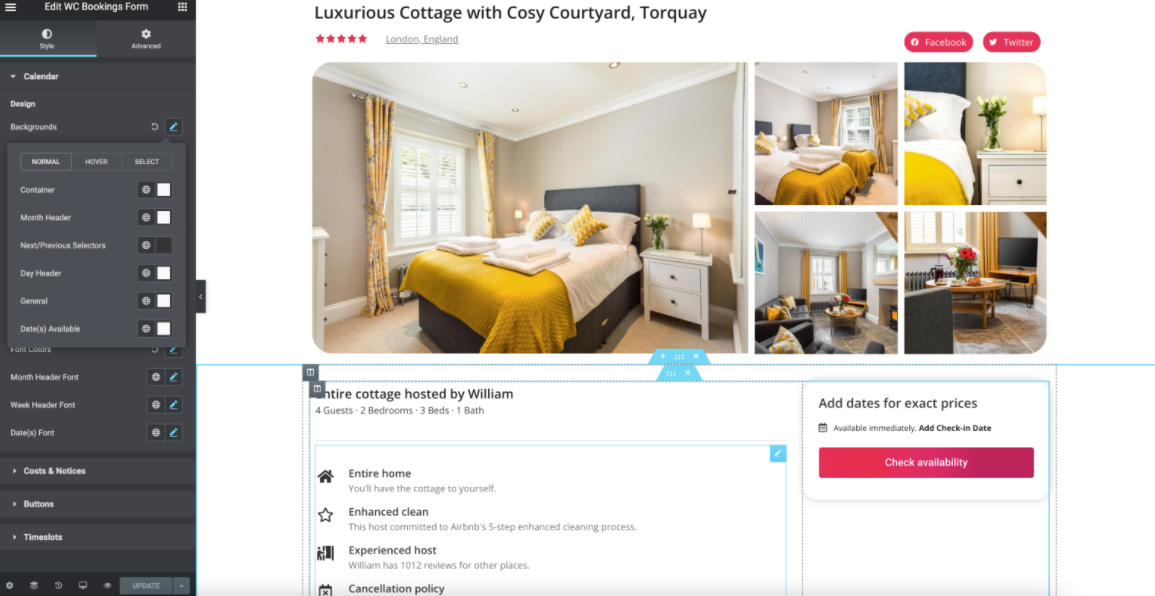 All widgets and blocks provided by Elementor will be displayed on one side of the page. So, you can easily control and manage all options, and elements. You have the ability to customize the color, change the effects, modify content in any way you desire with a live Elementor editor.
If you don't find your desired widget or blocks on the left menu, you can also use one of the best free Elementor add-ons to expand the functionalities for Elementor.
There is a perfect thing that Elementor is compatible with all WordPress themes, so you can work it on any theme you pick for your project. Especially, Elementor also integrates with plenty of major third-party services such as MailChimp, ActiveCampaign, ConvertKit, HubSpot, Campaign Monitor, Zapier, and much more. Therefore, this makes it easy for you to create any designs, even for Woocommerce websites.
Pricing plans
Now, we will compare pricing plans that are offered by Webflow vs Elementor. This point will help you look for a reasonable solution for your website, in case you have a tight budget.
Webflow
In addition to a free plan that allows you to start creating your website by using the Webflow.io domain. If you want to access more specific features of Webflow, you need to upgrade to the pro version. Webflow offers three types of pricing plans including:
Site plans: these packages are perfect for simple and content-driven websites, high-traffic, marketing sites. Site plans are divided into various plans such as Basic, CMS, Business, Enterprise levels. The biggest difference between plans is the number of accounts limited and advanced features. These plans allow you to utilize your own domain name. The price starts at $12/month for the Basic plan.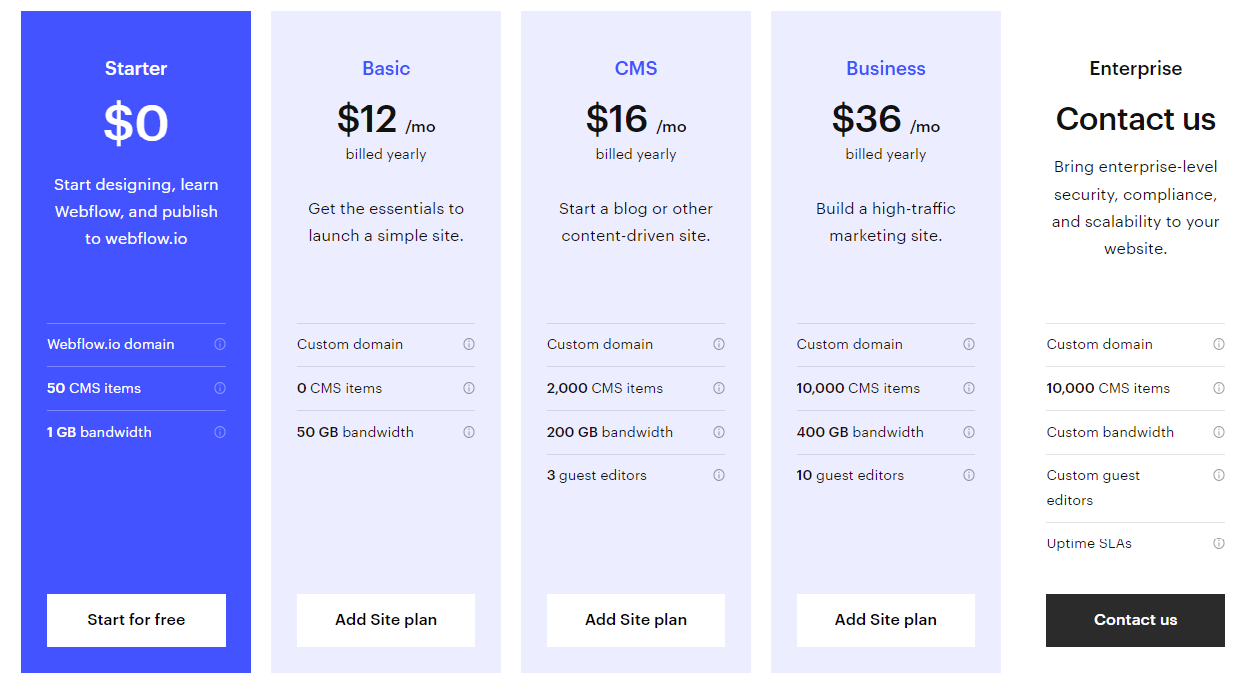 Ecommerce plans: Similarly, Ecommerce packages are also dived into 3 individual ones including Standard, Plus, and Advanced. These plans are best for powering a no-code e-commerce business. The price starts at $29/month. Each plan comes with various features including customizable checkout, shopping cart, product fields, and email, automatic tax calculations, and integration with various social media platforms and third-party services.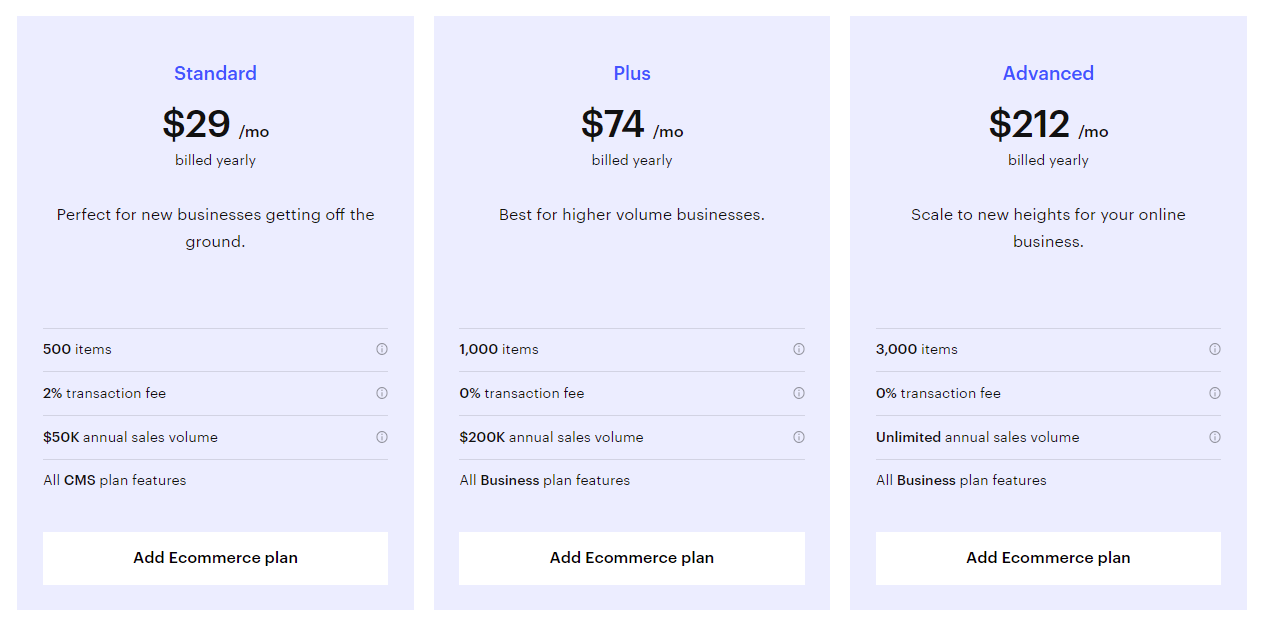 Account Plans: These packages let you manage a lot of websites as projects. Additionally, you can also host them with Webflow or even download the code. If you are a freelancer or agency building a website for someone else, then these plans are right for you. With each plan, you are able to bill clients directly from within Webflow, create unlimited hosted projects, and much more.
Elementor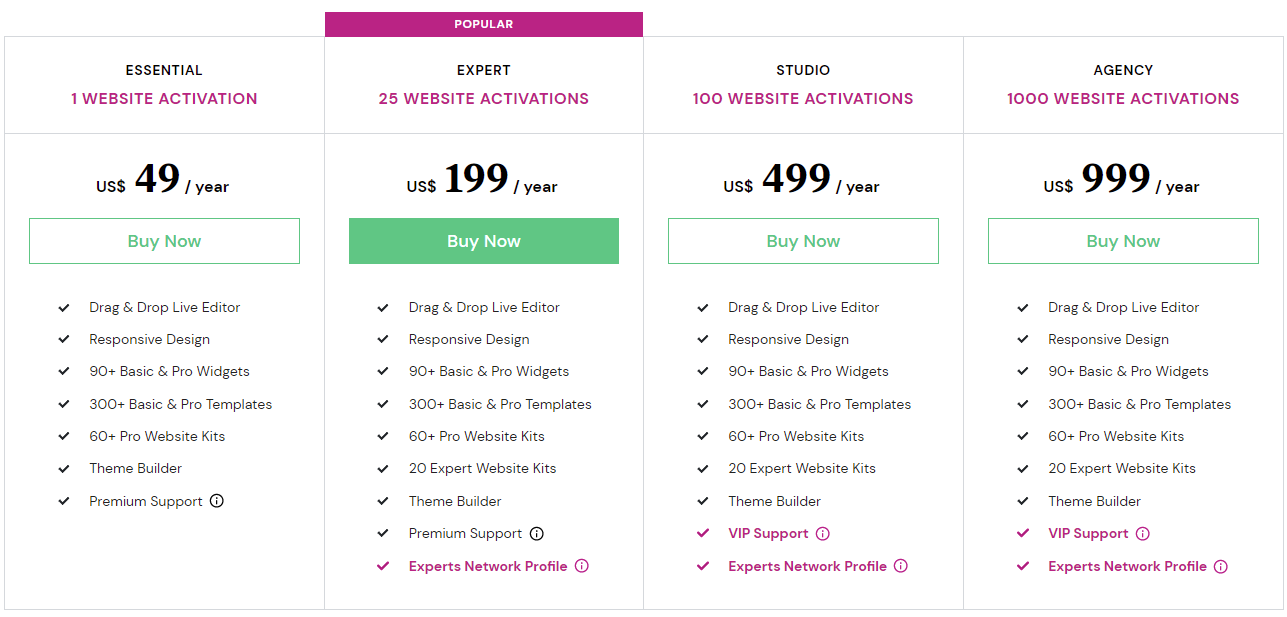 Similarly, Elementor also offers a free version that allows you to experience and use its powerful features. However, the free version has a lot of limitations. If you want to expand the functionality of Elementor, it is essential for you to purchase its pro versions. Currently, Elementor offers 4 different packages including:
Essential: This plan only costs $49 yearly for a single site license. It is a perfect choice for beginners. By using this plan, you have access to 300+ basic and Pro templates, 20+ integrations, Global widgets, custom fonts, and much more.
Expert: The second package is suitable for bloggers and small business owners who are running multiple websites. In order to use this plan, you have to pay $199 yearly for 25 sites license. The Expert plans offer some basic features but it comes with an exclusive feature for experts.
Studio: If you purchase this package, you have to pay $499 yearly for 100 website licenses. However, the best thing is that you can use Elementor Pro on 100 sites and access all essential and advanced features. Plus, there are two exclusive features including an expert network profile and Vip support.
Agency: The last plan is a great solution for design agencies as you use Elementor Pro for 1000 websites at $999 yearly. You have access to all advanced features and get two exclusive features(VIP support and an expert network profile).
Especially, Elementor offers 30-day money-back guarantee on all plans.
Customer support
It is also one of the best criteria to help you easily choose between Webflow vs Elementor. Since if a tool comes with excellent customer support that will support you in handling various issues timely.
Webflow
According to much feedback from users, customer service is one of Webflow's shortcomings. Honestly, Webflow offers limited customer support. Currently, any other website builder tools offer support via live chat, phone, whereas the customer service of Webflow is close to non-existent. They only offer email support for paid accounts and you have to wait a long time to receive their response.
However, Webflow frequently updates and adds solid support and hours of training videos, courses & lessons that can help you troubleshoot your problems. If you are planning to use the free plan, you can get support from the community support forum.
Elementor
We have used Elementor for many years to create our websites. However, there is no denying that the customer service of Elementor is terrible. Whenever you get into trouble with the Elementor plugin, the support team of Elementor will not care. There is no way to get support from Elementor experts via phone, you can only keep in touch with them via email. However, they will answer you after 3 or 4 days.
And their email support is not valuable for your problem, either. They only send you a few links for you to address your issues. Moreover, they will be not responsible for their issue and they still insist on WordPress's fault. As a result, your issue might never be addressed and your website will suffer from their carelessness.
Pros and cons
Webflow
 Pros
 Cons

Clean code
Fully responsive design
Highly customizable
Intuitive interface
Built-in SEO control
Free customer support
eCommerce functionality can also be added

Complex pricing plans
Steep learning curve
Don't allow you to change other designs
Limited customer support
Elementor
 Pros
 Cons

User-friendly interface
Free version
Fully responsive design
Drag and drop live editor
Numerous resources and hands-on supports
Large collection of pre-made blocks and layouts
Powerful user interface with a useful selection of blocks

Messy code
It might not work with other themes & plugins
Bad customer service
Webflow vs Elementor: Which is better Webflow or Elementor?
To summarize, this Webflow vs Elementor comparison has been written based on our personal perspectives and experiences. Hopefully, we have given you insight and valuable information to help you easily choose the best one. Finally, in order to find out the winner in this battle, we think that this depends on your requirements. So, we will only give you some suggestions.
If you are going to create a small website or a simple online store, then using Webflow is a perfect choice for your website. You can easily choose one from pre-made templates to start customizing your design.
On the other hand, Webflow has a lot of limitations, if you use it for large-size websites. Thereby, you need to choose Elementor to create any type of website without any restrictions.
And what is your point of view? Do you like using Webflow or Elementor? Let's share with us your opinion by leaving a comment below. What's more, if you want to make your site more stunning, don't ignore a list of beautiful free Elementor WordPress Themes on our website that are completely compatible with Elementor.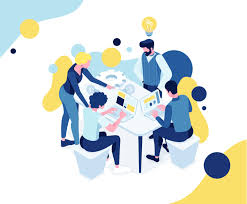 Latest posts by LT Digital Team (Content & Marketing)
(see all)