Are you trying to choose between Gutenberg vs Elementor? Let's dive into the comparison below.
Why is the best page builder important for your site?
There is no denying that a page builder is an indispensable tool for those who don't have any knowledge of HTML or CSS and want to create a professional website by themselves. In addition, using the right page builder brings you plenty of valuable benefits.
Firstly, a page builder has a user-friendly interface and doesn't require you to write a single line of code, so you are able to design rich content just by dropping and dragging elements. Moreover, page builder is regarded as an All-In-one Plugin, which means that this tool comes with a bunch of powerful features and functionality. Therefore, you don't need to install a lot of dedicated or single featured plugins. In other words, if page builders are not developed, you have to install four, five, or even 6 plugins to support creating your desired posts. However, with the support of a page builder, you just need one.
Unfortunately, there are loads of page builders in the market nowadays, and which is the best one? In today's topic, we picked out the two most popular page builders to compare that is Gutenberg vs Elementor. Two tools have received a lot of mixed opinions, so we will help you realize which is the better page builder by reading the Gutenberg vs Elementor comparison below. Let's start right now.
Gutenberg Vs Elementor: Introduction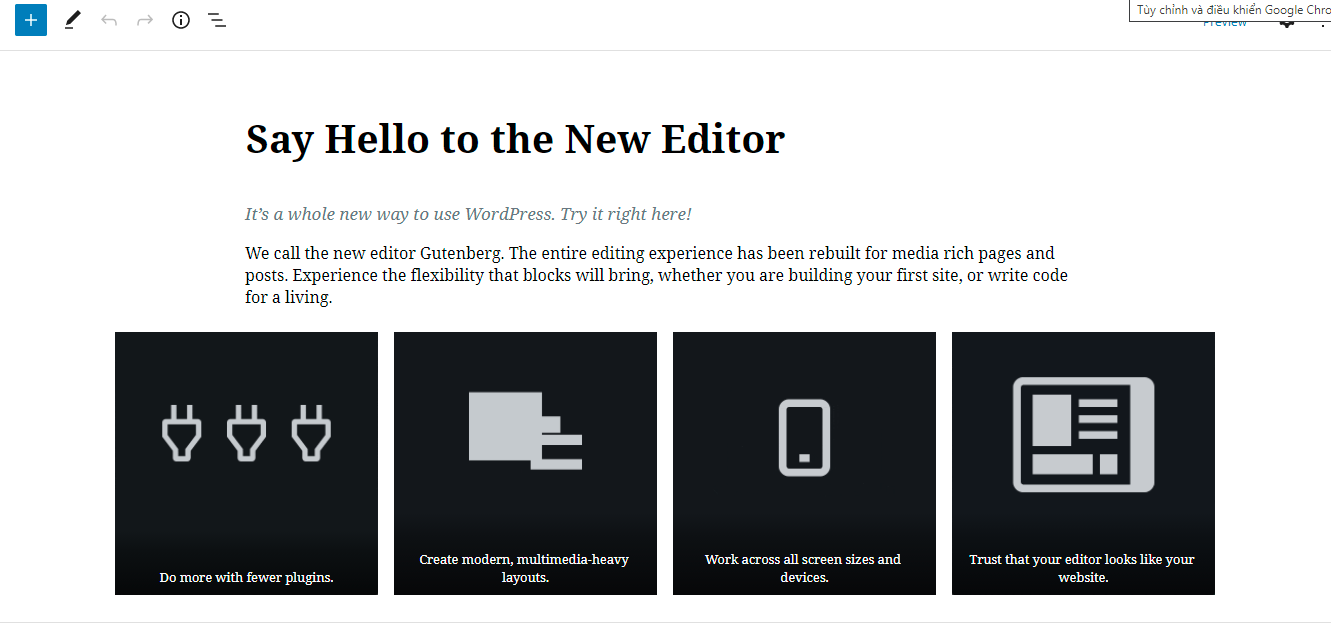 Gutenberg is the new default post Editor in WordPress. This editor is different from the Classic Editor that you have had before. Gutenberg allows you to create and design rich content through blocks. In addition, with each block, it is easy for you to customize the size, position, colors by using a set of helpful options. You can also drag and drop blocks around and however, it is not as flexible as Elementor. Especially, Gutenberg is totally free because it is now a part of the core WordPress.
What's more, to suit a wide number of customers, Gutenberg has been optimized perfectly so that you don't need to have any knowledge of CSS or HTML, you still use this tool easily. Another significant thing is that a lot of complex features have been included in this tool, so you don't have to install other plugins for example menu plugins, gallery plugins. Thanks to that, you can save much time and space on your website.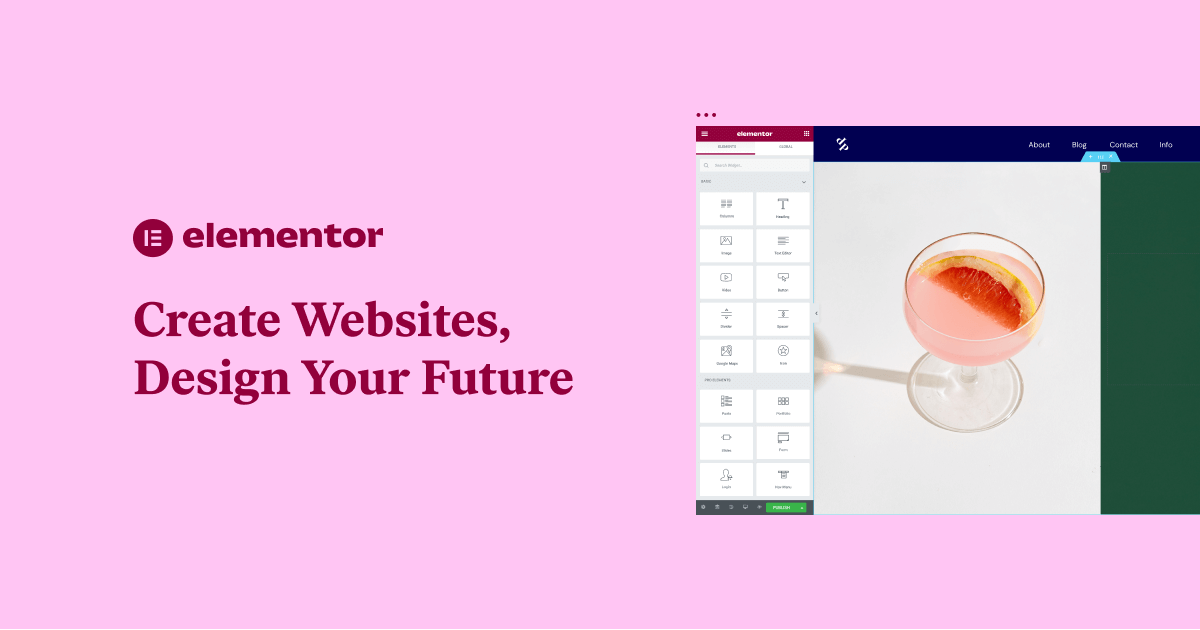 Gutenberg's other serious viral is Elementor. This is the most popular website page builder that has the ability to design any high functional website without any coding knowledge. Till now this plugin has had over 5 million installs by many customers around the world. In addition, Elementor comes with a full-featured free page builder. Moreover, there are a lot of Pro add-ons to add additional developer features.
By using Elementor, you have the ability to create complex layouts visually, and design your website live, without having to switch between the editor and the preview mode. The features offered by Elementor are a much better platform than other website builders.
Main features
Gutenberg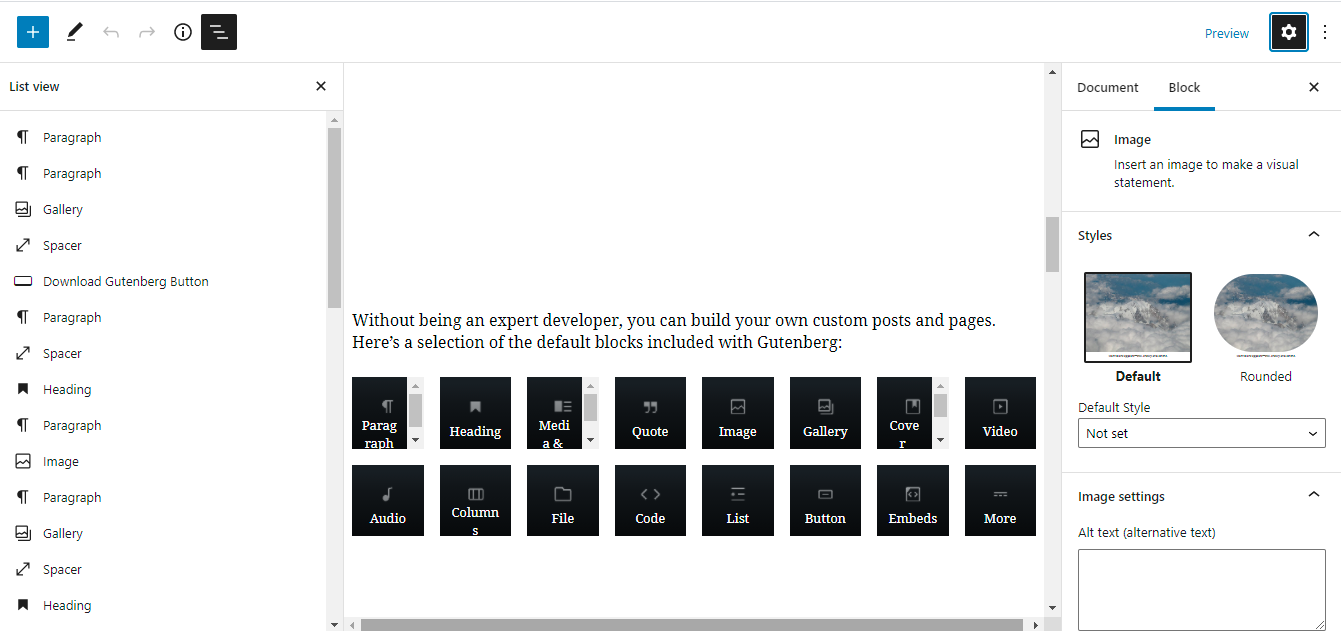 Gutenberg comes with a lot of unique features and functionality including:
Allow users to embed the reach content such as Youtube videos, Facebook, Twitter posts, and Instagram pictures
Include required blocks directly from a drop-down menu
Allow you to get a quick overview of the content structure from the top left menu
The ability to add HTML anchors to your content
 A button block that allows you to add this feature to your content with ease
Text columns enable you to split your content across responsive columns
Adjustable font sizes allow you easily change the size of your text
The ability to create wide and full-width content
With Gallery block, you can even create a gallery of some images
Allow you to add Reusable Blocks
Gutenberg works smoothly on mobile devices
Elementor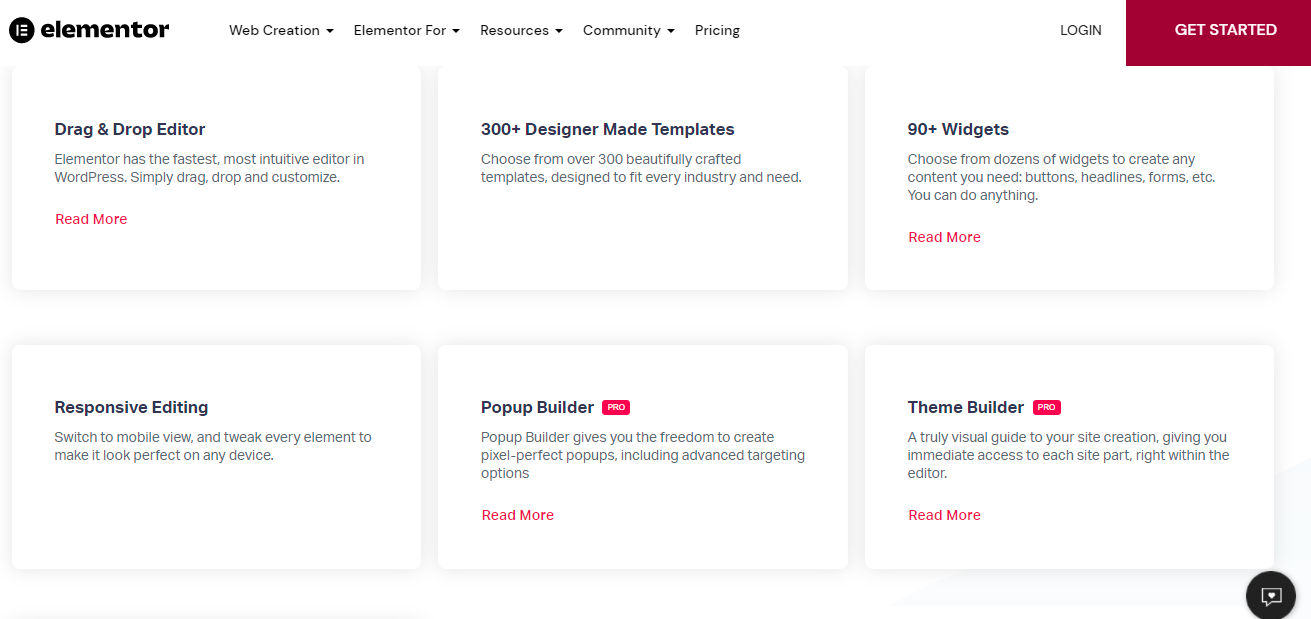 Unique features of Elementor compared to Gutenberg in particular and other page builders in general including:
Theme builder Elementor allows you to customize every detail page imaginable with no limit to headers and footers
Support Woocommerce builder that enables you to get access to over 15 premium Woocommerce widgets
Elementor Popup Builder allows you to generate the perfect popup with smooth animations
The Form Builder lets you customize all your data forms and add a personal touch to the contact page
Elementor integrates with a lot of marketing platforms such as Zapier, MailChimp, Drip, and much more
With the role manager feature, you are able to designate access controls, to various users with ease
Access 30+ readymade elements
Integrate advanced elements like image carousels, maps, accordion tabs, slides, pricing lists, forums, etc
Key differences
Backend vs frontend editing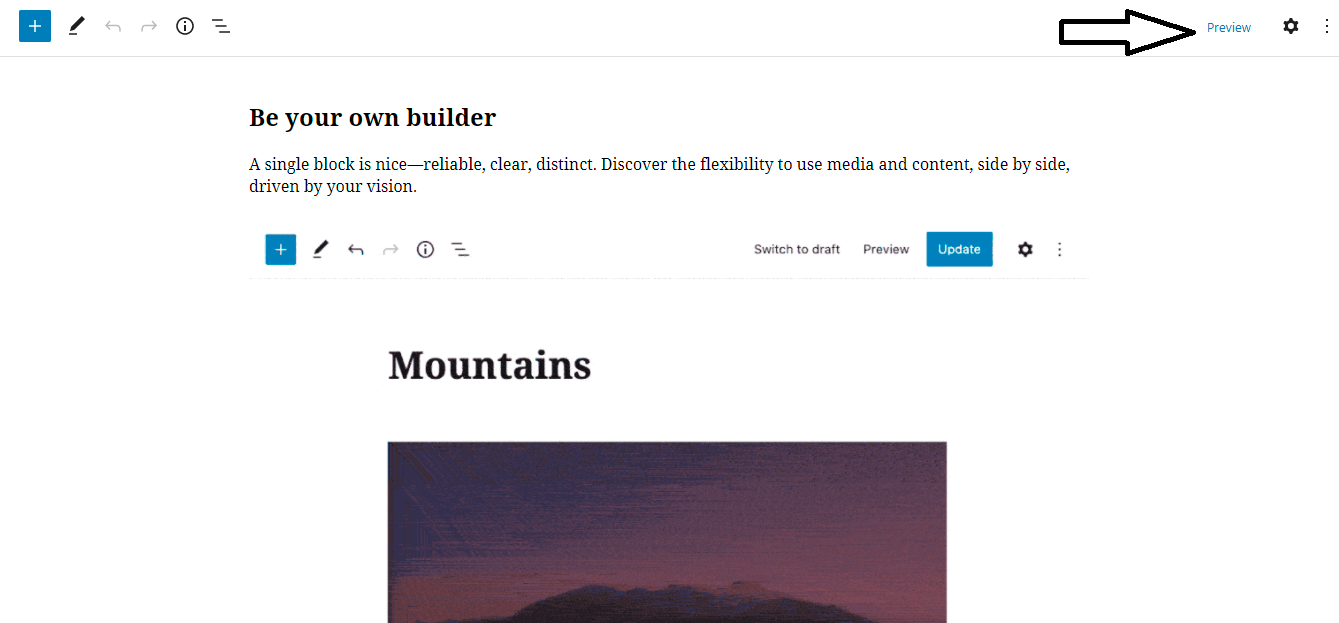 Gutenberg is a backend editor. Therefore, you don't have the ability to see the live preview of your design while editing a post on Gutenberg. If you want to see how content looks like, you have to click the preview button.
In contrast, Elementor offers a front-end editing function which means that you can view the changes live but don't need to save the page. It is extremely convenient for you to see a real preview of your pages with ease.
Drag and drop interface
Although both Gutenberg and Elementor offer the drag and drop function, Gutenberg only allows you to add blocks and move them up and down. In addition, when using Gutenberg, you don't have the capability to resize their height and width or customize complex layouts.
Nevertheless, with the support of Elementor, everything is easier than ever. It offers you the ability to drag and drop blocks and widgets. What's more, you can completely change the height and width of the blocks, design a complex layout or even insert blocks inside other blocks.
Page Speed
This is one of the most important factors included by Google that affect your website ranking on Google Search Engines. Therefore, most webmasters consider this as one of the necessary points that need to be compared to help them choose the best tool for their site.
It can't be denied that Gutenberg websites have a great high speed because of the following reasons. Firstly, Gutenberg has a lightweight and fast design. Secondly, Gutenberg is not similar to other pages builders and editors since it doesn't require extra lines of code for your website. It is completely controlled by WordPress.
The speed of Elementor websites is also quite fast. We can't say 100% that Elementor websites are faster than Gutenberg sites. However, when putting both page builders on the scale to compare, Elementor still seems to be a bit slower than Gutenberg. Because of the extra coding that the page builder offers to support its features.
Advanced formatting
Gutenberg blocks only enable you to conduct some advanced customizations such as customize texts, images, lists, and much more. In case, you want more intensive customizations, it requires you to add custom CSS to blocks that you chose.
Whereas, Elementor comes with full control to format all elements on your page. Hence, it is not hard for you to edit image styles, change the background colors, resize elements, and much more.
Pricing Plan
Gutenberg
Gutenberg is built into WordPress. Thus, you can completely use this tool without any cost. It is also one of the outstanding advantages when using Gutenberg for your website.
Elementor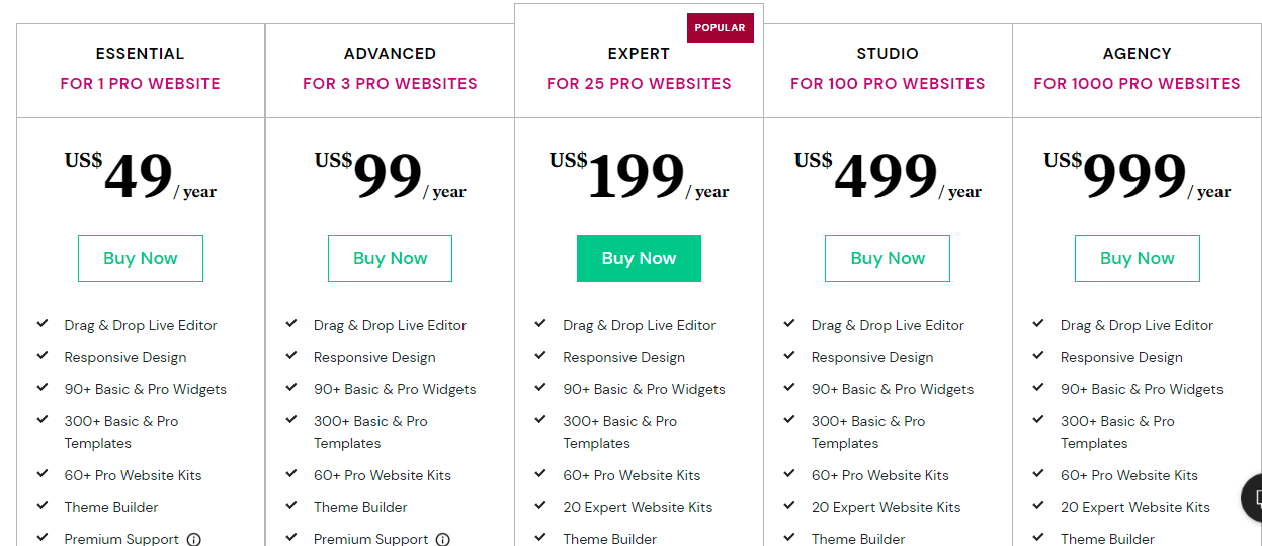 On the other hand, Elementor offers both the free version and the premium version. However, the free version only allows you to access basic widgets and templates. You can upgrade to the premium version to get more features and functionality such as pro widgets, templates, eCommerce, and much more.
Currently, the premium version is divided into 5 pricing plans including Essentials, Advanced, Expert, Studio, and Agency. In addition, the number of websites that are allowed to use increasing gradually depending on the package you choose.
Rating from users

As you can see, Gutenberg has received 2,254 1-star ratings and loads of negative critical reviews. And there are only 693 5-star ratings. Whereas, Elementor has recorded up to 5,332 5-star ratings. In this part, Elementor seems to have captured the users' hearts more than Gutenberg.
Gutenberg Vs Elementor: The final thoughts
Generally, both page builders are valuable for creating rich content for your website. However, it is obvious that Elementor has many outstanding features compared to Gutenberg. From our standpoint, we have also been using Elementor to support our website building because Elementor truly excels from design flexibility to great features.
Nevertheless, that doesn't mean Gutenberg is valueless. Gutenberg will be a perfect choice for those who just want a simple way to design new types of content or some basic layouts for your WordPress content.
And what is your perspective? Do you prefer to use Elementor or Gutenberg? We believe that the Gutenberg vs Elementor comparison will give you a lot of worthwhile information. Don't hesitate to share with us your opinion as well as any query about the matter above.
Moreover, there are other options at WordPress page builders, you can visit and get one to design any of your desired websites. Last but not least, if you are interested in Themes and templates, don't ignore our free WordPress Themes. Here provide hundreds of beautiful, sophisticated designs for your website. Let's access and try one.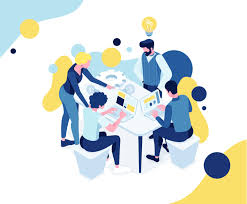 Latest posts by LT Digital Team (Content & Marketing)
(see all)