Are you wondering to choose between WP Rocket vs LiteSpeed Cache? Look no further, you have come to the right place. In today's article, we provide you with an in-depth comparison of WP Rocket and LSCache. And in advance of going over the main comparison, we help you understand the benefits of using WordPress Cache Plugins for your website.
How are WordPress Cache Plugins beneficial for your website?
In fact, in order to build a victorious website, it is necessary to be concerned about many aspects. It's more than just investing in creating valuable content and building a beautiful website. And optimizing page loading speed to enhance performance is regarded as one of the important factors that you need to pay attention to. For example, back in 2012, Amazon estimated that if their website loads a second slower, it will cost them 1.6 billion dollars in revenue.
Indeed, if your website takes more than three seconds to load, immediately more than 40% of website visitors will leave your web page. The bounce rate will increase significantly, this is also a serious reason that affects SEO. Therefore, you need the support of WordPress Cache Plugins to handle these problems. These cache plugins will help you boost your site loading time to improve the user experience as well as cut down the bounce rate effectively. Thanks to that, you can gain more revenue.
However, choosing the right tool for your website is also a challenging task for many people. For this reason, in today's blog, we picked out the two remarkable cache plugins based on a number of active installations and excellent performance. They are WP Rocket vs LiteSpeed Cache.
We are going to provide a head-to-head comparison based on 4 evaluation criteria including main features, ease of use, pricing, pros, and cons. Now, don't waste your time, let's dive into the following sections.
WP Rocket vs Litespeed Cache: Background
WP Rocket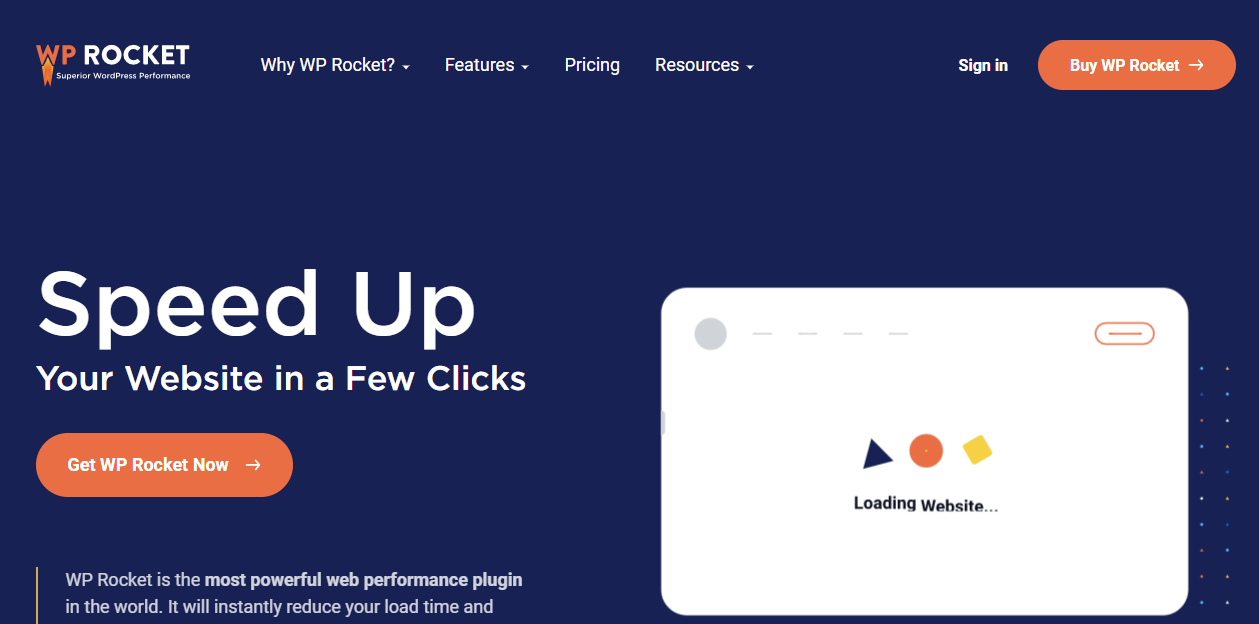 WP Rocket is one of the most prevalent cache tools in the market. It is a premium plugin, so it doesn't offer any free version or trial plans. Until now, this plugin has had over 2 million active installations around the world. Although it labels itself as a caching plugin, WP Rocket also provides you with a ton of powerful performance-optimization features to go along with caching. In addition, it allows you to set it up in a few clicks without the need for complicated configurations. Therefore, it is really a perfect tool for non-tech beginners to achieve faster websites.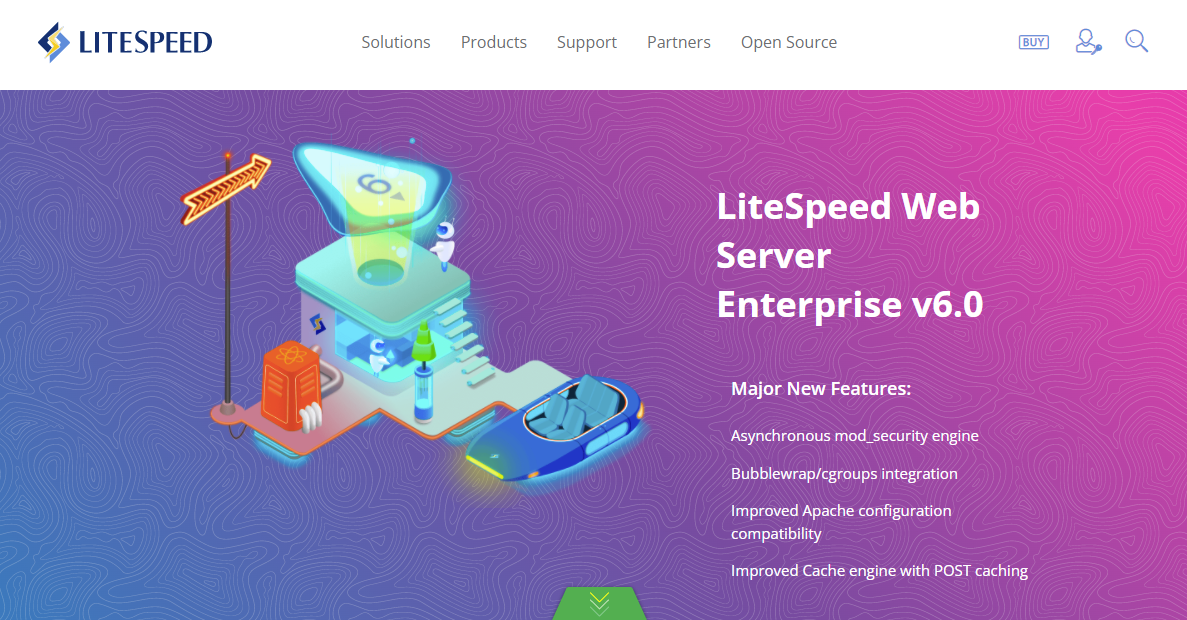 Litespeed Cache is a free amazing caching and optimization plugin for platforms such as WordPress, Magento, Joomla, and others. This is designed to be a server-level caching plugin. It means that it works seamlessly with the LiteSpeed web server. Both the LiteSpeed web server and the LiteSpeed Cache are two high-quality products developed by the LiteSpeed Technologies company. The perfect combination helps the caching features of LiteSpeed Cache outweigh other cache plugins. So, it is regarded as a serious competitor of WP Rocket.
Main Features
Although WP Rocket and LiteSpeed Cache both have plenty of features, in today's blog, we will only take a closer look at the specific features built into WP Rocket vs Litespspeed Cache.
Cache features
Caching is the most significant feature that you need to consider carefully in advance of deciding to choose the right plugin for your site. Despite the fact that both plugins offer a full page cache, LiteSpeed's cache engine is more intelligent and flexible than WP Rocket. Because it enables you to cache more of your website for tons of visitors. Moreover, LS Cache offers you the capability to confidently cache frequently changing content and Ecommerce site without marking pages as "not caches".
However, you should note that the LiteSpeed-enabled web server is required to use LS Cache's caching features.
| | | |
| --- | --- | --- |
|  Features |  WP Rocket |  LiteSpeed Cache |
|  Full-page cache | ✔️ | ✔️ |
|  Tag-based "Smart Purge" | ❌ | ✔️ |
|  Tight integration with server | ❌ | ✔️ |
|  Edge Slide Includes(ESI) | ❌ | ✔️ |
|  Crawler | ✔️(cache preloading) | ✔️ |
|  Wordpress Multiple Support | ✔️ | ✔️ |
|  Cache Logged-in users | ✔️(User-cache) | ✔️ |
|  Cache separate mobile view | ✔️ | ✔️ |
|  Cache vary on user group | ❌ | ✔️ |
|  Cache vary on Geographic location, etc | ✔️ | ✔️ |
|  Cache Rest API | ✔️ | ✔️ |
| Purge selected URLs on a schedule | ❌ | ✔️ |
| Browser Cache Support | ✔️ | ✔️ |
Optimization features
LiteSpeed's feature optimization Cache can be used by any web host (LiteSpeed, Apache, Nginx, etc.)
| | | |
| --- | --- | --- |
| Features | WP Rocket | LiteSpeed Cache |
| CDN Support | ✔️ | ✔️ |
| Database Optimization | ✔️ | ✔️ |
| CSS Minify | ✔️ | ✔️ |
| CSS Combine | ✔️ | ✔️ |
| CSS HTTP/2 Push | ❌ | ✔️ |
| JavaScript Minify | ✔️ | ✔️ |
| JavaScript Combine | ✔️ | ✔️ |
| JavaScript HTTP/2 Push | ❌ | ✔️ |
| Load CSS Asynchronously | ✔️ | ✔️ |
| Load JavaScript Deferred | ✔️ | ✔️ |
| HTML Minify | ✔️ | ✔️ |
| Exclude Selected URI's from Optimization | ✔️ | ✔️ |
| Remove Query Strings | ✔️ | ✔️ |
| Remove Google Fonts | ✔️ | ✔️ |
| Lazy Load Images | ✔️ | ✔️ |
| Lazy Load iframes | ✔️ | ✔️ |
| Wildcard Usage in CDN Support | ❌ | ✔️ |
Ease of use
WP Rocket
With the aim of helping people get started speeding up their WordPress site without skilled technical skills. WP Rocket has designed a user-friendly interface by providing you with enough options and settings to easily enable caching on your website.
Once you have installed and activated the plugin, it is easy for you to optimize your website with WP Rocket from your dashboard. One of its outstanding advantages is that WP Rocket provides you with video tutorials that show all of the features of this tool. All video tutorials can be accessed from your WordPress dashboard directly. These videos will assist you to utilize all features as well as give you the ultimate understanding of how this tool operates.
Additionally, on the settings page, you will see that many clear explanations will be displayed below each option within the user interface of the plugin. Thanks to that, you can find and enable any features easily.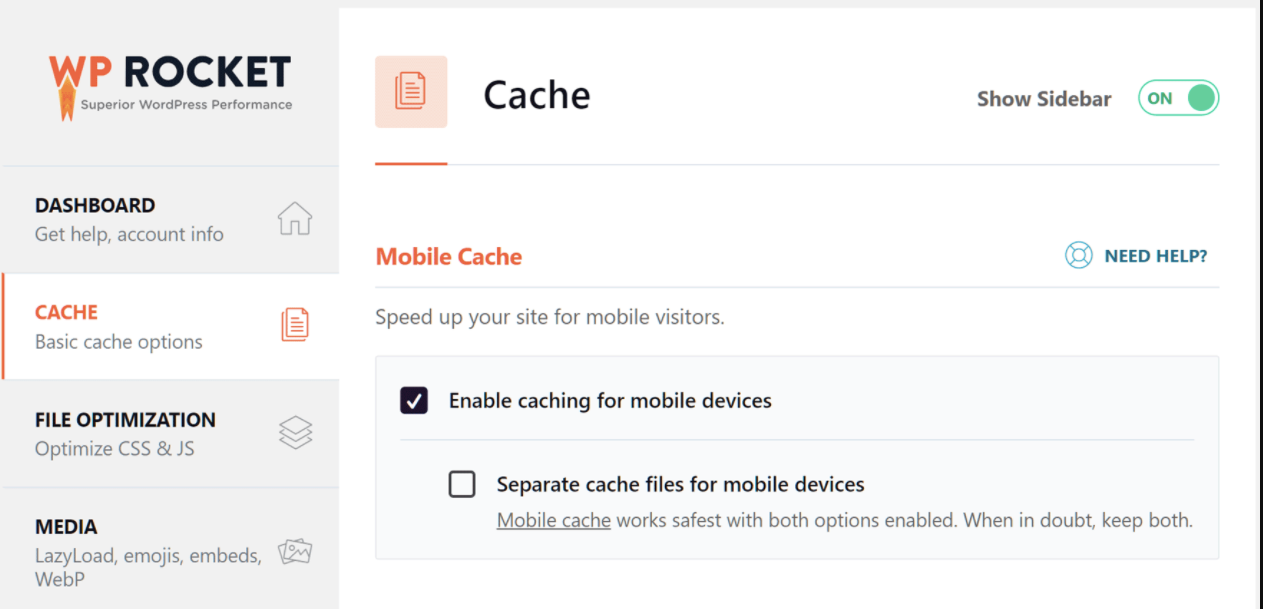 When exploring the plugin's setting and options, have a look at the right-hand side. You will notice that WP Rocket showcases relevant support content in the popup assistant panel. If you don't understand any features, you can use these useful texts and links to easily find out plenty of specific features or settings of this plugin.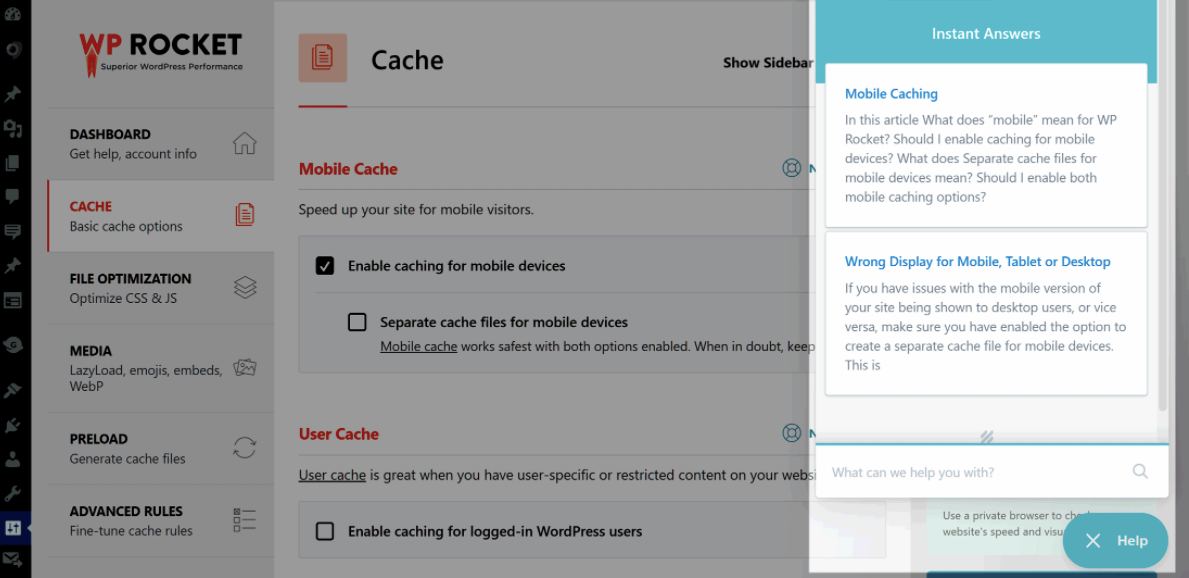 What's more, you can send a message to the help desk staff to get support directly inside your WordPress dashboard without going to the plugin website.
LiteSpeed Cache
In general, the process of configuring LiteSpeed Cache settings is more complicated than WP Rocket. It is not really friendly for most beginners because its setup can take a long time. In addition, there is a wide range of options to choose from.
If you are feeling adventurous when you have to configure the settings yourself, you can start looking at some of those other features the developers glossed over. The LiteSpeed Cache has official documentation that offers explanations of every setting. In that case, anything in the documentation is not clear enough, or you need additional help, you can post your issue on the plugin's WordPress support forum. However, this is a free plugin, so you won't expect to have the problem resolved quickly.
Pricing
WP Rocket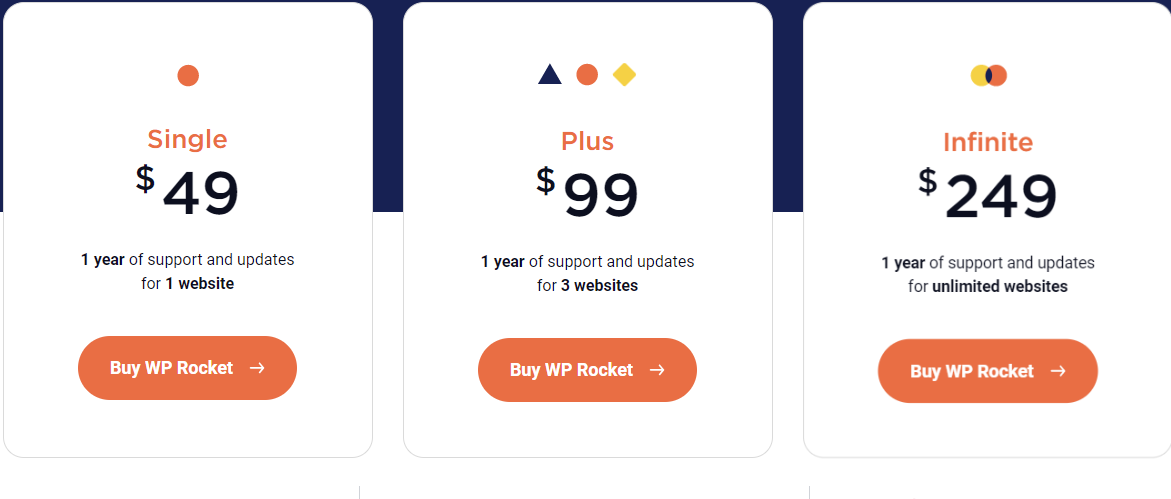 As we mentioned above, WP Rocket is a premium caching plugin, so there is no free version or trial plan offered. Nevertheless, this plugin also offers a lot of flexible packages that can be used for different types of websites. You can purchase one of the three premium plans including:
Single Plan: This is the basic plan, you have to pay $49 for a year that consists of 1 year of support and updates.
Plus Plan: This package is used by most websites. This costs $99 for a year of support and updates for 3 websites.
Infinite Plan: This package costs $249 for years of supports and updates and however you can use WP Rocket on unlimited websites.
In addition, WP Rocket also offers a refund if you are not happy with its features within 14 days of your purchase.
LiteSpeed Cache
On the other hand, LiteSpeed Cache is a 100% Free WordPress plugin, you don't need to spend any money to use this tool. Nevertheless, a LiteSpeed web server is required to utilize the server-side cache, so you need to pay to use this functionality. You can start with an Enterprise license. License pricing ranges from Free for 1 site owners to $96/month for large-scale hosting businesses.
Pros and cons
WP Rocket
Pros
Cons

Quick setup and easy to use
Ecommerce compatibility
Excellent support
Easy to configure compared to its opponent
Less chance of its breaking your website
Offer a lot of unique and advanced features
Full refunds are offered within 14days if the product doesn't meet your demands.

Only offer pay version whereas other plugins come with a free version
The preload bot of this plugin can cause CPU overload on some shared serves
LiteSpeed Cache
Pros 
 Cons

Easy to install
It is a server-level cache
Many powerful features
100% Free
It is up to six times faster than Apache
It increases PHP performance by 50 percent
Excellent Security Protection
Better performance

Full CDN requires LiteSpeed Server
QUIC.cloud needed for extra features
Expert knowledge is required for configuration
WP Rocket vs Litespeed Cache: Final Verdict
Through the mentioned 4 sections, we have to admit that LiteSpeed Cache overshadows WP Rocket in terms of better loading time. In addition, the biggest difference between WP Rocket vs LiteSpeed Cache is that LScache is a free plugin and the other is paid. LiteSpeed is a perfect solution if your website has tons of traffic and has over 1000 pages.
In contrast, if you want an effective and powerful tool that is super simple to configure, we highly recommend using WP Rocket for your website. Because the user interface of WP Rocket is extremely friendly, even if you are a beginner, it only takes a few hours to master this plugin. Additionally, WP Rocket will be suitable for websites that have very little traffic, preferred if your website is under 1000 pages.
In our opinion, WP Rocket is worth every penny. The best thing is you can always contact them to take a look if there is something not working with your cache. Whereas every free cache plugin offers poor support.
And what is your point of view? WP Rocket vs Litespeed Cache: Which is better for your website? Don't hesitate to share with us your perspective by leaving a comment below. Hopefully, through this blog, you can pick out the best tool for your website to enhance your site loading time.
Further, if you want to refer to other options, please visit the top best WordPress Cache Plugin. If you are going to make your site more impressive, don't miss our Free WordPress Themes.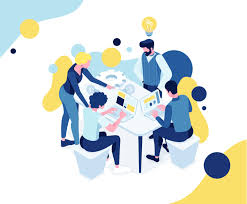 Latest posts by LT Digital Team (Content & Marketing)
(see all)