Are you wondering to choose between WP Rocket vs W3 Total Cache? Fortunately, in today's blog, we will explain the reason why should boost your site loading time. Next, we will give you a head-to-head comparison of WP Rocket vs W3 Total Cache to help you easily pick out the best one.
Why should boost your site loading time?
Many statistics showed that more than 40% of website visitors will abandon your webpage if it takes more than three seconds to load. As a result, high bounce rates and low conversion rates will seriously affect SEO. This led to your website having a low ranking on search engines. In fact, building a beautiful website and valuable content is not enough to create a successful website and keep visitors on your website longer.  Therefore, it is necessary to boost your site loading time to improve the user experience as well as help you increase revenue.
Nowadays, there is a wide range of powerful cache tools that definitely assist you to boost your website speed and performance. In addition, these plugins also help you to obtain the LPC which is one of the important ranking factors considered by Google. And among unlimited cache plugins, we realize that WP Rocket vs W3 Total Cache is prevalently preferred. So in today's blog, we will help you find out which is the best caching plugin for your WordPress sites.
We are going to discuss based on 4 aspects including main features, ease of use, pricing, pros, and cons. Now, let's dive into the following sections to find your favorite tool.
WP Rocket Vs W3 Total Cache: Introduction
WP Rocket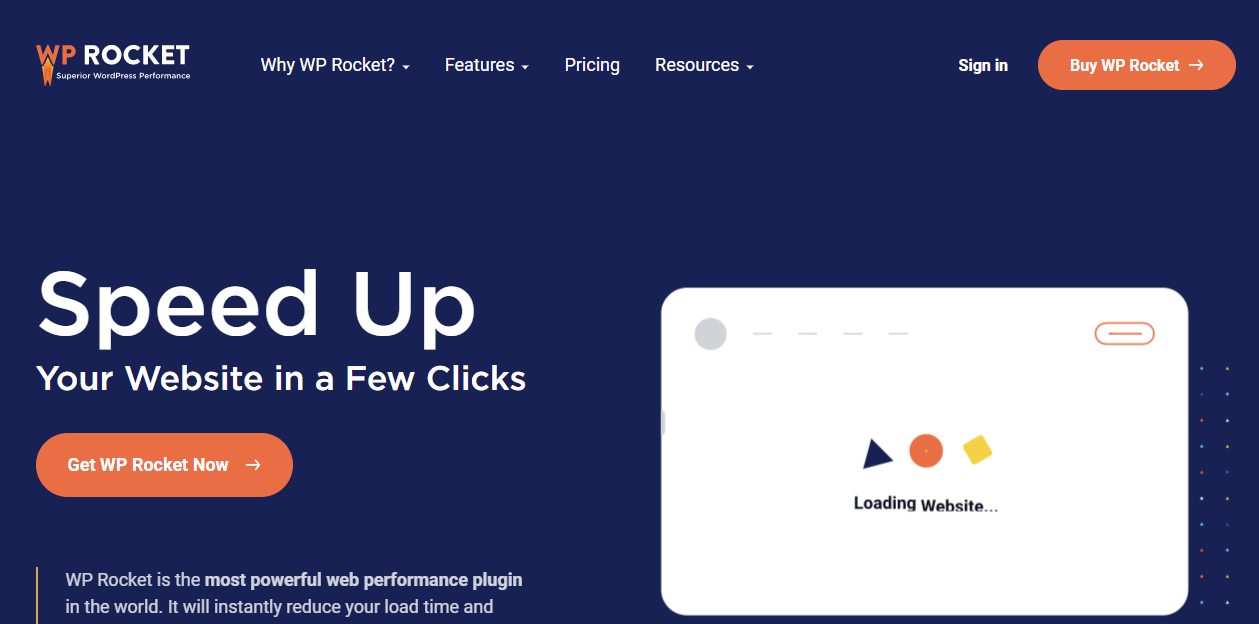 WP Rocket is a premium caching plugin that is extremely powerful and is used by most websites. It has been built with a wide range of advanced features and functionality that resolve all your problems of improving SEO performance. Therefore, this plugin will help you reduce your load time as well as boost your Google Page Speed without having coding knowledge. One of the good things is that WP Rocket is appropriate for everybody's demands from a personal blog website to a big eCommerce store.
W3 Total Cache is a free WordPress Caching Plugin. It is also one of the serious opponents of WP Rocket. Until now, W3 Total Cache has recorded over 1 million active installations. The goal of this plugin is to bring your website' clients the best experience by increasing website performance and reducing load times by leveraging features such as content delivery network integration and the latest best practices.
Main features
In general, both plugins offer a wide range of powerful features to assist you to improve website performance and user experience. However, WP Rocket still has over W3 Total Cache in terms of rich features. Let's take a quick look at the features comparison table below. You will see that WP Rocket has the edge over W3 Total Cache in a few important areas.
| | | |
| --- | --- | --- |
|  Features | WP Rocket |  W3 Total Cache |
|  Page Caching | ✔️ |  ✔️ |
| Cache preloading | ✔️ | ✔️ |
| Static Files Compression | ✔️ | ✔️ |
| Gzip compression | ✔️ | ✔️ |
| Image & Asset Lazyloading | ✔️ | ✔️ |
| Minification / Concatenation | ✔️ | ✔️ |
| Connected User | ✔️ | ✔️ |
| CDN | ✔️ | ✔️ |
| DNS Prefetching | ✔️ | ❌ |
| Database Optimization | ✔️ | ❌ |
| Fonts Optimization | ✔️ | ❌ |
| Defer JavaScript | ✔️ | ❌ |
| Lazy load | ✔️ | ❌ |
Ease of use
WP Rocket
In order to help everyone can start speeding up their WordPress site without having professional technical abilities. WP Rocket has been built an easy-to-use interface by offering you enough options and settings to enable caching on your website without effort.
After installing and activating the plugin, you are able to optimize your website with WP Rocket. The best thing is that WP Rocket gives you video guides that demonstrate all of the features of this plugin. You can access these video guides from your WordPress dashboard. These videos not only help you use these features but also give you the ultimate understanding of how this plugin works.
Moreover, on the settings page, there are a lot of clear explanations for each option that are shown within the user interface of the plugin. So, it is easy for you to find and enable any features.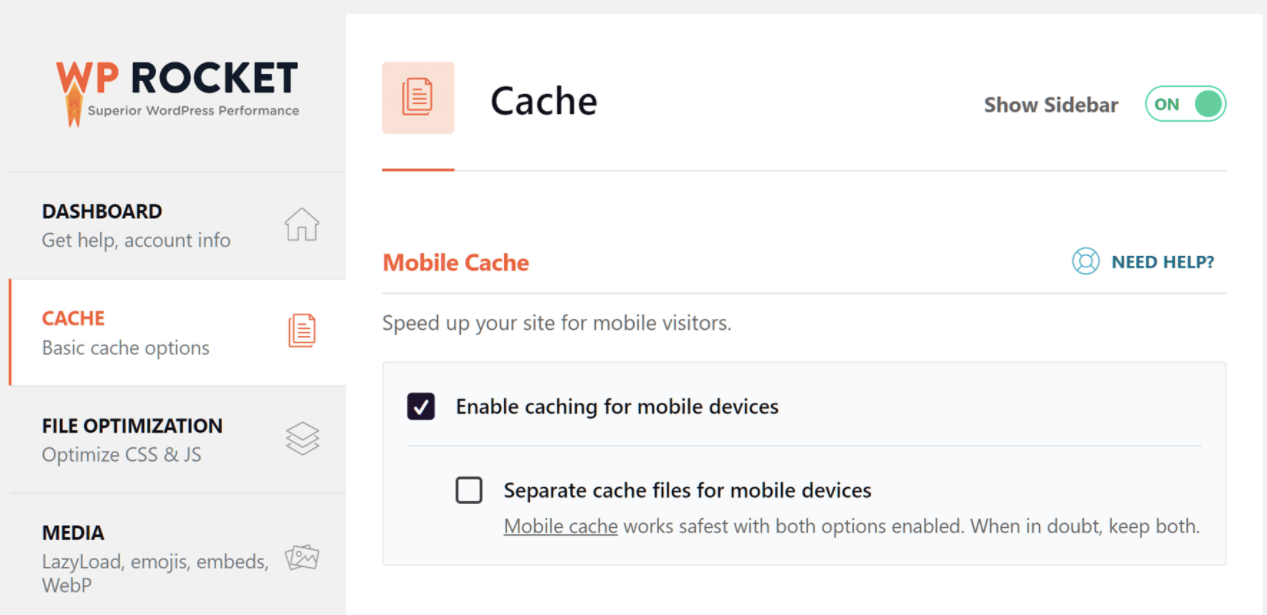 Once you configure the plugin's settings and options, let's take a look at the right column. You will notice that the plugin also displays relevant support content in the popup assistant window. You can take advantage of these helpful texts and links to find out a lot of specific features or settings of WP Rocket.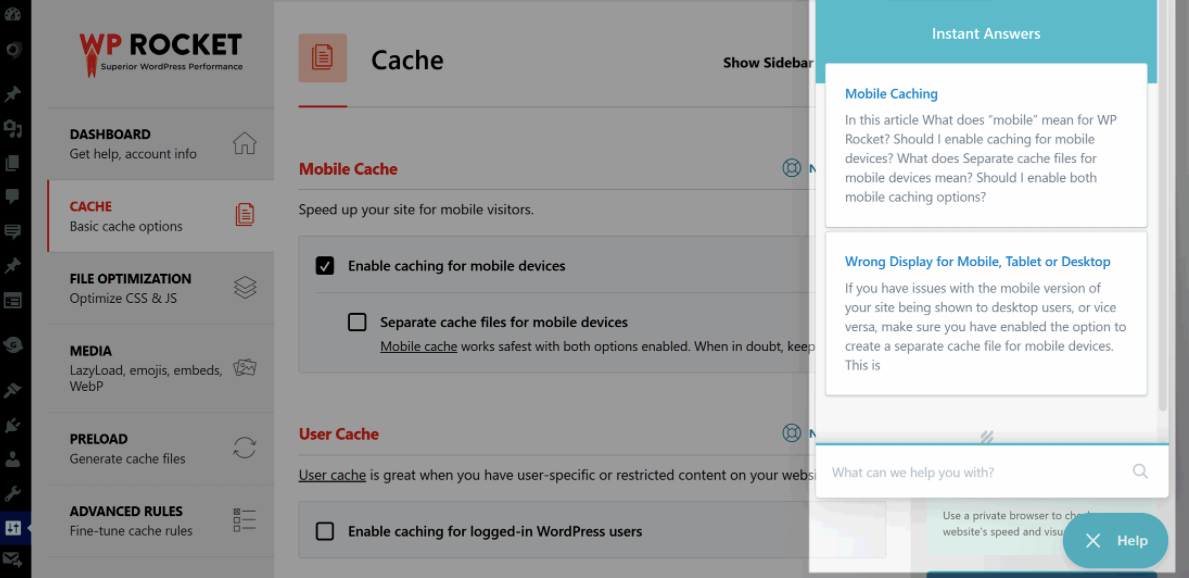 Especially, you can quickly send a message to the help desk staff to get assistance directly inside your WordPress dashboard instead of visiting the plugin website.
W3 Total Cache
Except for the plugin installation and activation steps, the process of configuring W3 Total Cache settings is also difficult for many beginners. Because there is no official documentation to help users easily configure and understand all features on the settings page. Although the plugin developer has answered some frequently asked questions about the W3 Total, they are not enough to handle all the problems commonly encountered by users.
There are some blogs that share with you a detailed guide to help you get started. Nevertheless, each WordPress setup is not the same. It can work perfectly on one site but it doesn't mean that it also works well on another WordPress site. Unluckily, it can break your website.
The pricing
WP Rocket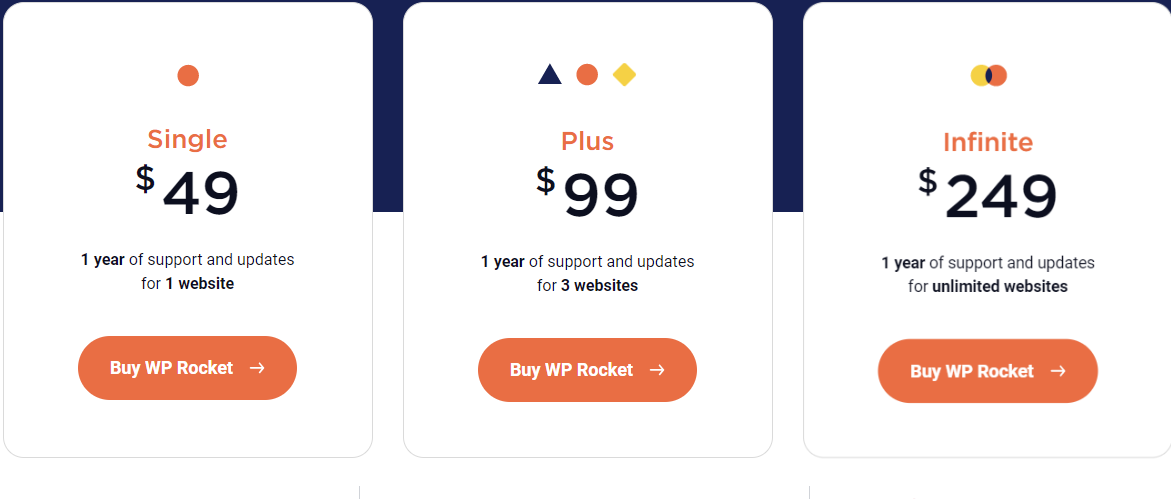 In fact, WP Rocket absolutely is a premium caching plugin and doesn't offer any free trial or plan. However, WP Rocket also provides you with some affordable plans that are suitable for various types of websites. You can choose one of the three premium packages including :
Single Plan: This is the basic plan, you need to pay $49 for a year that consists of 1 year of support and updates.
Plus Plan: This package is used by most websites. This costs $99 for a year of support and updates for 3 websites.
Infinite Plan: This package costs $249 for years of supports and updates and however you can use WP Rocket on unlimited websites.
In addition, WP Rocket also offers a refund if you have any unsatisfactoriness within 14 days of your purchase.
W3 Total Cache
The best thing about W3 Total Cache is that it offers both a free version and a pro version. The free version of W3 Total Cache comes with a wide range of useful features. Nevertheless, to enhance the user experience as well as get more advanced features, it is necessary to upgrade to the pro version. It means you have to pay $99/year for 1 website. Therefore, the plans of W3 Total Cache make it much more experience than WP Rocket if you use the Pro version for many sites.
Additionally, once upgrading the W3 Total Cache Pro, you are able to purchase tons of additional features and services to widen the functionality of your plugin. For example, Plugin Congifuration, CDN Configuration, Performance Audit & Consultation, and much more. The cost ranges between $125 and $250 for each service/solution.
Pros and cons
WP Rocket
Pros
Cons

Quick setup and easy to use
Ecommerce compatibility
Excellent support
Easy to configure compared to its opponent
Less chance of its breaking your website
Offer a lot of unique and advanced features
Full refunds are offered within 14days if the product doesn't meet your demands.

Only offer pay version whereas other plugins come with a free version
The preload bot of this plugin can cause CPU overload on some shared serves
 W3 Total Cache
Pros
Cons

Compatible with CloudFlare
Support for Content Delivery Networks
GZIP compression to optimize web browser rendering
It doesn't require any theme modifications, modifications to your .htaccess
It is completely free to use

The pricing is not friendly for those who have more than 3 websites
No support provided
It lacks a lot of advanced and complicated options
 WP Rocket Vs W3 Total Cache: Who is the winner?
As we discussed through sections, we have to admit that WP Rocket certainly outweighs W3 Total in terms of performance and increasing your page load time. Additionally, the provided packages of WP Rocket are also suitable for various websites. Overall, WP Rocket is really worth the money you pay. We highly recommend using WP Rocket, if you need a powerful tool that offers excellent web hosting performance and cover all the demands of fast page loading.
On the other hand, if you are a beginner and don't have a rich budget, you can start with W3 Total Cache. This plugin also fulfills the basic demands of easy out-of-the-box speed optimization.
And what is your favorite cache plugin? Don't be afraid to show us your opinion about the mentioned issue. Hopefully, this article helped you choose the right plugin among W3 Rocket Vs W3 Total Cache. You may also need to check out the W3 Total Cache vs WP Super Cache comparison.
If you want to refer to other options, let's visit the top outstanding WordPress Cache Plugin. By the way, you can visit our free WordPress Themes to explore a wide range of beautiful, responsive themes for your website.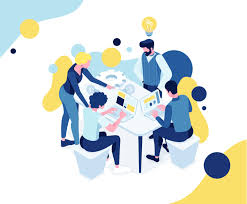 Latest posts by LT Digital Team (Content & Marketing)
(see all)