How is the Migration Plugin necessary for your WordPress site?
WordPress is a free and open-source content management system used to build and maintain professional websites. It is obvious that it is extremely easy to use and however if you want to migrate your existing WordPress site to another server, this task may be a huge challenge for you. Therefore, you need to have the support of third-party tools, and using Migration Plugins is considered one of the most effective solutions. There are some reasons why you should use Migrate Plugins to move your WordPress website. Firstly these tools can make the process of website migration become more simple by providing you an automatic backup of data during migration, and a confirmation that the data is intact. Moreover, migration plugins will help you secure data integrity, reduce the risk of errors as well as decrease downtime of your website. What's more, these plugins also make your website migration easier, smoother, and cost-effective. Nevertheless, which is the best Migration Plugin in the market nowadays? To help you answer this question, in today's topic, we picked up two of the unlimited Migrate Plugins to compare: All-In-One WP Migration Vs Duplicator.
Both plugins have been trusted and used popularly around the world. We will compare two plugins based on 3 aspects including main features, price, advantages, and disadvantages. Thanks to that, you can have helpful enough information to choose the best one for your site later. Now, let's dive into the comparison to get more useful details.
All-In-One WP Migration Vs Duplicator: Overview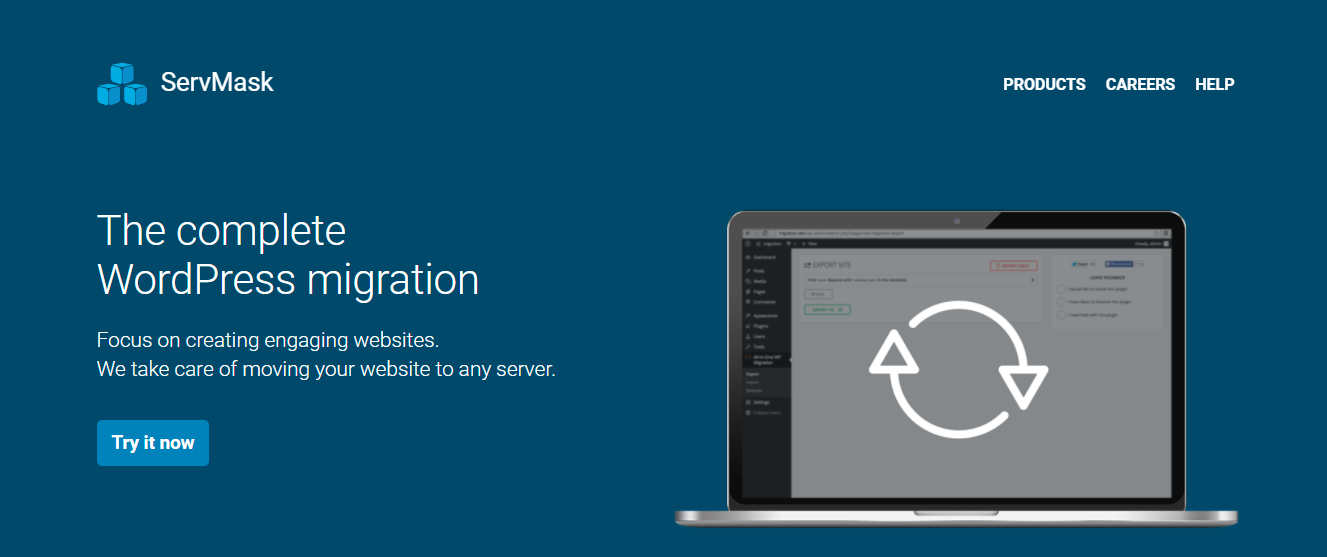 With over 3 million active users around the world, this plugin has gotten 5-star ratings along with a lot of positive reviews. All in One Migration is considered one of the most effective WordPress plugins that are developed by Servmask. This plugin allows you to upload your site to another location with an easy drag and drop setup. In addition, with the support of the plugin, you can export all the data of your WordPress site consisting of media files, plugins, themes, and many more without any professional coding required. Moreover, it gives you an option to apply an unlimited number of finds and replace operations on your database throughout the export process. It also fixes any serialization issues that happen during the find/replaces operation.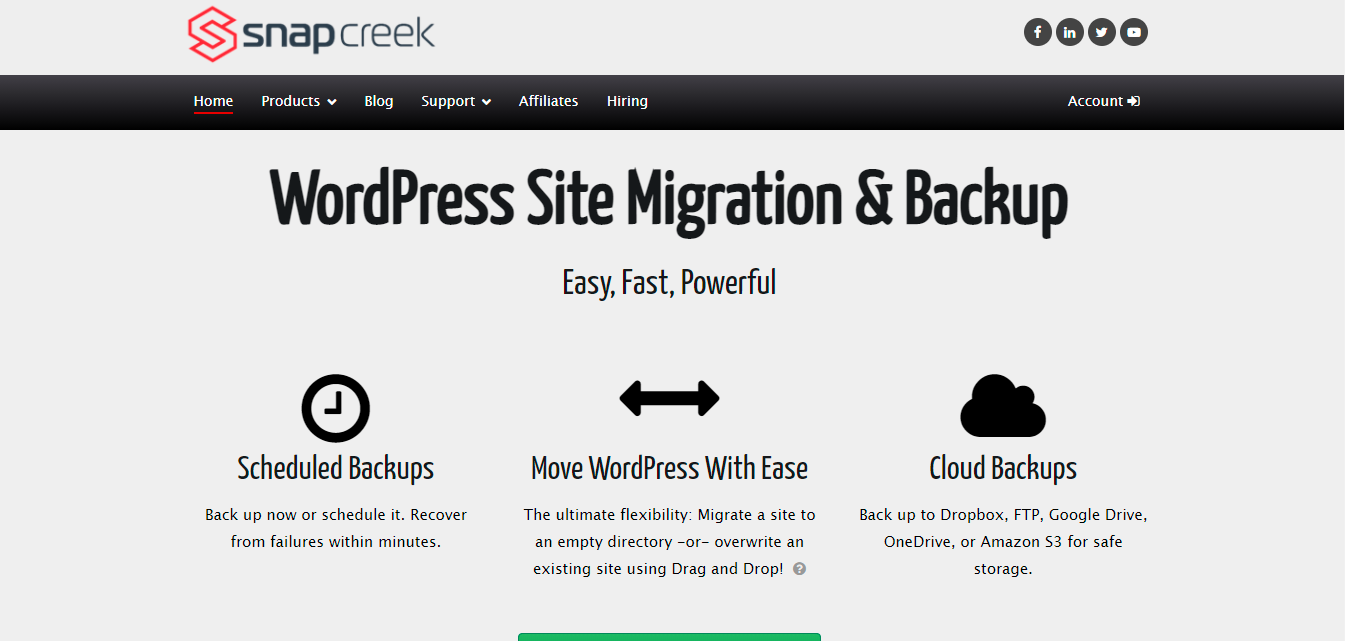 Duplicator has helped over 25 million websites migrate, copy, move or clone a site from one location to another quickly and safely. In addition, this plugin tackles serialized and based64 serialized replacements. Duplicator bundles all the site's plugins, themes, content, database, and WordPress files into a simple zip file called a package. Moreover, it also comes with a bunch of powerful features that help you to manually backup a WordPress site or parts of a site.
Main features
All-In-One WP Migration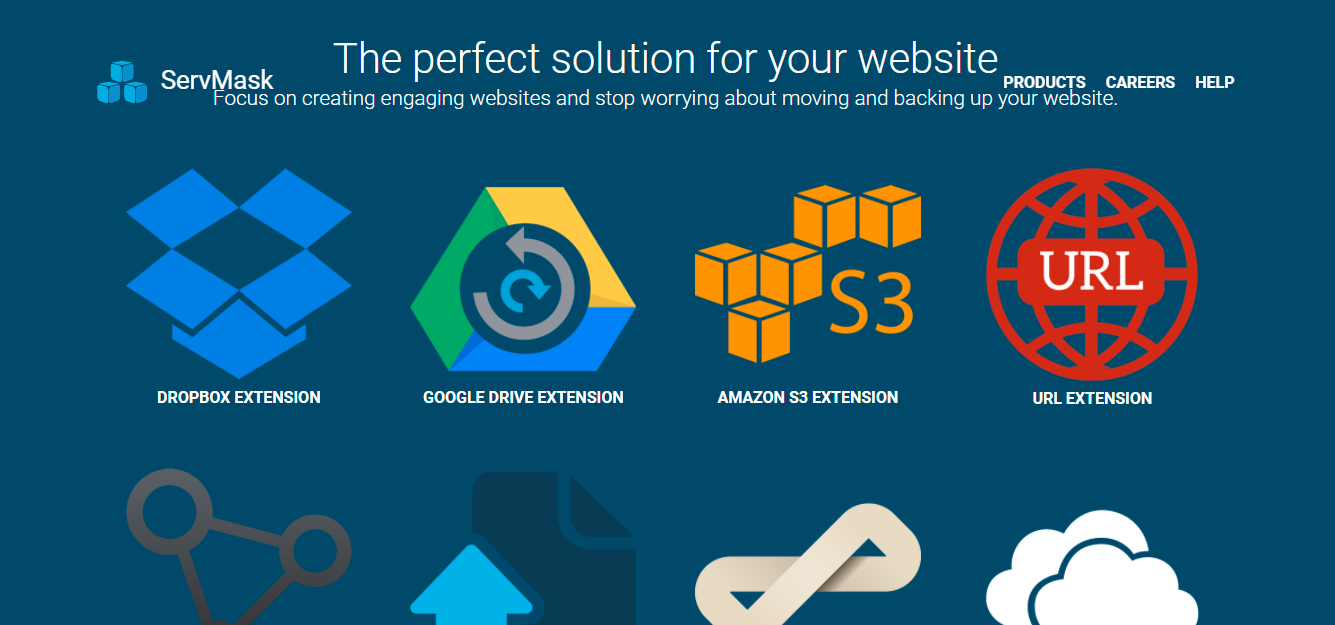 The plugin offers you loads of powerful features including:
Allow you to create backups that get saved on your own server
Enable you to export as a File with paid options to save the same via FTP, DropBox, Google Drive, and more
Allows you to import or restore a website from a backup by uploading the site to a different location with a drag and drop in to WordPress
No limit on the host and operating system while migrating
No need to constrain upload size restriction
Duplicator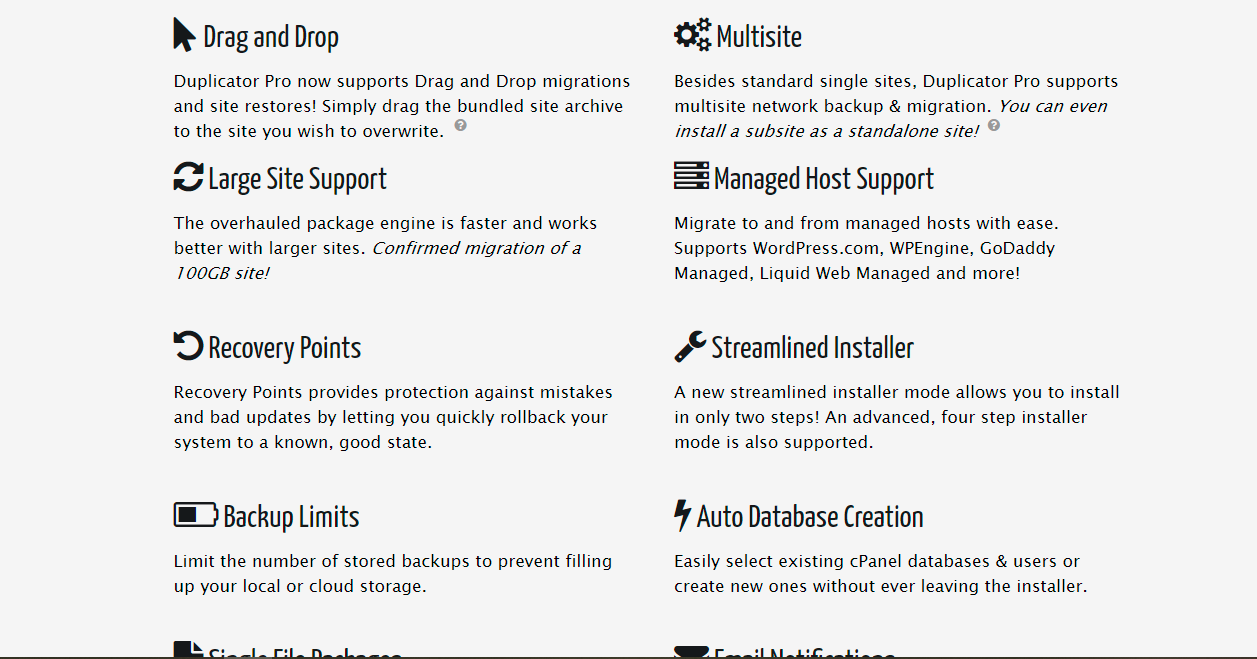 This plugin has been build with plenty of useful features and functionalities for your website consisting of:
Allow you to easily manage data backups and migration
You can move your site from one computer to another or upload it to a hosting provider with ease
Add a custom name and choose from multiple storage options including FTP, Google Drive, Dropbox, or local files
Scan your data and produce an overview of your site
Works with multiple sites and subsites
Fast package engines can handle large sites
Allow you to select a cPanel database or build new ones within Duplicator
Automatically send an email notification to users about backup issues, timeout errors, and anything that requires attention
Create one archive that contains everything
=>Generally, both All-In-One WP Migration and Duplicator come with plenty of powerful features and many useful options. However, there is something else we have to let someone know when All-In-One WP Migration comes to size. And the fact that the free version of this plugin will not allow you to import anything bigger than 512 MB. In contrast, Duplicator has no such limitation in place.
Another different point is that the Duplicator plugin automatically sends you an email notification about backup problems, timeout errors. It is regarded as one of the necessary features to help you easily control and keep track of the backup process whereas this feature is not been included in All-In-One WP Migration.
Pricing Plan
| | | |
| --- | --- | --- |
| | All-In-One WP Migration | Duplicator |
| Basic | Free | Free |
| Personal | $69/once | $59/year |
| Business | $69/once + $29/month | $129/ year |
| Gold | | $359/year |
As you can see in the table above, both plugins offer you the free version to assist you to check out how they work before upgrading the pro package. In addition, if you want to purchase the personal package, you must pay $69/once for All-In-One WP Migration-this is a great lifetime deal, whereas you have to pay $59/year for Duplicator. Moreover, 2 plugins also support the business plan that comes with a lot of advanced features and other useful functionalities. However, when you use the business version of All-In-One WP Migration, you will pay $69 right away and then $29 per month. This pricing plan is not a good deal meanwhile the Duplicator offers everything needed for business use and they only pay $129 per year without additional payments required. Hence, All-In-One WP Migration is more expensive than Duplicator in particular and other migration plugins in general.
Advantages and disadvantages
All-In-One WP Migration
Advantages
Disadvantages

It is the simplest plugin – just click and drag & drop to backup, export, or import
Export compatibility for all major Cloud services
It is compatible with all PHP hosting providers
Full backup of your entire site with unlimited storage space

Quite expensive than other migration plugins
WordPress should be pre-installed on the live and destination server

The free plugin only allows you to export a file to your computer

The free plugin only has a max upload size limit of 512MB
Duplicator
Advantages
Disadvantages

Save time by moving sites instead of rebuilding them from the ground up
Protect your data from failures with automatic backups that you control
Works with third-party storage apps like Dropbox, Google Drive, and Amazon
Stay on top of changes and activity with Duplicator email notifications
Customizable options allow you to decide what to save, limit, or move

Very hand-on plugin as you might need technical skills to upload files via FTP
Go through at least 12 steps to finish a long process for migration
The free version of the plugin includes very limited features.
All-In-One WP Migration Vs Duplicator: The final verdict
Overall, all two plugins are indeed excellent ways to migrate your WP website. So, which is the best one for your site? Honestly, it is difficult for us to give you the exact answer because it also depends on your technical skills, budget, as well as your purpose. In our perspective, if you have enough technical knowledge, you can try the Duplicator plugin with more intensive features for migration. On the other hand, if you are not confident about your technical information, All-In-One WP Migration is an optimal solution to migrate your site effectively. Hopefully, the battle between All-In-One WP Migration vs Duplicator will help you have more useful information to choose the right solution for your site.
And what is your point of view? If you are any queries or questions about the matter above, don't hesitate to drop a line below, we will support you anyway.
Moreover, you can access WordPress Migrate Plugin to consult more options. By the way, our Free WordPress Themes also specializes in providing hundreds of beautiful, modern, fully responsive designs that are completely compatible with two plugins atop. You can visit and get one to build your desired website.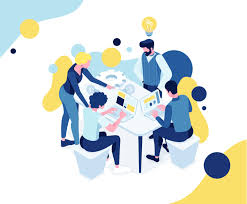 Latest posts by LT Digital Team (Content & Marketing)
(see all)