The ease of purchasing goods and services online has revolutionized the modern business world. Whether you're a small business or a large corporation, investing in the right e-commerce platforms can help you unlock new areas of growth while driving your bottom line. That's why we are here today to introduce to you the top popular B2B ecommerce platforms to give you the guidance you need to make an informed decision.
What is a B2B Ecommerce Platform?
Business-to-business (B2B) ecommerce is an electronic method of buying and selling goods and services between businesses, instead of between businesses and consumers. It is an important tool for any business that wants to maximize profits and reduce costs. A B2B ecommerce platform is a streamlined system that simplifies the process of exchanging information, products, and services between businesses.
B2B ecommerce platforms streamline and automate the buyer-seller relationship, which is critical for any business. It includes features that automate the entire purchasing process, from order placement through delivery. With its assistance, businesses can save time and money with faster order fulfillment as well as more efficient tracking of customers, inventory, and pricing. In addition, B2B ecommerce platforms provide analytics and reporting capabilities. This makes it easier to monitor customer patterns, sales forecasts, and other metric information. This insight can help a business better understand customer needs and make more efficient decisions about pricing, inventory, and sales.
The types of products that can be sold using a B2B ecommerce platform are virtually endless. Businesses can sell anything from raw materials to finished products. Each platform is customizable and can be tailored to meet the needs of any type of business. Not only can businesses benefit from a B2B ecommerce platform, but customers can, too. By purchasing from a B2B platform, customers can make informed buying decisions faster, streamline payment processes, and take advantage of discounts.
List of popular B2B Ecommerce Platforms
CS-Cart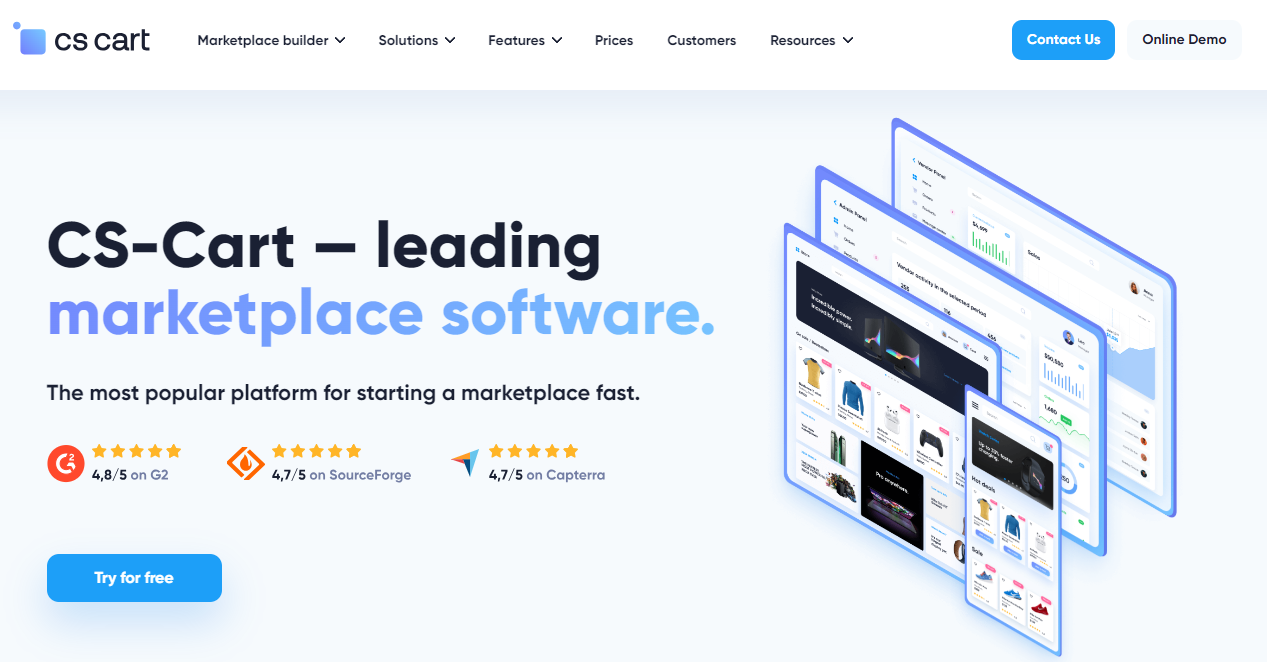 Let's explore another B2B Ecommerce Platform – CS-Cart. That is to say, the marketplace platform is a professional tool designed to help businesses build their online presence. It is a full-featured platform that offers all of the necessary tools and features to create a seamless shopping experience for customers. It is also highly secure and compatible with a range of payment gateways.
With an extensive list of features, it offers everything needed to launch a professional eCommerce store. It also offers flexibly customizable templates, so businesses can create an attractive store that meets their brand's needs. Moreover, it has powerful marketing and SEO tools to help businesses drive more traffic to their stores. The platform also provides tools for creating promotional campaigns and discounts to help businesses attract more customers.
Shopify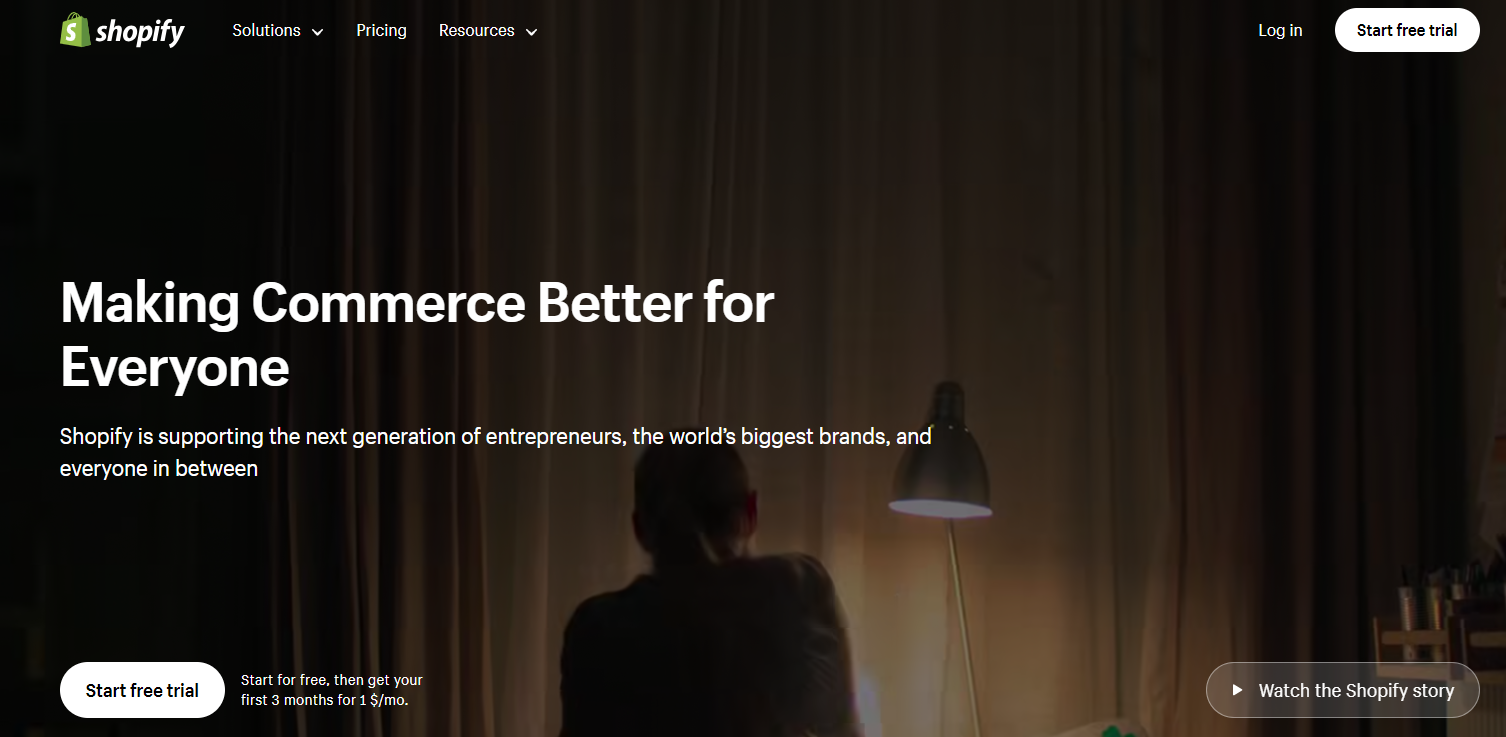 The second B2B Ecommerce Platform that is leading in the market is Shopify. It is a comprehensive, customizable, and easy-to-use platform that enables businesses of any size to create a store in minutes. Some of the features include integrated payment processing, automated shipping and fulfillment options, extensive third-party integrations, real-time analytics, and a powerful store editor. Shopify also offers a suite of marketing tools designed to help merchants reach customers and grow their businesses.
One of the benefits of using Shopify is its scalability. It provides merchants with the freedom to grow their businesses without needing to hire additional staff or invest in expensive IT infrastructure. Another major benefit of Shopify is its robust customer service options. Merchants have access to a range of support options, including live chat, email, and phone.
WooCommerce

Thirdly, it's time for you to take a look at WooCommerce which is one of the most popular B2B Ecommerce Platform. That is to say, WooCommerce supports businesses to launch an e-commerce store that can be tailored to their specific needs. With the help of the platform, businesses can access a range of features that make running an e-commerce store easier and more efficient. This includes payment gateway integration, customizable shipping options, inventory management, and order processing. Besides that, WooCommerce allows for plugins and themes to further enhance the functionality of an e-commerce website.
Another great advantage of WooCommerce is its flexibility and scalability. It can be used to create any number of ecommerce stores from small, local businesses to large multinational corporations. Furthermore, the platform can easily manage multiple product types such as physical and digital goods, services, and subscription models.
BigCommerce

BigCommerce is the fourth B2B Ecommerce Platform we would like to show you in the blog. The platform provides merchants with various tools helping them increase their online sales and streamline their operations. With features such as customer segmentation, product variations, and tier pricing, merchants have the ability to tweak their stores to best suit the unique needs of their customers.
In terms of digital selling, BigCommerce offers its users a complete suite of features to facilitate their interactions with customers and partners. This includes automated workflows, shopping cart integration, and multi-store access. It also assists users with the setup of automated customer emails and the addition of product and payment options. For merchants that need to handle complex orders such as corporate purchases or bulk buying, BigCommerce provides an order management system that simplifies these processes.
Magento

Another B2B Ecommerce Platform that you should try is Magento. In other words, this platform is specialized for B2B eCommerce and provides organizations with the tools they need to succeed in an increasingly digital world. Magento was designed to enhance user experience with a focus on ease of use. Its robust feature set includes embedded analytics, flexible product options, multichannel support and secure payment processing capabilities.
Magento also comes with powerful product management features including custom pricing, product groups, and various promotion codes. Businesses can create different product collections for different users, and control what content is displayed for each user type which helps ensure a smooth and secure checkout process. Moreover, this platform is also highly customizable to meet the unique needs of different businesses. They are custom extensions that allow for easy integration with other software, such as customer relationship management (CRM) or enterprise resource planning (ERP) applications.
PrestaShop

Next, why don't you have a look at PrestaShop? This platform has an intuitive and user-friendly back office, robust product and customer management capabilities, and custom modules for powering up the checkout process and payment gateways. By leveraging features such as automated emails, coupon codes, stock and inventory management, shipping methods, and discounts, businesses are easily and effectively able to create an efficient online store.
Plus, businesses can also use PrestaShop to manage supplier inventory and sales data. This supports businesses to save time and money by avoiding manual updates every time a supplier's inventory changes. With its comprehensive reporting function, businesses can quickly and effectively identify areas where additional sales can be generated. What's more? PrestaShop is a secure platform with SSL encryption and PCI-compliant payment gateways. It offers 24/7 customer service so businesses can rest assured that their customers' information is safe and secure.
OpenCart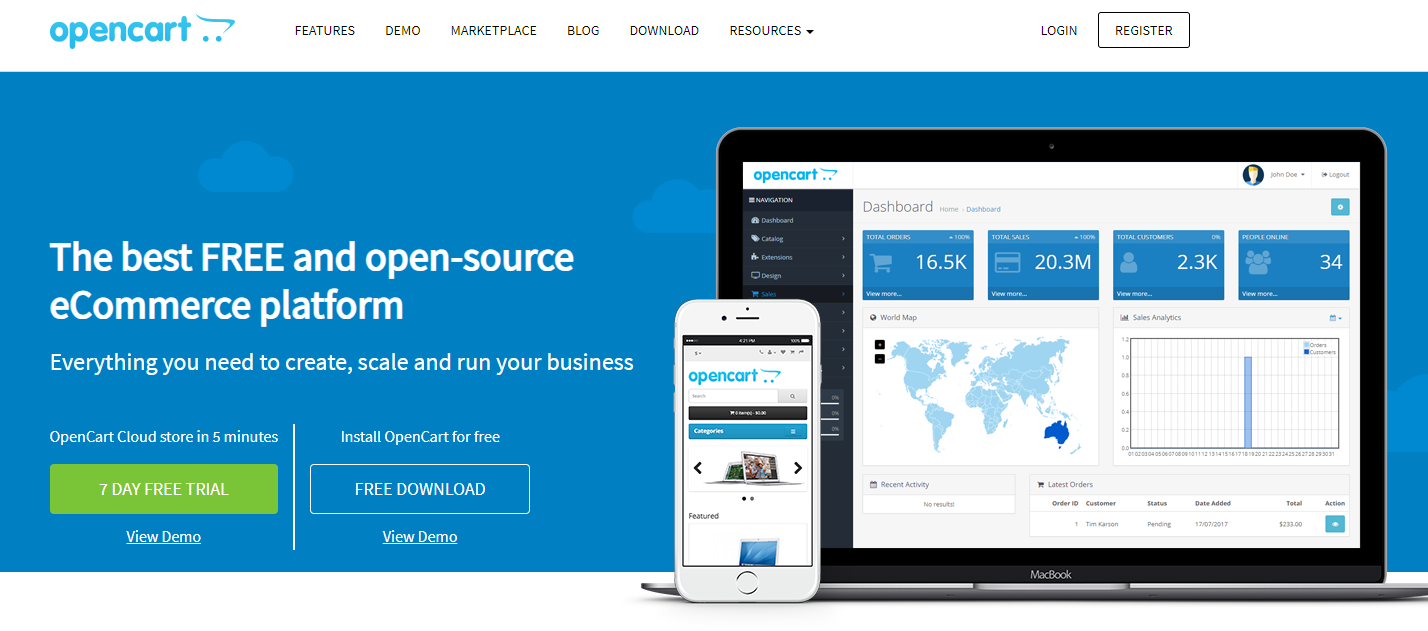 Another B2B Ecommerce Platform you shouldn't miss is OpenCart. It provides a comprehensive software solution that allows businesses to design, manage, and monitor their own websites and online stores in an efficient and cost-effective manner. In addition, the platform is scalable, enabling it to grow with the business. It can integrate seamlessly with third-party systems and solutions, and it can scale up to cater to the needs of high-volume businesses.
OpenCart offers user-friendly features and solutions to help businesses maximize the efficiency of their online operations. It comes with user-friendly front-end features that enable customers to browse and purchase items from the store, manage orders, store, and track customer information, and securely pay with PayPal, Stripe, or other gateways for secure payments. Flexible back-end features allow businesses to integrate their own payment solutions, fulfillment, order management, reporting, and other business-specific tools.
SuiteCommerce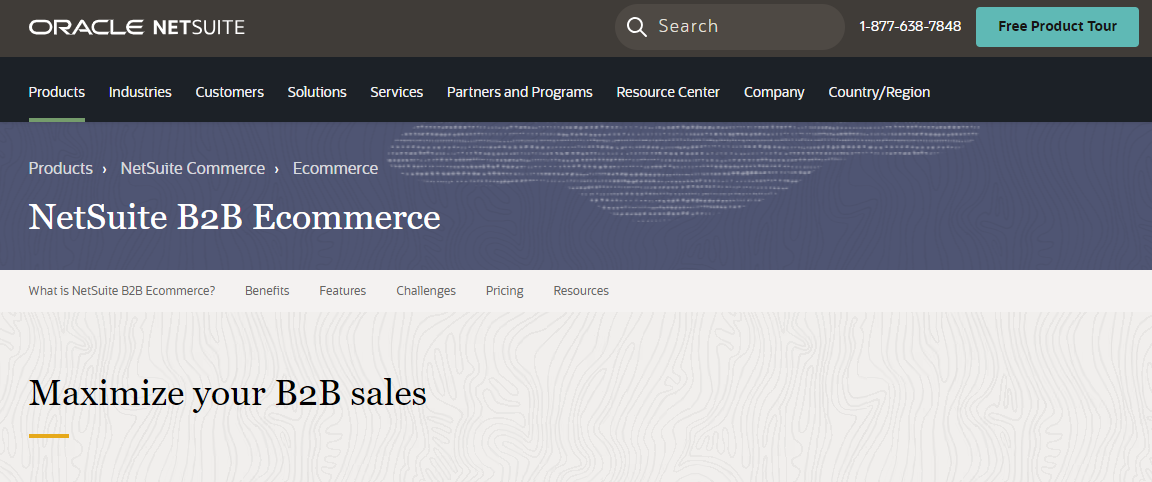 The next B2B Ecommerce Platform we want to discuss now is SuiteCommerce. First released in 2014, SuiteCommerce is designed for rapidly growing companies with a complex suite of products, services, and digital assets. The platform allows businesses to manage multiple selling points in a single experience so that customers can shop across multiple channels and receive a consistent user experience. SuiteCommerce works to streamline complex business processes for customers, administrators, and customer service representatives.
One of the most wonderful plus points of SuiteCommerce is its scalability, allowing businesses to accommodate changing customer needs and create a digital, omni-channel presence. Another advantage of SuiteCommerce is its high level of security. It includes two-factor authentication, secure transmission protocols, and PCI compliant infrastructure, helping businesses protect their customer data and generating trust in their brand.
3dCart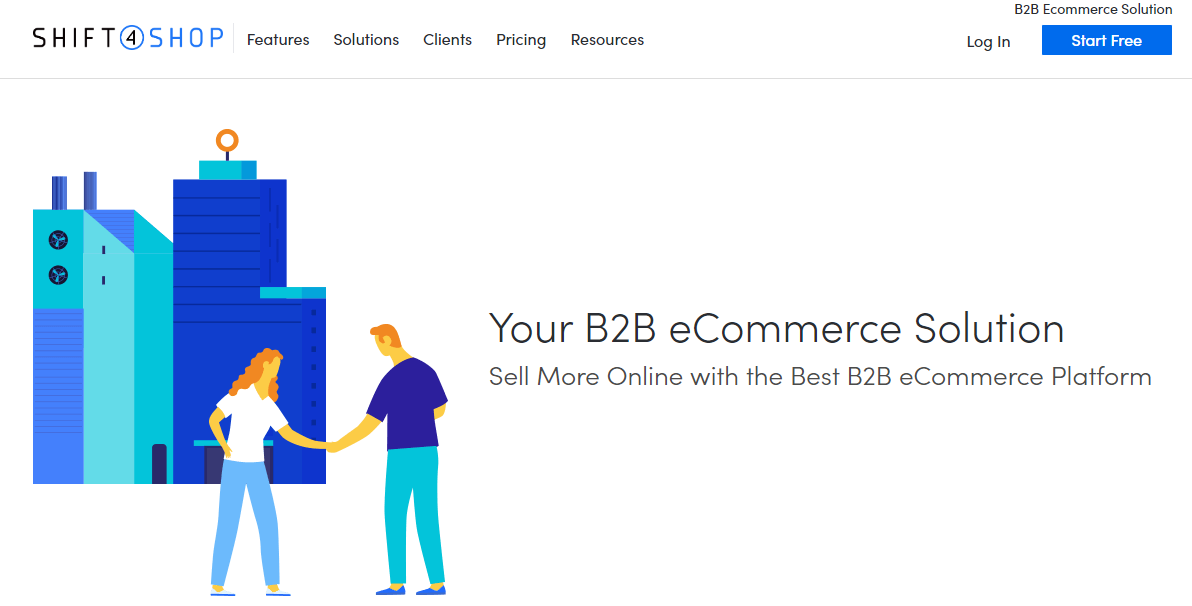 The last B2B Ecommerce Platform we would like to bring you into the collection is 3dCart. This platform offers businesses the ability to build an online store that is equipped with features that provide a user-friendly and intuitive buying experience for their customers. It allows companies to design their own websites without coding knowledge and with a wide range of options for customizing their store's design.
Furthermore, 3dCart also comes with marketing tools designed to drive traffic to businesses' online stores, such as email marketing, search engine optimization, and social media marketing. In addition, businesses can easily integrate their store with other popular ecommerce tools, such as PayPal, Google Analytics, and ShipStation.
Closing thoughts
At the end of the day, each platform is different and dependent on the needs of your business. It is important to take your time to evaluate the features of each B2B eCommerce platform before settling on the one that best meets the needs of your business. With thoughtful consideration and planning you will be able to pick the right B2B eCommerce platform that allows you to efficiently move your business from no-tech to tech-savvy and beyond.
Last but not least, don't forget to access our site and get a lot of free WordPress themes.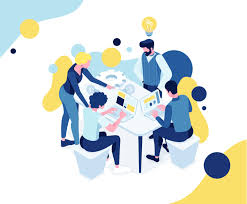 Latest posts by LT Digital Team (Content & Marketing)
(see all)