Are you struggling to choose WordPress vs Shopify for your eCommerce site? Luckily, this blog will give you a detailed comparison between WordPress vs Shopify to help you choose the best one for your website. Now, let's explore.
Introduction
As you know, nowadays the eCommerce industry is thriving significantly. So, many online stores have quickly sprung up to meet the needs of customers to shop without leaving their homes. Compared to physical stores, online stores have plenty of advantages. First of all, marketing campaigns and customer services via websites, blogs are definitely more convenient and cheaper than using traditionally paid advertising campaigns.
In addition, both large and small businesses can take advantage of e-commerce to reach even international customers via their websites and search engines. Moreover, customers can easily get all information about products including price, colors, sizes, testimonials from other buyers before making a purchasing decision.
For these reasons, a lot of e-commerce platforms have been introduced, providing a variety of features that permit merchants to build a branded online storefront to locate and sell their services and products. These platforms will help you generate communities and markets where all users, sellers can interact and transact via network effects.
Now, it is easy for you to build an e-commerce website, however, choosing the right eCommerce platform to start from hundreds of platforms is really challenging. And Shopify vs WordPress are the two most prevalent and significant platforms that make a lot of people confused to choose.
In today's blog, we are going to provide you with an insightful comparison to help you easily consider and make the right decision. Now, let's dive into.
WordPress Vs Shopify: Background
WordPress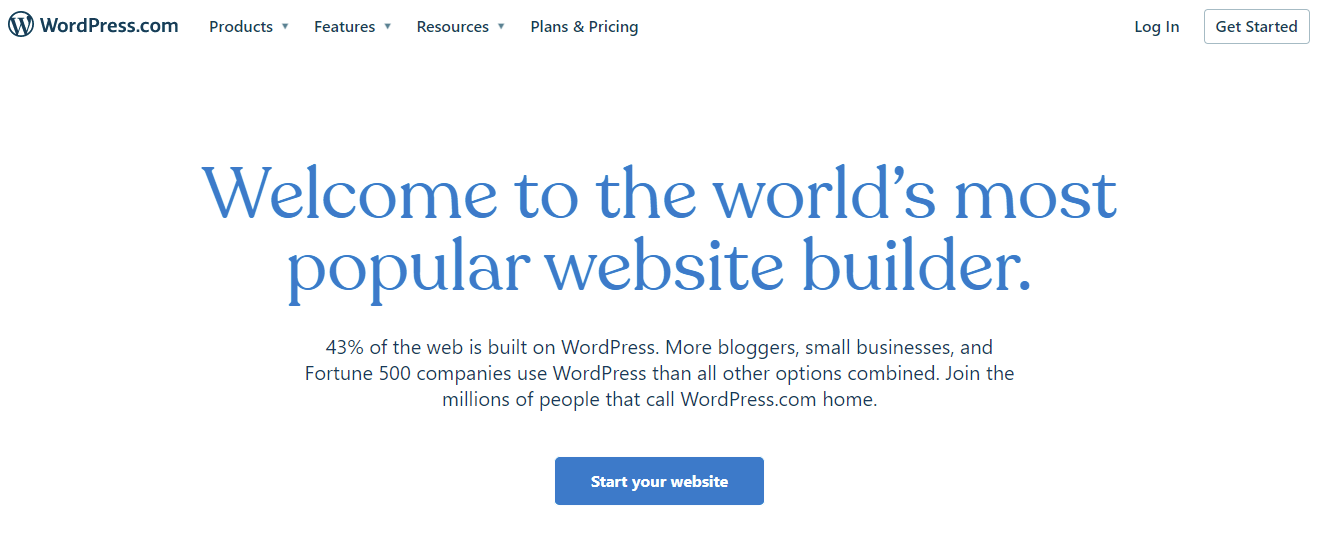 WordPress is an open-source CMS, that was specially developed to help you create blogs and any type of business. In addition, it is also an outstanding CMS platform that was written in PHP programming language and uses MySQL database administration. WordPress is separated into WordPress.com (hosting services) and WordPress.org (self-hosted) where there are tons of free themes and plugins displayed.
In addition, WordPress enables you to access all themes to change the appearance of your website. If you want to enhance the functionalities, and performance of your website, you simply install some plugins. Honestly, it is an extremely flexible, convenient platform that is easy to use when you have professional skills to code. Many users believe that WordPress is a free platform. However, there are some additional costs for hosting solutions, other features, and plugins that you should try.
Shopify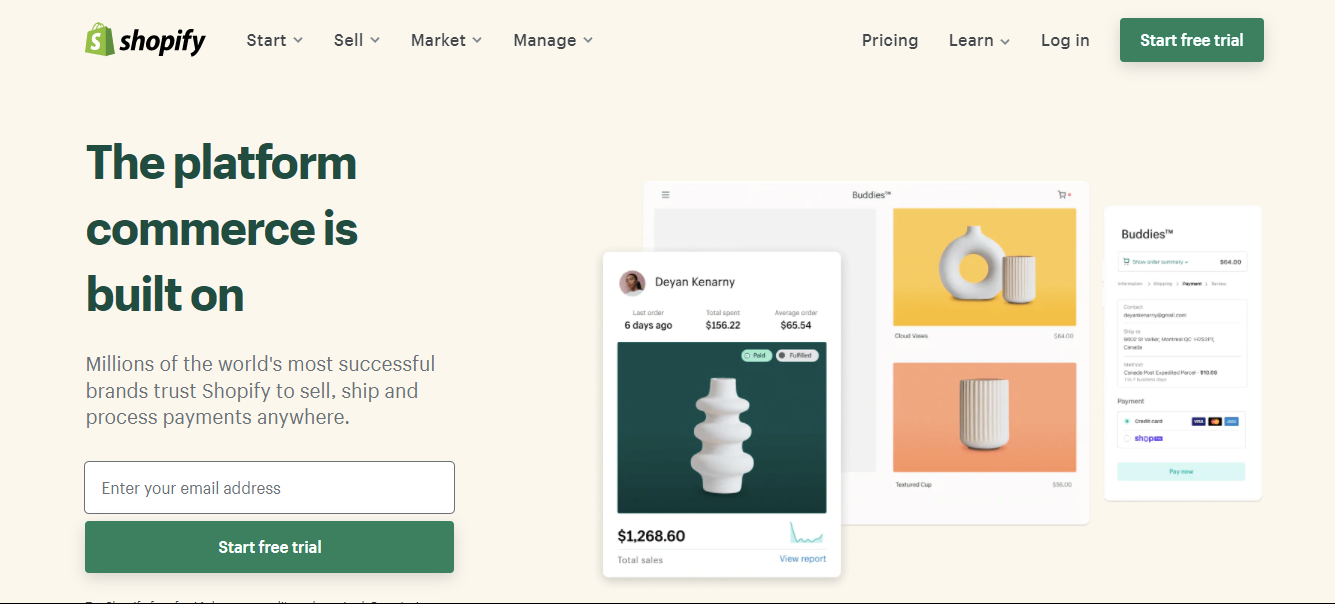 In contrast, Shopify is not only a famous, powerful eCommerce store builder but also is a closed source that is packed with a bunch of great features and gives you the ability to design an impressive  E-commerce website without having professional coding knowledge. In addition, it helps you handle and manage everything, so you only need to run your store with ease. All you need to do is set up your account with registration procedures and then you are ready to add and sell your products. Shopify will assist you to find customers, drive sales and control your day-to-day effectively.
Moreover, Shopify is also a perfect choice for eCommerce websites because it has full customization capabilities. Thanks to that, you are completely able to edit HTML and CSS code to design your desired website. If you have a rich knowledge in terms of coding skills, it is easy for you to customize your stores to expand to your needs.
Theme design & Customizability
WordPress Templates
WordPress.org comes with a wide array of stunning and modern themes including both free (over 9.000 free themes) and premium versions. You are limited to access the theme they enable. Nevertheless, when you purchase the Business plan, then you can access all the most prevalent WordPress Themes.
This platform allows you to customize various sections on your web page such as uploading the logo, generating stunning sliders, changing colors, and backgrounds, much more. However, WordPress doesn't enable you to have access to the HTML source until you purchase the Pro plan, then you can add custom CSS to your site.
Moreover, each theme also comes with a lot of customization options that help you easily change the look of your desired website.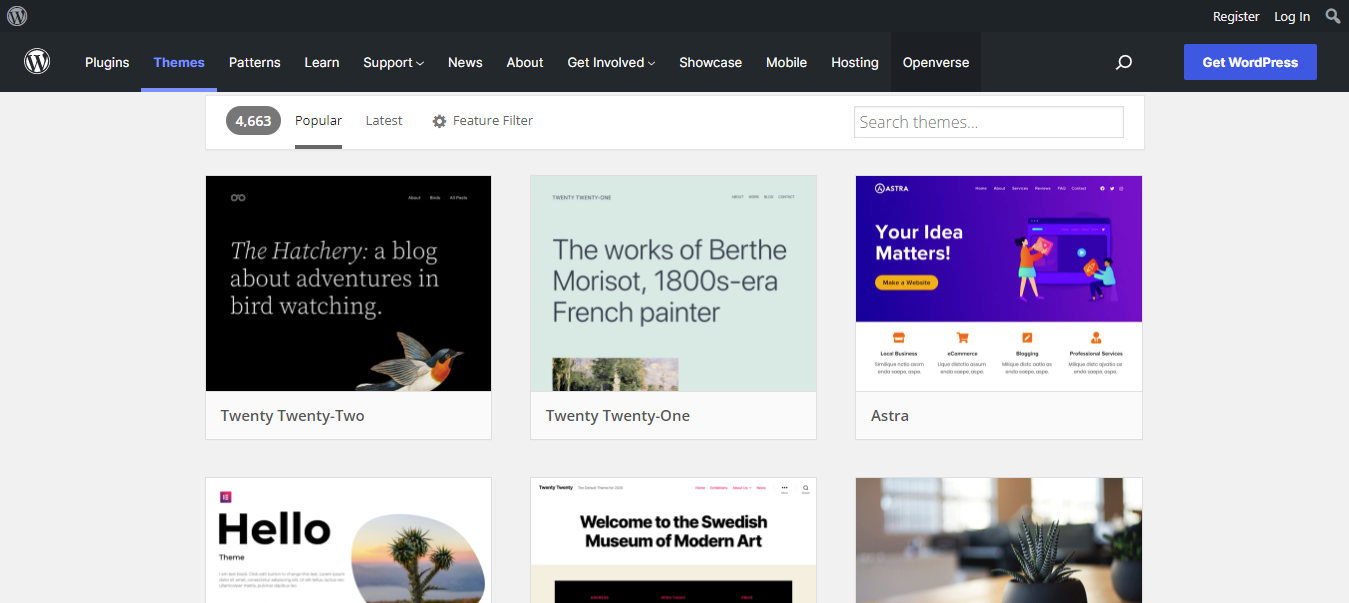 Shopify Templates
On the other hand, Shopify only offers fewer themes. All of them are mobile-ready and highly customizable, which means you can easily create your dream website without having to use any line of code. Although the number of premium and free Shopify templates available is very small compared to the number of WordPress ones available, it can not be denied that Shopify templates are a little bit easier to customize than WordPress ones. Since most WordPress templates have much of a learning curve, which takes you a long time to practice professionally.
You can also build Shopify templates with numerous page builder apps with an easy drop-and-drag feature, you can refer to some ideas about Pagefly templates, Shogun templates, GemPages templates, etc.
Additionally, Shopify enables you to access and customize the source code by using Liquid coding language. With this template language, you are able to customize the pre-made Shopify templates or layouts, or you can also add a new one and edit them according to your preferences. There is a bit of difference between HTML/CSS languages and Liquid languages. When using Liquid, you have to need the support of a Shopify technical expert who can do it for you.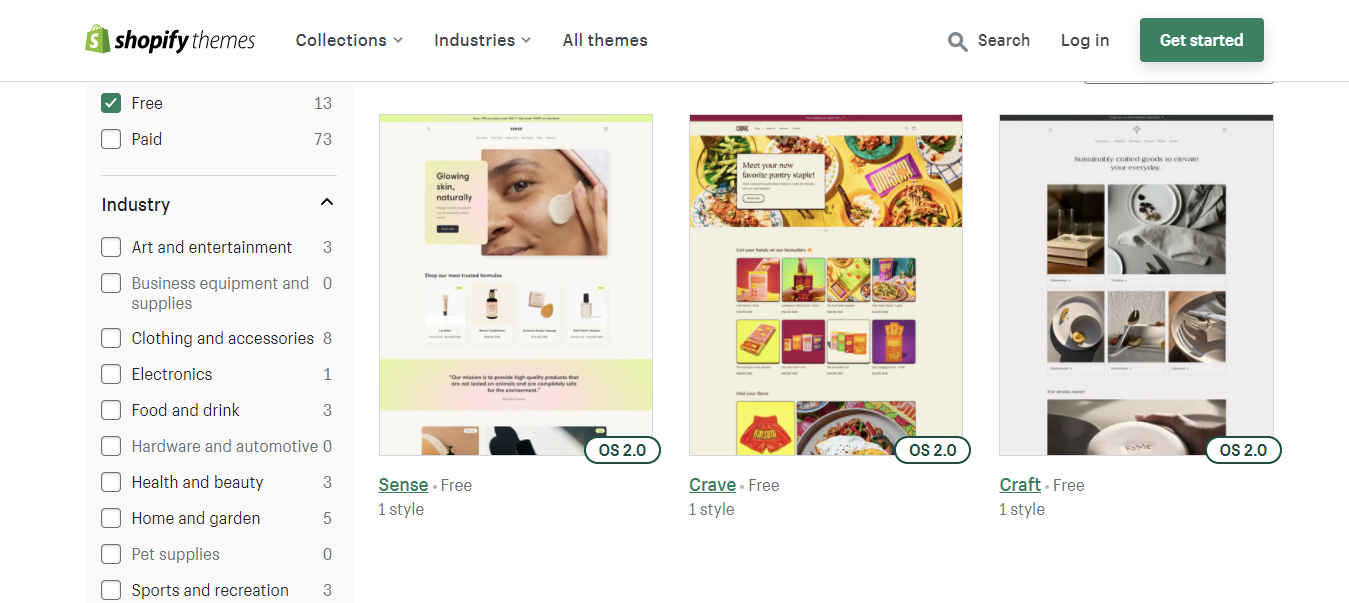 Plugins & Extensions
WordPress
There are a total of 59,457 free plugins in WordPress.org. Each plugin is useful for different tasks and various purposes. In addition, you can install additional plugins to extend the functionality of your website to boost customer experience without having professional coding skills. For example, Yoast SEO, Rank Math is used for website and content optimization, Woocommerce MailChimp is specially designed for email marketing, and much more. In addition, the process of installing and activating plugins is extremely easy, even for beginners.
Further, you can also choose from tons of extensions to use for your specific demands. All kinds of extension options include: product pages, check out, shopping cart, payments, shipping, and much more.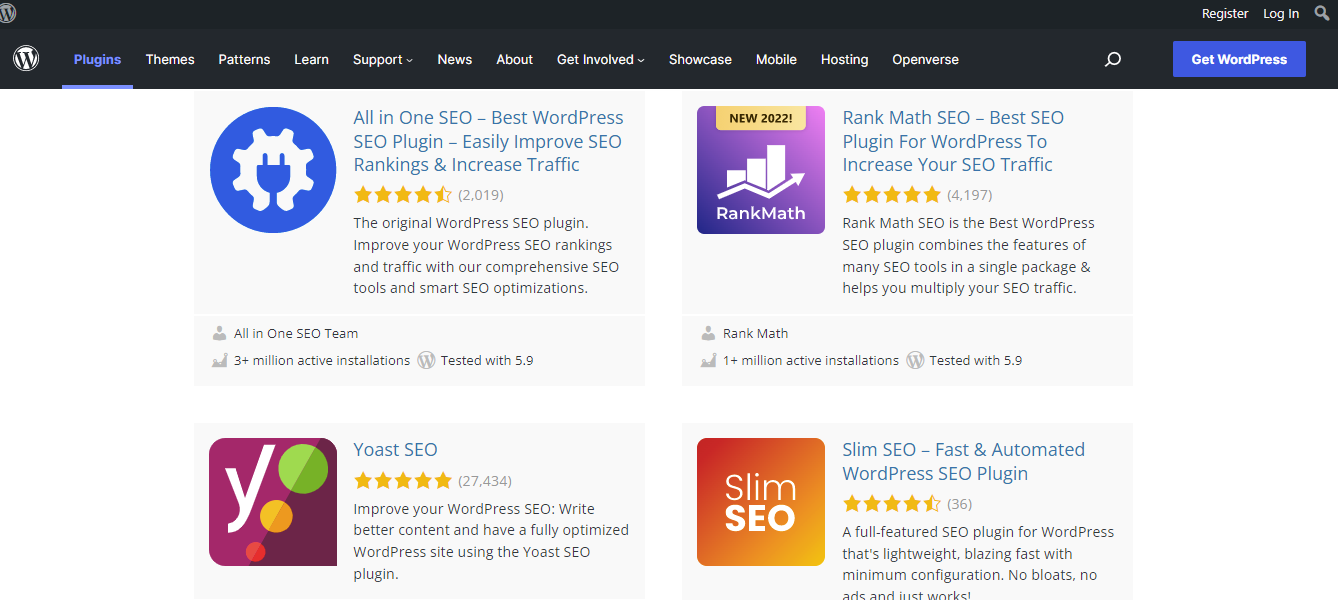 Shopify
Likewise, Shopify also has an in-house app store where there are over 1200 plugins and apps. Therefore, it is not hard for you to find and use a reasonable plugin for your business purposes. Besides, you can take advantage of these apps to boost the efficiency of your business processes such as accounting, shipping, fulfillment, marketing, and much more.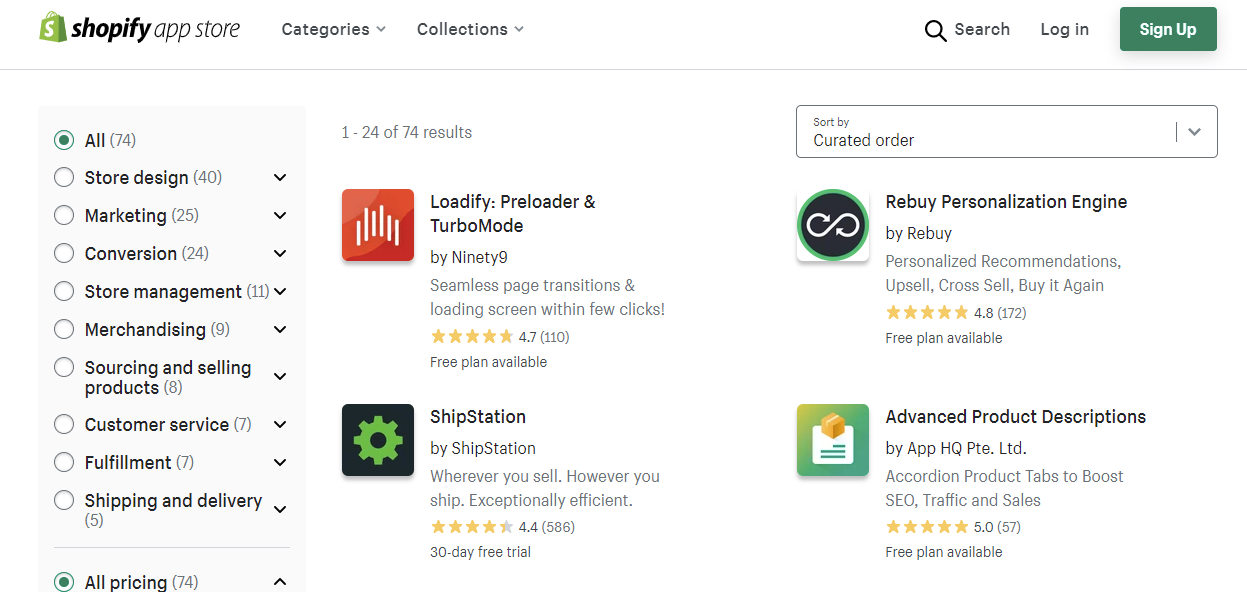 Interface & Ease of use
WordPress
Although WordPress is the most flexible and powerful platform, it is extremely easy to use for beginners. It comes with an intuitive and simple dashboard in the back-end with various menu options. You can use these options to start creating posts, pages, customize your site, add navigation menus, set up social sharing buttons,s and much more. WordPress really makes it easy for absolute beginners to manage and maintain their own website without any technical skills.
In addition, there are regularly many updates, you can also install themes or useful plugins with a few clicks.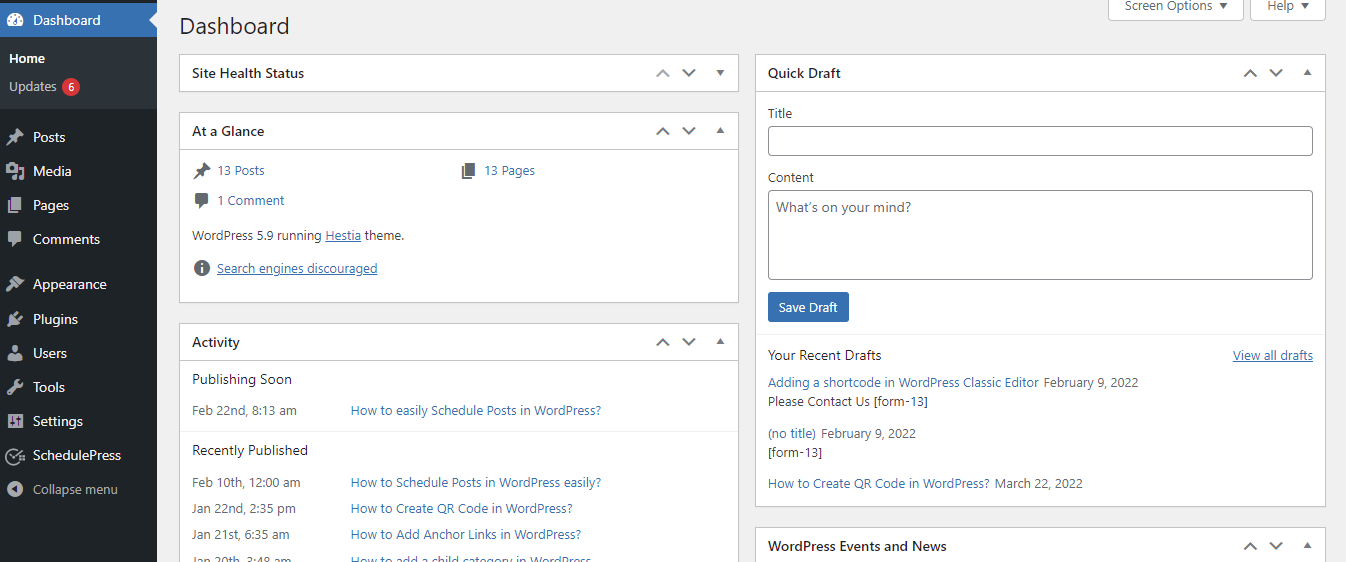 Shopify
Shopify also allows you to easily install, set up, and begin selling your products. Generally, the interface of Shopify is similar to WordPress's interface. From the Shopify dashboard, you can view and manage all components of the back-end in one place. In addition, you can use plenty of options to configure your store's settings, control clients' orders, add/remove/modify products, and much more.
By using Shopify, you don't need to be a well-skilled designer. You can easily start building your own online store in just a few minutes. With Shopify's free trial, you will get a great chance to experience Shopify's dashboard and test how the system operates.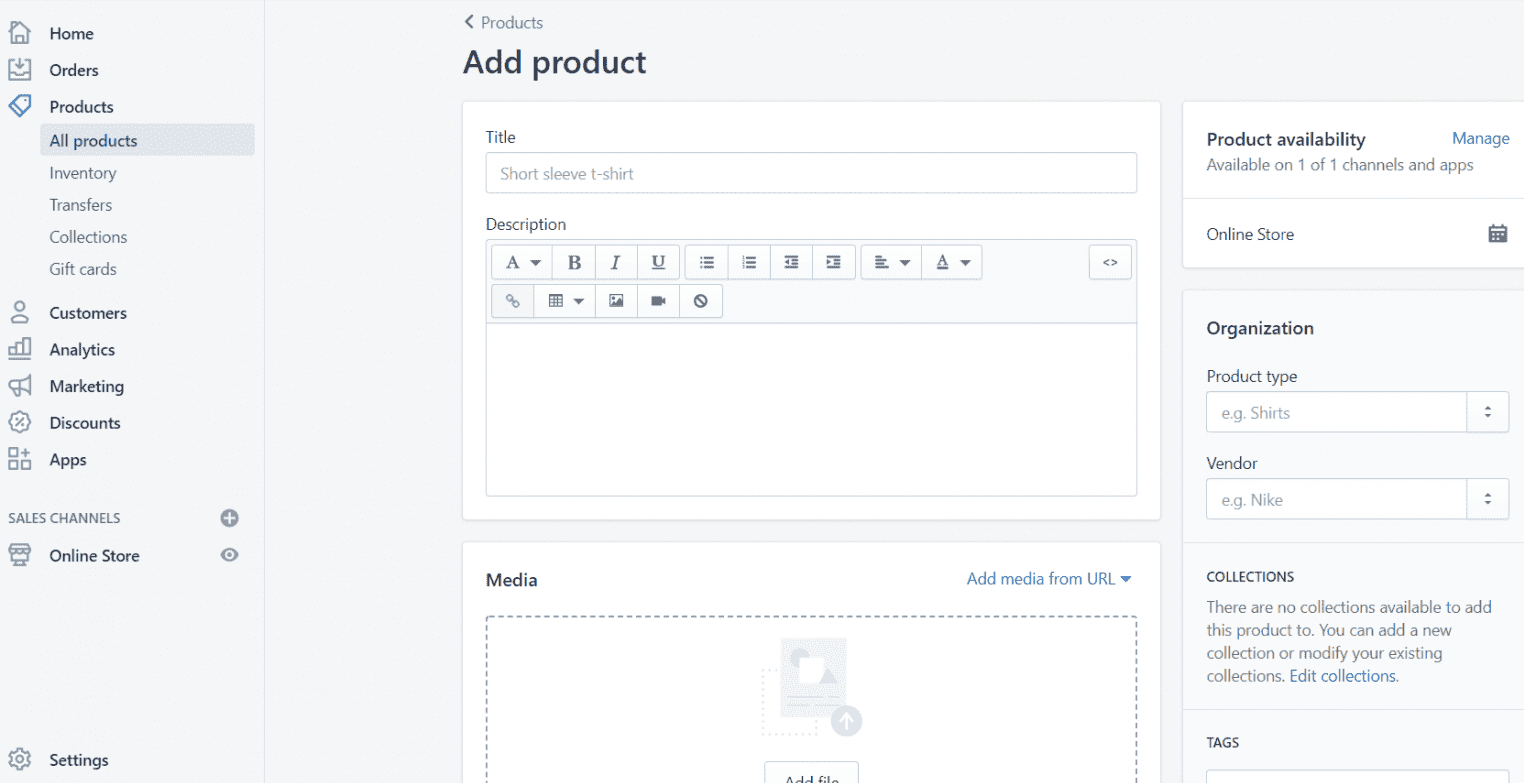 Site security
WordPress
If you are going to use WordPress, you must always be ready to take responsibility for everything including regularly updating the latest version of WordPress, themes, and other plugins, making sure to configure your server correctly. While some of this can be resolved automatically, you still need to monitor them frequently or else your website will be vulnerable and easily attacked by hackers.
Additionally. you have to be aware that many WordPress themes and plugins also comprise malicious code, which can cause some unwanted threats. So you need to consider carefully before installing any themes and plugins.
To sum up, you only need to ensure that you regularly keep up with the latest version of anything in WordPress, and back up your site, a well-maintained WordPress website will be exceedingly secure.
Shopify
On the contrary, once using Shopify, your website will be less vulnerable than WordPress ones. Since in Shopify sites, there are fewer opportunities for users to neglect security on their site. Thereby, hackers also find it difficult to add malicious code to the holes.
What's more, Shopify offers 100% SSL, which means that your customers will browse your E-commerce site quickly and securely. Plus, with hosted services such as Shopify,  much of the responsibility for security belongs to the developers who provide them. In other words, Shopify's responsibility is to safeguard PCI compliance where transactions are always protected and your website doesn't have any serious security threats. Moreover, when your clients pay via several payment gateways such as credit cards, their data is absolutely safe.
Pricing plans
WordPress
It is really difficult to say an exact cost to build a website on a WordPress platform since there are plenty of variables involved.
First of all, in order to build your website, you need a domain name and web hosting where you can store your website database whenever you need to create backups, upgrades, or security updates.
Here is the cost you need to pay once you use WordPress.org:
Web hosting: from $4/month
Domain name: $12/year
Plugins: range from $0-$1,000
Developer fees: range from $0 – $1,000
Security: from $50
Moreover, WordPress.come also comes with a variety of distinctive packages that users can choose the best plan that suit their website.

All paid web hosting packages provide you with a custom domain name, an SSL certificate pre-installed, free theme. Additionally, it also offers unlimited Email and Live Chat support, and a free domain for a year.
Shopify

Similar to WordPress, in addition to themes, add-ons, or extensions, Shopify also comes with three flexible packages for you to choose from including Basic Shopify, Shopify, and Advanced Shopify. The price ranges from $29 to $299 per month and each plan are packed with a variety of powerful features.
Moreover, if you have a rich budget, it is beneficial for you to purchase an annual or biennial plan because you can save up to 20%. Especially, Shopify offers a 14-day free trial for you to experience before making a buying decision.
Besides Shopify pricing packages, you have to pay for a domain and an additional fee for each transaction.
Pros and cons
WordPress
Pros
Cons

Easy management from all devices
Friendly with website positioning
No HTML editing required
Easy to use
%100 customization
Unlimited free themes and plugins for download
It is perfect for a website with tons of users
There are a variety of options for e-Commerce strategies
SEO in WordPress is better with a lot of SEO plugins

Lack of many advanced features
Regularly updates that take a lot of time
Multiple performance issues
Self-manage the security of your WordPress site
Shopify
Pros
Cons

Easy to set up and use
No technical and coding skills required
Highly customizable
Recover abandoned cart easily
Dozens of great payment gateways
There is less risk of being hacked with Shopify
Primarily responsible for the security of your website
Offer free 14-day trial to experience

Limited customization
Challenging learning curve
Take a lot of time shorting and classifying products
Lack of email storage facility
WordPress Vs Shopify: Which is better for Ecommerce
Indeed, it is difficult to exactly say which e-Commerce platform is better for your website, because it depends on your budget and your purpose. Overall, both WordPress vs Shopify is great and powerful platforms where you have many opportunities to powder your online store. However, if you don't have a rich budget, using WordPress is really a cost-effective solution. WordPress completely overweight Shopify in terms of diverse free themes, plugins, and low-cost hostings. However, if you want to own a professional WordPress site, it is sure that you have to invest in using managed hosting, premium themes, pro plugins. It may cost you a lot of money compared to the costs of the Shopify monthly plans.
In contrast, if you need a simple, easy-to-use solution and have an abundant budget, don't hesitate to choose Shopify to start your e-Commerce website. But the biggest disadvantage is that you don't have full authority to control every your Shopify website. Moreover, your costs will increase with transaction fees, add-ons, and integration with 3rd party tools.
Hopefully, our WordPress vs Shopify comparison can help you better understand the two outstanding e-commerce platforms. Then, you can choose the best one to boost your business plans.
Further, if you use WordPress to build your online website, don't ignore a list of professional, modern, beautiful eCommerce WordPress Themes on our website. They will help you easily create an amazing website without effort.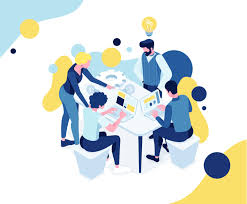 Latest posts by LT Digital Team (Content & Marketing)
(see all)