Have you ever heard about Cassiopeia the Default Template in Joomla 4? If yes, what it is? In our blog today, we would like to introduce to you some basic information about Cassiopeia. And in the next blogs, we will guide you on how to use this template in your Joomla 4 effectively. So, let's explore the blog today as well as don't miss the next blogs in the series.
What is Cassiopeia?
By default, when you start using Joomla 4, there will be a template available for you to customize and build for your website. It is Cassiopeia. If Joomla 1.0 has a Solarflare template, Joomla 1.5 has Milkyway, Joomla 3.0 has Protostar, then Joomla 4 has a Cassiopia template. Therefore, it is considered the next development of space themes.
The Cassiopeia template is built based on Bootstrap 5. It comes with many useful features and well-organized module positions. So, you can use it easily. Besides that, the template also provides you with a responsive layout, adapting to all kinds of devices.
Appearance: If you understand the CSS stylesheets clearly, it's easy for you to alter the basic appearance of the Cassiopeia template. So, you can add or customize some lines in the user.css to change the backgrounds, the fonts, the colors, and more. However, let's remember that you shouldn't change the template.css file of Cassiopeia. The main reason is that when you upgrade your Joomla site, your changes may be overwritten.
Layout: You are able to make some changes with the layout, or simply add module positions.
Functionality: You can customize Cassiopeia if you know about Joomla API. You are able to add template overrides or make changes to the index.php.
Generating multiple template styles in Cassiopeia
Because Cassiopeia provides you with many settings you can make directly in the template style, you can create many template styles for a template. Thus, in order to do that, you need to log in to your admin dashboard in Joomla 4.
After that, let's open System -> Site Template Styles (in the Templates section).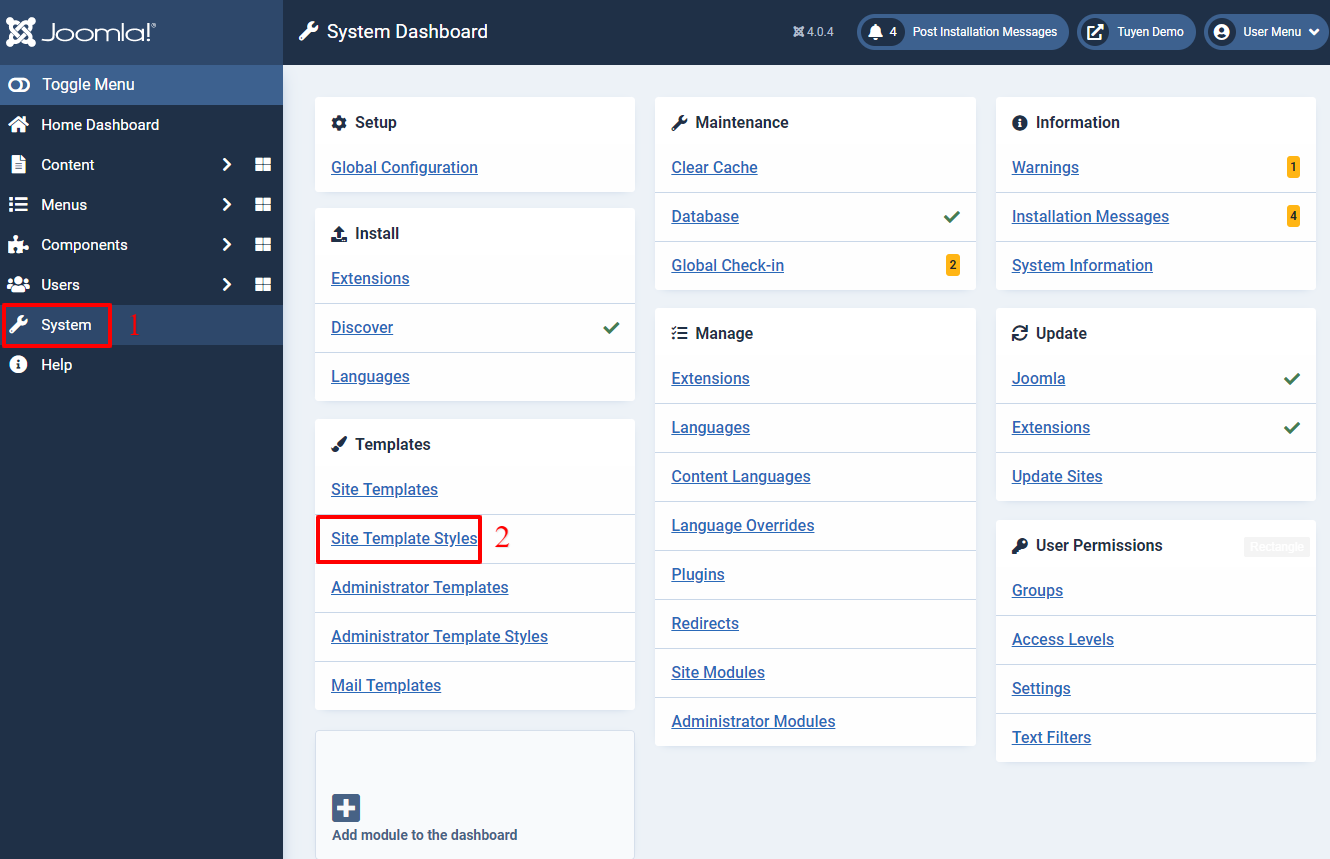 Now, you simply need to choose the template style you want to copy, then click on the box before it.
Next, all you need to do is pressing the Duplicate button. So, the template style has been copied now.

In case you hope to alter the name of the copied template style, let's open the style. After that, simply type the name you want in the Style Name box. Then, don't forget to save your changes.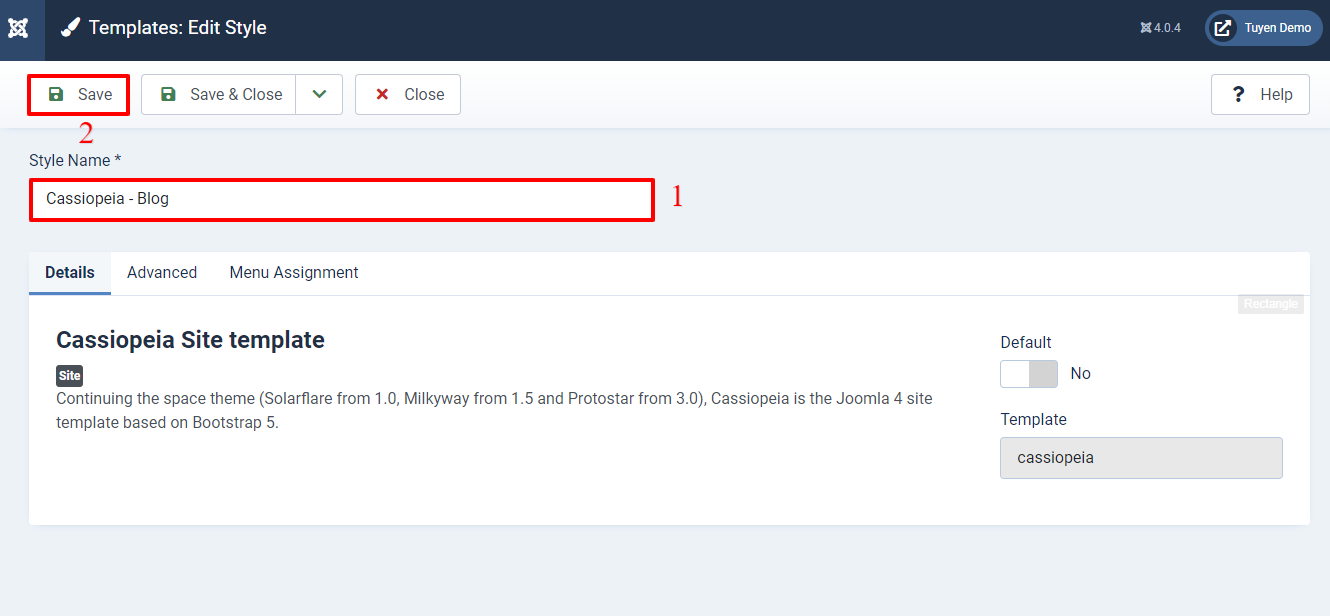 Style Editing View
When you open a template style and edit it, there are a lot of sections in the Advanced tabs. Therefore, let us explain to you this.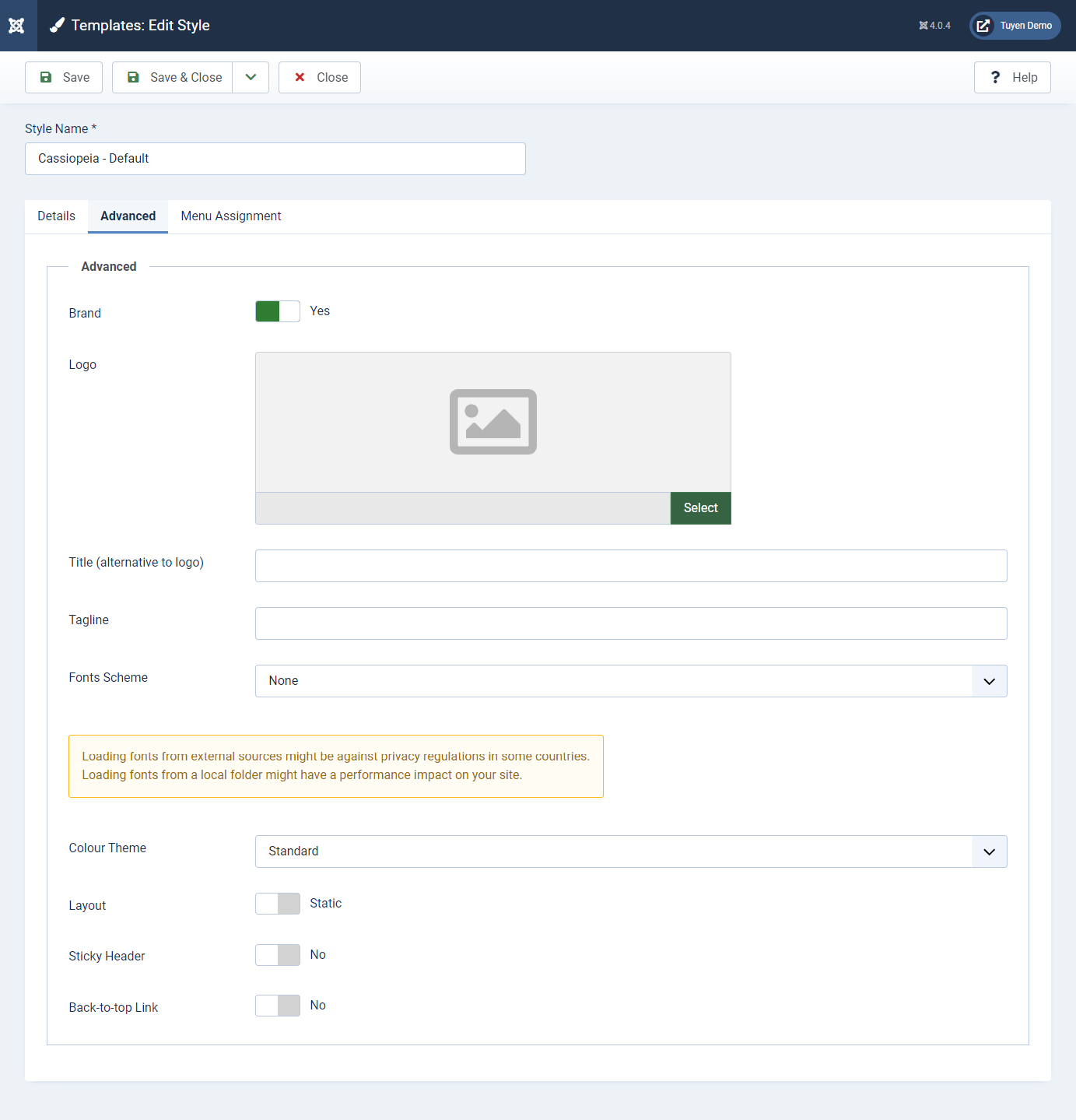 Brand: If you want to utilize your own logo, title, and tagline, let's choose 'YES' option. However, you can't showcase the elements across the full width. Thus, if you need to use a larger banner, it's a good idea for you to select 'NO' and utilize the banner in the module position.
Logo: You can upload the image of your own logo from your computer. After that, Joomla will help you showcase the logo in the designated logo position automatically. Besides that, it also supports you to create a link to the homepage for your logo.
Title (alternative to logo): In case you don't have any logo or don't want to use a logo, you can type a title here. The title will appear at the position of the logo. Furthermore, if you don't use both a logo and a title, Cassiopeia will utilize the default text 'Cassiopeia' from the core automatically.
Tagline: You can type some description of your site here. So, Cassiopeia will display it under the logo or the alternative title.
Fonts Scheme: You are able to select None option, Fonts from the folder, or Fonts from Web.
Colour Theme: It includes Standard and Alternative color schemes. With Standard color schemes, the color has already been set and optimized so that everything becomes perfect. Conversely, if you choose Alternative color schemes, the preset colors may be overwritten. Thus, in this case, you have to create a user.css to solve this issue.
Layout: You can select between two options: Static and Fluid.
Sticky Header: If you enable this option, when you scroll down your site page, the header area will remain visible at the top of the screen.
Back-to-top Link: If you want to use this feature, you can add a link at the bottom of your page. When visitors click on it, the page will be scrolled on the top.
Final thoughts
To sum up, we have already introduced to you some fundamental information about Cassiopeia Default Template in Joomla 4. In the next blogs, we will show you how to use it in a clear way. We hope that you like the blog today. If you think it is useful, why don't you share it with your friends? Last but not least, don't forget that we are offering many Joomla 4 Templates that you may need for your site. Let's check it out!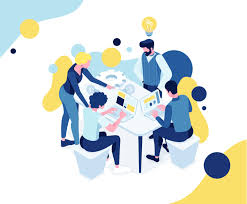 Latest posts by LT Digital Team (Content & Marketing)
(see all)