A variant is created for an existing HikaShop product based on the values of characteristics (that you can add to your product in the Specifications area of the product edition page).
For example, you have created a shoe product, and you have lots of other colors available for it. You must first create a characteristic with a value for each color via the Characteristics menu (Products->Characteristics). Then, add the characteristic to your product (See the Specifications chapter, here). And finally, you can go in the Variants tab in order to add all the variants (combinations of values of characteristics) required. Let's discover how the process looks like.
To manage variants of product in HikaShop for Joomla 3.x:
Step 1: Log into your Joomla Dashboard
Step 2: In the top menu, hover over Components and click HikaShop to access the HikaShop Dashboard.
Step 3: Click the Products icon and click the Product Name that you would like to manage variants.

Step 4: Named "Variants", will allow you to manage variants for your product, so click on "Variants":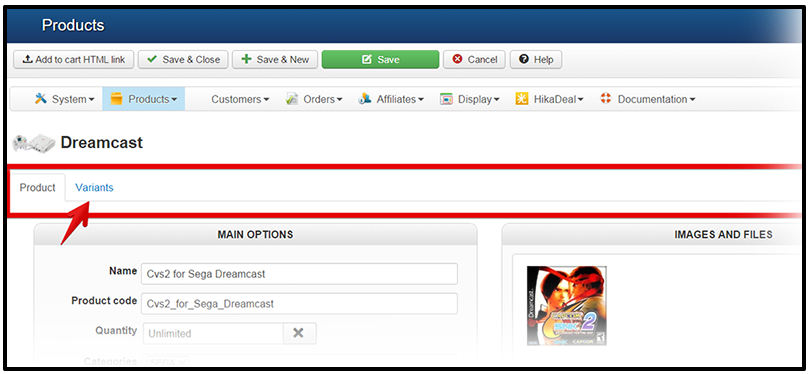 Step 5: You will arrive on a new listing interface which, later, will display you all the variants of the product so that you can edit one or another. Then, click on the "Add variants" button

Step 6: Your characteristics will be displayed below. Click on the empty input just under the characteristics name.

Step 7: Differents values of the characteristics will be list, pick all the ones you want to be available for the current product.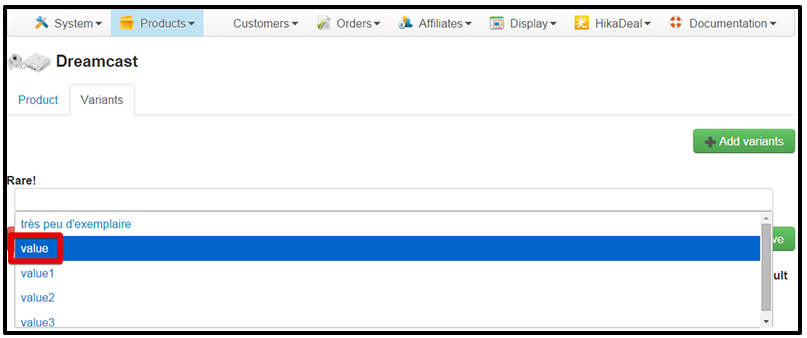 Step 8: When it's done for each characteristic, don't forget to cllick Save

Step 9: You have a listing of your generated variants, and you can begin editing each one of them if you need to set different settings for each one.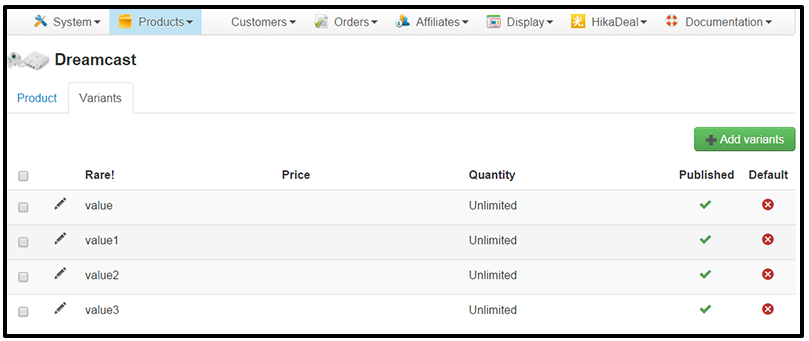 Step 10:  – The first way to manage variants is to click on the checkbox of each variant to display two new button :
Delete : If you want remove one or several variants.
Duplicate : If you want create a new variant directly based on others.
               – The second way to manage your variants is to click on the pen icon of a variant or directly on its name (here : "Value") .

You will discover, under the variants listing, a new configuration interface, similar to main product configuration page.
And so, if you need different description or price or image, etc.. you can make the required change here.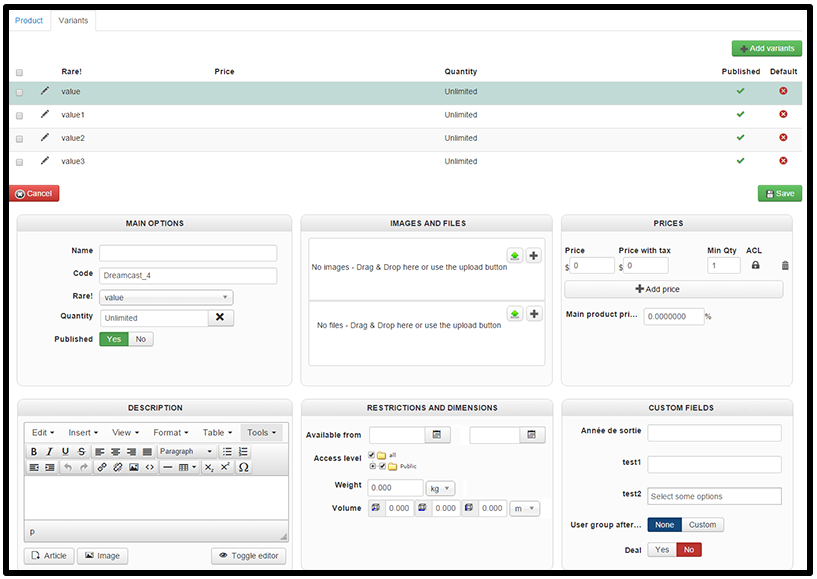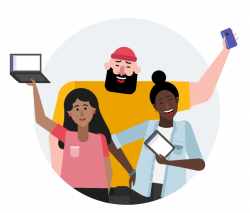 Latest posts by Document Team
(see all)