Are you wondering to choose between Quiz Cat vs Quiz Maker? Fortunately, this article compared a lot of various aspects between them to help you easily make the right choice for your site. Let's start.
What are the benefits of using WordPress Quiz Plugins for your site?
Many websites mistakenly believe that a valuable piece of content is to provide the reader with as much information as possible. They often focus on building content with a bunch of words. As a result, readers are easily bored with the content on your website, which means they will quickly leave your page and visit another more interesting website. In this case, you should create a lot of interesting quizzes by using WordPress Quiz Plugins to hook readers and keep them on websites for longer durations. Moreover, using these tools also bring a wide range of worthwhile benefits including
Reduce readers' bounce rate: when readers are interested in many exciting quizzes provided, of course, you will keep them on your site for a longer period of time. In addition, the bounce rate is also one of the most important factors that directly affect your SEO, so this can assist you to boost your rankings.
Improve your site's conversions: once users learn about your website via the quizzes. It is certain that they will be curious about products, services on your website, so they might click on an ad, buy a product or sign up for your email. list.
Give your visitors a lot of interesting things: through a lot of provided quizzes, your visitors can get a lot of fun, enrich knowledge, etc.
Increase organic traffic: the interesting quizzes often excite your site's visitors, so they will share your quizzes with their friends on social media platforms. Thanks to that, your website will drive more traffic efficiently.
Creating quizzes is really useful for your website. However, which is the most effective tool in the market nowadays? It is also a challenging task. Therefore, in today's blog, we picked out the two dominant WordPress Quiz Plugins to compare. They are Quiz Cat vs Quiz and Servey Master.
Both plugins come with a wide range of powerful features and allow you to create unlimited questions. But it is still difficult for you to make the right decision if you don't know the differences between them. For this reason, we are going to compare the two plugins based on 4 aspects including main features, ease of installation and settings, pricing plans, updates & ratings. Now, let's dive into the following sections.
Quiz Cat VS Quiz Maker: Background
Quiz Cat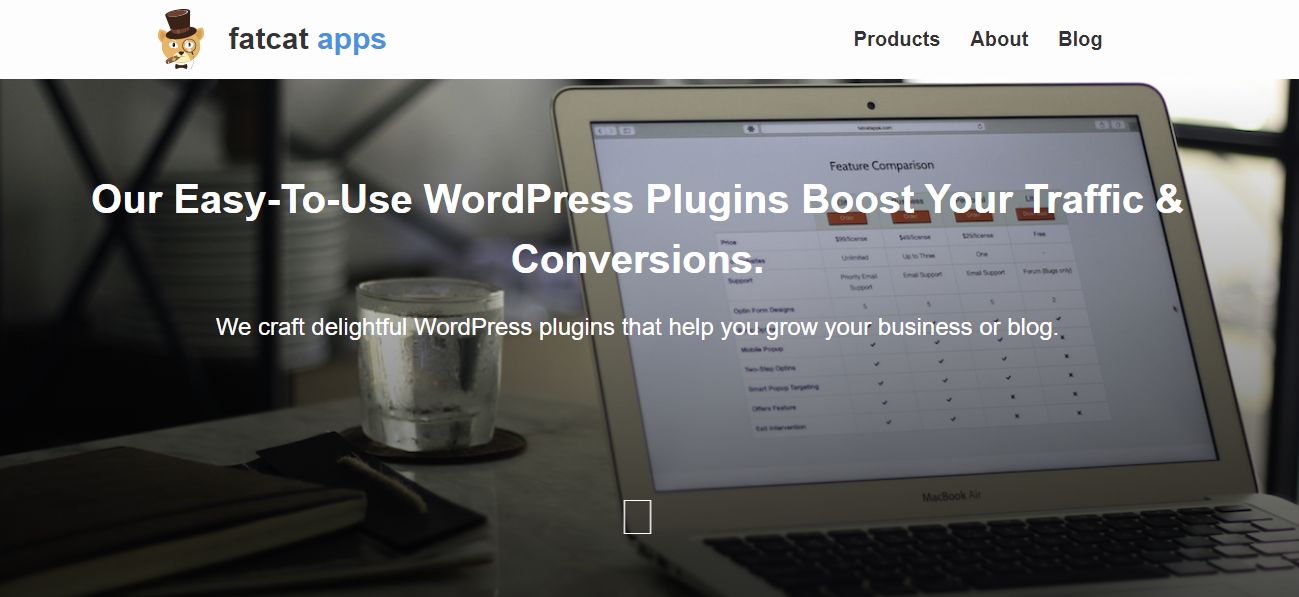 The first plugin that we would like to compare is Quiz Cat. This is a powerful and simple WordPress Quiz plugin that allows you to build viral quizzes to help you increase more traffic, social shares, email, and subscribers. In addition, it enables you to add images to each question and answer in order to make your quizzes more interesting. Moreover, by using this plugin, you are able to set up a start and finish screen for your quiz.
Additionally, this plugin is extremely fast, lightweight, thanks to that, it doesn't slow down your site. Furthermore, it is completely compatible with the Gutenberg editor, so you can easily use shortcodes or the Quiz Cat Block.
Quiz Maker

Quiz Maker is another serious opponent of the Quiz Cat plugin. This tool also comes with a wide range of powerful features, enabling you to generate multiple quizzes, tests, exams quickly. In addition, it offers you 7 types of questions to choose from including radio, checkbox, text, short text, number, and date. Especially, there is no limitation on the count of participants joining in the test at the same time.
Furthermore, it is specially designed with a responsive layout and user-friendly interface, so your quizzes will look amazing on any device regardless of your visitor's screen sizes. This plugin has been trusted and used by thousands of customers around the world. Therefore, this plugin is also a perfect solution for your site.
Main features
| | | |
| --- | --- | --- |
|  Features |  Quiz Cat (Free) |  Quiz Maker(Free) |
|  Unlimited quizzes and tests |  . ✔️ |  ✔️ |
|  Quiz with timer |  ❌. |  ✔️ |
|  Quiz styles |  ❌ |  ✔️ |
|  Unlimited Question  |  ❌ |  ✔️ |
|  Question bank |  ❌ |  ✔️ |
|  Question image |  ❌ |  ✔️ |
| Show correct answers |  ❌ |  ✔️ |
|  Randomize questions & answers |  Pro |  ✔️ |
|  Social sharing buttons |  Pro |  ✔️ |
From the table comparison, you can see that the free version of Quiz Cat only offers you some basic features, for example, allowing you to create unlimited quizzes and tests. If you want to enhance the functionality of your website, it is necessary for you to upgrade to the premium version to get more advanced features such as personality quizzes, weighted quizzes, shuffle quiz questions, etc.
Whereas the free version of Quiz Maker comes with a lot of powerful and essential features that are only available in competitors' premium plans or not even provided.
Ease of installation and settings
In general, both plugins are easy to install, you just go to Plugins > Add New and then search for the plugin's name on the search bar. After you can click on the Install Now button and activate it.
However, the settings of Quiz Maker are a bit more complicated than Quiz cat. Because Quiz Maker has more advanced features than its rival, so you need to configure some important settings. For example:
You can set a timer for your quiz and once the timer ends, the quiz will be submitted automatically.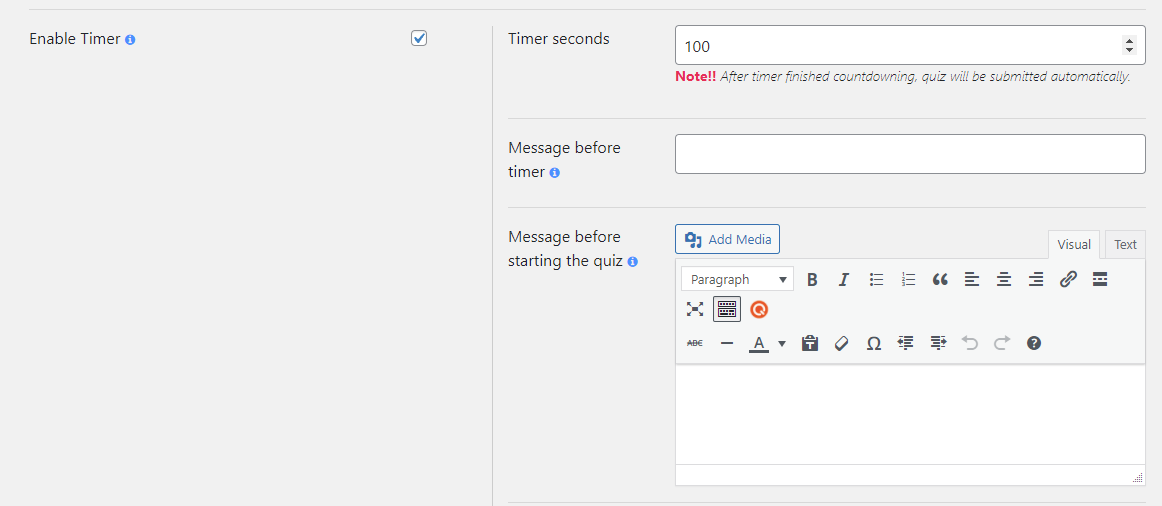 Moreover, by using the Quiz Maker, you have the ability to arrange your quiz to be available for your users at a certain time.

Pricing plans
Quiz Cat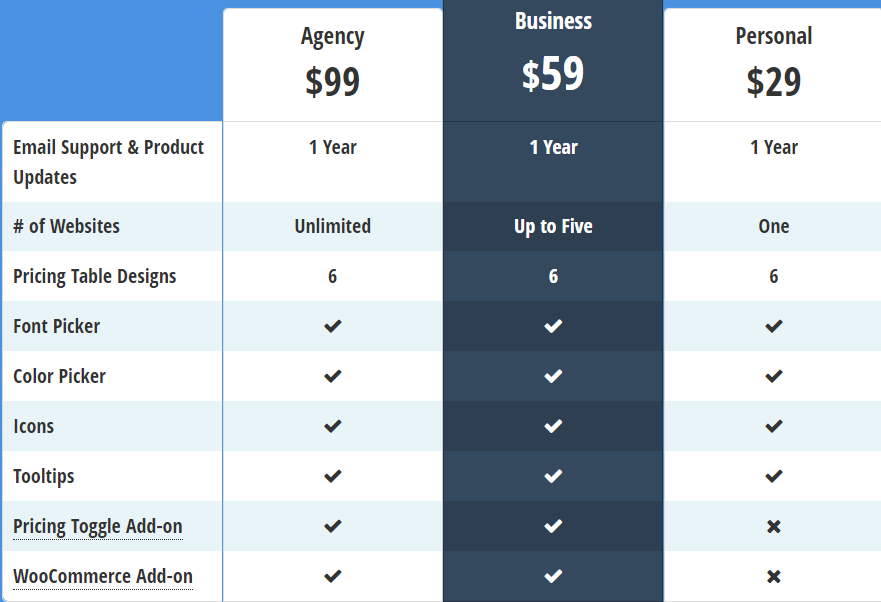 Although Quiz Cat offers a free version with some useful features, it still has many limitations. If you want to enhance the functionality of your website, you should upgrade to the premium version. The paid version starts at $29 per year and supports 1 website. The Business plan is suitable for those who are running about 5 websites. And the cost of an Agency plan is $99/year and supports unlimited sites.
Quiz Maker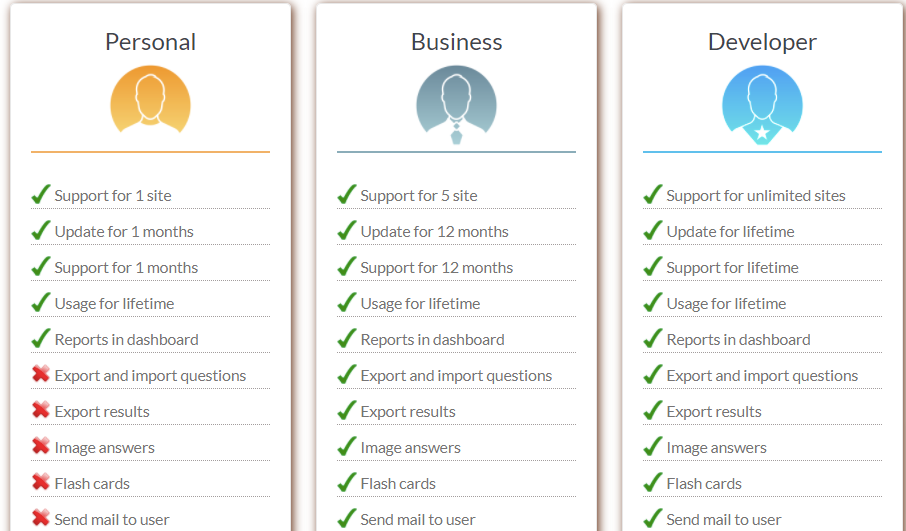 In addition to the Free version, the Quiz Maker plugin also offers you the paid version with a lot of flexible packages. Generally, the paid version of the Quiz Maker plugin is cheaper than what Quiz Cat provides. The business plan starts at $39 and you can only use it for 5 sites. If you are running multiple websites, the Developer package is highly recommended. Because you will have more opportunities to experience more advanced features and support for unlimited sites.
Updates and reviews
| | | |
| --- | --- | --- |
|  Criteria |  Quiz Cat |  Quiz Maker |
| Number of active installations |  5000+ |  10.000+ |
|  Number of 5 stars ratings  | 21 | 212 |
|  Average rating | 4.6/5 | 4.9/5 |
| Last Updated |  3 months ago |  1 day ago |
Whether you are looking for a good plugin, you can consider the review and ratings of this plugin. Because the review is defined as public feedback or comment of the users about any plugin displayed in WordPress.org. You can base on these elements to make a precise decision.
Have a look at the above table, you can see that number of active installations of these two plugins is quite different. While Quiz Maker has over 10,000 active installations right now. On the other hand,  Quiz Cat only has 5000+ active installations. According to the WordPress Directory, the average rating of the Quiz and Servey Master is 4.9/5. In contrast, Quiz Cat's average rating is slightly lower at 4.6/5.
In addition, the table shows that Quiz Maker was updated 1 day ago. It means Quiz Maker gets regular updates and gets additional features. While Quiz Cat was updated 3 months ago.
Quiz Cat Vs Quiz Maker: The final result
Have you picked out your favorite plugin yet? Overall, both Quiz Cat vs Quiz Maker is valuable in helping you create unlimited quizzes and tests. Thanks to that, you will have more opportunities to engage a wider audience as well as keep visitors staying on your website longer. However, we have to admit that Quiz Maker completely overshadows Quiz Cat in terms of diverse features and cost-saving. Hence, we highly suggest using Quiz Maker as a perfect solution for your website.
On the other hand, if you need a basic and easy-to-use plugin, you can try to use Quiz Cat.
And what is your perspective? Which one of these do you think is better? Don't hesitate to share with us your point of view. Hopefully, the Quiz Cat vs Quiz Maker comparison brought you a lot of useful information. If you know other better plugins, let's recommend them by leaving a comment below.
Moreover, you can access WordPress Quiz Plugins to refer to more useful options. Last but not least, our free WordPress Theme offers you a wide range of stunning, responsive, modern designs that are compatible with these mentioned plugins. Let's visit and get one to build your desired website.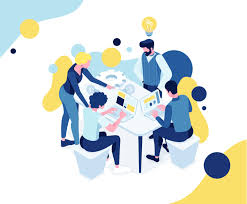 Latest posts by LT Digital Team (Content & Marketing)
(see all)